Hey, art, gallery, history and exhibition enthusiasts, these ultimate WordPress museum themes are for you!
It's necessary to pay special attention when picking the right one because these aren't available in abundance.
But we did the necessary testing and reviewing, so you can start immediately – AND with confidence.
Every WordPress theme is 100% customizable, translatable (compatible with all popular WP translation plugins), responsive and optimized for the best performance (speed & SEO).
Nope, no NEED for any other tool.
And even if you'd like to create an online store, portfolio, or blog.
SORTED!
Keep your website fresh like your museum – with a powerful theme.
THE ULTIMATE 5:
You may also be interested in learning how to install a WordPress theme quickly.
Best WordPress Museum Themes
1. Vestige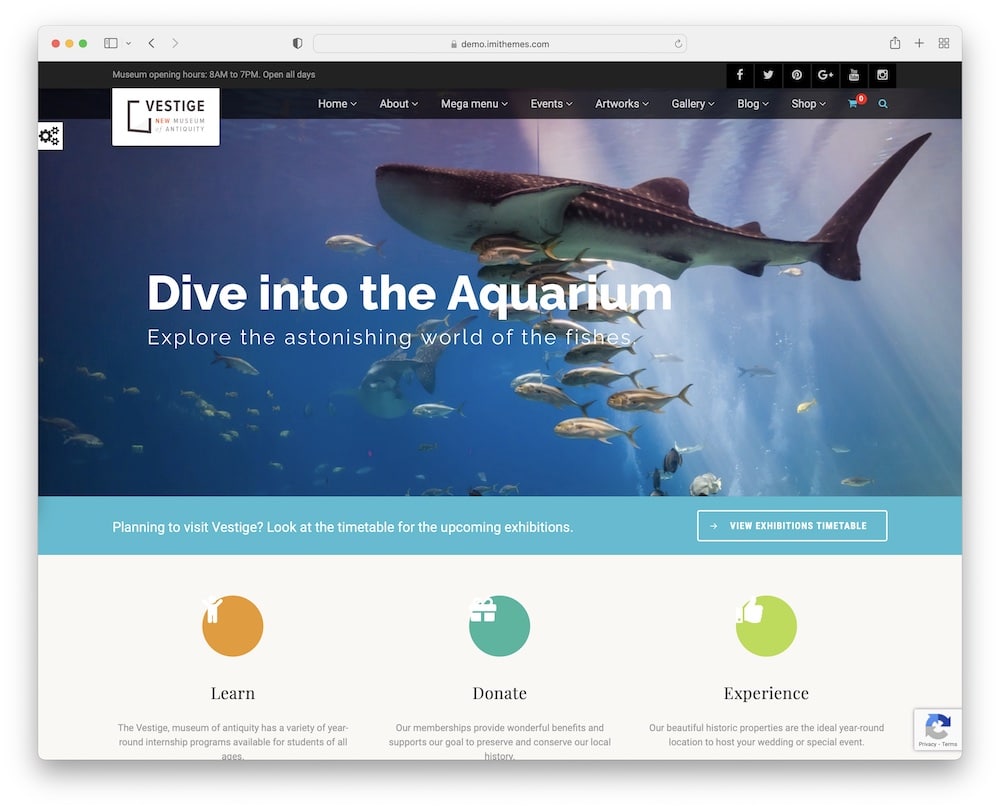 A museum is a place of ideas.
Fill your website with yours and transform the Vestige theme into an AMAZING online space.
It's simple to set up an exhibition timetable to show all your events in style.
Plus, choose your box, text, or hours colors, and you can even put a full-width calendar into a sidebar.
I LOVE the option that users can book & pay venus online (power by WooCommerce).
COOL, right?
Moreover, Vestige has a built-in mega menu that allows you to add up to six columns for a transparent overview.
LIT.
OH, and connect Vestige with your social media accounts (be smart).
Ready? GO!
Vestige features:
1,200+ sales
4.5+ star ratings
Working contact form
Price: $69 (may vary)
MORE INFO / DOWNLOAD
DEMO
2. Arte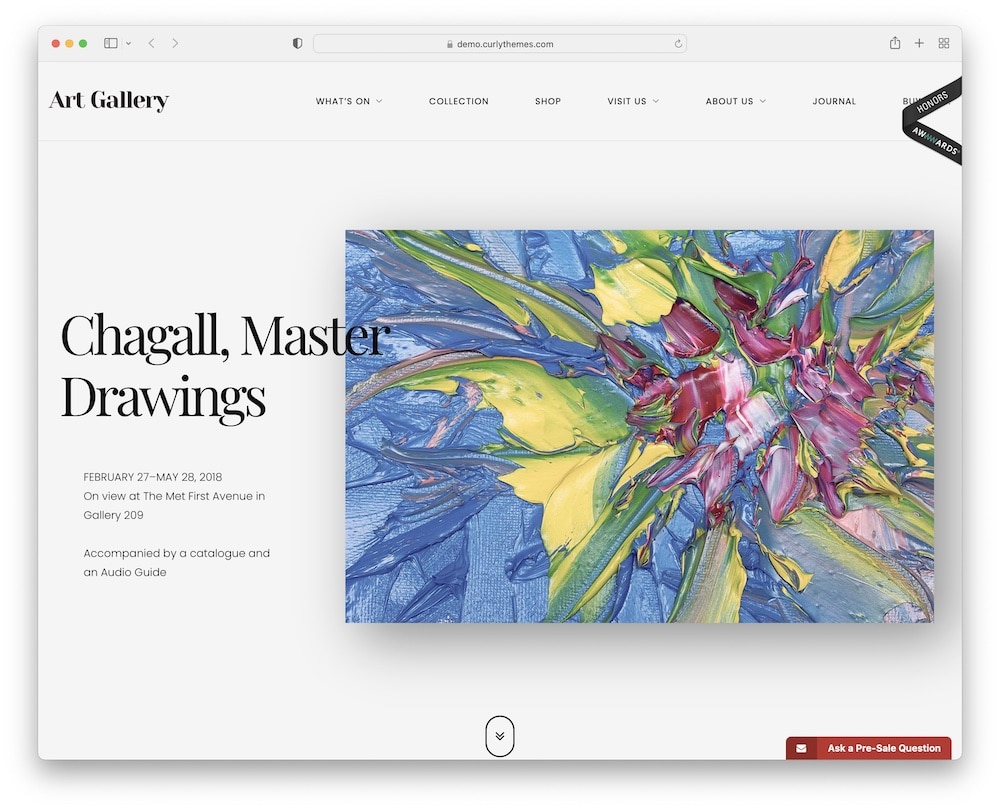 Be the keeper of magical art and pallet of various perceptions with the beautiful Arte WordPress museum theme.
HUGE.
Wow, I love the color and design!
The true power lies in the all-in-one WPBakery WP page builder (WELCOME, beginners!).
Anyone can effortlessly change, mix, and match pre-made elements and create a personalized site.
Won't find a better deal than this!
Furthermore, Arte offers a responsive and retina-ready design that will HOOK your visitors on any device they use. I also like to use parallax theme effect and animations for extra attention KICK.
And boy, Arte customer support turns problems into solutions in no time! Excited for the future yet?
Arte features:
1,700+ sales
4.4+ star ratings
Custom Google Maps
Price: $69 (may vary)
MORE INFO / DOWNLOAD
DEMO
3. Galleria Metropolia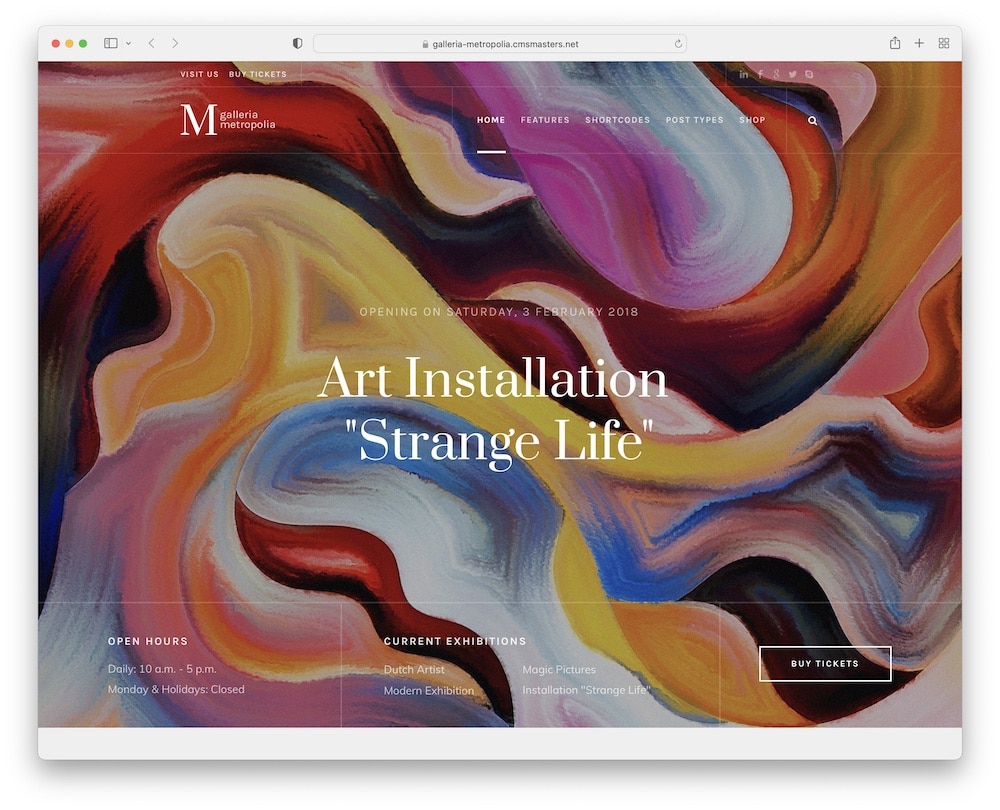 Like a museum should never be finished, constructing with Galleria Metropolia WordPress museum theme should never stop.
You can start and build a website now, but that doesn't mean you shouldn't add, change or upload additional qualities in the future.
Life is full of options, isn't it?
Galleria Metropolia comes fully responsive, SEO optimized, and translation ready out of the box.
NOT to brag (on their behalf), but it also includes portfolio & blog layouts with many settings and options! To my mind, this seems irresistible.
Also, check out the Galleria Metropolia package of goodies (shortcodes, animations, widgets, etc.) for the best user experience.
Have fun!
Galleria Metropolia features:
MORE INFO / DOWNLOAD
DEMO
4. Musea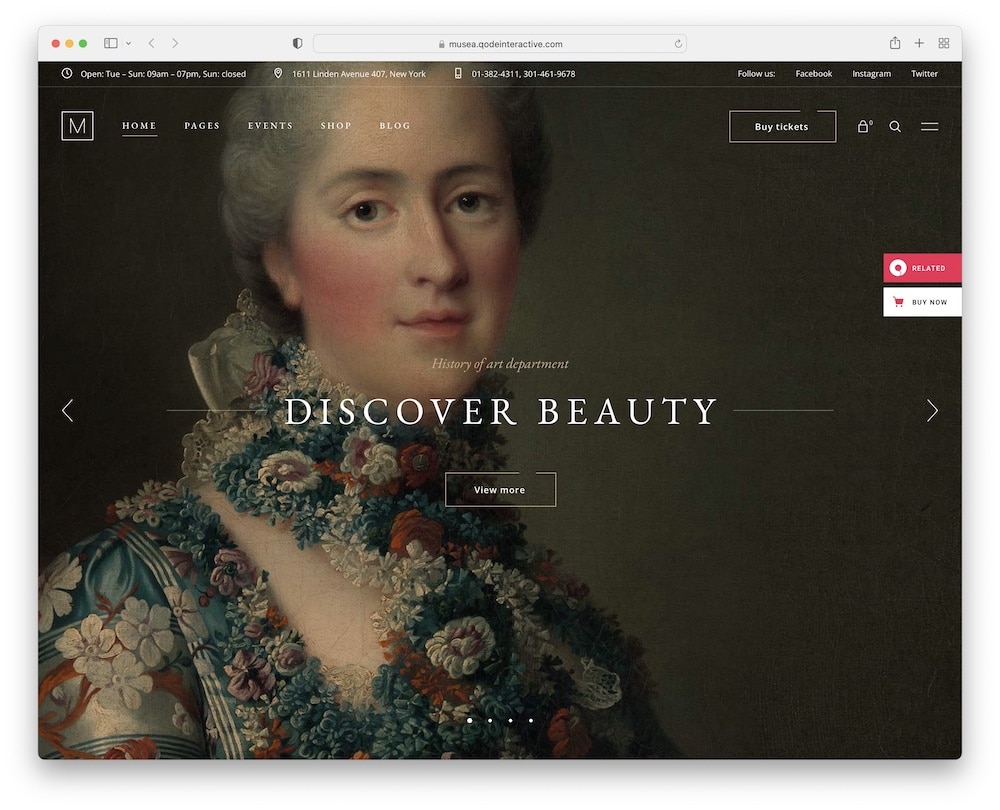 Start the art gallery or museum experience online with the modern Musea WordPress theme.
This carefully designed them is composed with elegance, minimalism, and clean details. GUARANTEED functionality and comfort!
Musea offers ready-to-use layouts, stunning inner pages, and pricing plans. Enjoy trouble-free (0 coding knowledge required) building of your new site.
Of course, you can beautifully showcase all your events and even sell online tickets due to the Tickera plugin.
Plus, you can list various products in your store (hippity hip hooray to WooCommerce).
Set up an exhibition worthy of your name with brilliant Musea!
Musea features:
1,100+ sales
4.4+ star ratings
Price: $85 (may vary)
MORE INFO / DOWNLOAD
DEMO
5. Ozeum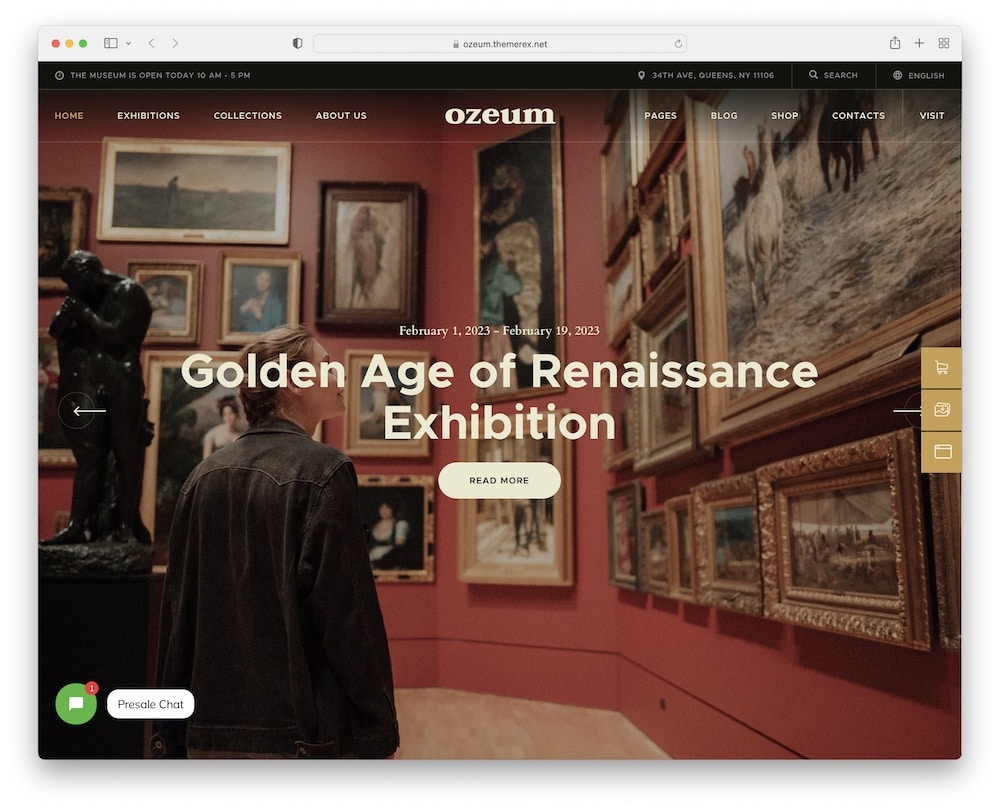 "Give me a museum, and I will fill it." It is media-rich Ozeum WordPress museum theme's motto.
Say HELLO to six memorable homepages – click the Demo button and check them out. After importing the right one for you, prepare to meet your new best friend, Elementor page builder.
Rearrange, insert, set up, upload, mix – all real-time. Trust me, you cannot outrun badly with the drag & drop function.
HI5!
Besides, Ozeum supports the most popular plugins (everything you need) to bring the functionality of your site to the NEXT LEVEL.
You can even sell digital files (launch your NFT drops fast) with WooCommerce. Or you may pick an NFT WordPress theme instead.
Ozeum – like art, only BETTER!
Ozeum features:
1,000+ sales
4.8+ star rating
Price: $69 (may vary)
MORE INFO / DOWNLOAD
DEMO
6. Muzze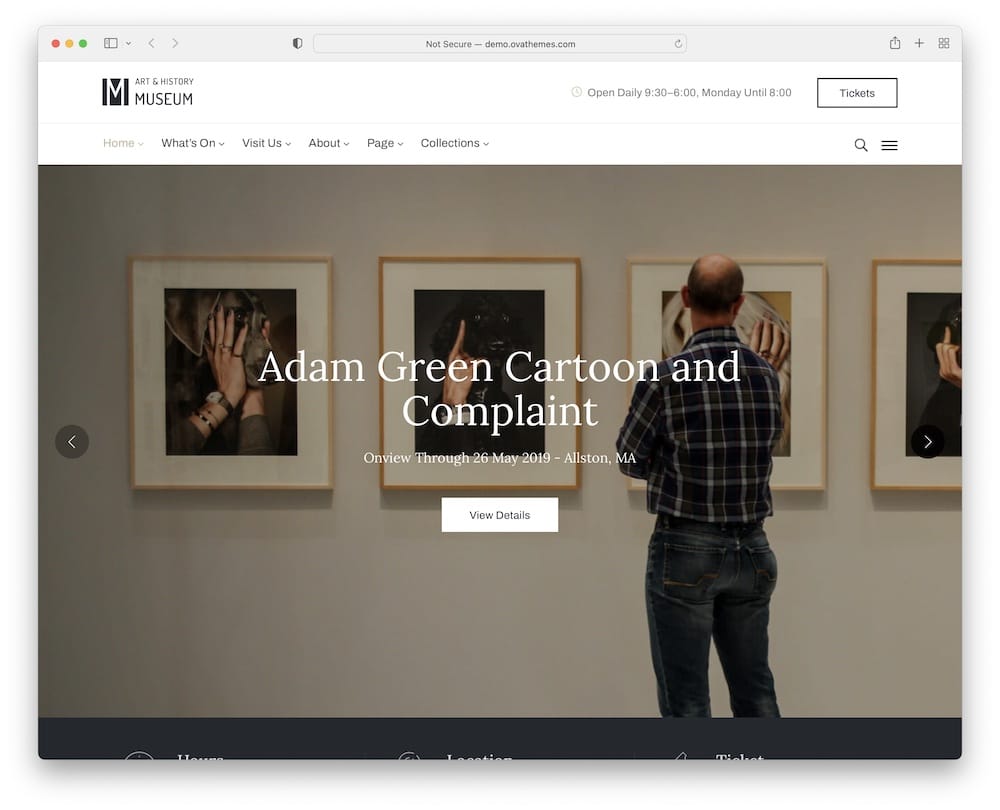 Offer a time out to your visitors with exhibitions, events, and breathtaking collections. Muzze WordPress museum theme is dedicated to the ART world.
Ready to jump in?
Choose between predefined demos, layouts, image gallery styles, and detail pages.
Of course, you should start writing a blog to display news, updates, videos, artist, and collaborations.
An engaging BLOG is always a GOOD thing.
A stylish header & footer are actually crucial tools (!) – basic, fast, and organized. These two important elements offer KEY information to your visitors.
Make a smart SNAPSHOT of your work.
One world, many stories – capture them with Muzze!
Muzze features:
760+ sales
4.9+ star ratings
Multi-level drop-down menu
Newsletter subscription
Price: $69 (may vary)
MORE INFO / DOWNLOAD
DEMO
7. Mooseoom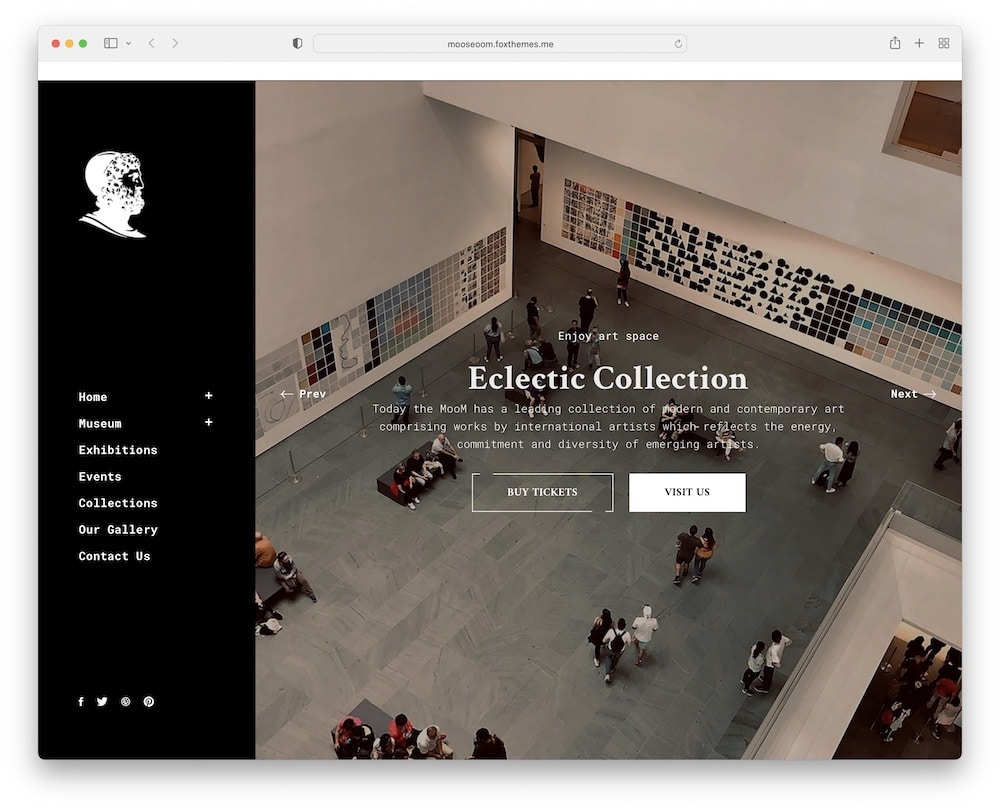 You can now walk visitors through stunning art online, thankfully to Mooseoom WordPress theme.
Here's the DEAL:
Pretty Mooseoom is fully responsive so it adapts to various screens & looks perfect on each device. So. Necessary!
Experience its creative process with the stunning Gutenberg editor.
Blocks are a great tool for building sites – you can rearrange, style, and insert content with very little technical knowledge.
Yup, this means you don't need to pay for reliable experts & advanced programs (your money stays in your pocket!).
OH, Mooseoom is compatible with THE BEST plugins such as WooCommerce, Booked, Google Maps, Contact Form 7, pricing tables, etc.
Say YES to Mooseoom!
Mooseoom features:
320+ sales
5-star rating
Fast loading
SEO & speed optimized
Price: $49 (may vary)
MORE INFO / DOWNLOAD
DEMO
8. Alicante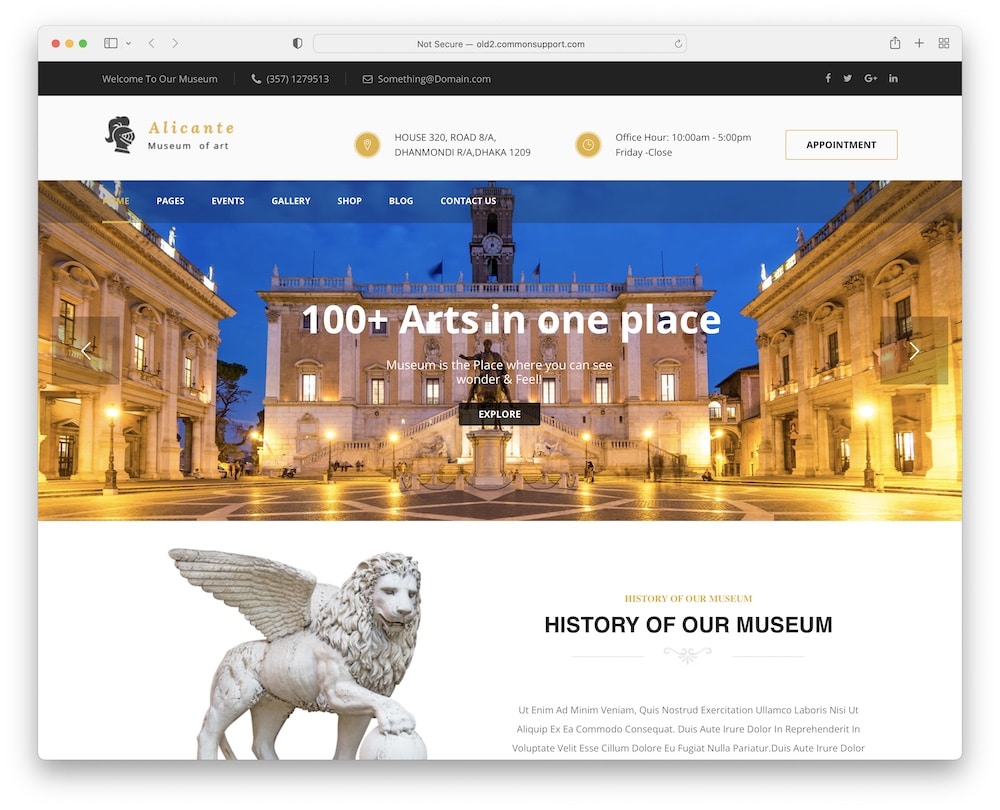 There are plenty of GOOD reasons to work with the Alicante WordPress museum theme. Become p-ART of it!
OUT of the box – Alicante is ready to use as-is or (after a quick install) make your customization wishes a reality.
You can set a personal style for your website in just minutes with the help of a powerful theme options panel.
Play with colors, fonts, sidebars, icons, and widgets. I SWEAR it feels pretty damn good!
Moreover, Alicante is SEO-ready, cross-browser compatible, and offers a pixel-perfect design. Make your visitor have a blast when interacting with your site.
Holy Moley (I almost forgot to mention), you are OFF to an excellent start with its extensive documentation (step-by-step videos). (Ideal for beginners.)
Alicante features:
210+ sales
4.4+ star ratings
Multilingual theme support
Filterable portfolio
Price: $33 (may vary)
MORE INFO / DOWNLOAD
DEMO
9. Loquet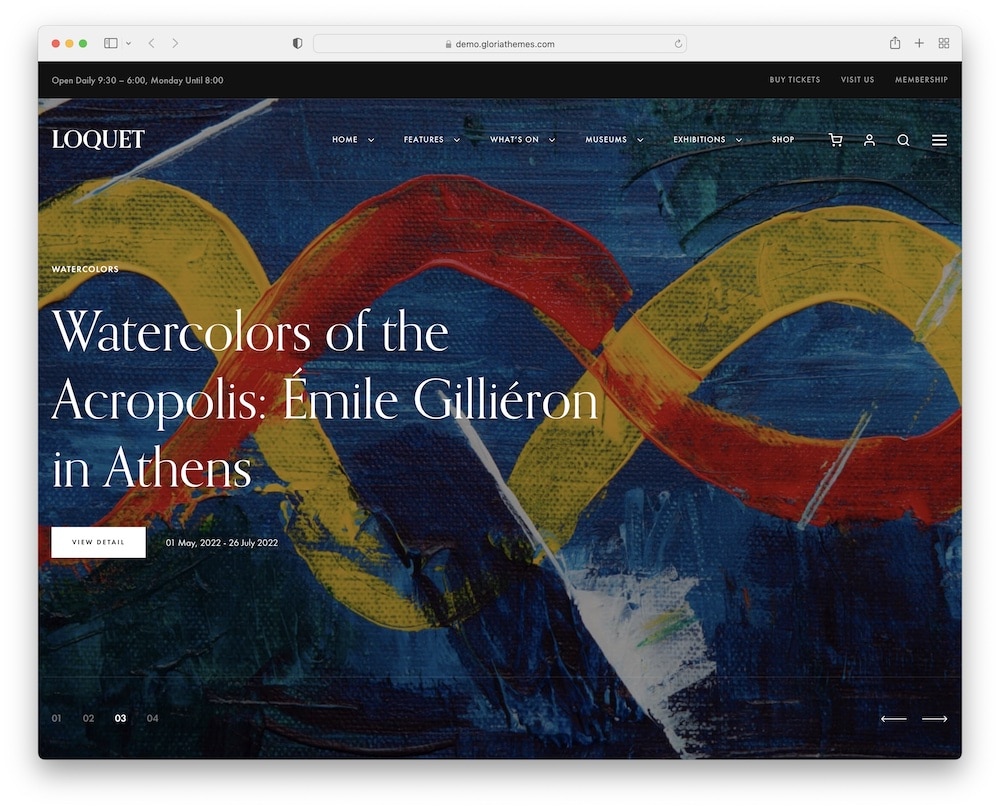 Exhibit your art, showcase events, collaborate and introduce your story (timeline system) to the people with Loquet.
You can even build an advanced museum directory by managing museums and creating popular listings.
Offer your audience a quick search according to their needs with amazing filtering options.
PLEASE, do yourself a favor and create EYE-GRABBING slides with the breathtaking Slider Revolution tool.
More than amazing!
Furthermore, Loquet's light & dark skin choice looks PREMIUM and professional. The popularity of dark design in (my online world) isn't surprising. I secretly love it!
Enter below.
Loquet features:
390+ sales
4.8+ star rating
Regular updates
Quick visual theme setup
Price: $79 (may vary)
MORE INFO / DOWNLOAD
DEMO
10. Egypt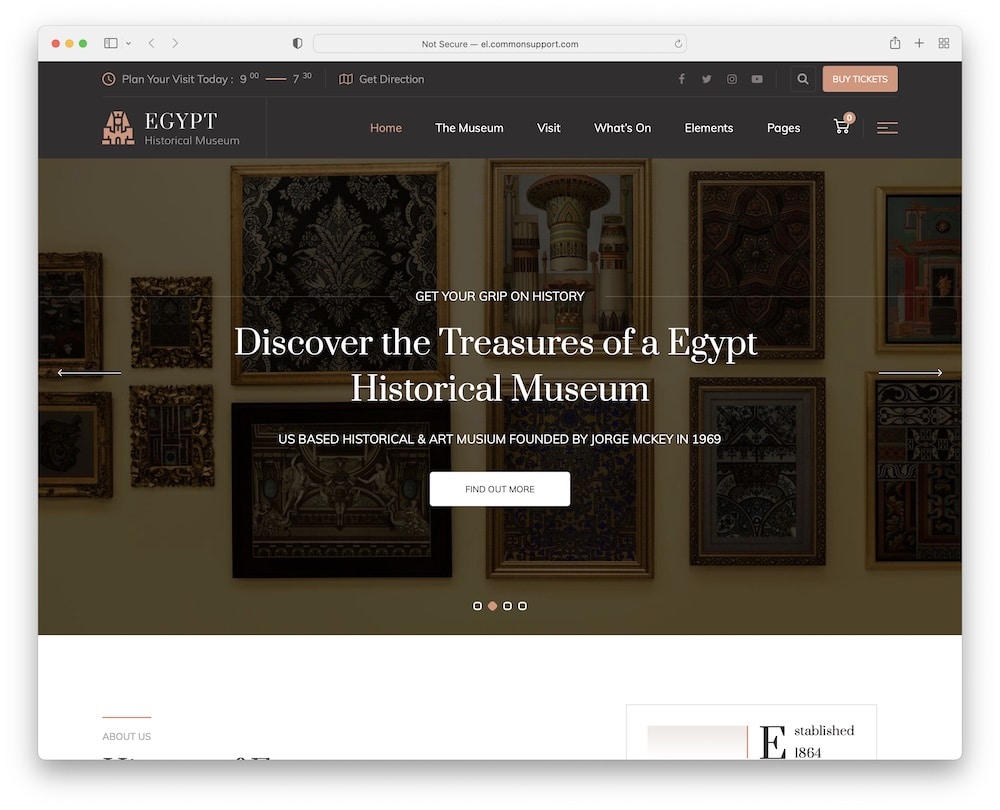 Top the list of the most popular museums by HOT choice: Egypt WordPress museum theme.
Get your site up and running in no time with a stunning ready-to-use demo (one-click installer). Plus, you can simply customize it with drag and drop functionality.
JAW-DROPPING.
Moreover, Egypt offers you an online space to showcase your team members, collections, ongoing exhibitions, testimonials, membership benefits, venue program schedules, and pricing tables.
NOW is your time to shine!
And it's worth mentioning that you can create WP contact forms with compatible Contact Form 7. Allow your audience to easily communicate with you (+ you get their email).
Scroll down to the BUY button (I am excited for you!).
Egypt features:
130+ sales
5-star rating
Fast install & setup
Donations (but you can add more features with a WordPress donation plugin)
Price: $59 (may vary)
MORE INFO / DOWNLOAD
DEMO
11. Wandau

Got your eye on Wandau WordPress museum theme? Me, too!
This unique theme comes with artistic & POSH DESIGN (Gucci looks cheap in comparison if you ask me!).
Enjoy brilliant elements, animations, unlimited colors & Google fonts.
Cool!
Be sure to check out video backgrounds – using them on your site is a great way to STAND OUT and attract your audience. Grab its advantage!
And buttery smooth scrolling OMG I love it.
A blessing in the form of cross-browser compatibility is always a good thing.
Finished! You're all good to go and start creating with Wandau!
Wandau features:
130+ sales
4.2+ star rating
Cool animations
Price: $69 (may vary)
MORE INFO / DOWNLOAD
DEMO
::
Note: This article was originally published on May 30, 2022. But our team regularly reviews it and updates it with necessary improvements for accuracy.