We helped multiple organizers keep their businesses in PERFECT order with these best free and premium WordPress event registration plugins.
I know many of you work on your projects or clients' projects.
Hence, I want to share our best tools that helped us make event registration happen on ANY website.
We based our selection on multiple parameters:
(Multiple) Payment gateways
Notifications
Tickes sales
Plugin updates (crucial for longevity)
You can now sort out ANY EVENT. With. No. Sweat.
POST NAVIGATION:
Choosing the right plugin became so easy.
YOU WIN!
Why Use A WordPress Event Registration Plugin?
The main reason you want to use it is that it simplifies your life when creating, hosting and promoting events.
It's so simple to do! Yet the outcome will save you plenty of time, plus keep your business more organized.
Use an event registration plugin to create a front-end form for attendees to register and book tickets. And you can then manage and maintain all the attendees, check purchased tickes, and more in your WP admin dashboard.
Moreover, you can also tailor the forms to your event website's theme easily and effortlessly without touching a single string of code.
You're welcome to start with a free plugin, but a premium one unlocks even more features and functions.
You may also want to check our guide on installing a WP plugin correctly.
Best Event Registration WordPress Plugins
1. Eventer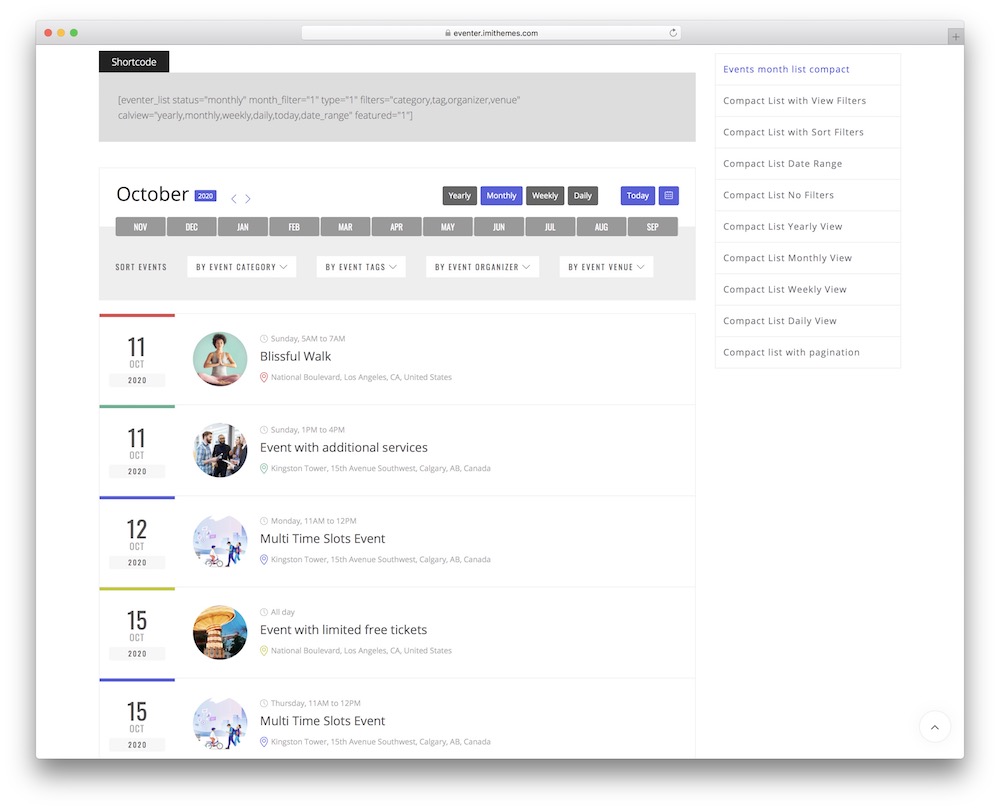 Eventer is a WordPress event registration plugin that is clean and easy to use, making scheduling events EASY.
There's even an Android app to make it faster (!).
The users on your site, after they register, can manage their bookings and add events, after you moderate it, of course.
You can create a custom event form, allowing users to ADD NEW ITEMS quickly.
Eventer comes with a full-width calendar, event bookings, countdown, multiple lists and grid options, and more to make managing your business a walk in the park.
Eventer features:
2,600+ sales
4.2/5 ratings
Convenient & user-friendly dashboard
Price: $39 (may vary)
MORE INFO / DOWNLOAD
2. WordPress Events Calendar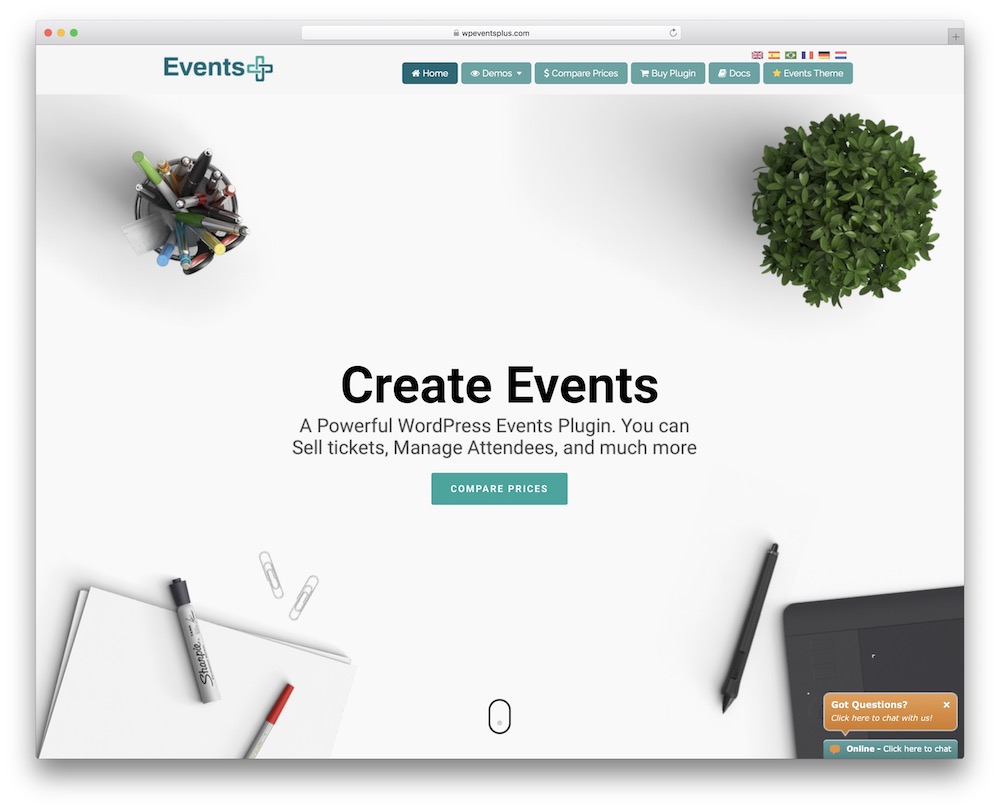 This plugin allows you to create events of any kind, be it seminars, concerts, workshops, conferences, and everything else.
You can keep track of the people attending the event and sell tickets from the admin section.
The WordPress event registration plugin requires no additional add-ons, which saves you money.
And admin interface is simple, so even beginners will have no trouble using it.
You can also add a countdown timer, pictures, and buttons for social media.
The plugin is integrated with Google Maps, so your attendees always KNOW HOW TO FIND their way to you.
WordPress Events Calendar features:
7,000+ sales
3.8/5 ratings
Translation-ready (use any WP translation plugin you want)
Waitlist feature
Price: $29 (may vary)
Note: Despite the somewhat low rating, this plugin performed well for us.
MORE INFO / DOWNLOAD
3. EventoZilla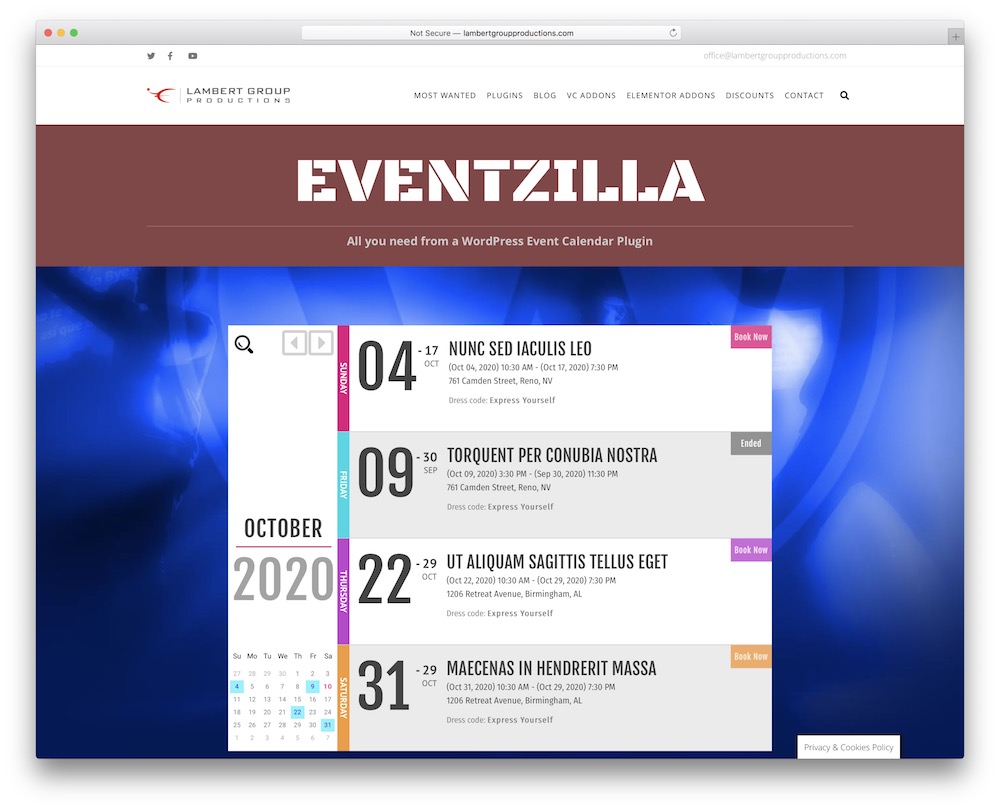 This elegant plugin adapts to any device or screen without losing its charm. EventoZilla has two calendar modes – extended and compact.
The extended model shows the full tile calendar system complete with a search bar, while the compact style shows only months.
This WordPress event registration plugin allows you to edit the event's dates, names, addresses, dress codes, and other details.
If your event lasts more than one day, you can add a time interval.
Moreover, if you need to, you can INSERT MULTIPLE calendars showcasing different events.
EventoZilla features:
160+ sales
5/5 ratings
Social sharing
Multi-day support
Price: $19 (may vary)
MORE INFO / DOWNLOAD
Free WordPress event registration plugins
4. The Events Calendar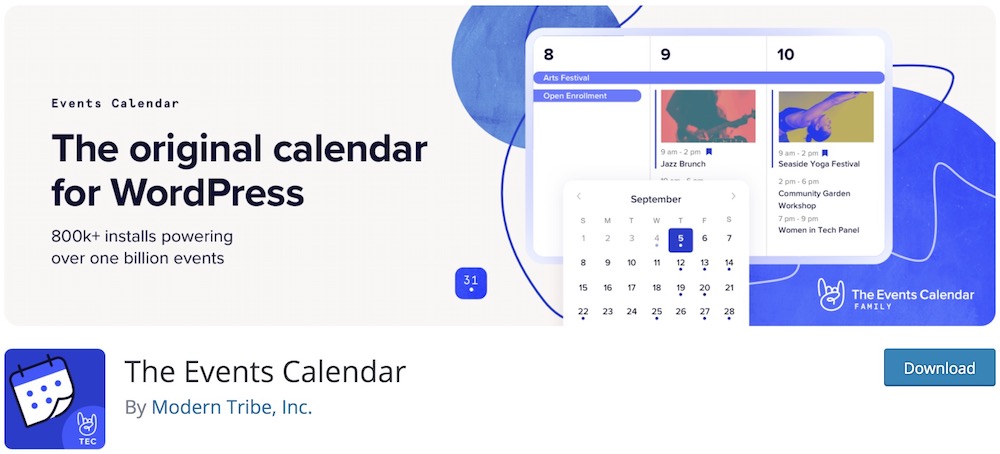 This plugin is the original calendar for WordPress. Yup, it's been tried and tested multiple times before it reached your site.
The WordPress event registration plugin allows you to create virtual and in-person events.
The team even sends you a user manual that answers your questions.
You will still successfully activate and set up the plugin, even if you are a BEGINNER.
The Events Calendar plugin works as soon as you install it. Configure the settings that work for you, and immediately begin creating events.
A library of FREE EXTENSIONS lets you adapt the plugin to your preferences until you're fully satisfied.
That's it! You are ready to share events directly on your website.
The Events Calendar features:
800,000+ active installations
4.3/5 ratings
Event list view & day view
SEO friendly
MORE INFO / DOWNLOAD
5. Events Manager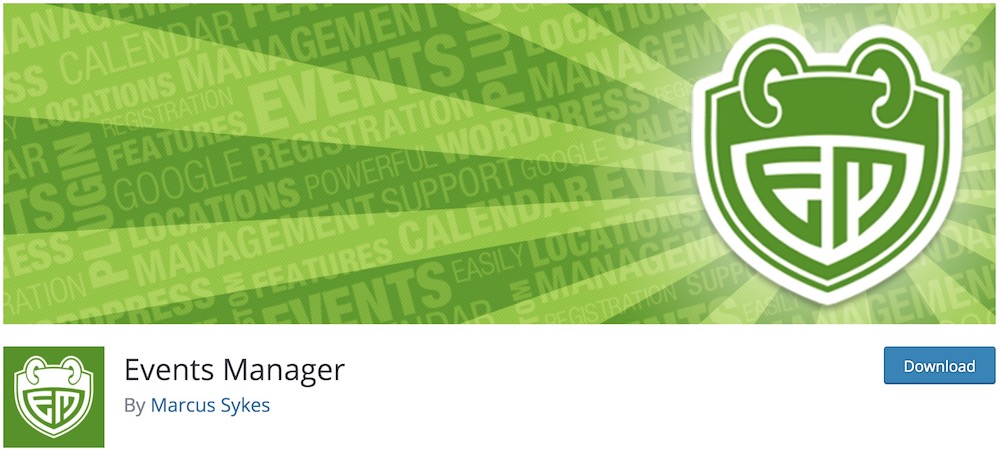 Currently, in its fifth version, the Events Manager plugin is flexible, customizable, and easy to understand.
This WordPress event registration plugin comes with a demo, documentation, and MULTIPLE tutorials to set you on your way.
You can create single-day or multiple-day events, complete with WP registration forms.
The admin can accept or reject events, add locations, and custom event details, like dress codes.
This plugin is compatible with SEO plugins, and it's maintained and updated all the time, with PLENTY of support from its team.
Events Manager features:
90,000+ active installations
4.3/5 ratings
Single- & multi-day events
Flexible online booking management
MORE INFO / DOWNLOAD
6. Registrations for The Events Calendar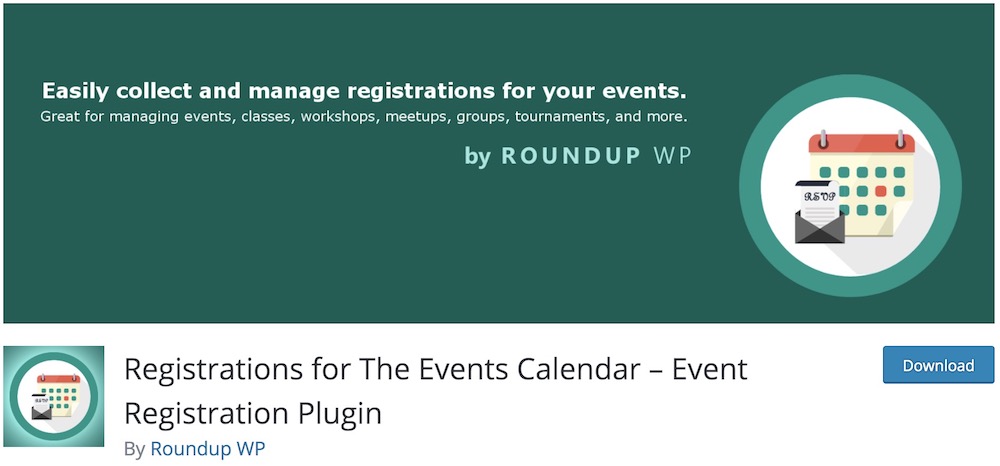 You will have the chance to manage bookings with customizable forms, and you'll get an email template that will quickly NOTIFY the users of any change with this plugin.
You don't have to be a tech nerd to grasp this event registration WP plugin.
However, if you want this plugin to work without crashing, you will need to install The Events Calendar.
Note: Both of these plugins are free. People can RSVP on the form, sign-up for your event, hold virtual events, etc.
The AJAX form submits will REDUCE incomplete event registrations.
Events Calendar features:
10,000+ active installations
4.9/5 ratings
Mutliple uses for classes, webinars, sports, etc.
Follow-up with customizable email
Quick event cancelation
MORE INFO / DOWNLOAD
7. RegistrationMagic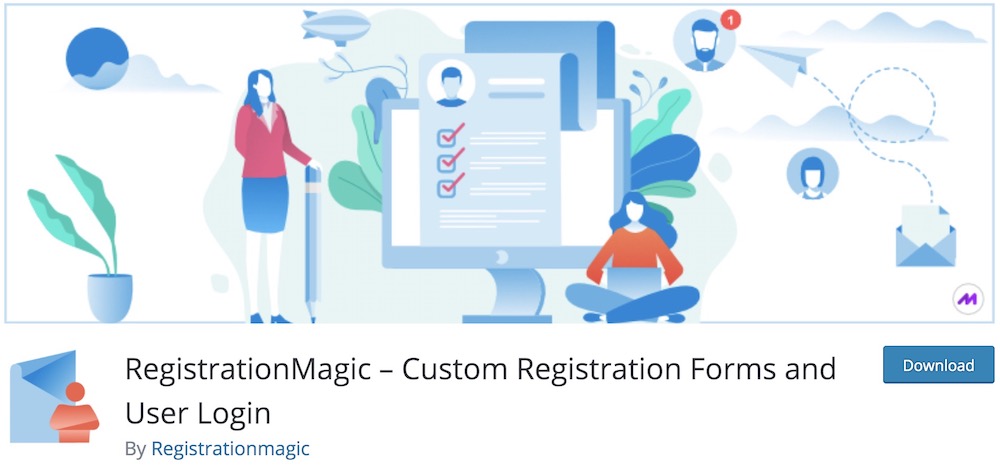 This easy-on-the-eyes plugin is a powerful tool that will give you total control over user registrations on your site.
You can create different registration forms with predefined fields for various events at the same time.
The WordPress event registration plugin has a registration area where YOUR USERS can create an account, check payment history, download forms, with easy admin panel tracking.
The user management panel also allows you to suspend or re-activate users.
You can create new user roles with this plugin, making it completely adaptable to any kind of business that requires event management.
RegistrationMagic features:
10,000+ active installations
4.5/5 ratings
Floating button, pop-up menu & sliding panel
Countdown timer for urgency
Google reCAPTCHA
MORE INFO / DOWNLOAD
8. Ticket Tailor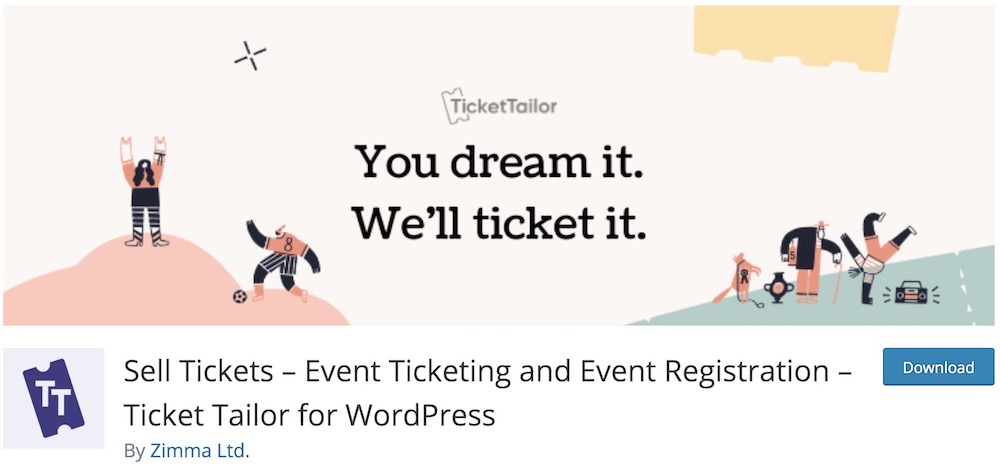 A simple name for a simple, yet effective, WordPress event registration plugin.
You can embed registration forms directly to your site so your users can buy their tickets with a simple click of the button.
If there's a need for different ticket types, the plugin has the option for it. Attendees will be ABLE TO PAY for the event using PayPal or Stripe.
The registration forms are completely customizable, and so is the plugin itself.
It even comes with a barcode scanning system, making scanning e-tickets upon entry a breeze.
The discount codes and tracking links show you how the attendees discovered your event.
Ticket Tailor features:
4,000+ active installations
4.1/5 ratings
Setup takes minutes
Convenient barcode & QR scanning
Integrates with Zapier
MORE INFO / DOWNLOAD
9. Event Registration Calendar

This very straightforward plugin makes creating new events as quick as a flash.
The WordPress event registration plugin allows you to add as many events as you want to your site.
Make the events last a day or multiple days, whatever suits your needs.
All your attendee needs to do is register directly on the plugin. Also, they will even have the chance to pay for it immediately.
The customizable registration form is a quick way to gather user information.
An AUTOMATIC reminder will minimize no-shows and last-minute cancelations.
You can even send promotions to the users about the upcoming event and create as many events as you want.
Event Registration Calendar features:
100+ active installations
5/5 ratings
One-time & recurring events
Automatic confirmation notifications
2-way sync with Google Calendar (iCal & Outlook also)
MORE INFO / DOWNLOAD
10. User Registration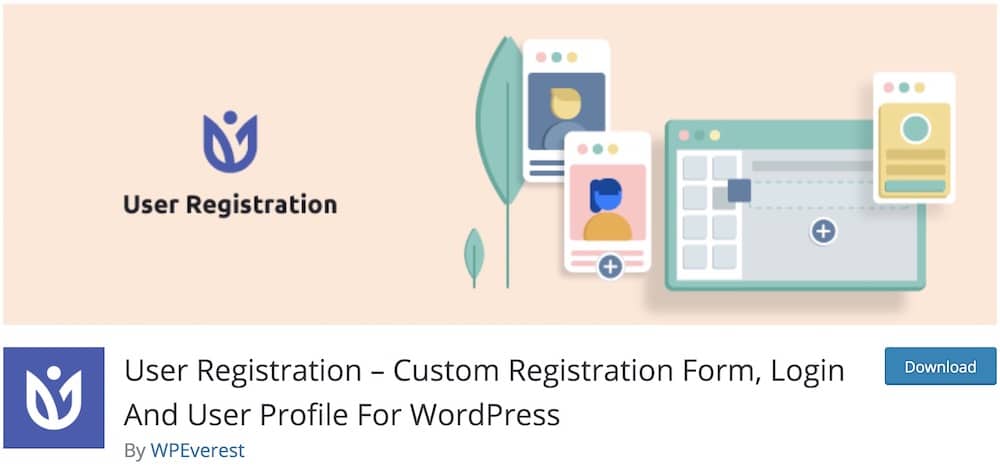 User Registration is a full-blown solution for registrations with all the NECESSARY forms included for your convenience.
You will never need to deal with code to work with this free WordPress plugin, thanks to its intuitive drag and drop builder.
User Registration is great both for beginners and professionals alike.
The design is also clean and minimal, keeping all the possible distractions out of sight.
Keep in mind, you are welcome to take a peek at the live demo preview, too (see official plugin page), and go from there.
User Registration features:
60,000+ active installations
4.8/5 ratings
Email notifications
Front-end account page
Exporting data in CSV
MORE INFO / DOWNLOAD
11. WP Event Manager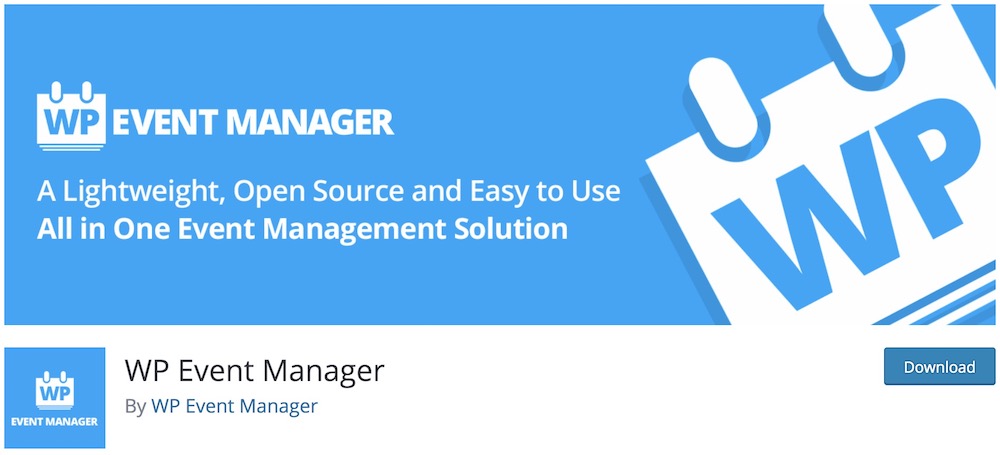 This plugin is lightweight and completely scalable, fitting into your website design to a T. The WP shortcode is all you will need because it has a simple list of every event.
The plugin adapts to any WP theme you have, and it's SUPER EASY to install and use.
This WordPress event plugin offers cross-browser support and comes in tune with all kinds of modern devices.
Event listers will have a preview of their form before they make it live.
Every list can be connected to an email or site where users can register.
You can assign event locations and allow users to filter out events by location.
WP Event Manager features:
20,000+ active installations
4.7/5 ratings
Works with SEO plugins
Location view
Searchable & filterable event listings
MORE INFO / DOWNLOAD
::
Note: This article was originally published on October 12, 2020. But our team regularly reviews it and updates it with necessary improvements for accuracy.