With many requests coming from you, we have spent the last four months carefully reviewing free WordPress booking plugins.
If you type "booking" into WordPress.org, you get VERY MANY hits.
"Which should I pick?"
We immediately narrowed them down by downloads and update frequency.
We further refined our main selection based on flexibility with different projects, designs and quick creation.
This is IT now!
This post covers:
Instead of facing the challenge of too many options, these are the ultimate 12 free booking plugins for EVERYONE.
They unlock online bookings for accommodations, reservations and appointments.
Everything you need IN ONE PLACE.
How We Found The Best Free WordPress Booking Plugins?
When you think you cannot come across a poor-performing plugin anymore, the sad story is – yes, you can!
Unfortunately, it's still advisable to do as much testing as possible before settling on a clear winner.
But that's what we did, so you don't have to.
As mentioned earlier, we first analyzed 30 plugins by downloads and update frequency. We also reviewed overall ratings and read through the reviews to get real-time feedback.
With 15 plugins left, we then installed each plugin on our demo website to do further testing. (You may also want to read our tutorial on how to install a WP plugin.)
This process allowed us to answer the following questions:
Does the plugin slow down the website with unnecessary bloat?
How easy and quick is it to configure and customize the settings?
Does the plugin have a built-in calendar view?
Is the front-end booking system responsive?
How insightful and user-friendly is the documentation?
Online booking system. Sorted.
Best Free WordPress booking Plugins
1. Simple Booking Calendar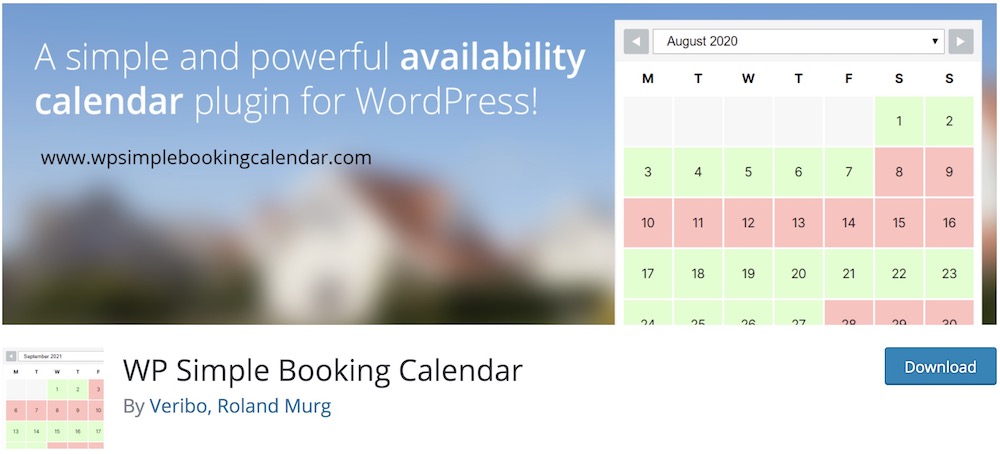 Simple Booking Calendar is a clean and simple calendar that shows your customers when you have available slots for renting.
It won't take you ages to implement this free WordPress booking plugin into your site. You do not need to be a tech-wiz to understand how the plugin works either.
All you need to do is click a few times, and the information is there. Yes, it truly is just as simple. Plus, you can edit the plugin however you want.
You can also add a legend next to the calendar to help customers understand what the colors mean.
Last but not least, Simple Booking Calendar is TRANSLATED into over 30 LANGUAGES.
Simple Booking Calendar features:
20,000+ sales
4.8/5 ratings
Displays availability
Backup & restore data (we also have a list of free WordPress backup plugins)
Individually save booking information
MORE INFO / DOWNLOAD
2. Booking Calendar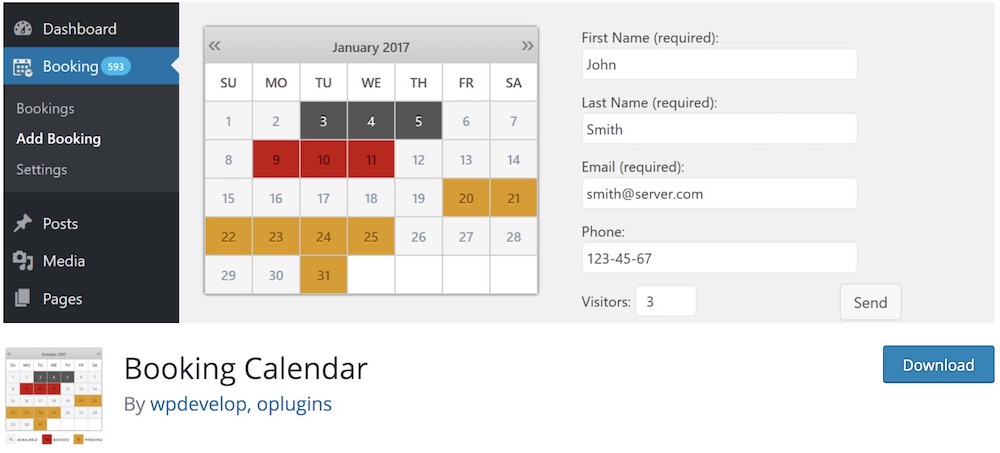 This remarkably powerful and versatile plugin is in existence since 2009, SIMPLIFYING online bookings.
It was the first one developed for this purpose, and it's an excellent, simple option that can benefit your business.
The free WordPress booking plugin shows available slots and lets the customer book services for the day, or even for a specific timeslot.
Once they make a reservation, they receive an email asking them to confirm their selection. The design is modifiable and adaptable.
It also showcases a timeline to track the bookings.
You also won't need to tweak the code. Input the WP shortcode and you're good to go!
Booking Calendar features:
60,000+ sales
4.7/5 ratings
Email notifications
Quick & easy confirmation
Convenient & user-friendly admin
MORE INFO / DOWNLOAD
3. Appointment Booking Lite

After a friend's recommendation, I recently stumbled across Appointment Booking Lite, tested it, and here we are now. I'm HAPPY to share it with you for its many great features and extensive adaptability.
It works especially well for spas, salons, coaches, tutors, and other appointment- and service-based businesses.
Also, I really enjoy the effortless step-by-step booking process that's so easy to complete on mobile.
Plus, I had 0 issues integrating it via a WP widget and had fun with Gutenberg, Elementor and Divi compatible blocks.
Individual and group reservations become a piece of cake with Appointment Booking Lite. Enjoy.
Appointment Booking Lite features:
100+ sales
4.8/5 ratings
Multiple appointment reservations
Auto-sends email notifications
Easy-to-manage dashboard
MORE INFO / DOWNLOAD
4. BookingPress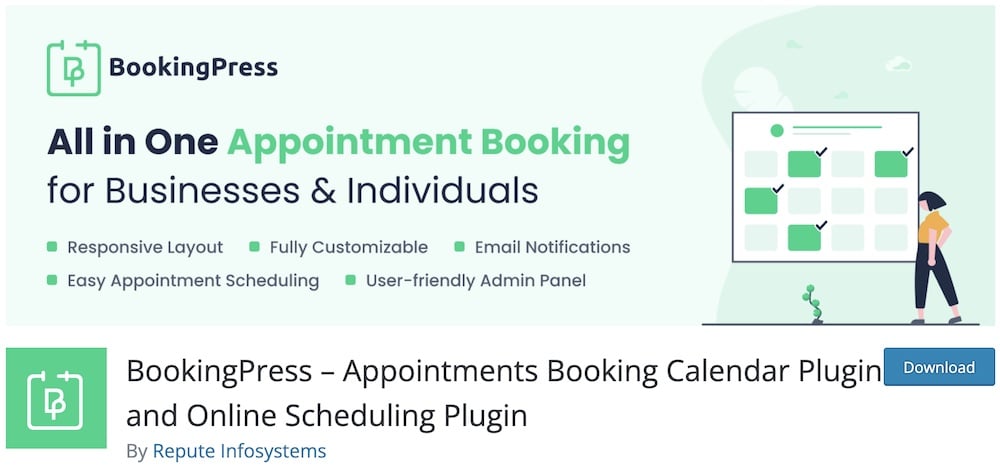 After testing it for a little while, I immediately knew I needed to add BookingPress. It's extremely easy to use with all the essentials to create a booking system on any WordPress page.
So. Easy. So. Fast.
I like the user- and beginner-friendly admin the most. But there are so many other goodies that make BookingPress something special.
Note: It also works as a shortcode, so you can effortlessly add it to your posts and pages. (Copy-n-paste!)
And! BookingPress is 100% compatible with Gutenberg and Elementor builders. Winner.
BookingPress features:
6,000+ sales
5/5 ratings
Simple translation
Awesome calendar view
MORE INFO / DOWNLOAD
5. Booking Activities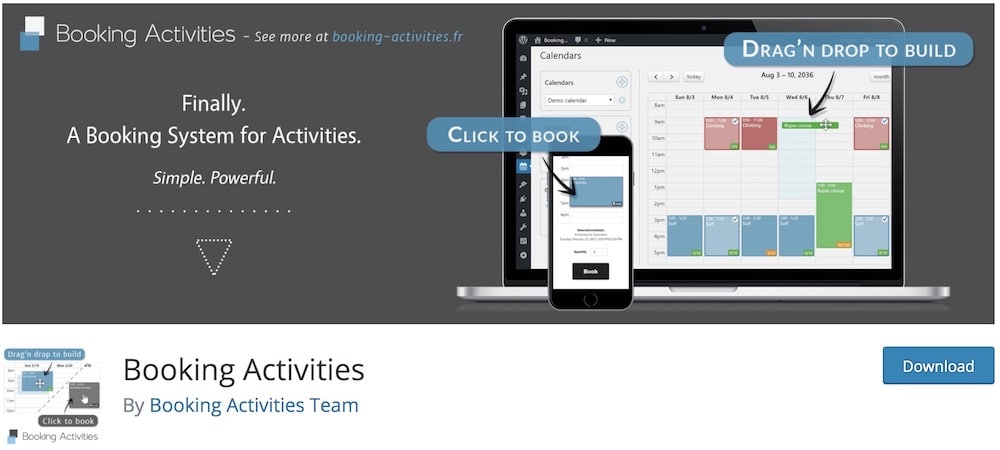 As the name suggests, Booking Activities is a free plugin exclusive for booking all types of activities.
It is a powerful solution that quickly adapts to all sorts of industries, ensuring effortless online reservations for every user.
Moreover, Booking Activities is also highly customizable so that you can tailor it to your specific needs efficiently.
Of course, you never need to deal with coding and any other advanced tasks. Booking Activities rocks a visual builder.
The plugin also integrates smoothly with WooCommerce, in case you want to add payment options.
Booking Activities features:
5,000+ sales
4.9/5 ratings
Drag & drop (visual) page builder
One-click booking option
Easy to integrate shortcodes
MORE INFO / DOWNLOAD
6. Bookly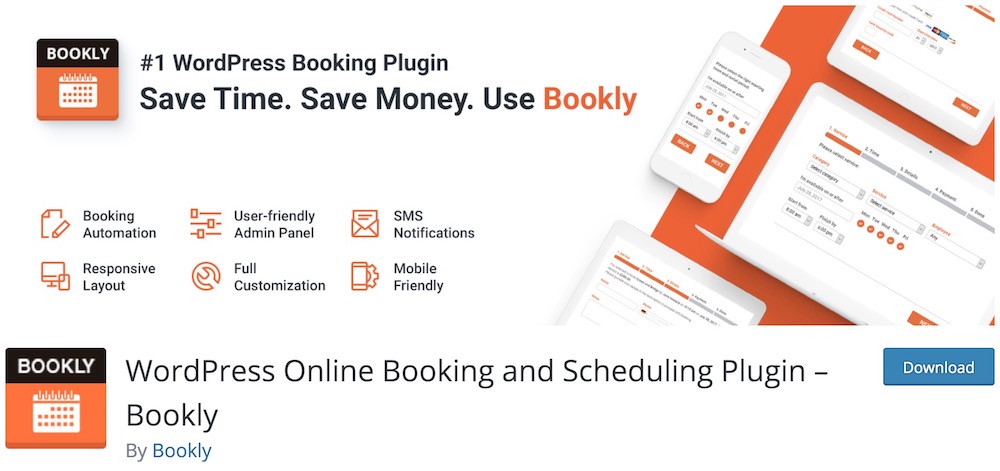 Bookly is a great-looking plugin that makes reservations quick and easy. You can even automate the process with this free WordPress booking plugin.
How convenient.
More than 70,000 businesses around the globe are using this plugin, so you know that it's been tried and tested by many people. Bookly is responsive on every device, ensuring an excellent booking experience.
Once they make a reservation they receive an SMS notification or an email.
They also get a reminder for the selected date. The interface is friendly, customizable, and you don't need any coding background to set up the plugin.
Out of the box, Bookly is translated into more than 40 languages (but you can also use a WP translation plugin for more). Don't WORRY about foreign customers not knowing how to schedule an appointment.
Bookly features:
70,000+ sales
4.2/5 ratings
Completely automate your business
Supports as many booking forms as you want
Individual duration for each service
MORE INFO / DOWNLOAD
7. Sagenda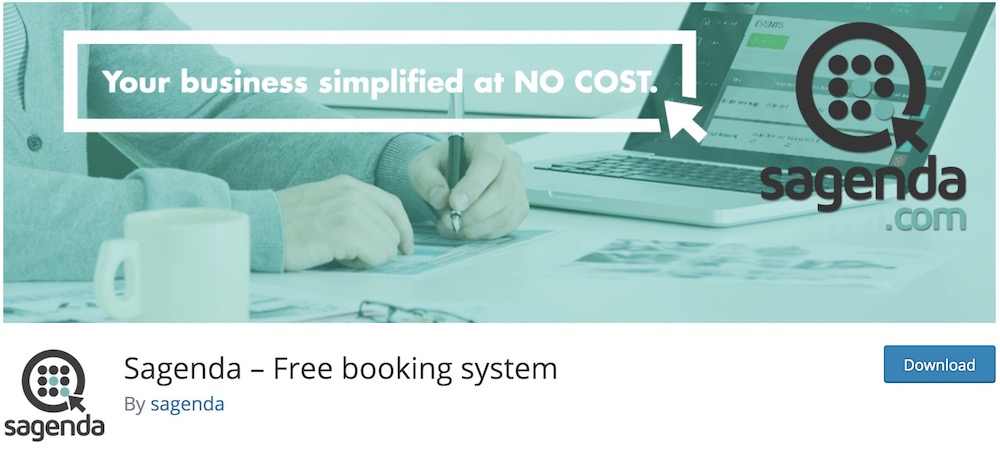 Sagenda is a free WordPress plugin that does require an account before use. Signing up for Sagenda is free and simple. Nothing to stress about.
Besides allowing customers to quickly book events, you also have the chance to add a payment getaway so they can pay immediately.
The customers can pay via PayPal, or via credit cards that are globally accepted, such as Visa or Mastercard. The number of bookings and customers is UNLIMITED.
Keep in mind, this a booking system, so you need to install an extra plugin if you would like to have a calendar view.
But that one is free as well.
Sagenda features:
600+ sales
4.3/5 ratings
PayPal & credit card payments
Customizable appointments
Expand it with Sagenda Calendar (free plugin)
MORE INFO / DOWNLOAD
8. Restaurant Reservations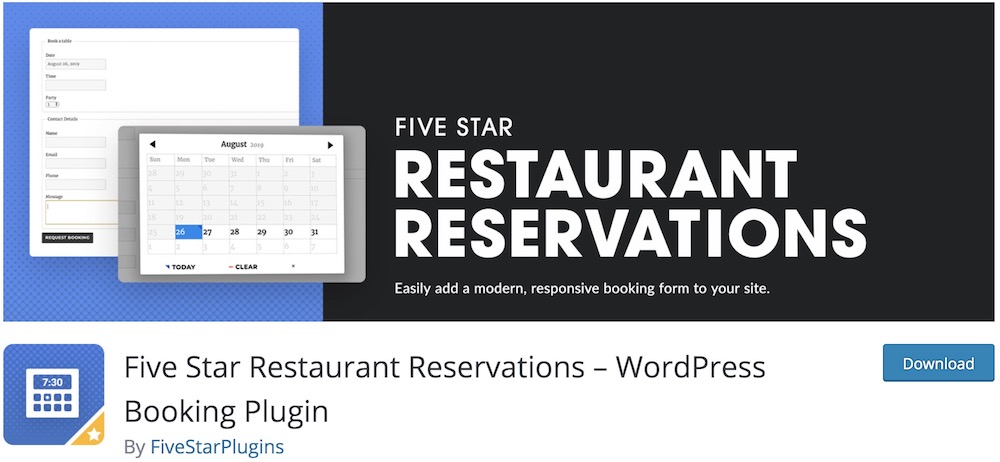 This plugin is made specifically with restaurants in mind. (Do you need more? Then check our WP restaurant plugins collection.)
Sure, you can use the free WordPress booking plugin for hotels or other departments, but it works best for the food industry.
Five Star implements the Gutenberg restaurant booking block that's responsive on every device.
Accepting or declining a reservation is quick and painless. You get an email notification when a request is made.
Also, you are able to send an email to the customer to let them know whether you've accepted or declined their booking.
Besides showing the dates, the plugin allows the customers to input the party size, add a mobile number, and even add a CUSTOM message.
Restaurant Reservations features:
10,000+ sales
4.8/5 ratings
Editing bookings from admin
Adding exceptions, like holidays, etc.
Banning abusive customers
MORE INFO / DOWNLOAD
9. Appointment Hour Booking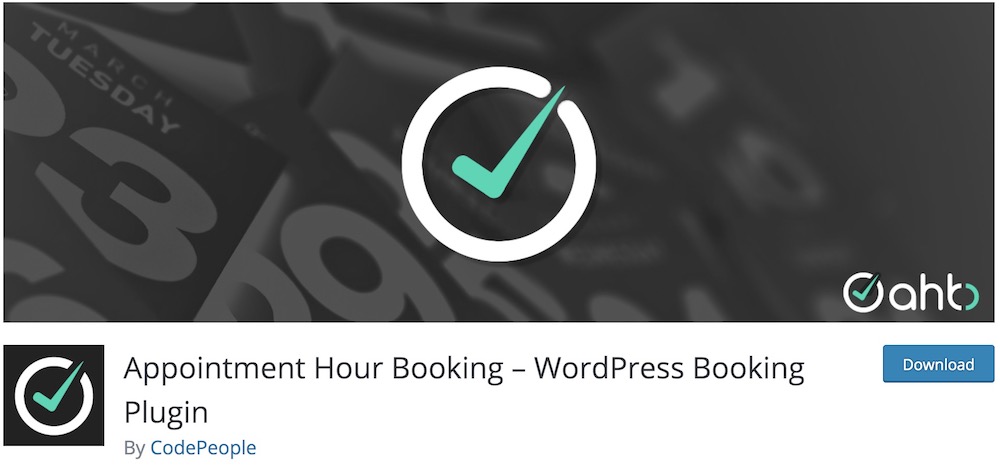 This adaptable plugin works for hotels, personal trainers, teachers and even doctors. This just shows that you can employ the tool for an assortment of different intentions.
Appointment Hour Booking is a free WordPress booking plugin that allows you to schedule events by the hour.
You can easily define invalid dates, holidays and special cases when bookings are not possible.
The start times of your business is calculated automatically based on the data you input. This helps you avoid double-booking.
The price calculation is automatic as well, so you avoid any inconvenience.
The plugin has many add-ons that help you customize it for your specific business.
Appointment Hour Booking features:
20,000+ sales
4.9/5 ratings
Exclusive hour-type bookings
Form validation with captcha protection
Compatibilty with Elementor & Gutenberg
MORE INFO / DOWNLOAD
10. Booking Package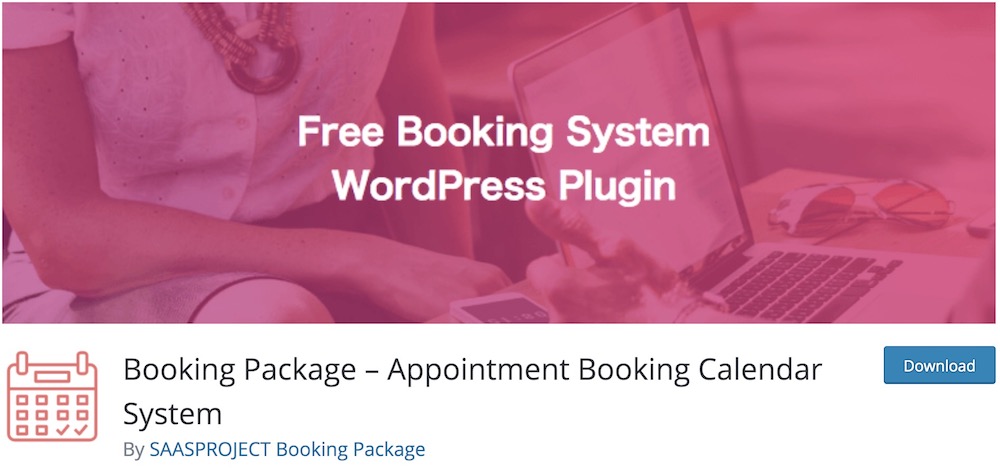 This intuitive plugin helps people understand how to book an event online, even if they never used a computer before.
This free WordPress booking plugin adapts to your specific needs regardless of your business.
Reserving a date does not open a separate window. Instead, it does everything on the spot.
The administrator can manage accounts, integrate payment options and tweak the plugin's appearance.
You also have the option to manage taxes and surcharges.
In short, Booking Package is one large package of goodies to create your own online booking system.
Booking Package features:
10,000+ sales
4.3/5 ratings
Modify personal information
Unlimited number of bookings
Insert Google Analytics at booking completion level
MORE INFO / DOWNLOAD
11. Salon booking system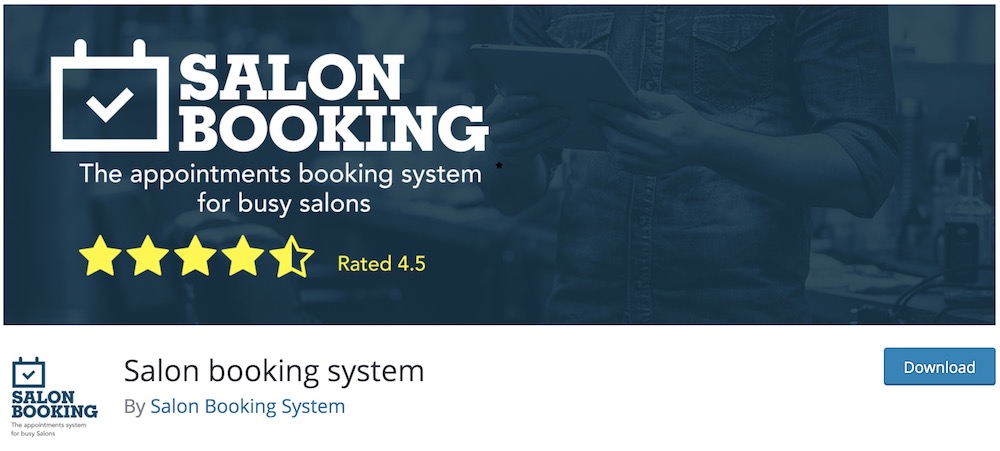 Managing your salon has never be easier thanks to this free WordPress booking plugin. Instead of relying on sticky notes, keep it convenient with a dedicated plugin.
The tool is ideal for any business that relies on reservations made for the same day.
This plugin gives you the chance to manage your appointments quickly and effortlessly. Moreover, it also integrates with Facebook page reviews and Google My Business, displaying feedback directly on the calendar.
You can create custom messages and SMS notifications that are tailored to your customers.
If you need to fix your site or are not working for any reason, you can pause the plugin and restart it on a different date.
Salon booking system features:
7,000+ sales
4.4/5 ratings
Fits any salon-type business
Email followups & reminders
Integrates with WatsApp
MORE INFO / DOWNLOAD
12. Amelia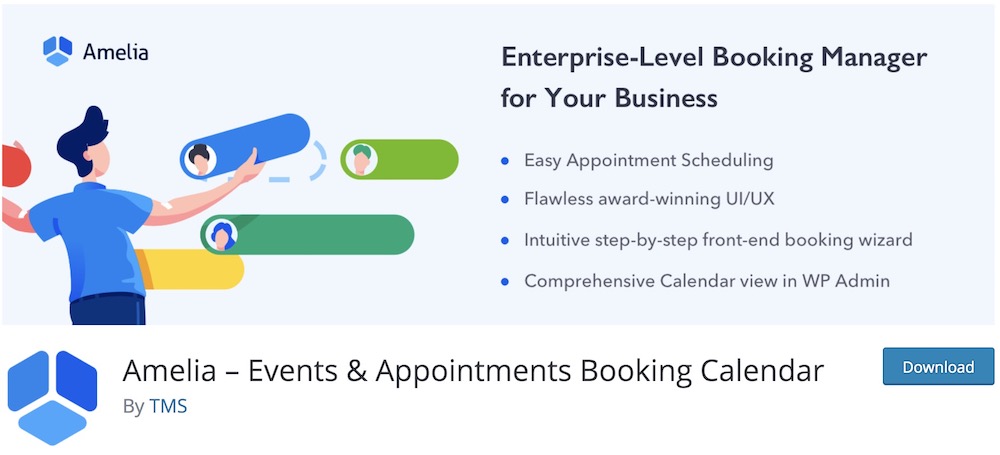 Amelia gives you the chance to create a fully-automated booking experience both for you and your customers.
The free WordPress booking plugin is optimal for small businesses and professional individuals who are just learning the ropes of leading a successful company.
There are two separate blocks for special events and for regular bookings.
The software is open-source, so if you want to change something in the code, you are free to do so.
The appointments management page is easy to manage and edit, giving both you and your staff to add or change the bookings.
Amelia features:
50,000+ sales
4.2/5 ratings
Convenient multiple step booking wizard
Notifications on status changes
Works with any popular WP theme
MORE INFO / DOWNLOAD
::
Note: This article was originally published on October 5, 2020. But our team regularly reviews it and updates it with necessary improvements for accuracy.