Are you looking for the best WordPress PayPal plugins to start accepting payments with ease? I'm sure you are!
After months of research, we are here to list the 10 most valuable free and premium plugins.
You can use these to sell products and services, speed up the checkout process or even accept donations. (Btw, do you need a free WordPress donation plugin?)
These work for EVERYTHING.
Statistics show that customers are 2.8x likely to purchase from you if you accept Paypal.
And we are here to help with that!
This post covers:
Use a plugin and introduce PayPal to your clients and increase your conversions.
How We Tested WordPress PayPal Plugins
We first checked each plugin's overall ratings and user satisfaction by reading through the reviews.
Next, we tested each plugin's compatibility with the latest WordPress version. We also looked at how frequently the plugin receives updates to ensure it's free of bugs and runs smoothly for years to come.
Then came the configurations and settings, as well as the user interface. Is the plugin's admin dashboard user-friendly enough? Can someone set up PayPal payments without knowing how to code?
We also didn't want to include PayPal plugins with poor customer support or badly-written documentation. This made us get in touch with each plugin's team and flip through the documentation so you get the best of both worlds.
Note: Free plugins usually don't offer support, but you can get your questions answered via the support forum (on the WordPress repository).
THE ULTIMATE 9:
You may also be interested in reading our tutorial on how to install a WordPress plugin if it's your first time.
Best WordPress PayPal Plugins
1. WooCommerce PayPal Payouts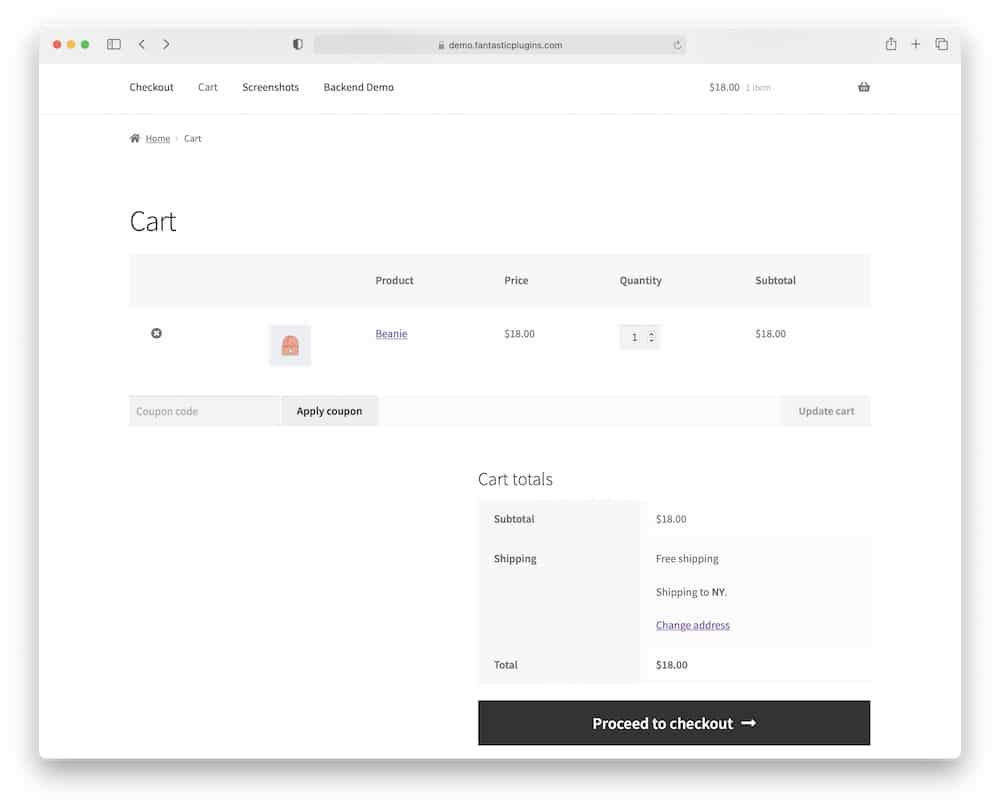 WooCommerce PayPal Payouts is our first selection and is all about SPLITTING your clients' payments in more than one PayPal account.
It allows you to configure the payout settings to the product level, category level and global level.
You can easily use the PayPal Payouts API to split payments between 500 PayPal accounts. Keep in mind that the main PayPal account you use as an admin has to be a Business one.
Also, WooCommerce PayPal Payouts supports manual, automatic and scheduled payouts. Lastly, this plugin is compatible with any WooCommerce-supported theme.
WooCommerce PayPal Payouts features:
250+ sales
5/5 ratings
WPML compatible
Translation ready (use any WP translation plugin you want)
Price: $39 (may vary)
MORE INFO / DOWNLOAD
2. PayPal Button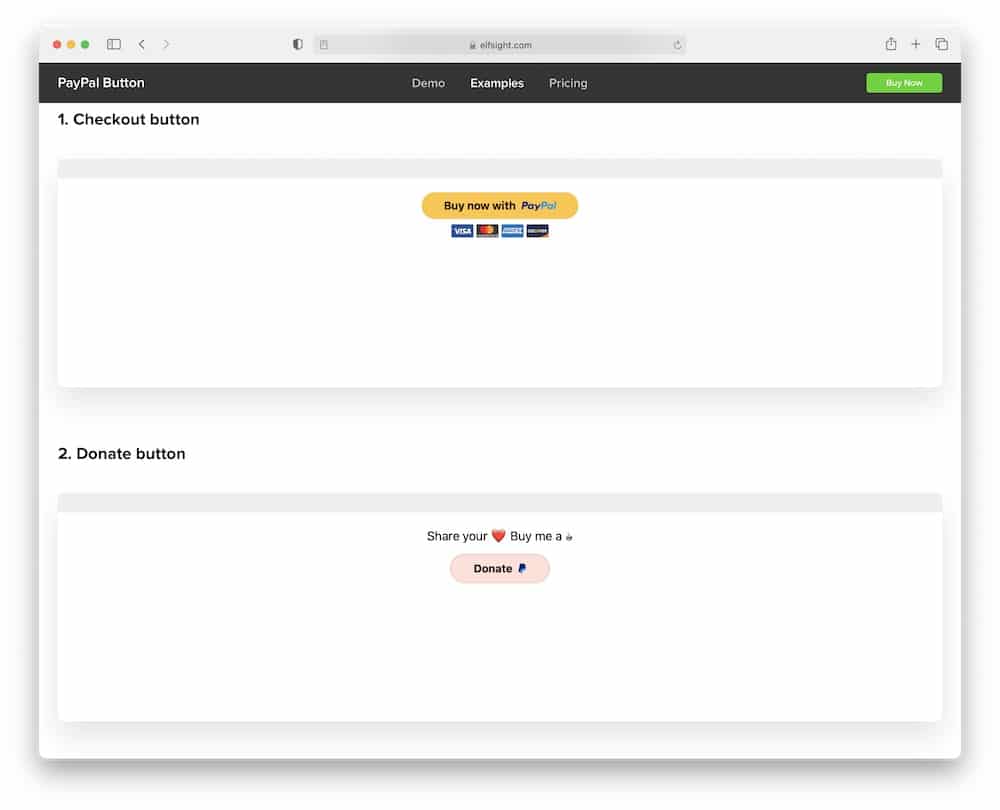 If you want to create a "Checkout with PayPal" button on your website quickly and without any need of technical knowledge, this plugin is for you.
PayPal Button is a very smart choice to give your visitors the option to purchase, donate or subscribe via a PayPal account.
The coolest part is that the setup of a PayPal button takes LESS than a minute to complete.
PayPal Button is a perfect WordPress PayPal plugin for beginners who want to insert a new payment gateway and boost their website's conversion rates.
PayPal Button features:
160+ sales
5/5 ratings
A library of currencies
Automatic updates
Price: $18 (may vary)
MORE INFO / DOWNLOAD
3. PayPal Currency Converter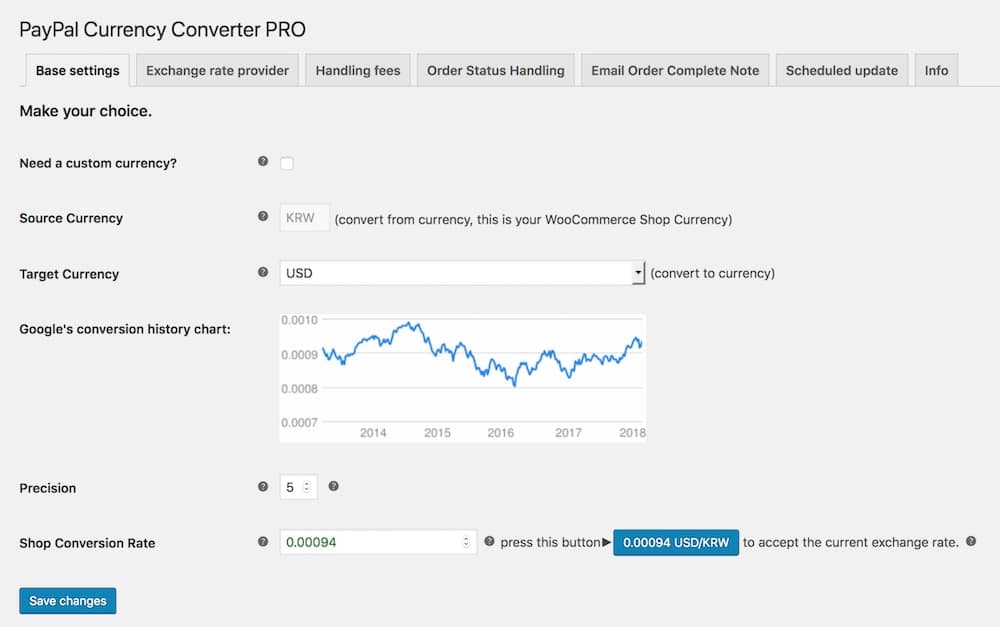 Our next pick is a plugin that helps you convert the currency of any WooCommerce shop to accept the PayPal payment portal "PayPal Standard."
You can also use the plugin to convert taxes, shipping costs and the total shopping cart amount.
Your clients will also have access to the converted handling fees, total tax of the order, total shipping cost, conversion rate, and more.
This plugin is a GREAT solution for startup and successful WooCommerce stores that want to convert their currency and work with Paypal's (universal) payment gateway.
PayPal Currency Converter features:
1,100+ sales
4.6/5 ratings
Google's exchange rates history chart of the past 5 years
Easy to setup
Price: $20 (may vary)
MORE INFO / DOWNLOAD
Best Free WordPress PayPal Plugins
4. Easy PayPal Events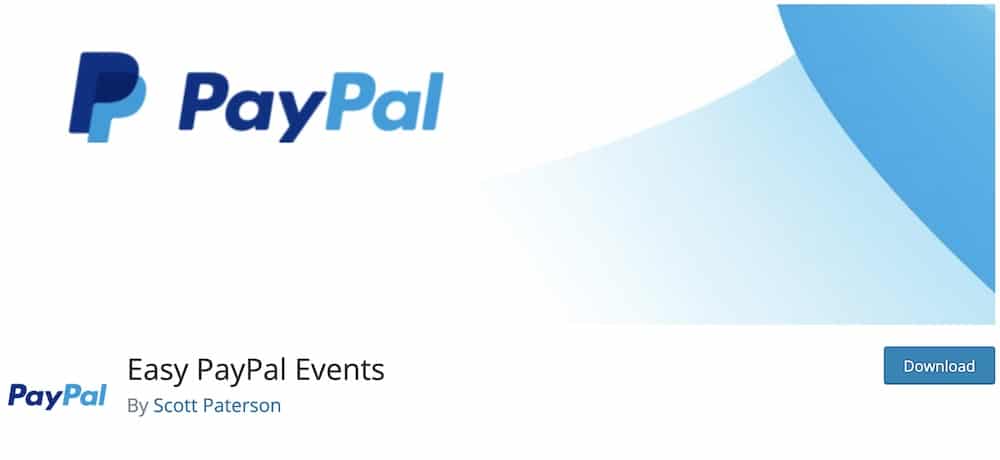 If you are looking for a plugin to sell tickets for events with PayPal payments, this one's for you.
Easy PayPal Events is one of the easiest ways to sell tickets (without coding experience!).
All you have to do is to enter your PayPal account, set up an event and the plugin will generate a WP shortcode. You can then place the shortcode on your site and tickets selling will start.
Finally, Easy PayPal Events will send a QR code to each customer after the ticket purchase.
This free WordPress PayPal plugin is a user-friendly tool that makes ticket selling effortless.
Easy PayPal Events features:
2,000+ active installations
4.9/5 ratings
View of tickets sold in your WordPress admin
Supports 25 currencies & 20 languages
7 PayPal Buy Now buttons
MORE INFO / DOWNLOAD
5. Easy PayPal Buy Now Button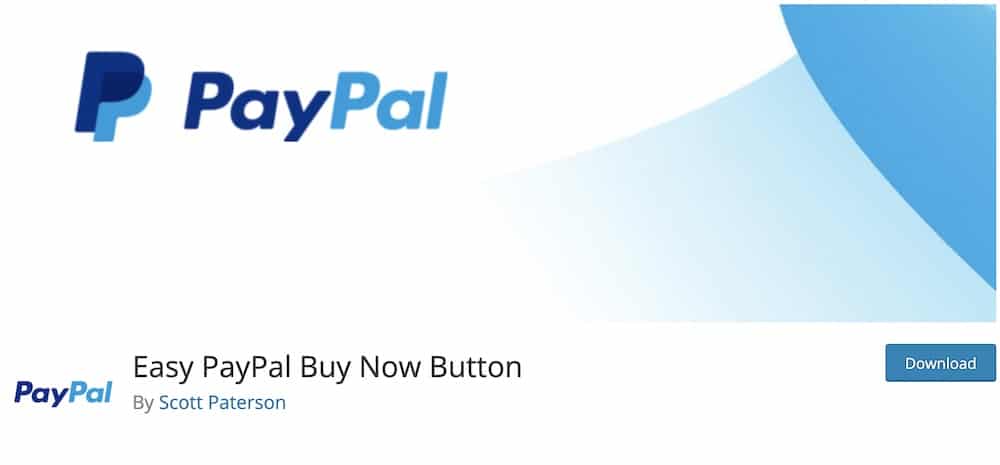 Easy PayPal Buy Now Button is a plugin that will allow you to insert "Buy Now" PayPal buttons anywhere on your site.
The process is very SIMPLE and QUICK. We are sure you won't encounter any issues (we didn't either!).
This plugin inserts a PayPal button to your editing area and all you have to do is enter your details.
Finally, one of our favorite features is that the plugin provides different layouts to help you find the one that matches your website's theme.
Accepting payments becomes SO effortless.
Easy PayPal Buy Now Button features:
20,000+ sales
4.5/5 ratings
Works with any WordPress theme
Option to choose how the PayPal window opens
Great support
MORE INFO / DOWNLOAD
6. WordPress PayPal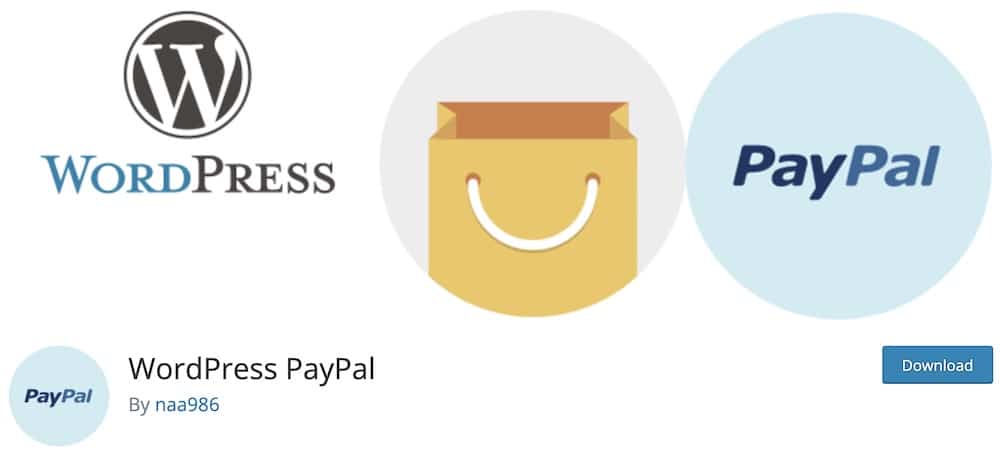 WordPress PayPal is a plugin allowing you to insert payment buttons via shortcodes to your posts and pages. You get a lot of features to work with!
This free WordPress PayPal plugin has a lot to be proud of. One of the important features is that you can offer recurring payments for subscriptions on a daily, weekly, etc. basis.
Besides, WordPress PayPal also supports ADDING multiple items in the same shopping cart.
WordPress PayPal features:
10,000+ active installations
4.4/5 ratings
Recurring payments/subscriptions
Manage orders from your WordPress dashboard
PayPal Sandbox mode for testing
MORE INFO / DOWNLOAD
7. PayPal Donations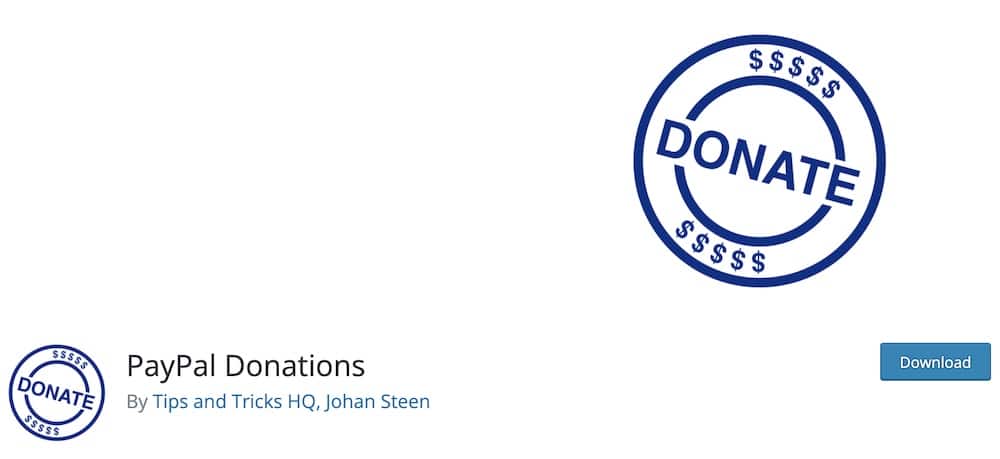 If you are looking for a free WordPress PayPal WP widget to add donations to your website, then PayPal Donations is the best way to go.
You can INSERT a donation button via a shortcode on your WP sidebar widget.
And you have a variety of button templates to choose from. You can even upload and use a custom button.
In short, this plugin is the perfect free choice for those who want to start accepting donations with PayPal payments on their blog or website.
PayPal Donations features:
40,000+ active installations
5/5 ratings
Easy to set up
Different currency & localization
MORE INFO / DOWNLOAD
8. PayPal Express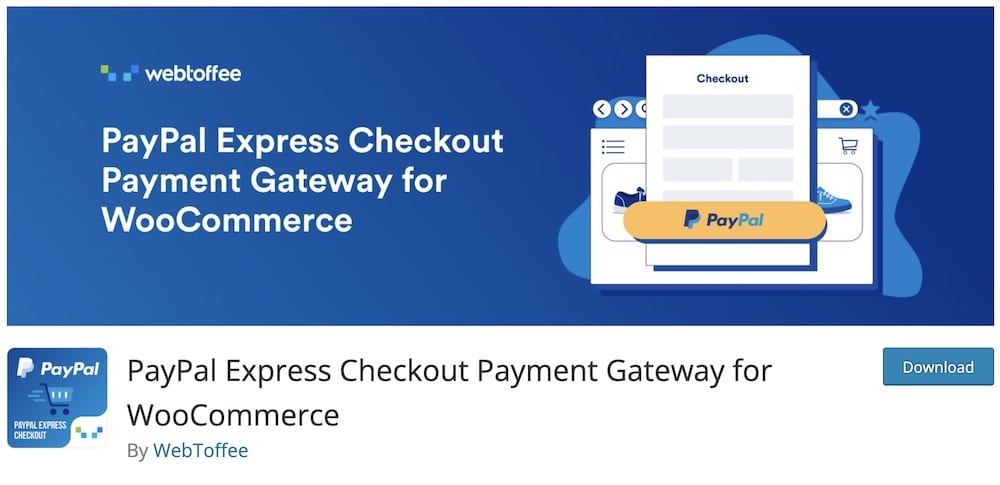 PayPal Express gives you the option to accept payments through PayPal's gateway if you have a WooCommerce online store.
This free WordPress PayPal plugin supports MULTIPLE payment options like credit cards and PayPal money.
Besides that, your customers will have the option to complete their orders from the cart page.
Offering express (faster) checkout is a great way to boost your online store's user experience. (And increase sales!)
PayPal Express Checkout Payment Gateway features:
10,000+ active installations
4.2/5 ratings
Faster checkout by skipping the order review page
Checkout button customization
Option to add invoice prefix to identify store order
MORE INFO / DOWNLOAD
9. Simple PayPal Cart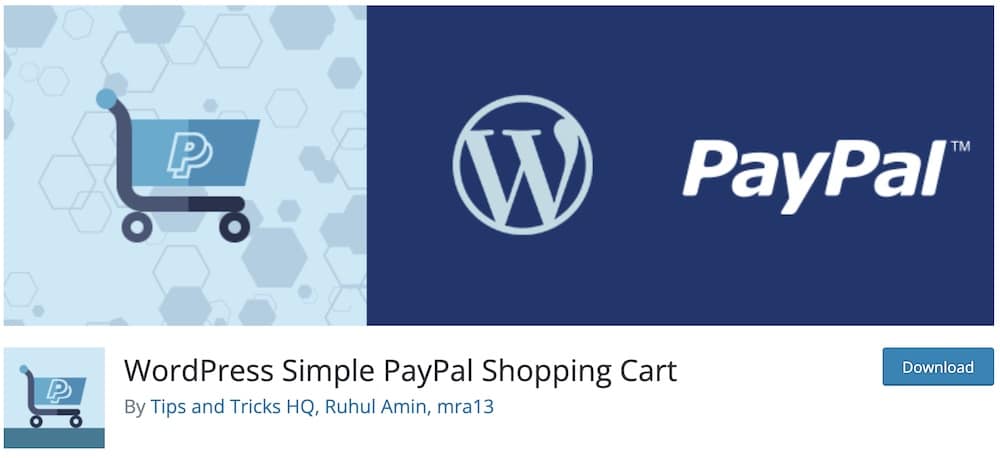 If you are looking for a free WordPress PayPal plugin that will help you add a PayPal shopping cart to your website, this is the best solution.
You will also get a lot of features to work with With Simple PayPal Cart.
For example, we really like that you can combine the plugin with NextGen Photo Gallery for selling photos during our testing.
This plugin also allows your customers to change the items' quantity or even remove them completely from their shopping cart.
Inserting a PayPal shopping cart into your website HAS NEVER BEEN EASIER!
WordPress Simple PayPal Shopping Cart features:
20,000+ active installations
4.5/5 ratings
Option to sell services
Compatible with WordPress Multisite
Email with a media file
MORE INFO / DOWNLOAD
10. Bonus: Easy PayPal Events Pro

For our last pick, we have the Easy PayPal Events Pro. This is the pro version of Easy PayPal Events but with a lot more features.
You have the option to add up to 15 items per event with this PayPal plugin. You can also limit the available quantity and charge taxes.
Apart from all that, an important pro is that you have instant access to all further plugin updates.
To sum up, the pro version provides all the features you need to SCALE the ticket selling experience on your website.
Easy PayPal Events Pro features:
7,000+ sales
5/5 ratings
Ticket availability feature
Clone events
Price: $39.99 (may vary)
MORE INFO / DOWNLOAD
::
Note: This article was originally published on March 10, 2022. But our team regularly reviews it and updates it with necessary improvements for accuracy.