We opted for our proven free and premium WordPress food ordering plugins when we recently met with a restaurant owner to expand their website.
We reviewed and tested 45+ appropriate plugins over the past couple of years.
(Work great as WordPress food delivery plugins, too!)
We ended up using these 11 most often.
We Based Our Best WP Food Ordering Plugin Selection On:
Mobile performance
User-friendly integration & customization
Payment methods
Easy order submission/cancel
Notifications
Reviews & ratings
Delivery availability (distance limit)
Create a food menu, display your dishes, pricing, add extras, introduce special notes and offer instant online food ordering/delivery.
SO. EASY. SO QUICK.
This post covers:
Friendly tip: If you build a website from scratch, we recommend using a food delivery WordPress theme instead.
(Note: If you look for practical WordPress restaurant plugins, we have a comprehensive list for you.)
THE ULTIMATE 2:
Best WordPress Food Ordering & Delivery Plugins
1. WooFood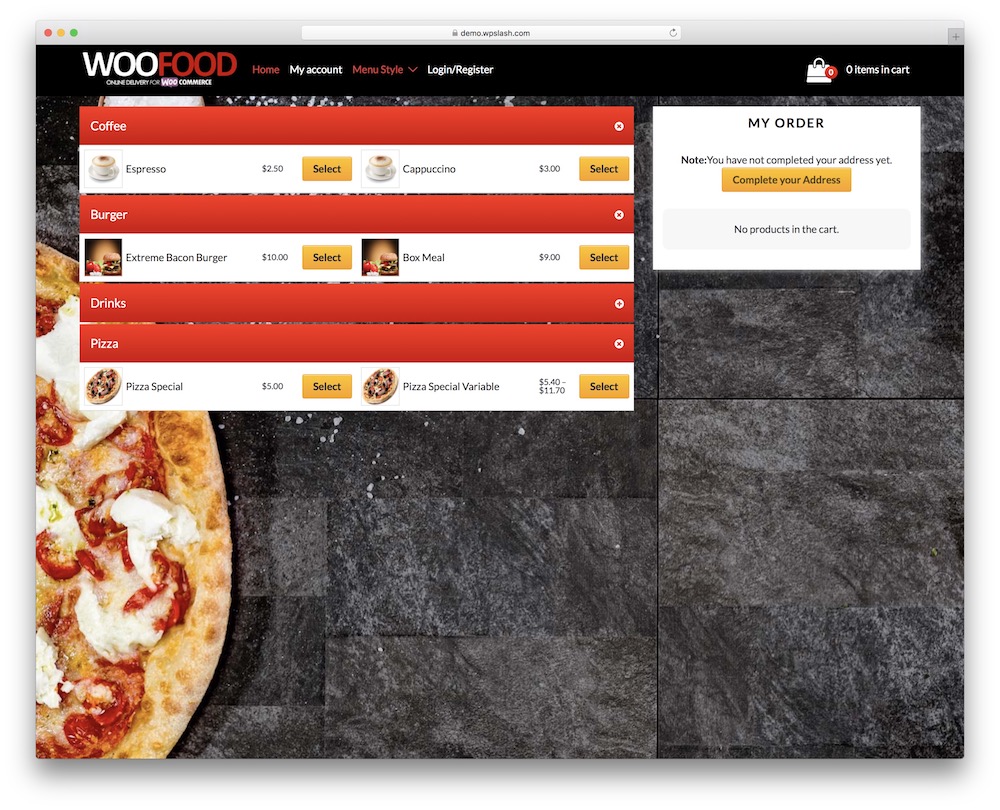 WooFood is a clean, stylish plugin with a stylish look that will neatly fit in with the theme and layout of your website.
This WordPress food delivery plugin has automatic printing software to help you neatly organize receipts from food orders.
You can set up a single-choice, multiple-choice, or limited-choice menu for adding extras.
As an admin, you can ACCEPT or DECLINE orders in real time and inform the customer of the estimated delivery time.
The MultiStore feature lets you juggle multiple different menus if you have more than one store.
WooFood features:
1,700+ sales
5/5 ratings
Printing app for Windows & Mac
Delivery distance limit
Price: $199 (may vary)
MORE INFO / DOWNLOAD
2. WooCommerce Food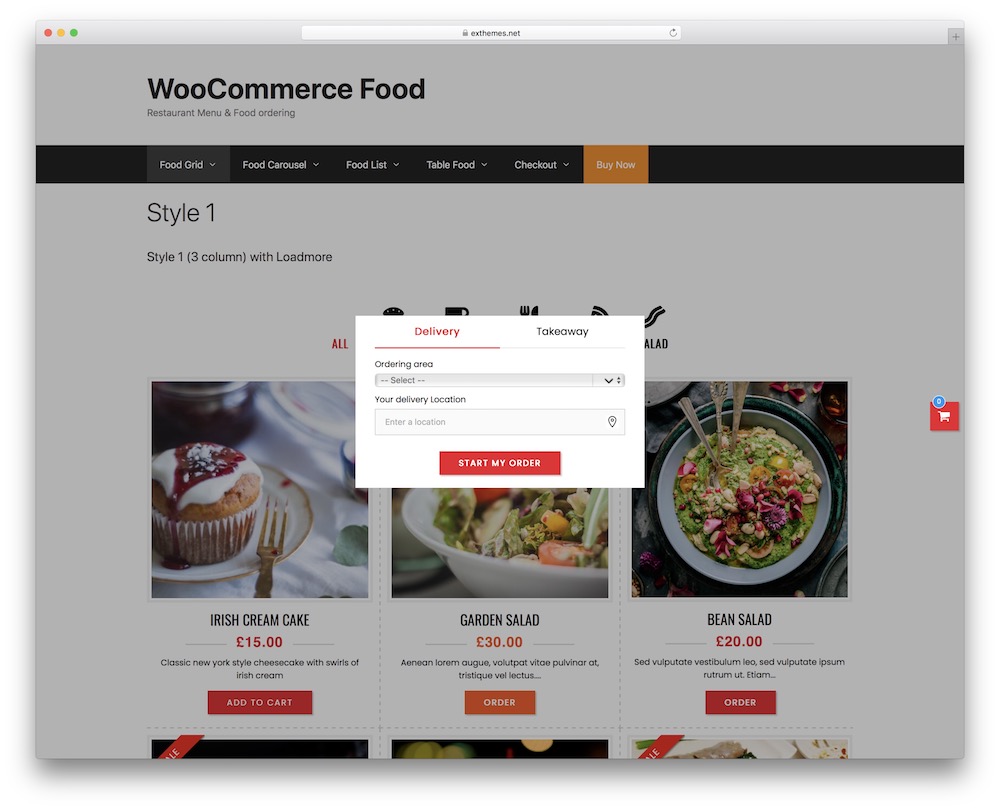 WooCommerce Food is a very manageable one, with a seamless design and responsive features that will be more than helpful for your restaurant.
The user interface is friendly, boasting a gorgeous design and responsive elements.
WooCommerce Food has multiple customization options and features that will allow you to match it with the layout of your website.
There's NO NEED to understand coding to make this plugin work.
There's an option to limit the shipping radius using the Google Maps API.
You can also set a delivery fee according to the location and heaps more.
WooCommerce Food features:
3,200+ sales
4.9/5 ratings
Quick order
Compatible with RTL languages in WP
Price: $49 (may vary)
MORE INFO / DOWNLOAD
3. FoodBook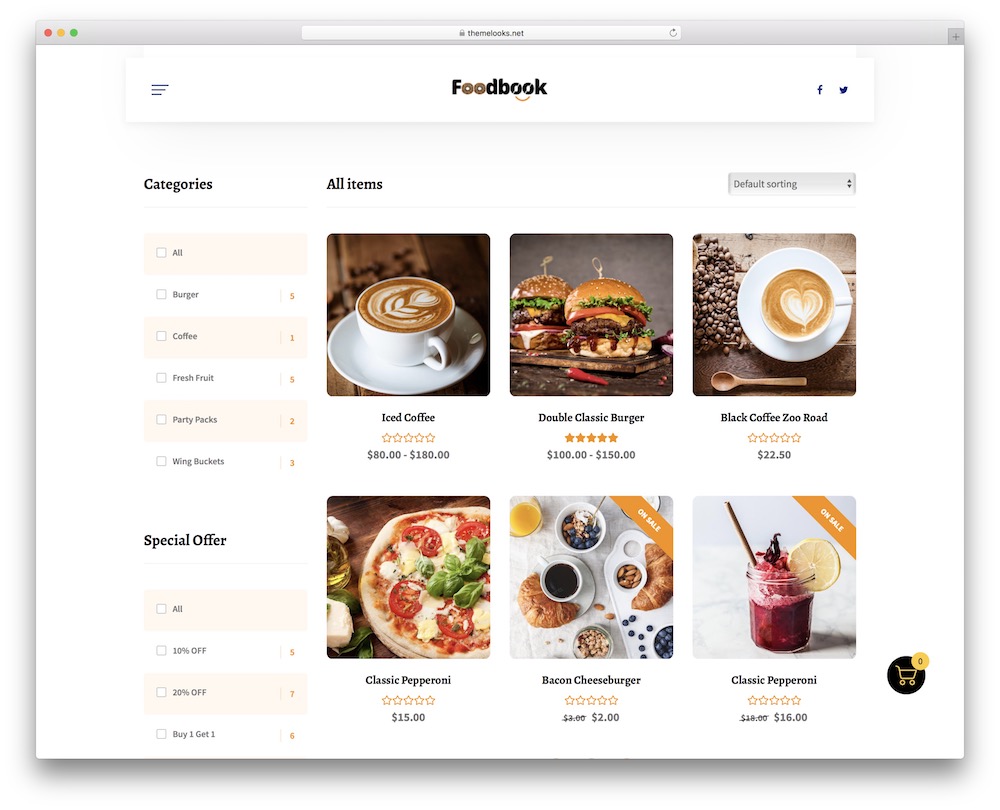 FoodBook is a premium plugin with many useful features that will make your business run seamlessly.
This WordPress food ordering plugin works with WooCommerce, with a live search bar and plenty of categories for filtering out food on the menu.
Every person in your staff can have their individual menus adapted to their role.
A pop-up will inform you when an order is placed, so you NEVER MISS one.
The plugin also supports invoice printing, which you do easily by clicking a single button.
You can update the customers about their delivery in real-time and allow everyone to checkout as guests.
FoodBook features:
620+ sales
5/5 ratings
Sound notification for admins
Regular updates & documentation
Price: $49 (may vary)
MORE INFO / DOWNLOAD
4. WP Cafe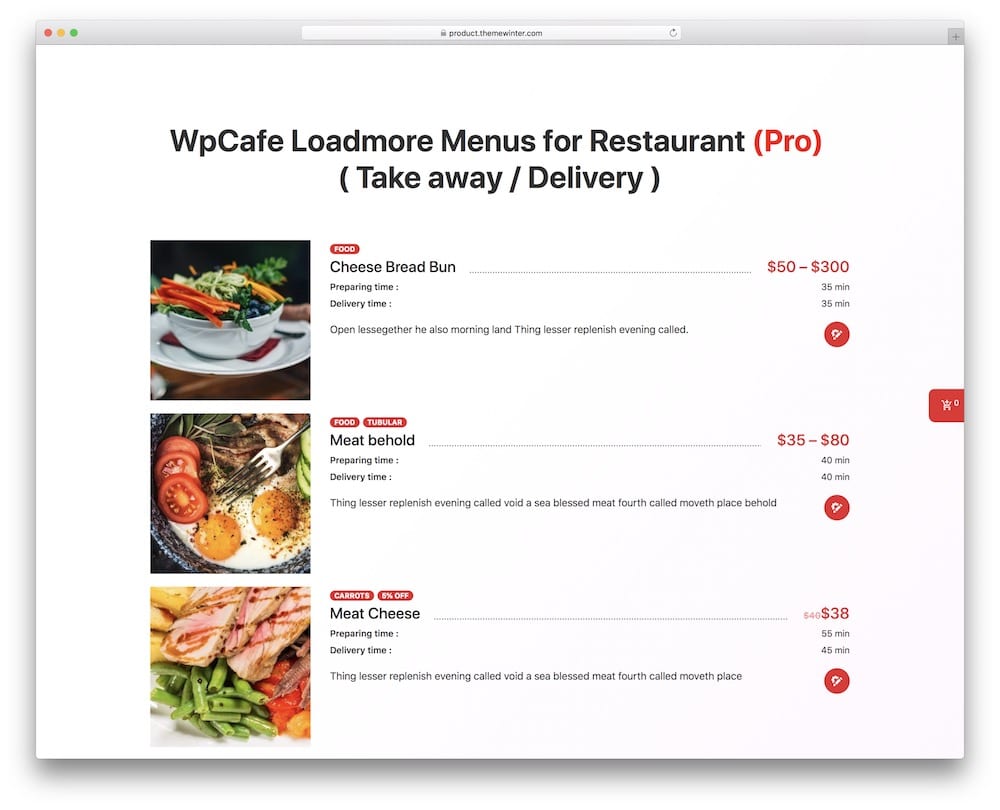 The free version of WP Cafe is above, which you can use at any time you want.
However, once you want to take things to the next level, here is the pro version of this restaurant and food ordering plugin.
The tool comes with heaps of goodies, offering everyone to order food directly from your website.
WP Cafe is also customizable and ENTIRELY compatible with all modern devices so that everyone can order on the go.
Additionally, WP Cafe works flawlessly with Elementor and WooCommerce and comes with over twenty menu styles to choose from.
WP Cafe features:
190+ sales
4.5/5 ratings
Ready-to-use custom WP widgets
Price: $119 (may vary)
MORE INFO / DOWNLOAD
Best Free WordPress Food Ordering Plugins
5. Food Online for WooCommerce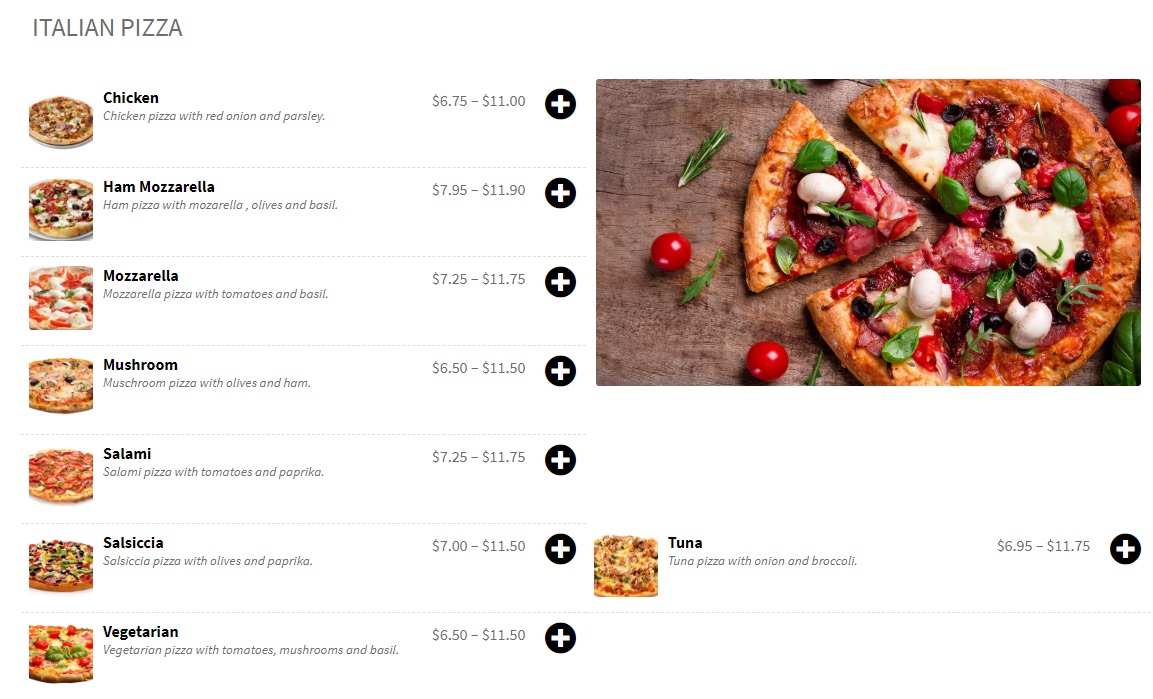 A good WordPress food ordering plugin can be beneficial if you own any business in the food sector.
Food Online for WooCommerce plugin is straightforward, with a clean interface that anyone can master in a few minutes.
The plugin will work smoothly on desktop browsers and mobile devices for a flawless experience.
You can choose two different menu staples and FURTHER customize the colors, icons, and borders.
You can also use product attributes that let you describe the dish you are selling.
This is a free version, but a premium option is available with more features.
Food Online for WooCommerce features:
700+ active installations
4.1/5 ratings
Handy customization functions
Shortcode for quick insert
Product attributes
MORE INFO / DOWNLOAD
6. FoodBook Light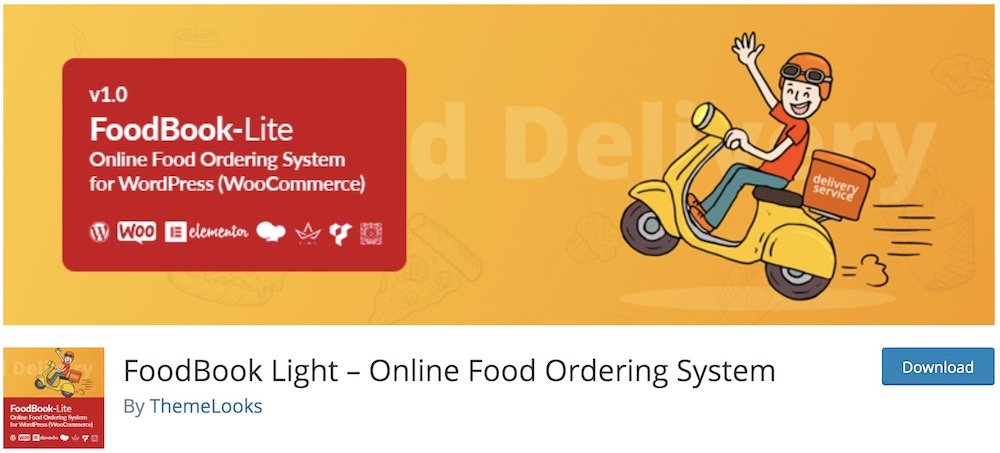 FoodBook is a plugin developed using WooCommerce as a base. This WordPress food ordering plugin has options for both pick-up and delivery.
The menu has a simple design that is easy to modify to fit with your site's general theme.
This plugin is standalone, meaning you can input the WP shortcode ANYWHERE you wish. The developers promise zero errors, and plugin's updates are free.
Of course, you also do not need to have any coding knowledge to make it happen.
Your customers can schedule delivery times and add instructions and other info.
FoodBook Light features:
80+ active installations
5/5 ratings
Single page cart
Pro version above
MORE INFO / DOWNLOAD
7. RestoPress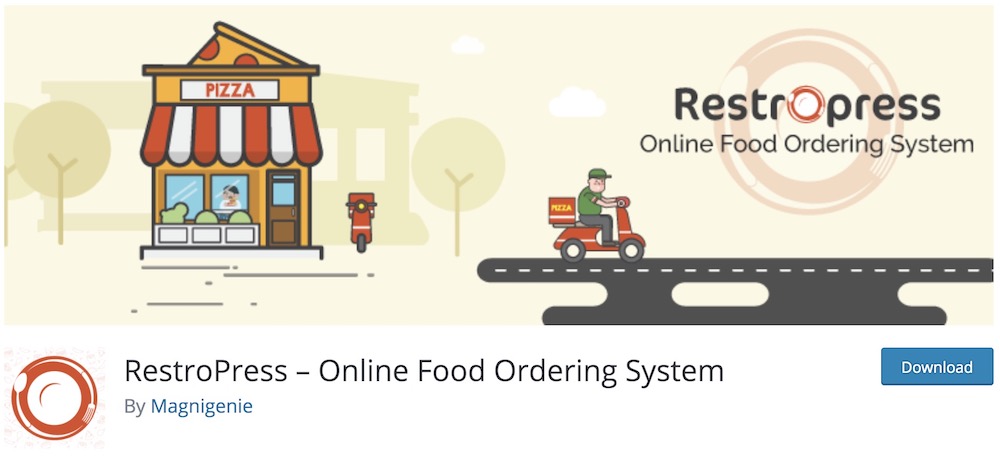 This impressive plugin can neatly fit in with your website's theme. You can make it feel like it was there since the beginning.
This WordPress food delivery plugin has a user-friendly frontend and backend, with a pre-built user dashboard.
You can play around with the options even if you have never seen a line of code before.
An instant push notification will ping you as soon as an order is placed, saving additional time.
The reporting system showcases sales, customers, and everything else in between that is vital to your business.
Also, customers can register or log in quickly. A FULL-BLOWN solution for your food ordering service.
RestoPress features:
2,000+ active installations
4.3/5 ratings
Quick install, activation & setup
Different payment options
Convenient reporting
MORE INFO / DOWNLOAD
8. Five Star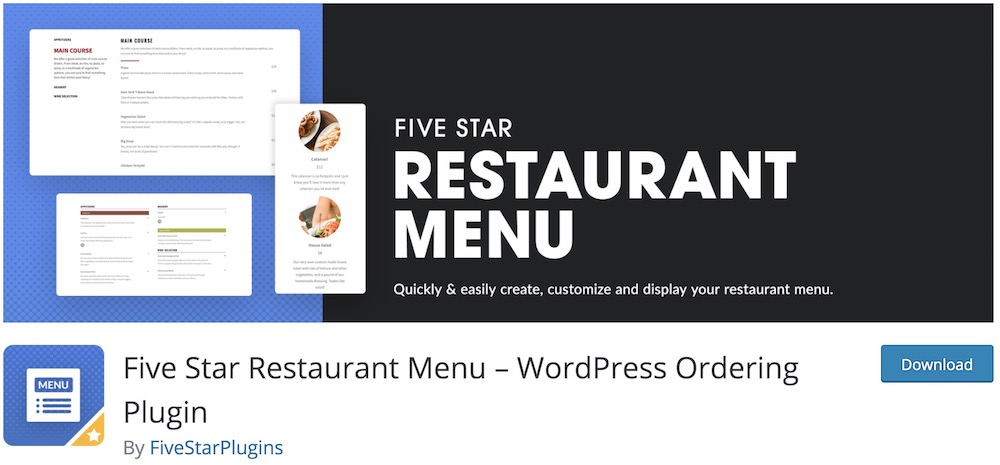 Five Star is a stylish plugin that's easy to customize and use for your food business.
This WordPress food ordering plugin has a menu builder that can be set up in mere minutes, with colorful choices and elegant layouts.
A Gutenberg restaurant menu block makes inputting the shortcode effortless and quick.
You can add UNLIMITED menus with individual items.
You can also define working hours on the menu, specifying when customers can place an order.
Every item can have a unique photo, price, and description to make it even more compelling.
Five Star features:
8,000+ active installations
4.6/5 ratings
Photos & prices for each item
Gutenberg block
Reviews (+ submit review function)
MORE INFO / DOWNLOAD
9. Gloria Food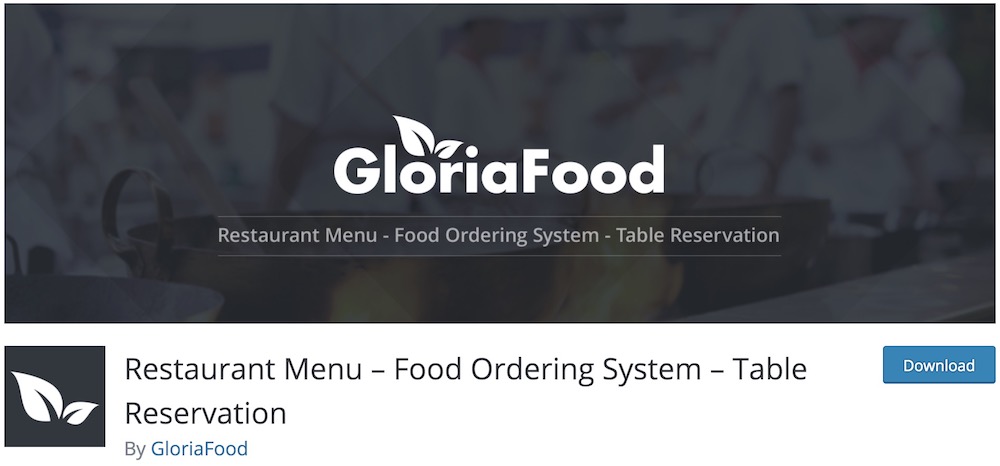 Along with food ordering, Gloria Food also allows customers to make a reservation at your restaurant.
Gloria Food is free of charge, allowing you to add as many items as you want to your menu.
An installation wizard will guide you through implementing the plugin, so don't worry if you're unfamiliar with coding. But you can also read through our tutorial on how to install a WP plugin.
Note: You do not need any experience.
You can add your images next to the food options or use the images that come with the plugin.
The menu supports all kinds of add-ons and topping options, so even the most complex pizza or burger options will be easy to handle.
Gloria Food features:
10,000+ active installations
4.4/5 ratings
One page checkout for quick ordering
Auto-fill information
Real-time confirmation
MORE INFO / DOWNLOAD
10. WP Cafe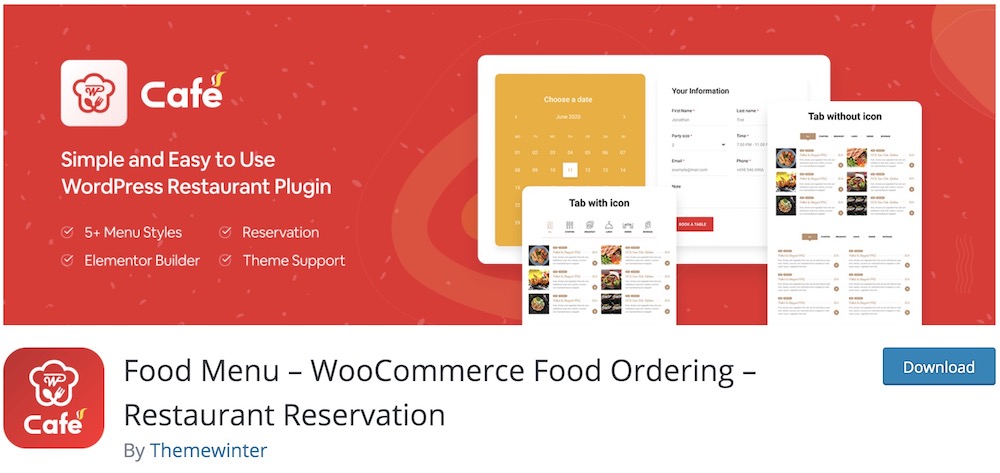 WP Cafe is a free plugin with great features and options, but if you need even more stylish options and cool layouts, you can always go one step further with the upgraded version.
This WordPress food delivery plugin helps you manage online food ordering and create menus, allowing customers to make restaurant reservations.
There's a live demo available where you can see the plugin in action and experience it FIRST-HAND.
You can design the menu, icons, and layouts with five different options in the free version, or more than 26 options in the premium version.
You can also alter the food menu depending on the location (what we did), which is pretty cool.
WP Cafe features:
7,000+ active installations
4.7/5 ratings
All-in-one solution for restaurants
Mini cart
Front-end reservation submission & cancelation
MORE INFO / DOWNLOAD
11. Food Store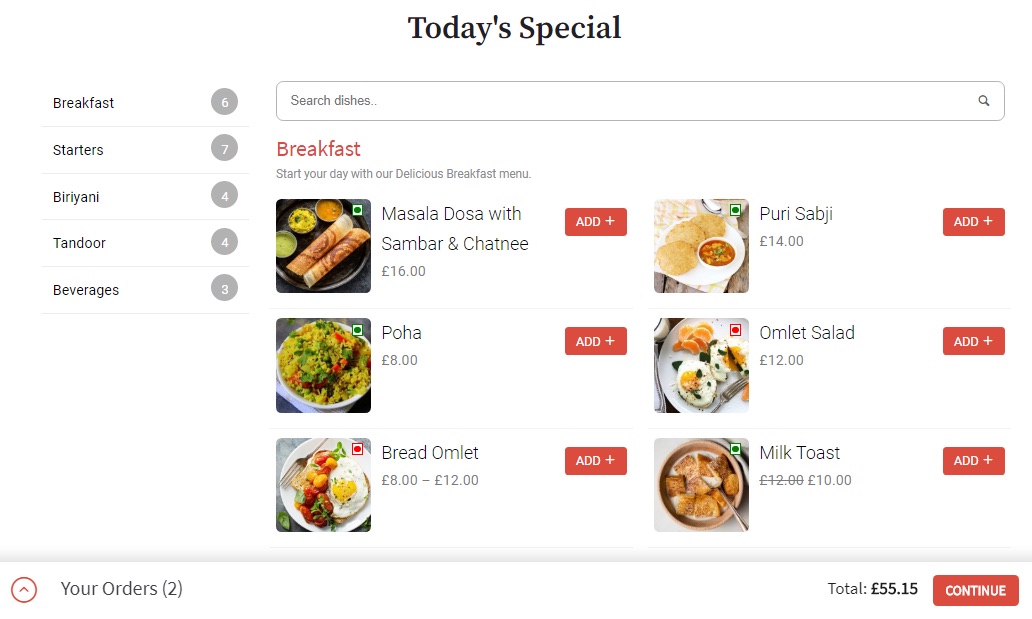 Food Store is a clutter-free, minimalistic plugin that's easy to comprehend and use.
This WordPress food ordering plugin has an accessible settings panel to change the layout, colors, menu styles, and items whenever you feel like it.
You can turn off the menu when your restaurant is CLOSED, and the customers can choose when they want their food to be delivered.
The plugin works smoothly on mobile and desktops devices. (We tested it extensively.)
You can tag the items on your menu with vegan (vegetarian) or non-vegan markings to accommodate different diets.
Food Store features:
2,000+ active installations
5/5 ratings
Shortcode to add anywhere
WooCommerce compatible
Variable pricing
MORE INFO / DOWNLOAD
::
Note: This article was originally published on November 4, 2020. But our team regularly reviews it and updates it with necessary improvements for accuracy.