Manage your real estate website a lot simpler with these WordPress real estate plugins.
REMEMBER: A large percentage of home buyers search online to decide which real estate company to trust.
Make sure you don't miss the opportunity!
For this reason, we have selected (and tested) the 8 (out of 30+) best free and premium real estate plugins on the market.
Our top picks include plugins to present real estate listings in grids, manage important information (location, agent directory, etc.), front-end submissions and maps.
Add value to your real estate website and take your business to the NEXT LEVEL!
THE ULTIMATE 2:
Top WordPress Real Estate Plugins
1. Real Estate Manager Pro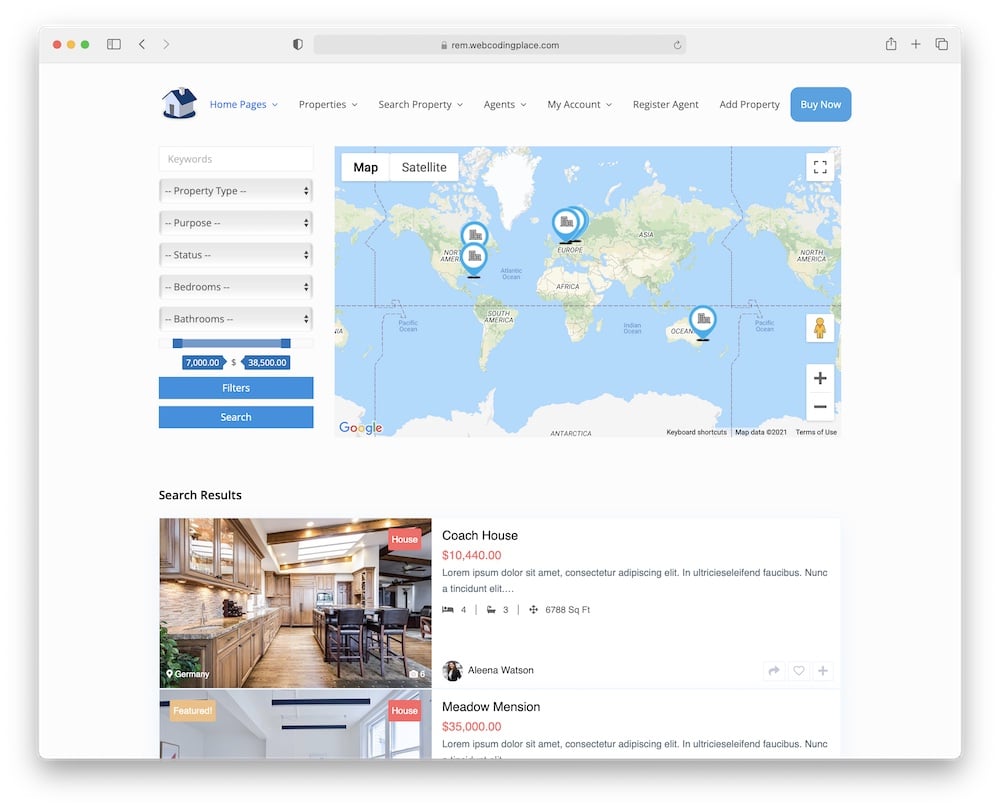 Real Estate Manager Pro is an easy-to-use plugin for property listings. It is very popular among website owners and developers due to the great features it offers.
The plugin allows you to add real estate videos, property types, and locations on Google Maps. Other features include premade grid and carousel templates and even a mortgage calculator.
This WordPress real estate plugin supports the well-known Elementor theme builder. You can design your listing page using the plugin's handy widgets.
We HIGHLY recommend the plugin if you need a full-blown solution for real estate.
Real Estate Manager features:
2,100+ sales
4.8/5 ratings
Advanced listing options
Price: $39 (may vary)
MORE INFO / DOWNLOAD
2. Real Estate Pro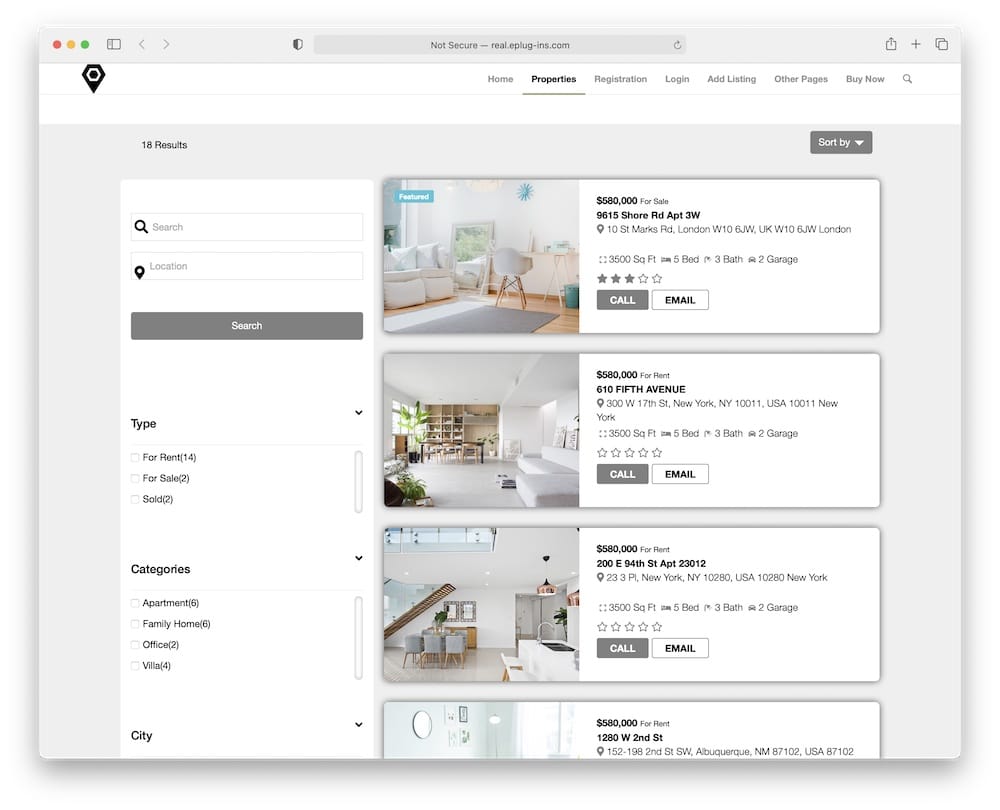 Next in our top selection is the Real Estate Pro, a plugin that includes numerous features that will help you manage your listings easily. It is a fully responsive plugin that allows you to create a captivating touch slider.
Some of its features include multilingual support, email templates, contact forms and a top-notch front-end dashboard.
Plus, this is a GREAT way to import and manage the most essential information about the properties you are listing.
From the floor plan and the owner's contact lists to nearby public facilities, it leaves out nothing.
Real Estate Pro features:
1,000 sales
4.4/5 ratings
Price: $39 (may vary)
MORE INFO / DOWNLOAD
3. WPCasa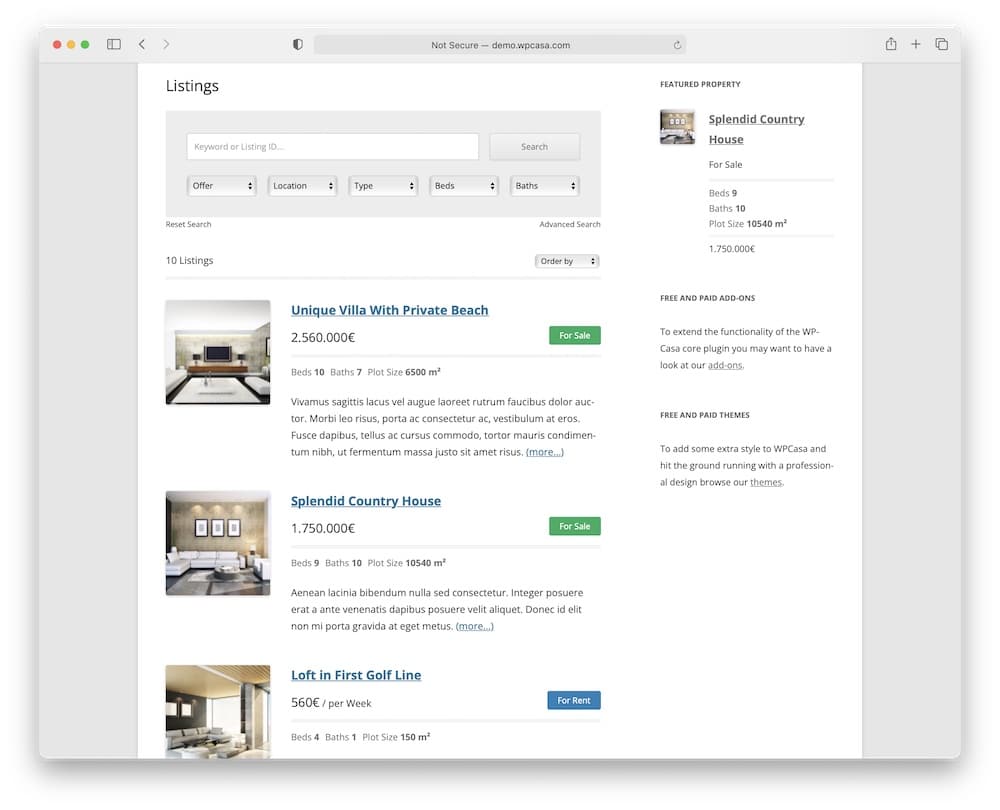 If you want to have a beautiful and elegant website without any delays, then the WPCasa plugin is your best choice.
With this WordPress real estate plugin, you will have access to unique themes that will allow you to customize your look FULLY. (But you can also use your theme.)
It is a fully responsive real estate plugin. Also, you can add advanced search filters so that property search is more accessible and happens in seconds.
Another plus point of the WPCasa real estate plugin is that it is an international plugin.
It offers multilingual support and the themes it integrates are fully translatable.
WPCasa features:
8,000+ sales
4.5/5 ratings
Easy-to-use
SEO-friendly
Price: $49+
MORE INFO / DOWNLOAD
Best Free WordPress Real Estate Plugins
4. Estatik Real Estate Plugin

Estatik is another great plugin to help you create online real estate listings. In fact, this is one of the MOST user-friendly plugins we have ever tested on a real-estate website.
And it's FREE!
The main features of this free WordPress real estate plugin are property search widgets, Google Maps support, and social sharing.
The best part is that it includes many customizable features like categories, amenities, and status.
It also uses Ajax search features, allowing your customers to search for a property in listings (by date, popularity, and more).
Website visitors can even save their searches and create wishlists with Estatik.
Estatik features:
6,000+ active installation
4.9/5 ratings
50+ shortcodes
Configurable search
Slideshow widget
MORE INFO / DOWNLOAD
5. Easy Property Listings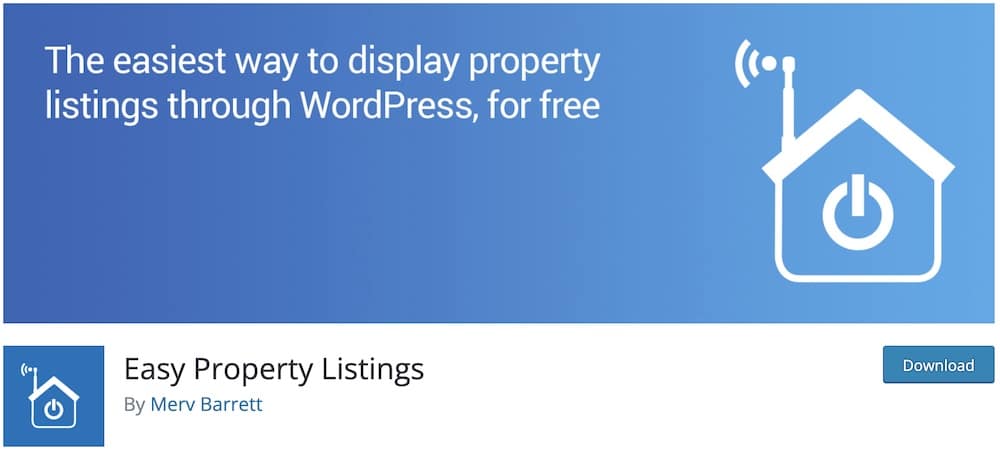 For those who are looking for a powerful real estate plugin, Easy Property Listings is the best choice.
This professional tool includes 100+ free WordPress real-estate themes for you to choose from.
Plus, Easy Property is a user-friendly plugin that doesn't require any coding experience. We loved using and testing it a lot.
It displays listings in a grid format allowing you to include all the important information (price range, location, bedrooms, bathrooms, etc.).
This WordPress real estate plugin also proved to work PERFECTLY on any mobile device and browser during our testing. Finally, Easy Property is a translation-ready plugin that makes it perfect for non-English websites.
Easy Property Listings features:
7,000+ active installations
4.7/5 ratings
Excellent reporting
Supports lightbox
More than 150 customizable fields
MORE INFO / DOWNLOAD
6. Realtyna WPL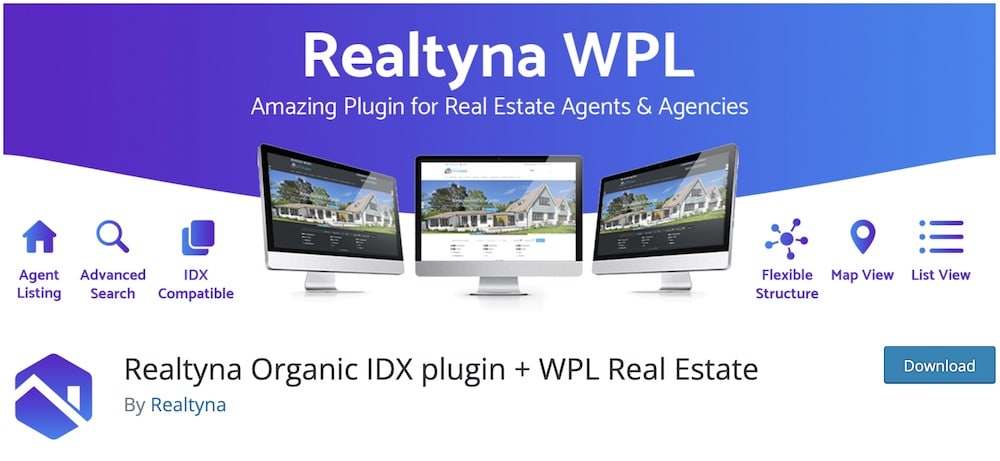 Realtyna is one of the most flexible WordPress real estate plugins on the market.
With a simple user interface, this plugin allows you to add, remove and make alterations in the fields without customizing the database.
The best part is that you can choose between different listing views.
Features include the numerous customizable fields, real estate agent profiles, full compatibility with any WordPress theme.
This free WordPress real estate plugin also offers a Pro version that integrates with MLS/IDX services.
Realtyna WPL features:
5,000+ active installations
4.7/5 ratings
Optional Multisite solution
Great knowledge base & support
Comprehensive tutorials
MORE INFO / DOWNLOAD
7. Essential Real Estate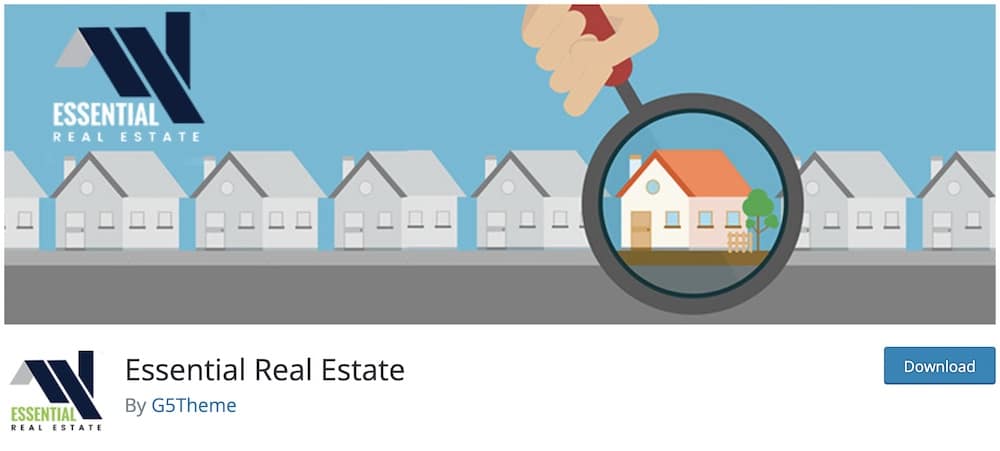 With Essential Real Estate, creating a WordPress real estate website could not get any easier.
It provides numerous templates and features to speed up and simplify the process.
The best thing about this plugin is the 360 virtual video tour that allows you to show your clients an entire property. (You need to see it to believe it.) This feature is beneficial, impressing your clients.
It provides more than just the NECESSARY options to showcase a property.
Even though Essential Real Estate is a free plugin, it feels and acts like a premium tool.
Essential Real Estate features:
10,000+ active installations
4.5/5 ratings
Demo with instructions
Back- & front-end property submission
Multiple payment methods
MORE INFO / DOWNLOAD
8. WPVR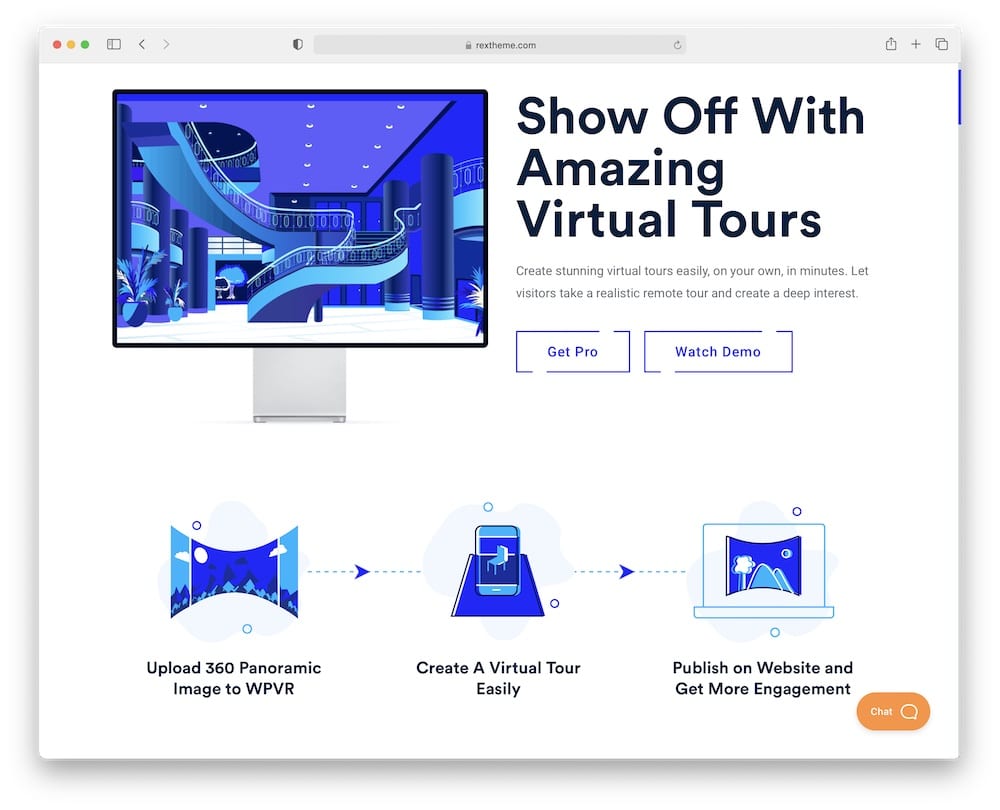 With top ratings and numerous happy customers, the WPVR real estate plugin needs no introduction.
This plugin includes A LOT more than just the essential features a website owner needs.
The WPVR real estate plugin is a powerful plugin that allows you to showcase your properties like a BOSS.
Like the Essential Real Estate plugin, it offers 360° virtual video with an on-screen compass.
You can also control the tour's automatic loading and the automatic rotation.
Another fantastic feature is having unlimited scenes and adding hot spots. As for the hot spots, you can also customize the icons and choose the best ones for you.
WPVR features:
10,000 sales
4.6/5 ratings
Elementor widget support
Gutenberg block support
Interactive hotspots
MORE INFO / DOWNLOAD