We reviewed the most user-friendly free and premium WordPress job board plugins for your job search engines and boards.
A job board website can be a good way to make money online. (And it's easy to build!)
You can allow employers to post jobs on your site and charge them a premium listing fee to bump their listing to the top.
You can also charge a standard fee to list a job or offer the basic listings for free.
Luckily, you don't need a developer to make it happen.
This post covers:
These (TESTED & PROVEN) free and premium plugins will do the trick!
How We Tested The Best WP Job Board Plugins
We always make sure to examine every plugin we add to our reviewed collection thoroughly.
For this curation, we started with 25 free and premium plugins.
We first checked users' feedback, star reviews and update frequency. (We quickly eliminated 7 unreliable too.)
Then, we read through the documentation and contacted the support team to ensure you get quality help and assistance. (3 plugins were really bad at this.)
The next step was to activate our demo website and install every plugin, first to see how little impact the plugin has on the loading speed. (Another 3 flopped at this test.)
When then tried to create a job board to see the configuration settings (including profile creations, job offers, etc.) and how much customization freedom each plugin offers. (Remember, a free plugin comes with more limitations than a premium one – but the ones below are solid.)
Of course, we didn't forget about responsiveness, which is ESSENTIAL.
THE ULTIMATE 2:
You may also be interested in reading our guide on installing a WP plugin.
Best WordPress Job Board Plugins
1. WordPress Job Board Solution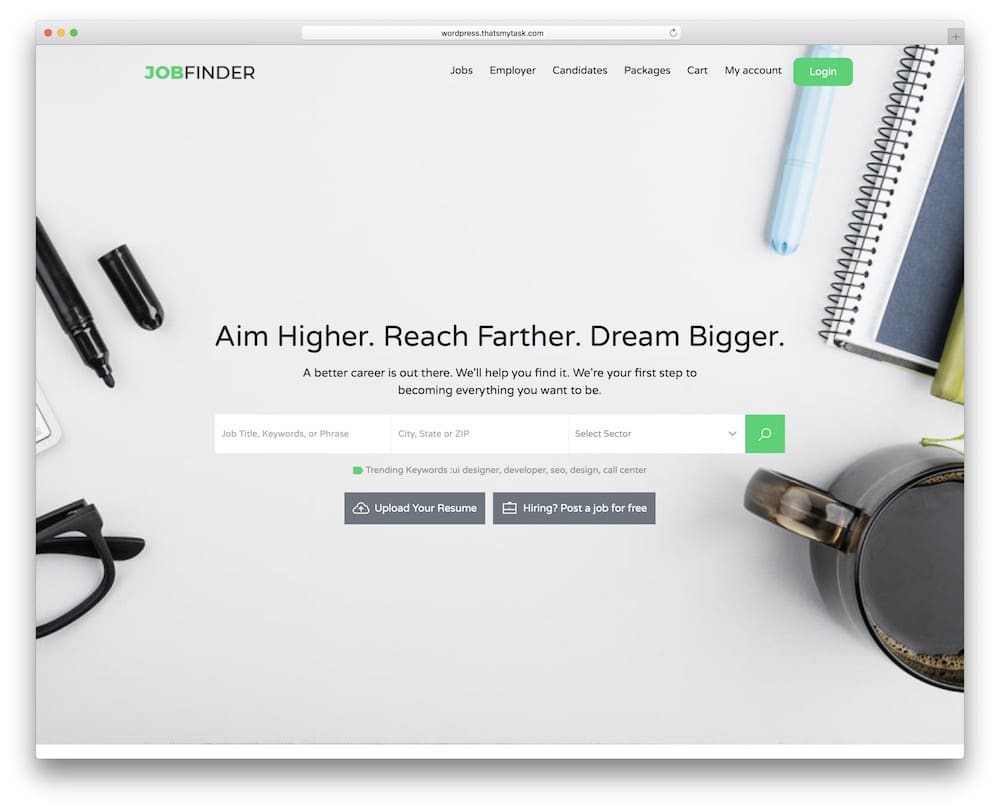 This job board plugin is fully compatible with WooCommerce on top of allowing you to turn your website into a job classifieds directory.
You can easily charge a one-time or a recurring membership fee.
Employers can view analytics for their job listings and job seekers can filter jobs to narrow down their search.
The plugin comes with its own pages necessary for the job board functionality.
WP Job board Solution features:
15+ sales
4.3/5 star rating
Add a screening questionnaire
Application tracking module
Price: $249 (may vary)
MORE INFO / DOWNLOAD
2. WP Job Hunter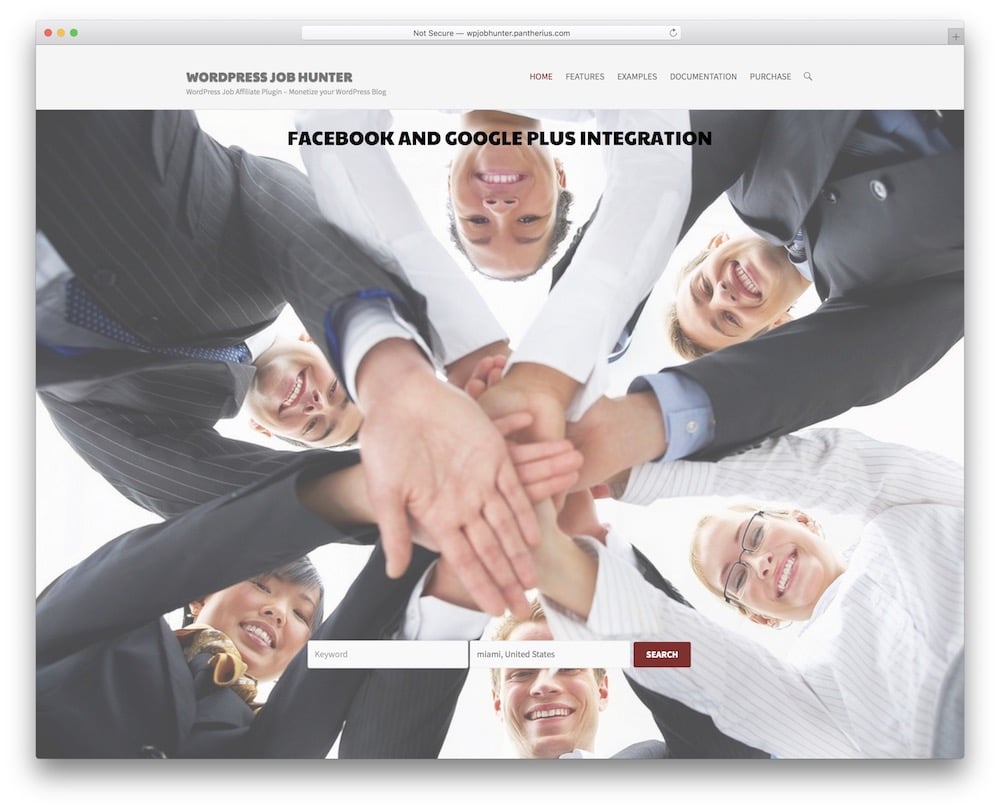 WP Job Hunter allows you to create a powerful job listing website.
It works a little differently than other plugins on this list by pulling information from major job classified websites online.
This allows you to earn a commission when a job applicant clicks a link on a job listing.
You can easily pull job listings from Indeed.com, CareerJet, SimplyHired, and other similar websites.
WP Job Hunter features:
530+ sales
4.7/5 star rating
Create a full-featured job board or use just the widget
Keep track of job listings & optimize
Price: $30 (may vary)
MORE INFO / DOWNLOAD
3. WP JobSearch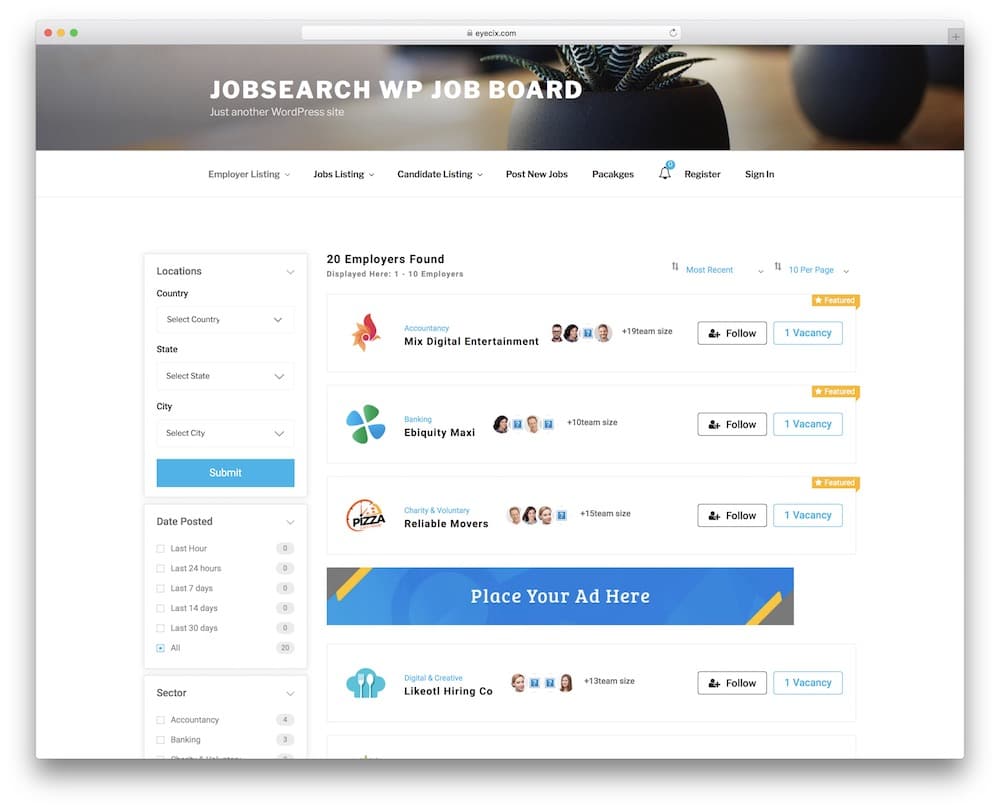 This plugin is one of the top-rated job board plugins on CodeCanyon and with good reason.
It has tons of powerful features to allow you to create a complete job board listing website.
You can allow employers to list jobs on your website or pull jobs from popular job listing websites like Indeed.com.
The plugin comes with front-end submission and geolocation features. It works with any WordPress theme and integrates with WooCommerce.
WP JobSearch features:
2,200+ sales
4.5/5 star rating
Social logins
Email notifications
Price: $79 (may vary)
MORE INFO / DOWNLOAD
4. WP Jobs Board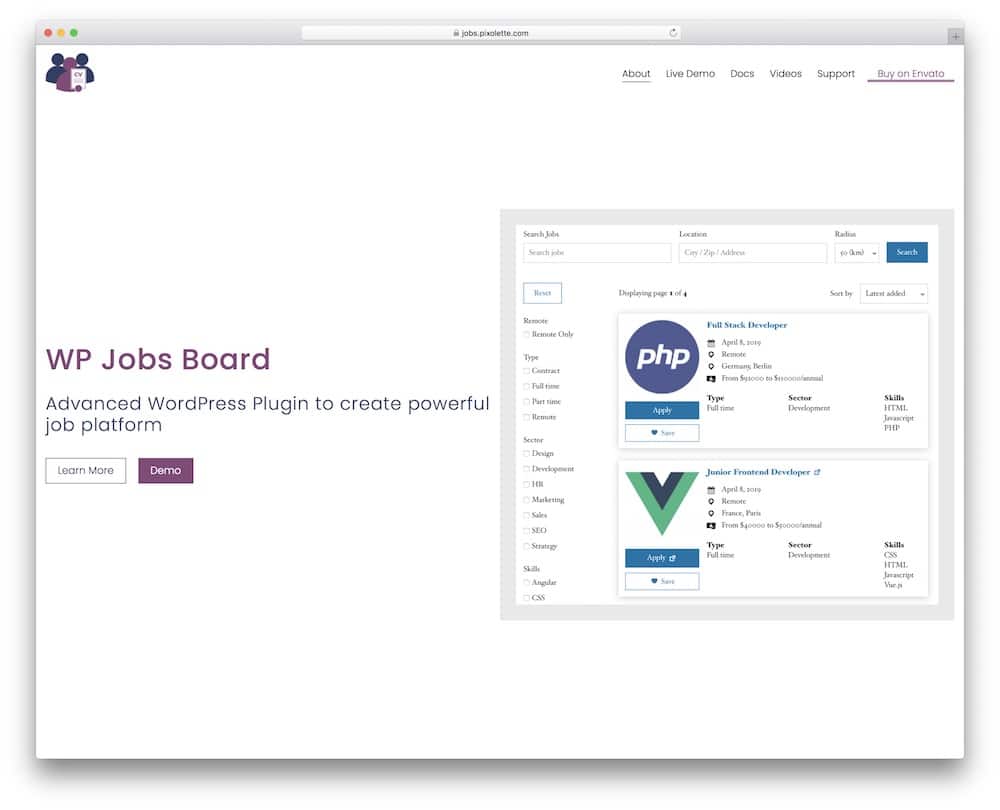 The WP Jobs Board has a very simple and unobtrusive design but that doesn't mean it's lacking in features.
On the contrary, users can easily filter jobs based on various criteria and even search for jobs within a certain radius.
Both employers and job seekers can manage their accounts on the back-end.
Employers can easily add jobs and manage applications and job seekers can sign up for email notifications about jobs.
WP Jobs Board features:
40+ sales
4.5/5 star rating
Built-in integration with Google Maps API for radius search
Add external job listings
Price: $35 (may vary)
MORE INFO / DOWNLOAD
Best Free WordPress Job Board Plugins
5. WP Job Manager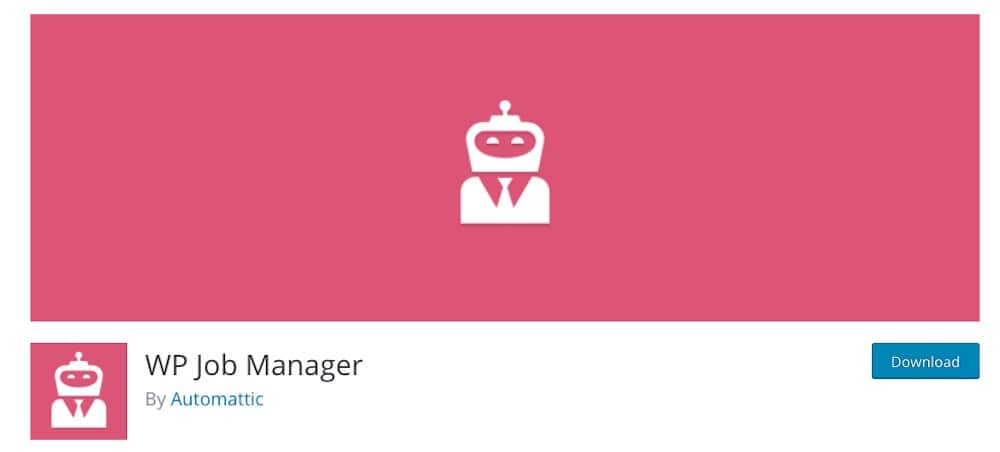 First on our list is the WP Job Manager plugin developed by none other than the parent company behind WordPress, Automattic.
The template works with any WordPress theme and uses shortcodes so you can easily add the job board to any page on your site.
It comes with several add-ons that extend that core functionality. You can allow for job applications, create paid listings, and more.
WP Job Manager features:
100,000+ installations
4.5/5 star rating
Front-end forms to submit & manage job listings
RSS links for job listings subscription
Powerful search & filtering options
MORE INFO / DOWNLOAD
6. ApplyOnline (Application Form Builder/Manager)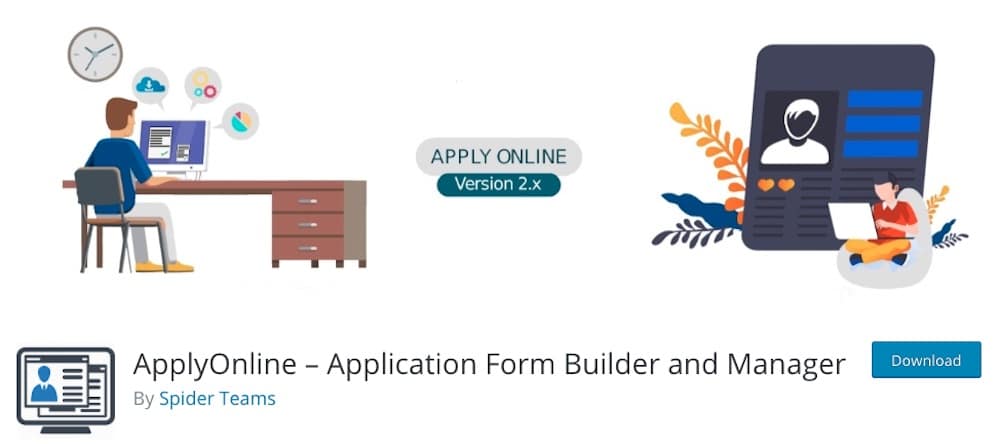 This plugin comes with a powerful drag-and-drop form builder that allows you to create application forms easily.
You can use this plugin to create job application forms and display job ads, admission ads, and more.
Enjoy the free version of add even more features with paid add-ons.
ApplyOnline features:
5,000+ installations
4.4/5 star rating
You can create different ad types
Users can upload files & attachments
Base ads on various conditions
MORE INFO / DOWNLOAD
7. Simple Job Board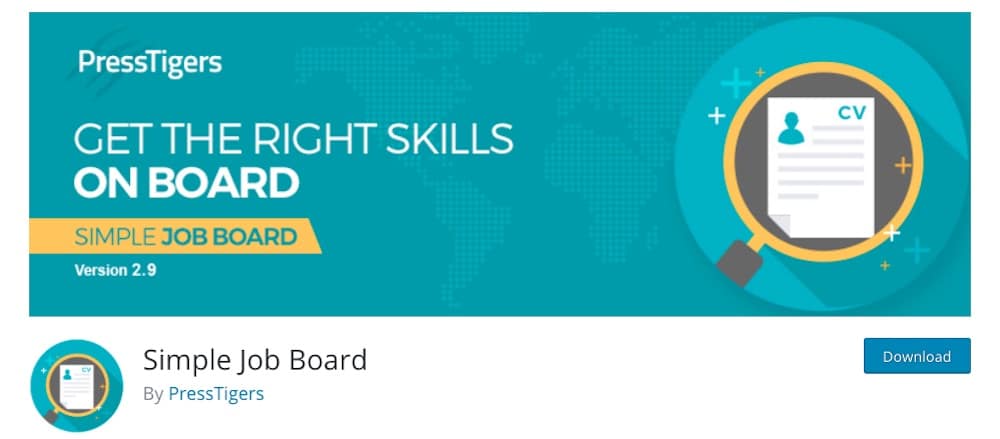 Simple Job Board is another lightweight plugin that adds the job board functionality to your website.
You can create multiple job listings and display them on your website by adding a shortcode to a page.
Several add-ons are available to extend the plugin's functionality: you can enable email applications, add a salary range filter, enable email notifications, and more.
Simple Job Board features:
20,000+ installations
4.7/5 star rating
Add job type or location to any page or post with shortcodes
Multiple extensions for file uploads
View a list of all applicants easily
MORE INFO / DOWNLOAD
8. WP Job Openings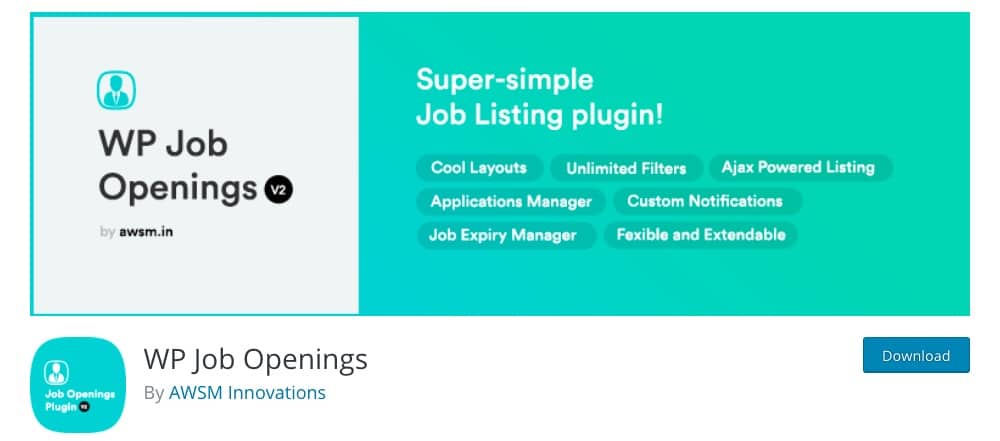 The WP Job Openings touts itself as WordPress's most powerful yet simple job board plugin.
It allows you to choose between several different layouts and comes with the ability to create unlimited job filters.
The plugin also has free and paid add-ons that add extra features such as shortlisting and rejecting applicants, custom email notifications, templates, and the option to export and filter applicants.
The plugin has built-in Google Structured Data for better SEO.
WP Job Openings features:
20,000+ installations
5/5 star rating
Built-in search functionality
WP AJAX-powered job listing & filtering
Job expiry options
MORE INFO / DOWNLOAD
9. Job Manager & Career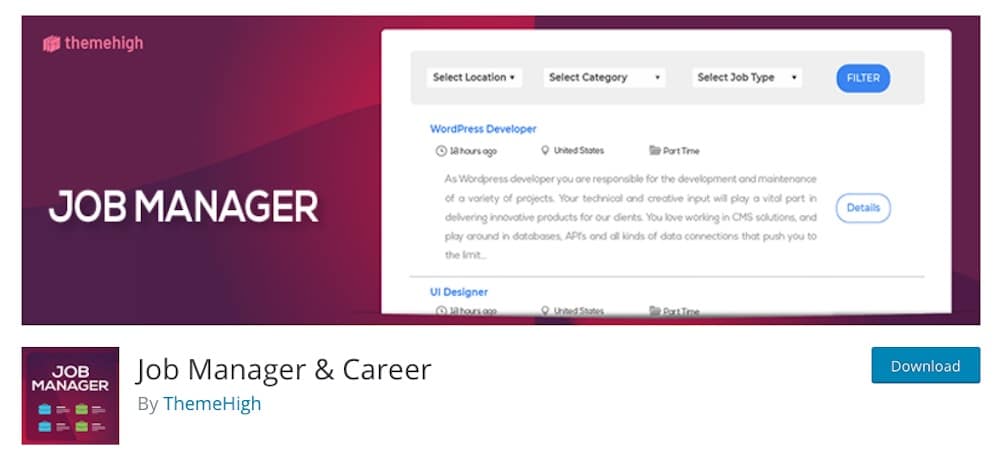 The Job Manager & Career is a powerful job board plugin that allows you to create a feature-rich job board website.
Applicants can filter through jobs based on job type, location, etc.
Managers can create rich application forms requesting all the necessary info from applicants.
The core plugin is free and you can upgrade to the premium version for more features such as improved job filters, Re-Captcha validation for job listings, custom job application statuses, and more.
Job Manager & Career features:
2,000+ installations
5/5 star rating
Multiple methods to apply for a job listing
Feature special jobs with a badge
Upload resumes in multiple formats
MORE INFO / DOWNLOAD
10. JobBoardWP (Job Board Listings & Submissions)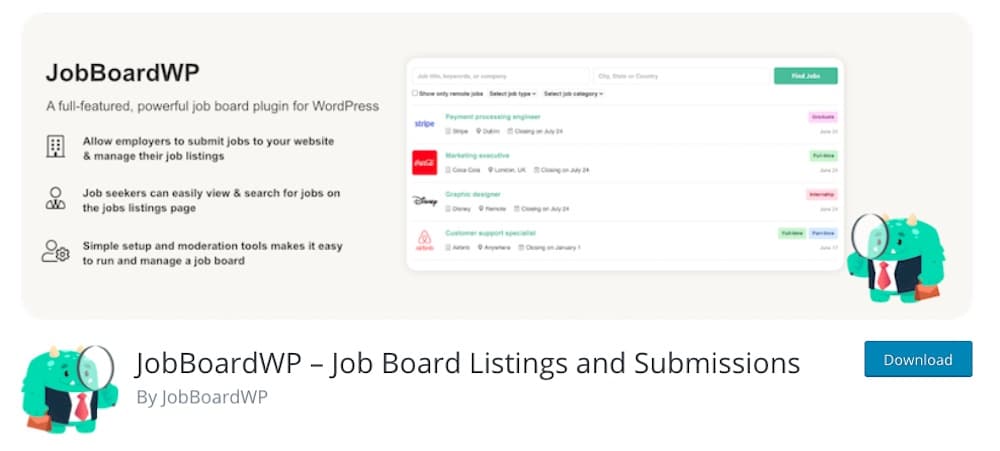 This plugin is easy to use to create a no-frills job board on your website.
Job seekers can easily search for jobs and use filters to narrow their search.
Employers can easily submit jobs using the front-end submissions and manage their listings on the back-end.
The plugin works with any WordPress theme and comes with various customization settings so you can configure it to your liking.
JobBoardWP features:
1,000+ installations
5/5 star rating
Plugin creates custom pages
Custom job categories
Works with Google Structured Data
MORE INFO / DOWNLOAD
11. GeoDirectory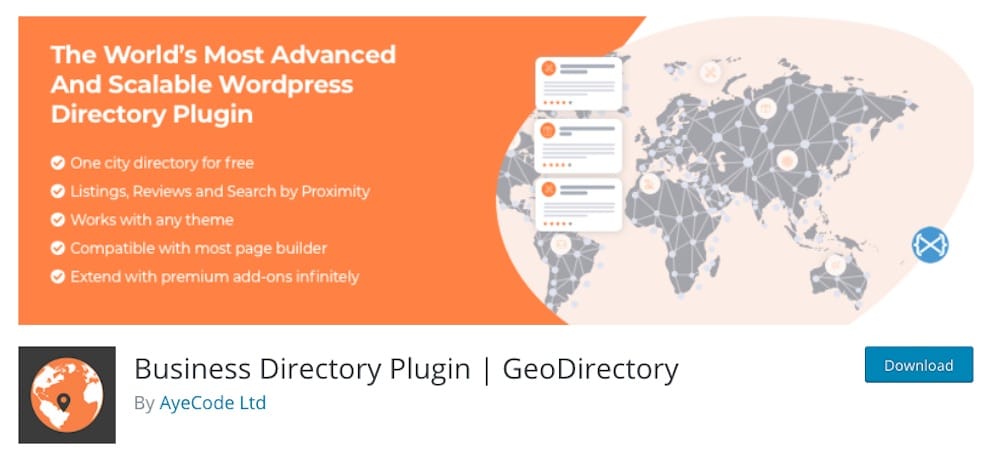 This plugin allows you to easily create any type of directory, job directory included.
You can create one city directory for free. The plugin is compatible with Gutenberg and other popular page builder plugins.
Users can browse listings by proximity, reviews, and other search options. The plugin also has a premium version with more features.
This is a lightweight plugin that's also developer-friendly, as you can use hooks and filters to extend the functionality.
GeoDirectory features:
10,000+ installations
4.6/5 star rating
Create a location-based job directory
Comes with a flexible Google Maps widget
Compatible with WordPress multisite installations
MORE INFO / DOWNLOAD
How To Quickly Create a Job Board on WordPress
All you need is a good WordPress job board plugin.
Luckily, there is no shortage of quality job board plugins for WordPress and in this article, we'll share our top choices with you.
With the help of these plugins, you'll be able to create a job board website in a matter of minutes.
Employers will then be able to submit their listings using the front-end submission form and job seekers and freelancers can easily view and save job listings, manage their profiles, and send in their resumes along with the job application.
What's more, some of the plugins on this list allow you to pull job listings from websites like Indeed and Simply Hired.
You can sign up for their affiliate program and earn a commission whenever visitors click on a job listing link.
::
Note: This article was originally published on April 19, 2021. But our team regularly reviews it and updates it with necessary improvements for accuracy.