You need our best tested free and premium WordPress maintenance mode plugins if you're frequently making changes on your website.
These save you a ton of time while you focus on the critical things.
It only takes a few clicks whether you're after a maintenance mode or a coming soon page.
I KNOW!
Inform visitors about what's going on, let them know when you're back, and – DON'T FORGET – collect their emails!
Avoid doing things from scratch. And forget about testing plugins.
These are the best. Enjoy!
THE ULTIMATE 2:
Top WordPress Maintenance Mode & Coming Soon Plugins
1. Indeed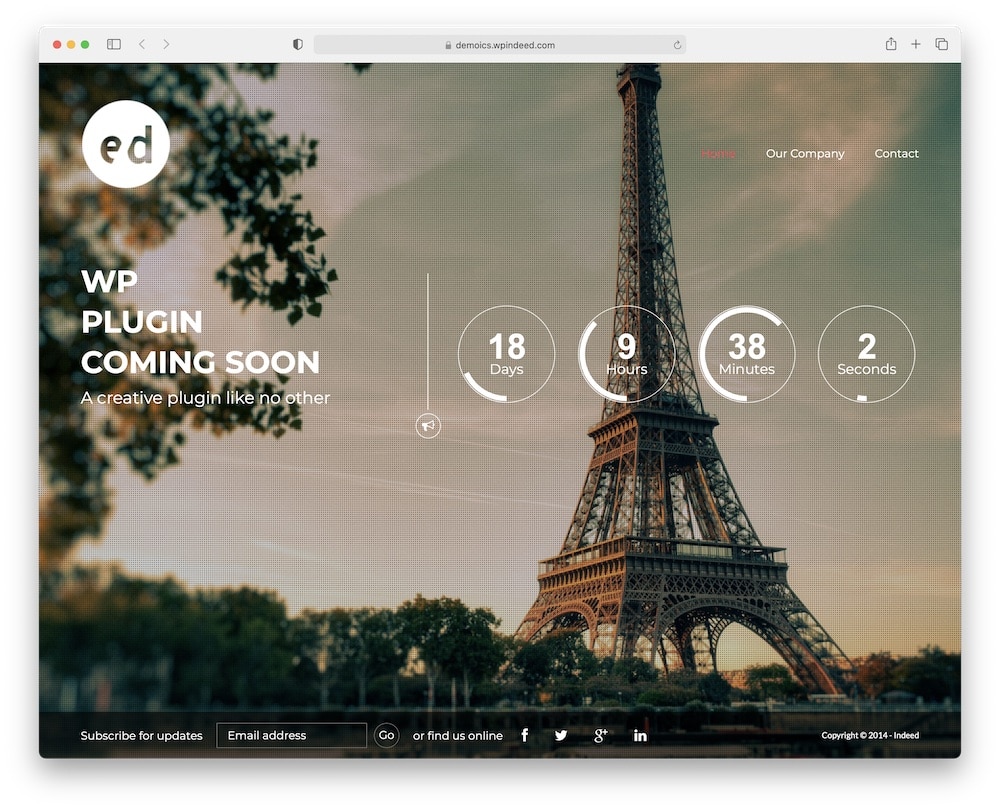 How many times have you visited a website that is undergoing maintenance and DOESN'T indicate when it will reopen?
Indeed Coming Soon has a countdown system that informs your visitors in real time.
This maintenance mode plugin has two modern layouts with ten background types and two countdowns.
Indeed Coming Soon also integrates with 10+ popular email marketing platforms like MailChimp.
Keeping your website visitors updated is a smart (necessary!) thing to do. And this plugin helps you do that automatically.
That's exactly what brought it to the first place on our list because it helped so many of our clients.
Indeed Coming Soon features:
1,900+ sales
4.5/5 ratings
Fully responsive
Price: $18 (may vary)
MORE INFO / DOWNLOAD
2. Everest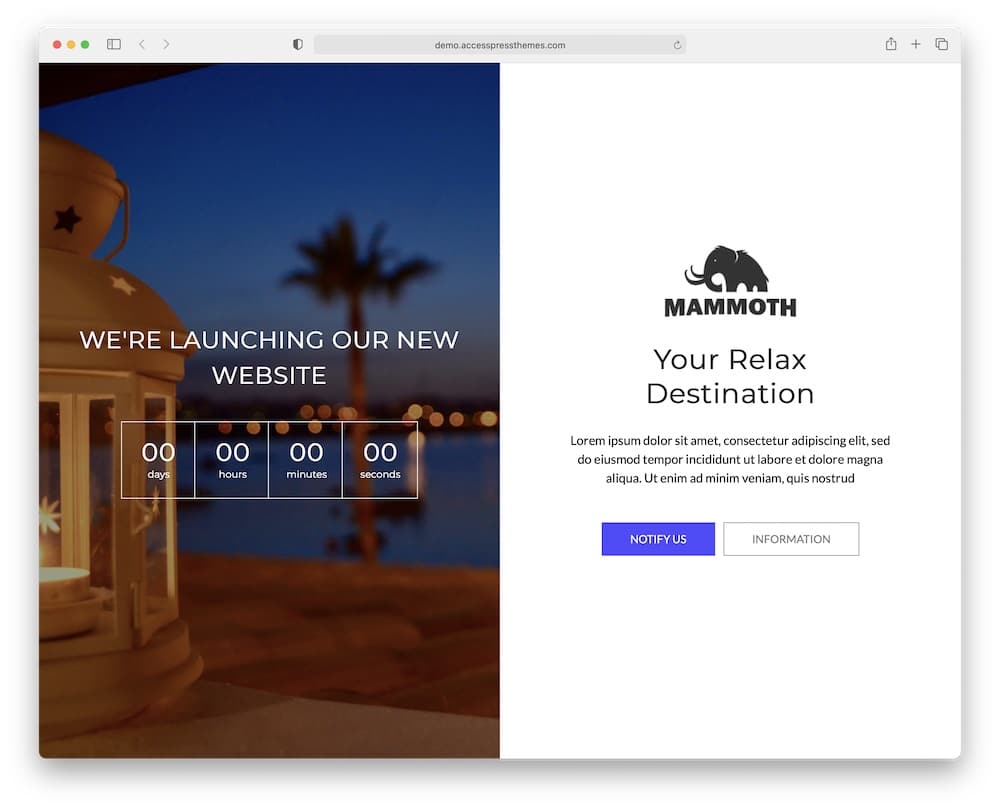 Everest offers a VARIETY of interesting widgets when it comes to creating maintenance or coming soon pages.
You get 15 pre-made templates to work with this WordPress maintenance mode plugin.
What we particularly liked are the multiple customizable input widgets like Google Maps, contact form, countdown timers, and more.
What's also cool is Everest's completion percentage loader to the maintenance page.
Everest Coming Soon features:
340+ sales
4.2/5 ratings
Google Analytics support
Custom CSS
Price: $15 (may vary)
MORE INFO / DOWNLOAD
3. Kounter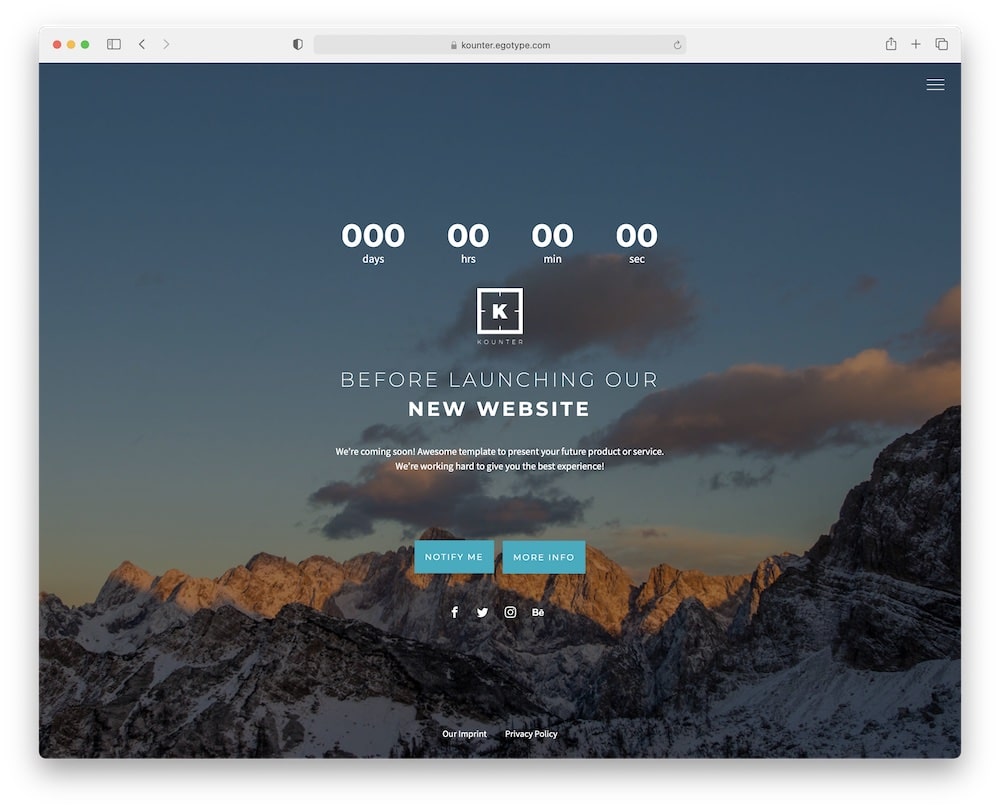 If you are looking for something more elegant, Kounter is the tool for you.
Let us explain; this plugin will provide you with a fully responsive, but at the same time, ultimately modern maintenance page.
This maintenance mode plugin comes with many great features to work with.
We can say that there's no niche that this plugin can't cover after using the 12 background options.
The fact that YOU CAN also manipulate the speed, colors and opacity of the background, makes this an all-rounder plugin. Further features include social icons and newsletter registration.
Yet, what if you are not a fan of countdown timers? Well, Kounter allows you to take the timer off just by ticking a box.
Kounter features:
500+ sales
4.4/5 ratings
Catchy slideshow
Price: $15 (may vary)
MORE INFO / DOWNLOAD
Best Free WordPress Maintenance Mode Plugins
4. WP Maintenance Mode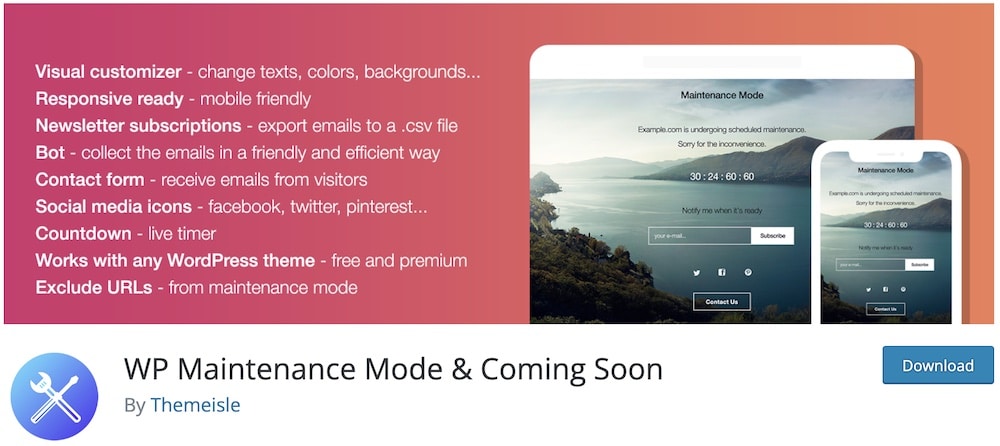 It's time for our first free selection. And that's no other than WP Maintenance.
This plugin is an AMAZING option if you are looking for a simple plugin to create maintenance and coming soon pages.
Install the plugin and your site will be in maintenance mode in no time.
Also, you can give access to specific users to see the front-end with this plugin.
We really enjoyed (even though it's free) the plugin's many customization options (manipulate the template's color, text & background).
WP Maintenance Mode features:
900,000+ active installations
4.5/5 ratings
GDPR ready
Fully responsive
WordPress multisite support
MORE INFO / DOWNLOAD
5. Colorlib CSMM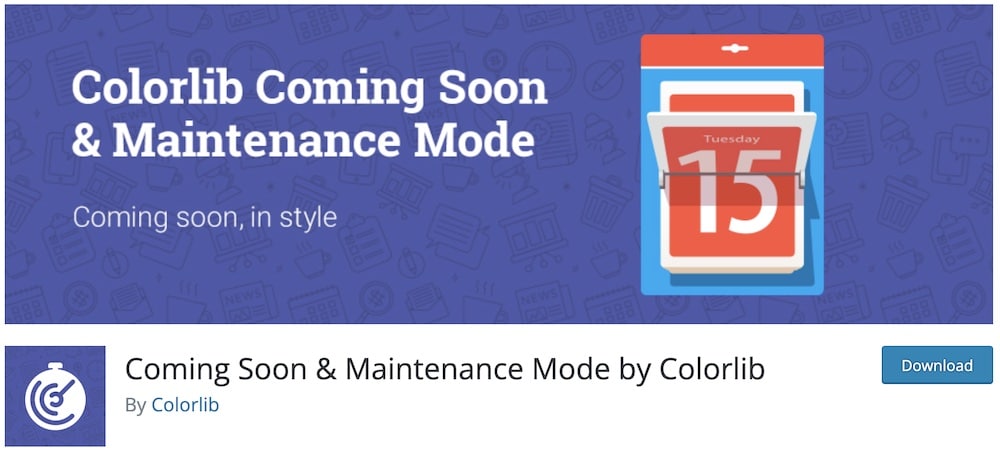 Colorlib offers a great free WordPress maintenance mode and coming soon with a WIDE range of features.
We had no trouble creating comprehensive coming soon and maintenance pages.
Let's start with that; this plugin is one of the most user-friendly we've ever tested.
It comes with a live customizer and 15 templates that helped us construct pages QUICKLY and struggle-free.
Apart from that, Colorlib also allows you to collect your visitors' emails while you are working on the backend of your site.
Pretty impressive for a completely free plugin, don't you agree?
Colorlib CSMM features:
9,000+ active installations
4.6/5 ratings
Great support
Subscription form
MailChimp support
MORE INFO / DOWNLOAD
6. Minimal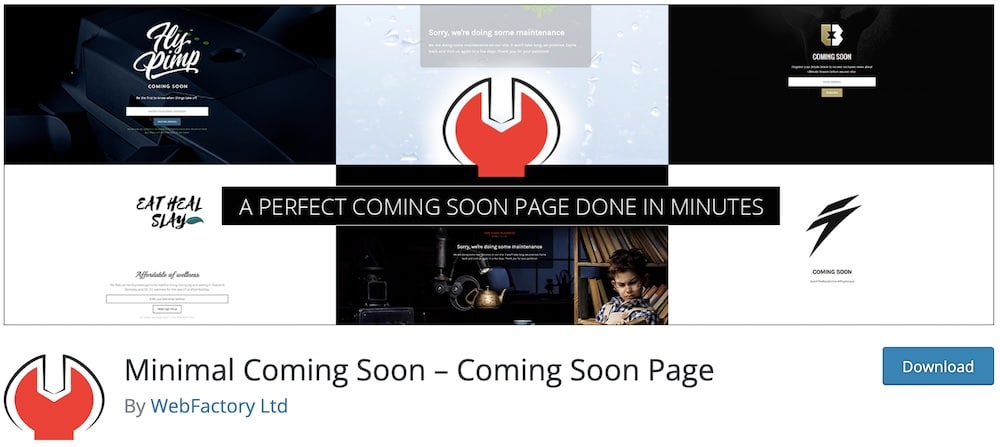 Contrary to what the name suggests, Minimal is a flexible WordPress maintenance mode plugin.
Although the creation of minimalist maintenance pages is what this plugin is all about, it is much more than just a page builder.
You can create coming soon, maintenance and landing pages that are GDPR compliant and easily connectable with MailChimp.
So, you will both COLLECT your visitors' emails and let them know what's going on.
This plugin works with any WordPress theme and lets you adjust background, fonts, logo and cover image.
Minimal features:
100,000+ active installations
4.6/5 ratings
Custom CSS & HTML
Google Analytics support
Simple drag-n-drop method
MORE INFO / DOWNLOAD
7. Coming Soon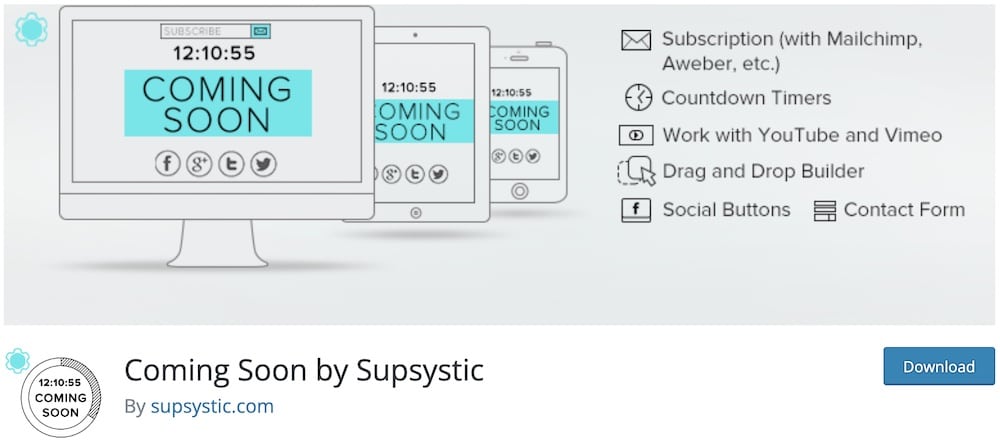 If you're like us, you probably first read the unique features a plugin offers and then download it.
And if there's something Coming Soon is good at, it is ITS multiple features.
If you read our blog a lot, you'll know that we are huge fans of drag-and-drop systems.
With such a builder and numerous professional coming soon templates (with & without countdown timers), this plugin has everything we needed.
One of the things that we liked the most when we tested this plugin is the plugin's documentation.
Every piece of information we needed to make the plugin work was already there waiting for us (because we approach reviewing it as a complete beginner!).
Coming Soon features:
3,000+ active installations
4.7/5 ratings
Fully responsive
Live preview
MORE INFO / DOWNLOAD
8. SeedProd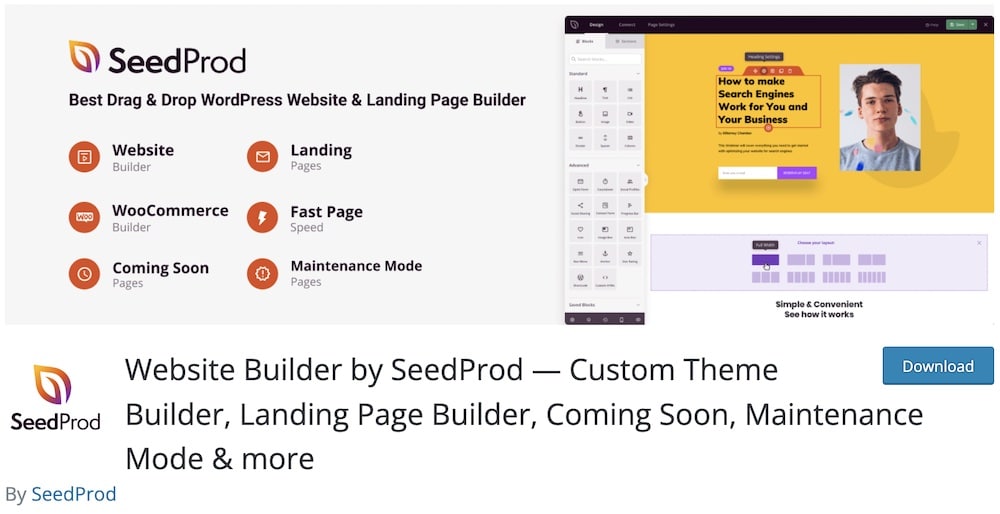 SeedProd is the MOST famous WordPress maintenance mode plugin on the market and for good reasons.
You may know it now as a WordPress website builder but it started as a maintenance mode plugin and is still one of the best in this niche.
This plugin gives you an amazing drag and drop system which is fast and lightweight.
Also, while your website will be in maintenance mode, the plugin will turn your site into a 503 header status which will allow Google to know that you are on maintenance.
Besides that, SeedProd gives you 200+ page quickly customizable layouts.
Make it your way!
SeedProd features:
1+ million active installations
4.9/5 ratings
Great support
Integration with famous email providers
Live (mobile) preview
MORE INFO / DOWNLOAD
9. Slim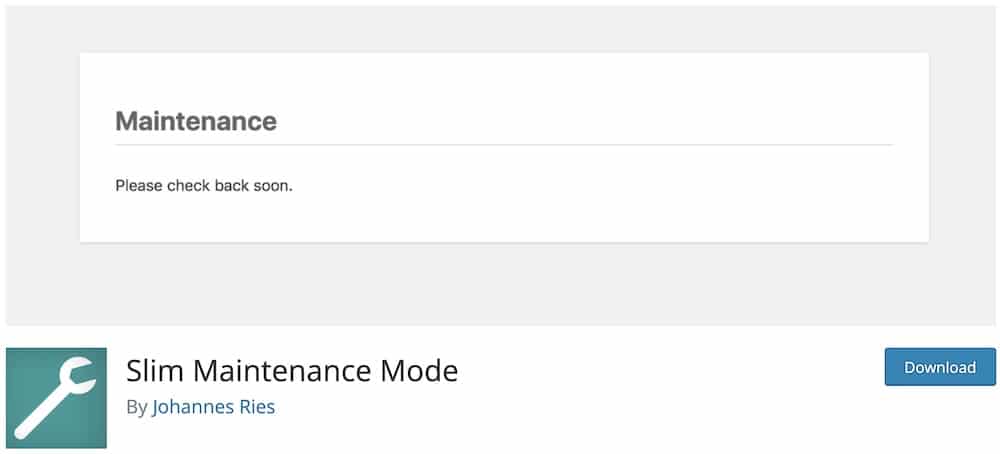 Let's assume you are looking for a simple WordPress maintenance mode plugin that requires no work on your end of the deal.
Slim Maintenance Mode is JUST that.
The only thing you need to do is to enable it when you want to change something on your website. And then deactivate it when you are done.
It's that simple.
One cool additional feature that we particularly appreciated is that the plugin sends the HTTP response status (503) to search engines.
This allows Google, for example, not to crawl your site until you are out of maintenance.
Slim Maintenance Mode features:
1,000+ active installations
5/5 ratings
Regular updates
Supports cache plugins
Open source software
MORE INFO / DOWNLOAD
10. Rocket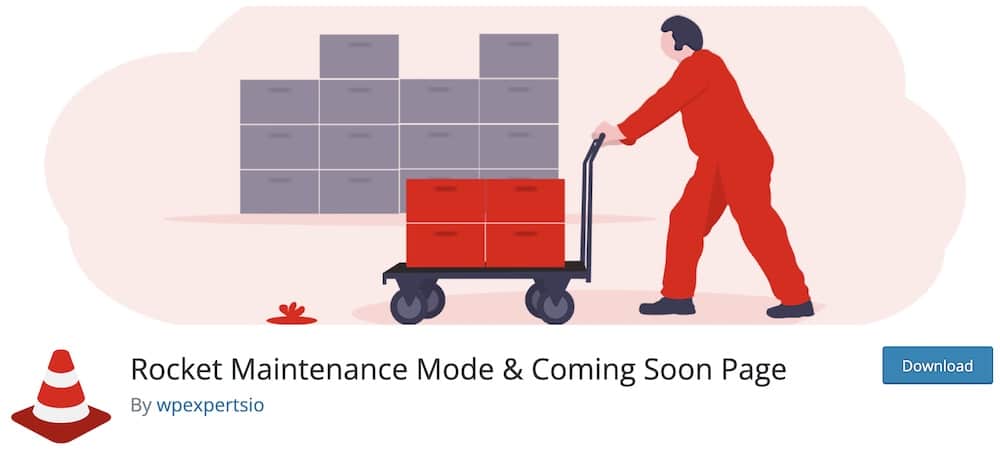 We can confidently say that Rocket deserves at least 10k+ more active installs.
It's really good and our clients ENJOY using it a lot.
For starters, this plugin lets you display a progress bar on the coming soon page.
The social icons, countdown timer and MailChimp integration worked perfectly during our test.
What some of you will probably like the most is the simple and easy-to-use interface.
And this is exactly what makes this plugin the perfect choice for inexperienced website owners.
Rocket features:
10,000+ active installations
4.3/5 ratings
SEO optimized
Custom title
Visual editor
MORE INFO / DOWNLOAD