Are you searching for the best free and premium WordPress caching plugins because you want to boost your website's loading speed?
We've worked with many plugins for our projects and our clients' because speed and performance are SO CRUCIAL nowadays.
Unfortunately, slow loading times are a common problem for many sites. (Been there 🙁 )
We have tested many plugins to create this top list so you can choose the right caching plugin for your site.
Want to get rid of poor loading speed? YES, YOU ARE.
This post covers:
Keep it clean. Keep it fast. (So you don't end up last. (I don't mean it, just because it rhymes 🙂 ))
Let's GO!
How ULTIDA Tested WordPress Cache Plugins
Our process of testing caching plugins started by reviewing overall star ratings and reading through users' reviews.
This allowed us to eliminate the terrible performers. (We started with 30 plugins, but this process alone allowed us to drop ten.)
The next step was to examine the support forum, get in touch with the support team and flip through the documentation.
Believe it or not, five more plugins failed at this step.
We were left with the final fifteen.
We then installed and activated each plugin on our demo website to see if it slowed down our website.
Four did!
Next, we checked user friendliness and how simple and quick it is to set caching on our website.
Lastly, we studied by how much the good plugins improved our website's performance.
Remember, a better-performing website (read faster loading) contributes to UX and SEO! And this is when caching comes into play.
You may also want to learn how to install a WordPress plugin if it's your first time.
Best Free & Premium WordPress Cache Plugins
1. WP Rocket (Premium)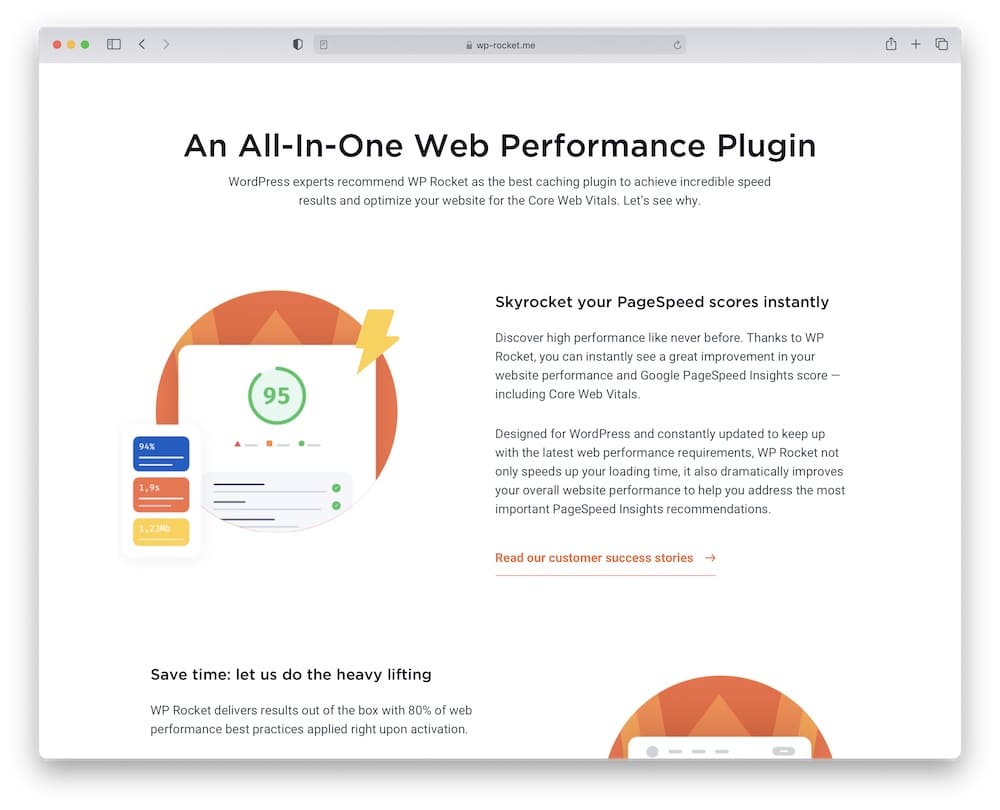 Our first pick for this list is WP Rocket. This plugin is a premium tool that makes your site blazing fast.
That's it!
The great thing about this plugin is that it offers multiple features to work with.
We were able to boost our sites' loading speed QUICKLY.
And we even gave the plugin to a few newbie users to test it out and they learned everything on the fly.
WP Rocket provides a simple, user-friendly interface for beginners and pros.
This cache plugin is one of the most powerful options to increase the site's loading speed, taking performance to the next level.
We. Love. It.
WP Rocket features:
3.2+ million downloads
4.9/5 ratings
Lazy load
Easy to set up
Price: $59 (may vary)
MORE INFO / DOWNLOAD
2. WP Super Cache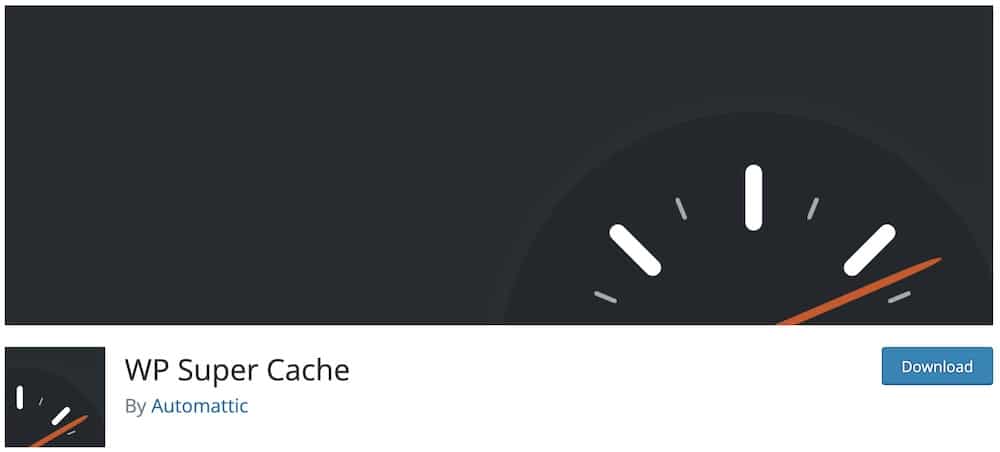 WP Super Cache is one of the most popular free caching plugins on the market for many good reasons.
Speeding up your website is effortless with this free WordPress caching plugin.
Note: This plugin actually creates static HTML files and serves them instead of the PHP-heavy scripts.
WP Super Cache performed REALLY well when testing the plugin with two blogs, one business site and one online store. Speed improved overnight.
WP Super Cache features:
2+ million active installations
4.3/5 ratings
User-friendly
3 caching modes
CDN support
MORE INFO / DOWNLOAD
3. LiteSpeed Cache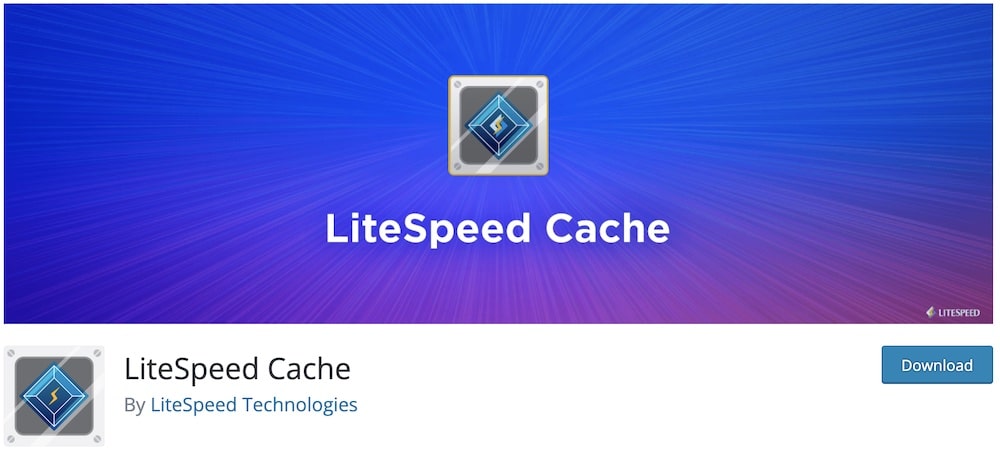 If you are looking for a caching plugin to minify and combine your JavaScript and CSS files, this one's for you.
LiteSpeed Cache is another great solution to BOOST a website's speed.
You deserve the best!
With this free WordPress caching plugin you will get a server-level cache, which is pretty fast even from a PHP-level cache.
To be precise, page cache bypasses PHP and database and uses cookies to serve cached content.
Make it FAST with LiteSpeed Cache now.
LiteSpeed Cache features:
MORE INFO / DOWNLOAD
4. W3 Total Cache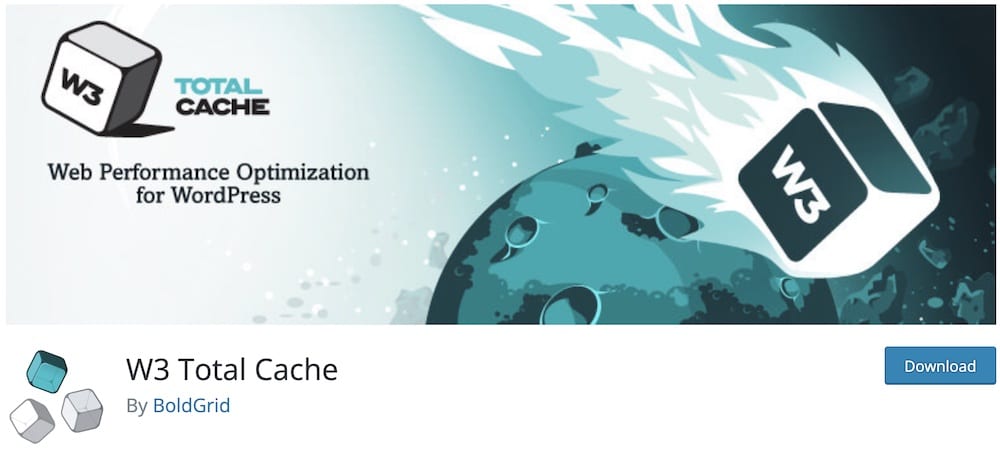 W3 Total Cache is a free WordPress caching plugin that integrates with a CDN to increase your site's load speed.
One of the greatest things about this plugin is that it works perfectly for mobile-friendly websites like they were regular desktop ones.
However, the plugin has (A BIT) challenging backend settings, which could be frustrating if you are unfamiliar with this kind of knowledge.
W3 Total Cache is the best candidate if you like power & features and enjoy playing with features.
W3 Total Cache features:
1+ million active installations
4.4/5 ratings
Regular updates
Great support
SSL support
MORE INFO / DOWNLOAD
5. WP Fastest Cache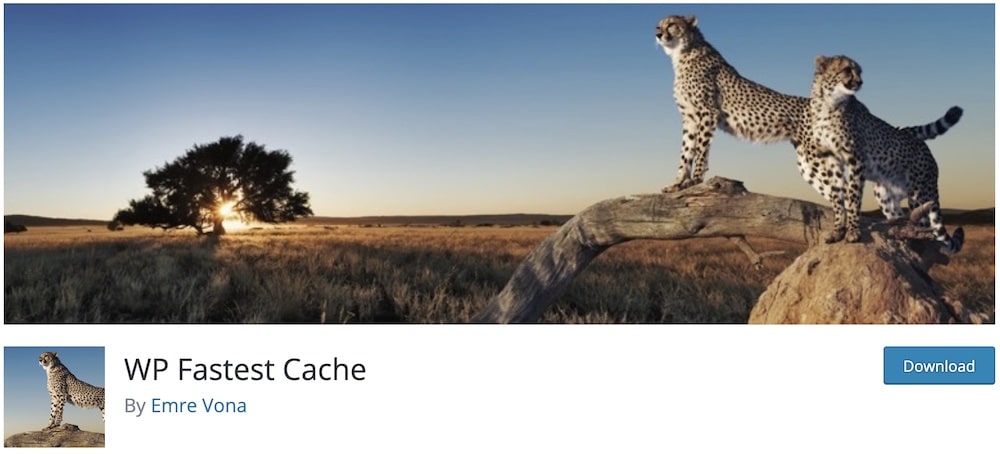 If you are looking for a free WordPress caching plugin with some unique features that other caching plugins don't, this one can be your choice.
WP Fastest Cache features desktop caching, combination options for CSS and JavaScript and HTML minification.
In addition, this plugin also supports browser caching and GZIP tools.
After testing it we can confidently say it's a plugin with excellent speed results.
WP Fastest Cache features:
1+ million active installations
4.9/5 ratings
CDN support
Cache timeout
Can delete all cache files
MORE INFO / DOWNLOAD
6. WP-Optimize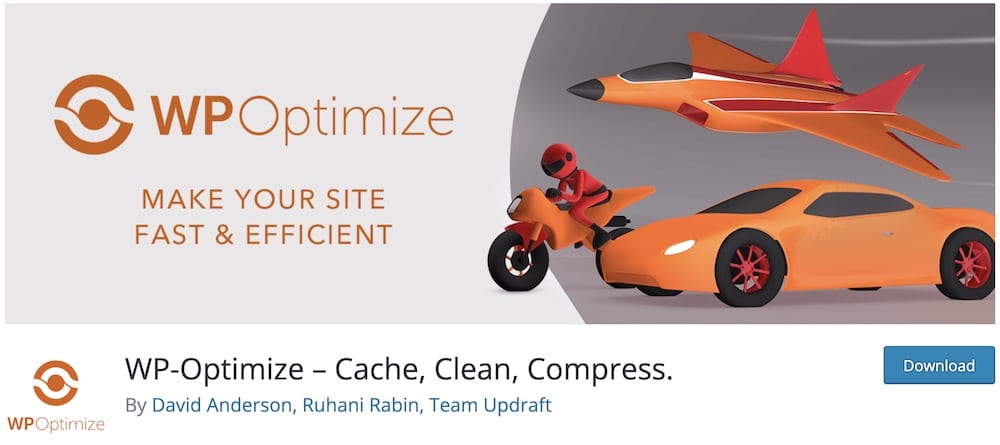 WP-Optimize is an all-in-one cache plugin to ensure you a faster-loading page. Its features are amazing!
With this free WordPress caching plugin you can compress HTML, CSS and JavaScript, minify JavaScript and CSS and remove unnecessary data to lighten your website.
Clean database, compress images and cache pages with WP-Optimize like a BOSS.
A few clicks and you're ready to roll. Best!
WP-Optimize features:
1+ million active installations
4.8/5 ratings
No need for manual work
Database statistics & savings
You have full control
MORE INFO / DOWNLOAD
7. Hummingbird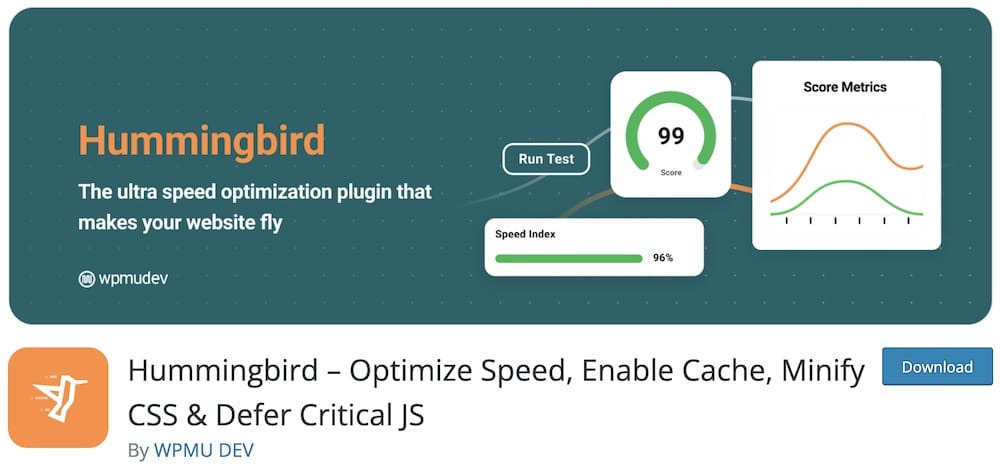 Go with Hummingbird if you are looking for a free WordPress caching plugin that gives suggestions and options to improve your website's load speed.
You just found your buddy that offers you ways to improve your website FAST.
Hummingbird inspected our website and tracked down files that damaged our page loading speed.
After that, it provided tips and fixes that were easy to understand.
You can enjoy features like browser caching, minification and GZIP (text) compression.
Save time, gain (actual!) site optimization advice and do the right thing with Hummingbird!
EPIC.
Hummingbird features:
100,000+ active installations
4.8/5 ratings
1-click fixes (!)
Lazy load (with Smush)
Performance reports
MORE INFO / DOWNLOAD
8. Cache Enabler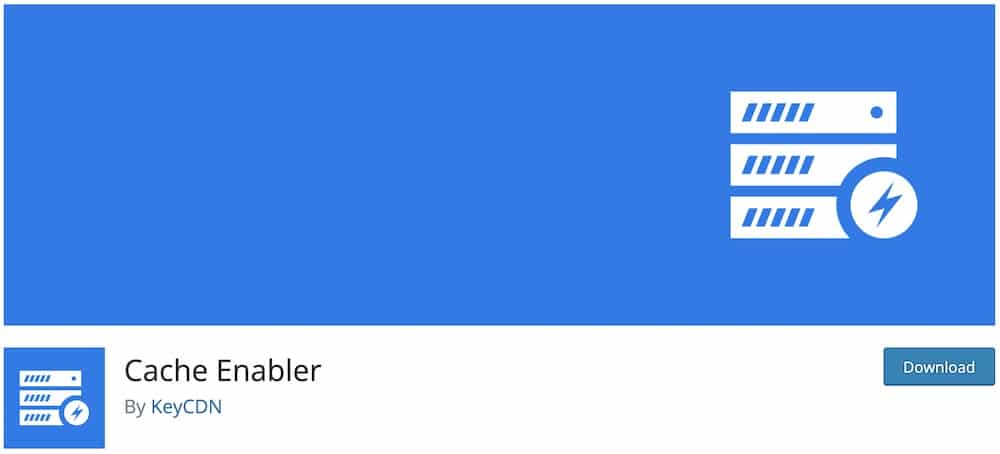 Cache Enabler is an open-source free plugin that has a very fast and reliable disk caching engine.
With this free WordPress caching plugin, you will also be able to serve WebP images without JavaScript.
Doesn't sound good? There are many occasions where this coding language is less desirable for speed. (See other caching plugins if this isn't your thing.)
You can set it extremely fast with minimal configurations.
Hint: You can achieve even better results when connecting Cache Enabler with Autoptimize.
Cache Enabler features:
100,000+ active installations
4.4/5 ratings
Cache expirity
Cache expiration
Custom post support
MORE INFO / DOWNLOAD
9. Comet Cache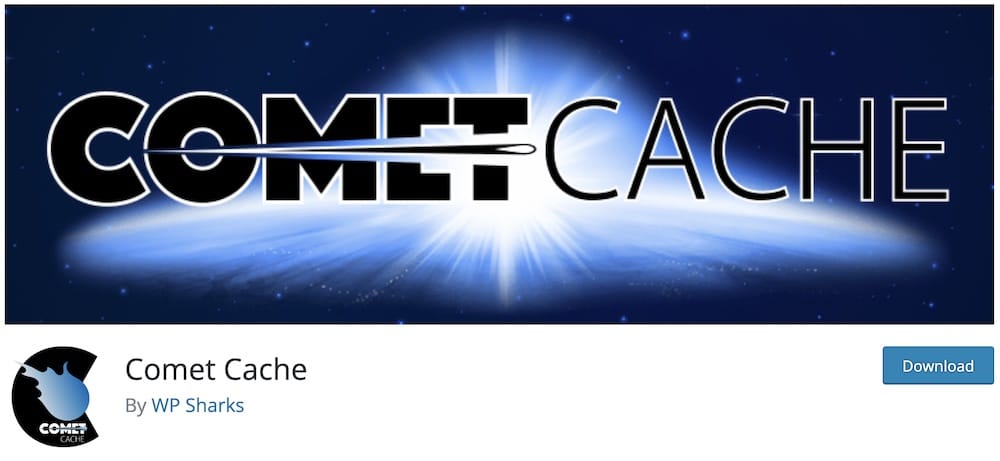 For our last pick on this list we choose Comet Cache as one of the easiest tools.
Saving the best for last? Not really, because all WordPress caching plugins are the BEST in this collection.
Comet Cache amazing documentation takes care of everything! Newbies, you're welcome!
Simple installation and the user-friendly dashboard top everything up perfectly.
I highly recommend Comet Cache to all the beginners out there because it's such a breeze to exclusively set it up for your website.
Comet Cache features:
40,000+ active installations
4.5/5 ratings
Automatic cache clearing
Advanced system for plugin & theme developers
Pro version caches logged-in users (great for memberships)
MORE INFO / DOWNLOAD
::
Note: This article was originally published on April 22, 2022. But our team regularly reviews it and updates it with necessary improvements for accuracy.