Our review of the best free WordPress image optimization plugins will help you optimize and speed up your website with 0 experience.
Important: Page loading speed is crucial for your website, and large images can reduce your performance. That's why you also need to choose a fast WordPress theme.
But reducing the size of images or converting their format can be a FRUSTRATING task if you do it manually.
Thankfully, top-tier image optimizer plugins help you SOLVE this problem!
Speed up your website because you deserve it.
How ULTIDA Tested WordPress Image Optimization Plugins
We tested 40+ possible solutions before creating this list of the 10 best plugins. This allowed us to pick the ultimate tools for the most effective WordPress image optimization.
While we used each plugin to test JPGs and PNGs, we also compared the different types of compression levels each plugin offers.
Note: Most free plugins have default optimization levels, which are REALLY decent. But for anything custom, you'll need to upgrade to pro.
Remember, you might want to avoid picking the most aggressive compression method because it can drastically decrease your content's quality, lowering your site's user experience.
Moreover, we also reviewed each plugin for bulk optimization, lossless compression, integration, optimization limitation, and more.
Tip: You may also be interested in reading our complete guide on how to optimize image for WordPress successfully.
THE ULTIMATE 3:
Best Overall Image Optimization Plugin: Imagify
Best Image Optimization & Lazy Load Plugin: Smush
Best Image Resizer Plugin: Imsanity
Using a WP plugin for the first time? Learn how to install a WordPress plugin first.
Best Free WordPress Image Optimization Plugins
1. Imagify (Our FAV!)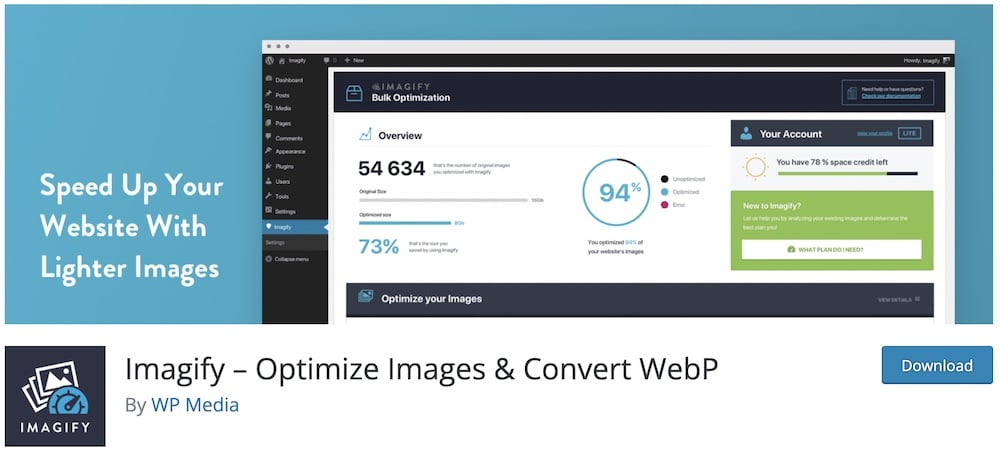 Imagify is by far our favorite free image optimization tool on WordPress.
The plugin has a wide range of features, and we are sure that you will not have any problems using it.
With this plugin, you have 3 AUTOMATIC image optimization options at your disposal: the normal, the aggressive and the ultra.
With these 3 options, you can specify the percentage of compression the plugin will apply to your images. In addition, if something goes wrong, Imagify also offers a backup option (unlimited re-optimizations).
It is the perfect solution for individual and batch compressions.
Imagify features:
700,000+ active installations
4.4/5 ratings
User-friendly interface
Bulk optimization
Compatible with WP multisite
MORE INFO / DOWNLOAD
2. Smush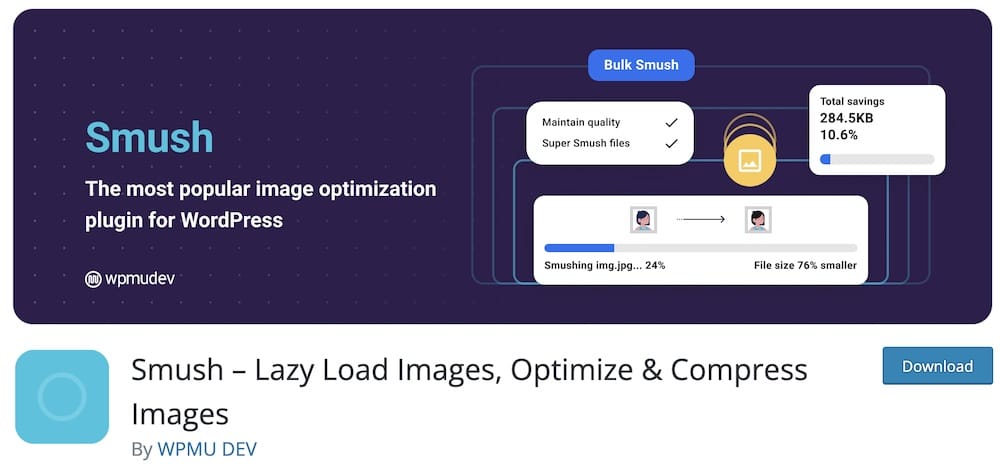 Smush is currently the most popular image optimization plugin on the market. It gives you the option to optimize up to 50 images with just one click.
This WordPress image optimizer offers you a wide range of features. First of all, you have a tool that finds the images that are too small or too big for their container.
Except for that, the free version of Smush lets you COMPRESS images up to 5 MB in size.
Smush is a great freemium solution for those who want to monitor their images' size fully.
Smush features:
1+ million active installations
4.8/5 ratings
Gutenberg block integration
Incorrect image size detection
Lossless compression
MORE INFO / DOWNLOAD
3. EWWW Image Optimizer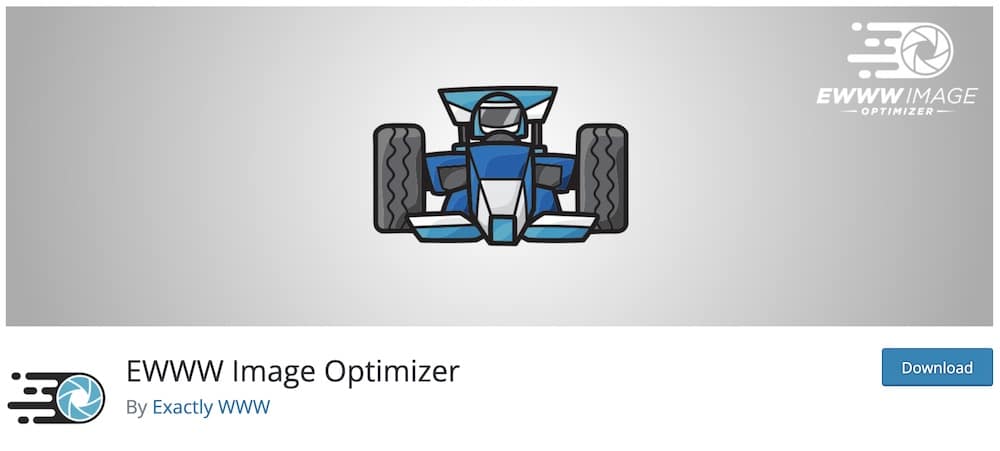 If you are looking for a WordPress image optimization plugin that has no limitations concerning the (the number and size) images you compress, EWWW Image Optimizer is just what you need.
You can compress your images or even convert the format with just a few clicks – and it's completely free with this plugin.
Moreover, EWWW Image Optimizer offers the possibility of lossless compression for PNG, JPG and GIF images.
We did not encounter any problems and compressed plenty of our website images in just a few SECONDS while testing this image optimization plugin.
EWWW Image Optimizer features:
1+ million active installations
4.7/5 ratings
Translatable (available in different languages, or use a WordPress translation plugin)
Easy to use
Option to convert your images to WebP format
MORE INFO / DOWNLOAD
4. ShortPixel Image Optimizer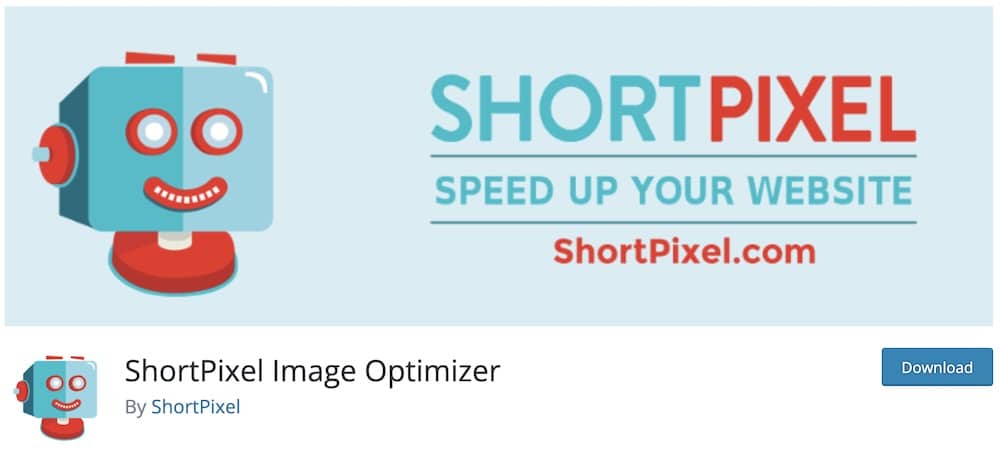 ShortPixel is a CLOUD-BASED image optimizer plugin that helps you with lossless and lossy image compression.
Besides these 2 options, ShortPixel also offers you "Glossy Compression." Think of this as a more "soft" lossy compression.
You can compress up to 150 images per month for free with ShortPixel.
Another important feature is that you can optimize images from non-WordPress directories.
ShortPixel provides you with all the essential tools to compress and optimize your images fast.
ShortPixel features:
300,000+ active installations
4.6/5 ratings
Compatible with WPML
Integrated with CloudFlare
Works with WP gallery plugins
MORE INFO / DOWNLOAD
5. Imsanity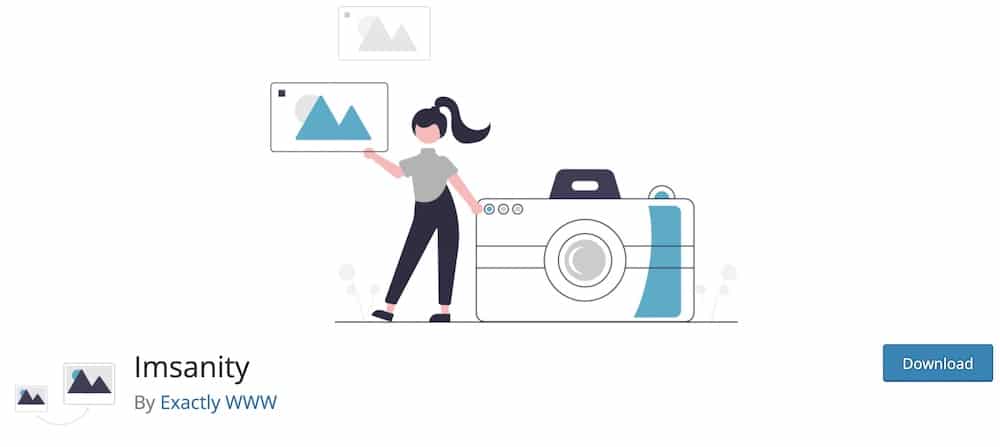 Imsanity is the best choice for you if you are looking to resize (and not compress) your images with an image optimization plugin.
With this WordPress image optimization plugin, resizing images becomes a piece of cake.
Imsanity will take your images and change their width, height, and quality level based on the parameters you set.
And you can resize any PREVIOUSLY uploaded image as well.
Resize your website images without using a photo editor like a BOSS.
Imsanity features:
300,000+ active installations
4.9/5 ratings
Fully automated
Easy to use
Available in numerous languages
MORE INFO / DOWNLOAD
6. TinyPNG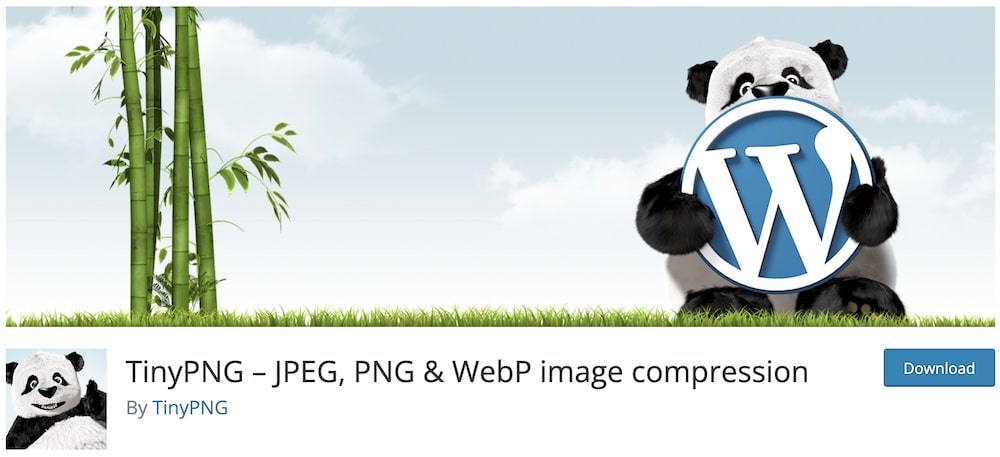 TinyPNG is one of the most beginner-friendly WordPress image optimization plugins out there. You can optimize up to 500 images per month with the free version.
TinyPNG automatically compresses the new images during upload or in the background. (Of course, you can also optimize your new images manually.)
Plus, a bulk optimization page is also available for you.
TinyPNG is the PERFECT choice for those who don't want to spend a lot of time and effort compressing images as this automatically does it.
Note: We were using TinyPNG before switching to Imagify.
TinyPNG features:
200,000+ active installations
4.4/5 ratings
Supports compression of animated PNG
Compatible with WooCommerce
Great dashboard WP widget
MORE INFO / DOWNLOAD
7. Optimole (Image optimization & Lazy Load)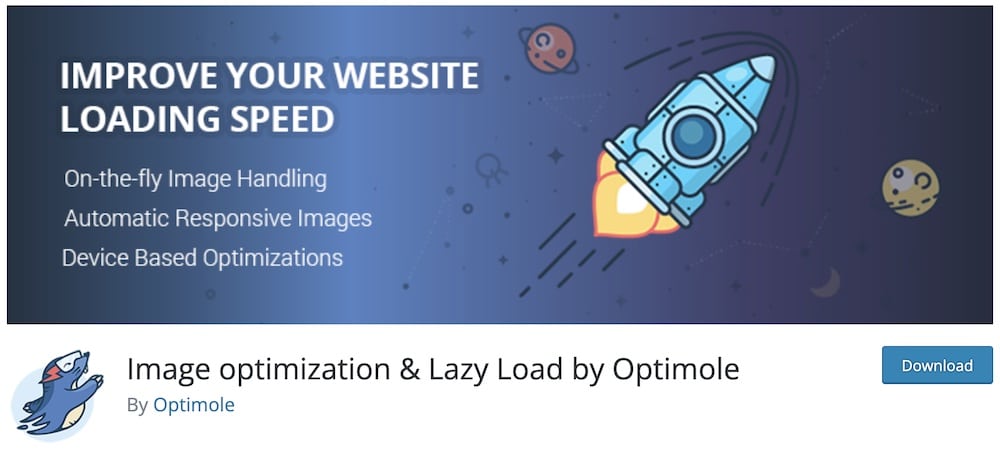 Optimole is the second cloud-based plugin on our list. This WordPress image optimization plugin works with CloudFront to serve the optimized images from over 225 locations in the world.
You can compress and convert any image you want as it supports all image formats.
Like many other plugins, you will have to create an account with Optimole to start using the plugin. However, the free version is only available in the limit of 5k visitors per month.
In short, Optimole is an EXCELLENT image optimization plugin for those who have different format images and want to compress all of them.
Optimole features:
100,000+ active installations
4.8/5 ratings
Adds watermarks
Retina supported
Unlimited optimizations uo to 5k visitors
MORE INFO / DOWNLOAD
8. reSmush.it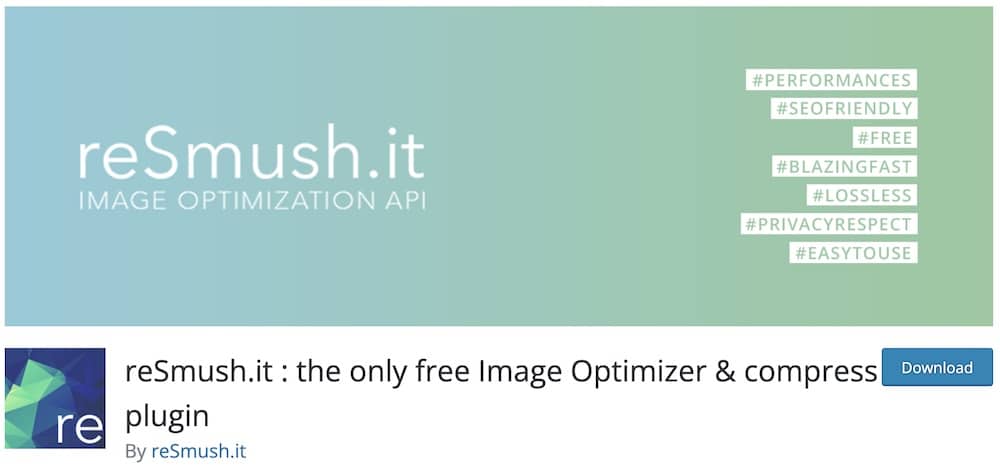 If you are looking for an image optimizer plugin that will allow you to bulk optimize images in just 2 clicks, reSmush.it is the perfect solution for you.
This plugin allows you to optimize your images in the upload process automatically.
With this WordPress image optimization plugin, you will get an EASY-TO-USE slider to determine the image quality and compression you want the plugin to do.
Note: The plugin only supports images lower than 5MB in size.
ReSmush.it is a great tool that will give you access to reSmuth.it API to compress and change the quality of your images in a breeze.
ReSmush.it features:
200,000+ active installations
4.3/5 ratings
Well documented
Unlimited optimization (5MB per image limit)
User-friendly interface
MORE INFO / DOWNLOAD
9. Kraken.io Image Optimizer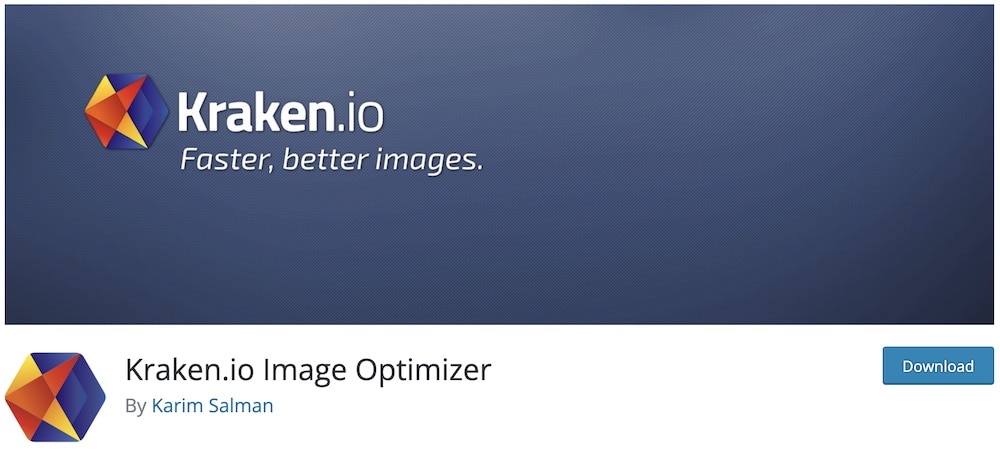 Kraken.io is a great image optimization plugin that works with Kraken.io API and supports both lossless and lossy compressions.
Besides image optimization, Kraken.io gives you other features, like Dropbox compatibility.
Kraken also resizes images during upload based on your preferred dimensions.
You can use a BULK action menu to optimize numerous images in one go using Kraken.io.
However, the downside is that the free version of the plugin allows you to optimize up to 100MB images per month. (But that may be enough if you run a small blog or website.)
Kraken.io features:
20,000+ active installations
4.6/5 ratings
JPG, PNG & GIF supported
32MB max file size limit
Compatible with Page Cruncher
MORE INFO / DOWNLOAD
10. WP Compress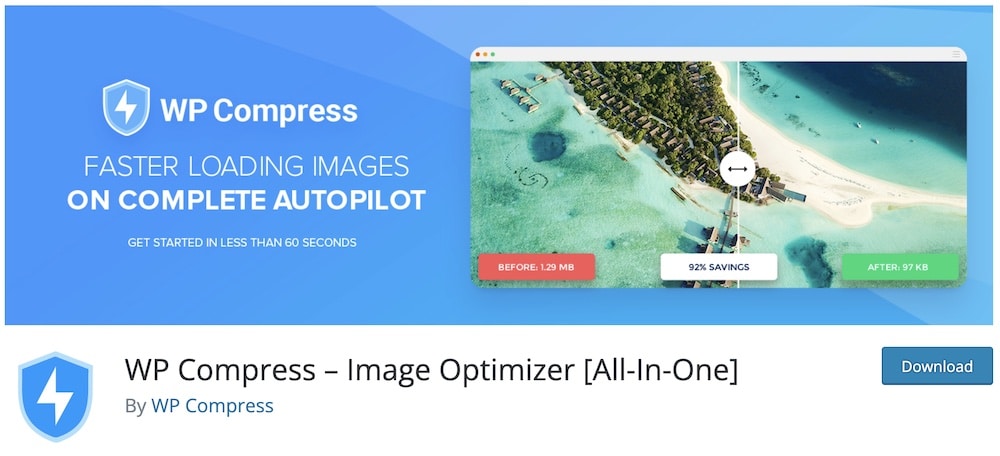 For our last choice we have the WP Compress plugin. This WordPress image optimization plugin is an automated plugin that comes with 2 optimization types.
First, we have the Local Mode that compresses images only from your WordPress library. But, where WP Compress shines is the Live Mode.
In this mode, the tool uses a global content delivery network to send the outcome WebP images to your device.
The IMPORTANT thing here is that both modes support retina images and lazy loading.
Improve your website's loading speed quickly with WP Compress (and 0 experience!).
WP Compress features:
7,000+ active installations
4.5/5 ratings
Live chat support
Automated image resize
Live (real-time) image optimization
MORE INFO / DOWNLOAD
::
Note: This article was originally published on March 6, 2022. But our team regularly reviews it and updates it with necessary improvements for accuracy.