Our extensively tested free and premium WordPress author bio plugins are ideal for creating or sparkling your contributor's bio boxes.
It's TOO easy to do.
How do we know it? Because we let two friends who are WP beginners try them, and they enjoyed setting things up with ease.
Bios, avatars, social icons, links, etc., these plugins cover it all!
This post covers:
A few configuration clicks, and you have custom author boxes live on your website.
Your authors and contributors deserve the EXTRA SHINE.
You can now make it happen – with a plugin.
What Makes A Good Author Bio Plugin?
When we were curating this list of the best plugins, we looked for a bunch of factors to ensure we added only the most quality ones.
Here are some of the features that call for a great plugin:
Regular updates ensure that the plugin runs smoothly and stays compatible with the latest WordPress version.
Great documentation and a professional support team (or support forum) give you confidence in using the plugin. You can quickly find or get the answers you need.
Lightweight structure, so it doesn't slow down the website loading speed.
Various customization functions to configure the settings however you want (adding avatars, bios, social links, etc.).
Author attributes that allow you to give proper credits, like author, co-author, guest author.
Responsive layout, so the author bio box appears flawlessly on mobile and desktop devices.
Make a more personal experience with custom author boxes.
THE ULTIMATE 3:
Best Overall Author Bio Plugin: Avatar
Best Free Author Bio Plugin: Starbox
Best Multi & Guest Author Plugin: Molongui
Don't miss checking our tutorial on how to install a WordPress plugin like a champ.
Best Free & Premium WordPress Author Bio Box Plugins
1. Avatar (Premium)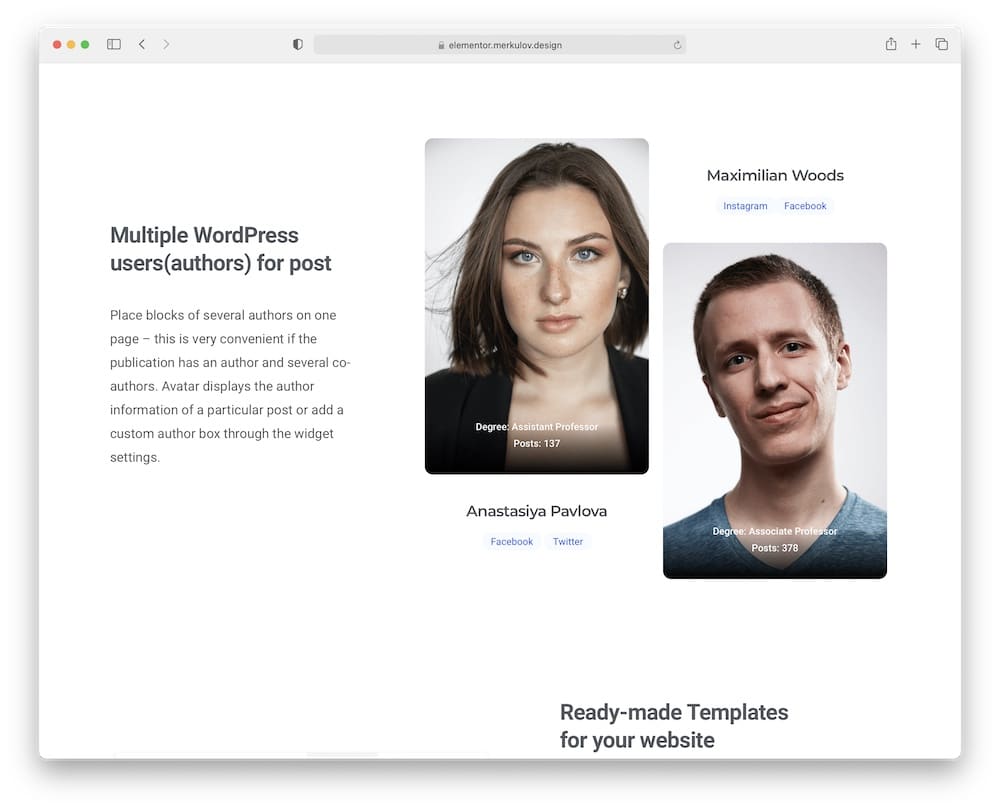 Note: Avatar is a plugin specifically designed to work with Elementor.
It gives you a lot of features to work with and has endless additional customization settings.
You can create elegant author boxes to display your writers to visitors with this WordPress author bio plugin.
Also, Avatar provides you with the ability to insert social media and other buttons into the author box to allow your visitors to contact the writer.
EXCELLENT compatibility and extreme flexibility for an ultimately affordable price – that's Avatar!
Avatar features:
50+ sales
5/5 ratings
Multiple authors
SEO-friendly
Price: $9 (may vary)
MORE INFO / DOWNLOAD
2. Starbox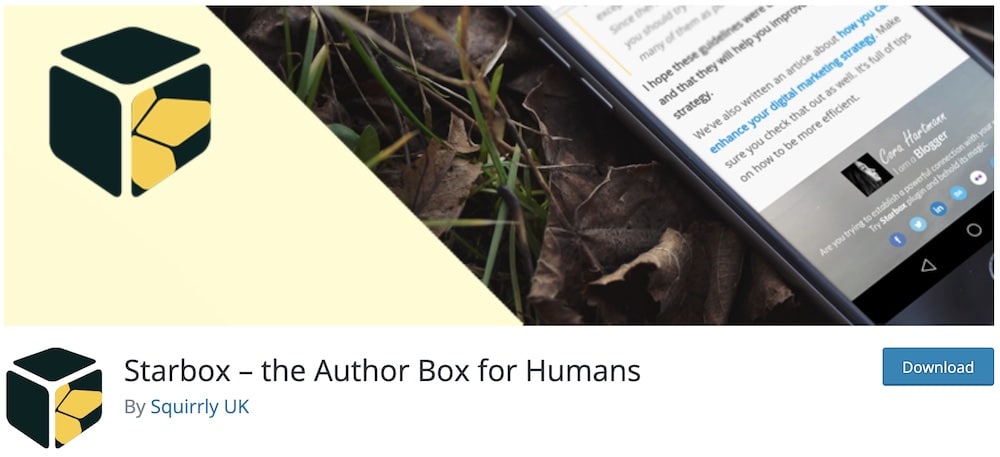 If you're searching for an author bio plugin to create professional boxes, don't miss Starbox.
We easily create stunning author boxes and displayed them on top and at bottom of the pages and posts.
Of course, you can CHOOSE different approaches for all author boxes.
Also, the plugin gives your visitors the ability to see and click the social profiles of authors to engage with them.
Starbox features:
50,000+ active installations
4.5/5 ratings
Works with eCommerce sites
Easy to set up
Supports 10 social platforms
MORE INFO / DOWNLOAD
3. Simple Author Box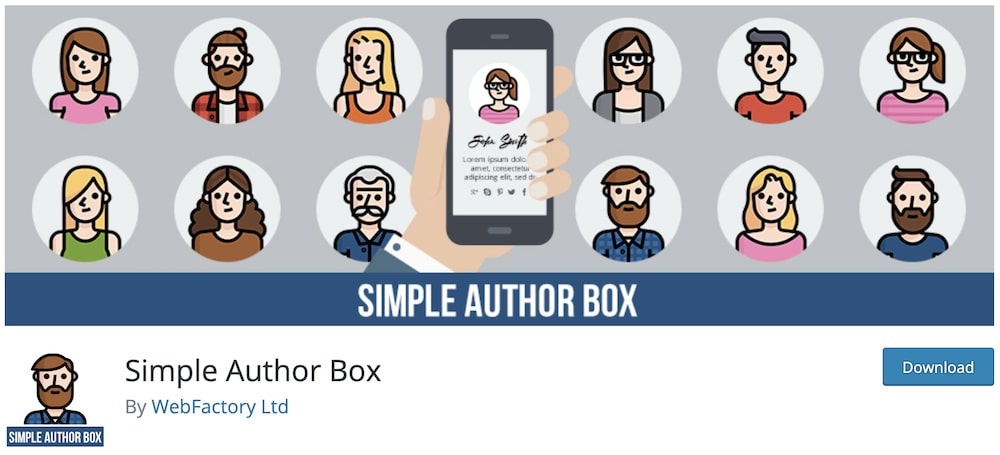 How often do you look for a SIMPLE plugin to do your task but can't find something reliable? That's why we added Simple Author Box to this collection.
This WordPress author bio plugin creates responsive author boxes and displays them at the end of your posts.
Add the author's name, a gravatar, bio, and social profiles – that's it. You can also customize options like color, background, text, etc.
The process of configuration and adding author boxes doesn't require coding or technical skills.
Simple Author Box features:
60,000+ active installations
4.4/5 ratings
RTL support (check how to enable RTL in WP)
AMP support
Real-time preview box
MORE INFO / DOWNLOAD
4. WP Post Author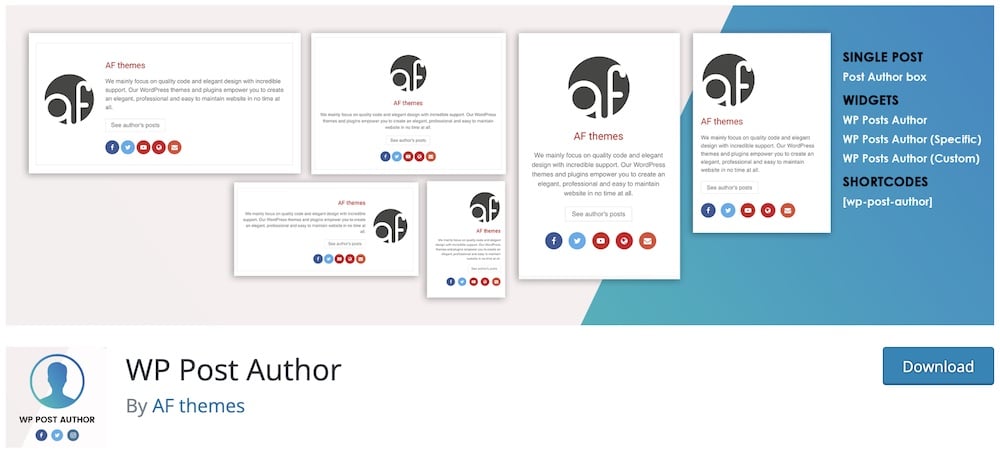 Use WP Post Author to make clean and minimal author boxes in a little breeze.
You can add all the necessary author details, social buttons, and more.
It takes seconds!
WP Post Author comes with 3 WP widgets. Also, this plugin has 6 different templates to choose from.
We really like that the plugin allows you to place author boxes on different website locations.
WP Post Author features:
20,000+ active installations
5/5 ratings
WP shortcode & PHP support
Link "Other posts by the Author"
Author custom widget
MORE INFO / DOWNLOAD
5. Molongui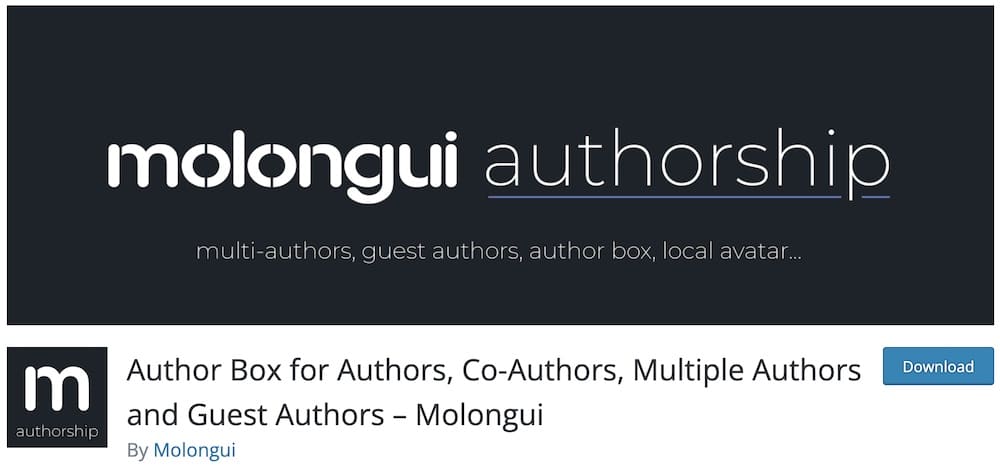 Molongui is perfect if you have a lot of guest authors and want to give them credentials for their work but without the need of creating an account on your website.
What's also COOL is that you can give credit to multiple authors in a single post with this free WordPress author bio plugin.
This plugin comes with a lot of adjustment options like color, text, size, custom avatar, company, phone, and more.
Plus, Molongui gives you different layouts for the author boxes to choose from.
Molongui features:
8,000+ active installations
4.8/5 ratings
Responsive author boxes
Multiple & guest author posts
3 box position options
MORE INFO / DOWNLOAD
6. Guest Author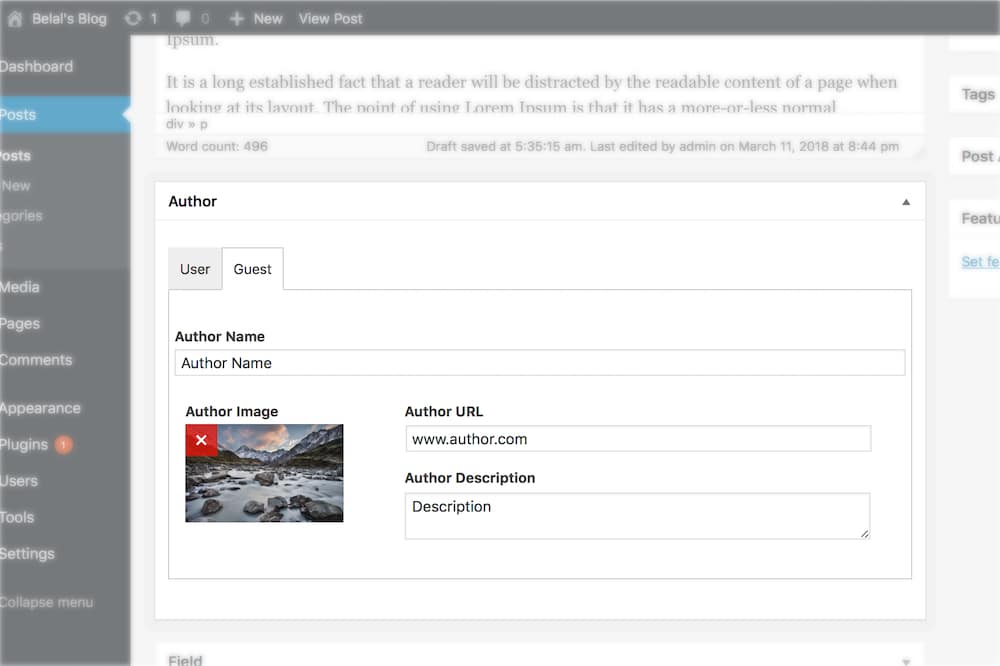 According to a lot of WordPress users, simplicity is always desirable when it comes to plugins.
Right?
With that in mind, Guest Author may be the most simple plugin you can find to give credits to guest authors.
The best part of this free WordPress author box plugin is the quick and easy setup.
There are just a few things you have to insert and let the tool DO THE REST.
Guest Author is specifically designed for websites that have a lot of guest posts and don't want to create accounts for every guest author.
Guest Author features:
6,000+ active installations
4.4/5 ratings
Well documented
Easy to set up
Custom avatar image
MORE INFO / DOWNLOAD
7. Author Bio Box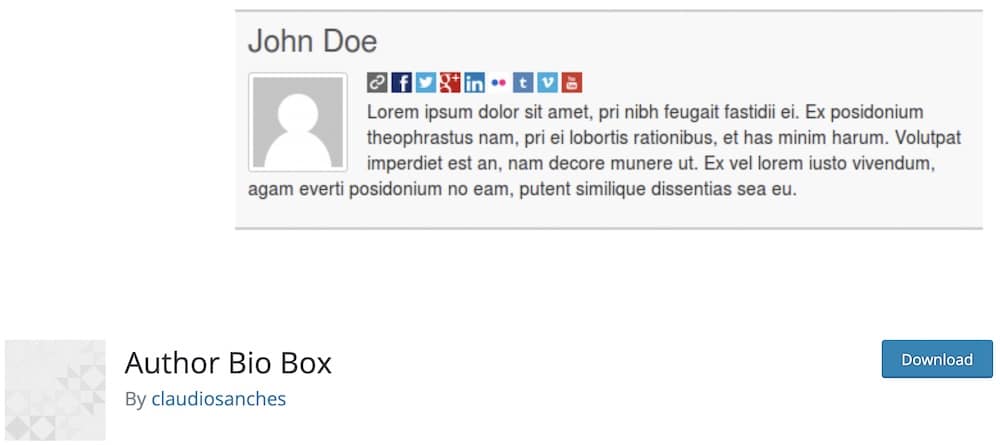 If you are looking for an author bio plugin with minimalist boxes to insert on your page, Author Bio Box is for you.
You can input the essential information regarding the author's bio like a photo, description, name and social media links.
While we reviewed Author Bio Box we saw that with the minimal designs, the visitors did not distract at all from the post's content. (Maintain the BEST experience!)
Author Bio Box features:
4,000+ active installations
4.8/5 ratings
Quick installation
Social icons
Add the author's email
MORE INFO / DOWNLOAD
8. About Author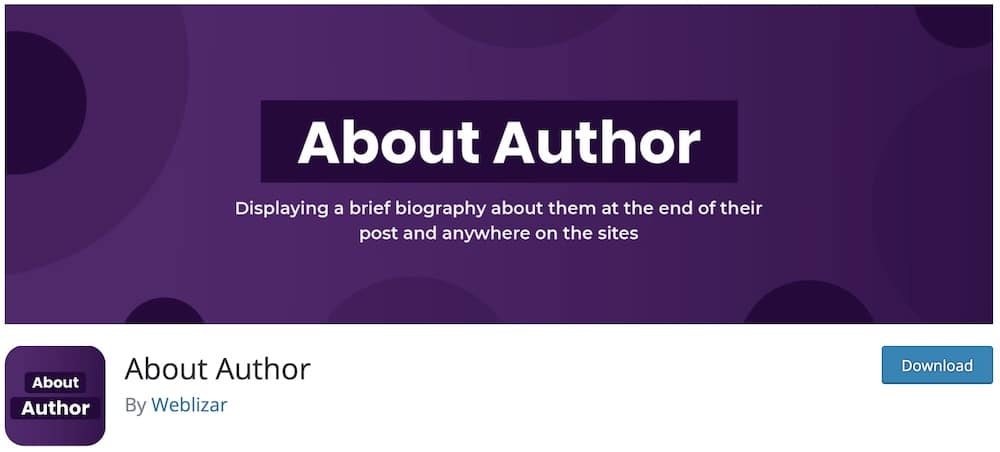 How about an author bio plugin with shortcodes to display author boxes anywhere on your site multiple times?
This is the case with this free author box plugin.
About Author is a tool with many customization options for the boxes like color, text, background, and more.
With About Author the only things you have to set up are ESSENTIALS and let it present it on the website beautifully.
About Author features:
700+ active installations
4.4/5 ratings
2 author templates
Widget for WP sidebar
Regular updates
MORE INFO / DOWNLOAD
9. Superb Gutenberg Blocks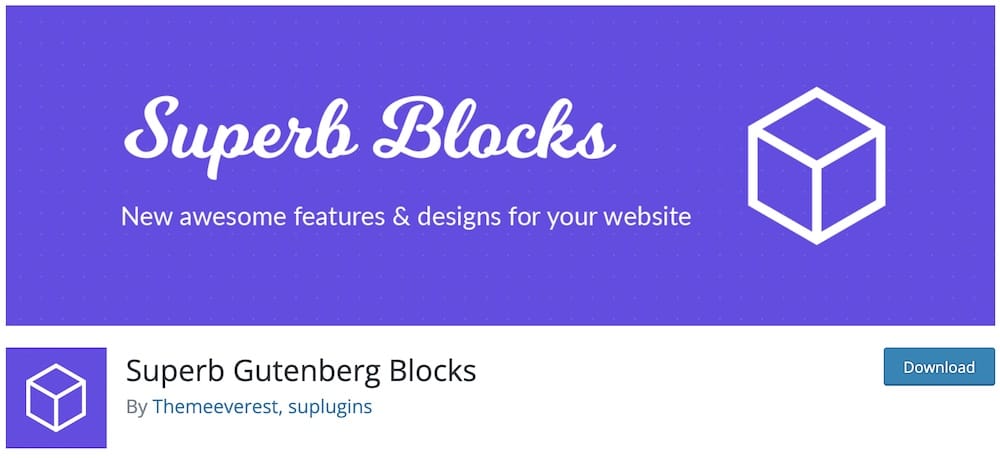 Superb Gutenberg Block is a 3-in-one plugin, covering author block, table of contents and ratings.
This plugin is fully responsive and lightweight, guaranteeing the ultimate performance.
You can SET UP an author box at the end of your posts with sections like the author's image, name, social media and bio with this free WordPress author bio plugin.
Superb Gutenberg Blocks features:
7,000+ active installations
5/5 ratings
Import author data
SEO optimized
MORE INFO / DOWNLOAD
10. Meks Smart Author Widget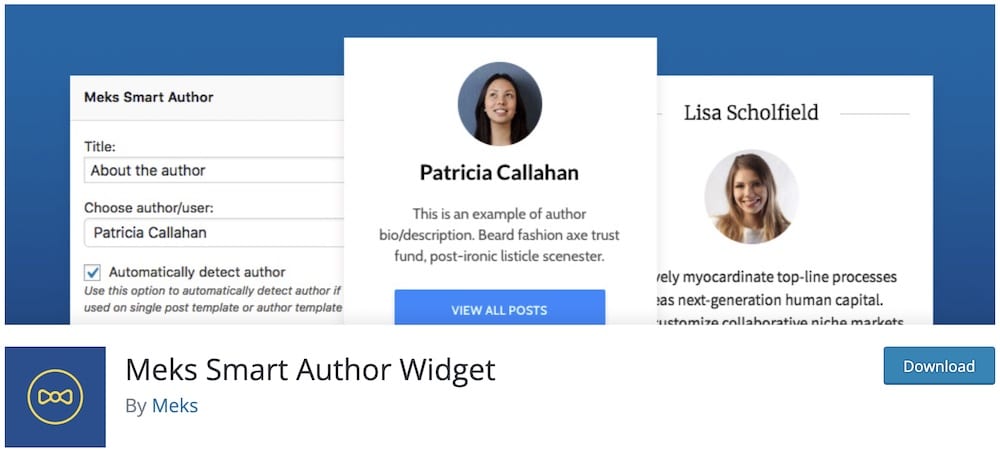 Meks Smart Author Widget may be our last pick for this list but for sure it's not the weakest.
OH. NO.
This powerful plugin is here to help you easily put author bio boxes in widget areas.
You get many options like the ability to change the size of the author's avatar with this free author box plugin.
In addition, this plugin allows you to put a "View all posts" button at the bottom of the author's box.
Smart Author Widget features:
30,000+ active installations
4.4/5 ratings
Auto-detect post author
Well documented with live example
Zero coding
MORE INFO / DOWNLOAD