Our review of the best free and premium WordPress mega menu plugins is perfect because you're looking to boost your site's navigation.
Right?
Organize different content, categories, pages, products, and more neatly with the right plugin.
This is the best way to give your visitors the possibility to find the content they want easily. (ESSENTIAL!)
Instead of just blindly testing and reviewing each plugin, we used them for multiple clients.
The majority of clients manage their mega menus effortlessly after our initial setup.
And you WILL, too!
This post covers:
Pick. Install. Activate. Setup.
Your mega menu is live. Go!
What Makes A Great WP Mega Menu Plugin?
It's important to understand some of the key factors that make a mega menu plugin epic.
We reviewed and tested them extensively and individually by installing them on our demo website.
This allowed us to come up with the five must-haves in case you plan on doing further research. But I highly doubt it because these are cream de la cream amongst free and premium versions.
What to look for in a WP mega menu plugin?
The plugin must be regularly updated to ensure the latest WP version compatibility and bug elimination. (New updates can also mean new and improved features.)
The plugin must have excellent support and documentation – or a top-notch support forum (in case of free plugins).
The plugin needs to guarantee effortless and quick setup and configuration. We also have a full tutorial on how to install a WP plugin.
The plugin needs to offer great customization capabilities to create the exact mega menu you want (adding links, images, adjusting columns, etc.)
The plugin should be 100% responsive (although a mega menu on mobile might not always work).
THE ULTIMATE 2:
Top WordPress Mega Menu Plugins
1. UberMenu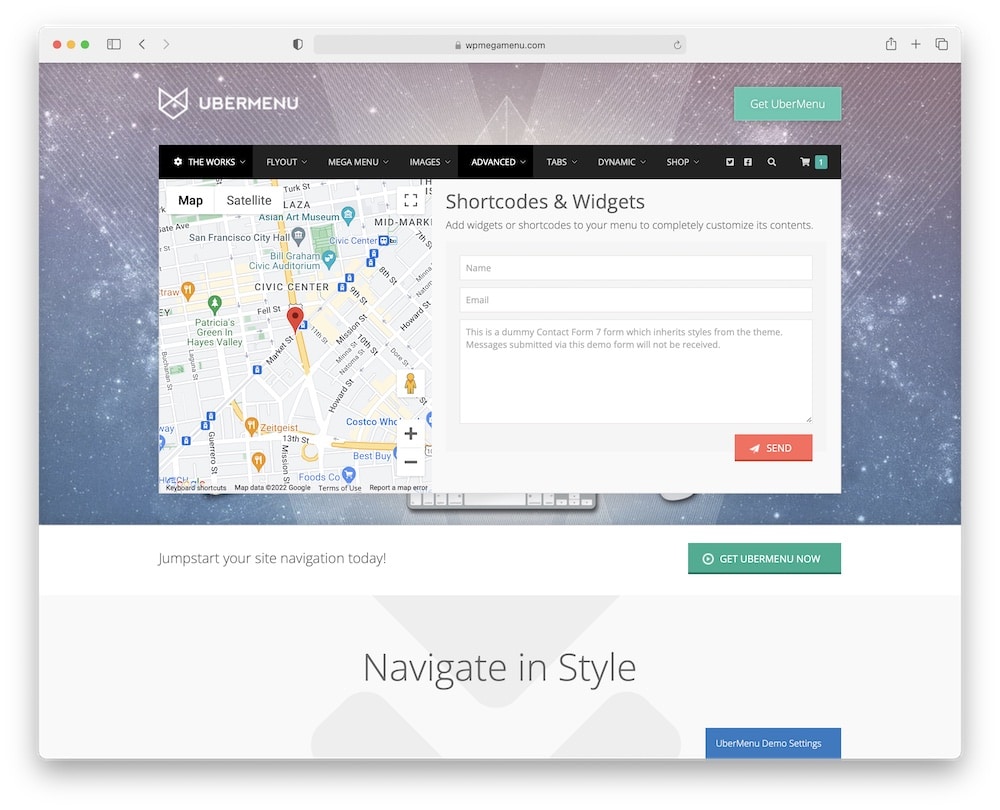 UberMenu is definitely one of the most popular mega menu plugins on the market and for good reasons.
This premium plugin is here to help you out with numerous features.
UberMenu gives you the ability to add responsive flyout menus and mega menus to your website.
As a fully-customizable tool, UberMenu helps you MANIPULATE your navigation's background color, fonts, orientation and more.
Another great function of this plugin is the live preview mode.
This was particularly helpful during our review, as observing changes in width, WP widgets, WP shortcodes, etc. was a piece of cake.
UberMenu features:
87,500+ sales
4.6/5 ratings
Boosts user experience
Price: $26 (may vary)
MORE INFO / DOWNLOAD
2. Groovy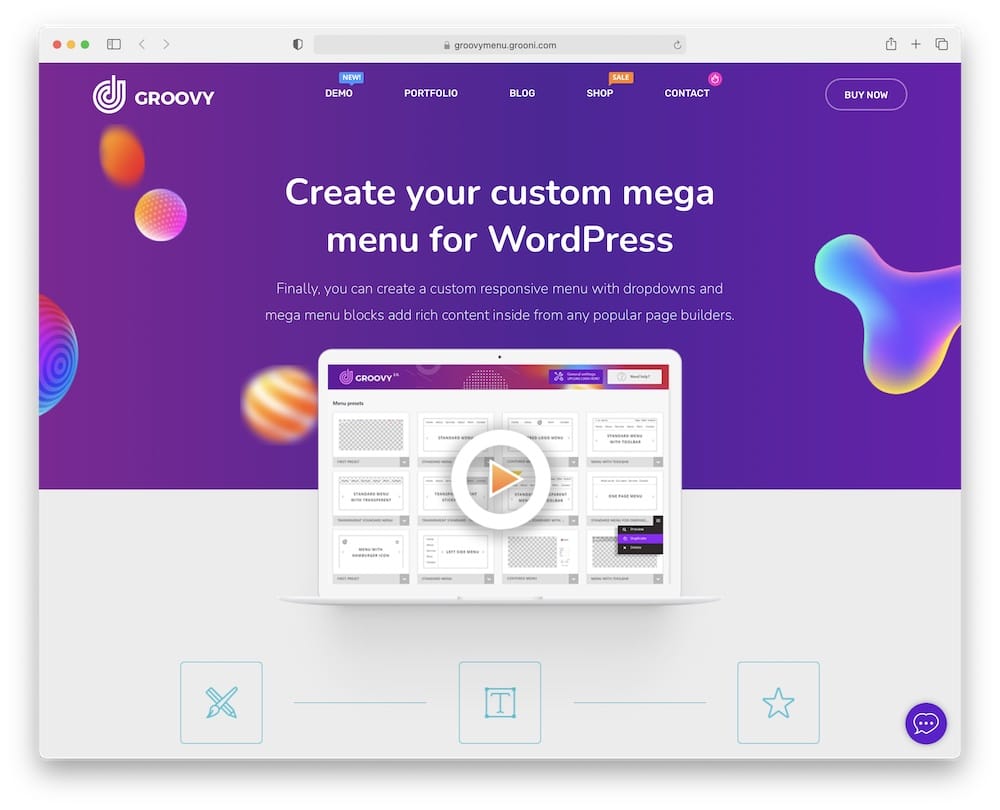 What would you think if we told you there is a mega menu plugin that integrates with FAMOUS page builders like Elementor, Avada and Divi?
Well, Groovy does.
This premium WordPress mega menu plugin gives you the ability to create navigations of any type; from minimalistic one-page menus to comprehensive multi-column menus, nothing is left out.
Moreover, Groovy has an amazing online library of elements, presets, fonts, icons and more. You do the work easily and quickly!
We particularly liked how Groovy is fully compatible with RTL languages and WPML-ready.
Finally, this plugin offers visibility rules that let you decide which content your visitors can access.
Groovy features:
5,100+ sales
4.7/5 ratings
Well documented
User-friendly interface
Price: $25 (may vary)
MORE INFO / DOWNLOAD
3. WP Mega Menu Pro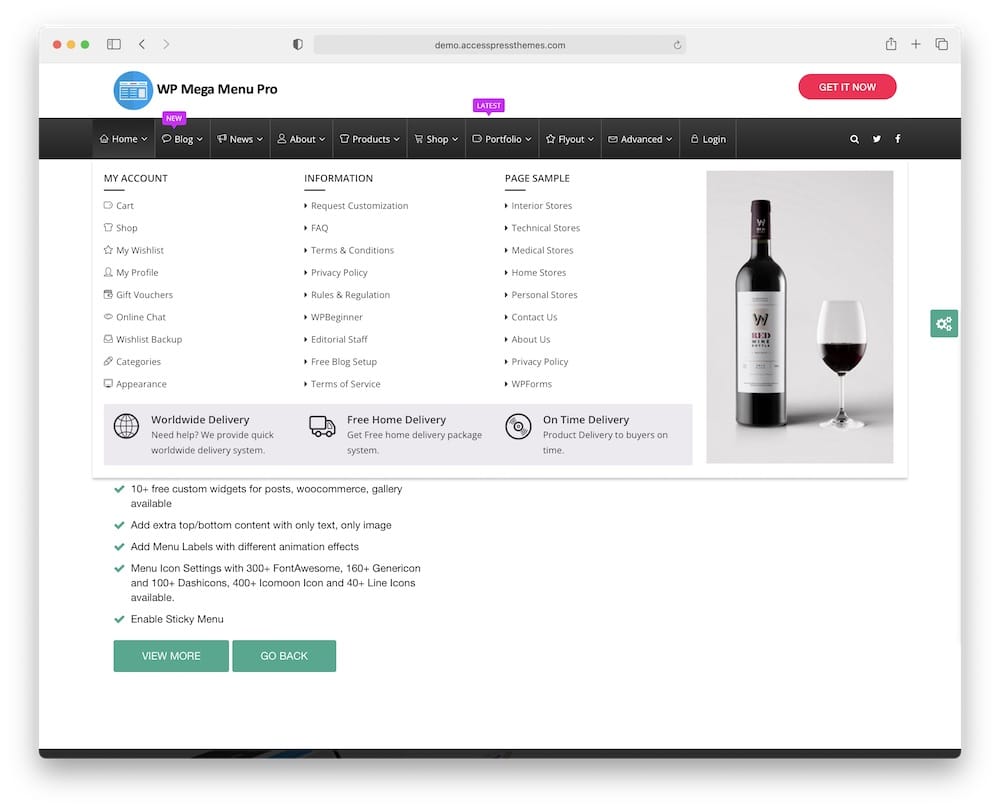 WP Mega Menu Pro is another powerful menu plugin with TOP-NOTCH features to create advanced navigation for your website.
You get 14 pre-made mega menu skins, 400+ menu icons and 100+ customization options with this premium WordPress mega menu plugin.
It is compatible with WooCommerce and works with any WordPress theme. WP Mega Menu Pro is designed for both professionals and beginners.
Nope, there's no need for technical knowledge to create a pro-level menu!
WP Mega Menu Pro features:
3,500+ sales
4.4/5 ratings
Horizontal & vertical menus
Drag & drop system
Price: $18 (may vary)
MORE INFO / DOWNLOAD
Best Free WordPress Mega Menu Plugins
Note: Don't miss checking out even more free menu mockups that we tested.
4. Groovy (Free)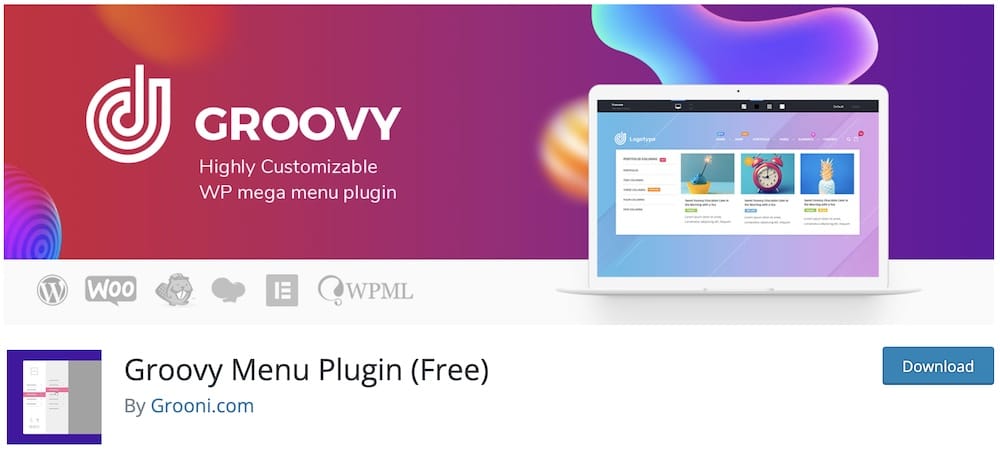 We have already reviewed the Groovy Pro above. But what if you don't want to pay EXTRA for the Pro version?
For this reason, there is the powerful free version that has all the essential features you need to create a mega menu.
Groovy Free is fully responsive and WPML ready. Like its brother, the free version is also compatible with Elementor, DIVI and Avada page editors.
Groovy Free also has a preview mode to see the changes you make before going live.
In addition, this plugin offers a large number of customization options.
Groovy (Free) features:
6,000+ active installations
4.1/5 ratings
Zero Coding
Ajax Cart
Drop-down menu & one-page menu
MORE INFO / DOWNLOAD
5. WP Mega Menu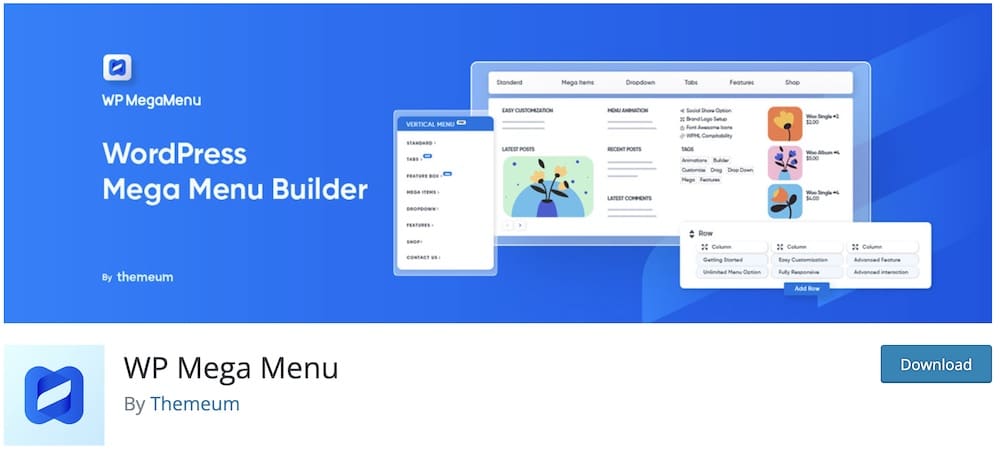 WP Mega Menu is another great free mega menu plugin to use for stunning website navigations.
Setting up custom navigation was effortless, even when approaching it as a newbie.
Everything happens in a little breeze, thanks to the drag-n-drop method, with this free WordPress mega menu plugin.
Also, you can add your social icons to the menu to get likes or shares from your visitors with WP Mega Menu.
This plugin offers YOU the possibility to use unlimited colors and fonts. Finally, you have the option to add a custom background image for your menu.
What's more to ask?
WP Mega Menu features:
20,000+ active installations
4.3/5 ratings
Fully responsive
Great support
Search bar (don't forget to check our list of the best WP search plugins)
MORE INFO / DOWNLOAD
6. Max Mega Menu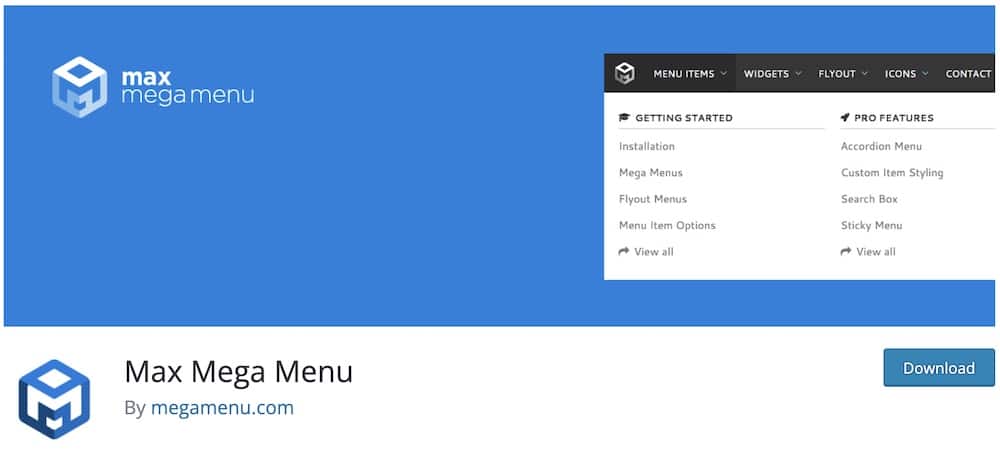 If you are looking for the most popular free WordPress mega menu plugin on the market, Max Mega Menu is the one.
This plugin takes your existing site nav and turns it into a user-friendly mega menu in no minutes.
Too. Many. Options.
Max Mega Menu comes with a fully responsive design and has the ability to hide specific content from those devices. (Example: Desktop users see a different menu than mobile.)
Also, this plugin gives an editor to CUSTOMIZE the fundamental styling of your menu.
Lastly, Max Mega Menu supports multiple menus with their own configuration.
Max Mega Menu features:
400,000+ active installations
4.7/5 ratings
Multiple transitions
Filters & actions
Keyboard navigation
MORE INFO / DOWNLOAD
7. QuadMenu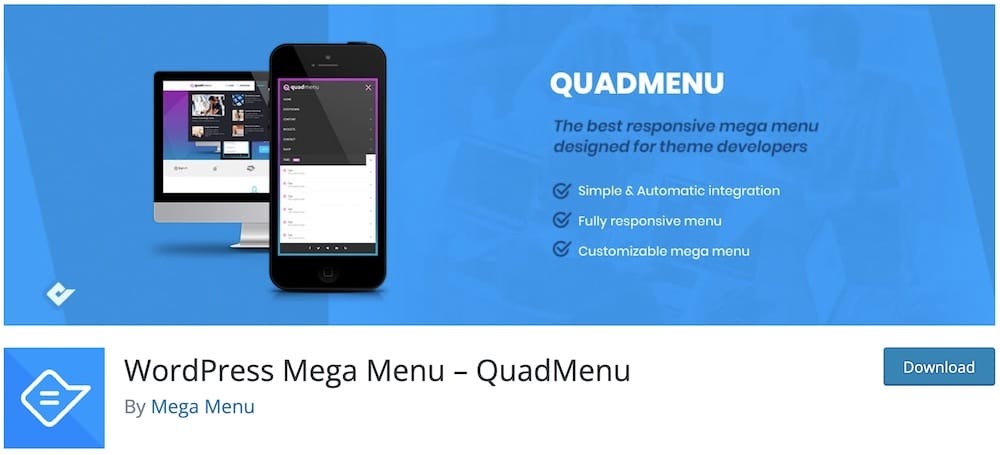 QuadMenu may seem (at first glance) like a plugin designed exclusively for developers, but that's NOT quite the case.
This free WordPress mega menu plugin is also suitable for beginners without programming skills.
This plugin is a smart choice to make with its drag and drop system that lets you add things like columns, widgets, and elements, and the ability to work on any screen size.
We really like QuadMenu's layouts.
With this plugin you get 4 different layouts, horizontal or vertical for desktops and off-canvas or collapsible for mobile devices.
QuadMenu features:
20,000+ active installations
4.6/5 ratings
Supports WP child themes
Search & cart menus
MORE INFO / DOWNLOAD