We've reviewed and tested the best free and premium WordPress auction plugins, so you'll quickly find the right one.
Whether you run an auction house or would like to connect eBay with your WordPress site (+ everything in between), it's all possible.
Running multiple auctions so your users can bid or "buy it now" is SO EASY.
This post covers:
These plugins don't require skills and coding knowledge.
It takes only some clicking to set up live auctions on your site.
LUV!
How ULTIDA Tested WP Auction Plugins
More than anything, the most important thing in choosing the right plugin is reliability. But immediately after come customizations and performance.
This is why we thoroughly reviewed each plugin (we started with 18) to guarantee you get the best bang for your buck. But we also found a few really SOLID free ones!
First, we skimmed through the feature/benefit description to get a general idea about the plugin. Then, we read reviews, compared ratings and made notes about update frequency.
We also studied documentation and checked support forums. Not just that, but we contacted each plugin's help team to see how they treat their users.
While doing the above already eliminated quite a few plugins, we later installed each on our testing website to analyze them further. (You may also be interested in reading our instruction guide on how to install a WP plugin.)
This allowed us to answer a few essential questions:
Does it slow down the website?
Is the user interface clean and beginner-friendly? Can I use it without experience?
Is the plugin easy to customize?
Are the features relevant to the ones described on the plugin's download page?
THE ULTIMATE 2:
Create an auction-type of environment – like a BOSS!
Best WordPress Auction & Bidding Plugins
1. WooCommerce Simple Auctions (Our FAV!)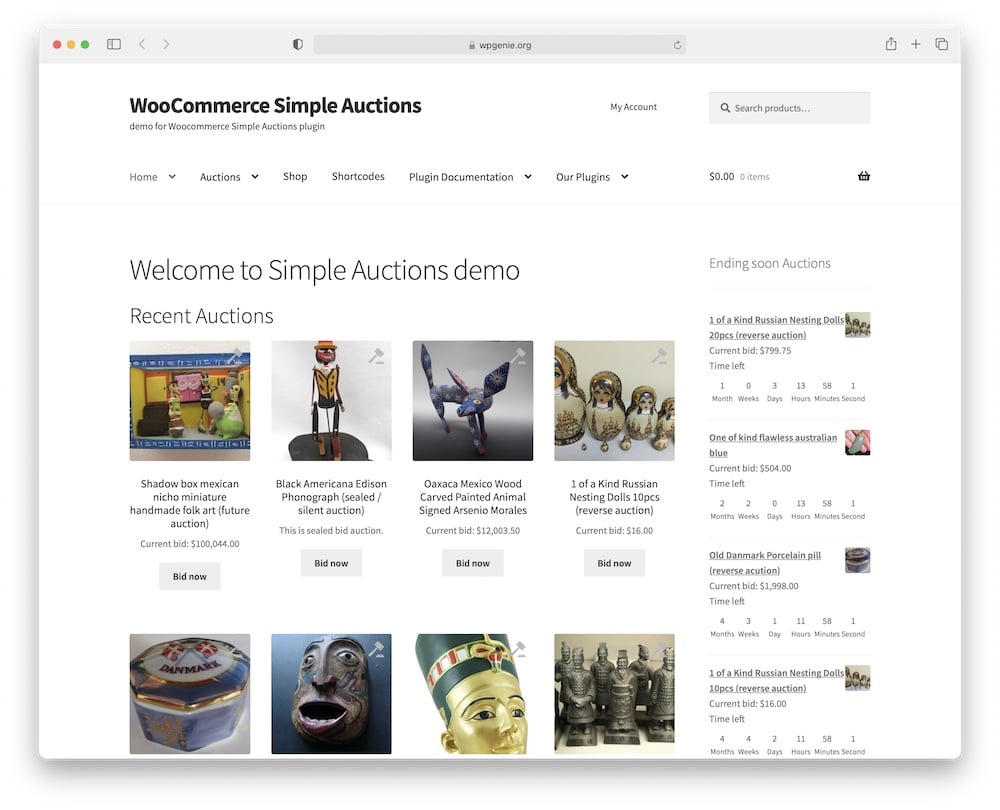 Would you like to build an auction and bidding platform or even an eBay clone?
WooCommerce Simple Auctions is absolutely – NO DOUBT – our ultimate choice when adding the auction function to a website.
It's a complete system for WooCommerce that requires no coding knowledge, so it's perfect for beginners.
Why we first fell in love with the plugin is its effortless setup. The official statement says it takes less than 30 minutes. It took us 21!
Another great option is credit card and payment details verification. You can also easily customize your auctions with custom widgets and shortcodes.
Plus, WooCommerce Simple Auctions is 100% translatable, thanks to WPML compatibility.
Yes, WooCommerce Simple Auctions ROCKS! Enjoy.
Simple Auctions features:
7,300+ sales
4.7/5 ratings
Auction history
Email notifications
Price: $49 (may vary)
MORE INFO / DOWNLOAD
2. Auctions for WooCommerce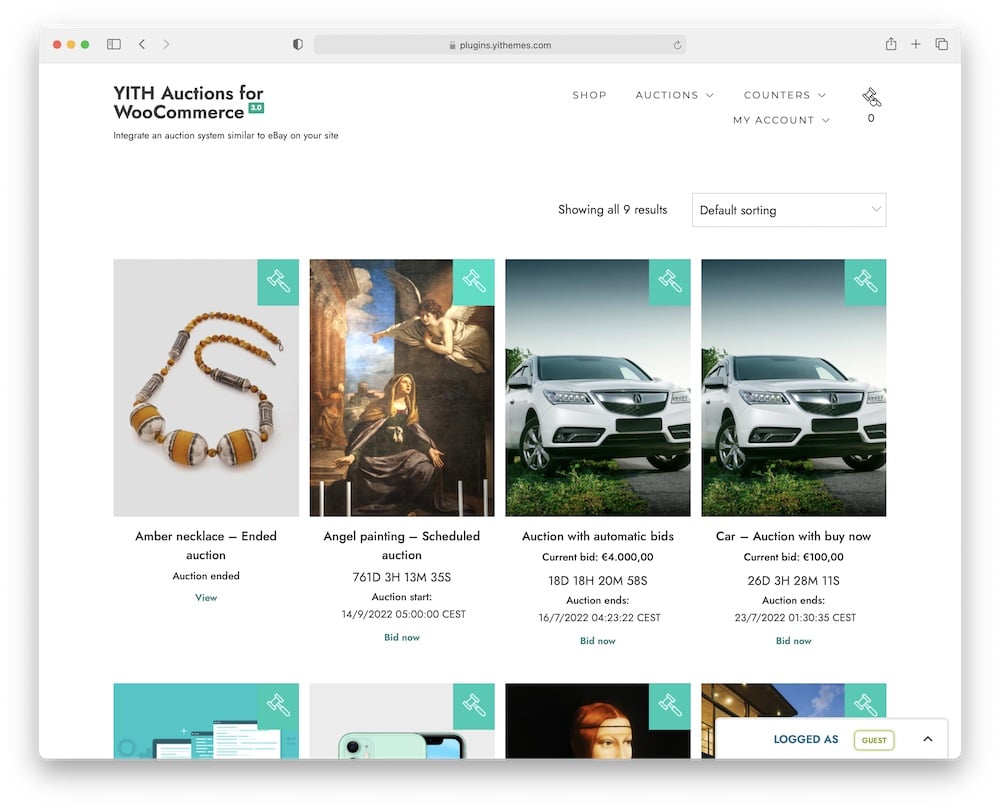 Even though Auctions for WooCommerce plugin is a more pricey version, it deserves it.
We experienced nothing but GOOD stuff when testing and trying all its features.
It works great for general and niche auction websites (we recommend going niche).
Auctions for WooCommerce even supports Dutch auctions, where the user with the lowest bid wins.
Hiding bids is also an option or set a fee to participate in the auction.
I also particularly like the automatic credit card charge option when the auction ends.
This one has it all!
However, I wouldn't suggest using it for a website with a few auction products here and there.
Ideally, for a more serious auction house with many items (or boutique items/collectibles).
GO.
Auctions for WooCommerce features:
10,200+ sales
4.5/5 ratings
Manual & automatic bids
Watchlist & auction rescheduling
Price: $149.99/year (may vary)
MORE INFO / DOWNLOAD
3. Auctions Made Easy for WooCommerce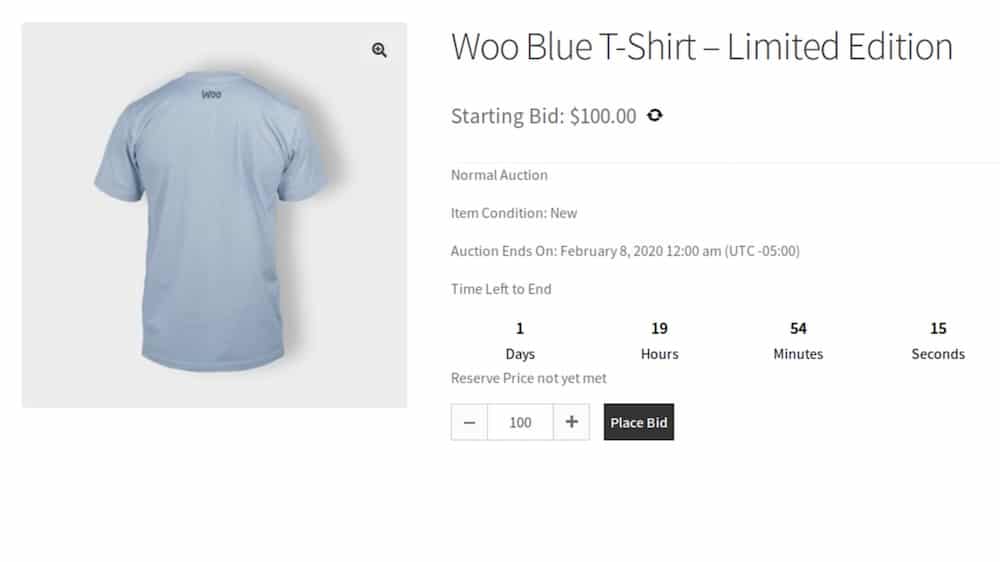 Take your WooCommerce shop to the next level with an all-around WordPress auction plugin.
This is the third of the premium tools we recommend for integrating an auction system.
Creating, running and managing auctions with Auctions Made Easy for WooCommerce is quick and effortless.
The dashboard is very self-explanatory, NOT requiring any skills.
But you get one-year free support and extensive documentation that'll answer even your most challenging questions.
Auction pages are simple with all the necessary information, including a countdown timer. (The refresh icon is also cool to quickly find the highest price.)
Make auctions a success even as a newbie!
AMEFW features:
1,000+ sales
4.4/5 ratings
30-day money-back guarantee (!)
Easy auction monitoring dashboard
Price: $79.00/year (may vary)
MORE INFO / DOWNLOAD
Best Free WordPress Auction Plugins
But freebies can work really good to dive into the auction space, too!
4. Ultimate WordPress Auction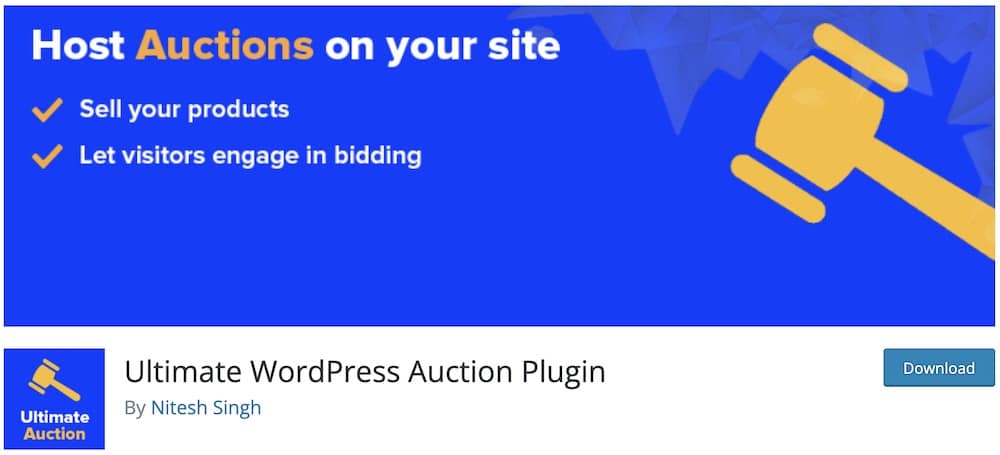 The name of this plugin is very ULTIDA-style, but that's not the reason why we're placing it first!
Ultimate WordPress Auction's easy configuration creates a pleasant experience that everyone we worked with favors. (Its support is great, too!)
The free version supports Paypal payments, multiple item images and email notifications.
It's set so only registered users can place bids (hint: you also get customers' emails).
What's a COOL and unique feature is showing auctions in specific (your) timezones. Clever!
Remember, you can always opt for the pro version and unlock even more features.
However, if you're just starting, drop the idea of going pro and start with this extensive free plugin.
Because you may even stick with it for a while – that's how awesome it is.
UWA features:
2,000+ active installations
4.4/5 ratings
Ajax support for admin dashboard
Outbid emails
Images with lightbox
MORE INFO / DOWNLOAD
5. WP-Lister Lite for eBay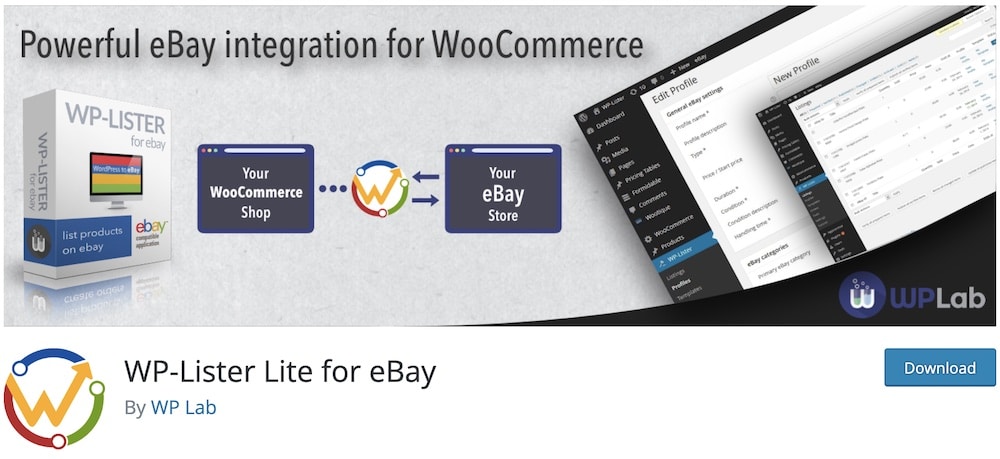 Here you go, since many of your requested to add a plugin that connects WordPress and eBay. WP-Lister Lite does just that will little work necessary on your end.
It offers you to pick specific items from your eBay store or even an entire list.
The available customizations allow you to configure auction or "buy it now" products however you want.
The guys at WP Lab also took things to the next level with localization, translating WP-Lister Lite into 8+ languages.
LEGENDS.
And this is how your WooCommerce shop and your eBay shop become buddies.
WP-Lister Lite features:
4,000+ active installations
4.5/5 ratings
Local & international shipping
Advanced HTML & CSS template editor
Product variations support
MORE INFO / DOWNLOAD
6. Auction Nudge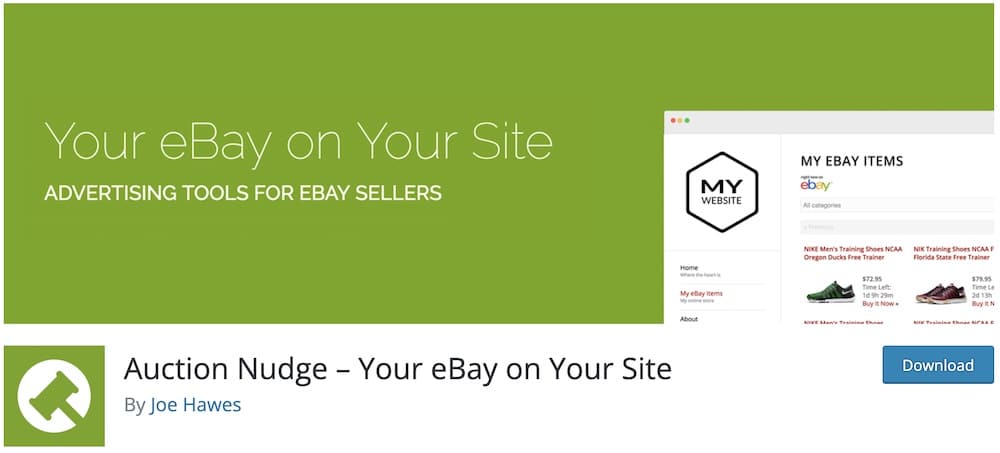 Auction Nudge is another cool free WordPress plugin to integrate eBay into your website.
You can display your eBay listings, profile and feedback, all from one location.
Because many asked, yes, Auction Nudge supports regional eBay pages, too, like Germany, Belgium, Italy, UK, Ireland, etc.
Other great features that we ENJOYED testing are keyword filtering, listing types (auction or "but it now") and setting a different number of items per page.
Auction Nudge also supports 500 x 500px images for better item visibility. (Always ensure your images are high-quality because they'll increase your sales!)
There, now you can have eBay on your WordPress website.
Auction Nudge features:
2,000+ active installations
4.8/5 ratings
Responsive
Regular updates
MORE INFO / DOWNLOAD