Placing ads on a website becomes a piece of cake with these free and premium WordPress advertising plugins.
No coding skills? NO problem!
We have tried and tested numerous tools to create this list of the best options you can use effort-free.
These plugins are essential if you want your advertising to work SMOOTHLY.
This post covers:
Are you ready to take ad management on your WordPress website to the next level?
We sure are!
How To Pick The Right WordPress Advertising Plugin?
There are many key factors that you need to consider before picking a great plugin for your advertising needs.
And I'll even say that when it comes to free plugins, it's worth testing two or three. Hey, you may end up using a plugin for many years, so it's worth the little extra initial time investment.
Luckily, you're safe and sound with any of the tools in the collection below because we did all the necessary testing.
A good WP advertising plugin needs to be:
Regularly updated and free of bugs. Plus, with new updates can come new features, which is always a good thing.
Compatible with the latest WordPress version for an always smooth operation.
Equipped with excellent documentation and friendly support staff. (Reminder: Free plugins usually don't offer support but have the documentation and access to the support forum.)
Lightweight, so it doesn't slow down your website.
Easy to configure and customize, so you can quickly set it according to your needs.
Flexible to ensure smooth integration to various website locations.
Organized for effortless ad management and meeting your goals.
Adaptable to make adding advertisements to your blog or website a child's play.
You may also want to read our guide on how to insert ads within your WordPress content easily.
THE ULTIMATE 2:
Don't forget to check our tutorial on how to install a WordPress plugin to do it the right way.
Best WordPress Advertising Plugins
1. Ads Pro (Our Fav)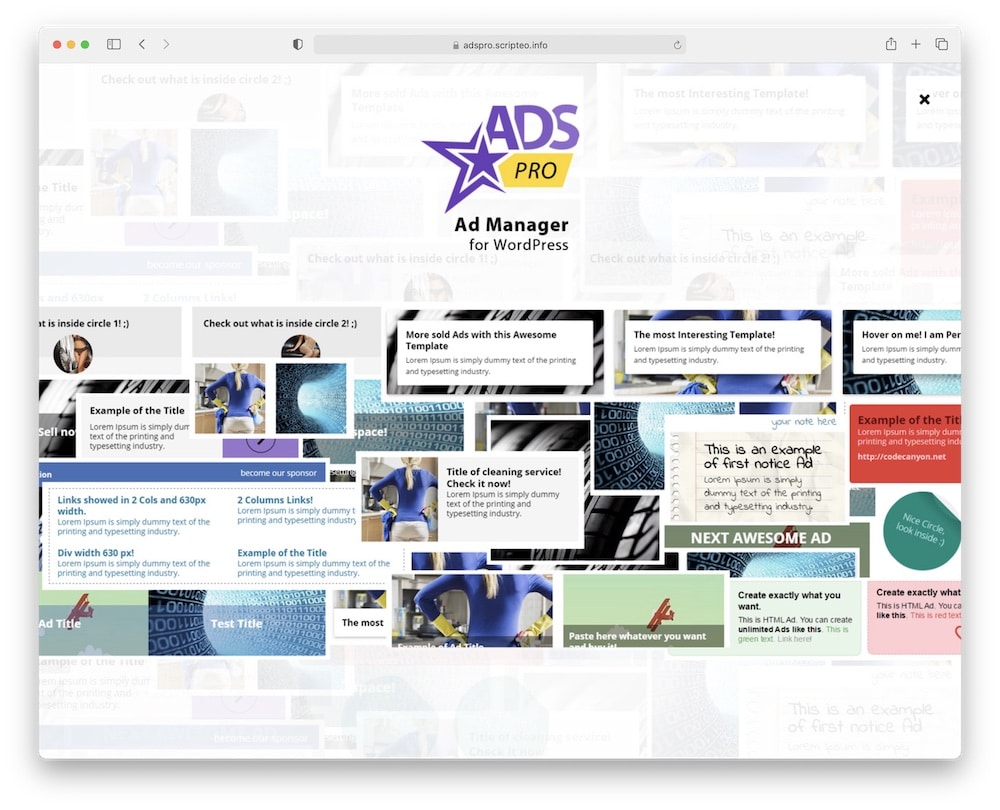 The main reason why just about every website needs an advertising plugin is how the ads are displayed.
Ads Pro is a powerful premium advertising plugin with 20+ different display methods.
You can now take your advertising to a whole new level.
We easily created desktop and mobile ads with Ads Pro plugin and even applied geographic targeting.
It's EVEN possible to specify on which devices ads should appear and set a schedule.
Ads management becomes a piece of cake with Ads Pro!
Ads Pro features:
9,800+ sales
4.4/5 ratings
Great back-end manager
Filtering based on categories & tags
Price: $57 (may vary)
MORE INFO / DOWNLOAD
2. Adning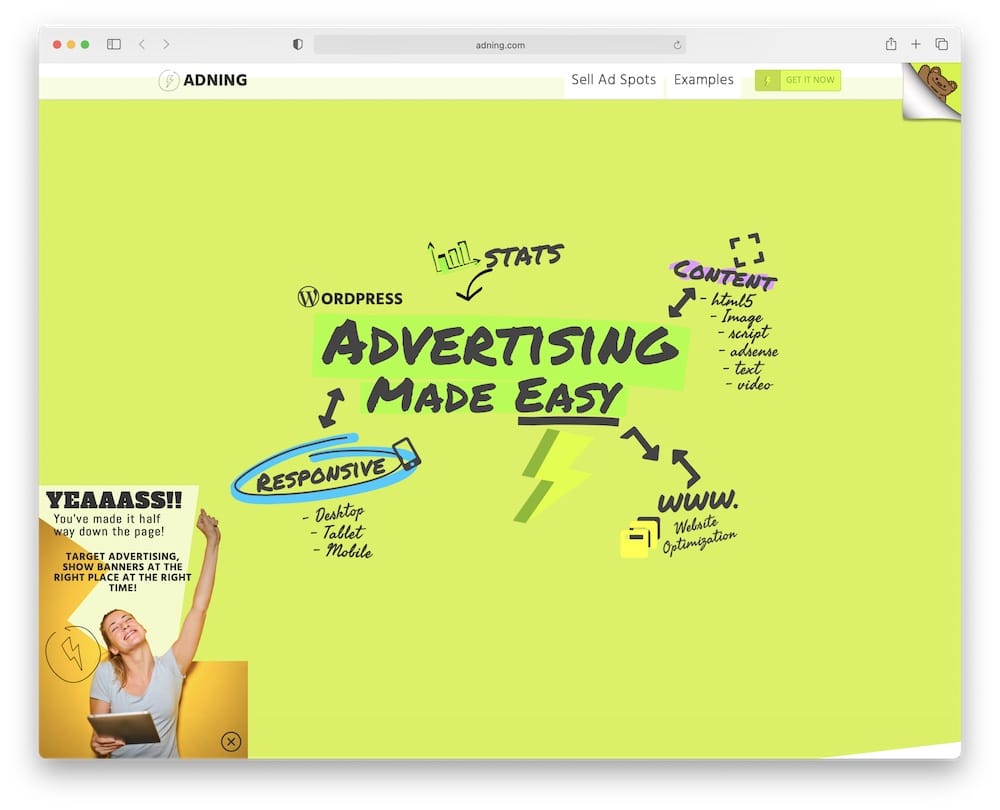 Adning is one of the most popular advertising plugins with ENDLESS options. You get many features, including Geo targeting and ad rotation effects.
You can effortlessly create and manage any number of ads with this premium WordPress advertising plugin. You can also create ads for your custom post types.
Moreover, the integrations and support of this plugin are very powerful.
It leaves out nothing, from Google AdSense and Google Analytics integration to HTML5 banners and WooCommerce integration.
Adning features:
9,600+ sales
3.7/5 ratings
Selling ad placements
Auto positioning
Price: $26 (may vary)
MORE INFO / DOWNLOAD
3. Elite Video Player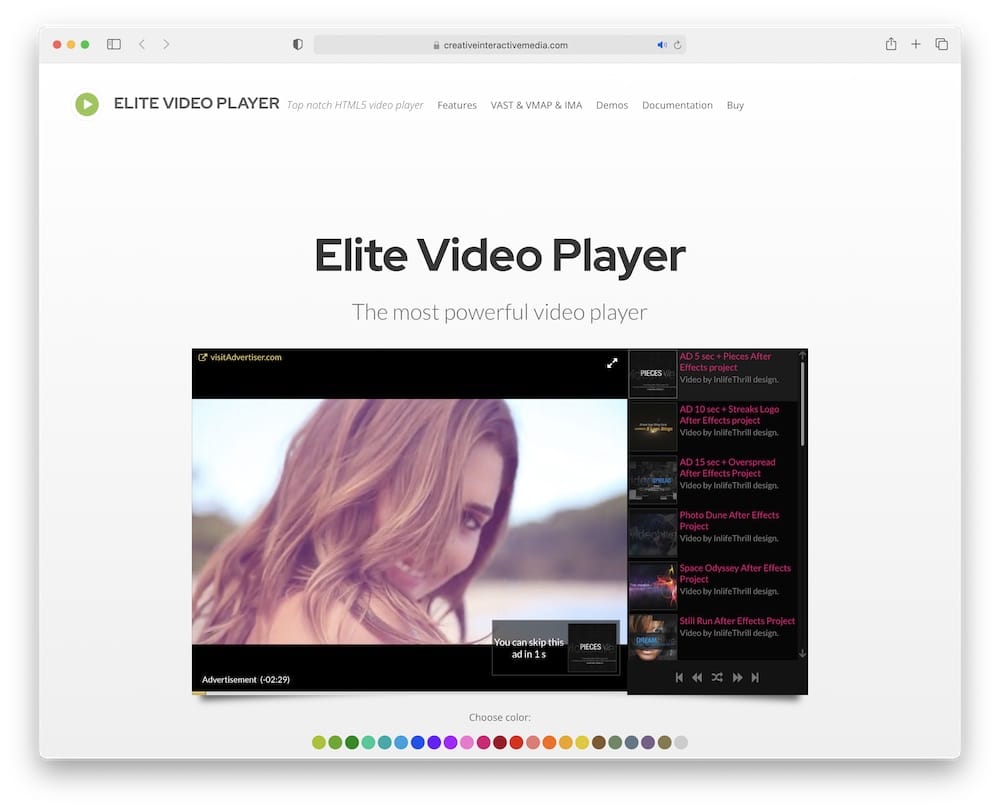 If you are looking for a WordPress advertising plugin designed specifically for video ads, this plugin is for you.
Elite Video Player is actually more of a modern high-end video player.
It is fully compatible with many ad types like VAST, IMA, VMAP and more.
Elite Video Player also supports every POPULAR video platform like YouTube and Vimeo.
Since we know you will ask for it, Elite Video Player is fully responsive, allowing you to display video ads on any device.
We used it for three clients and they love another stream of income.
Elite Video Player features:
2,600+ sales
4.7/5 ratings
Custom self-hosted ads
Price: $49 (may vary)
MORE INFO / DOWNLOAD
Best Free WordPress Advertising Plugins
4. Ad Inserter (Our Fav)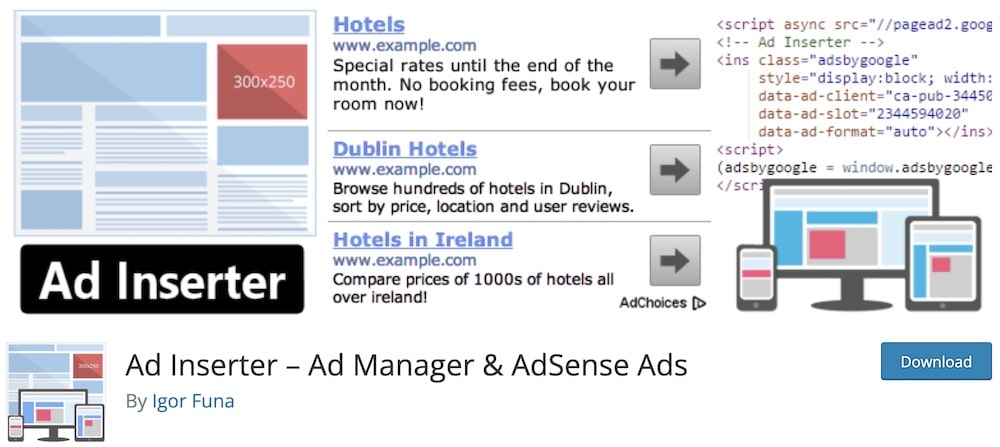 Since many WordPress users don't prefer spending a lot for plugins, drop everything and get Ad Inserter. This one is still our favorite, even after years of using it!
This WordPress advertising plugin comes with many advanced options for you to work with. It supports Google AdSense, Amazon Native Shopping Ads, rotating banners, etc.
Ad Inserter provides GREAT options like inserting opt-in forms, Javascript, HTML, CSS, header scripts, and more.
Ad Inserter features:
300,000+ active installations
4.9/5 ratings
Auto positioning
Option to exclude ads from posts
Visual editor
MORE INFO / DOWNLOAD
5. AdRotate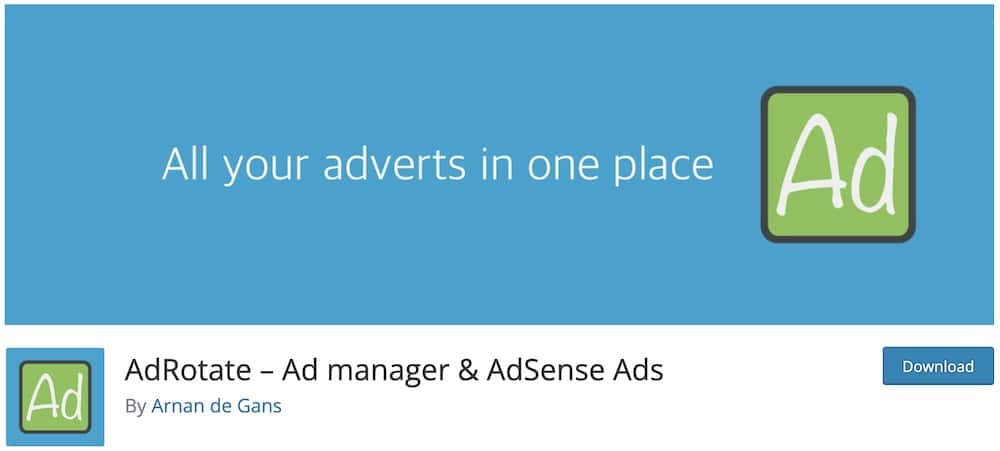 Note: We were using AdRotate before Ad Inserter.
Let's say you are looking for an advertising plugin that is easy to use and offers MANY customization options. Yup, AdRotate is one of the best choices you can make.
You can easily create your ads using HTML or Javascript with this free WordPress advertising plugin.
You can also use any of the popular ad servers supported, including AdSense, Yahoo! Ads, Bing Ads, and Amazon Affiliates, to name a few.
Lastly, AdRotate has an excellent support that helped us with our website-specific questions.
AdRotate features:
30,000+ active installations
4.3/5 ratings
Ads preview
Back-end dashboard & email notifications
Geographical targeting
MORE INFO / DOWNLOAD
6. Wp-Insert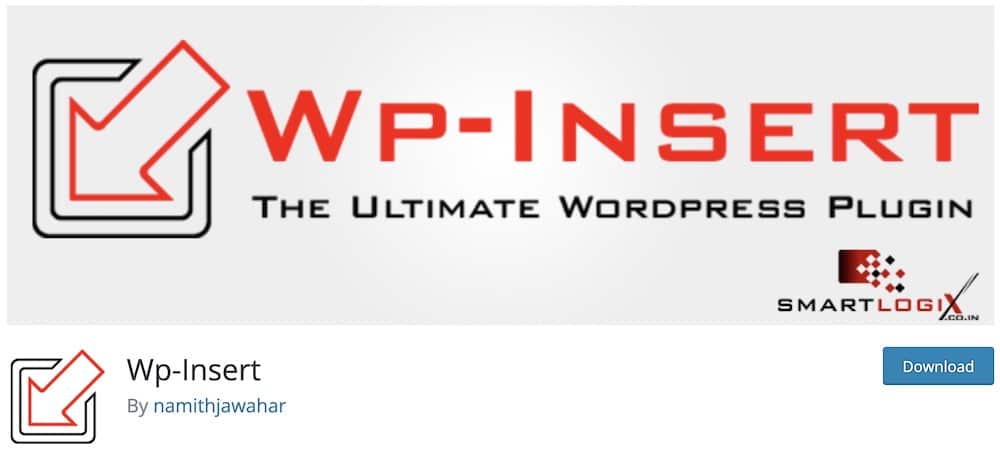 Our next suggestion is a WordPress advertising plugin that simultaneously displays ads from up to three different ad networks.
SO. GOOD.
Wp-Insert offers you 15+ ad widgets to work with for multiple widgets and customization options. You also get simple WP shortcodes to display banners wherever you want.
Lastly, this plugin supports popular ad servers like Yahoo!, AdSense, Chitika, etc.
It has all the essential features to start banking!
WP-Insert features:
20,000+ active installations
4.5/5 ratings
A/B testing
Hide ads for logged-in users
Gutenberg support
MORE INFO / DOWNLOAD
7. Corner Ad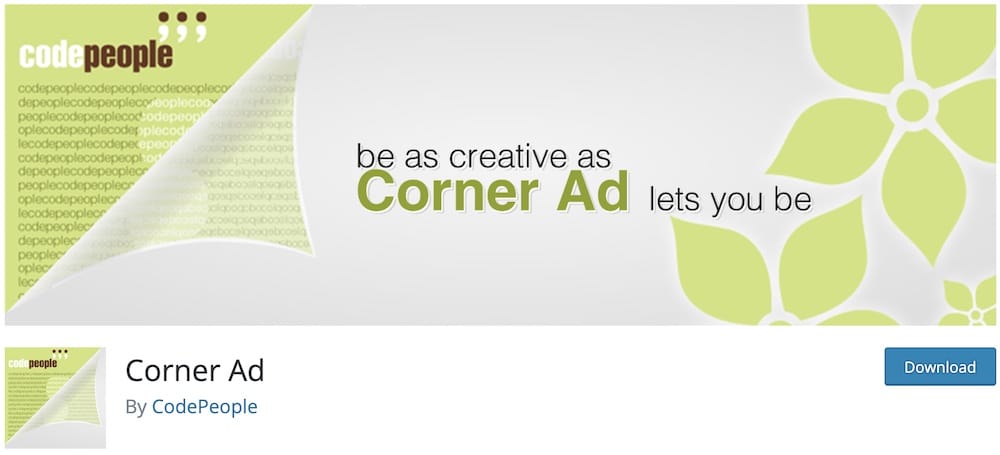 Do you need something more playful?
As the name suggests, Corner Ad is a plugin that displays an ad in the top (left or right) corners of your website.
This free ads plugin comes with a fun way to draw your visitors' attention to your ad. The main feature is that the ad is initially displayed like a page flip effect.
When your visitor hovers their mouse into the corner, the plugin creates the ILLUSION of a page flip and displays your ad in full size.
(But it goes back to its original size after moving the cursor away.)
An attention-grabber that YOU need!
Corner Ad features:
700+ active installations
4.7/5 ratings
Target link selection
Customizable background color
Regular updates
MORE INFO / DOWNLOAD
8. Advanced Ads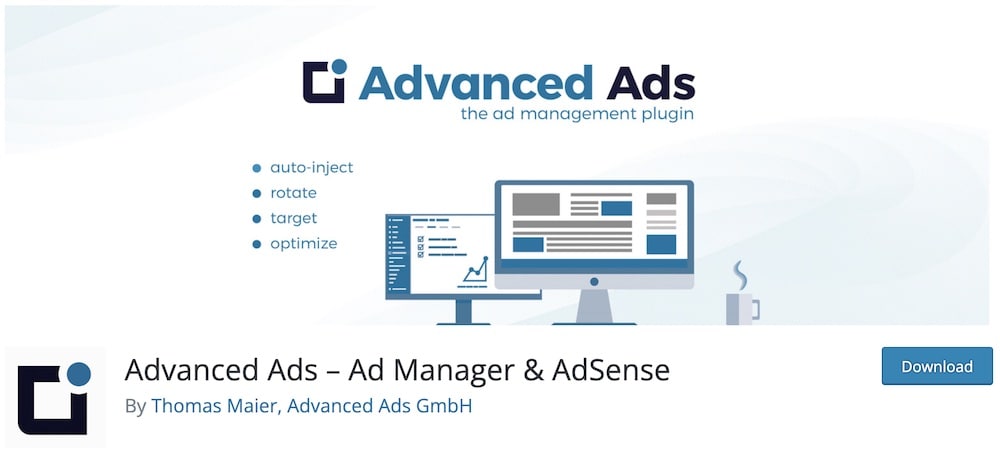 Ending this list without Advanced Ads plugin would be the equivalent of committing a crime.
We just needed to add it after working with it on several occasions.
This plugin has EVERYTHING you need to handle your advertising campaigns with its main features and supported ad networks.
Advanced Ads supports ads.txt and works with all popular builders, like Elementor, Beaver Builder and WPBakery.
Advanced Ads features:
100,000+ active installations
4.9/5 ratings
Ad Health integration
Great support
Custom conditions
MORE INFO / DOWNLOAD
9. WordPress Ad Widget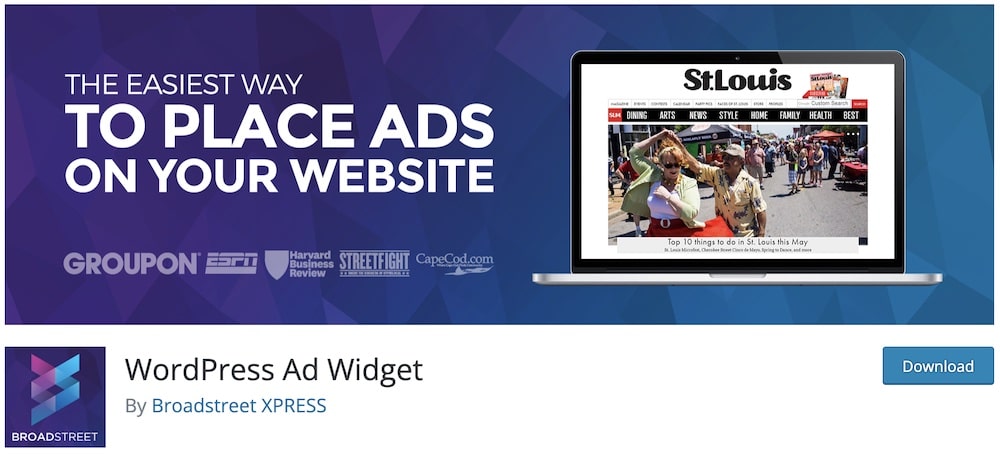 Another great free WordPress advertising plugin is WordPress Ad Widget. If you'd like to add ads to the page's WP widget areas (sidebar, footer) then this is it.
This plugin comes with (our favorite) drag and drop system to easily import your ads into your widgets.
Also, WordPress Ad Widget has a user-friendly interface specially created for WP beginners.
The ONLY downside is that the widget will not work properly if you have an ad blocker.
So, if you want to use WordPress Ad Widget, you need to uninstall any adblocker you may have.
Ad Widget features:
7,000+ active installations
4.3/5 ratings
Well documented
Easy to set up
Works with most WordPress themes
MORE INFO / DOWNLOAD