Are you searching for the best free and premium WordPress store locator plugins?
We choose these when we get a new request to expand a client's website with a location function.
And we have THOROUGHLY reviewed 50+ plugins since 2017.
This helped us create the ultimate list of 9 free and premium tools based on Google Maps integration, map styles, custom elements and different map views.
(They are all 100% responsive!)
These plugins can work for anything you want. Including businesses, (grocery) shops, bakeries and restaurants.
Along with the location, you can add extra information to further improve the user experience.
The possibilities are ENDLESS.
POST STRUCTURE:
You now have everything you need!
Start for free or immediately unlock the potential with a pro alternative. Either way, you will enjoy the first-class result.
How ULTIDA Tested WP Store Locator Plugins
With so many available plugins to use to showcase your store location also come many unreliable ones.
That's the sad truth.
However, that's why we tested each tool (free and premium ones) individually to ensure we only included the most reliable ones.
We first read reviews, checked ratings and made notes about update frequency. You don't want to use an outdated plugin that might not even support the latest WP version.
From there, we also examined the support forums and skimmed through documentation.
With 14 down came the individual testing by installing each plugin on our test site.
This allowed us to analyze speed (does the plugin impact the website's loading?), ease of use and explore the user interface and the quality of features.
THE ULTIMATE 2:
Best WordPress Store Locator Plugins
1. WordPress Store Locator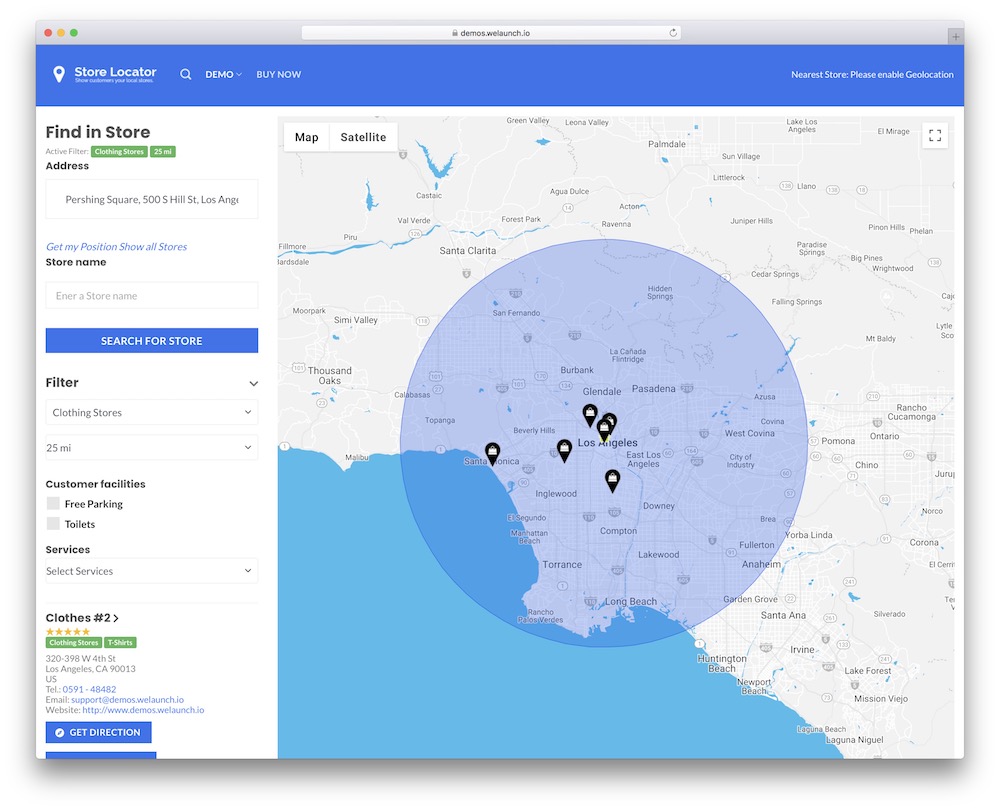 The amazing features of this plugin are worth every penny.
It is a tool full of great amenities, like more than ten layouts for the maps and 90+ options to adjust the interface.
The auto geolocation will make finding your stores much easier, while the filters and categories can shorten the time customers spend looking for a store near them.
An info window next to the marker will provide the customer with extra necessary details.
Moreover, the contact store form gives the customer a chance to reach you easily.
WordPress Store Locator features:
3,500+ sales
4.8/5 ratings
Convenient filters & categories
Fully compatible with WooCommerce
Price: $49 (may vary)
MORE INFO / DOWNLOAD
2. Agile Store Locator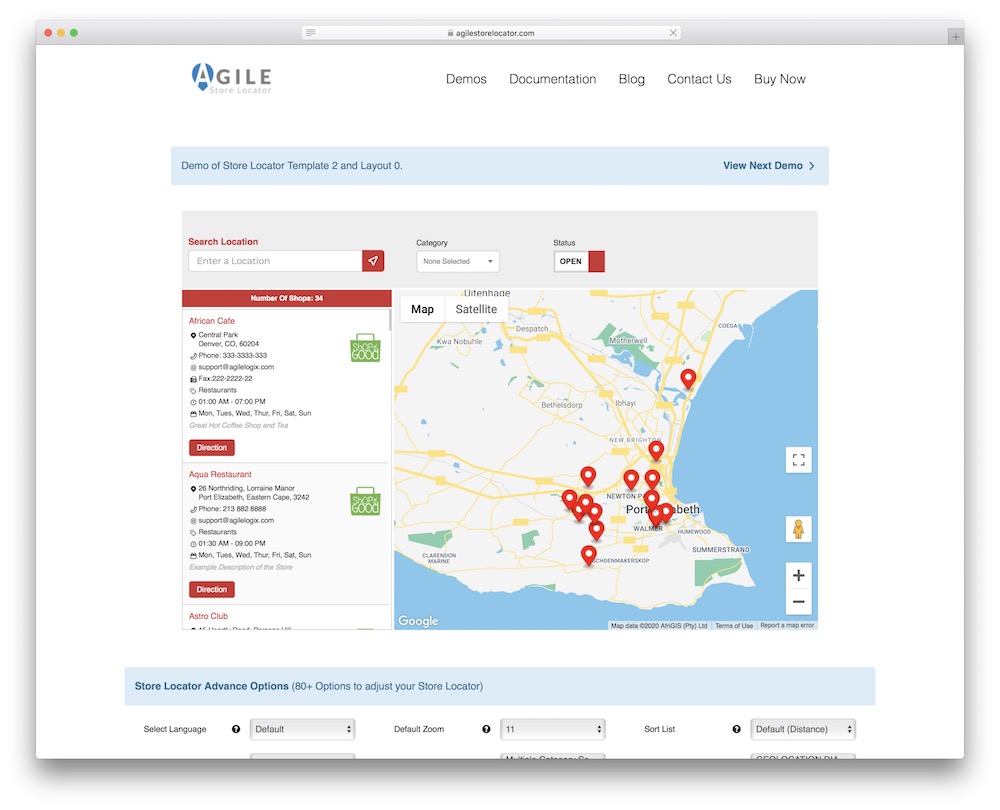 This advanced premium plugin uses the latest Google Maps API to run seamlessly.
The WordPress store locator plugin has an accessible backend code through which you can fully alter the appearance.
There are three great templates with two layouts, a unique user interface, and component placement.
You can add an information window with or without a logo, where a customer can see directions.
They can also zoom in or out from the window and access the site. The plugin supports almost every language, so it works locally and globally.
Agile Store Locator features:
10,200+ sales
4.9/5 ratings
Predefined map styles & color schemes
Full-width support
Price: $39 (may vary)
MORE INFO / DOWNLOAD
3. WP Multi Store Locator Pro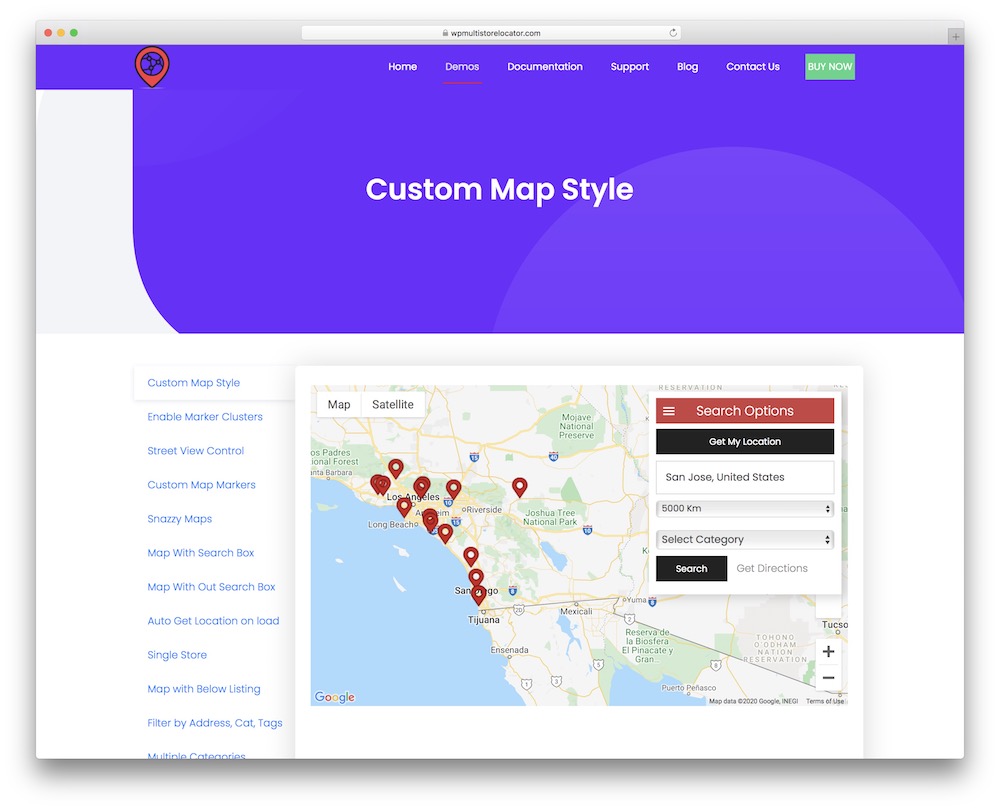 The developer-friendly code of this plugin has over twenty different filters to customize its appearance.
Create your style with WP Multi Store Locator Pro by changing the code or using existing map styles (Snazzy Maps).
You can also edit the markers to fit the map's appearance.
The customer can search for stores using regions or type in their location, which will bring up the nearest stores.
The detailed driving directions along with the road map will get them to your store hassle-free.
Always aim for the best user experience.
WP Multi Store Locator Pro features:
1,000+ sales
4.5/5 ratings
Easy to insert with embed code
Detailed directions on map
Price: $39 (may vary)
MORE INFO / DOWNLOAD
4. Store Locator (Google Map)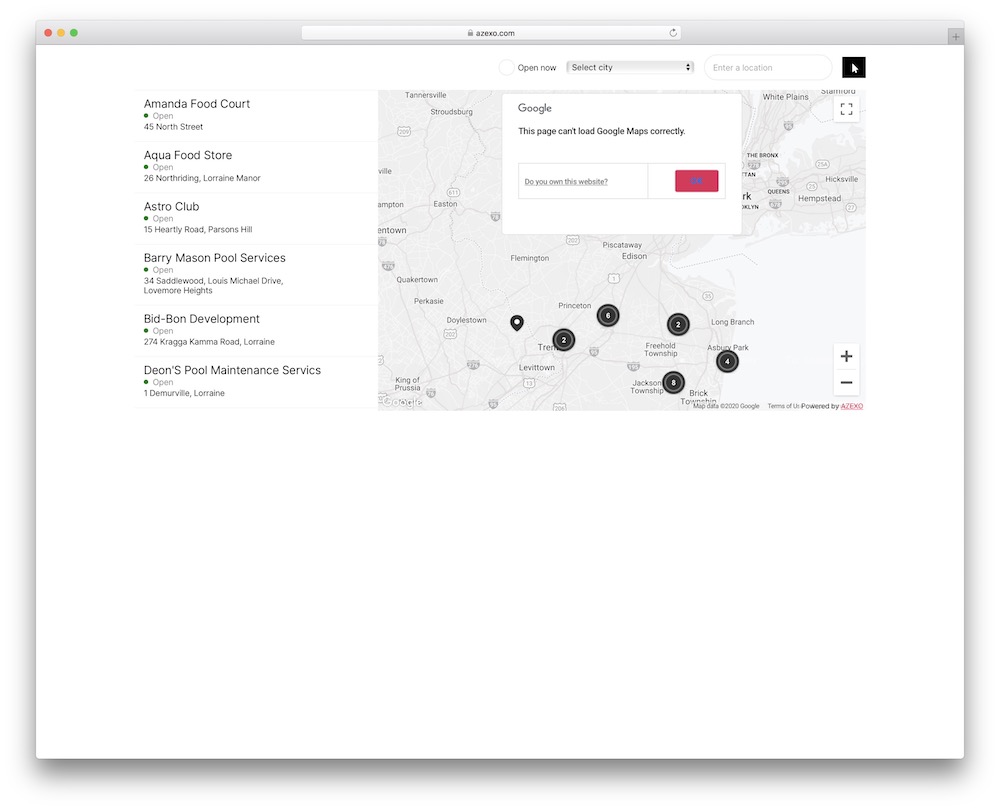 Responsive Store Locator is an easy-to-use plugin that works problem-free on both desktop and mobile devices.
This impressive tool allows users to search for a store from any country in the world.
You can choose what sort of data you want the users to see, be it working hours, the store name and address, contact hours, and more.
You can create CUSTOM store fields, filters, and sort the locations using the store fields you've made.
What's more, you can even add working hours with corresponding timezones and more.
Store Locator features:
45+ sales
4.5/5 ratings
Custom store fields & filters
Working hours with timezones
Price: $19 (may vary)
MORE INFO / DOWNLOAD
5. Super Store Finder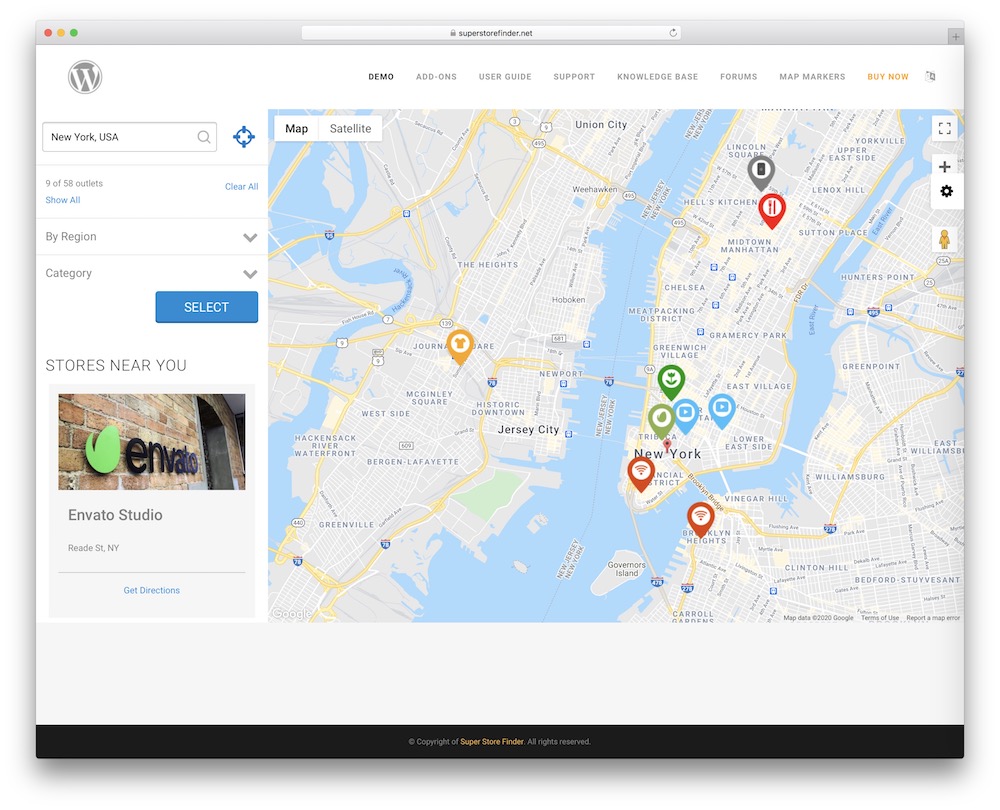 Super Store Finder is integrated with the latest Google Maps API, making finding your stores effortless.
You can set up the store locator plugin quickly, using the provided installation documentation. (You can also contact support if you have any additional questions.)
You will never feel lonely with Super Store Finder.
The author made the plugin with mobile devices in mind, so don't worry about flexibility.
If the customer needs to use street view to find your store, they can open up a full screen showing them just what the store looks like and how to find it.
There is a lot more to this powerful WordPress plugin.
Super Store Finder features:
MORE INFO / DOWNLOAD
6. Social Store Locator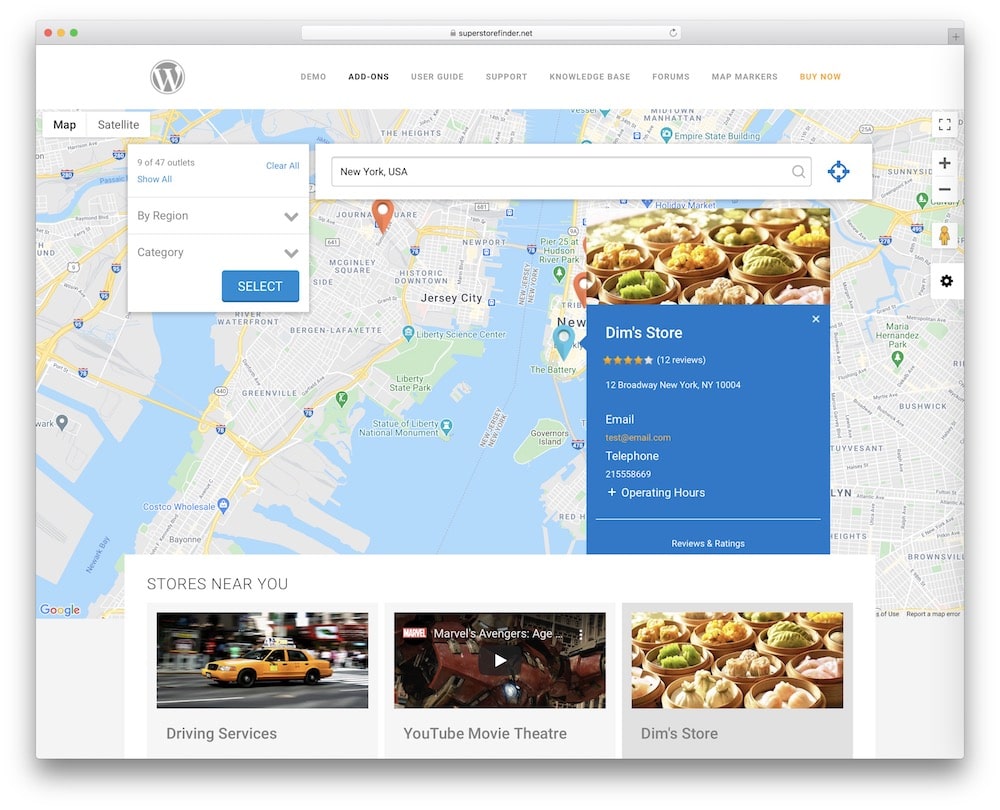 First and foremost, this is not a stand-alone plugin, rather a practical add-on for the Super Store Finder.
What Social Store Locator does, it unlocks an option to add reviews and ratings to the main plugin.
It is, of course, fully compatible with the Google Maps API so integration will be a little breeze.
Customers can quickly locate the store, see its location, reviews and ratings.
On top of that, the layout is 100% mobile-friendly, instantly adapting to all screen sizes.
Moreover, if you would like to PERFORM customization tweaks, that's also an option without coding.
Social Store Locator features:
180+ sales
4.5/5 ratings
Works with reCaptcha for security
Admin has full control over ratings & reviews
Price: $12 (may vary)
MORE INFO / DOWNLOAD
Best Free WordPress Store Locator Plugins
7. WP Store Locator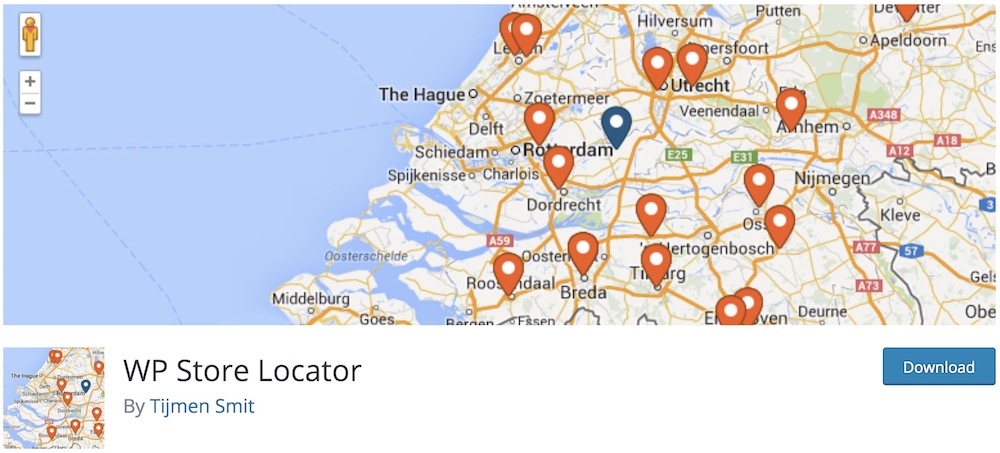 WP Store Locator is a super simple yet powerful plugin that's easy to use and customize.
This WordPress store locator plugin lets you change the map's appearance and create custom labels for every entry field.
The customers can filter the results using radius and get directions to your store, restaurant or fast food place.
You can add an UNLIMITED amount of stores to the map and provide details such as working hours, contact information, etc.
The plugin comes in multiple languages so every customer can understand how to reach your store.
WP Store Locator features:
60,000+ active installations
4.8/5 ratings
Marker clustering
Add additional store details
MORE INFO / DOWNLOAD
8. Agile Store Locator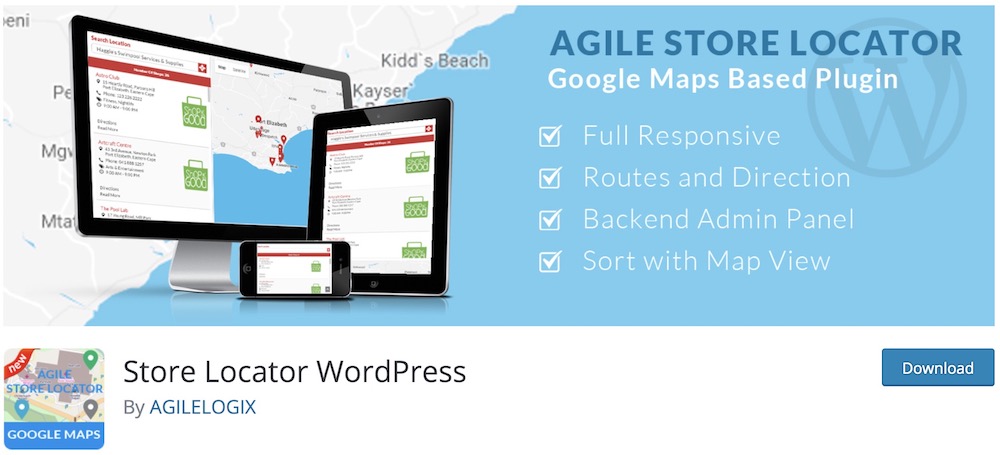 Agile Store Locator is as simple as it gets – the responsive user interface is easy to comprehend and even easier to set up.
This WordPress store locator plugin allows you to add as many stores as you want to the map.
The plugin can either use the metric or the imperial system to show the distance to your store.
You can display hours by the day or week to let your customers know when to reach you.
You can set a logo for every individual store for easy management if you've got MULTIPLE stores.
Agile Store Locator features:
10,000+ active installations
4.9/5 ratings
Search zoom
Allows for API key insertion
Different map styles
MORE INFO / DOWNLOAD
9. Locatoraid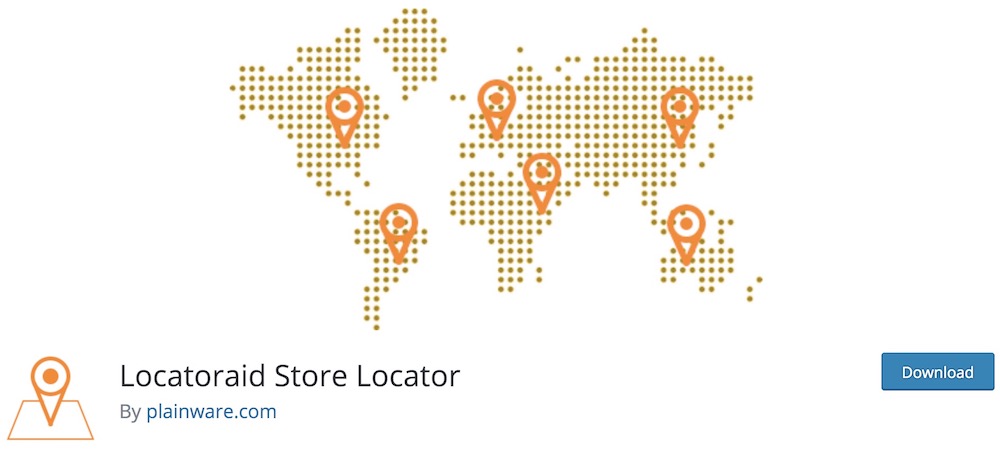 Locatoraid is a lightweight plugin that's easy to use, ideal both for newbies and professionals.
You can use it to show the customer the location of your store, restaurant, ATM, hotel, and everything else in between.
This WordPress store locator plugin has an automatic geocoding function that finds the right coordinates for your store.
You can configure the map styles to fit the look of your site as well.
There are DIFFERENT shortcode parameters that you can configure for further customization.
This plugin is mobile-friendly, so your customers can continuously check driving instructions, even when they've left their desktop.
Locatoraid features:
2,000+ active installations
4.5/5 ratings
Modify default map style to match your theme
100% responsive & mobile compatible
Quick & easy set up
MORE INFO / DOWNLOAD
::
Note: This article was originally published on November 6, 2020. But our team regularly reviews it and updates it with necessary improvements for accuracy.