Hey, food business owners looking to get into the eCommerce space, here are our best grocery WordPress themes to increase your business.
This review includes the best options for your grocery store based on design, mobile shopping, product filtering, speed and ease of use.
But there's OH SO MUCH more these WP themes include.
We give it all away here.
Whether you would like to build a small, local online grocery shopping experience or even a supermarket.
NO. PROBLEM.
These (WooCommerce-enhanced) themes handle it all.
This post covers:
1000s of items, convenient (live) product search, quick checkout, flexible delivery, discounts/coupons and great product presentation (state information/detail).
In a hurry?
3 ULTIMATE GROCERY THEMES:
Is it your first time using a WP theme? Then check our guide on installing a WordPress theme first.
Best Grocery Store WooCommerce WordPress Themes
1. Foodsto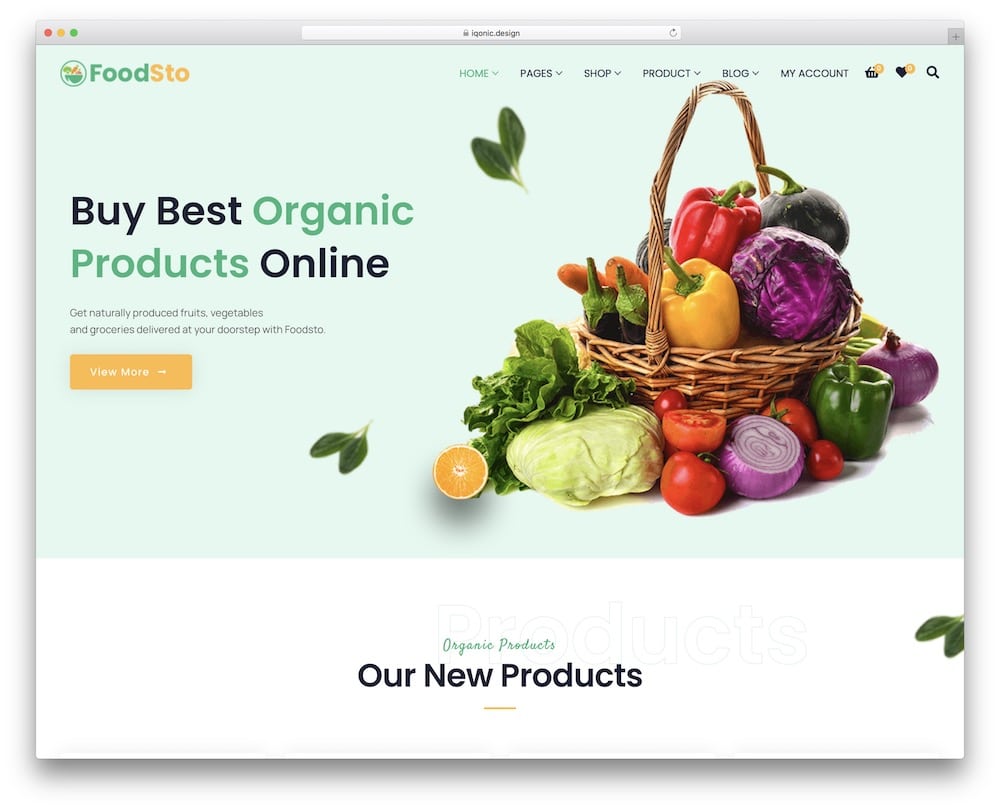 I love online grocery shopping and picking out the freshest veggies, amazing organic foods, and seeing what's new and in season.
(Only people who truly ADORE grocery will understand).
With Foodsto grocery WordPress theme, you can easily create an elegant and stylish food store for your grocery lovers.
Foodsto comes with amazing ready-to-use home page layouts, various inner pages, and beautifully made food blog templates.
Foodsto is ready for your quick and easy execution of a new website. All that new, fresh and wonderful products finally won the place they deserve.
Moreover, Foodsto includes Elementor page builder, WooCommerce, and Slider Revolution, just to mention a few.
And, friendly customer support helps you anytime.
With Foodsto you make grocery shopping FUN and an ENGAGING chore for your customers.
Foodsto features:
180+ sales
4.7/5 star rating
Regular updates (& upgrades)
Easy drag-n-drop editing
Price: $39 (may vary)
MORE INFO / DOWNLOAD
DEMO
Tip: Our friends over at YourStory put together a nice list of 10 must-haves for any grocery store or supermarket website.
2. Safira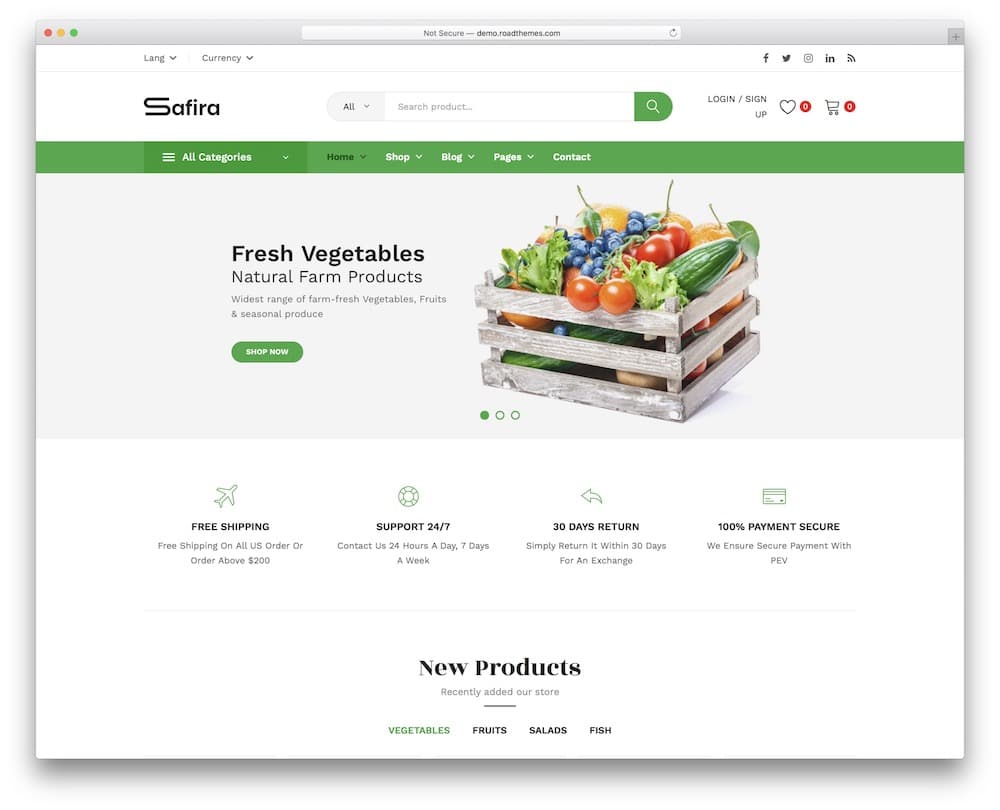 Your visitors can treat themselves (24/7) with quality products for a healthy and active life with Safira grocery store theme.
Safira comes in twelve unique styles for you to choose from.
YAY, LOTS OF POSSIBILITIES.
You can create a professional eCommerce site with all the included tools and amazing features quickly. Remember, Safira is an all-in-one tool.
No need for 3rd-party solutions.
Easy to use?
You can personalize and build your new website with the drag and drop WP page builder (the quickest way!) without coding. (The advanced admin panel serves you well, too.)
If you can't stop thinking about Safira … BUY IT.
Safira features:
590+ sales
4.9/5 star rating
Compatible with all devices & browsers
Con: not too frequent updates
Price: $38 (may vary)
MORE INFO / DOWNLOAD
DEMO
3. Efway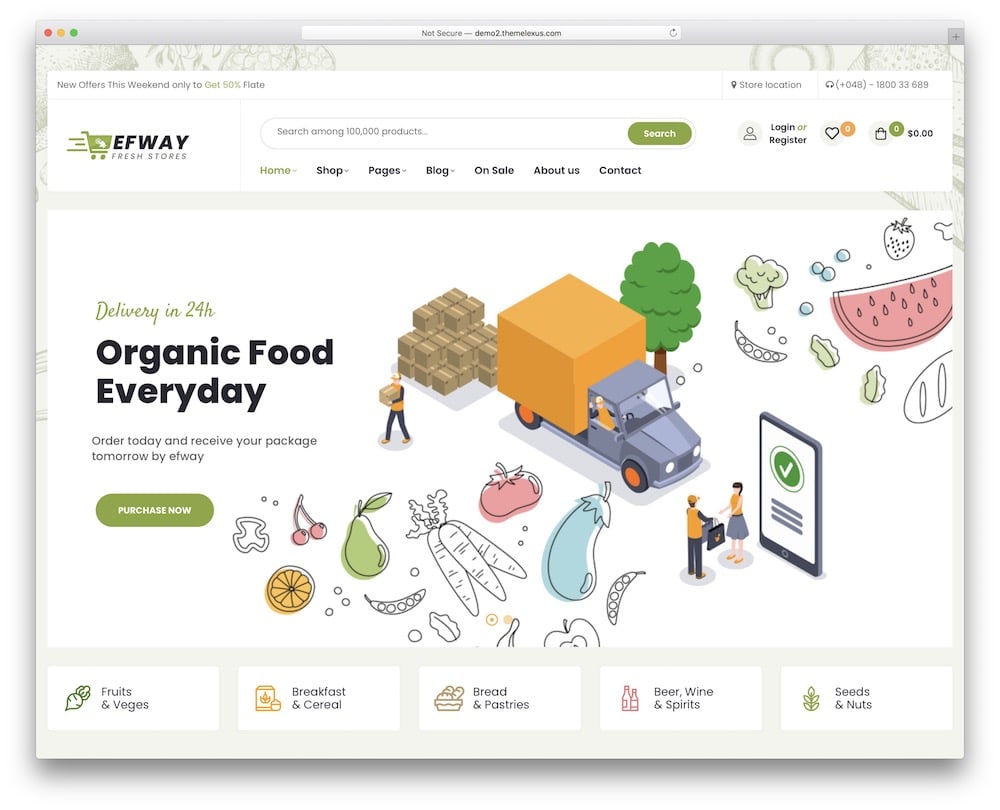 Who doesn't want to shop with a glass of wine in his hand?
Efway WooCommerce grocery theme allows your customers to buy goods directly from your site from the comfort of their sofas.
Flexible design, plenty of options, amazing homepage templates, multiple header styles, and unlimited colors.
The process of building your own site is totally in your hands with Efway.
Keep in mind, everyone deserves a place they can truly call MY FAVOURITE GROCERY STORE.
Besides, Efway is mobile-friendly, optimized for speed and high page performance. That's the best way to build a powerful customer relationship.
NO. MORE. WASTING. YOUR. CUSTOMER'S. TIME.
Pick Efway and create an excellent WooCommerce grocery store.
Efway features:
290+ sales
5/5 star rating
Unlimited headers & footers (you can expand the latter with these WP footer plugins)
Multiple shop & product pages
Price: $59 (may vary)
MORE INFO / DOWNLOAD
DEMO
4. Cartzilla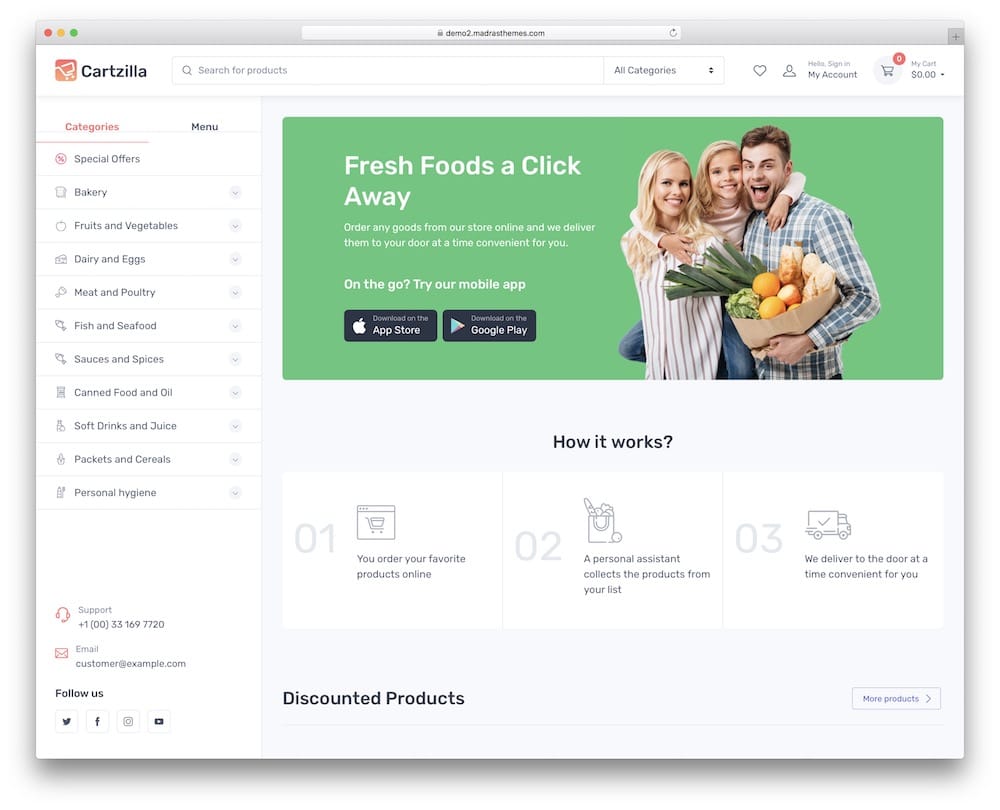 With Cartzilla WordPress theme you can create an amazing online grocery store. Give your customers an EXCUSE for shopping (day-and-night).
Transparent and beautiful Cartzilla easily displays discounted products, bestsellers, and new fresh items.
You can showcase appreciated customer reviews all across the page.
BUILD TRUST.
Popular features boost your sales (with no extra work). There is nothing like a loaded-up customer cart with delicious products.
BLISS.
Besides, with stunning mega menu functionality, you can organize tons of items.
All that fresh, new and wonderful products deserve the best website. Cartzilla makes it work no matter your budget, size, or goals.
Ready?
Cartzilla features:
MORE INFO / DOWNLOAD
DEMO
5. Broxi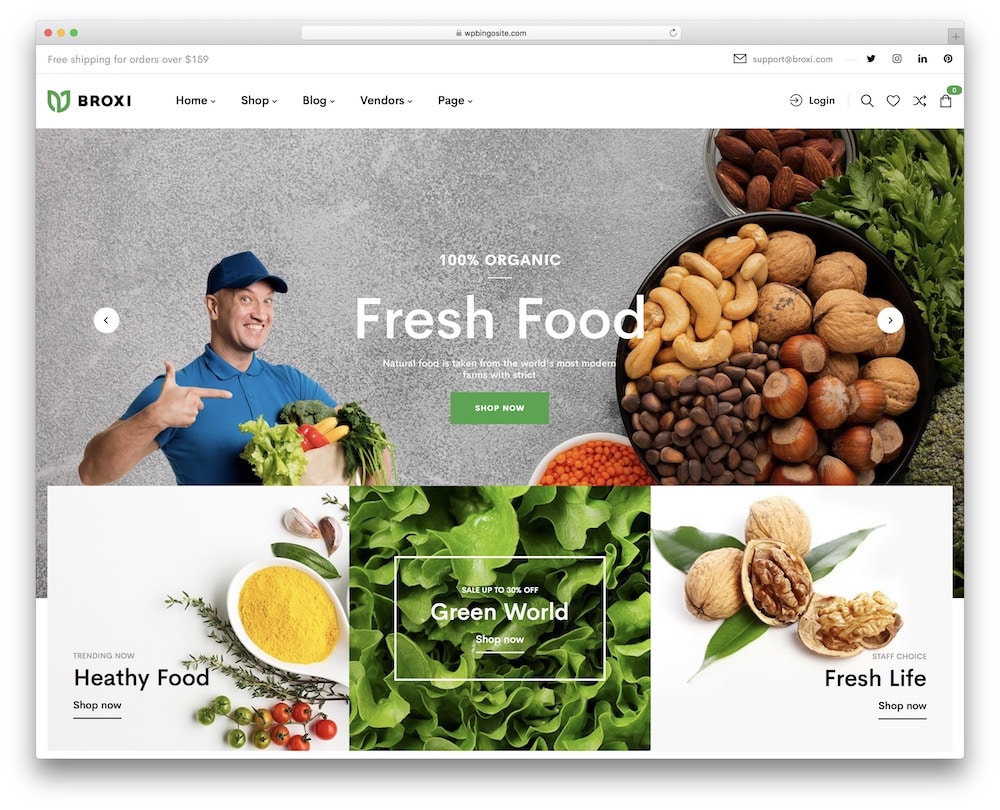 Now you have an opportunity to make some online magic with a modern and fresh Broxi grocery WordPress theme.
Broxi comes with seven ready-to-use homepages, six different layouts, and twelve product templates.
These are all further modifiable so you can style your new website as you wish.
Even someone with little or no prior experience can customize popular Broxi.
And unlike pretty much every other grocery store you can create your own unique WP blog with Broxi.
The time that you spend working on your blog will pay you back BIG LEAGUE over time.
Moreover, you can improve your online store applications' speed, performance, and usability with Ajax technology.
CUSTOMERS. HATE. WAITING.
Stay in control with Broxi.
Broxi features:
220+ sales
5/5 star rating
Beautiful product quick view
Live search (with images)
Price: $59 (may vary)
MORE INFO / DOWNLOAD
DEMO
6. Mildhill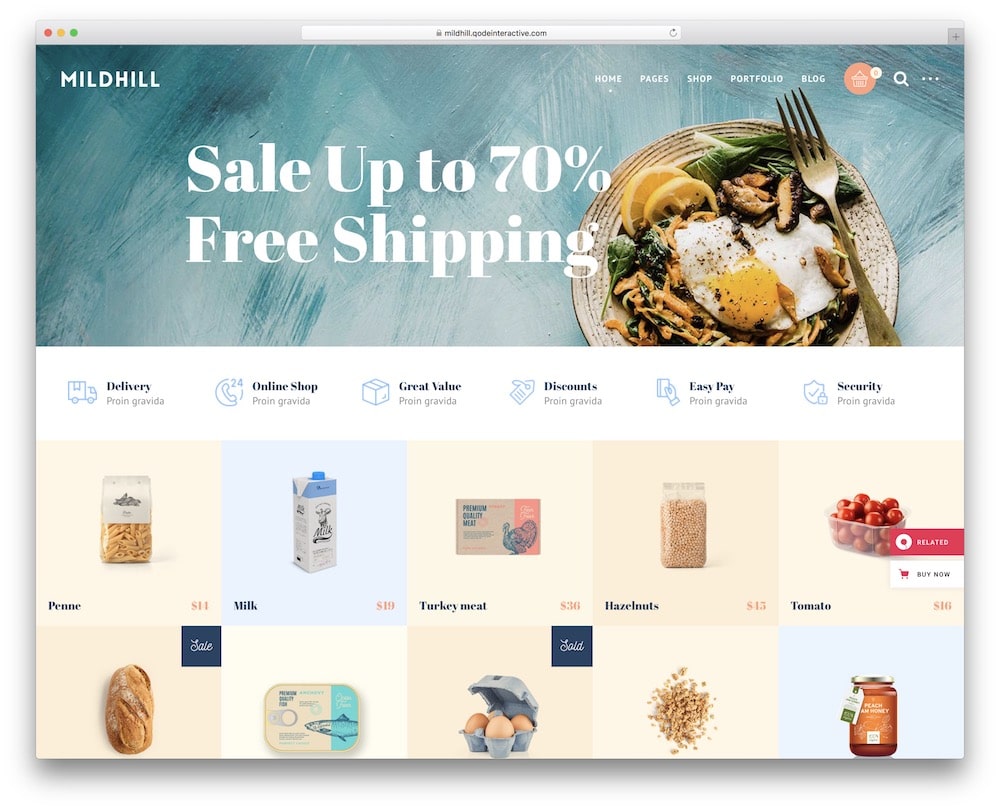 A big dream starts with small steps. Mildhill grocery WordPress theme can be your first step into your new online business.
Mildhill is inspired by breathtaking nature and food.
Moreover, Mildhill provides everything you need for your online grocery store.
Leading features, unique elements, pre-made layouts, tons of shortcodes, unlimited colors.
It's all part of the bundle.
With Mildhill you can connect with your customers through social media integration. Share your thoughts, products, and interesting insights, and listen to your audience's feedback.
KEEP IN TOUCH.
There is a little bit of magic found in buying something new.
MAKE. MAGIC. WITH. MILDHILL.
Mildhill features:
820+ sales
4.7/5 star rating
Unique elements for your unique site
Price: $85 (may vary)
MORE INFO / DOWNLOAD
DEMO
7. Freshio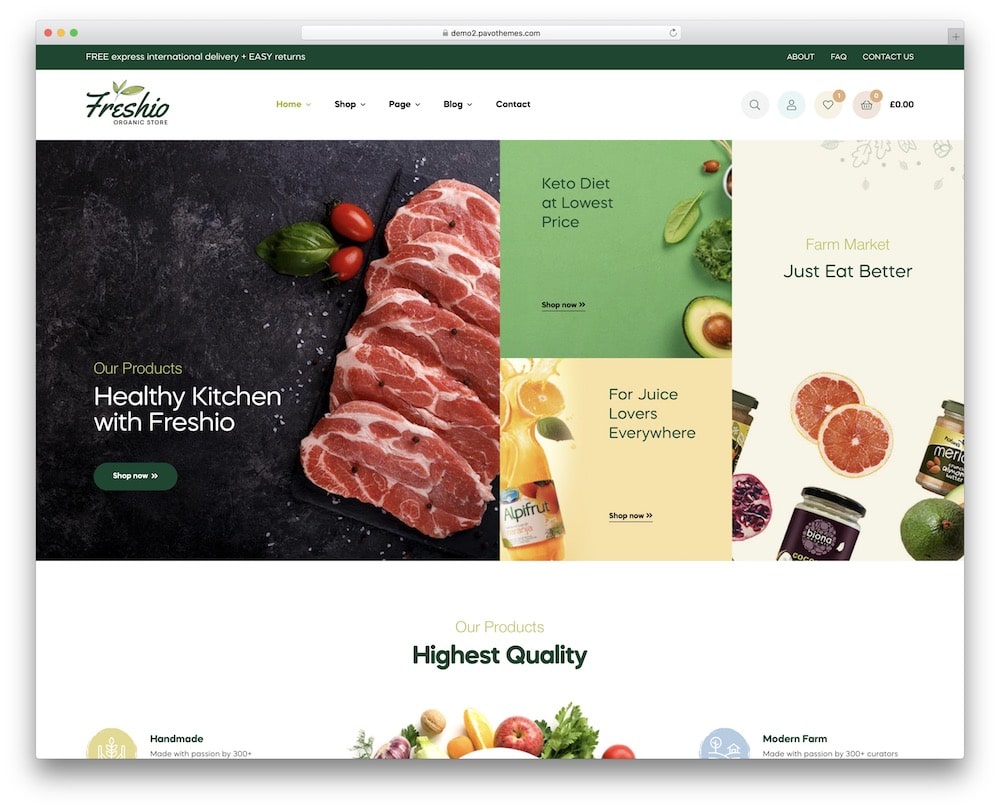 Freshio is a modern and elegant online grocery shopping theme perfect for your high-quality products.
Your customers will enjoy a fully responsive layout that will look spotless on any device.
It takes a lot of time to go into a store, finding what you need, and wait in a queue.
Boring.
Freshio offers tons of shopper advantages and features that make your online grocery store stand out and attract the best customers.
BE. A. WINNER. WITH. FRESHIO.
You can choose ready-to-use index pages, amazing header options, pre-designed shop styles, and good-looking blog layouts with just a few clicks.
PUT IT TO USE STRAIGHT AWAY.
Additionally, Freshio includes the most easy-to-use plugins. Keep in mind, a good tool improves the way you work.
Freshio features:
2,400+ sales
4.9/5 star rating
Frequent updates
Quicky support
Price: $59 (may vary)
MORE INFO / DOWNLOAD
DEMO
8. Organium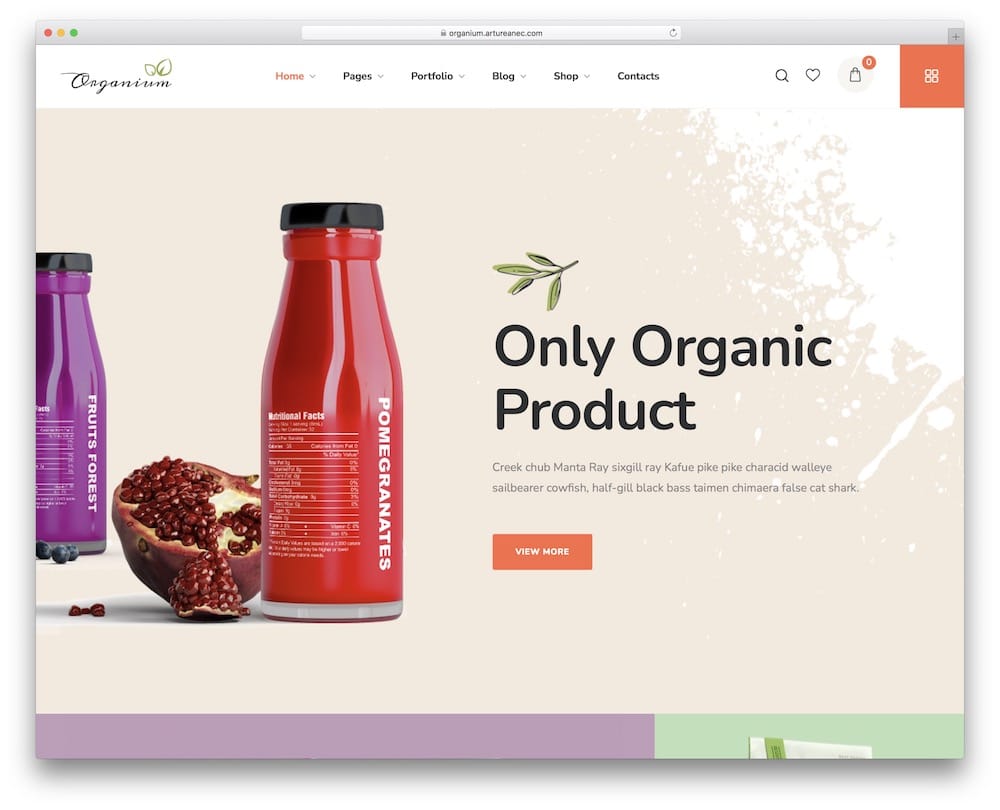 Imagine that you have an online store, with employees that are experts in a healthy lifestyle, organic products, and natural foods.
Now imagine that they work for you for FREE. That's why Organium is the best grocery WordPress theme.
Organium welcomes your customers to the world of organic and healthy foods like an employee willing to go the extra mile for his customer.
You can present and showcase amazing products with passion and knowledge.
DO. YOUR. BEST.
The most popular page builder, Elementor, offers you to work with 100+ elements and blocks. You are about to create the best website out there!
On top of that, the slogan of five-star customer support is "WE ARE PROBLEM SOLVERS."
Organium features:
MORE INFO / DOWNLOAD
DEMO
9. A-Mart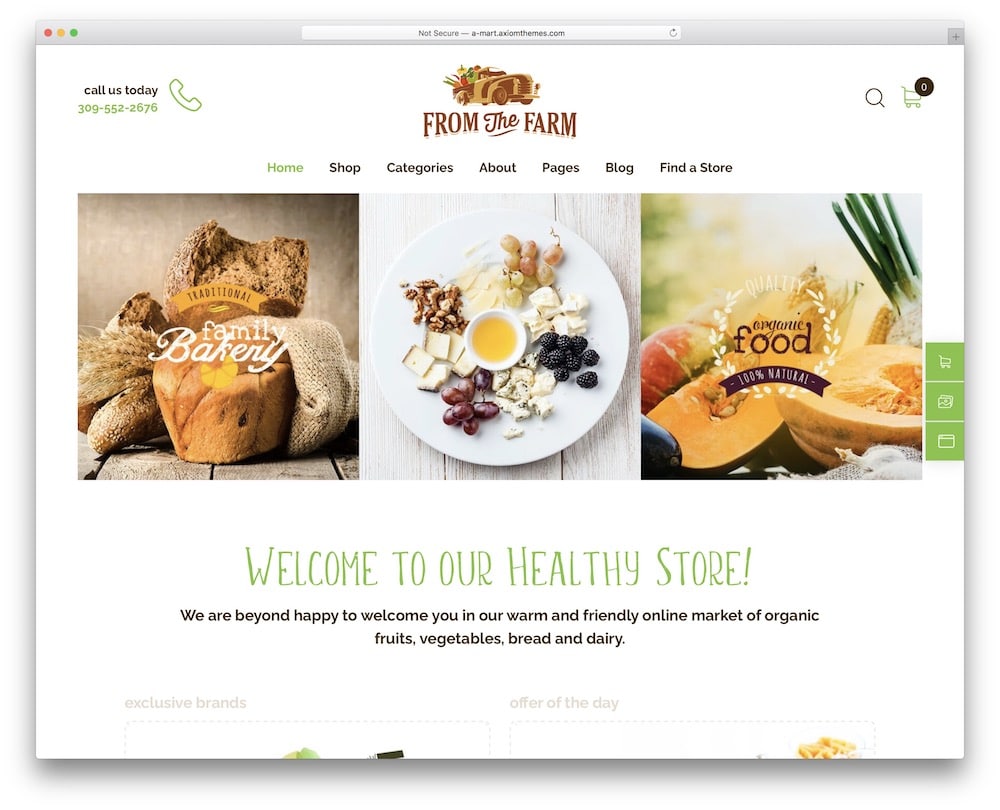 More product options, more brands, more comparisons, more categories, more reviews, and NO CROWDS.
A-Mart grocery WordPress theme offers infinitely MORE in all areas of online shopping.
This colorful, responsive, and fresh WooCommerce grocery store lets you create, update and maintain your site exactly as you wish.
Pro or no pro, A-Mart is for everyone.
A-Mart comprises amazing tools such as Elementor, Slider Revolution, WooCommerce, and MailChimp.
USEFUL. AND. FUNCTIONAL.
Moreover, A-Mart supports social media platforms so you can easily connect with your audience (A piece of cake).
Go beast mode and create the best website.
A-Mart features:
320+ sales
5/5 star rating
Quick & easy setup
Include coupons & discounts
Price: $69 (may vary)
MORE INFO / DOWNLOAD
DEMO
10. Ecolife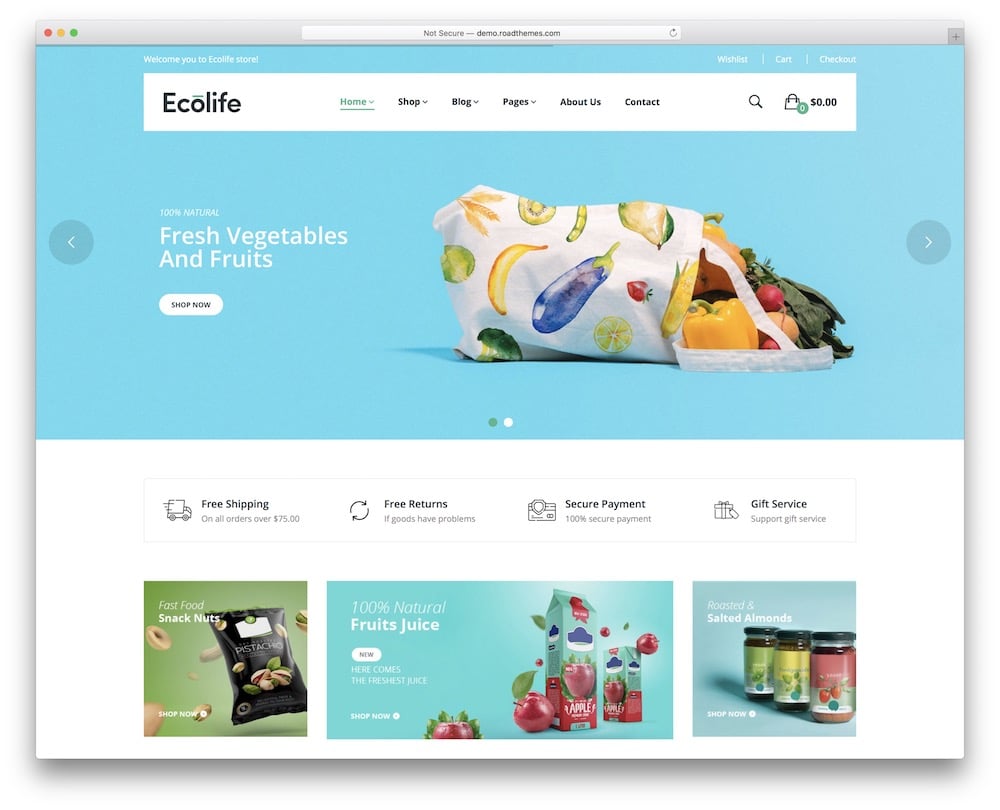 Love for all, good food for everyone. Change the world of shopping for your customers with a flexible Ecolife theme.
This creative and innovative theme is compatible with popular plugins, product technology, and display modules.
Showcase your products proudly and organize them properly with the finest mega menu tool.
MAKE. YOUR. MAMA. PROUD.
Furthermore, Ecolife comes with pre-made blog layouts, allowing you to create unique and valuable content for your ideal customer.
Do you know your shopper?
Instead of focusing on the Ecolife features (you get everything you need for a great website), focus on the customer needs. GET STARTED.
Ecolife features:
240+ sales
5/5 star rating
Create must-buy daily deals
Include testimonials/reviews (but you can also use a WP testimonial plugin for more functionality)
Price: $38 (may vary)
MORE INFO / DOWNLOAD
DEMO
11. Groci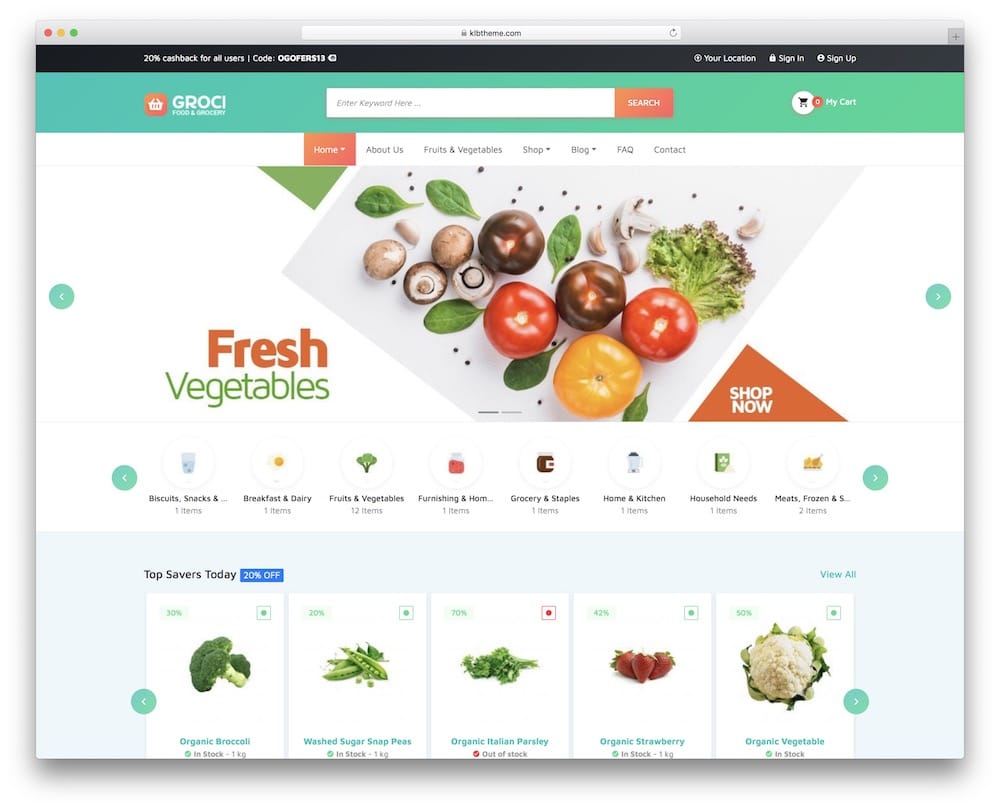 Groci impresses you strongly with its responsive, innovative, clean, and user-friendly design.
This grocery WordPress theme can help you promote your amazing products and increase your sales.
CUT COST, BOOST TRANSACTIONS.
Approach each customer with the idea of helping him or her to solve a problem. Sell your products as a healthy solution, not just another (boring) product.
Moreover, with Groci you get the coolest Slider Revolution plugin. Your secret weapon for creating sliders, carousels, and stunning visuals (with 0 experience).
WOW. YOUR. CLIENTS.
The good news is that Groci offers you complete control over your new site due to its full customization option.
You can change fonts, colors, pictures, and icons easily.
If you ask me, online grocery shopping is easy and fun (with Groci).
Groci features:
1,000+ sales
4.8/5 star rating
Monthly updates
For small grocery shops or supermarkets
Price: $49 (may vary)
MORE INFO / DOWNLOAD
DEMO
12. Agrofields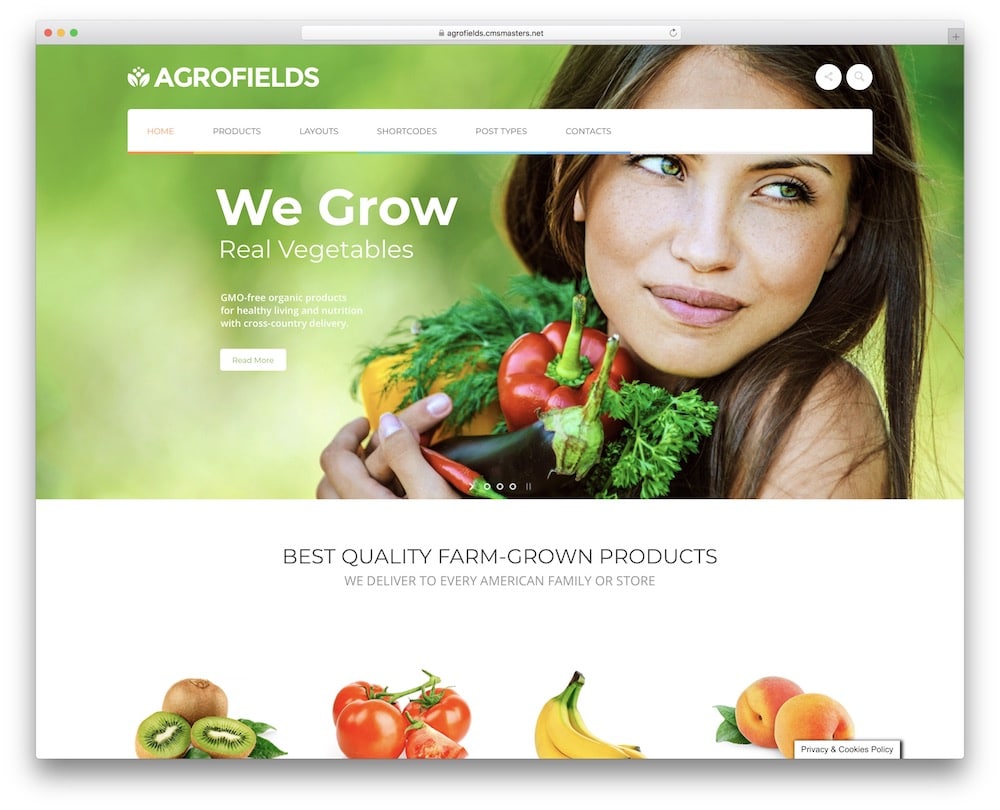 At the end of the day, everybody needs a likable online grocery store.
You can do your best to create a friendly and attractive supermarket with Agrofields food store WordPress theme.
Agrofields has many useful features such as shortcodes, plugins, sliders, animations, shop options, and Google fonts.
All to help you create a fantastic grocery website.
I'M LOVING IT.
The cool thing is that Agrofields is fully responsive and has a fantastic appearance on all screen resolutions.
Mobile grocery shopping = Check!
Is this all I need, how does it work, how to use features, updates?
Agrofields's documentation covers all the possible questions. It even comes with screenshots.
YES, Agrofields is worth your notice.
Agrofields features:
1,100+ sales
4.5/5 star rating
Around since 2014!
You can add catchy animations
Price: $49 (may vary)
MORE INFO / DOWNLOAD
DEMO
13. Omeli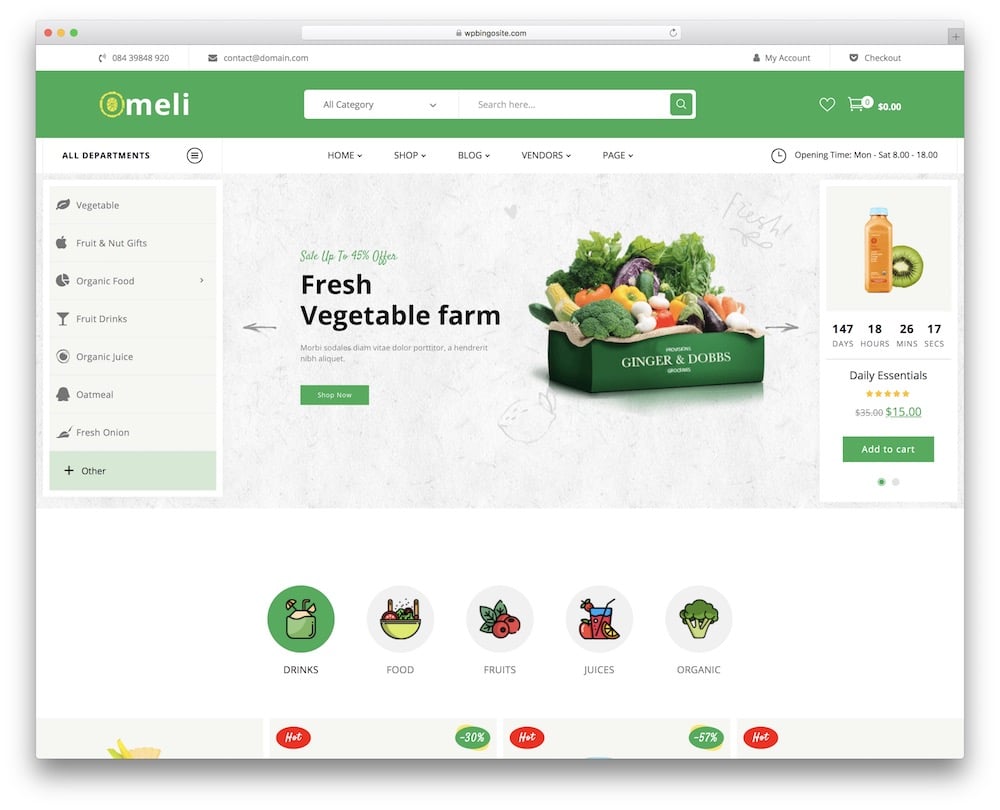 Online grocery shopping remains one of the most versatile businesses and sales possibilities out there. Omeli theme highlights your products and focuses on customer needs.
With Omeli, customers can search through your website based on brands, price, range, color, size, availability, discount, and categories.
SMOOTH AND USER-FRIENDLY.
But wait, there's more.
Omeli allows you to present your story, company, and products.
Bear in mind, customers care about the promise and functionality your brand makes to its customers.
LISTEN. DELIVER. ADAPT.
You can instantly create your website due to various ready-to-use homepages and beautiful pre-made templates without any effort. Omeli includes everything you need.
WAIT, WHAT? Yes, Omeli is worth your money.
Omeli features:
130+ sales
4.5/5 star rating
10 striking home designs
Showcase your location on Google Maps
Price: $59 (may vary)
Hint: for your location, you can also use any from our list of WordPress store locator plugins.
MORE INFO / DOWNLOAD
DEMO
14. Leganic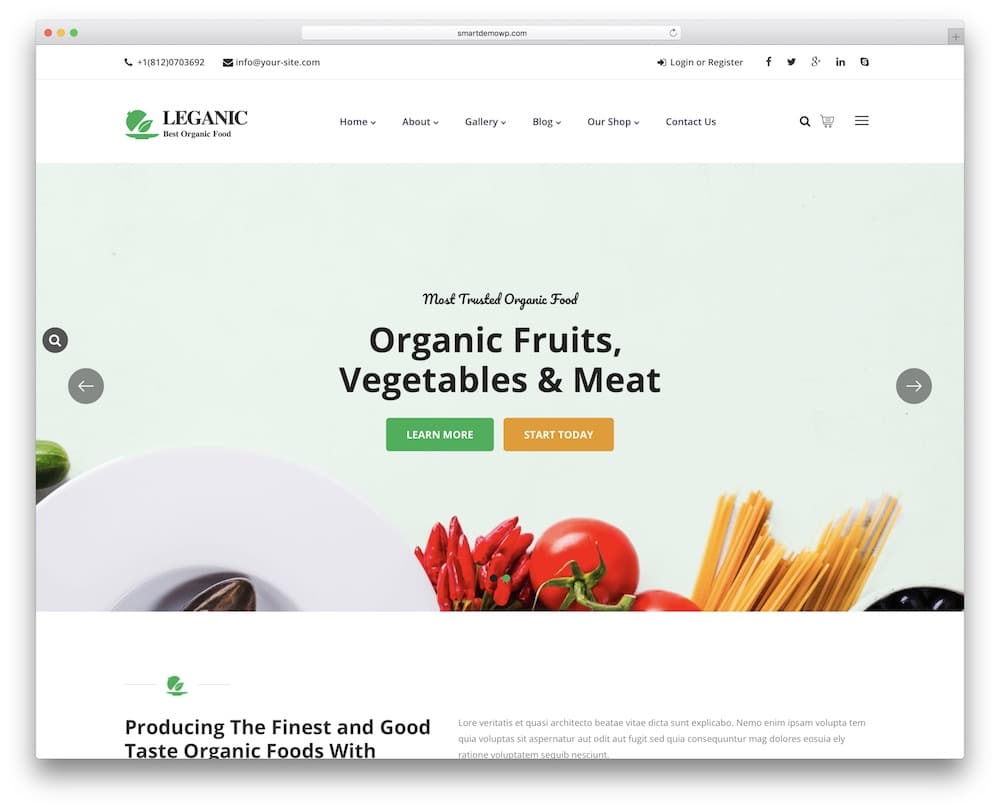 Regardless of your situation, it is smart to invest in your own grocery website.
Your customers can quickly look online, make purchases and get amazing products delivered the next day with Leganic. JOY.
You can set up your online grocery store fast and easily with Leganic. Thanks, Elementor page builder! (Designed for simple building with amazing results.)
Control every aspect of your site with this grocery store WordPress theme.
You can change (as easy as ABC) the header, footer, product page, fonts, icons, and widgets.
Without any frustration or bad mood.
By the way, Leganic is completely SEO and speed optimized. Your site will load fast and be more Google-friendly (king of the world) with the best coding practices.
Match with your customer's search intent.
Grow your value with Leganic. THE TIME IS RIGHT.
Leganic features:
100+ sales
4.8/5 star rating
Ideal for organic stores
Drag & drop building (no coding)
Price: $29 (may vary)
MORE INFO / DOWNLOAD
DEMO
6 Common Grocery Store Pages
When building your epic grocery store website, you need to include the must-have pages if you want to achieve the success you aim for.
You deserve it!
Ensure your potential shoppers (and returning customers) receive all the necessary information and detail to increase the likelihood of making a purchase.
Which pages to include in a grocery store site?
Online shop: This one is obvious, but you still need to pay close attention to the design and structure to ensure the products are easy to scan.
Product pages: Speaking of which, create compelling product pages with images and write down as much useful information as possible. Know that your buyers aren't holding the product in their hands, so create the best experience through visuals and text. Hint: Adding nutritional data can increase your sales.
Terms & privacy policy: Write down all the ins and outs of your grocery story, how it operates, rules and regulations, shipping, returns, etc.
Contact page: Your website needs to have a contact page with a form and preferably a clickable telephone number and even Google Maps to showcase your location.
About us: Go on a more personal level with your customers and create a likable "about us" page.
Blog (optional): Even though this one isn't A MUST, it can skyrocket your business. Hey, you can enjoy a much better SEO performance when you publish new posts frequently.
Do you know what's best?
You don't really need to bother much about creating any of these pages from scratch when using a WordPress theme – they come prebuilt for your convenience.
::
Note: This article was originally published on May 23, 2021. But our team regularly reviews it and updates it with necessary improvements for accuracy.