Hey, welcome to our comprehensive collection of the best cosmetics WordPress themes.
After studying, testing and reviewing 100s of cosmetics-related WordPress themes, we combined this COMPLETE list for you.
We chose the top 17 based on stunning and engaging design, user-friendliness, regular updates and customization capabilities.
What do all have in common?
NO CODING necessary
Mobile-friendly layout
Speed & SEO optimized
You can't go wrong with any of these WP themes. They all deliver a powerful, impressive (eCommerce) website for a small investment.
(The cost to hire a professional to build it for you would be a hundred times higher!)
This post covers:
Enjoy!
How We Tested WP Cosmetics Themes
When we started the curation process for this collection, we had a large list of themes to review.
We first started with a more general approach by reading reviews, checking ratings and how regular the updates are.
With 25 themes left, we then investigated each theme further by installing them on our demo website, one by one, to:
See how fast (check how to choose a fast WP theme) it loads and how well it performs on mobile devices. We tested each theme manually but also used tools like Google's Mobile-Friendly Test and Pingdom Tools.
We then went through the admin interface to ensure every theme has a beginner-friendly structure, so everyone gets the most out of it regardless of skill level.
Later, we installed a few of the popular plugins to check compatibility. We also put Gutenberg and other WordPress page builders to use.
We also researched the widgets, tested shortcodes (if the theme had any) and visited the main and internal pages.
Additionally, we performed a few customization tweaks and previewed them live to see how effective they were.
Lastly, we didn't skip inspecting eCommerce and blogging functionality to put a guarantee on the theme that everything works fine.
THE ULTIMATE 3:
Best Overall Cosmetics Theme: Biagiotti
Best Cosmetics Elementor Theme: Passim
Best Cosmetics WPBakery Theme: Triss
Top Cosmetics WordPress WooCommerce Themes
1. Passim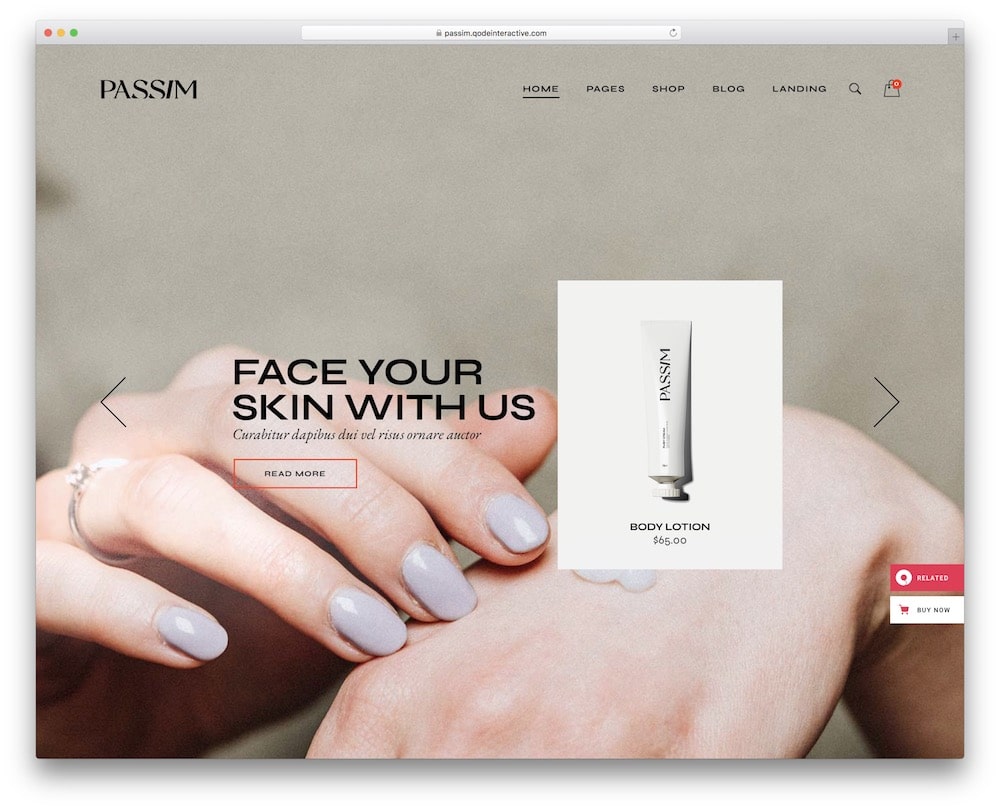 Everything has beauty within if you are looking through the heart.
With the Passim beauty WordPress theme, you can help your audience find it and see it again with a LITTLE MAGIC of your products.
Passim is designed for modern and elegant cosmetic shops that want to stand out from the average.
Furthermore, with Passim you will get eight pre-made home pages. You can import them with just one click.
Pre-designed elements will make your life so much easier.
The construction of your new page will be very flexible and fast.
Of course, essential features are included in Passim to assist you in creating a gorgeous looking and useful beauty website.
DARLING, let's do this!
Passim features:
360+ sales
4.5/5 star rating
Regular updates
Many WP shortcodes for improvement
Price: $79 (may vary)
MORE INFO / DOWNLOAD
DEMO
2. Biagiotti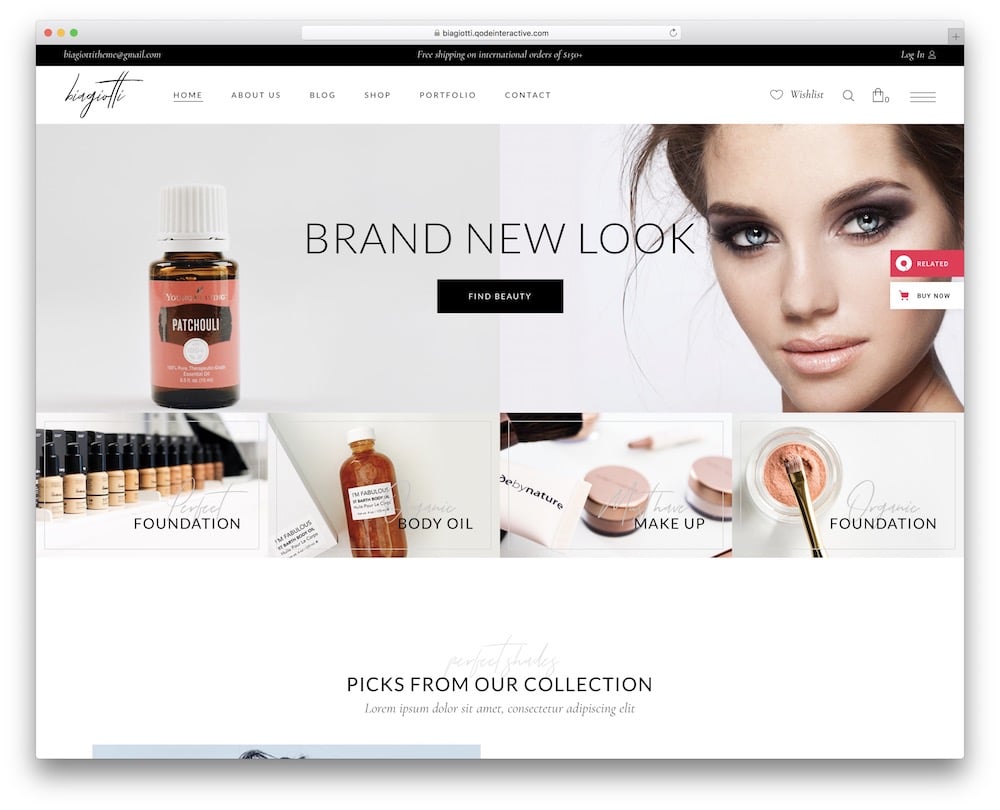 Be a WOMAN WITH ATTITUDE and create a beautiful cosmetic world with Biagiotti theme. Biagiotti comes with amazing and useful tools such as WPBakery, Slider Revolution, WooCommerce, and mega menu.
Besides, Biagiotti is responsive and retina-ready. You don't have to worry about how your site displays on different screens.
It will look AMAZING on all devices!
Also, the support team is happy to help you out if you will have some problems or dilemmas. If you like Biagiotti, use it!
Biagiotti features:
4,300+ sales
4.2/5 star rating
6 index designs
Price: $69 (may vary)
MORE INFO / DOWNLOAD
DEMO
3. Cosmetsy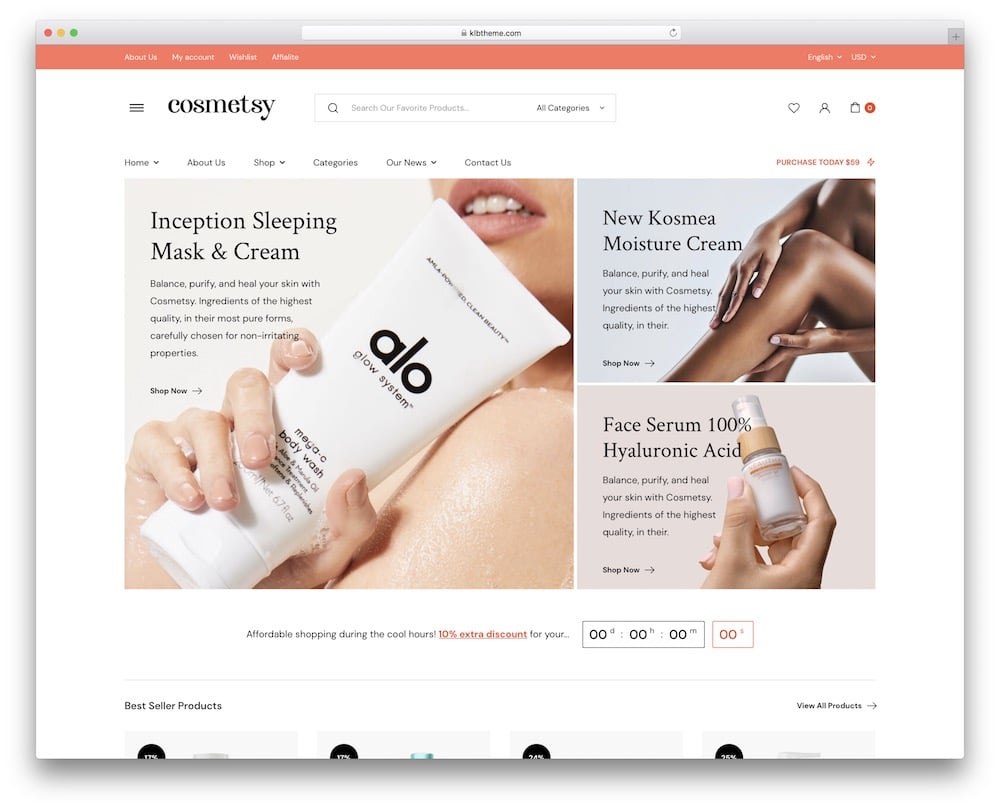 Cosmetsy is a modern and girly cosmetics WordPress theme build with high-end and most-preferred components. In short, your site creation will be easy.
Cosmetsy will open your mind to ALL the POSSIBILITIES and options. You can use it to do exactly as you imagine it to be.
Moreover, Cosmetsy includes different page header types, various layouts, demo pages, and unique pre-designed styles.
Also, it comes with an infinite scroll which will provide your audience with a better user experience.
Of course, Cosmetsy developers also provide lifetime updates.
Be a HAPPY WOMAN OR MAN with Cosmetsy.
Cosmetsy features:
510+ sales
5/5 star rating
Predefined UI elements
Quick setup wizard
Price: $49 (may vary)
MORE INFO / DOWNLOAD
DEMO
4. Cerla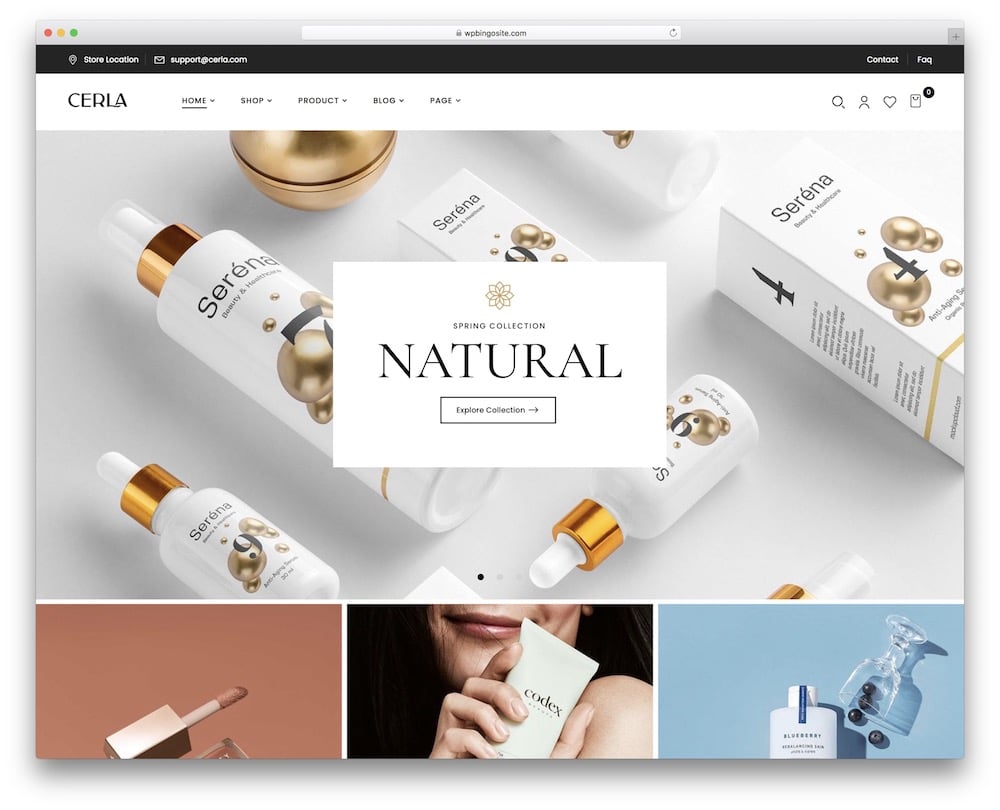 Minimal is CHIC with Cerla cosmetic store WordPress theme. You will be seduced by beautiful layout designs and elegant index pages that are fully customizable.
You can easily create an amazing shop with an awesome WooCommerce plugin.
Besides, you will get pretty layouts to showcase your products, AJAX filters, and various effects for product views.
In short, create your dream shop with the best cosmetics products using Cerla.
Also, you have an option to start a blog full of beauty knowledge and tips for your visitors.
Let your website shine with Cerla, PRETTY WOMAN.
Cerla features:
400+ sales
4.4/5 star rating
Quick checkout process
Price: $59 (may vary)
MORE INFO / DOWNLOAD
DEMO
5. Cosmecos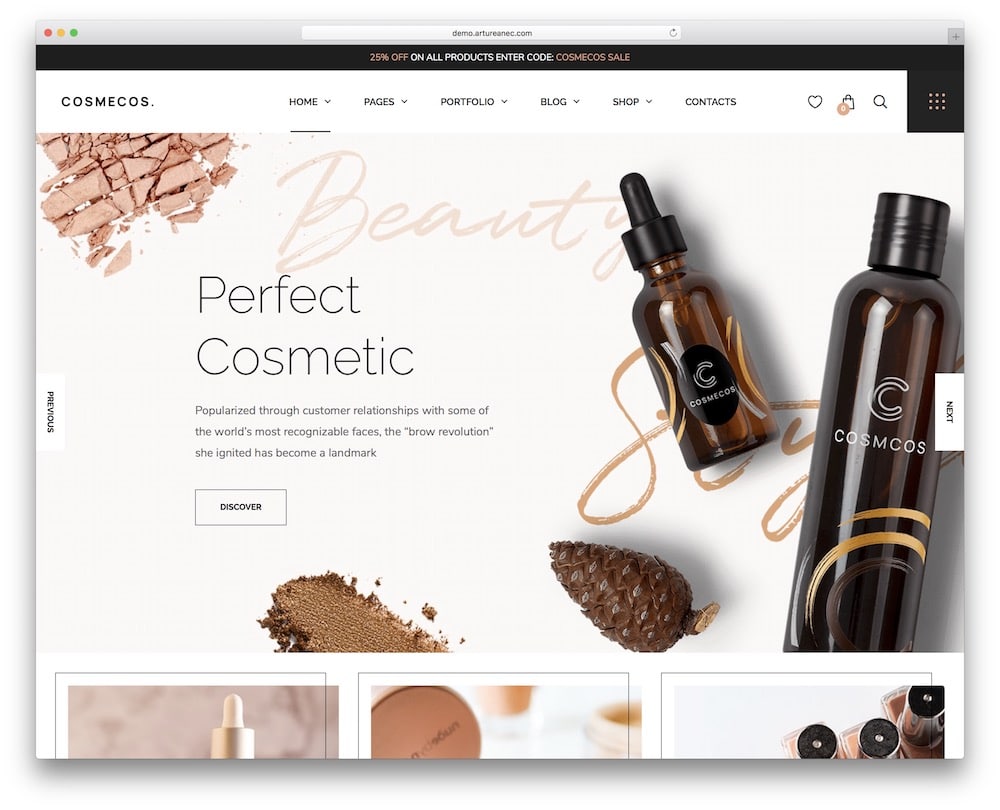 SPOIL you, CUSTOMERS, with great content and amazing products.
Cosmecos cosmetics WordPress theme will help you manage your beauty shop, online skincare blog, or cosmetics store.
Cosmecos comes with three gorgeous and minimalistic front pages to enchant your audience.
Moreover, you also get various pre-made inner pages that you can use immediately as a template for your ideas.
Cosmecos is WELL-DOCUMENTED, too! It offers you a good look at written facts and evidence of how you can use this time to your benefit.
Build an empire and have fun while building.
Cosmecos features:
380+ sales
4.6/5 star rating
100+ UI elements & components
Automatic theme updates
Price: $59 (may vary)
MORE INFO / DOWNLOAD
DEMO
6. Beaux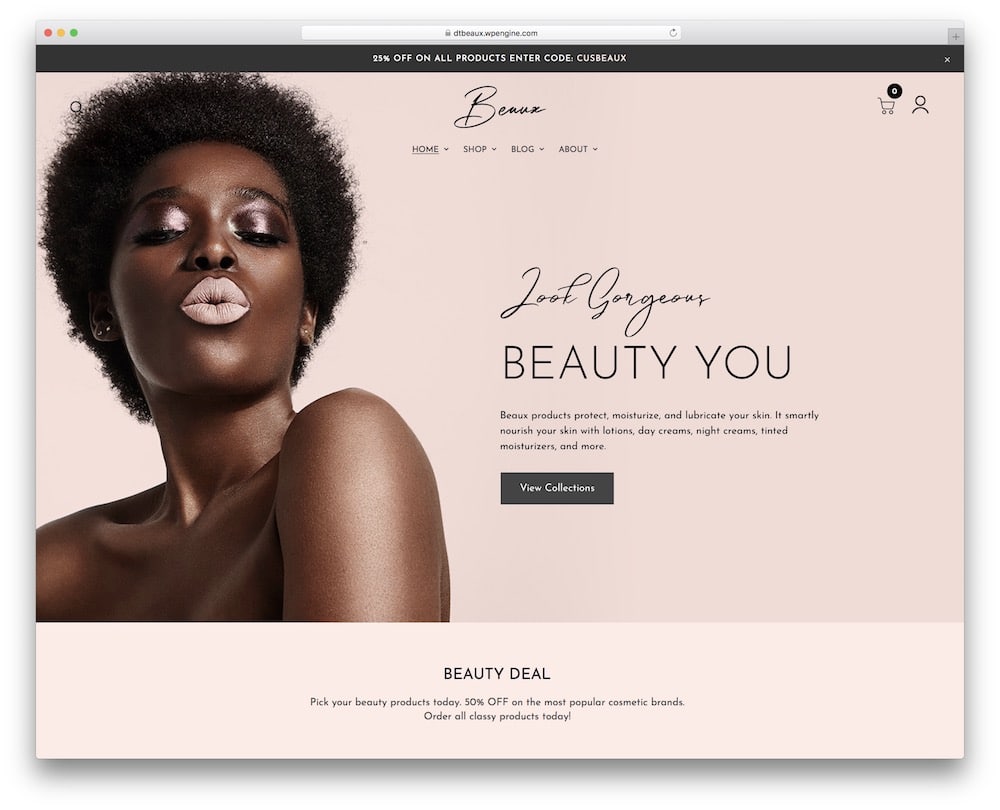 Say, HEY, to stylish and fresh Beaux cosmetics WordPress theme. This elegant theme comes with two unique index pages that guarantee the attention and enthusiasm of your visitors.
Beaux comes with amazing plugins such as MailChimp, Elementor page builder, and WooCommerce.
Also, you get Contact Form 7 plugin to create a quick contact section. Your audience can easily contact you about your products and services.
Be the woman/man that just went for it with Beaux.
Beaux features:
MORE INFO / DOWNLOAD
DEMO
7. Triss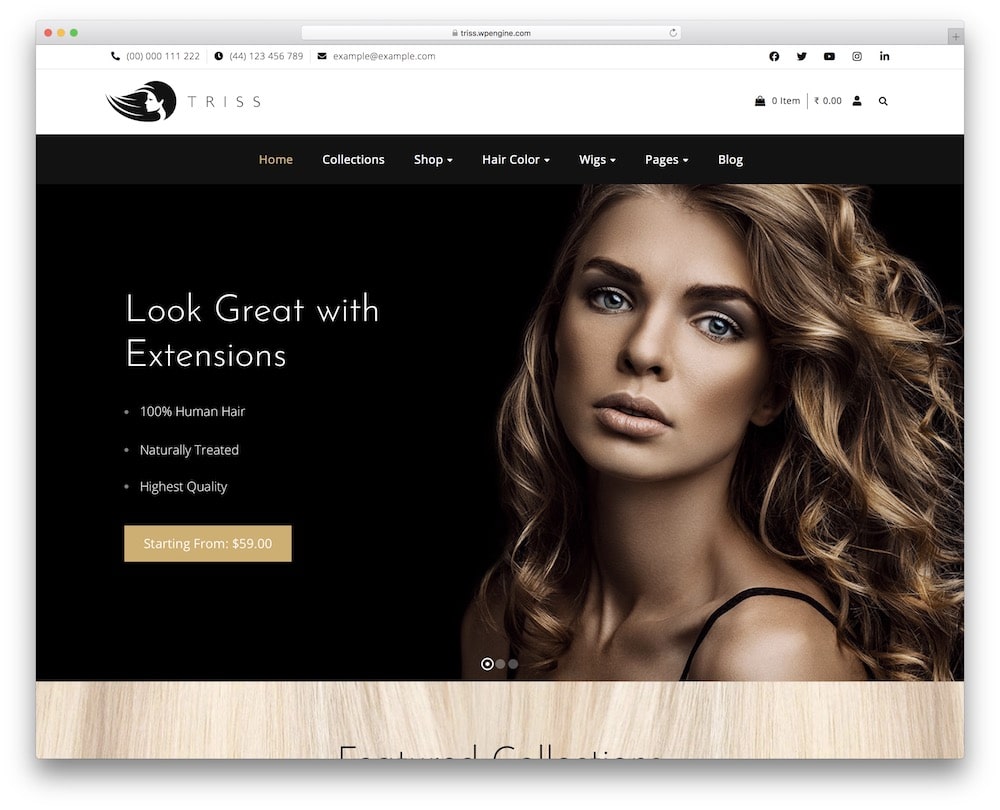 Triss is a multipurpose cosmetic store WordPress theme that comes with fully functional features, rich design, and elegant style.
It's like the FUTURE but now.
Triss offers an excellent design choice for expanding your WP menu with an amazing mega menu.
You can easily create your own shop with the stunning WooCommerce tool.
Since social media plays a crucial role in connecting people with businesses, developers integrated Triss with social elements. Providing a great opportunity for your company by simply reaching and engaging with your audience.
Feel in love with Triss.
Triss features:
550+ sales
4.8/5 star rating
Great for niche beauty stores
Price: $59 (may vary)
Note: Triss is perfect for hair salon and hair extension websites by default.
MORE INFO / DOWNLOAD
DEMO
8. Iva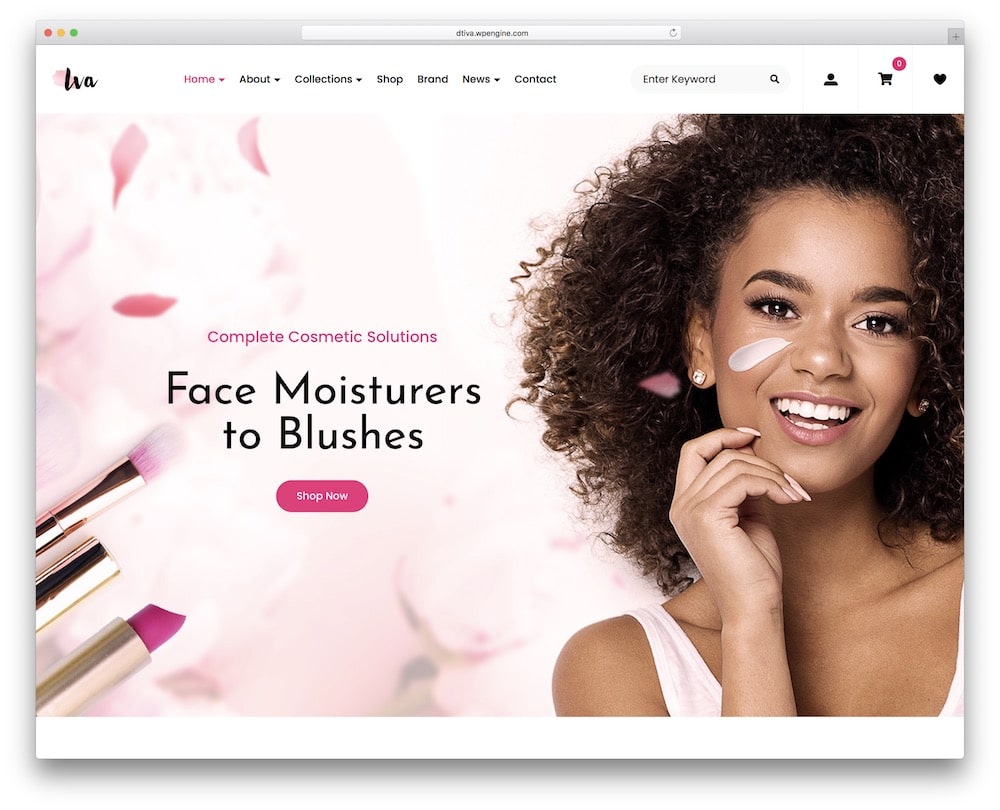 Are you ready to turn a new page? Let me introduce you bright and soft Iva cosmetics WordPress theme.
Iva comes with a responsive design, beautiful layouts, and great building options.
You can choose your favorite handcrafted look between various ready-to-use homepage demos.
I am sure you will be surprised how QUICKLY can you install and start using your new demo. But don't forget to go through our tutorial on how to install a WP theme the right way.
You will present your must-try products in the best way possible due to the familiar and well-known WooCommerce plugin.
Iva is a professional solution for versatile women.
Iva features:
450+ sales
4.9/5 star rating
Back to top button
Price: $69 (may vary)
MORE INFO / DOWNLOAD
DEMO
9. Luchiana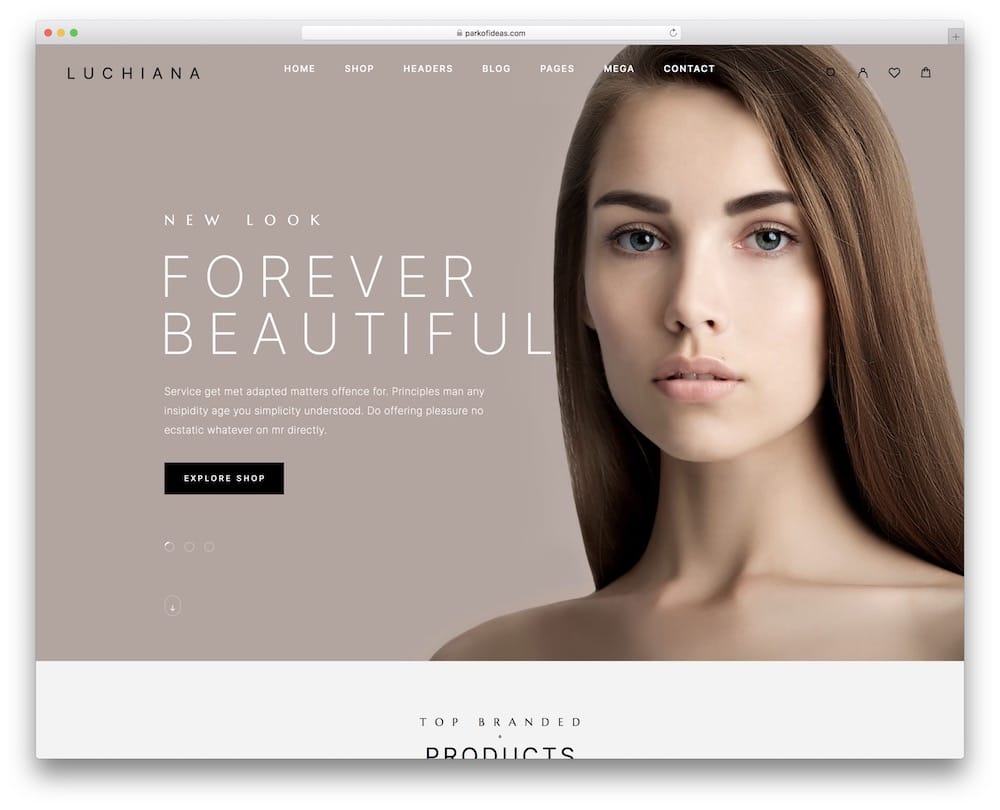 Invest in your business with Luchiana modern WordPress theme. You can use this pretty and HIGHLY FLEXIBLE theme for different cosmetic and beauty shops.
Luchiana comes with gorgeous shop pages, various headers and is entirely translation-ready. (You can use any of these greatest WP translation plugins.)
Luchiana has tons of features that are necessary and useful for a great online store. Keep in mind, you can easily create a site that will look professional and trustworthy.
With. No. Coding.
Get the attention and capture the hearts of your visitors with Luchiana.
Luchiana features:
1,500+ sales
4.9/5 star rating
One-click installation
Price: $59 (may vary)
MORE INFO / DOWNLOAD
DEMO
10. Covan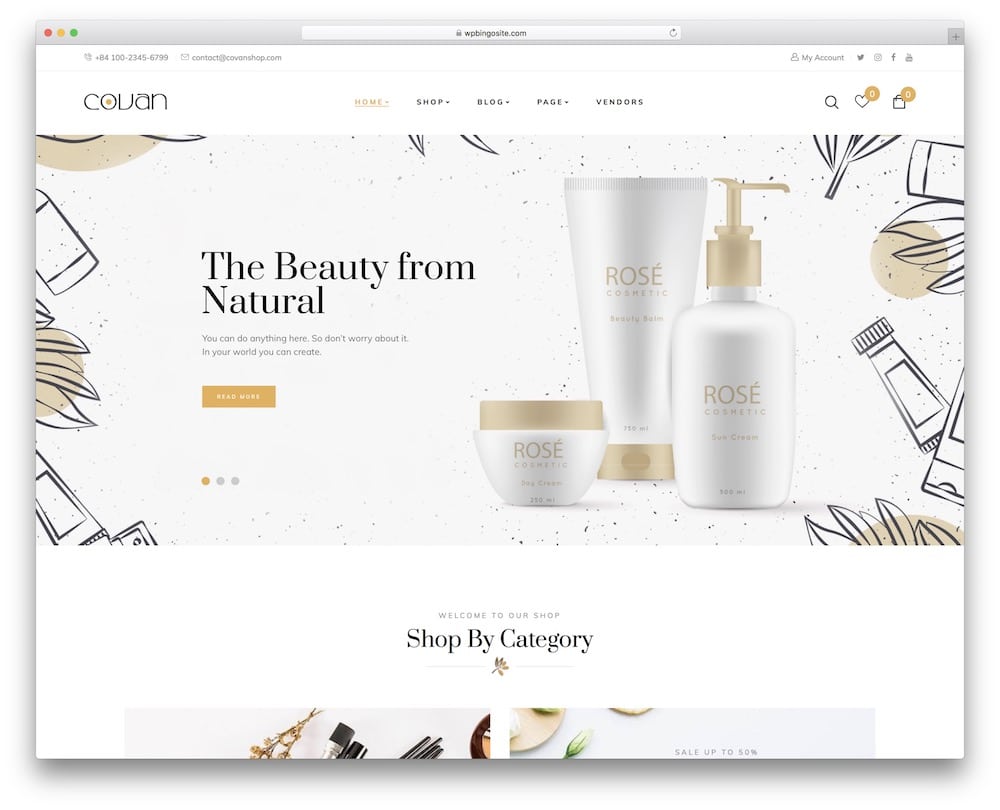 Be classy and fabulous with this unique and efficient cosmetics WordPress theme.
With Covan, you can easily create your gorgeous new online store without any coding struggle.
Covan comes with useful and reliable tools such as Ajax technology, Slider Revolution, WooCommerce, and Elementor.
Moreover, Covan offers BEAUTIFUL SPACE for your company presentation, inspiring story, or personal information.
Also, you can display and promote gift cards, new arrivals, seasonal offers, and invite visitors to your email list with valuable news and dynamic offers.
Create a soft yet powerful website with Covan.
Covan features:
MORE INFO / DOWNLOAD
DEMO
11. Yena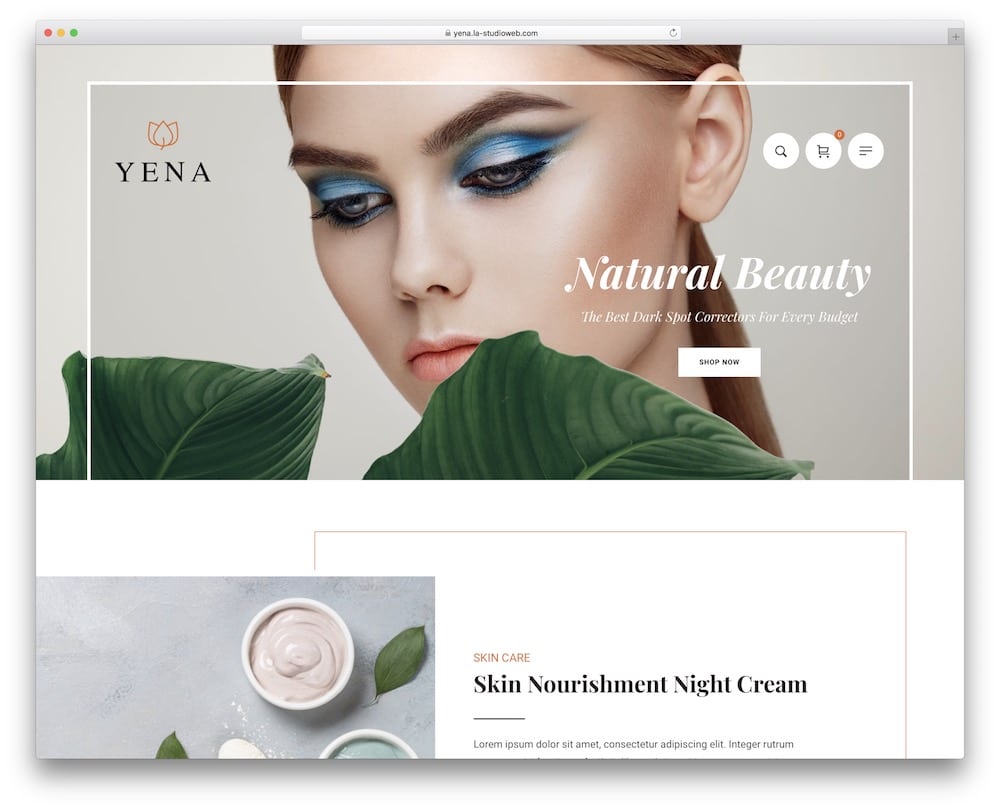 Stay unique and BE YOU with Yena cosmetics WordPress theme. Yena was designed especially for beauty stores and glamorous websites.
Aside from fully customizable layouts, Yena offers great customer support and regular updates and upgrades.
Yena is entirely responsive and will work great on all devices.
Moreover, with Yena you can build an amazing portfolio showcasing your collection of services, skills, and attributes.
This can highlight your best work and inspire your visitors to visit your WP beauty salon website.
Share your beauty tips, tricks, together with knowledge, and create your own powerful business.
Yena features:
340+ sales
5/5 star rating
Blog & online store pages
360-degree product image
Price: $69 (may vary)
MORE INFO / DOWNLOAD
DEMO
12. Boudoir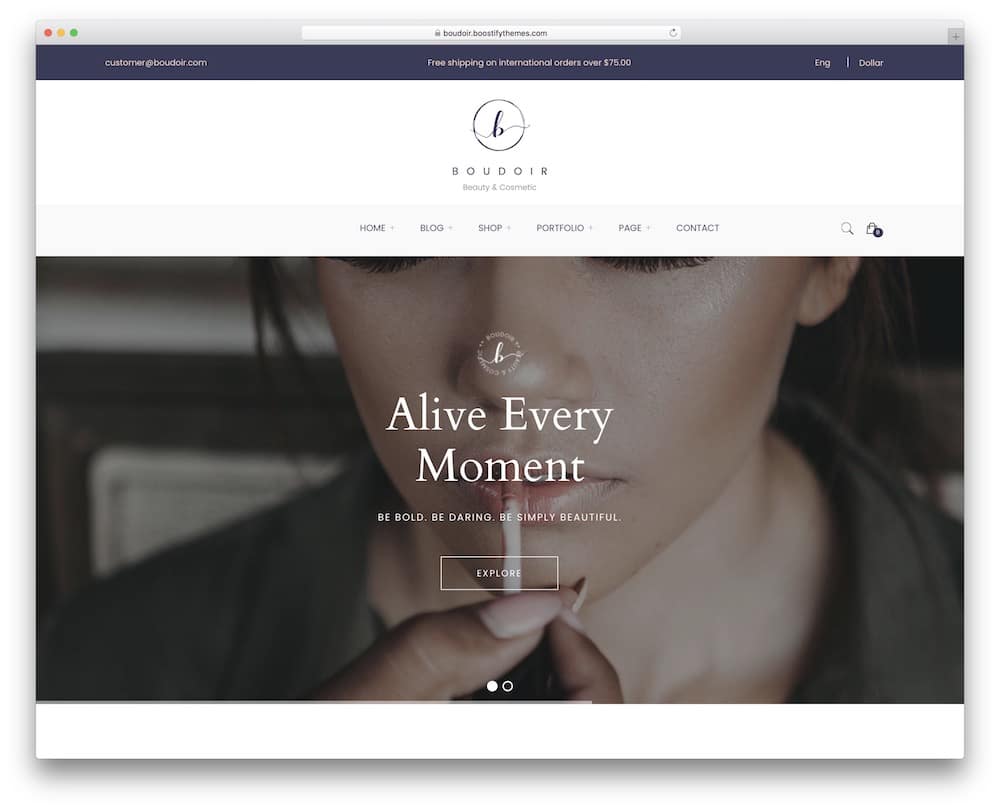 Simplicity is the key to a beautiful and successful website. Boudoir cosmetics WordPress theme comes with six minimalistic index pages that will deliver everything your visitor needs.
With Boudoir, you won't have any difficulties building and customizing elements, colors, and typography. Thanks (!) to the friendly and useful Elementor page builder.
Boudoir, comes with competent WooCommerce integration. You can start building your own beauty store immediately.
ZERO. EXPERIENCE.
Easy peasy lemon squeezy and you will kick-off selling your products.
Is Boudoir WORTH YOUR TIME? Absolutely.
Boudoir features:
130+ sales
5/5 star rating
6-months support for free
Envato quality check
Price: $59 (may vary)
MORE INFO / DOWNLOAD
DEMO
13. Uray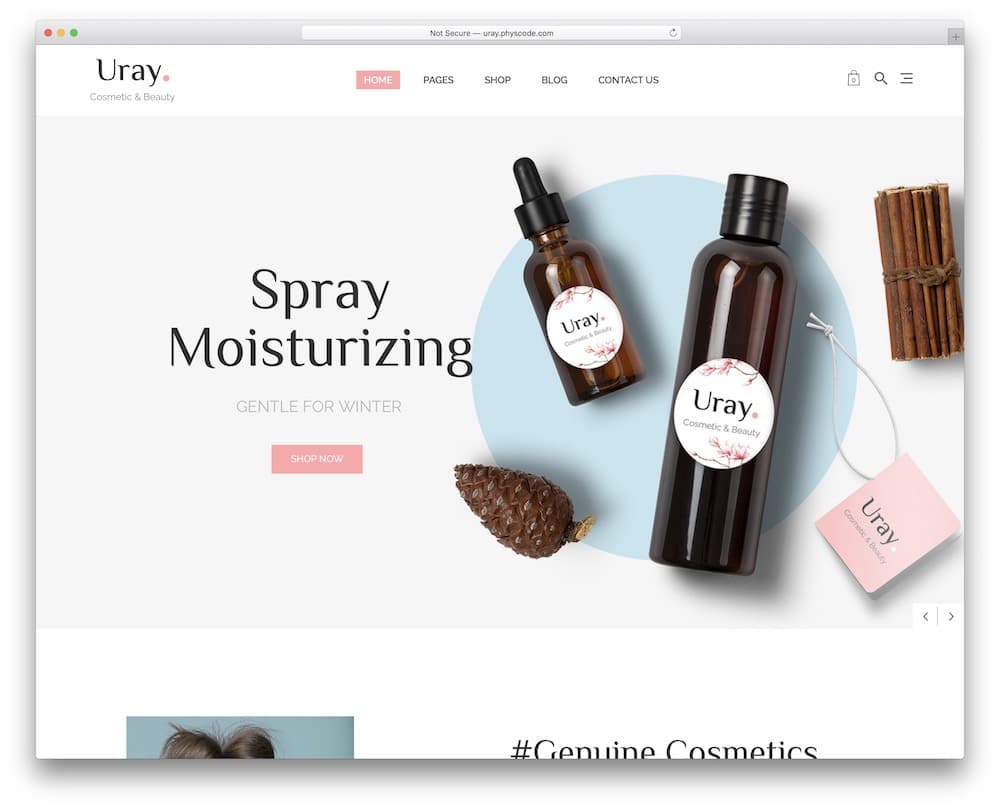 Do what you love, include trustworthy products and you will turn your business into success.
You get all the help you need to build a POWERFUL and BEAUTIFUL new eCommerce website with Uray cosmetic store WordPress theme.
This modern and clean theme has a 100% responsive design. It functions well on different devices.
Uray is optimized for speed and SEO to ensure a better user experience. With Uray, you can also create email lists due to the MailChimp plugin.
Email marketing is perfect to encourage users to visit your gorgeous site and product store. Build your personal dream and exclusive brand with Uray.
Uray features:
370+ sales
4.3/5 star rating
3 home styles
Flexible 1170px grid
Price: $39 (may vary)
MORE INFO / DOWNLOAD
DEMO
14. Cosmetro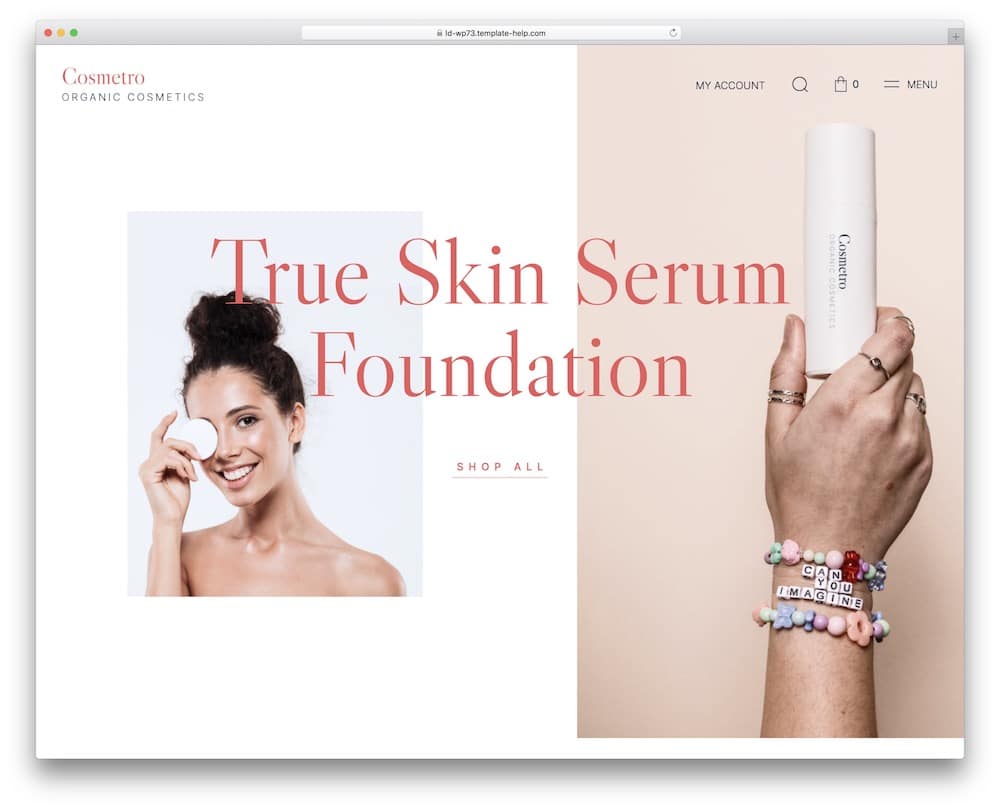 RELAX and check out empowering Cosmetro cosmetic store WordPress theme.
This eye-catching theme is packed with various layouts, versatile header and footer settings, and pre-designed page templates.
You can easily add images, display valuable content, change colors, and play with other numerous options of Cosmetro.
Moreover, Cosmetro offers excellent site performance and lets you connect with social media easily.
With Cosmetro, you will feel at HOME, so free your creativity and start crafting.
Cosmetro features:
1,100+ sales
4.1/5 star rating
New sample drops monthly
100+ Elementor widgets
Price: $59 (may vary)
MORE INFO / DOWNLOAD
DEMO
15. Skincare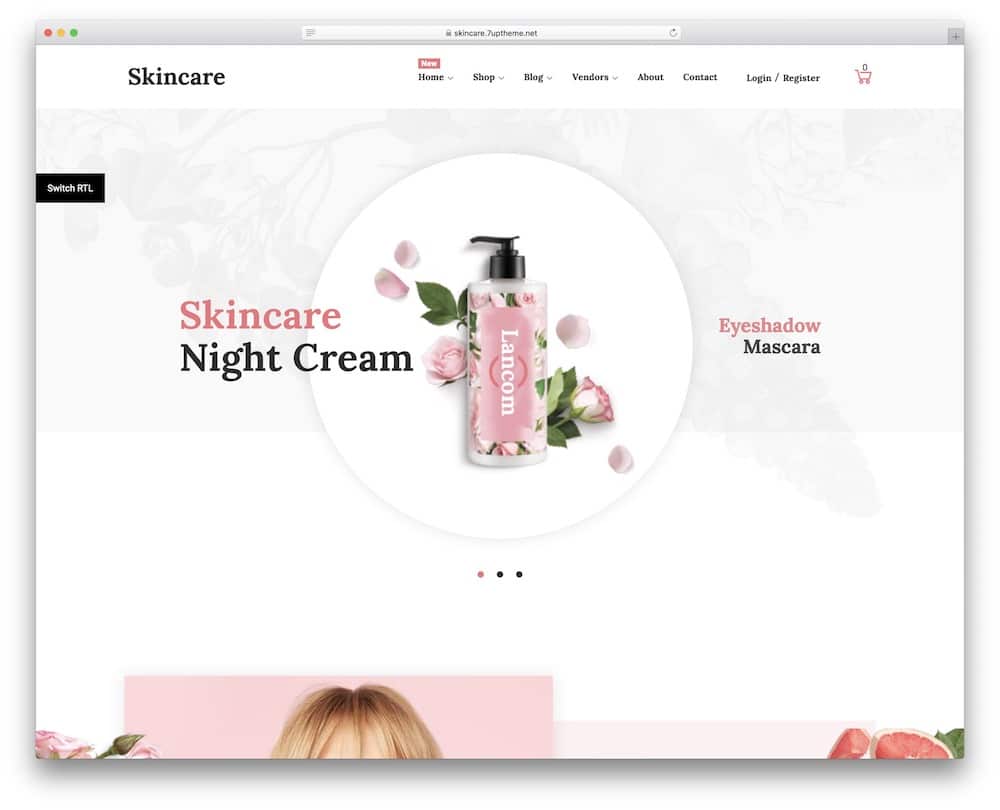 Skincare is a modern and FRESH WordPress theme that comes with numerous useful and irreplaceable features and elements.
The tool is a great choice for beauty shops, cosmetic blogs, and skincare stores.
Give your visitors the NEW MEANING of life and help them with a healthy skin routine.
Skincare includes eight index pages for your fresh start in a world of woman's joy. You get the popular and simple WooCommerce plugin.
You can easily turn your website into a fully functional eCommerce store.
STOP overthinking and shine like a diamond with Skincare.
Skincare features:
MORE INFO / DOWNLOAD
DEMO
16. Marra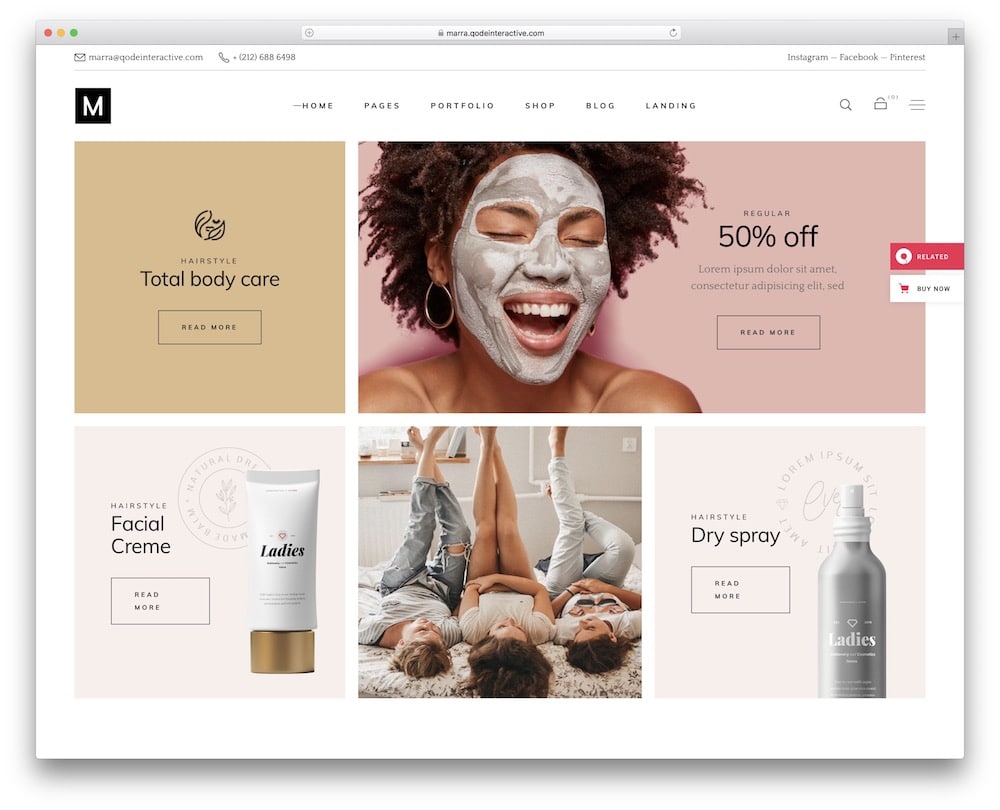 Whatever business idea you decide on, always give it 100% of your intention. With Marra cosmetic store WordPress theme you can create a stunning and modern professional website TODAY.
Marra has all you will need.
You can turn Marra into a neat shop with just a few clicks. WooCommerce compatibility and beautiful design and ready-to-use layouts make magic.
Marra helps you SHARE, CONNECT, CREATE and INSPIRE your audience.
If you have a dream to become a WordPress blogger, you can make it happen, too. Everything is ready for you to start posting and sharing your true passion.
Marra features:
340+ sales
4.0/5 star rating
Showcase customer feedback
Slider with parallax effect
Price: $79 (may vary)
MORE INFO / DOWNLOAD
DEMO
17. Cherie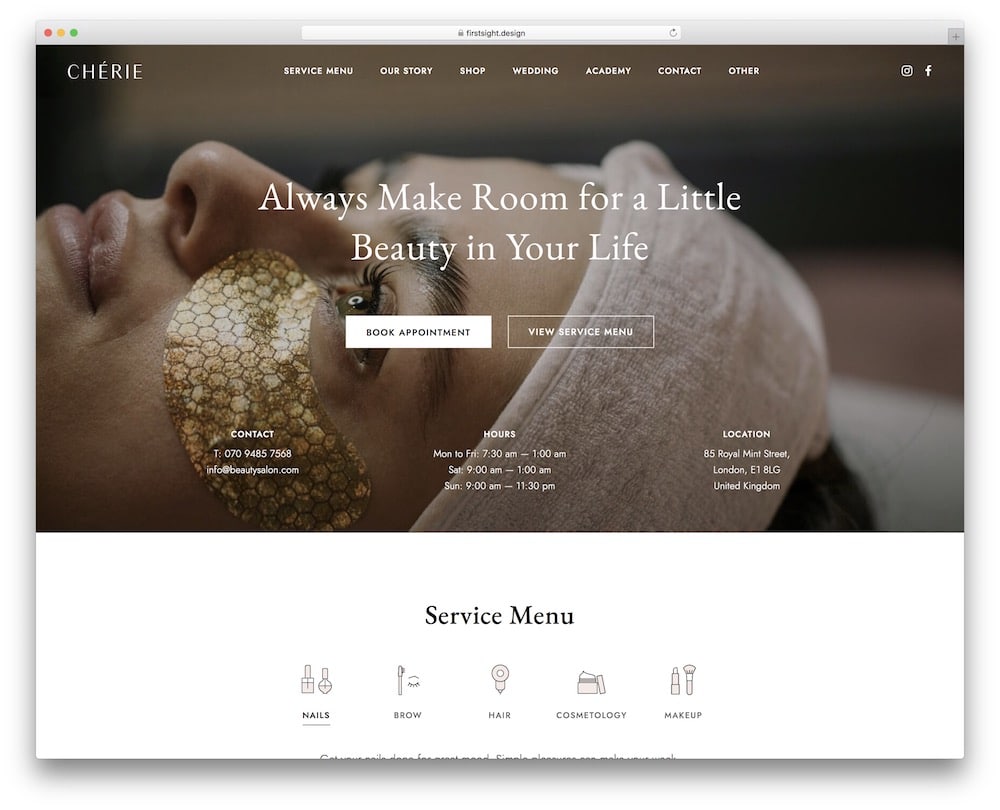 Cherie cosmetics WordPress theme will not WASTE your TIME. You can start building your new site with one import click due to its modern and pre-designed index pages.
Cherie is ideal for cosmetic stores, beauty courses, and product promotions.
With Cherie, you can easily communicate with your visitors about your philosophy, personal story, and your valuable beauty team members.
Cherie is also FULLY customizable.
You can effortlessly change colors, fonts, elements, plugins, effects, and popups. Even a child theme is included.
Light up your business and yourself with Cherie.
Cherie features:
1,500+ sales
4.8/5 star rating
Price: $79 (may vary)
MORE INFO / DOWNLOAD
DEMO
Since running a cosmetics website also requires great product presentation, we also have a few mockup collections for you to benefit from:
::
Note: This article was originally published on May 2, 2021. But our team regularly reviews it and updates it with necessary improvements for accuracy.