These best personal blog WordPress themes are perfect for sharing your thoughts online.
Instead of researching and finding the best personal blog themes yourself, I did the heavy lifting.
These 14 cover everything!
You can use them to write about personal experiences, travels, food, fashion, lifestyle, and more.
Do not LIMIT yourself! (Follow your heart.)
Publishing engaging content, building a community, and even earning a (full-time) income becomes oh so much fun.
Without coding and design knowledge!
This post covers:
Each theme unlocks a codeless experience through a WP drag and drop page builder or Live Customizer.
Make it your way, add your personal touch, and take things to the next level.
7 Questions To Ask Before Buying A Personal Blog Theme
Answering a few simple questions is one of the easiest ways to get closer to picking your ideal theme.
I've played with this technique many times and tested it on a few ULTIDA readers to get real-time feedback from beginner users.
You can try it, too:
Do you want a minimalist or a more creative blog look?
Do you want a slider to present content?
How about an online shop?
Do you want a floating header?
Do you want to work with Elementor, WPBakery or any other page builder?
Would you like to integrate social media feeds (& social sharing)?
Do you need a customizable sidebar and footer?
If you answered on some of the questions with a "yes," then we have a WordPress theme for you!
THE ULTIMATE 3:
Best Overall Personal Blog Theme: Ruki
Best Personal Blog Elementor Theme: Behold
Best Personal Blog (w/ eCommerce) Theme: Ceris
Best Personal Blog WordPress Themes
1. Ruki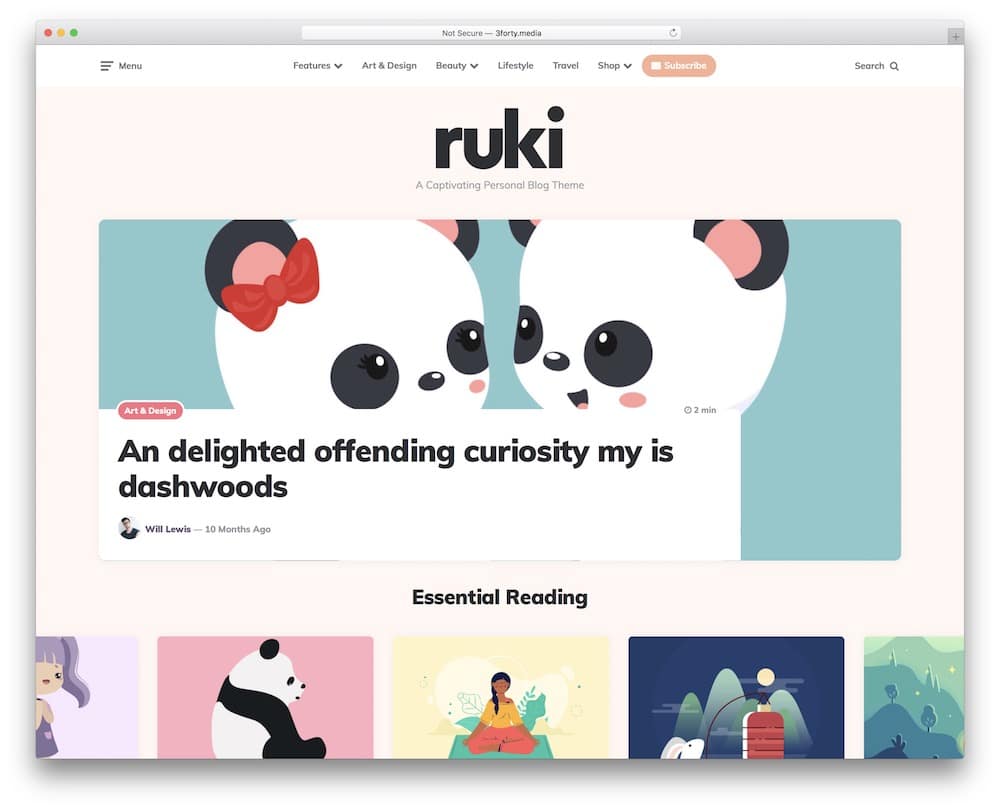 Ruki is a cute and girly blog WordPress theme made perfectly for your content creations.
This site canvas gives you NUMEROUS options, tools, and pre-made designs.
For example, it has seven pre-built demos, different layouts, contrasting post styles, and various WP sidebars.
Ruki is also Gutenberg ready for those who want to use a new editor for the WordPress platform.
Furthermore, if you want to create your own online shop, you can do it easily due to Ruki's compatibility with WooCommerce.
Start writing your online diary and share your journey with the whole world.
Of course, sweet and functional Ruki will help you to reach all your dreams.
Ruki features:
1,000+ sales
4.9/5 star rating
Fast loading speed
Price: $59 (may vary)
MORE INFO / DOWNLOAD
DEMO
2. Behold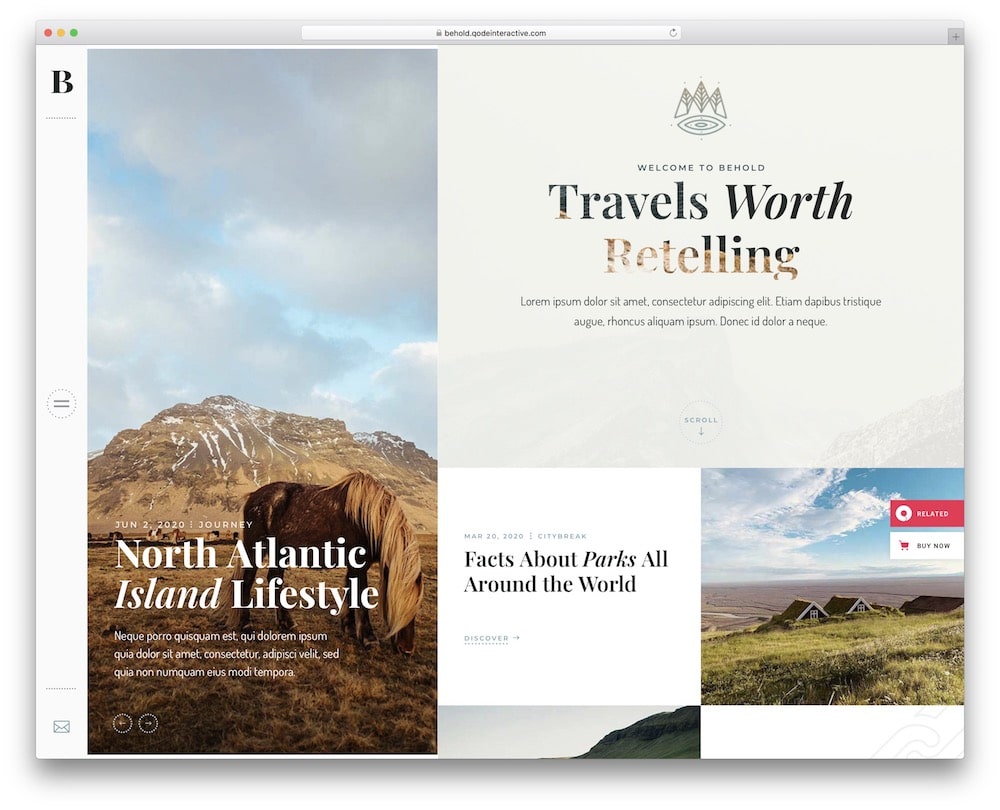 Create a modern blog of your opinions or stories with the personal blog WordPress theme Behold.
This beautifully designed tool comes with amazing accessories such as Slider Revolution, Elementor page builder, WooCommerce, and Contact Form 7.
You will have no problem with designing and customizing your site due to the full flexibility of Behold.
Numerous pre-made homepages, inner layouts, WP widgets, and plentiful WP shortcodes will help you easily create exactly what you want.
Moreover, social media integration enables visitors to CONNECT with your content through online platforms. Behold will aid you in expanding and connecting with your visitors.
Behold features:
430+ sales
4.5/5 star rating
Price: $85 (may vary)
MORE INFO / DOWNLOAD
DEMO
3. Neiman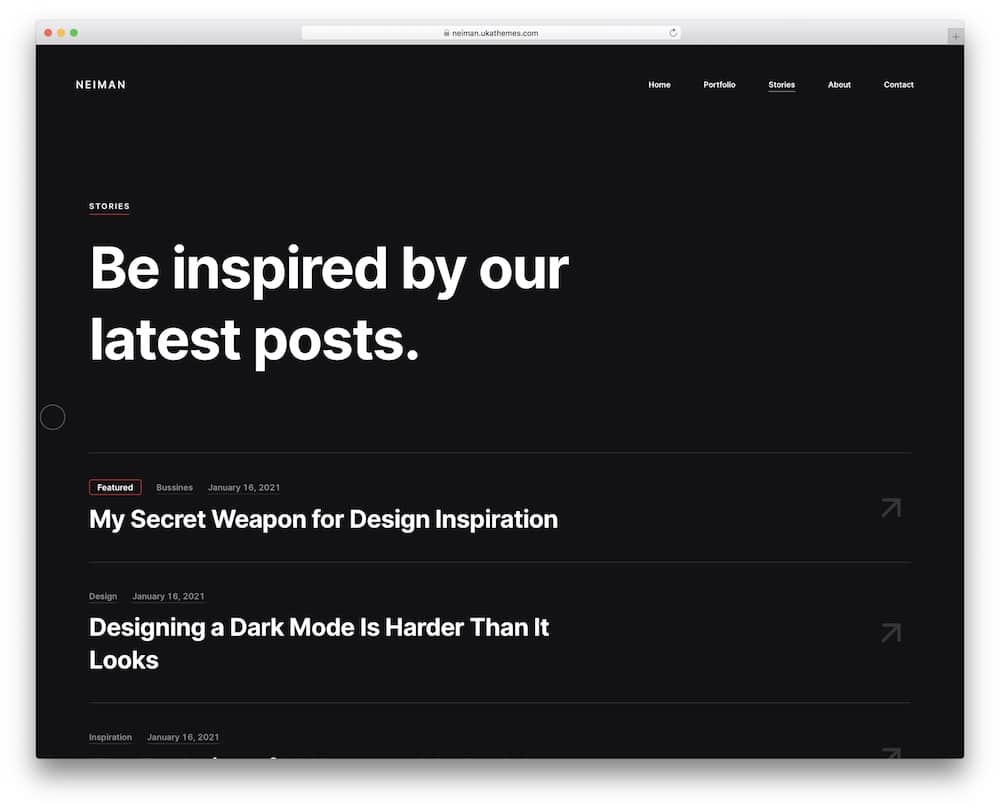 Neiman is a clean personal blog WordPress theme that is easy-to-use and designed for any type of creative content.
It comes with several different layouts for quick-start and simple mix and match.
Neiman is 100% modifiable and works for online portfolio creation, too.
Furthermore, you can use any color you want and diverse typography to fit your branding needs.
Of course, Neiman is responsive and retina-ready for simple adaptation to any screen. Also, this theme is fully translatable with a WP plugin to any language you wish.
Additionally, in the package, you will get a WP child theme and heaps more. Neiman is a great choice for creating a LONG-TERM impact.
Neiman features:
30+ sales
4.7/5 star rating
10 blog listing layouts
One-click installation
Price: $66 (may vary)
MORE INFO / DOWNLOAD
DEMO
4. Tinysalt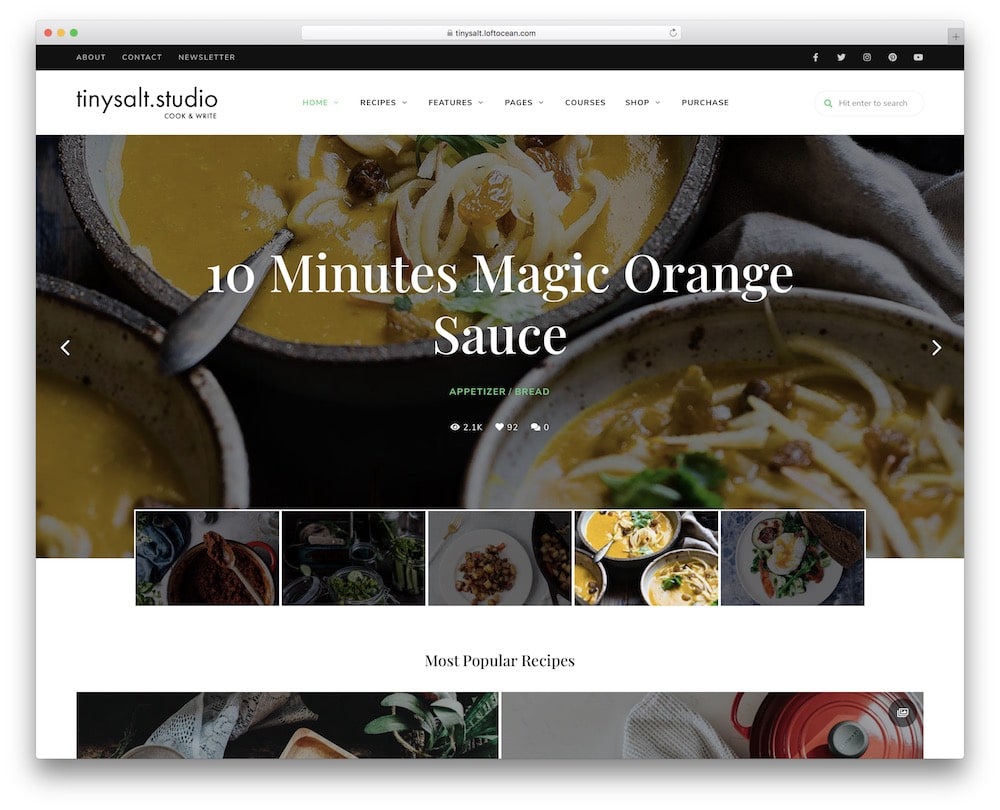 Equipped for success, Tinysalt is a fresh and elegant personal food blog WordPress theme. This theme is ideal and ready for rich content.
It comes with twelve pre-made homepages that you can install with just a simple click. Buy we also have a full tutorial on how to install a WP theme that you might want to check out.
With Tinysalt, your readers will have access to your site from different devices due to its responsive design.
Moreover, Tinysalt includes various tools such as Ajax and MailChimp.
Plus, if you dream of owning your own online shop, you can create it with WooCommerce and start selling immediately.
On top of that, with Tinysalt, you have guaranteed LIFETIME updates and friendly customer support.
Post solid and strategic food content and recipes with beautifully-made Tinysalt.
Note: Take things to the next level with our collection of the best WP plugins for food blogs.
Tinysalt features:
2,000+ sales
4.9/5 star rating
Recipe management
Search engine optimized
Price: $64 (may vary)
MORE INFO / DOWNLOAD
DEMO
5. Itonga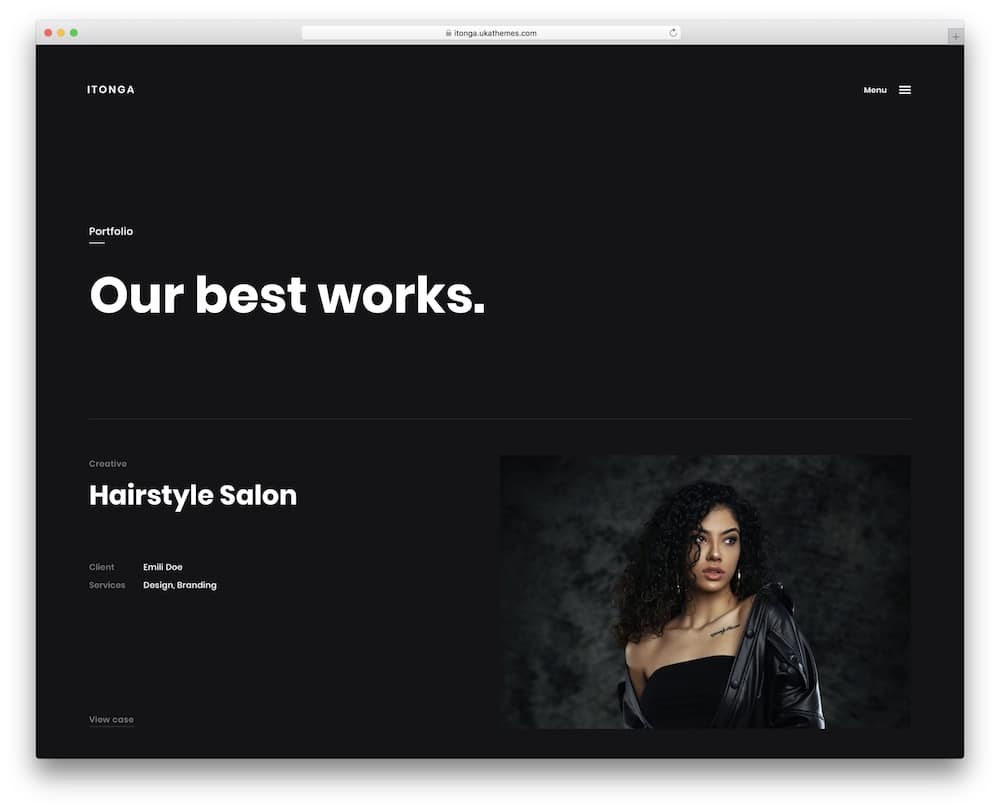 Itonga is an accessible and easy-to-use blog theme that will perform great on all devices of your readers.
With Itonga, you get a very high correlation between unique and creative design. You will get numerous beautifully made layouts, dozens of tools, and unlimited colors.
You can manage Itonga with just some clicks on the mouse and can fully tailor it EXACTLY as you wish.
Furthermore, with Itonga, you can inspire people and easily connect your story with your audience.
Don't wait for tomorrow and start building your blogging adventure today.
Itonga features:
80+ sales
4.7/5 star rating
Child theme
Price: $66 (may vary)
MORE INFO / DOWNLOAD
DEMO
6. Pendown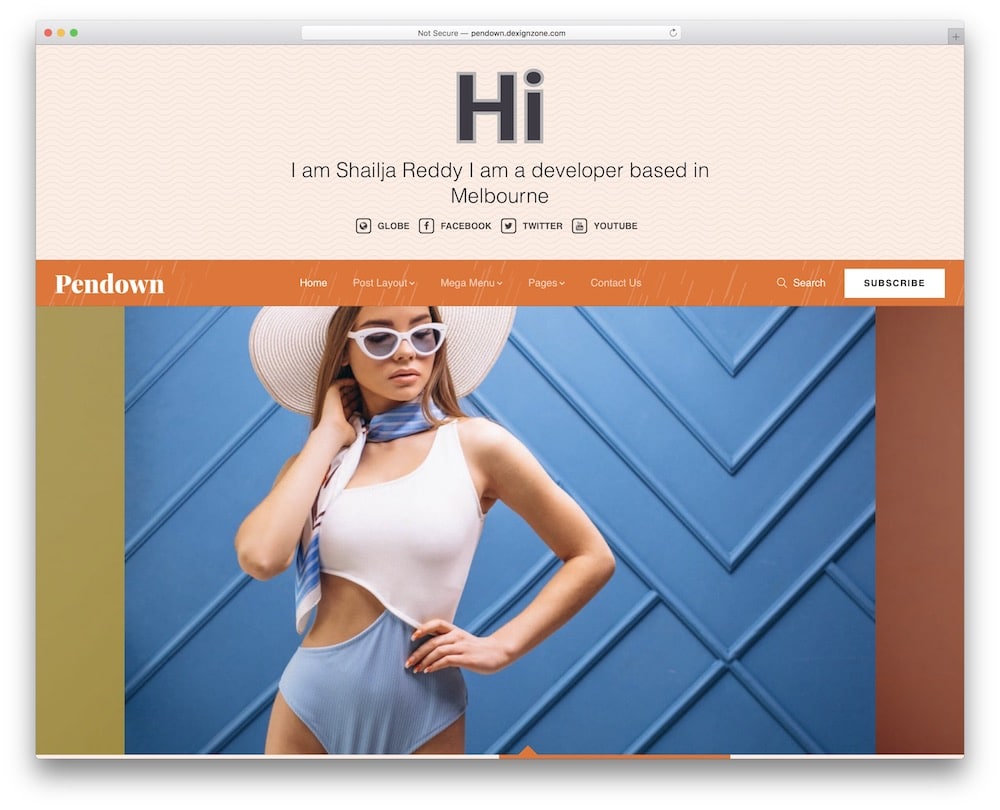 Super fast and modern personal blog WordPress theme Pendown will look and work amazingly well on all screens and devices.
Of course, Pendown is compatible with amazing tools such as MailChimp, Contact Form 7, WooCommerce, and Gutenberg editor.
Moreover, the installation of Pendown is easy; the theme includes lots of FLEXIBLE options and seven pre-designed homepages.
Surely you can translate this theme into any language with WPML.
Don't hesitate, invite the public to read your thoughts, knowledge, and personal experiences. Start your dream project straight away with Pendown.
Pendown features:
50+ sales
4.6/5 star rating
Amazing performance
MailChimp integration
Price: $39 (may vary)
MORE INFO / DOWNLOAD
DEMO
7. Belletrist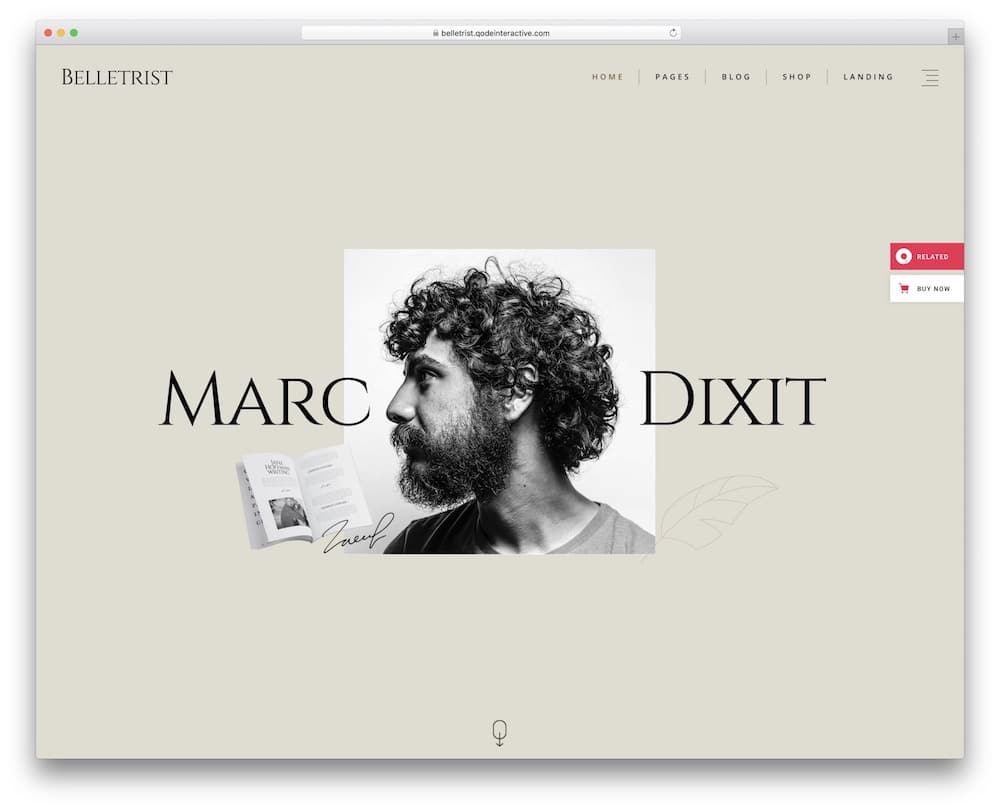 Belletrist integrates the POWER of words and stories. This personal blog theme includes pre-made templates, inner pages, shortcodes, and lists.
You can also choose from different header and footer types, icons, and numerous Google fonts.
For those who would like to own an online shop, you can now arrange it with the stunning WooCommerce plugin. Even child theme is included in Belletrist.
You can provide value and reach millions of people that use the internet with this theme.
Evolve your business model and achieve great results with Belletrist.
Belletrist features:
380+ sales
4/5 star rating
Tons of ready-made shortcodes
Back to top button
Price: $79 (may vary)
MORE INFO / DOWNLOAD
DEMO
8. Ceris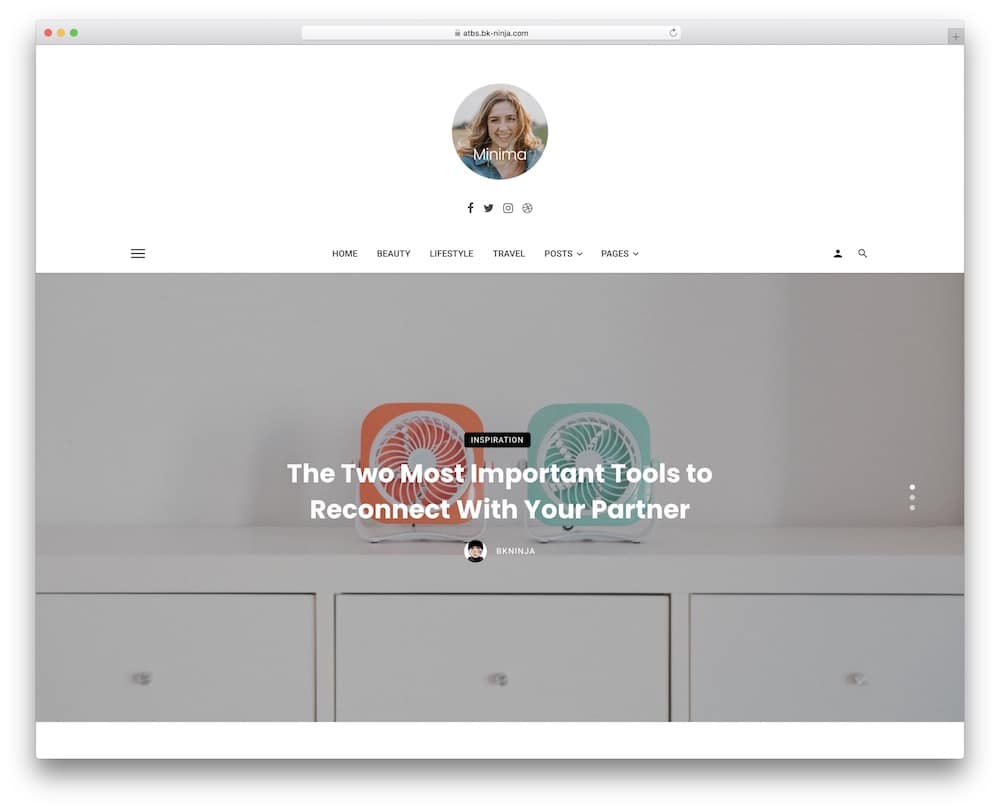 Make your personal blog WordPress theme as phenomenal as possible. Ceris is a modern and elegant theme suitable for various content creations, stories, and ideas.
This multi-purpose tool offers a total website transformation and is fully customizable. It comes with amazing features such as WooCommerce, emoji reactions, mega menu, and Ajax tech.
Moreover, Ceris is SEO optimized and integrated with GDPR compliance.
Besides, Ceris includes built-in social sharing to make it easier for you to broadcast your content to your connections, groups, and individuals.
If you aim for engagement, comments, thoughts, etc., then start publishing your valuable content as soon as possible.
The best time to start is now.
Ceris features:
1,700+ sales
4.9/5 star rating
AMP support
Price: $59 (may vary)
MORE INFO / DOWNLOAD
DEMO
9. Veen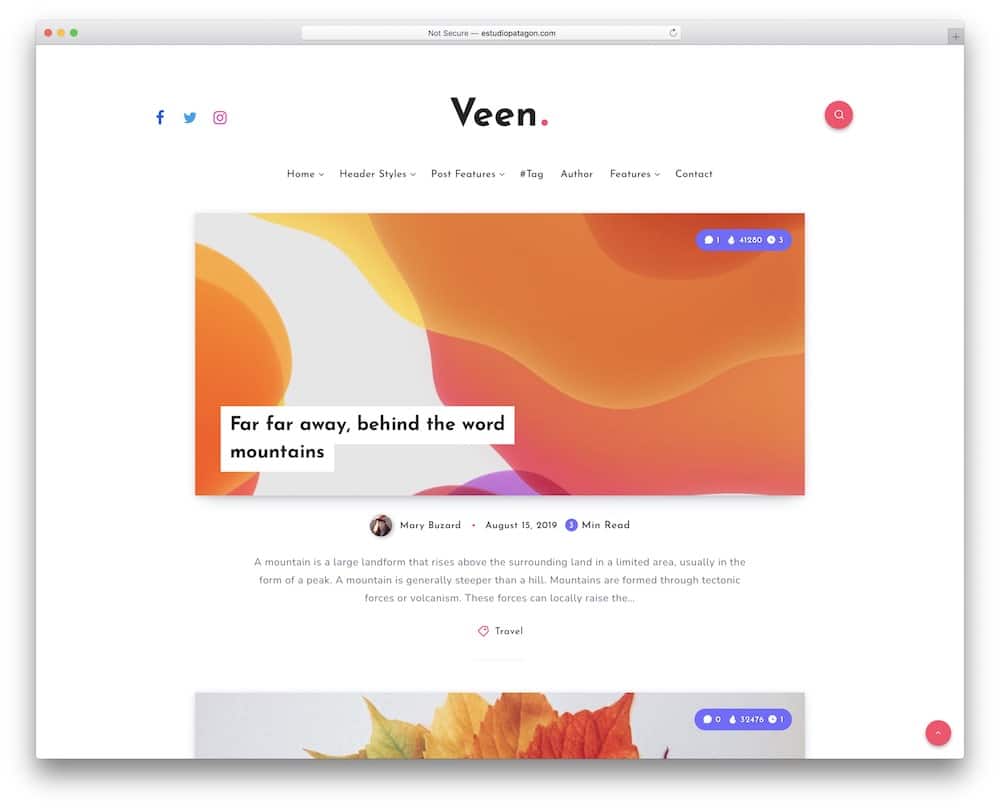 Pick the modern and beautifully designed personal blog theme focused for useful effects and convenient features.
Veen is simple to customize accordingly to your wishes and desires.
This multi-purpose theme comes with ten index pages, various post styles, custom widgets, and numerous shortcodes.
Veen is SUPER fast due to several techniques used to increase the speed of the website.
Also, this theme is retina-ready and responsive for any screen resolution.
With Veen, you can purposely share your experiences, adventures, and daily life with your audience.
Make a difference and influence your readers with an amazing personal blog.
Veen features:
1,800+ sales
4.9/5 star rating
Optimzied for loading speed
Disqus & Facebook comments
Price: $45 (may vary)
MORE INFO / DOWNLOAD
DEMO
10. Ozark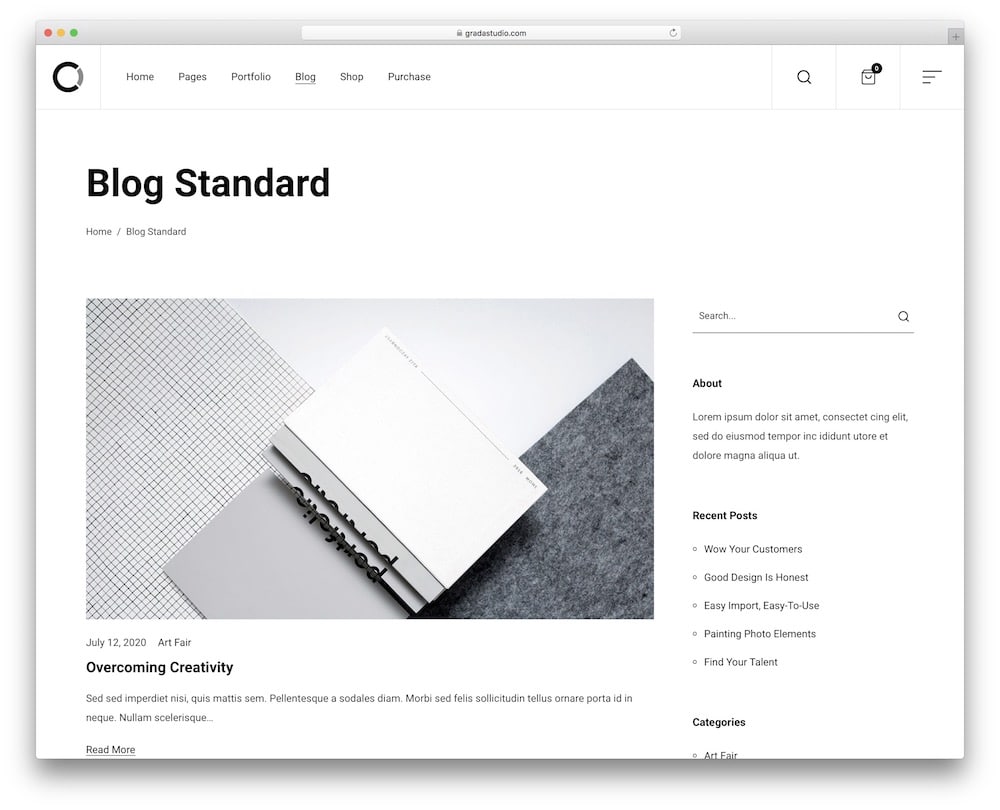 Ozark is an all-around professional personal blog WordPress theme that will work seamlessly and with high-speed performance.
With Ozark, you can CUSTOMIZE every aspect of your new site by using an amazing Elementor page builder. (0 coding!)
Of course, with Ozark, you can successfully launch your shop due to the WooCommerce plugin's cleverness.
Carefully designed demos, pages, elements, and layouts will immediately impress you.
Moreover, Ozark includes Slider Revolution for an amazing display of your content through epic slides.
Surpass your competition with a creative and modern blog.
Ozark features:
1,400+ sales
4.3/5 star rating
Parallax & video background functionality
Price: $39 (may vary)
MORE INFO / DOWNLOAD
DEMO
11. Uppercase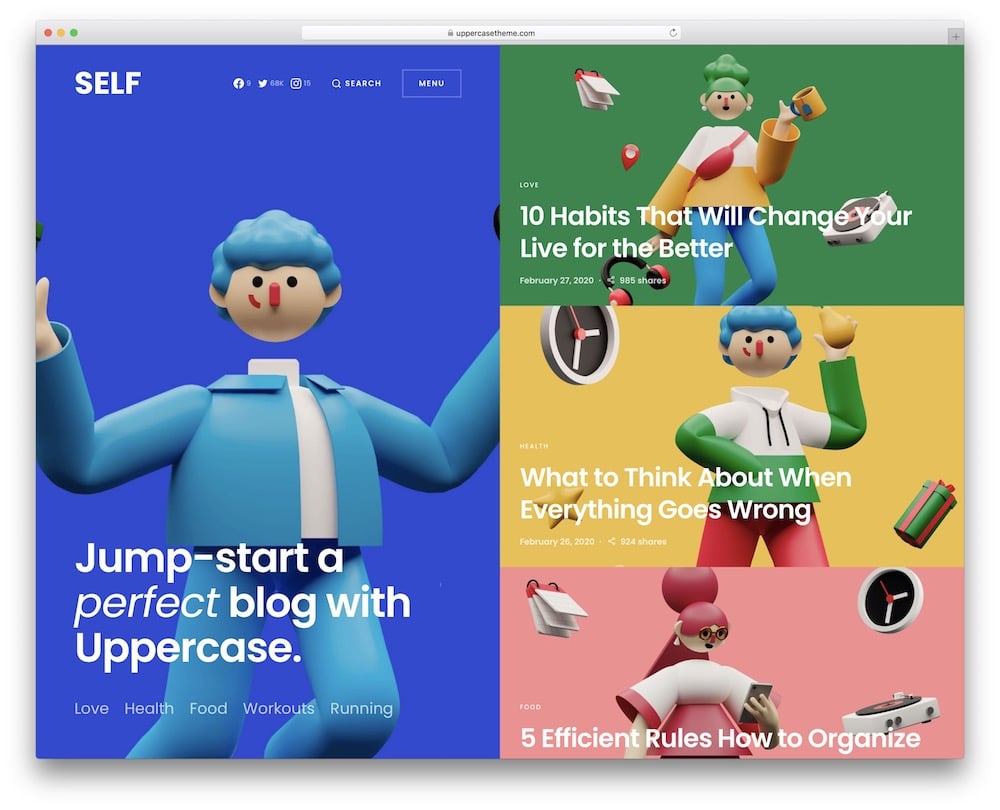 Turn your knowledge, thoughts, and talent into an asset with a personal blog WordPress theme Uppercase. This theme is a responsive, socially integrated theme that will work great with Facebook, Pinterest, Twitter, and Instagram.
You can easily grow your audience and make your content go viral with Uppercase. (You may also want to check our best viral WordPress themes.)
Moreover, Uppercase has all the basic components that you will need for your new blog.
It includes advanced features, high coding standards, video backgrounds, and multiple post styles.
You will have an option to CHOOSE between creative alternatives and unlimited variations of colors.
Write about what you love and encourage your audience's interaction with amazing Uppercase.
Uppercase features:
960+ sales
4.9/5 star rating
Original design that stands out
Autoloading posts
Price: $59 (may vary)
MORE INFO / DOWNLOAD
DEMO
12. Newsource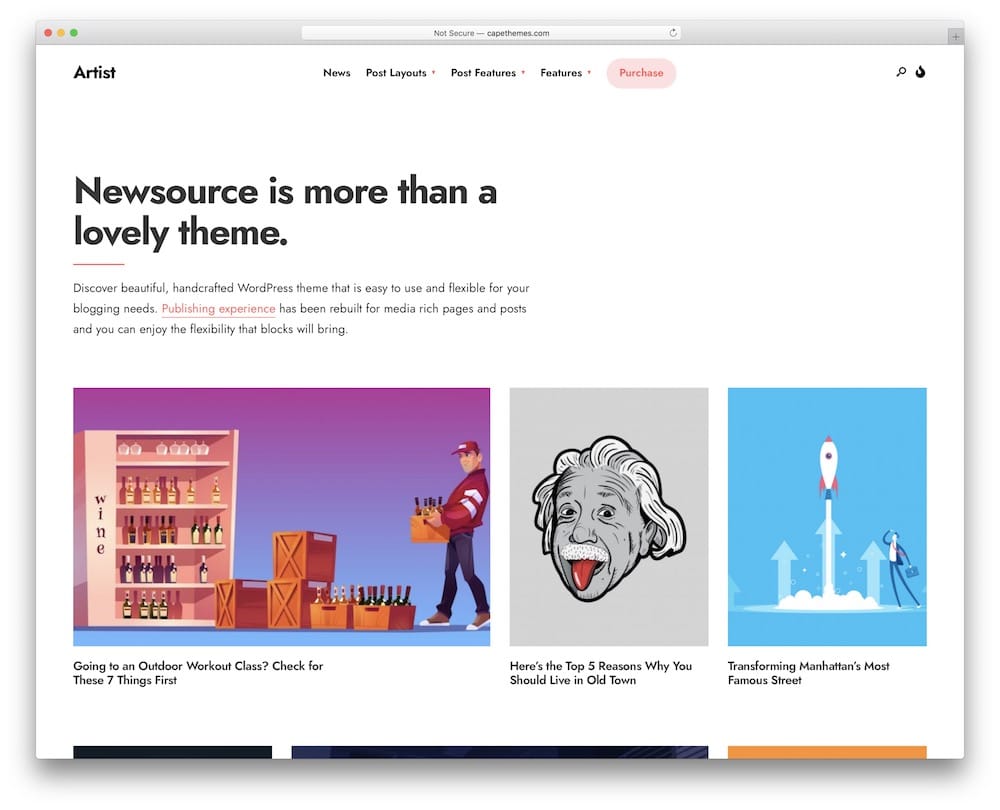 Say Hello to sophisticated Newsource personal blog WordPress theme.
This FLEXIBLE and ELEGANT theme includes many amazing features, a dark mode switcher, a solid framework, and is super user-friendly.
Newsource is also compatible with Gutenberg editor, which will present you with a new way of using WordPress.
With Elementor page builder, you can mix and match pre-made blocks, combine beautiful layouts, and customize your new site's backgrounds.
Furthermore, Newsource is developed with SEO in mind to help you boost your Google ranking.
Of course, you have an option to build your store with an awesome WooCommerce plugin incorporated.
Produce great content using Newsoruce and ensure that readers will talk about your blog daily.
Newsource features:
150+ sales
4.6/5 star rating
Dark & light designs
Price: $59 (may vary)
MORE INFO / DOWNLOAD
DEMO
13. Asona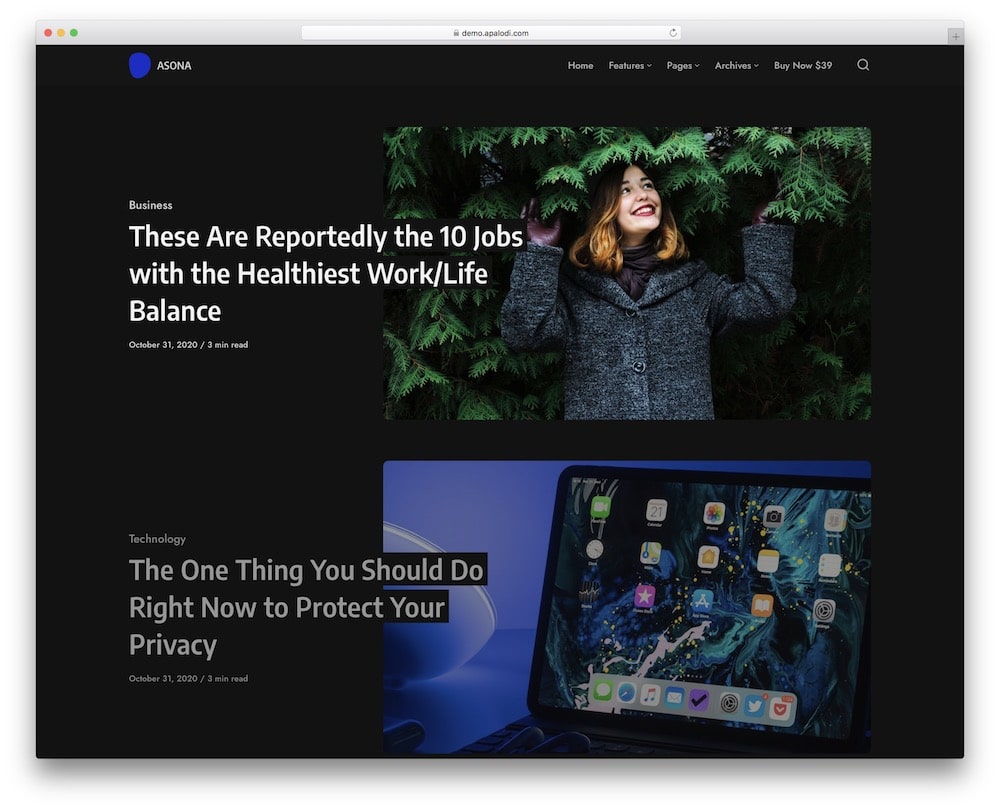 Meet and connect with new people through your personal blog WordPress theme Asona. This irresistible and clean theme comes with beautiful typography, different pagination types, dark and light modes, and is Gutenberg ready.
With Asona, you can quickly put together a cool site due to its simple and friendly use.
Asona is SEO optimized, translation ready, and offers lots of contrasting design possibilities.
You will get all sorts of features to help you successfully promote your content and ideas.
Once you decide to work with Asona, you will get first-class customer support that will guide you through the process of building your new website.
You can't fail but skyrocket your project with Asona.
Asona features:
270+ sales
4.5/5 star rating
Lazy loading for images
One-click import
Price: $39 (may vary)
MORE INFO / DOWNLOAD
DEMO
14. Fortuni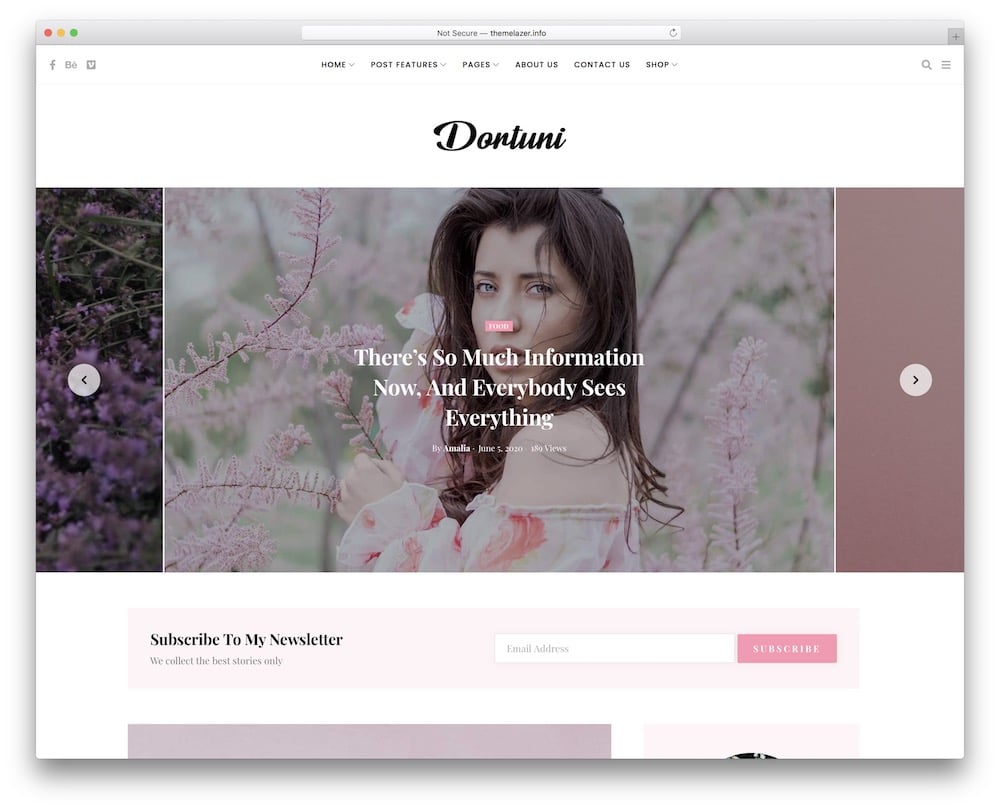 We all know how popular blogs, online businesses and valuable content is today.
Fortuni personal blog WordPress theme can help you create a beautiful and modern site for all your knowledge, passion, and ideas.
This theme comes with pre-designed gorgeous templates that you
can install with just one click.
Furthermore, Fortuni includes different reliable tools such as Elementor, MailChimp, and WooCommerce. All the pages of this theme are responsive and focused on mobile design.
Also, with Fortuni, you will get lifetime updates and modern technology.
The choice is yours, but keep in mind that with Fortuni, you can write about EVERY topic imaginable that your audience will like if you put your heart into it.
Fortuni features:
MORE INFO / DOWNLOAD
DEMO
::
Note: This article was originally published on March 31, 2021. But our team regularly reviews it and updates it with necessary improvements for accuracy.