Finding the best free WordPress slider plugins for your website can be challenging.
There are numerous plugins on the market that claim to be responsive and powerful at the same time. (But ARE they really?)
We all know that it's not easy to combine flexibility and reliability when choosing free plugins.
Luckily, we tested many slider plugins in the past (we used Smart Slider 3 & Master Slider for the majority of projects).
That's why we decided to create this top selection of the 12 best free WordPress slider plugins.
From simple image and video sliders to comprehensive solutions for WooCommerce, our list HAS IT ALL.
Slide along!
Best Free WordPress Slider Plugins
Sliders are a great marketing tool when it comes to visually enhancing your WordPress website.
Don't neglect the power of a (QUALITY) slideshow!
1. Smart Slider 3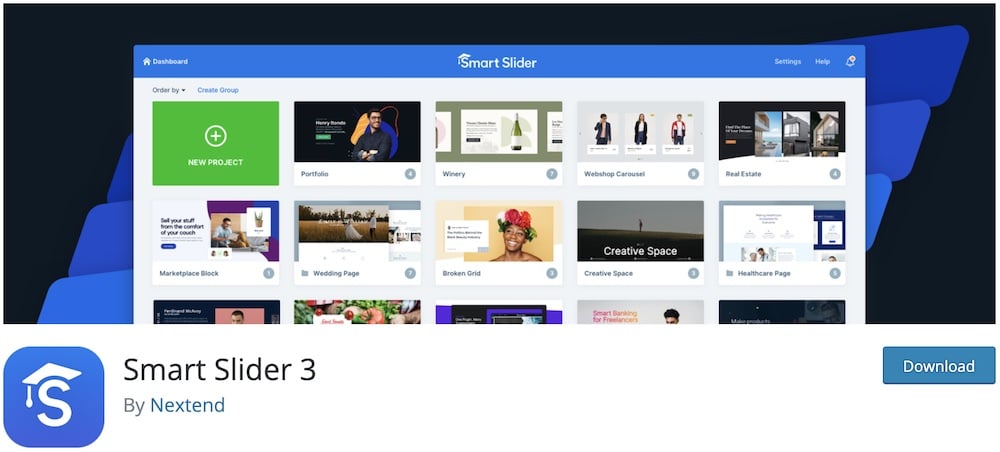 Smart Slider 3 was developed by Nextend, one of our favorite plugin developers. This free slider plugin ranks first in our top picks for many reasons.
During our testing, Smart Slider 3 proved to be reliable and flexible.
To be precise, the plugin contains one of the largest collections of slider styles/types. You can easily choose between image, video, layer and post sliders and select one of the 11 fully editable templates.
Smart Slider 3 is one of the most responsive and mobile-friendly free plugins on the market with a touch-friendly interface.
Although the plugin has a Pro version, its Standard, FREE version serves most users.
Smart Slider 3 is a must-try slider plugin as the perfect all-rounder.
Smart Slider 3 features:
800,000+ active installations
4.9/5 ratings
Fully customizable sliders
Community-driven project
Multilingual support (12+ languages)
MORE INFO / DOWNLOAD
2. MetaSlider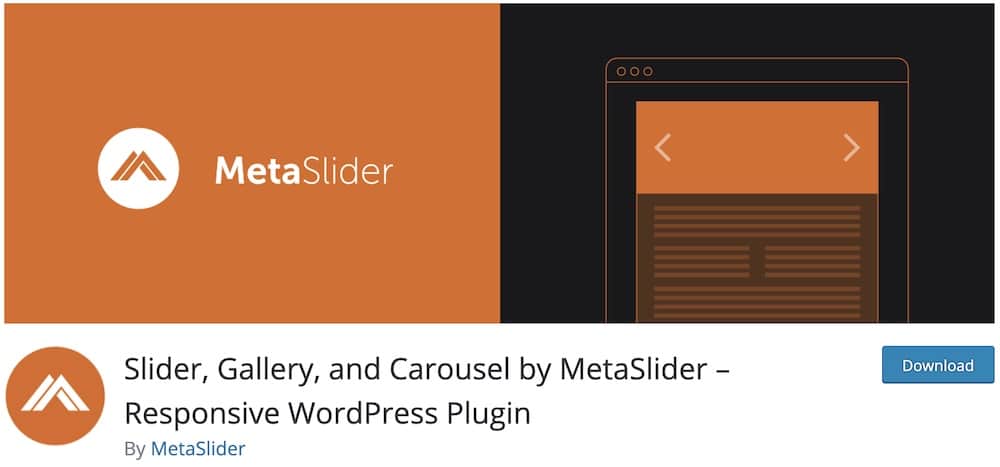 As with Smart Slider 3, MetaSlider is also a very well-known plugin among developers and website owners. It allows you to create all-in-one image sliders quickly and efficiently.
A unique feature of MetaSlider is that it has endless effects, themes and templates for you to choose from.
For example, you can choose between 4 slideshow types and frame them with more than 20 transition effects (!).
This is very rare in free plugins.
This free WordPress slider plugin is also VERY beginner-friendly. Creating an image slider with MetaSlider only takes a few minutes (more like just a few clicks).
Therefore, MetaSlider is as reliable and robust a solution as Smart Slider 3. The final decision between these two plugins depends solely on your personal preferences.
MetaSlider features:
700,000+ active installations
4.6/5 Ratings
Endless transition effects & slider templates
Fully responsive
Top-tier support
MORE INFO / DOWNLOAD
3. UR Image Slider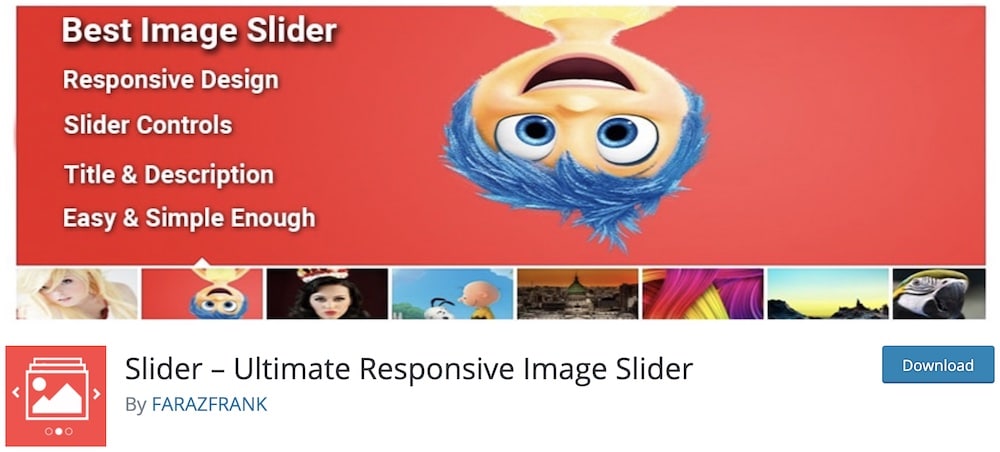 Even though Ultimate Responsive Image Slider is not as popular as the above plugins, it is a great solution for newbies.
With the comprehensive video tutorials, you can install and use this plugin in no time.
This free WordPress slider plugin has a friendly built-in software that guides you from step 1. It uses an easy-to-use drag-and-drop builder and offers MANY customization options.
UR Image slider is a brilliant solution for anyone looking for a simple slider creator.
So, if you are a beginner or do not have much time to deal with the numerous advanced features, this is simply the best plugin for you.
UR Image Slider features:
50,000+ active installations
4.5/5 Ratings
Beginner-friendly
Video tutorials
Easily added on any page via shortcodes
MORE INFO / DOWNLOAD
4. Slide Anything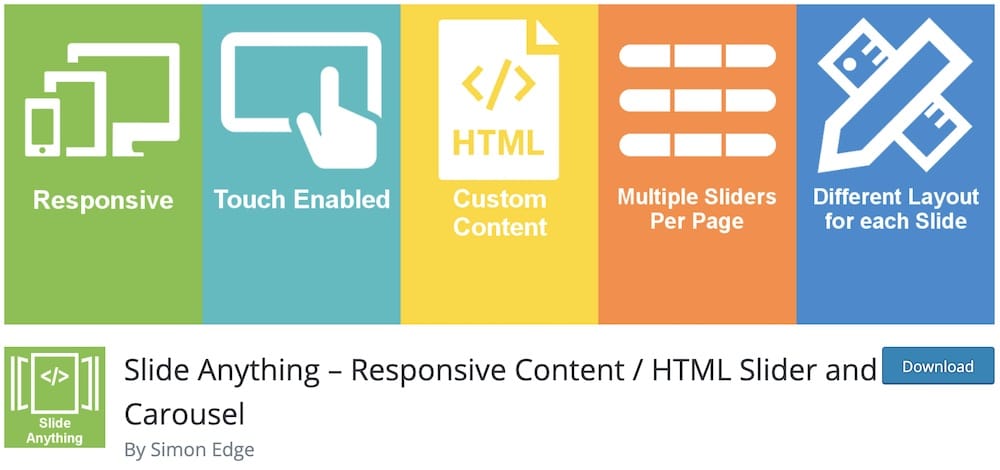 Slide Anything easily made it to our list of the best free WordPress slider plugins with more than 100,000 active users.
Like our previous suggestion, Slide Anything features an easy-to-learn editor that lets you create touch-activated sliders and carousels in minutes.
Slide Anything is also an SEO-friendly slider plugin. It's fully responsive and offers editable breakpoint settings to suit any device (4 slides for desktops, 3 for tablets, etc.).
With PLENTY of screenshots, installation instructions, and real-time support, Slide Anything is a plugin you should definitely check out.
Slide Anything features:
100,000+ active installations
4.5/5 Ratings
Perfect for carousels
Regular updates
Slider content variety (image, text, HTML, shortcode)
MORE INFO / DOWNLOAD
5. Soliloquy Slider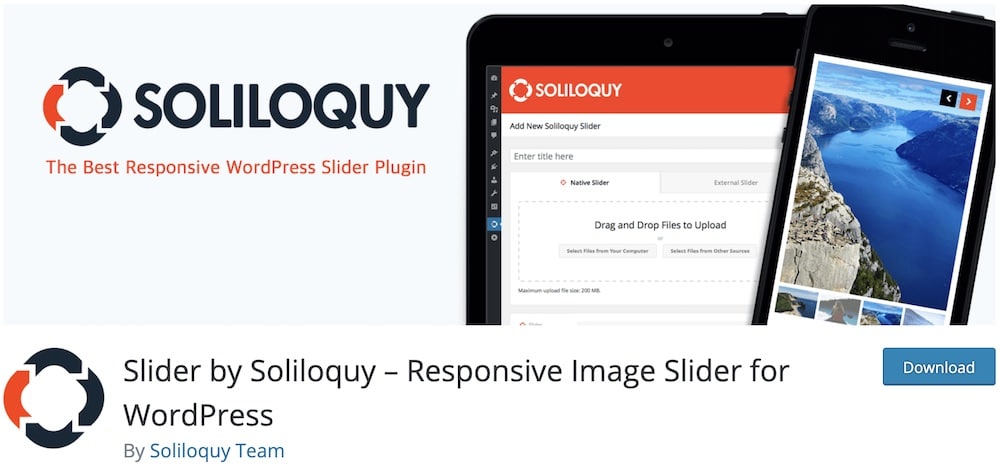 Soliloquy Slider has been one of the most popular slider plugins since 2012. It has been downloaded over 1.5 million times in total. Let us find out why.
In our review, Soliloquy Slider proved that it has some of the MOST beautiful pre-built sliders.
This free WordPress slider plugin is also straightforward to use as it integrates a drag-n-drop builder. (Yay, no coding!)
It works perfectly with Gutenberg but can be used with almost any editor (including Beaver Builder).
Many users prefer Soliloquy for WooCommerce image and video sliders.
Soliloquy features:
70,000+ active installations
4.7/5 Ratings
Fully customizable
Perfect for Gutenberg block editor
Great for WooCommerce stores
MORE INFO / DOWNLOAD
6. Nextcode Image Slider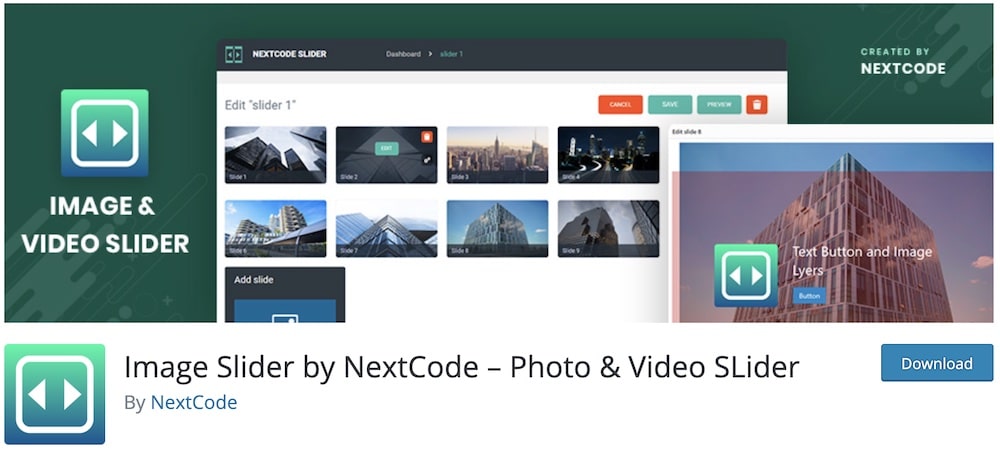 As part of the plugin collection created by Nextcode, this Image Slider is an excellent choice for both beginners and professionals.
Nextcode has integrated a responsive smart slider that offers 10 navigation styles, 6 shadow styles, 6 pagination styles, and more.
Both the video slider and image slider of this free slider plugin work PERFECTLY on any device.
That's why we believe Nextcode's slider will become one of the most popular plugins soon.
We dig it.
Nextcode Image Slider features:
7,000+ active installations
4.2/5 Ratings
Setup takes only 2 minutes
Numerous customization options
Autoplay function
MORE INFO / DOWNLOAD
7. Master Slider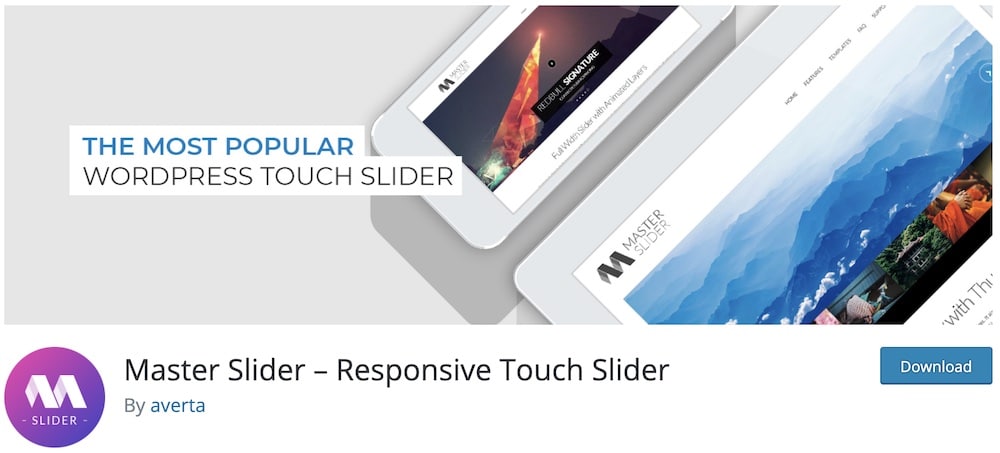 It would be a shortcoming if we did not include averta's slider plugin in this list. Master Slider quickly became VERY popular as a straightforward plugin with a non-native user interface.
Averta presents its free WordPress slider plugin with some of the most beautiful and valuable tutorials available.
Based on this, Master Slider is an easy-to-learn tool with SEO features and lots of configuration options.
In fact, from gorgeous templates to CSS3 transitions and 3D transformations, this plugin includes all the advanced tools you need.
Master Slider features:
100,000+ active installations
4.6/5 Ratings
SEO friendly
Automatic crop
Compatible with WordPress Multisite
MORE INFO / DOWNLOAD
8. Social Slider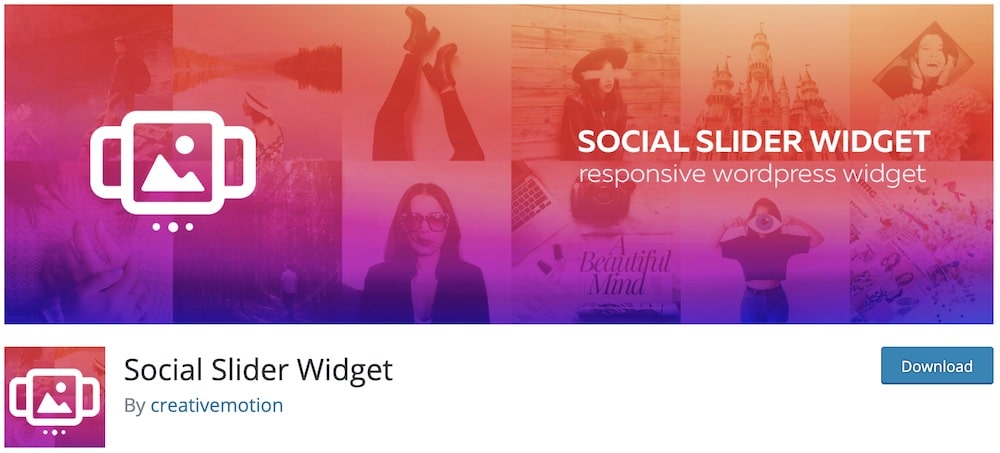 Social Slider is what the name suggests: a brilliant way to embed your social media feeds (Instagram, Facebook, YouTube) into your WordPress website with simple shortcodes.
It's a brilliant solution for anyone who wants to spice things up by integrating their social content into WP pages, widgets or posts.
The plugin requires no experience and no coding (0!) for installation, activation and setup.
This free WordPress slider plugin proved to be a GREAT way to gain more social followers through WordPress during our testing.
Social Slider has many editable features and flexible layout settings. In a few words, this is the best way to promote your social media accounts.
Social Slider features:
90,000+ active installations
4.2/5 Ratings
Perfect for social media promotion
Saves a lot of time
Translation & multilingual-ready
MORE INFO / DOWNLOAD
9. Video Slider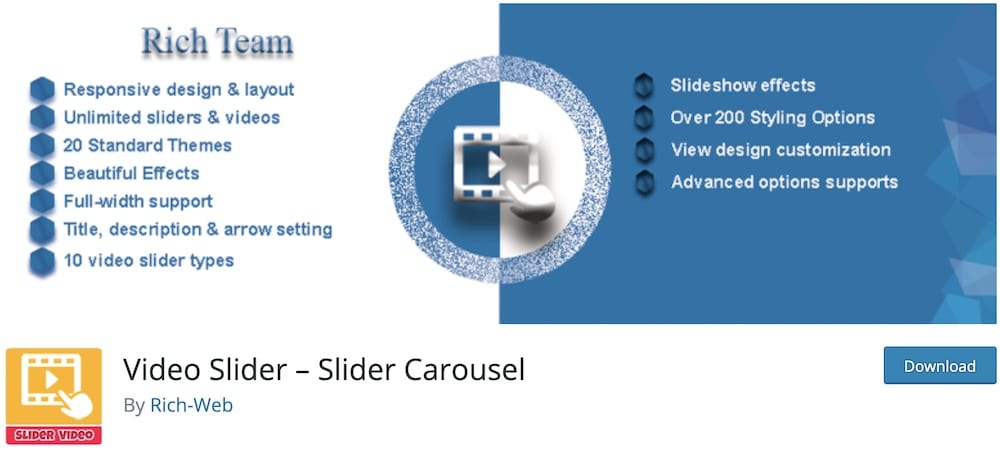 Rich-Web is a well-known team of plugin developers. Video Slider has a comprehensive free version like every other plugin they have developed.
This free WordPress slider plugin is perfect for creating stunning video sliders.
The plugin includes 20 default themes to choose from and captivating effects to frame them.
It is a very responsive plugin as it works SMOOTHLY on all mobile devices and popular browsers (tested!).
Rich-Web video slider supports Vimeo, Vivo, MP4 and YouTube videos.
If you need a beginner-friendly plugin that allows you to create beautiful video sliders, this is the one for you.
Video Slider features:
7,000+ active installations
4.7/5 ratings
Ideal for video slideshows
Supports all essential video types
Many premade styles & templates
MORE INFO / DOWNLOAD
10. WP Responsive (Recent Post) Slider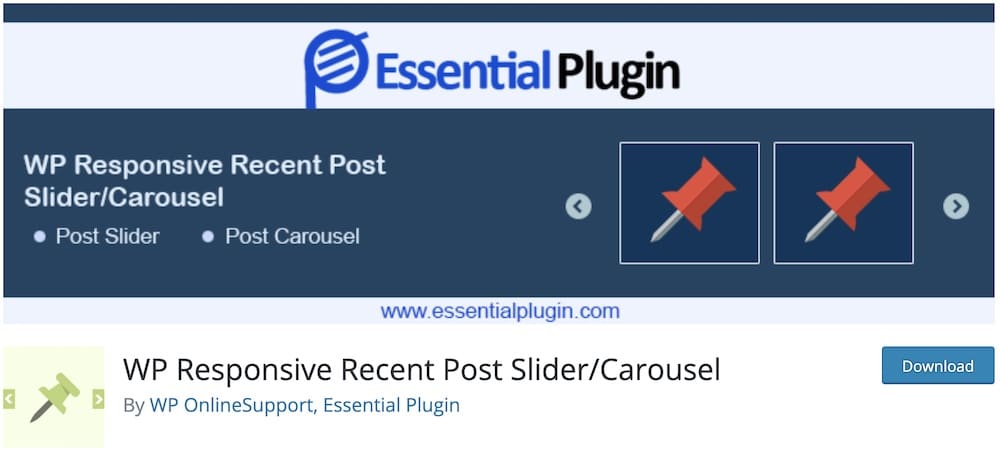 If you are familiar with using shortcodes, this might be a suitable free WordPress slider and carousel plugin for you.
WP Responsive Slider delivered exactly what it promised: a very reliable and easy-to-use plugin, during our review phase.
The process is very simple.
You create your carousels and sliders easily by following the instructions (our newbie client loved it).
Then, all you have to do is import the plugin's shortcodes into one of your pages or posts.
This plugin also includes MANY modification options, allowing you to change things like the speed of the sliders, the size of the media, the displayed content, etc.
WP Responsive Slider features:
30,000+ active installations
4.7/5 ratings
Easy shortcode integration
Touch & mouse sensitive
4 slider designs
MORE INFO / DOWNLOAD
11. Slider by 10Web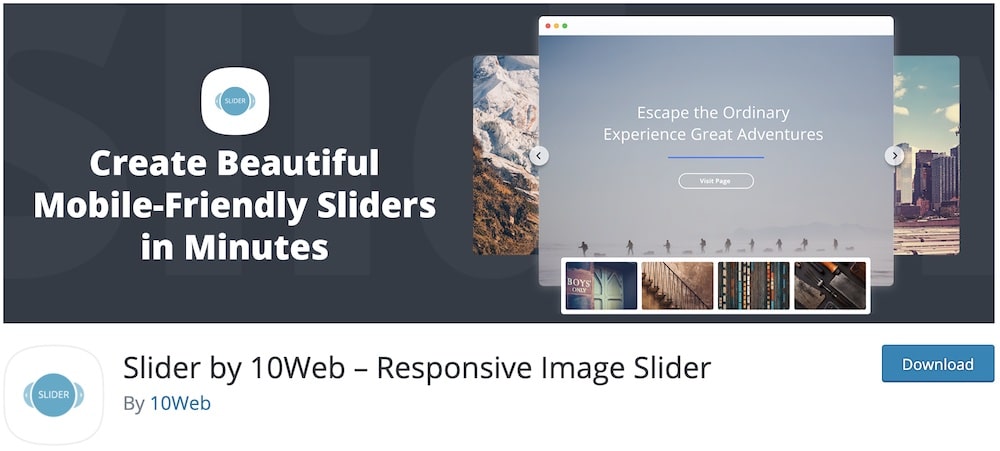 10Web is one of the most experienced plugin developers on the market. With more than 50 plugins and extensions, there is nothing 10Web can not help you with.
Creating a responsive image slider is no exception.
This is one of the best-supported slider plugins we have tested with numerous DEMOS and user manuals.
Installing and using Slider by 10Web is easy and quick.
This free WordPress slider plugin offers support for custom CSS, allowing you to design your sliders manually.
For this reason, Slider by 10Web is a high-quality and powerful plugin that is perfect for experienced WordPress users. (Beginners, you're welcome to use it, TOO!)
Slider by 10Web features:
40,000+ active installations
4.5/5 ratings
Supports custom CSS
Endless styling options
SEO-friendly
MORE INFO / DOWNLOAD
12. Product Slider for WooCommerce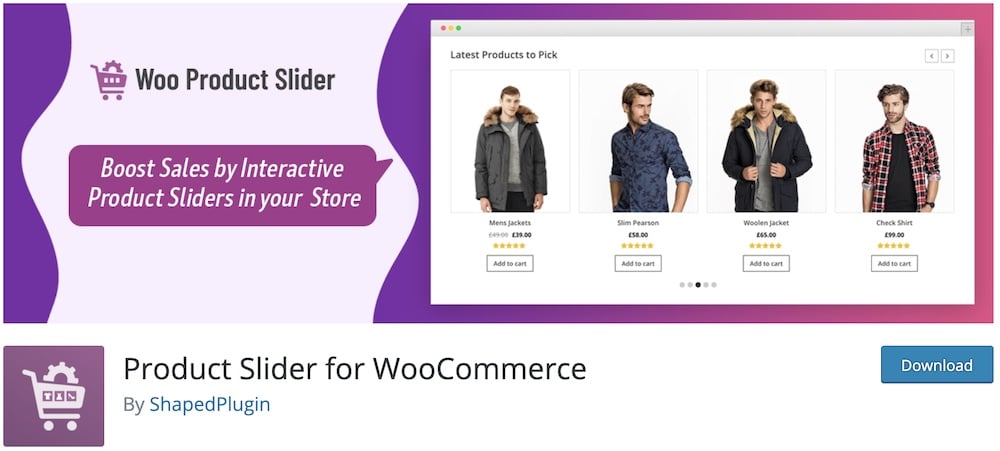 Like the Soliloquy plugin reviewed above, our last suggestion is perfect for WooCommerce product sliders.
You can easily create appealing and attractive product carousels for your online store with this plugin.
This free slider plugin for WordPress has an easy-to-use shortcode generator and a great user interface. We really like how clean its sliders/designs look.
We RECOMMEND this plugin for modern-style WooCommerce stores.
With 3 pre-built themes and plenty of customization options (font, maximum number of products, show/hide price and more), there's nothing this plugin can not do.
Product Slider for WooCommerce features:
20,000+ active installations
4.7/5 ratings
Ideal for WooCommerce
Works with RTL languages
Autoplay speed control
MORE INFO / DOWNLOAD