Are you looking for the best WordPress eCommerce plugins? We understand why.
Such plugins are the best way to ORGANIZE your e-store and IMPROVE the overall customer experience you provide.
There are a lot of amazing plugins out there which could turn your eCommerce website into a top-tier choice for a ton of users.
We researched and tested 50+ eCommerce plugins to create this ultimate list.
These plugins provide ALL the features to improve your website regardless of the products you're selling. (We use them for digital and physical items!)
This post covers:
We improved 30+ eCommerce websites with these, so we know they'll help boost performance.
Make. It. Hot.
THE ULTIMATE 10:
Are you installing a WP plugin for the first time? Then read our guide on how to install a WordPress plugin successfully.
Top Tested WordPress Ecommerce Plugins
1. WooCommerce Recover Abandoned Cart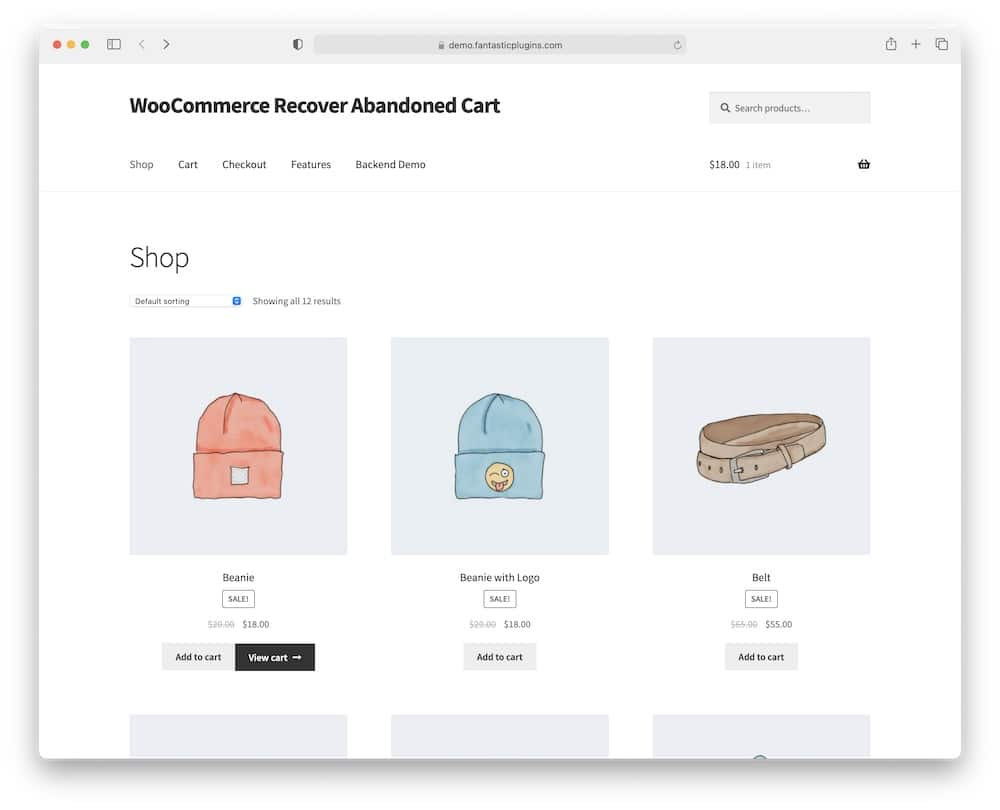 Abandoned carts are a pretty common issue for eCommerce sites. Luckily, you make things work out in your favor with WooCommerce Recover Abandoned Cart!
We have used this one at least twenty times and it always worked so well for our clients.
You can recover carts and transform them into conversions easily with this premium WordPress eCommerce plugin. It automatically sends emails when a user abandons their cart.
You can import a link or a coupon to these emails to get customers back to your site. (And complete the order!)
DON'T struggle with abandoned carts anymore and recover them smoothly.
WooCommerce Recover Abandoned Cart features:
4,800+ sales
4.7/5 ratings
Multiple email templates
Compatible with WP translation plugins
Price: $49 (may vary)
MORE INFO / DOWNLOAD
2. HUSKY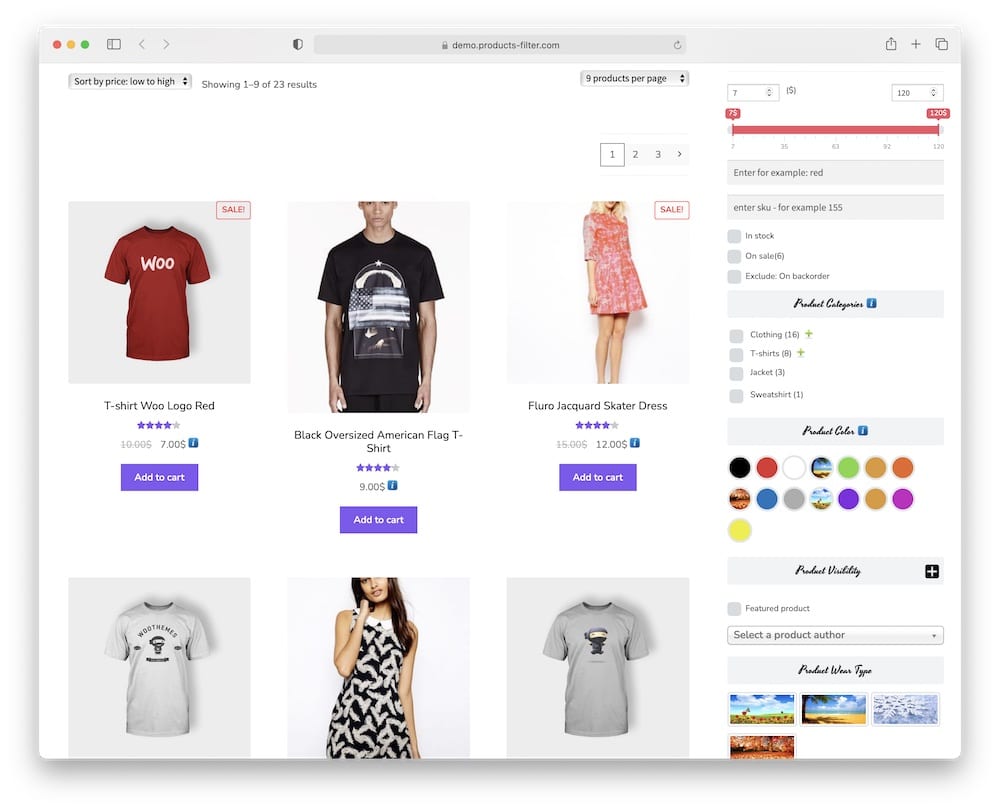 Are you tired of the standard WooCommerce search options? HUSKY is a powerful plugin that increases the functionalities of your search feature.
Every time we improved an online store's search with HUSKY, the conversions increased.
You can provide your users with the ability to search products by tags, categories, meta fields, product prices and more with this WordPress eCommerce plugin.
HUSKY uses WordPress AJAX technology to search for finding products quicker.
Create a more reliable and comprehensive search feature and BOOST sales.
HUSKY features:
14,800+ sales
4.8/5 ratings
Comprehensive statistics
Price: $42 (may vary)
MORE INFO / DOWNLOAD
3. CURCY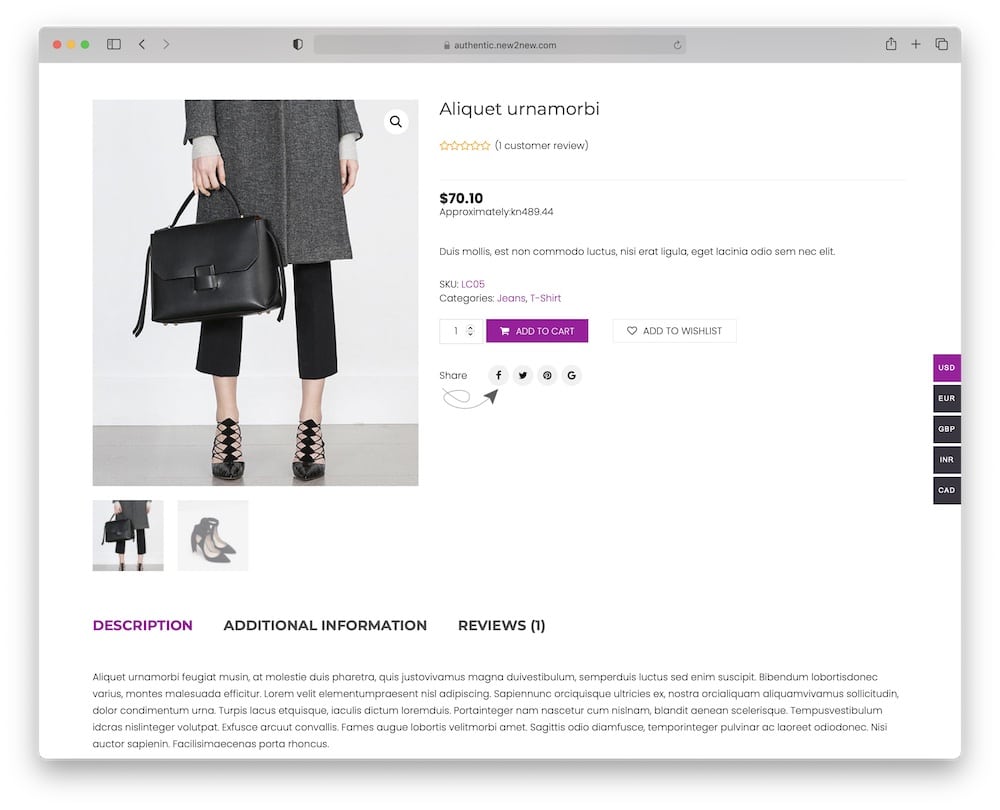 CURCY is a must-have plugin for your eCommerce site. It allows you to switch between currencies and start accepting payments in multi-currency.
Hurray for the global experience!
This WordPress eCommerce plugin can automatically set up the exchange rate, but you can do it manually, too.
CURCY automatically captures the customer's location and shows the price in their native currency.
So. Convenient.
Extend your currency base and help every user figure out pricing on the spot.
We highly recommend it.
CURCY features:
11,300+ sales
4.9/5 ratings
Friendly interface
GEO detector
Price: $34 (may vary)
MORE INFO / DOWNLOAD
4. Subscriptio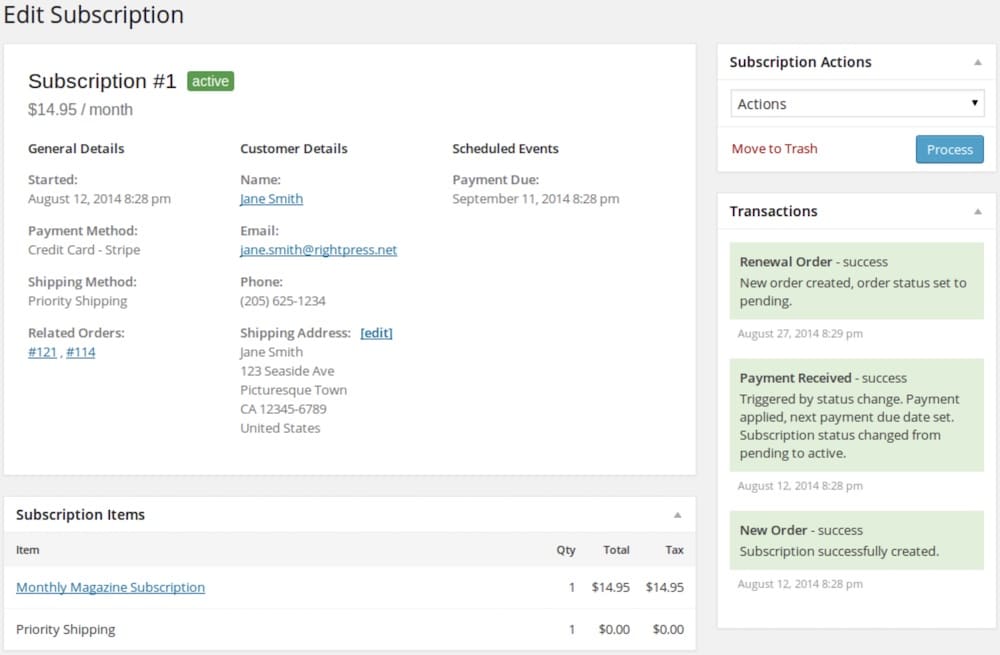 Subscriptio is a powerful premium WordPress eCommerce plugin to add a subscription function to your eCommerce site.
This allows you to sell online memberships, e-learning packages, magazine subscriptions, etc. We quickly set up a payment cycle, free trial, setup fee, etc.
It's effortless.
Subscriptio is OUR FAV option to add a subscription function and start selling tangible and intangible products.
Subscriptio features:
7,500+ sales
4.2/5 ratings
Supports Stripe & PayPal (we also have a list of the best WordPress PayPal plugins)
Pause, resume & cancel option
Price: $69 (may vary)
MORE INFO / DOWNLOAD
5. WooCommerce Extra Product Options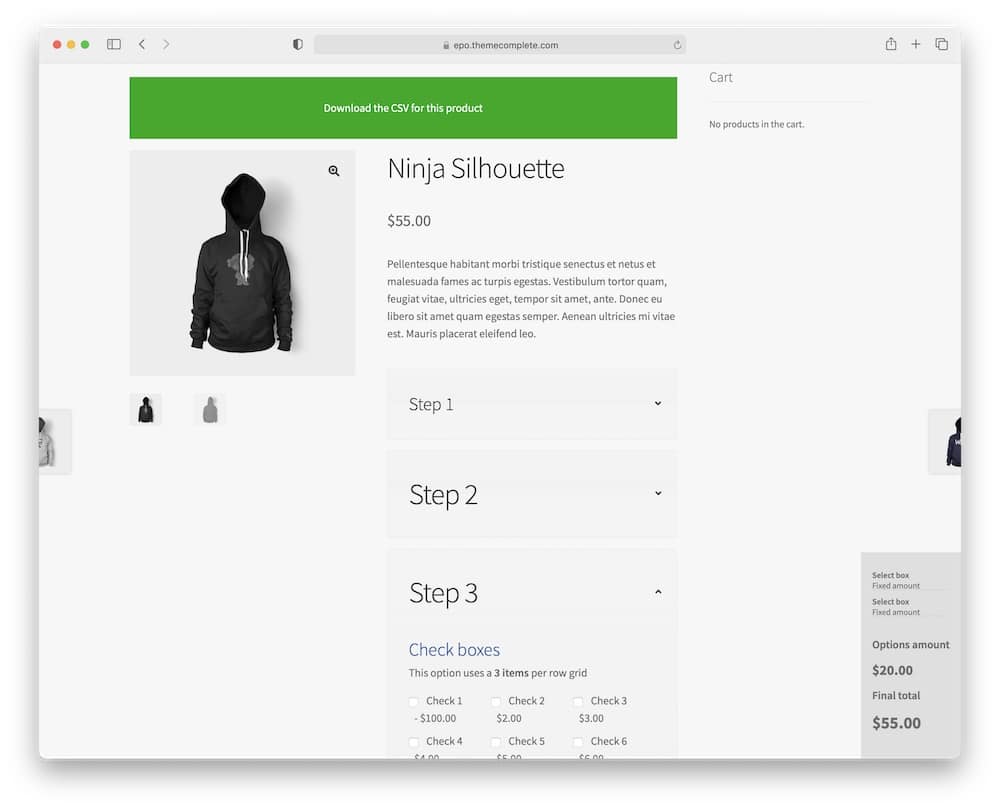 If you are looking for a way to BOOST the current functionality of your WooCommerce products with extra product options, this is the tool that makes it happen.
This WordPress eCommerce plugin allows you to create priced product options, conditional logic, validate features, swatches, and more.
Plus, you can control your new fields' placement, lazy load images, hide/show prices, etc.
WooCommerce Extra Product Options is a powerful tool that provides you with many great new product functionalities.
Extra Product Options features:
32,700+ sales
4.8/5 ratings
Regular updates
Easy upload manager
Price: $49 (may vary)
MORE INFO / DOWNLOAD
Best Free WordPress Ecommerce Plugins
6. WooCommerce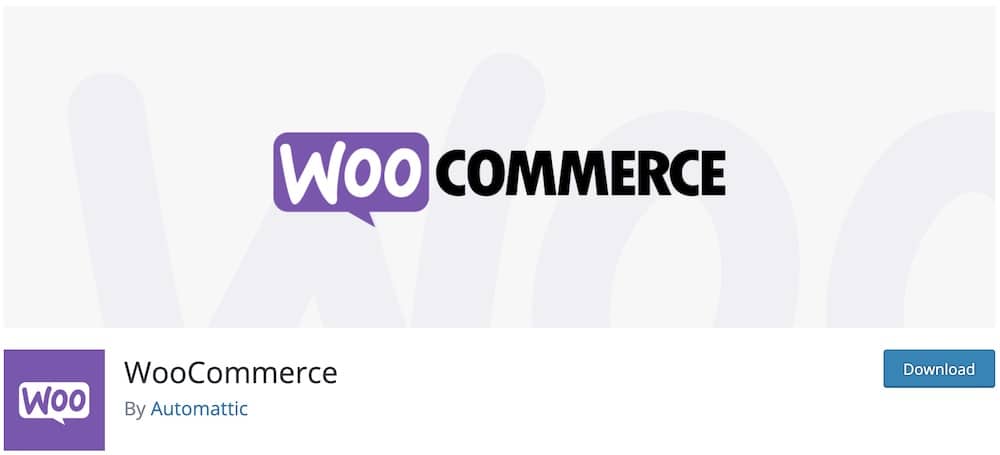 If you are not familiar with WooCommerce, we will just say that it is one of the most famous of WordPress eCommerce plugins.
(But really, you're doing something wrong if the first time hearing of WooCommerce. Just kidding 🙂 )
WooCommerce is our best way to turn a WordPress website into an eCommerce store.
You can create a store for your website with five products to sell or thousands with this plugin.
WooCommerce is compatible with any WordPress theme (even blog and portfolio themes!).
Yes, WooCommerce is the king of eCommerce plugins. If you want to create an eCommerce store, THIS IS IT!
Note: Check out our collection of the best free WooCommerce plugins.
WooCommerce features:
5+ million active installations
4.5/5 ratings
Easy to use
A lot of great extensions
Supports major payment gateways
MORE INFO / DOWNLOAD
7. Table Rate Shipping Method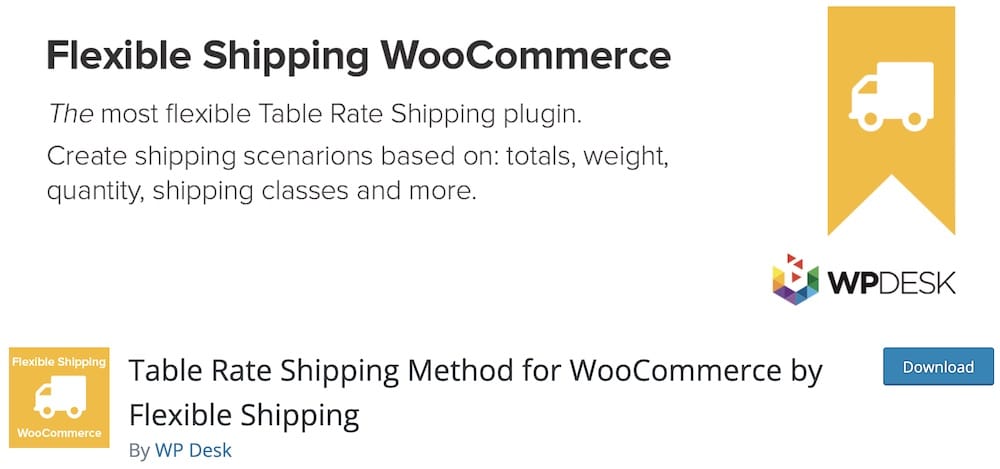 Table Rate Shipping Method is our go-to solution when it comes to shipping (do you need more WooCommerce shipping plugin alternatives). It allows you to set shipping costs based on multiple factors.
It can calculate shipping costs based on cart weight, cart total, and categories. Besides that, you can create a shipping cost based on cash on delivery.
TRSM is the best plugin if you require more room to adjust shipping based on different conditions.
Table Rate Shipping Method features:
100,000+ active installations
4.9/5 ratings
Great support
Free shipping override
Unlimited shipping methods
MORE INFO / DOWNLOAD
8. Easy Digital Downloads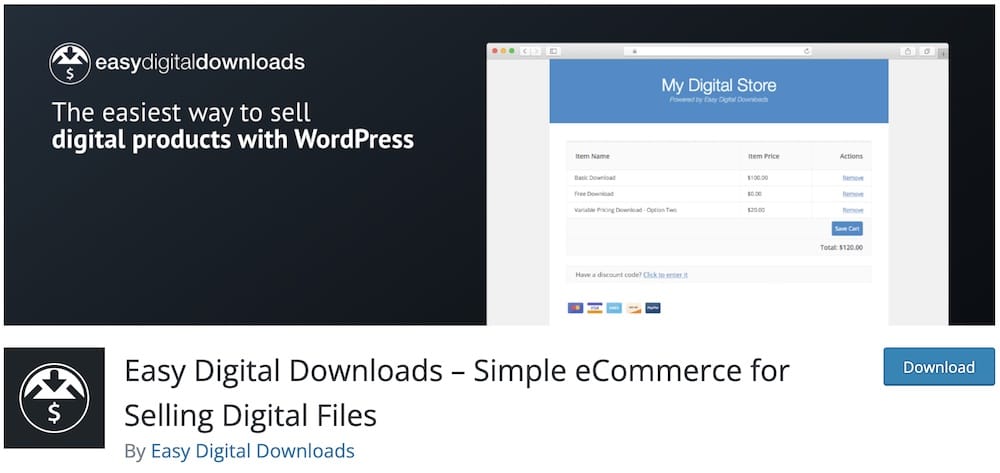 Would you like to sell (or offer for free) digital products on your WordPress website?
Easy Digital Downloads is the way to go regardless of your digital and downloadable items.
GUARANTEE!
The plugin interface is spotless, which helps your customers buy your products quickly.
If you are looking for a way to sell products like ebooks, audio clips, PDF files, and more, Easy Digital Downloads is the best option for you.
We never use any other plugin for digital products.
Easy Digital Downloads features:
50,000+ active installations
4.7/5 ratings
Complete shopping cart & checkout
Optional discount codes
Compatible with any WP theme
MORE INFO / DOWNLOAD
9. Ecwid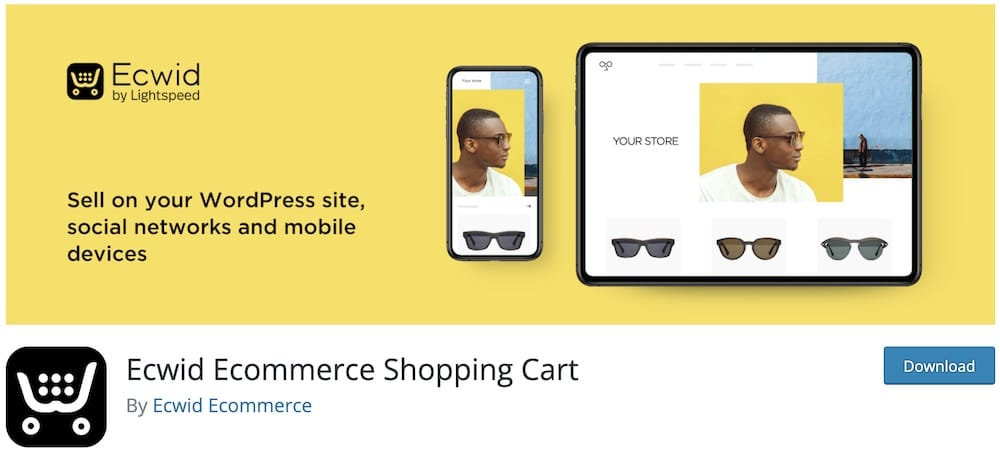 Ecwid is another great WordPress eCommerce plugin that handles everything if you want to add an online store to your website.
You can also use Ecwid to sell your products on Facebook and Instagram. And it supports 40+ payment options (like Stripe, PayPal, etc.).
Ecwid is a powerful choice to start selling products and creating an eCommerce site – even if it's your first one. GO!
Ecwid features:
30,000+ active installations
4.5/5 ratings
Mobile app
Fully responsive
Unlimited storage
MORE INFO / DOWNLOAD
10. Dokan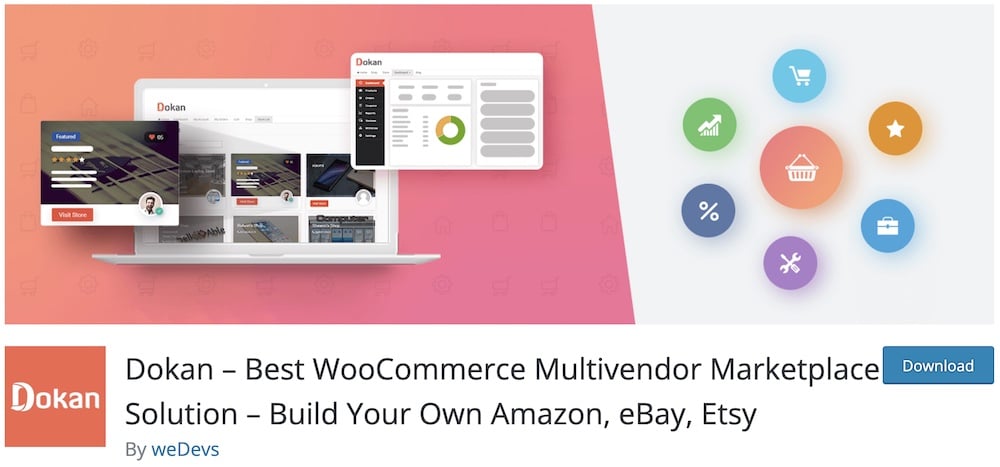 For our last choice for this list we have Dokan. I know many of you are looking to build a marketplace, and that's exactly what this free WordPress eCommerce plugin offers.
You can create web platforms similar to Shopify, eBay, Amazon, and more in a breeze.
Selling digital, physical and variable products has never been SO EASY.
Dokan is still the best solution you can get your hands on after testing multiple marketplace and multivendor plugins.
Hint: You can also start with a marketplace WordPress theme and save even more time!
Dokan features:
60,000+ active installations
4.5/5 ratings
Frequent updates & improvements
0 coding necessary
Front-end dashboard
MORE INFO / DOWNLOAD
How To Choose The Best WordPress eCommerce Plugin?
It's important to know how to look for a good plugin, whether you're choosing a free or a premium one.
Because hey (!), you can still come across an unreliable plugin more often than not. This is why we needed to test 50+ and ended up with ten of the best.
5 Key factors of a great eCommerce plugin for your WordPress site
Compatibility with the latest WordPress version is a must because you don't want to come across any inconveniences. This is why it's important that you always seek plugins with regular updates.
It's also necessary that the plugin is compatible with WooCommerce or any other tools you plan to use for your eCommerce website.
Additionally, the plugin must not slow down your website. For this reason, we installed and tested all these plugins on our demo website to ensure they don't add unnecessary bloat to the site.
Great documentation and support are key characteristics of every high-quality plugin. These two are especially helpful if you are a beginner.
Also, your initial analysis should involve checking overall star ratings and reading through user reviews. (We should put this first because it's the number one thing we do when curating a list of the best products.)
Now consider the features and elements you require for your eCommerce website, pick the plugin(s) you need and take your business to the next level.
::
Note: This article was originally published on April 20, 2022. But our team regularly reviews it and updates it with necessary improvements for accuracy.