Are you searching for the best free and premium WordPress live streaming plugins to broadcast directly on your website?
A live stream is the best way to interact with your target audience.
We TESTED it. It WORKS.
Do you own a small travel blog or a huge business?
It looks like you are interested in incorporating a new marketing strategy – live streaming.
This post covers:
Our top picks will help you connect with your audience much deeper.
You can integrate your live videos from YouTube, Facebook, Instagram and so on with these plugins.
All plugins we tested are (VERY!) beginner-friendly. (0 experience necessary.)
You can live stream on WordPress EASILY.
Premium & Free WordPress Live Streaming Plugins
1. Bzplayer Pro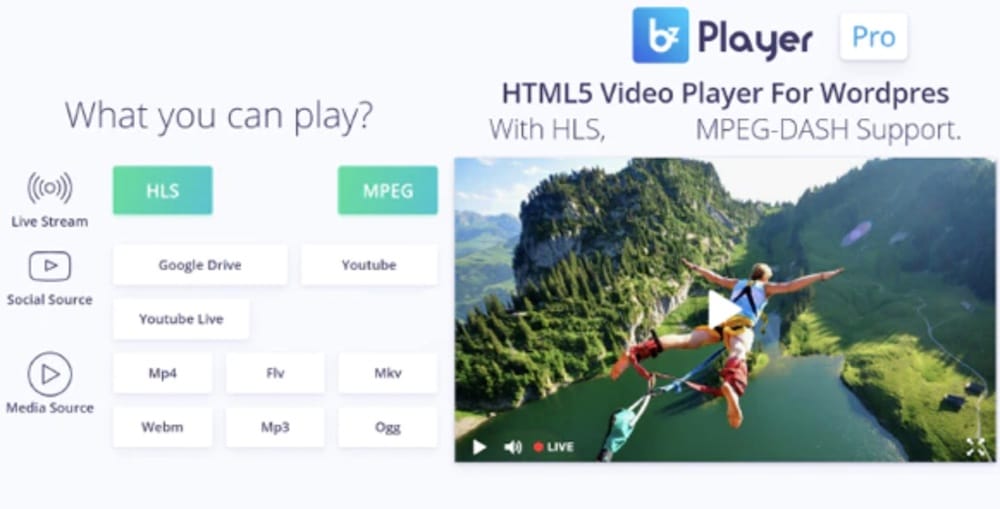 Bzplayer Pro has been on the market since 2017 and has always been one of the most popular solutions. There are MANY reasons why this streaming plugin is in the first place on our list.
Bzplayer Pro allows you to embed videos from Google Drive and Youtube as an all-around plugin. The plugin is automatically added to the WordPress editor after installation.
Besides live streams (HLS and MPEG), you can play your videos and audios by simply adding the shortcode directly in the editor.
All videos added on Bzplayer are ad-enabled and can be connected to Adsense or any other ad provider.
In a few words, Bzplayer Pro has all the basic and advanced features you or your client need from a live streaming plugin.
Bzplayer Pro features:
1,100+ sales
4.1+ star rating
HLS & MPEG live streaming
Amazing support
Price: $21 (may vary)
MORE INFO / DOWNLOAD
2. Modern Audio Player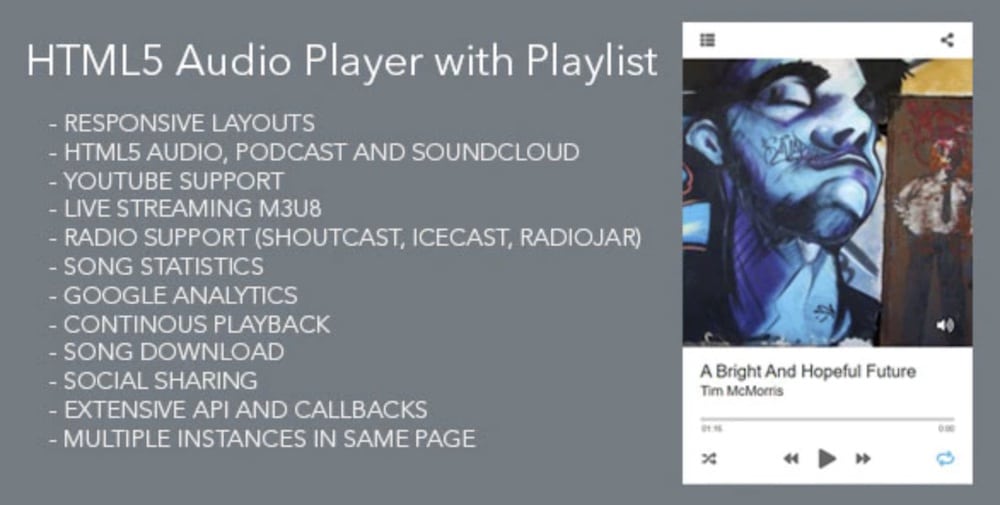 Tean has created one of the best WordPress live streaming plugins we have ever tested. This is reflected in the plugin's excellent reviews.
There is SIMPLY nothing Modern Audio Player can not do.
The plugin has one of the most comprehensive playlists we could find.
Besides songs and audios of any kind, you can upload any Apple HLS live stream, M3U8, YouTube, radio stations, and more.
The plugin works as a simple WP audio player and a live stream player.
Modern Audio Player is also relatively easy to use. The only downside is that it is noticeably more expensive than Bzplayer Pro.
Modern Audio Player features:
580+ sales
5-star rating
Full Apple support (iTunes, HLS Live Streams)
Perfect for podcasts (you can also check our WordPress podcast plugins for more options)
Price: $59 (may vary)
MORE INFO / DOWNLOAD
3. YouLive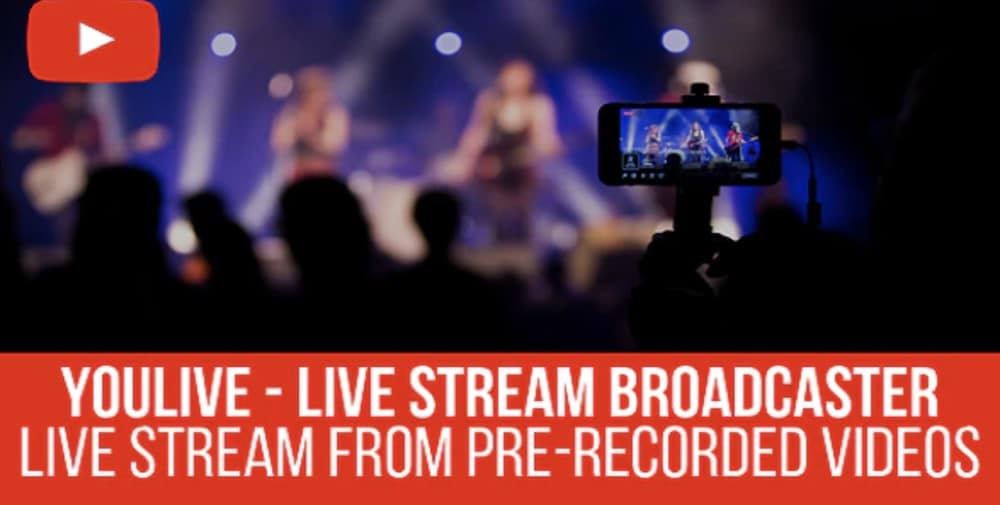 If you want a way to connect your YouTube channel to your WordPress website, YouLive is a smart solution.
But, what does this plugin actually do?
Well, YouLive allows you to create a video and then show it on your YouTube channel as a live stream.
This is a BRILLIANT way to engage with your YouTube and WordPress audience with just one click.
YouLive is also a smart way to drive traffic to your YouTube channel through WordPress.
This is one of the most beginner-friendly WordPress live streaming plugins we have tested. The process is extremely quick and easy.
Just hit publish and your video will automatically stream to both YouTube and WordPress.
That's it!
YouLive features:
20+ sales
4.5+ star rating
You can stream pre-recorded videos
Great for live events (do you also need a WP event registration plugin?)
Price: $39 (may vary)
MORE INFO / DOWNLOAD
4. Modern Video Player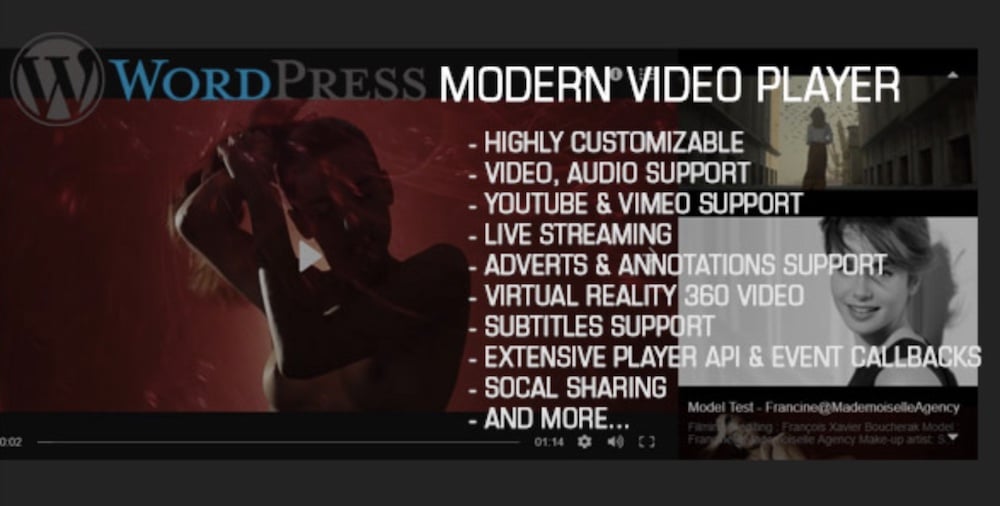 In addition to the SUCCESSFUL Modern Audio Player (above), Tean has also developed the amazing Modern Video Player.
However, since the Modern Audio Player allows you to stream videos live, what is the difference between them?
This WordPress live streaming plugin is specifically designed for those of you who prefer streaming videos over audio.
Therefore, the main difference between the two plugins is their target audience.
For example, Modern Video Player allows you to live stream numerous video formats (Apple HLS, MPEG Dash, 360 VR videos and more).
Apart from that, the reliability and general support of the plugin are always of high quality.
Modern Video Player features:
420+ sales
5-star rating
Numerous playback options
Price: $49 (may vary)
MORE INFO / DOWNLOAD
5. Easy Video Player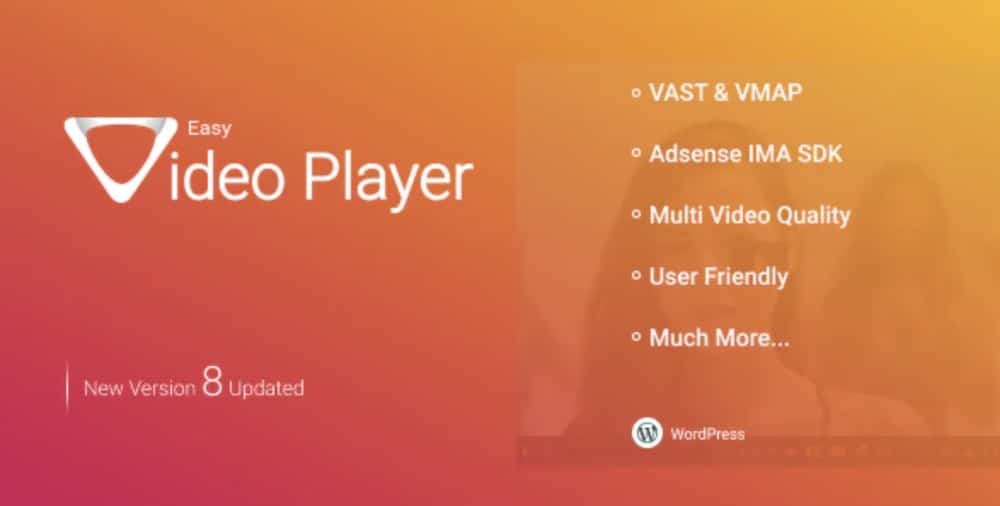 As the name suggests, Easy Video Player is designed for those looking for a beginner-friendly WordPress live streaming plugin.
However, that does not mean that this plugin is not a good solution for businesses as well.
It surprised us in many ways.
In fact, Easy Video Player has all the essential live streaming features, plus several advanced features.
For example, it allows you to integrate ads and subtitles and works great on any device.
Easy Video Player supports both HLS and M3U8 video formats regarding live streaming.
We recommend it after using it on three clients' websites.
Easy Video Player features:
770+ sales
4.5+ star rating
Built-in advertising options
Full WooCommerce support
Price: $69 (may vary)
MORE INFO / DOWNLOAD
6. MultiLive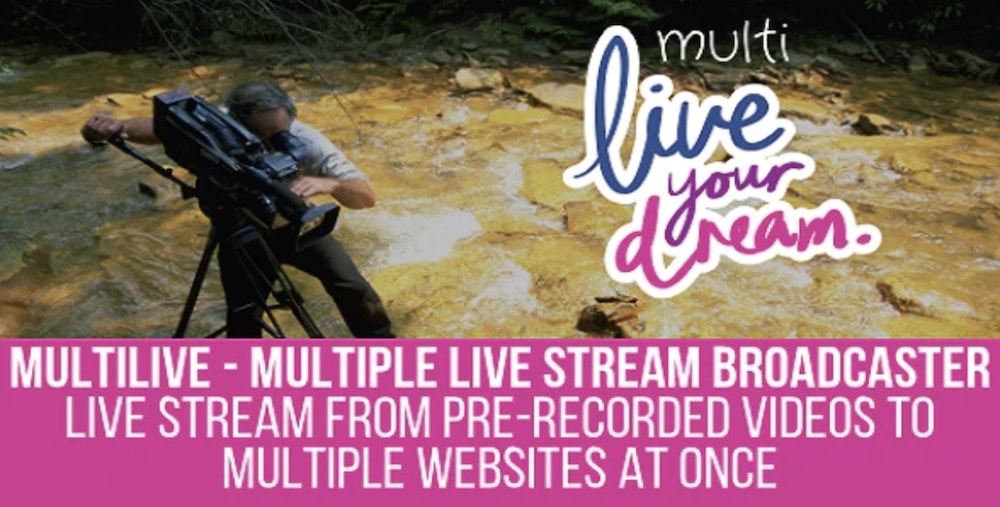 MultiLive is a brilliant solution for anyone looking for a live stream broadcaster for pre-recorded videos.
This WordPress streaming plugin allows you to share your videos on multiple platforms.
The plugin supports integration with YouTube, Facebook, TikTok, Vimeo, Twitch, and more.
We had no issues using MultiLive for MULTIPLE clients and found this WP plugin easy to install and use.
Finally, CodeRevolution is so confident that you will be happy with their plugin that they offer a free 24-hour trial. (Such legends!)
MultiLive features:
40+ sales
4.5+ star rating
Free trial (!)
Simple embedding process
Price: $39 (may vary)
MORE INFO / DOWNLOAD
Best Free WordPress Live Streaming Plugins
7. Embed Plus for YouTube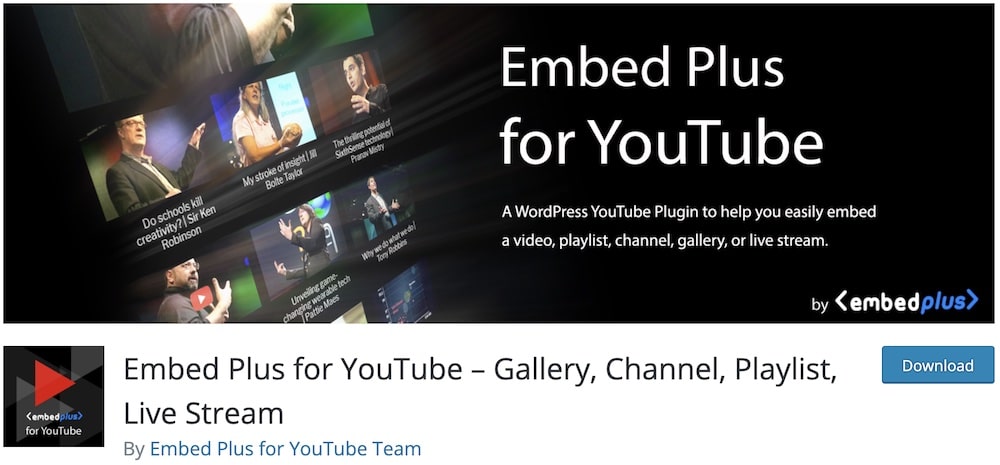 With more than 200k active installs, Ember Plus needs no introduction. This WordPress live streaming plugin has endless possibilities – plus, we found it very easy to use.
The plugin is compatible with NUMEROUS YouTube features: videos, playlists, live streams, galleries, and more.
The whole process is pretty simple; all you need to do is paste a simple shortcode into any page builder (Gutenberg, Elementor, Beaver Builder, etc). That's it!
You just added a video to your site's page or blog post.
Embed Plus features:
200,000+ active installations
4.6/5 ratings
Numerous tutorials & guides
Works with all WP builders
Great solution for YouTube live streams (YT ONLY!)
MORE INFO / DOWNLOAD
8. WpStream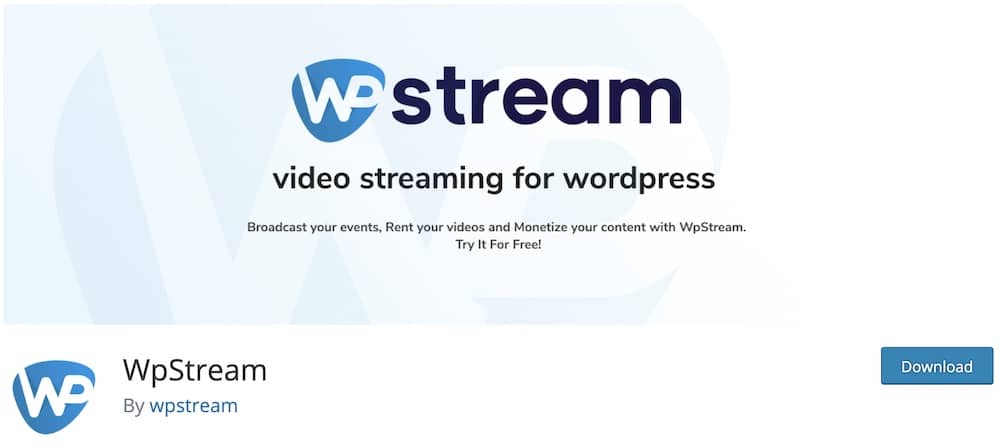 If you are looking for a great business solution for live streaming via WordPress, WpStream is the best way to go.
This free live streaming plugin is specifically designed for those hosting pay-per-view or video-on-demand features.
You can either stream directly from your website or use external software (OBS, Larix, Wirecast, and more) with WpStream.
The WpStream development team provides you with many guides and video tutorials to simplify the entire process. (No NEED for any experience.)
In a few words, WpStream is a great way to monetize your videos and promote them to your target audience.
WpStream features:
5,000+ active installations
4.8/5 ratings
Perfect for Pay Per View & Video On Demand
Full data encryption
Simple publishing process
MORE INFO / DOWNLOAD
9. WebinarPress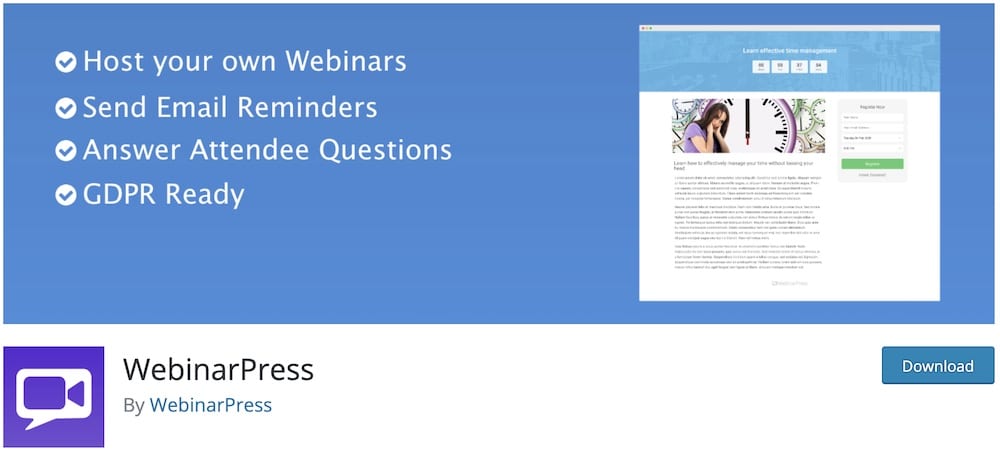 Do you frequently host webinars on your WordPress blog or website?
If so, WebinarPress is a free WordPress live streaming plugin you should definitely try.
Like all of our top picks, WebinarPress has proven to be a reliable solution in our testing. What WebinarPress does is that it acts as a live webinar streaming platform within your website.
So. Cool.
All you need to do is stream a video live or select a pre-recorded one from YouTube, Vimeo or even your own server.
The plugin provides a video tutorial that allows you to set up a STUNNING webinar for your audience easily.
During our review, WebinarPress proved to be very responsive, fully customizable, and for that reason, simply the best plugin on the list for webinars.
WpStream features:
1,000+ active installations
4.3/5 ratings
Ideal for live webinars
Supports replays
Attendee interactions
MORE INFO / DOWNLOAD
10. WP YouTube Live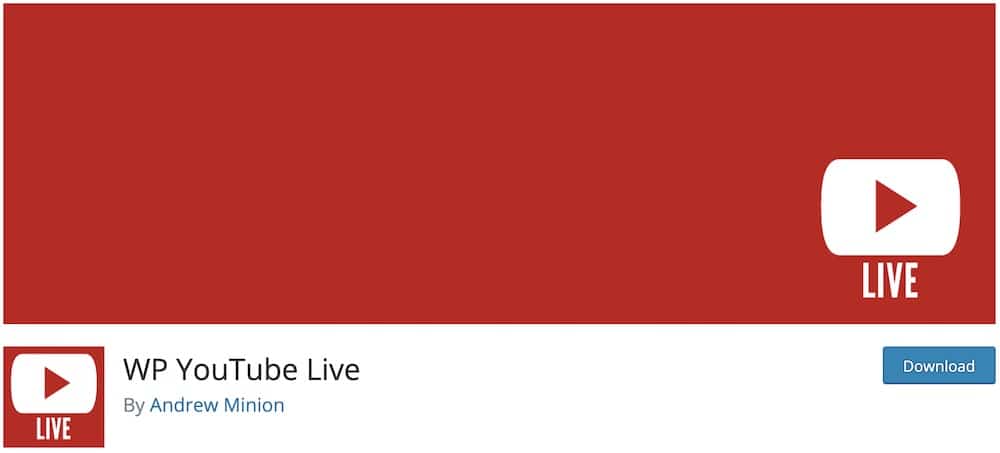 Last but not least, we have WP YouTube Live, a beginner-friendly live streamer.
Although this free streaming plugin only works for YouTube videos and live streams, this might be just what you are looking for.
If that's the case, WP YouTube Live is a great choice.
The plugin is very easy to learn. The plugin automatically updates every 30 seconds to check if you are streaming on YouTube.
When you are not streaming, YOU HAVE the option to showcase all your latest videos. Therefore, this plugin allows you to use its live-streaming player as a video gallery.
WP YouTube Live features:
2,000+ active installations
4.3/5 ratings
Beginner-friendly
Great for showing previous videos (when you're not streaming)
Solid & mobile-ready structure
MORE INFO / DOWNLOAD
How To Choose The Best WordPress Live Streaming Plugin
We want to share with you our process of picking the best plugin for the live stream in case you'll do further research.
These are the five key features we look into when doing the tests:
1. Ease of use
We always want to include plugins that are easy and quick to use – even for a complete beginner. Great interface, fantastic features and easily accessible for quick work. We eliminated many plugins that didn't meet the criteria, featuring only the ones that do.
2. Unlimited live streams
Why limit users and make them leave your live streaming platform early? Offer them unlimited streams from different channels, like YouTube, Facebook, etc.
3. Responsiveness
Nowadays, having a 100% mobile-ready live stream is a must. Remember, more users are viewing live streams on mobile than on desktop, so you know how important responsiveness is.
4. Customizations
A plugin needs to offer great customization functions so you can make it follow your needs and wants and make it blend smoothly into your website's theme. Note: You won't need to code to do any modifications.
5. Monetization options
There always needs to be an option to monetize your live streaming. And even if you don't add advertisements, affiliate links or anything else initially, you'll want to make it happen some time in the future.
Frequently Asked Questions About Live Streams & WordPress
Can you live stream on WordPress?
Yes, you can live stream on WordPress, connecting your website with various channels, like Facebook, YouTube and self-hosted streams.
How do I add live streaming to WordPress?
The easiest and fastest way of adding a live stream to your WordPress website is by using a plugin. It's a safe technique for beginners and is preferred by experts.
How do I embed Facebook live on WordPress?
Embed Facebook live on WordPress with a plugin because it's the most user-friendly way that doesn't require coding. (MultiLive is a great plugin to make it happen.)
How do I stream YouTube to WordPress?
The easiest way of adding a live YouTube stream to your WordPress website is by copying and pasting the YT video stream link in the YouTube block. Note: You must first enable live events on your YouTube settings page. That's it.
::
Note: This article was originally published on September 1, 2021. But our team regularly reviews it and updates it with necessary improvements for accuracy.