We reviewed 40+ free audio player WordPress plugins when working with bands, podcasters, artists, and bloggers.
These 10 are the ultimate!
We put them through a lot of testing (on actual sites & blogs) to ensure you don't make wrong decisions.
The MOST RELIABLE on the market, if you will.
It more or less comes down to what you need. (They all work flawlessly.)
This post covers:
Make playlists, share single tunes and sermons, sell audios or offer free downloads.
IT'S ALL POSSIBLE.
Tune in!
Add Audio With Gutenberg Block
One of the coolest things is that you don't really need a plugin to add audio to your website or blog.
Just use a Gutenberg "Audio" block! (Plus, you can also create a WP widget.)
However, this is a basic audio player, so if you need any extra features, skip this part and choose a free plugin below.
How To Add An Audio To WordPress With Gutenberg:
First, open the Gutenberg Block editor – either on your page or post.
Second, click the "+" button to add a new block.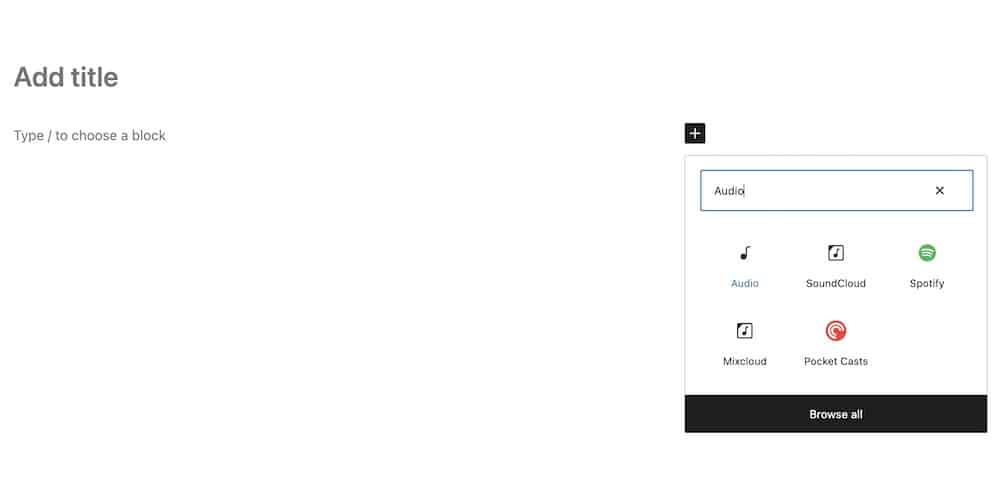 Third, type "Audio" in the search and select the block.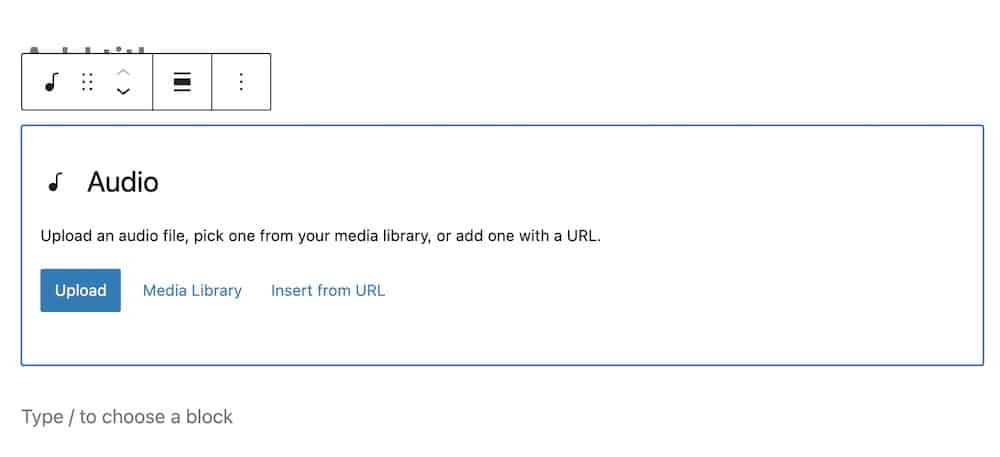 Fourth, upload your audio file and adjust settings, like autoplay or loop.

Fifth, that's it!
QUICK-PICK: Best Free WP Audio Player Plugins
Before you continue, you may also want to check our guide on installing a WordPress plugin for beginners.
Best Free WordPress Audio Player Plugins
Not everyone is satisfied with WordPress's default audio player and the possible integration via a shortcode.
That's when these plugins come into play.
Take WordPress music TO THE NEXT LEVEL.
1. AudioIgniter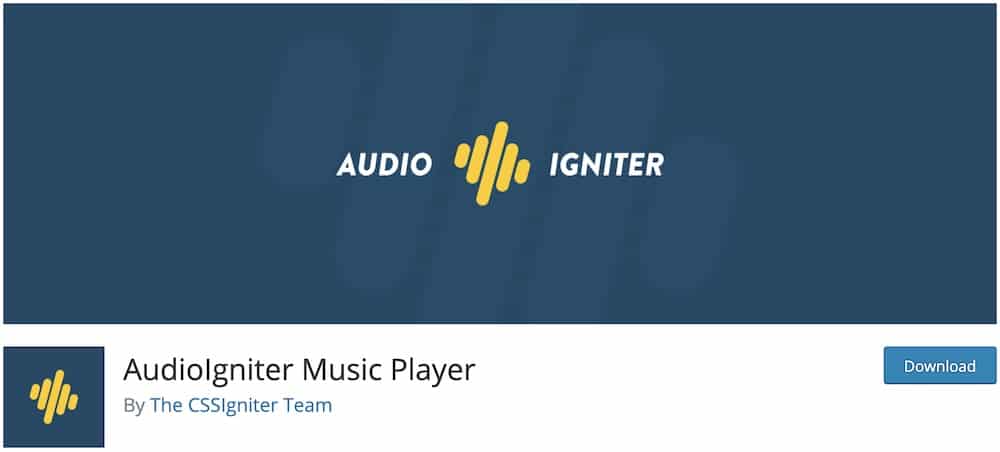 AudioIgniter is one of the more popular WordPress plugins that handles music easily.
You can create playlists like a champ even if you haven't created one yet.
You can use the default WordPress upload function. AudioIgniter takes things to an ENTIRELY DIFFERENT DEGREE from then on.
Make a playlist of songs or podcasts; heck, you can even stream a radio show.
How cool is that?
We absolutely enjoyed adding it to three of our blogs. Even used it for one podcaster and one band client.
Remember, artists can combine AudioIgniter with WooCommerce to sell music.
AudioIgniter features:
10,000+ active installations
4.7/5 ratings
Selling & streaming
Works with any modern WP theme
Multiple designs
MORE INFO / DOWNLOAD
2. HTML5 Audio Player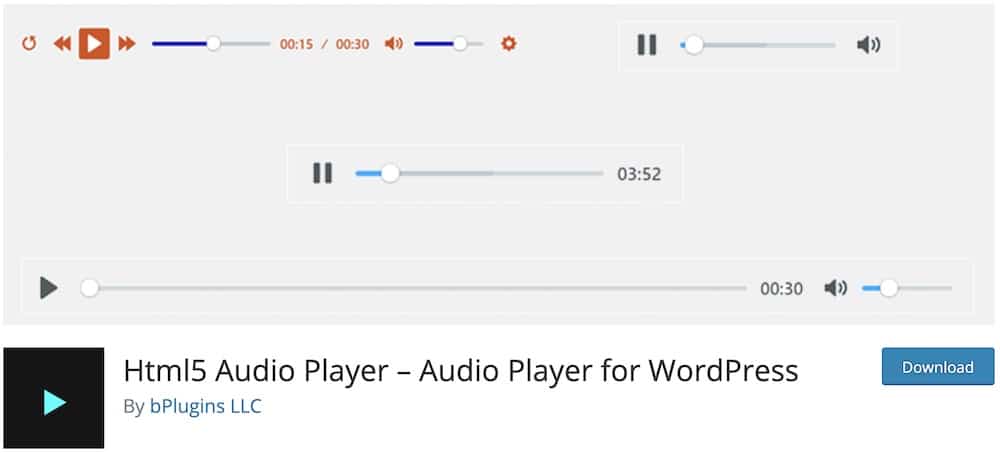 This free audio player WordPress themes supports all the more popular music files. The SIMPLICITY is what we especially like about HTML5 Audio Player.
This is the solution you should opt for if you like it minimal.
HTML5 Audio Player has great customization functions without the need to do any coding.
You can tailor it to your website and project's regulations at free will.
But really, you won't have to. Why?
The cleanness of its design effortlessly integrates into different themes for your convenience.
You can now insert an audio player pretty much anywhere on your website or blog. In this instance, we went for widget areas (sidebar and footer).
HTML5 Audio Player features:
10,000+ active installations
4.8/5 ratings
Compact (takes little space)
100% responsive
Video tutorial
MORE INFO / DOWNLOAD
3. Music Player for WooCommerce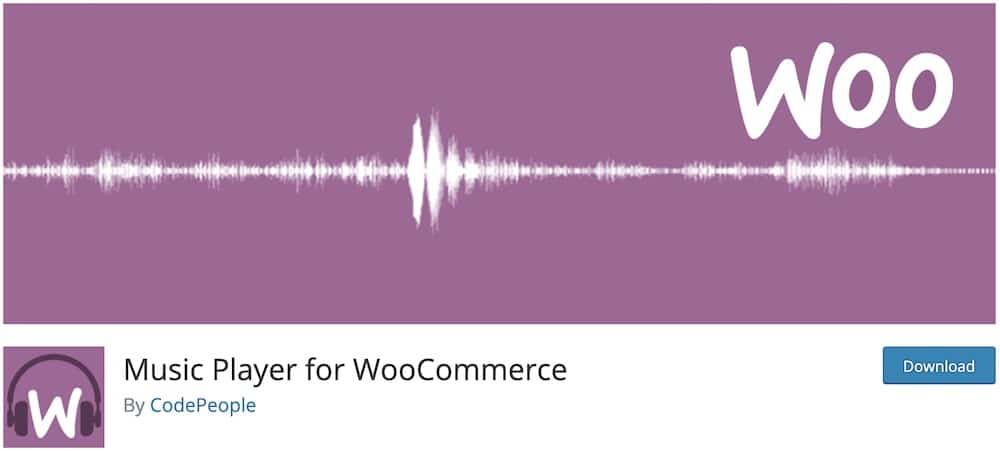 Even though other free music player WordPress plugins on this list work with WooCommerce, this is an exclusive.
However, it doesn't necessarily mean it works better than the others.
BUT.
If you work with Dokan or WCFM marketplace, I'd say go with this one.
Still, it's free, and others are, too, so you have nothing to lose if you do some testing.
We made sure to add only powerful and compatible plugins, and this one is NO DIFFERENT.
The player supports multiple audio formats, features several controls and includes a playlist generator.
Music Player for WooCommerce features:
2,000+ active installations
4.8/5 ratings
Playlist (+ shortcode)
Compatible with WP page builders
Works with Google Analytics
MORE INFO / DOWNLOAD
4. Music Player for Elementor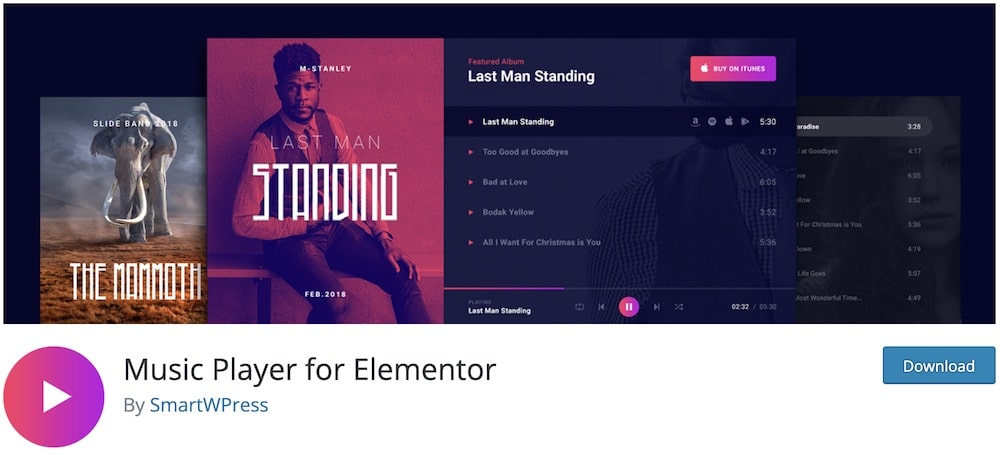 We wanted to include an audio player plugin for Elementor, too, because of its popularity.
After all, we used it many times, so it makes sense to share it with you. Sharing single tunes, playlists and full albums becomes a piece of cake with this one.
Why would you even want to complicate and build a player from scratch?
Save time yet still achieve a SUPERB outcome!
This free music player is for everyone! Bands, DJs, recording studios, digital marketplaces, online music stores, etc.
Enjoy including tunes on your website like never before.
Music Player for Elementor features:
8,000+ active installations
5/5 ratings
Install & activate (that's it!)
Editable layout
Promotional links
MORE INFO / DOWNLOAD
5.Compact WP Player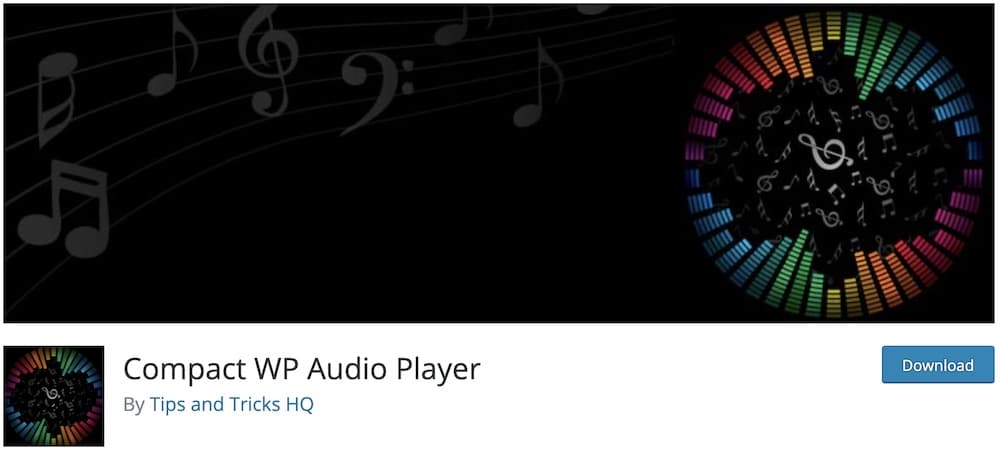 Compact WP Player is no stranger to delivering a spectacular online music listening. Podcasts as well!
This free WordPress audio player plugin is stuffed with goodies that do you well.
It doesn't matter what type of website you run, what theme you use, what builder you have activated – Compact WP Player WORKS in every instance!
One core specialty of Compact WP Player is, well, that it's COMPACT. It won't cause any distraction, rather enhance your website's experience.
Our clients happily shared how much their users enjoy the player on their websites.
You and your users/visitors will, too!
Compact WP Player features:
30,000+ active installations
4/5 ratings
Works with iOS devices
Can start automatically (autoplay)
Plays audios based on the device
MORE INFO / DOWNLOAD
6. CP Media Player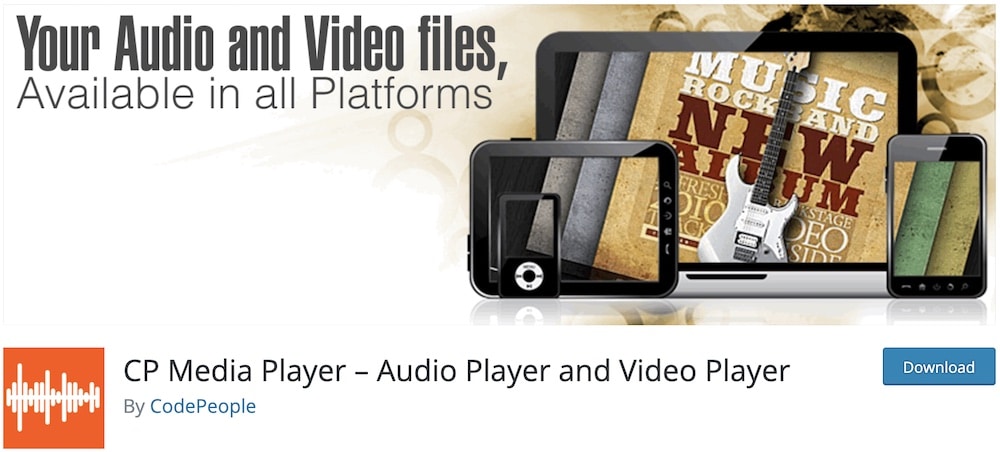 CP Media Player gives you everything you need to publish and play audio content on EVERY website or blog. You can share single tunes and podcasts or create playlists.
And you need 0 coding and design experience.
This came perfectly when we used the plugin to teach a small group of individuals how to create a music-related website.
(But you can use other plugins in this collection comfortably with no experience as well.)
Another specialty of CP Media Player is the option to create a video player.
The options are very many for a WordPress plugin that costs you nothing.
CP Media Player features:
4,000+ active installations
4.3/5 ratings
Audio & video files
Works on iOS & Android devices
Ready-to-use samples (skins)
MORE INFO / DOWNLOAD
7. Meks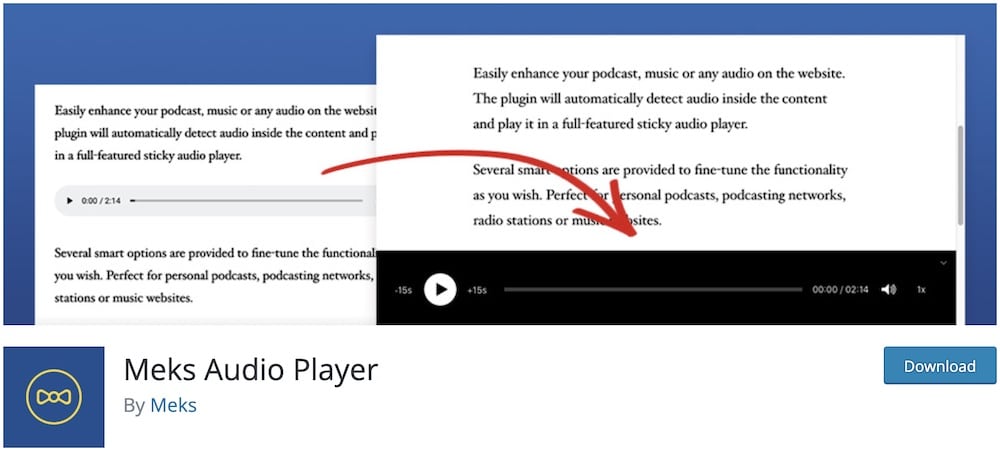 In the beginning, we used Meks quite a lot, but later discovered other great free WordPress audio plugins.
Note: We still come back to Meks from time to time.
This plugin initially came with the Megaphone theme, but the author later made it available to everyone.
THANKS!
It's a pretty clean sticky audio player that instantly detects files inside your WordPress media. It can, of course, play music automatically.
But there are all these other features and functions you can activate.
Meks makes sure everyone gets the most out of it, creating an audio player that's exactly to your liking.
WHICH. YOU. WILL.
Meks features:
2,000+ active installations
4.8/5 ratings
Podcasts
Music, bands & artists
Radio stations
MORE INFO / DOWNLOAD
8. MP3 Music Player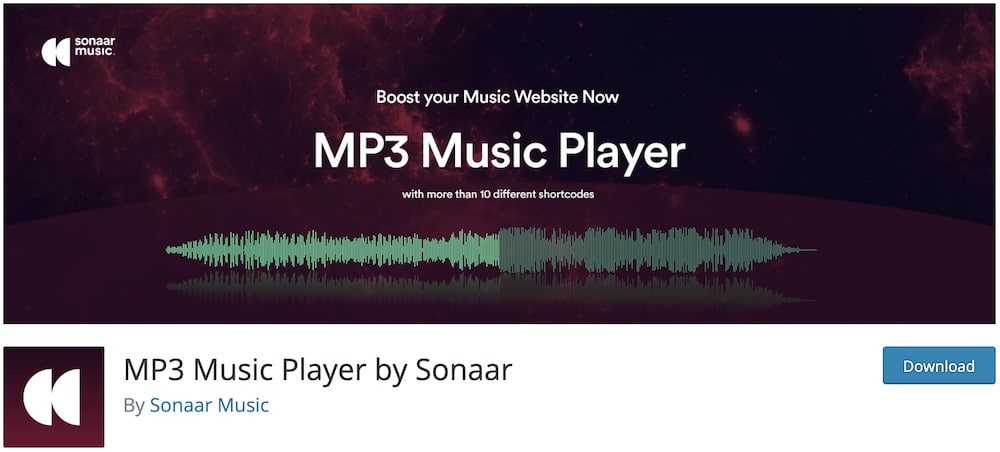 You don't really need an introduction when it comes to this powerful free WordPress audio player plugin.
We tested it on 10 different websites and blogs just to make sure it's safe to include it.
One thing is for certain: It works fantastically well!
I HIGHLY advise you to go with MP3 Music Player if you still haven't find the right music player widget for your page.
Whether you work with WordPress's native editor or use a 3rd-party page builder, MP3 Music Player functions great on every occasion.
Cool pro feature: You can create bulk playlists.
MP3 Music Player features:
20,000+ active installations
4.9/5 ratings
Cool waveform bar
Download button (songs & albums)
MORE INFO / DOWNLOAD
9. PowerPress (for podcasting)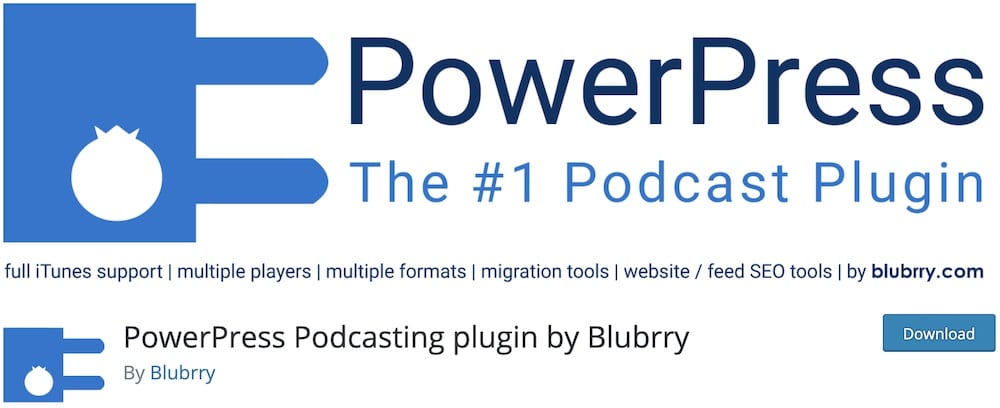 You cannot get a better one than PowerPress if you are particularly searching for a free WordPress podcasting plugin.
You know immediately that this tool is doing something right with its 50k+ downloads.
You couldn't be more right.
With such popularity, we needed to test it ourselves. We enjoyed using all the available features. Actually, we didn't, because there really are many of them that we did not need.
But maybe YOU WILL!
PowerPress supports all the popular podcasting platforms. Moreover, if you (decide to) work with Blubrry, you can upload your own files at free will.
PowerPress also supports quick and easy migrations from other platforms.
PowerPress features:
40,000+ active installations
4.6/5 ratings
Works with audios & videos
Subscriptions
Translatable & emoji compatible
MORE INFO / DOWNLOAD
10. Bonus: HTML5 Video Player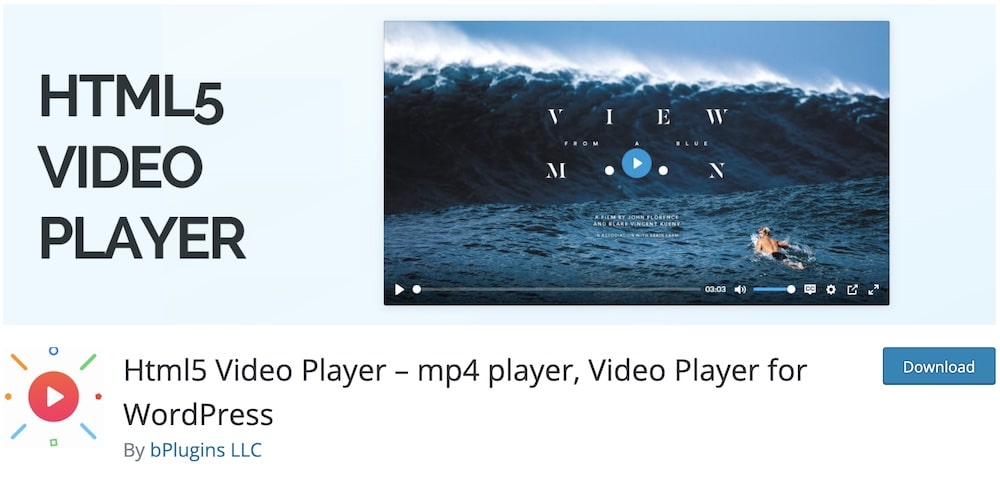 Okay, this one goes slightly against the grain. It's not a free WordPress audio player plugin, but a video one.
Even though you can create video players with other plugins on this list, we wanted to add an EXCLUSIVE one as a bonus.
HTML5 Video Player is minimal, lightweight and compact.
It integrates with any website smoothly and doesn't really slow down the performance (read: loading speed).
You can add a video player anywhere you want with this plugin. The main area of your website or blog or widget area – ENGAGE YOUR USERS.
Enjoy the smooth inclusion.
Plugin features:
20,000+ active installations
4.9/5 ratings
Gutenberg block
Add unlimited videos
Autoplay
MORE INFO / DOWNLOAD
::
Note: This article was originally published on July 18, 2021. But our team regularly reviews it and updates it with necessary improvements for accuracy.