We spent two years testing the best marketplace WordPress themes, and I'm excited to share with you the top performers.
You can use these for any marketplace, whether you'd like to sell physical or digital items, create a platform for freelancers or events.
It's. All. POSSIBLE.
(Multi-vendor marketplaces, too!)
And you don't need any experience to achieve the best results.
Plus, it'll happen very fast with little effort. Exactly how I like it best.
This post covers:
You have everything you need to build (the exact) marketplace website you want.
THE ULTIMATE 10:
Best Marketplace WordPress Themes (Tested!)
1. Martfury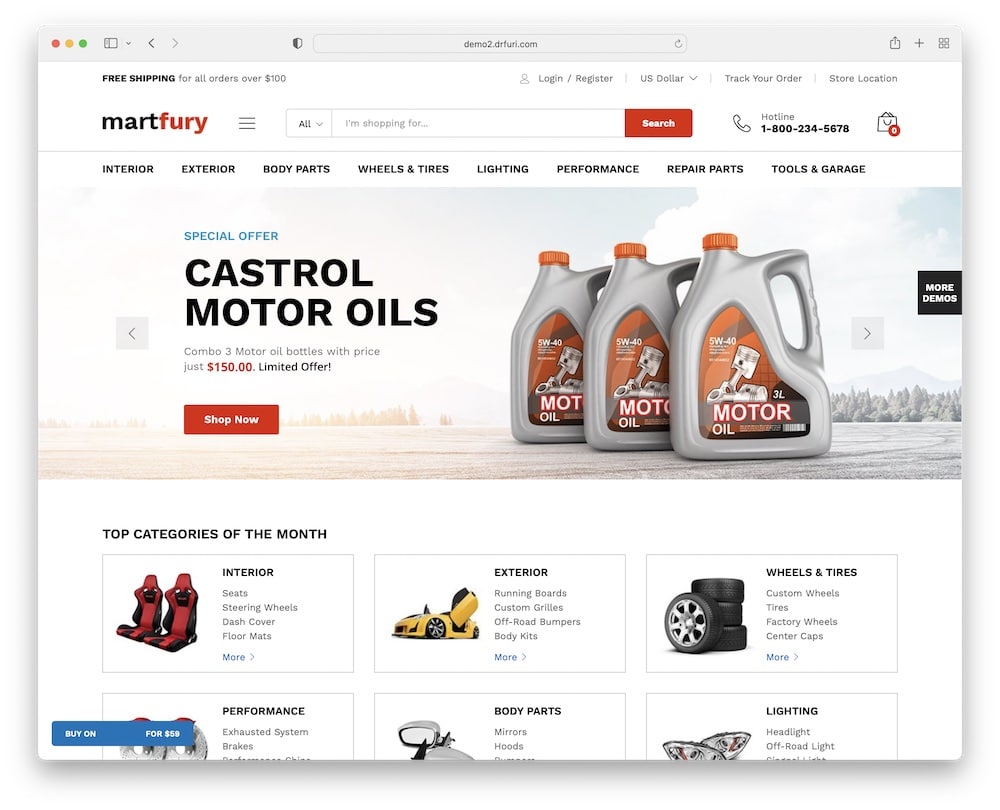 Medicine, jewelry, office supplies, household appliances, musical instruments, tech, and toys: you can add absolutely everything to a marketplace.
With a flexible Martfury marketplace WordPress theme, you can create it without any coding knowledge. That's right, PARTY!
Kick-start with the amazing Elementor page builder (real-time results) and ten ready-to-use homepages.
EASY. AND. FAST.
Besides, Martfury is compatible with the most popular plugins such as WooCommerce, MailChimp, Contact Form 7, Ajax technology, and mega menu.
Also, Martfury's 100% responsive layout is really user-friendly.
HURRAY!
Martfury is a must!
Martfury features:
MORE INFO / DOWNLOAD
DEMO
2. Dealsdot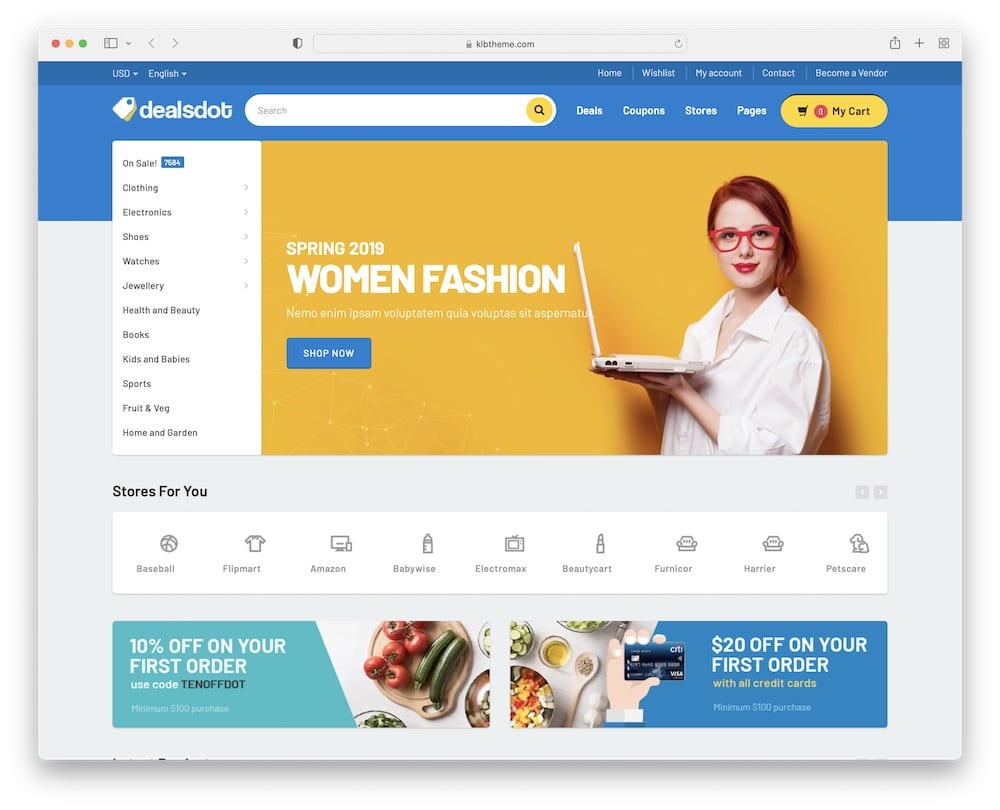 Do not hesitate to check out the elegant and responsive Dealsdot marketplace WordPress theme. It comes with everything (!) you need for a quick start of your e-store.
I used Dealsdot for numerous products and various niches (without anyone noticing 🙂 ).
It includes #1 plugins such as WooCommerce, Slider Revolution, WPBakery page builder, and Contact Form 7.
HECK YES!
Coupons, promo codes, product filters, automatic payment schedule, stock management, affiliate marketing, and much more is waiting for your new marketplace business.
Smooth and friendly user experience (guaranteed).
You have a solid foundation for your brand with Dealsdot.
Dealsdot features:
860+ sales
4.9+ star ratings
Price: $49 (may vary)
MORE INFO / DOWNLOAD
DEMO
3. Wolmart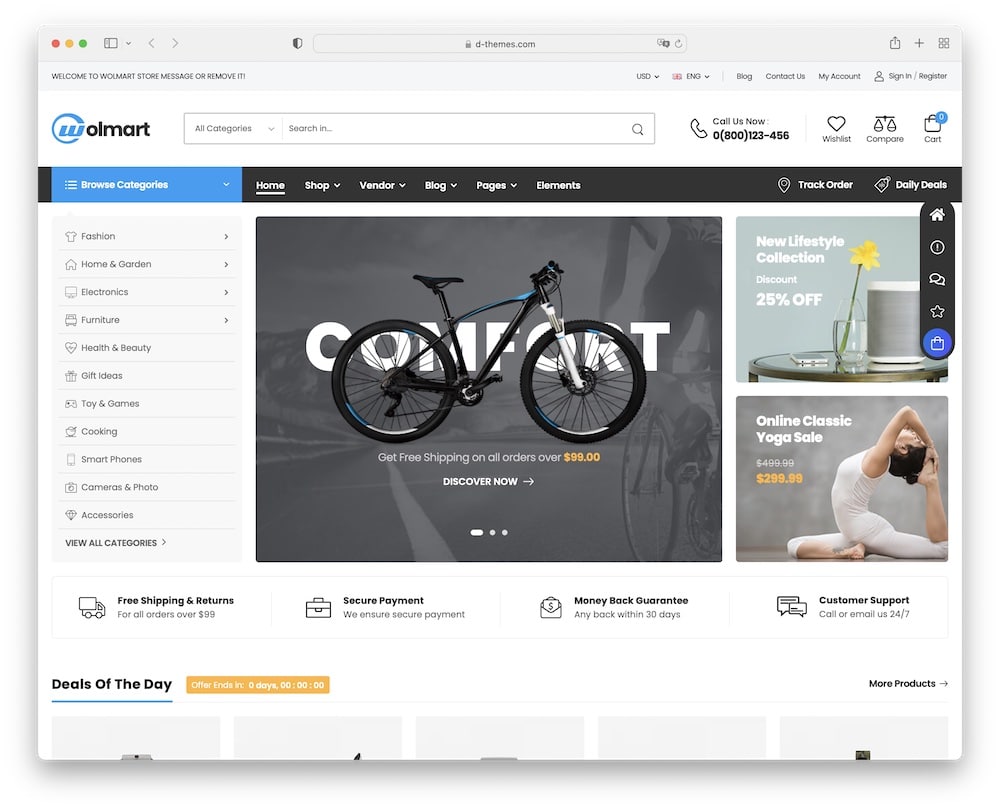 If you want to manage a successful marketplace WordPress theme you should check out modern Wolmart. Install, fix, mix, customize and set it up as you wish.
Above all remember there is nothing impossible for Wolmart.
High performance (design, speed, SEO, and responsiveness), amazing tools, numerous layouts, creative elements, and top-selling WP widgets.
I know, Wolmart is your new best friend!
Moreover, you can easily say HI and connect to your audience (at once) with Wolmarts's social sharing features.
Upgrade NOW!
Wolmart features:
MORE INFO / DOWNLOAD
DEMO
4. Prolancer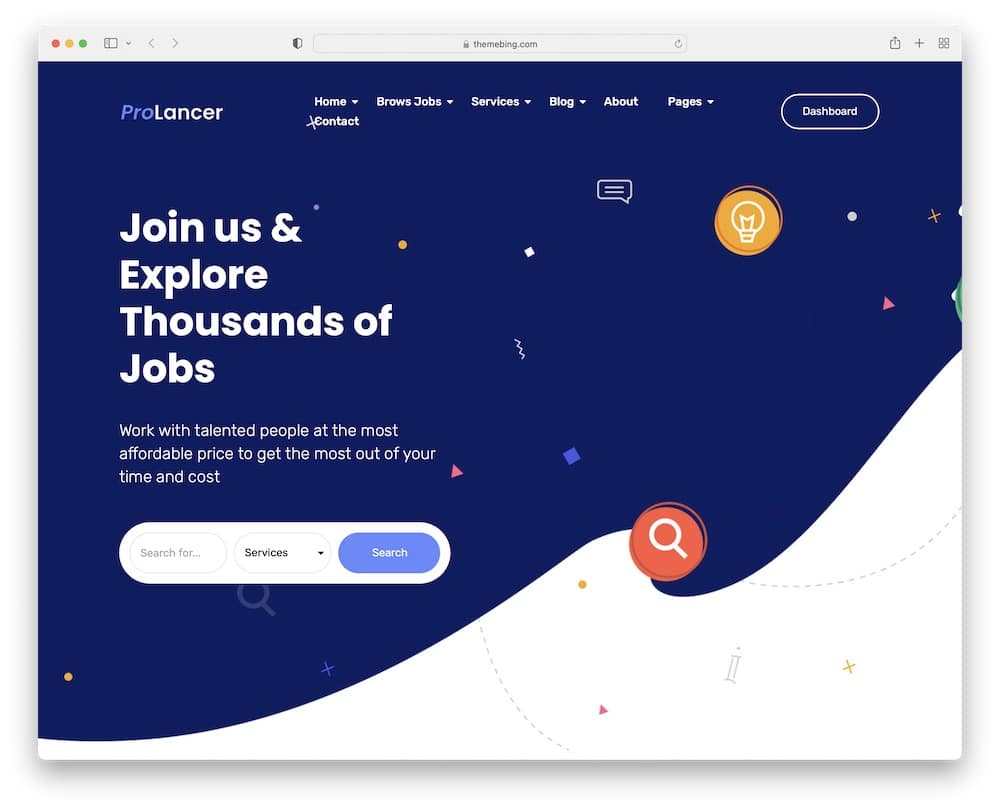 The design of the Prolancer marketplace WordPress theme is perfect for freelancer marketplaces like Fiverr, Upwork, and Freelancer. No idea is too big or too small for Prolancer.
In the same vein, Prolancer comes with plenty of amazing features such as Elementor page builder, Ajax search, WooCommerce, and Contact Form 7. I am pumped!
Not to mention, it's very easy to use (NO coding knowledge is required).
BOO-YAH!
Thanks to the built-in messaging system (high-value) buyers and sellers can communicate with each other regarding work, projects, and experiences.
Plus, take full advantage of future updates at no extra cost (lifetime offer). Plus, you also get five-star customer support (great head start).
Way-to-go Prolancer.
Prolancer features:
MORE INFO / DOWNLOAD
DEMO
5. Heilz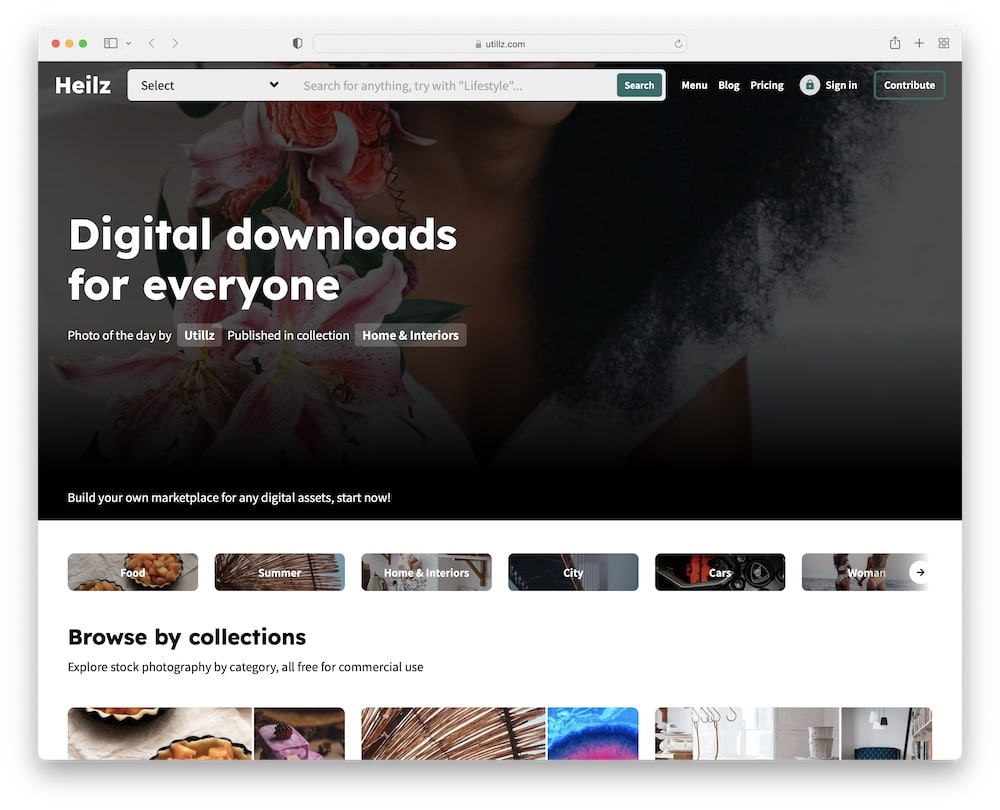 Start on the right foot with a high-ticket Heilz marketplace WordPress theme. You can sell digital download like a champ with this theme!
Heilz is totally compatible with amazing WooCommerce meaning you get all the COOL stuff such as payment gateways, invoicing, reports, direct purchases, and more.
Ready to rock and roll?
Besides, Heilz is a prize winner in site speed, SEO practices, and easy translation (use any WordPress translation plugin you want). Even a WordPress child theme is added.
To top it all up, Heilz offers extensive online documentation and a step-by-step user guide. YUP, you can become an expert on your theme.
Be at 100%, 100% of the time.
Heilz features:
MORE INFO / DOWNLOAD
DEMO
6. REHub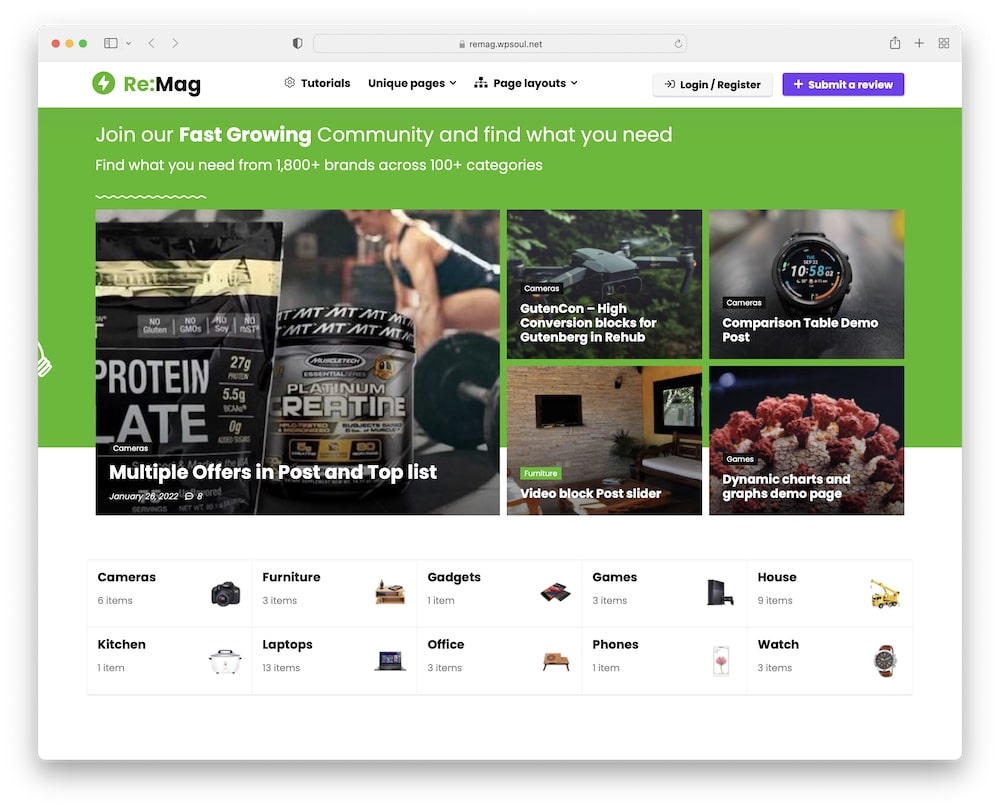 Like any relationship, you need to (first) build trust with REHub marketplace WordPress theme.
SO, scroll through it without stress – check gorgeous design, inspect a collection of amazing tools & WP shortcodes, stop by shop options, and explore WOW animations.
Let's clear something up once and for all, shall we? YES, you can customize everything (0 coding knowledge needed)!
Slap my hand you lucky champ!
Moreover, REHub offers numerous product and post layouts for stunning style and eye-candy placement. Plus, the special video block option adds an extra spice to your website.
Note: You can choose between various website models like digital shop, affiliate magazine, game site, Amazon deals, review, travel, or learning site, etc.
ALL. IN. ONE. SOLUTION.
Magic? I think you are ready for REHub!
REHub features:
33,000+ sales
4.9+ star ratings
Supports WordPress LMS plugin
Mass import plugin
Price: $59 (may vary)
MORE INFO / DOWNLOAD
DEMO
7. Marketo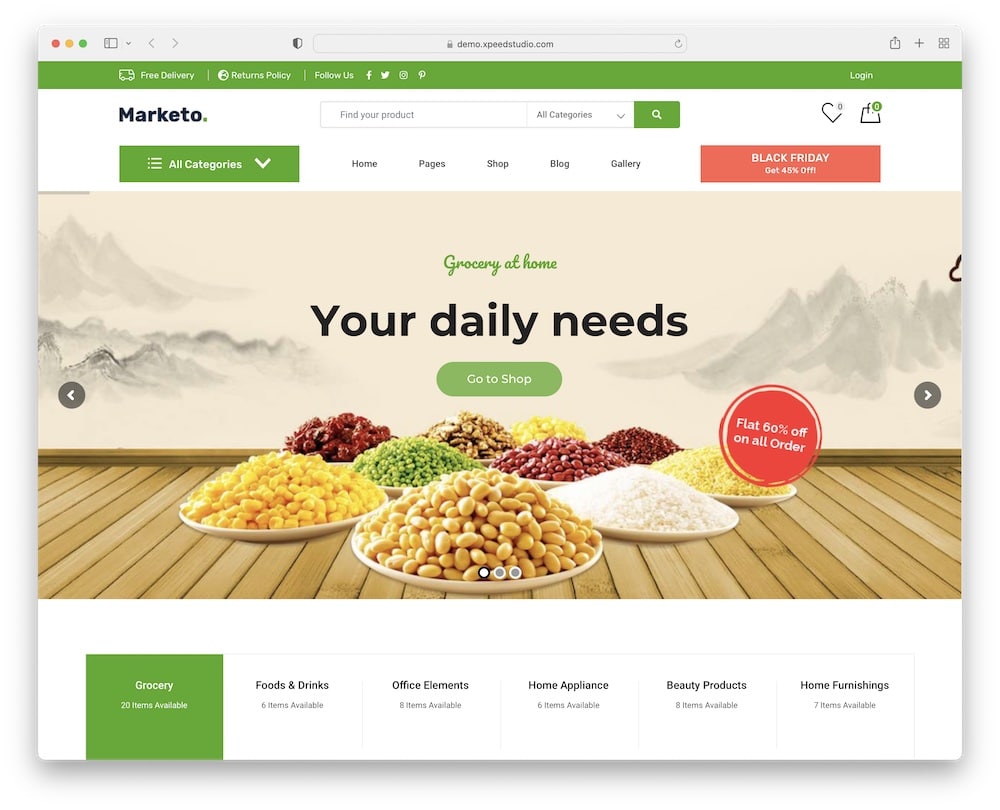 Do yourself a favor and promote your products with the trendy Marketo.
Easy to use? Check. Responsive? Check. Bundle of demos? Check. Unlimited colors? Check. The most popular plugins? Check.
YUP, you are off to an excellent start.
You guys know I love highly optimized themes and let me tell you, Marketo loads pages super fast, reduces bounce rate, and increases audience retention.
YEW!
I mean, we all love fast, customizable, smart, advanced websites and solutions. In addition, you can simply start a blog with product reviews, lists, or verdicts.
You know what to do. Click add to cart & start creating, ASAP!
Marketo features:
5,200+ sales
4.7+ star ratings
Includes slider
Price: $59 (may vary)
MORE INFO / DOWNLOAD
DEMO
8. Handy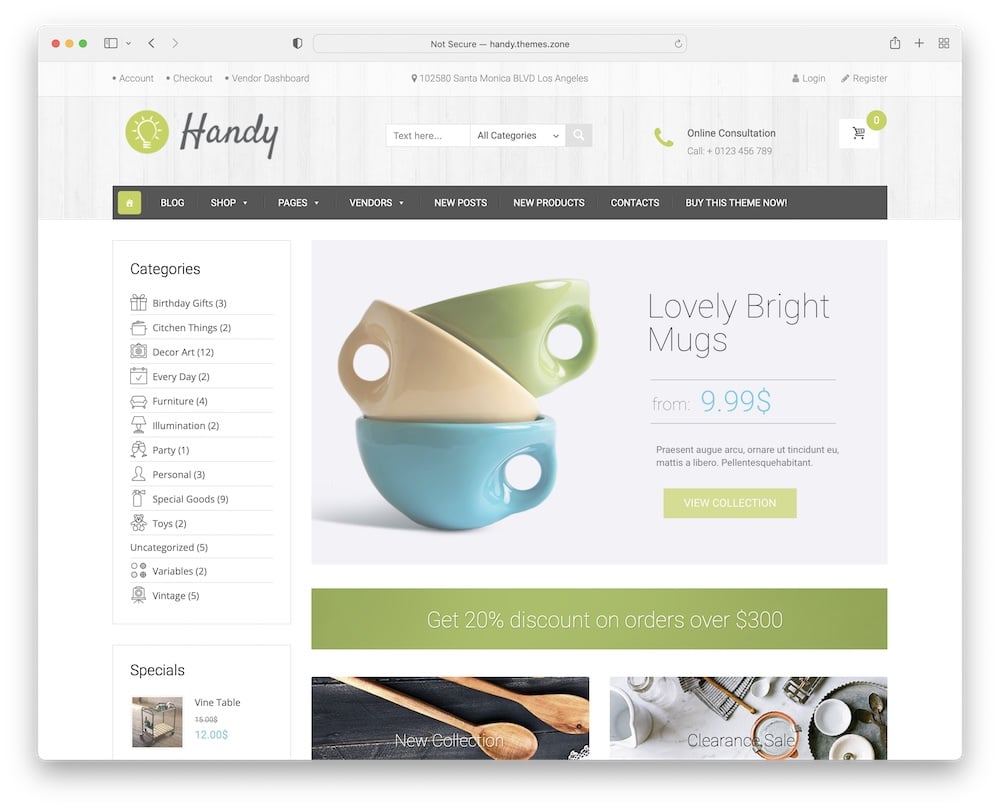 Handy looks just like a piece of art. And, it is!
This stylish and modern theme includes many features, demos, unlimited colors, and fonts. You can display different product categories with custom icons for even better transparency and fast customer search.
Fantastic.
Turn boring presentations into an eye-grabbing revolution (with Slider Revolution). Not much else you need to add to it!
In fact, you can up your game with a powerful blog, reviews, and charts. Of course, you can also add banners, popups, and tags.
Too bad I can't give these guys 10 stars!
Handy features:
3,700+ sales
4.5+ star ratings
For handmade items marketplace
Catalog mode
Price: $55 (may vary)
MORE INFO / DOWNLOAD
DEMO
9. Workreap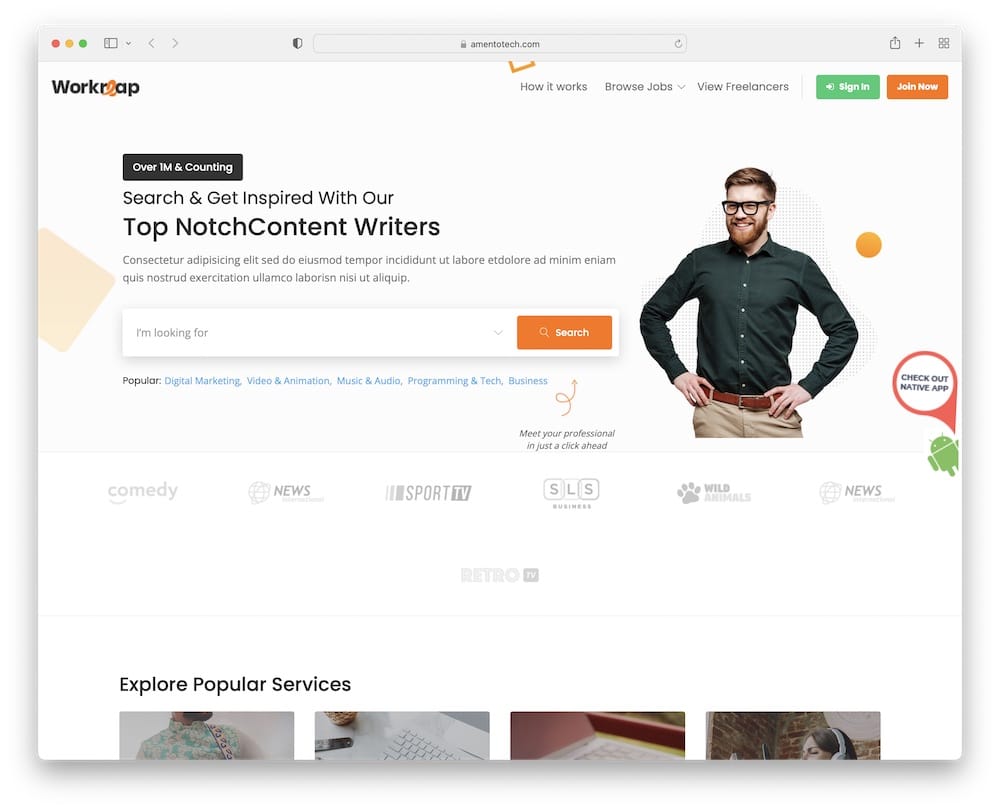 This theme is visually rich and contemporary, and oh-so usable. Everything gets lightened up with amazing features and powerful plugins offered by Workeap marketplace WordPress theme.
Just be inspired with Workeap's amazing designs included in the package – you get various headers, beautiful layouts, ready-to-use homepages, unlimited sidebars, and much more.
Fortunately, everything is simple to import and work with (0 experience? NO problem!).
Thank you, Workeap, for making dreams come true!
Besides, most popular products work better together. Put Elementor page builder, WooCommerce, Slider Revolution, and parallax effect into good use.
And multilingual theme options? YUP, piece of cake for Workeap (fully translation ready).
Where is the buy button, right?
Workreap features:
3,100+ sales
4.1+ star ratings
Wallet system
Price: $89 (may vary)
MORE INFO / DOWNLOAD
DEMO
10. ThemePlace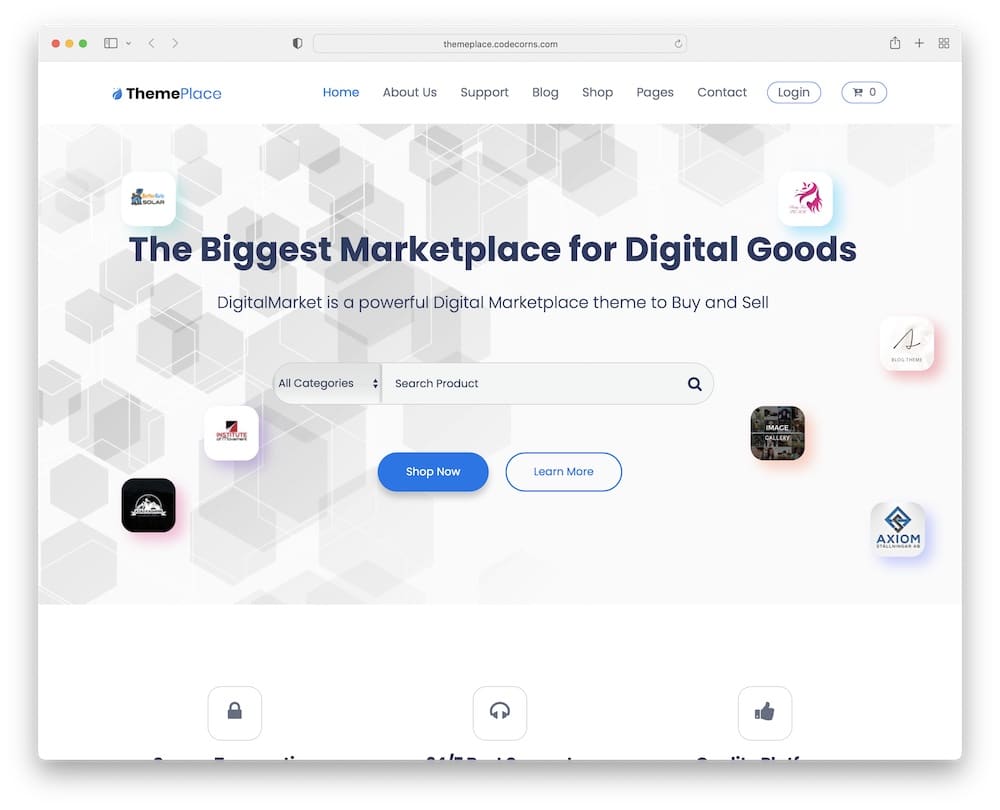 Just warning you in advance that you're about to make an amazing website and your life will never be the same.
Okay, ThemePlace marketplace theme comes with a unique design, and THE BEST drag and drop builder (no need to write code or learn a single command in CSS).
YAY!
You can sell digital products like stock photos, audio, video, plugins, software, graphics, and more effortlessly. ThemePlace is multi-vendor supported and comes with Ajax technology.
Find your winning marketing approach with MailChimp promotional email solution – import your contacts, use pre-built templates and send better emails instantly!
Besides, ThemePlace offers unlimited colors, Google Fonts, and a bundle of useful icons.
ThemePlace is JOY!
ThemePlace features:
260+ sales
4.2+ star ratings
Real-time editing
Price: $59 (may vary)
MORE INFO / DOWNLOAD
DEMO
11. Besa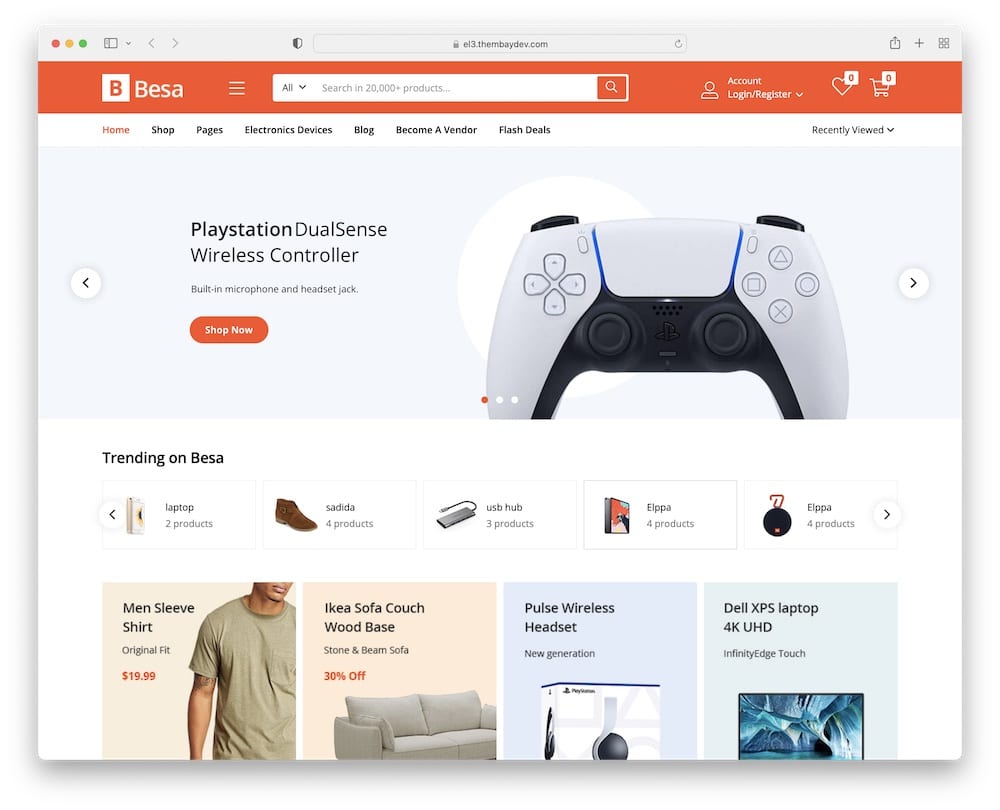 Dream with me about Besa marketplace WordPress theme for a minute here.
Professional theme. One-click demo import. Pre-made shop pages. Customer image reviews. Beautiful blog layouts. 5-star customer support. I sense that this would be EPIC.
But wait, there's more.
Besa offers a bundle of premium plugins, catalog mode, grid view, and brilliant mega menu (group your products into logical & transparency groups).
Plus, it is integrated with social media for reaching more users.
To top it off, Besa is mobile optimized, SEO ready, and improved by fast page-loading speed.
PURE. POWER.
Oh, and easy-to-understand documentation covers your trouble-free start after purchase.
Besa features:
1,400+ sales
4.6+ star ratings
Reviews with images
Price: $59 (may vary)
MORE INFO / DOWNLOAD
DEMO
12. Exertio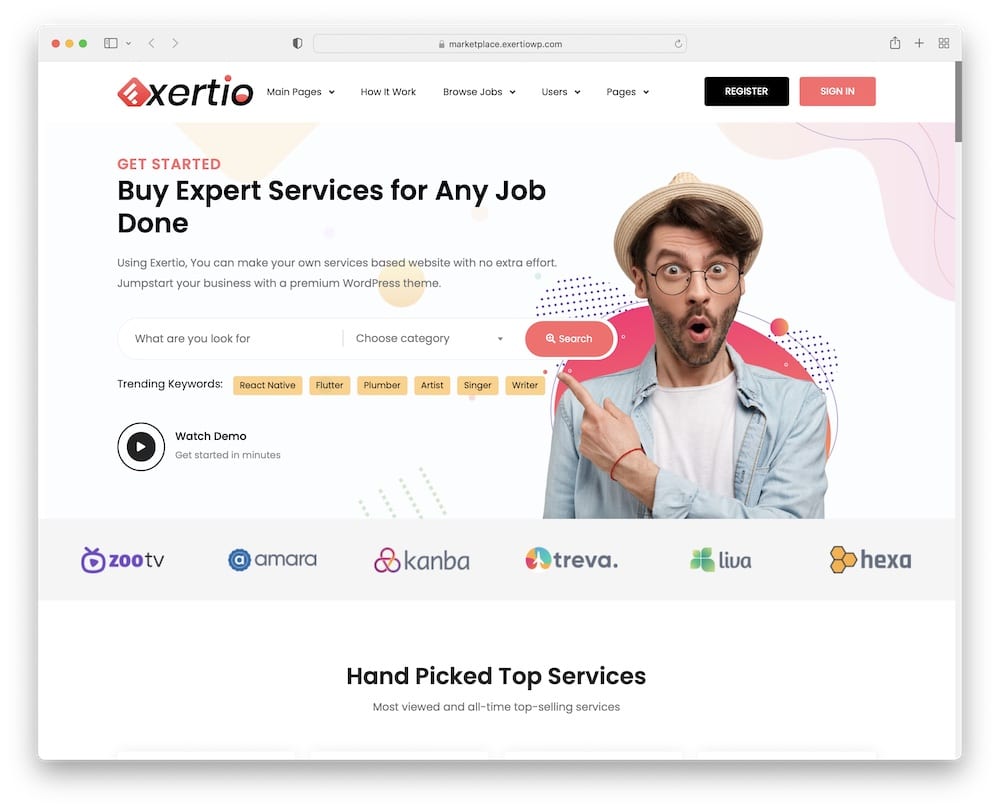 It's just hard to go wrong with the smart and responsive Exertio marketplace theme.
The amazing Elementor page builder offers simple and flexible customization for everyone.
Things I love about Exertio: it is integrated with Zoom for video call meetings, allows your users to pay as they like (multiple payment methods), can add banners to advertise brands, and set live chat.
Do you feel me or do you feel me?
Exertio also includes options for an employer and freelance dashboard, social media log in, review system, jobs, and freelancers services.
And if you would like to be present globally you can put together a multilingual website, YUP Exdertio is fully translation-ready. HERO.
Create a bright future for your business, today!
Exertio features:
1,000+ sales
4.7+ star ratings
Micro payments
Awesome monetization system
Price: $79 (may vary)
MORE INFO / DOWNLOAD
DEMO
13. Mayosis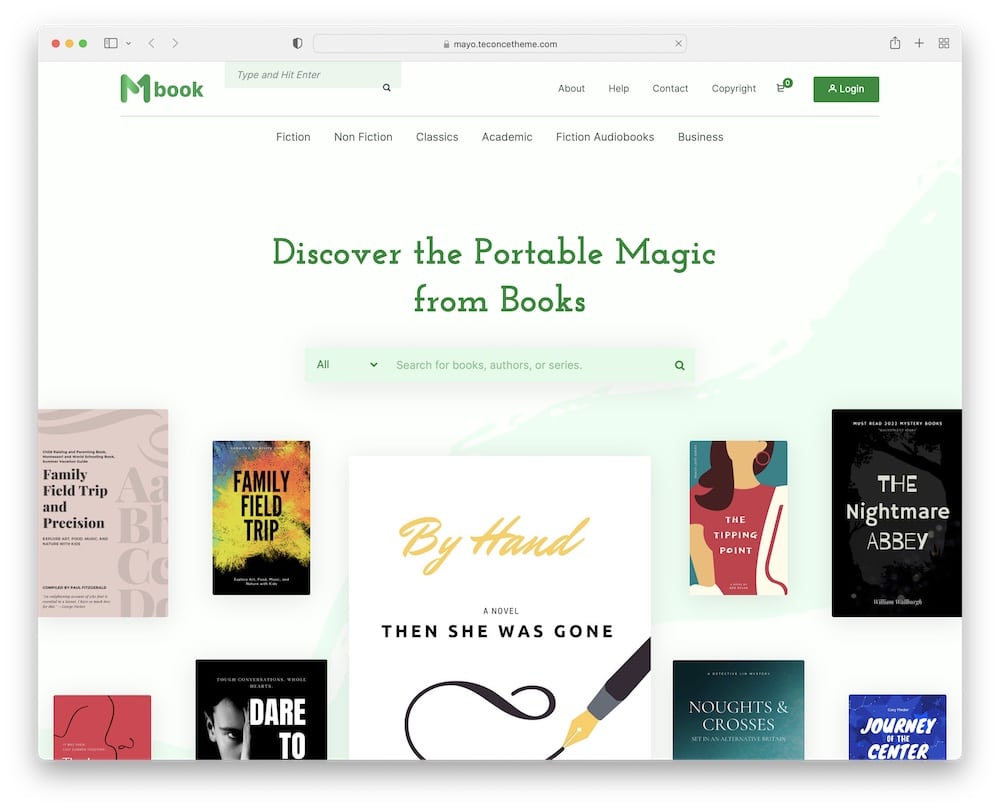 Another check in the champion box for a stunning new website is Mayosis. It offers so many ways to create THE BEST digital marketplace.
Let's dive into it.
Mayosis is perfect for selling templates, eBooks, stock photos & videos, plugins, software, arts, music, online courses, and more. Sell goods like a PRO from day one!
You can import advanced demos with just one click – a simple start, without coding.
That's the way to do it, pals (fast and amazingly affordable).
Plus, enjoy a lifetime of regular updates (no extra cost).
Start here, choose modern Mayosis.
Mayosis features:
1,600+ sales
4.8+ star ratings
Easy Digital Downloads
For freebies & premium items
Price: $69 (may vary)
MORE INFO / DOWNLOAD
DEMO
14. Tijarah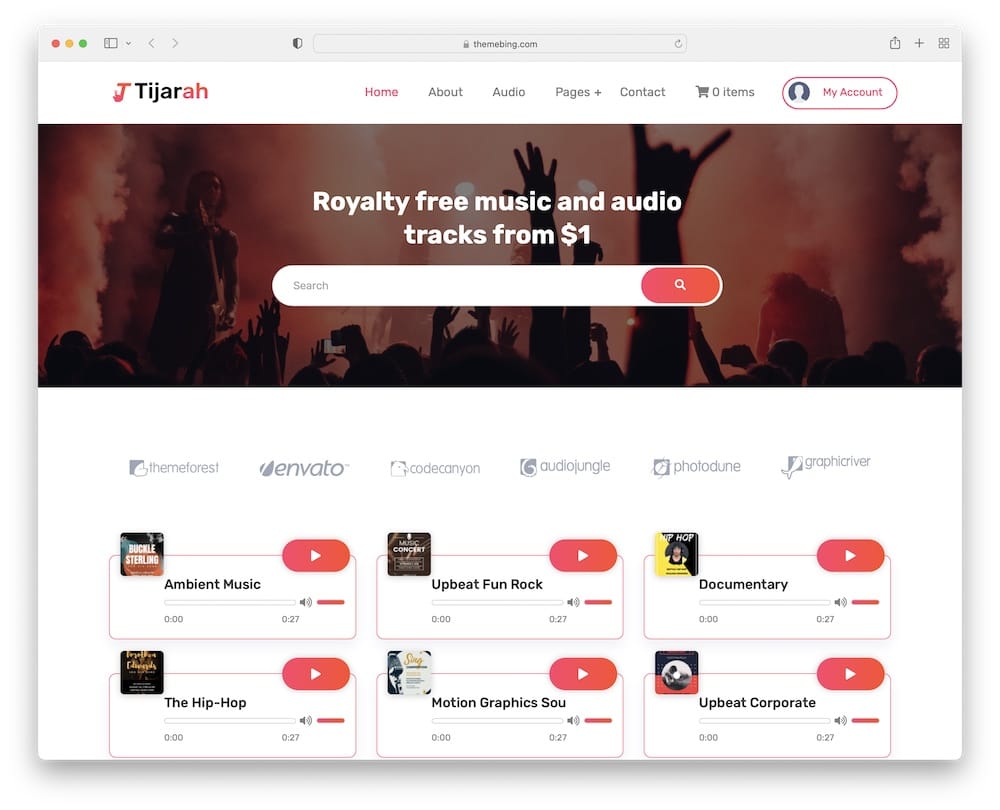 VERY COOL THING about Tijarah marketplace WordPress theme is that it is incredibly versatile.
Not only as an online store, you can also get creative with it and build a marketplace, write product reviews, or even blog.
Multiply the magic!
Besides, you can modify any part of pre-designed homepages with the drag-n-drop builder. HEY, keep calm, anyone with a computer and internet connection can create a site with Tijarah.
SO SIMPLE.
Detailed documentation, regular updates, amazing five-star support? YES, YOU GET IT ALL.
From zero to success with Tijarah.
Tijarah features:
790+ sales
4.8+ star ratings
Price: $59 (may vary)
MORE INFO / DOWNLOAD
DEMO
15. Meup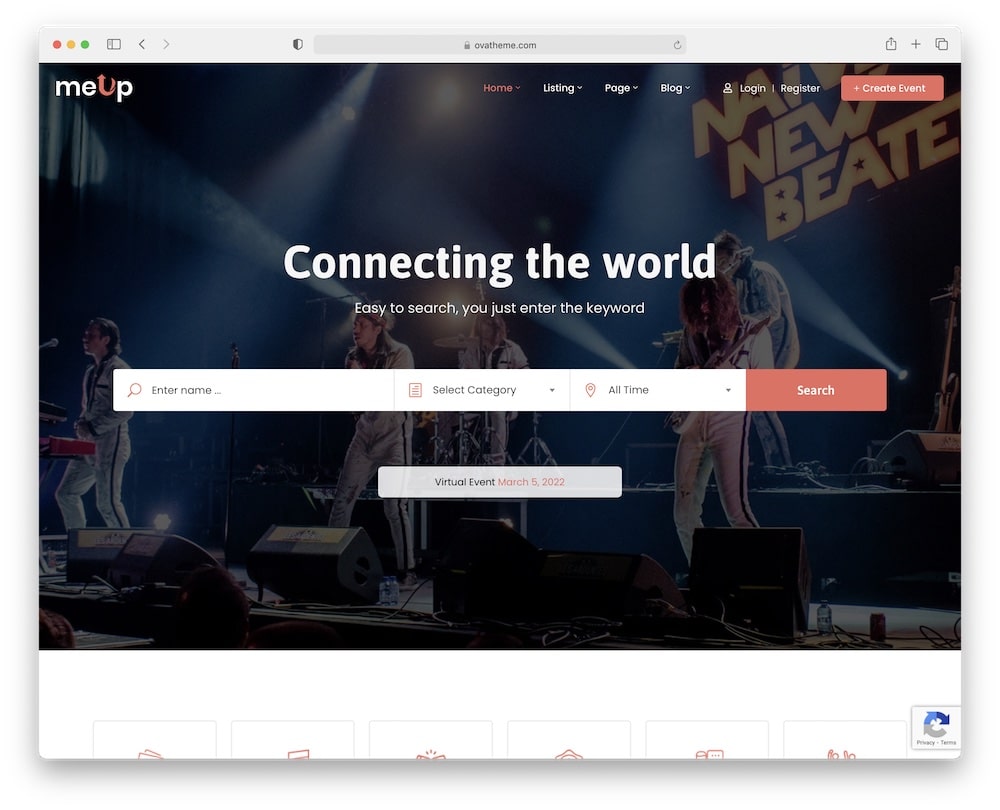 Beautiful, modern, flexible, fast, and powerful. Oh my. OH MY. Let me introduce you to Meup.
Meup was created to help you add, manage and monetize local or global events. From concerts, bookings and sports matches to conferences, theater, or business workshops – Meup can serve them all.
It comes with wide and boxed layouts, unlimited colors, numerous fonts, useful icons, and unique elements. Literally includes everything you need for a trouble-free and fast start.
SWEET!
Besides, it offers event listing with a manual calendar and booking ticket platform (you can also connect it to other providers (affiliate marketing)) and much more!
All together now: Try Meup and hit your goals!
Meup features:
920+ sales
4.6+ star ratings
Sell tickets
Map searching
Price: $69 (may vary)
MORE INFO / DOWNLOAD
DEMO
16. Eletra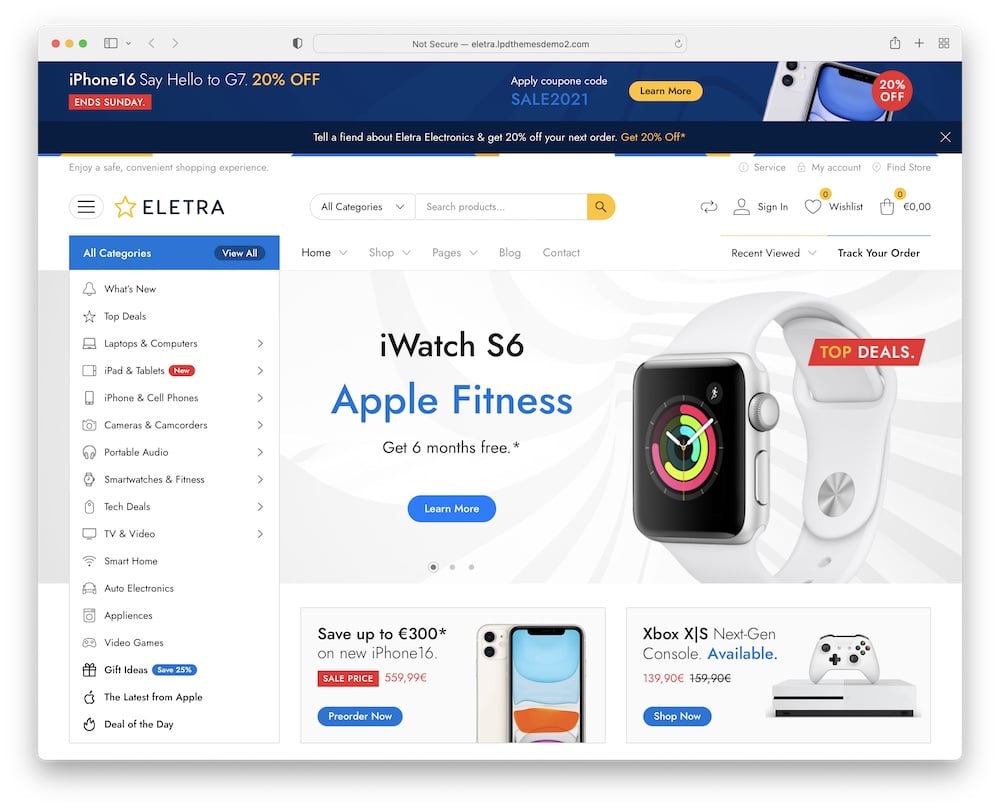 Attention everyone, it's time for Eletra marketplace WordPress theme. This multi-vendor theme is perfect for electronics, cool gadgets, high-tech products, smartphones, games, and more.
Outstanding design and amazing plugins – A match made in heaven!
Eletra is responsive and especially looks great on mobiles (keep in mind, more than 50% of sales happen via mobile devices). Holy smoke!
I don't want to boss you around but check out all additional inner pages – I am excited just thinking about how many possibilities and creative options are waiting for you.
BLISS.
The best part?
Your purchase of Eletra is risk-free (!) meaning you can return it within seven days (with no stress at all).​ SO stop over-thinking and start building (NOW).
Eletra features:
140+ sales
4.1+ star ratings
7-day money-back guarantee
Best for mobile devices
Price: $59 (may vary)
MORE INFO / DOWNLOAD
DEMO
7 Key Features Of A Marketplace Website
It's important that you include at least some (if not all!) of the must-haves if you want to run a booming online marketplace.
My team and I thoroughly researched the industry and talked to some leaders to share with you the mandatory features your platform needs to have.
Luckily, you'll save yourself plenty of time if you choose a WordPress theme because it has many of the features predefined for your convenience.
Marketplace site's essentials:
Easy signup process for buyers & sellers: Keep your buyers' and sellers' lives simpler with an easy registration form when signing up for your online marketplace. Make sure it's quick so they don't change their minds.
Vendor & user dashboards: Another important element of every successful marketplace website is a detailed individual vendor dashboard/profile. As the webmaster, you need an advanced dashboard to overview what's happening. Luckily, a WordPress theme's admin panel simplifies this a lot.
Multiple payment gateways: Don't rely on only one payment gateway because you may lose a lot of conversions. Include Paypal, Stripe, bank transfers – and you may even want to add crypto payments.
Handy navigation & (advanced) search: Every visitor and potential buyer needs to find the item(s) as quickly as possible. That's only possible with great navigation (a mega menu works well for marketplaces) and an advanced search bar.
Ratings & reviews: Every online marketplace needs to have ratings and reviews because these are some of the key selling points.
Performance optimization: It's a MUST that your website works and loads fast on desktop and handheld devices. (Note: Loading speed also depends on your web hosting plan. But you can also read our guide on how to choose a fast WordPress theme.)
Great security: The least you can do is install an SSL certificate. But you must also protect your users' data, especially during purchases.
You're now all set and ready to build a top-notch online marketplace for whatever you're passionate about.
::
Note: This article was originally published on March 4, 2022. But our team regularly reviews it and updates it with necessary improvements for accuracy.