I went on a personal quest to review as many parallax WordPress themes as necessary to conduct a reliable best-of list.
It took me 16 months of testing, reviewing, and applying themes to live projects.
These 12 are the ABSOLUTE best parallax scrolling WordPress themes that you can use quickly.
My second goal was to create a list that caters to as many different businesses and industries as possible.
Also, I made sure to go with the tools that turn any beginner into a pro.
You are now all set to MAKE the MAGIC happen.
Go, Go, GO!
Best Performing Parallax Scrolling WordPress Themes
1. Lazer (My Fav!)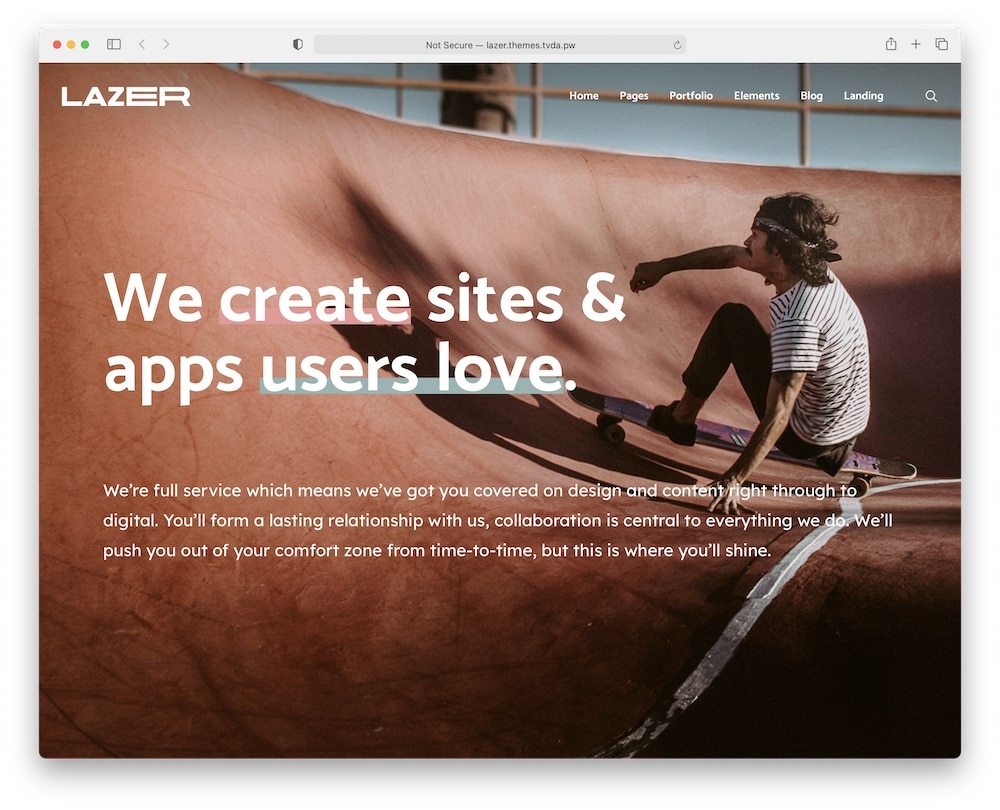 Looking for some beautiful design and functional features for your new website? Here is my fave, friends!
Lazer parallax WordPress theme is bundled with stylish and user-friendly homepages, sidebars, portfolios, and backgrounds. SO that you can start building quickly and effortlessly.
The real magic are ready-to-use templates (one simple click to install and voilà).
And, let's not forget about the stunning parallax effect (depth and dimension) – it immediately grabs the attention of your visitors.
Remember, you can change and modify everything Lazer offers precisely as you wish. Be creative, add your personal touch and make your business look professional.
Ready to jump in?
Lazer features:
80+ sales
4.8+ star rating
Multi-concept demos
Drag & drop editor
Price: $29 (may vary)
MORE INFO / DOWNLOAD
DEMO
2. North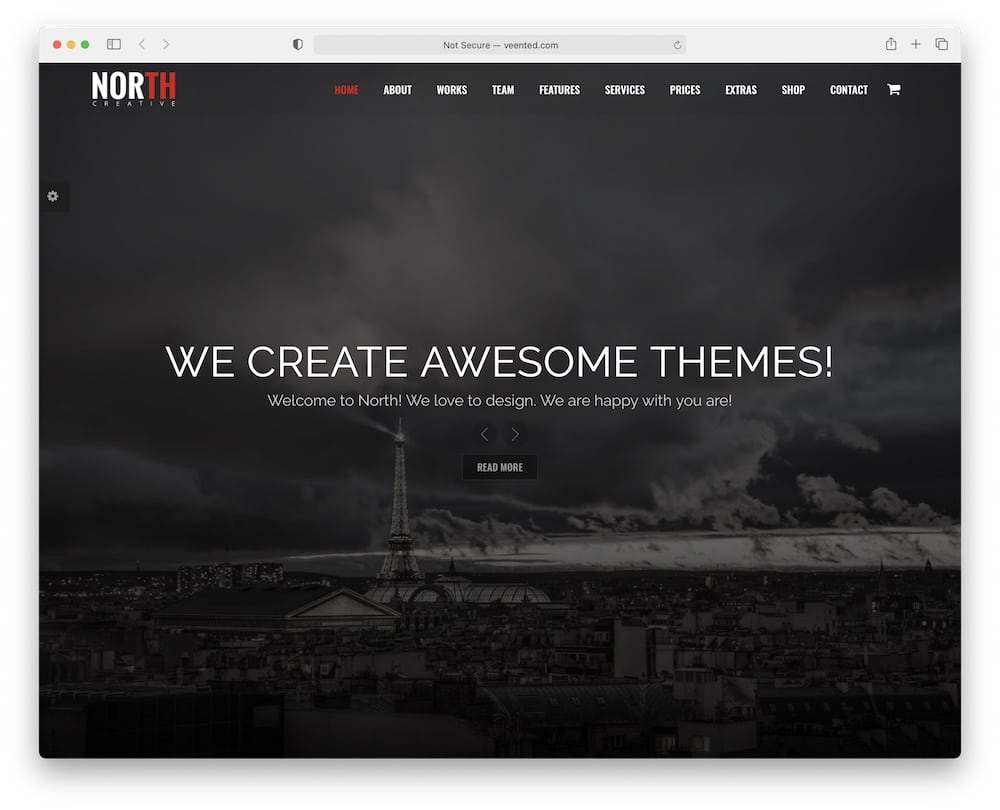 Let's just cut right to it; the main idea of the North parallax scrolling theme is a modern and elegant design.
Yes, it comes with amazing tools and tons of options, but that's not all.
North is also fully responsive and gives you total control over your site. You can change and choose the style, fonts, and colors that suit you the most.
Sounds COOL, a?
NOTE: You can also easily translate North – you can create a multilingual website and go global with your business. The only limitation is your imagination!
Detailed documentation and dedicated customer support are SPOT-ON.
Yup, this one is a keeper!
North features:
4,900+ sales
4.5+ star rating
For one-page websites
Dark & light designs
Price: $59 (may vary)
MORE INFO / DOWNLOAD
DEMO
3. Swingster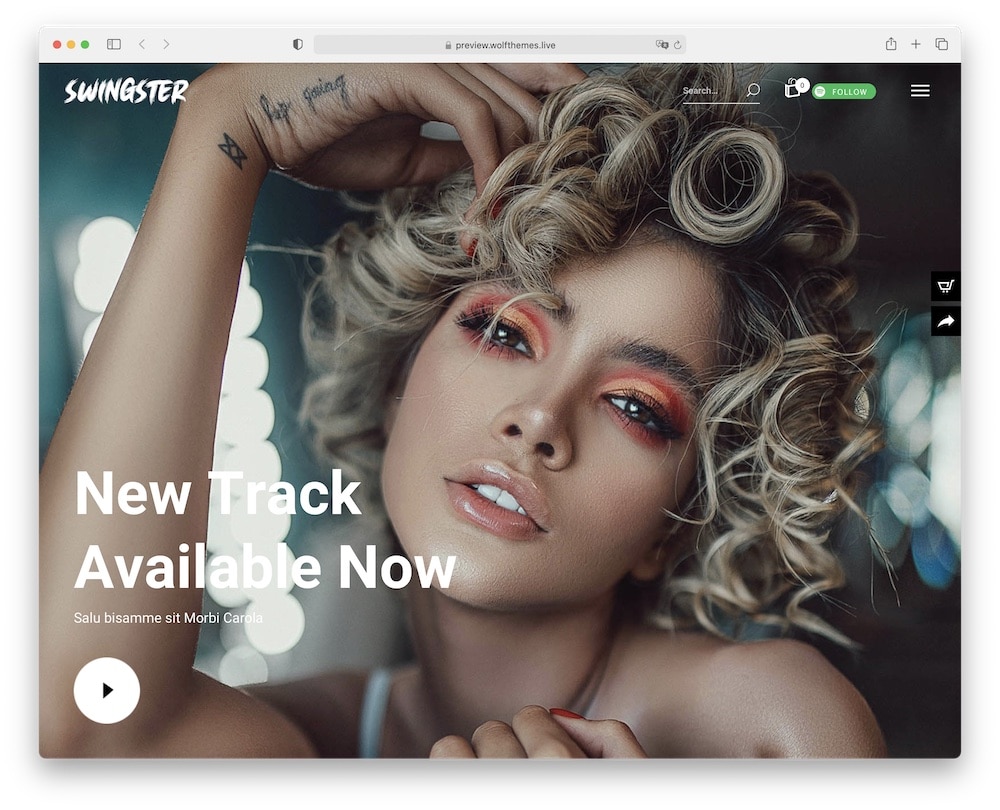 Let me start this intro by saying: I love Swingster parallax WordPress theme.
What do I love the most about it?
Swingster is SO EASY to work with – you can turn it into anything you desire (WOWZA!). Oh, and it includes all you need for a smooth start (NO complications, please)!
In fact, you are in for a treat with Swingster: Elementor page builder, Slider Revolution, WooCommerce, ajax technology, and scrolling animations are included for FREE.
YAY!
Next up: Your blog. Don't forget about valuable content and create a piece of the web where your audience will feel at home.
Returning and loyal customers are THE BEST.
Grab (double) espresso and let's get into the building with Swingster.
Swingster features:
60+ sales
4.6+ star rating
Integrated audio players
Price: $69 (may vary)
MORE INFO / DOWNLOAD
DEMO
4. Newave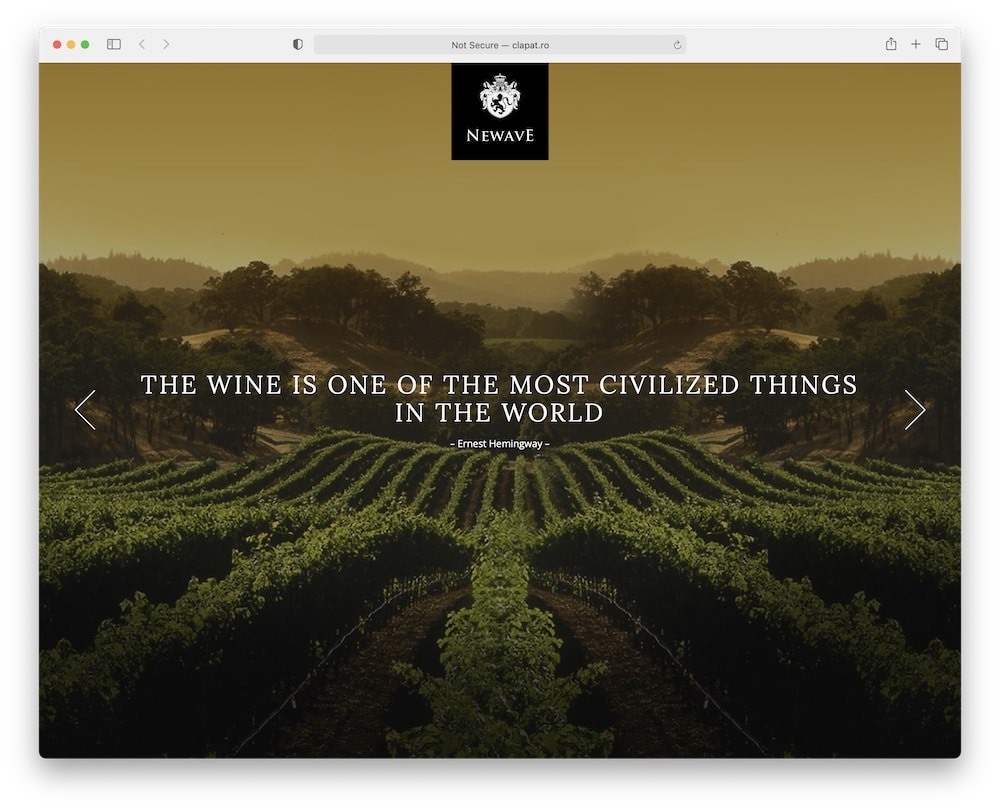 You can be and create anything you set your mind to. Literally an-y-thing with this stylish parallax WordPress theme, Newave. I swear – with this kind of quality design you can't go wrong!
Here's my pitch.
Newave includes endless possibilities for you to create an appealing and beautiful website.
You can change colors, images, icons, patterns, fonts, backgrounds, styles, animations, and headers.
PRETTY. SWEET.
And one more thing, Newave supports all the major browsers (no limits) and works great on different devices (ultra-responsive design).
Plus, if you need some extra help, you can always submit a ticket to phenomenal Newave customer support (BLESS you, ClaPat).
Newave features:
MORE INFO / DOWNLOAD
DEMO
5. Quarty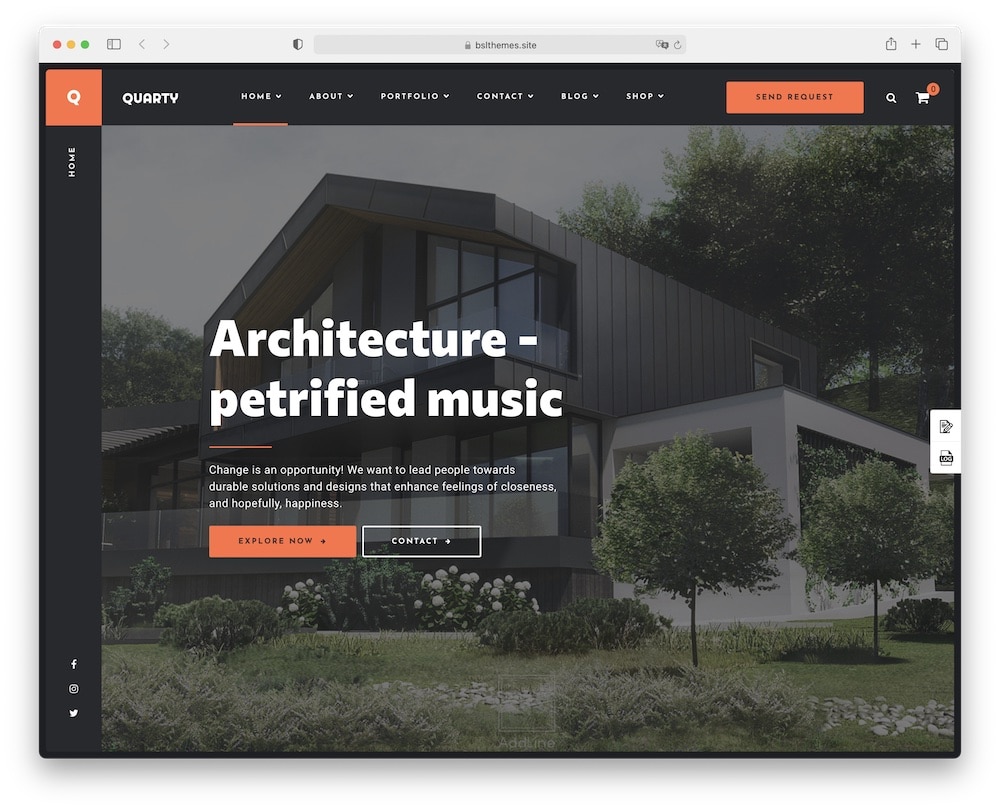 What looks fancy but actually comes together super fast and makes you feel like A BOSS with all that possibilities and options?
It's this. It's Quarty parallax WordPress theme.
Quarty is a stunning theme for interior designers, architecture agencies, or personal websites.
Show your A-game with this AMAZING website.
Note: You can easily impress your visitors with it (make some noise!).
And just to be clear, YES, creating with Quarty is fun and straightforward due to its excellent (20+) ready-to-use homepages. Besides, Quarty is regularly updated – FREE advantage, folks!
Enjoyable sliders, powerful pages, portfolio with filters, great blog layouts, and parallax scrolling effect – YEP we can handle all of this!
And let's not forget about super-fast loading time (two thumbs up).
Reach your goals with Quarty.
Quarty features:
105+ sales
5-star rating
Regular updates
Impactful sliders
Price: $39 (may vary)
MORE INFO / DOWNLOAD
DEMO
6. Paper Plane (So Original)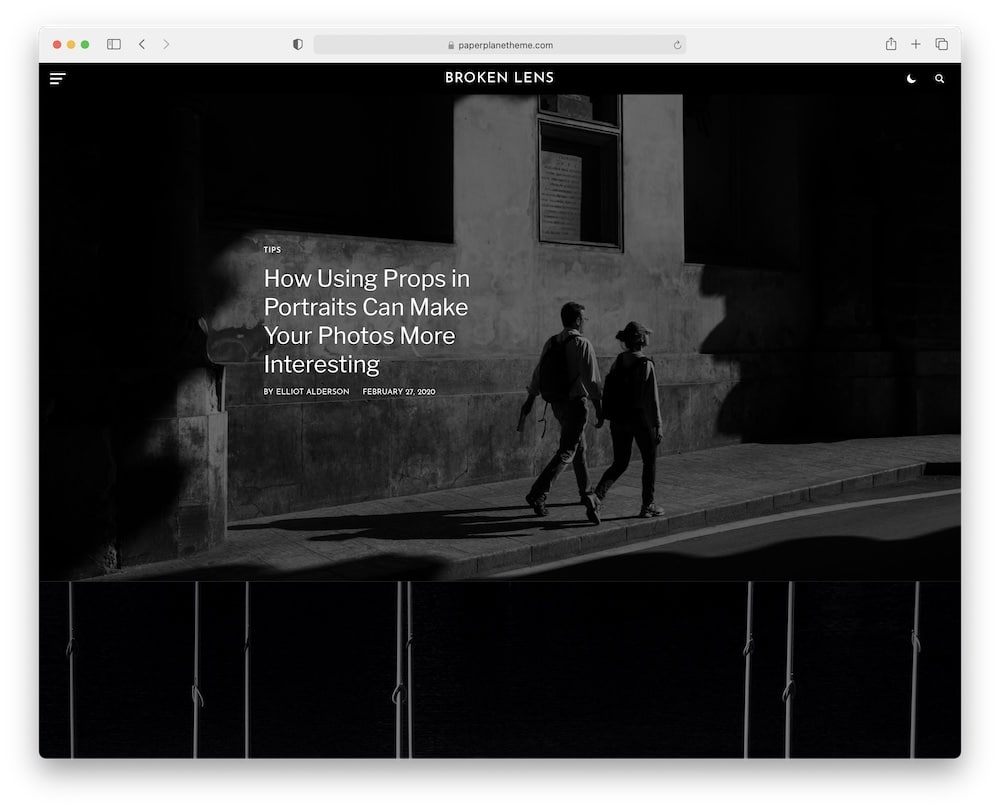 I have a new obsession and YOU ARE LOOKING AT IT. Its name is Paper Plane parallax WordPress theme (for bloggers) and it has all of the following:
Paper Plane is beautifully made (HURRAY), comes with six stunning homepages (one-click installation) and numerous illustrations (craftwork is eye-catching).
YES, you can build your new site lightning-fast due to Paper Plane pre-build templates and the most popular plugins.
Paper Plane's sassy features and advanced technology will immediately astonish your audience.
Upload different video backgrounds, add a smooth parallax effect, clever transitions, fun animations, social links & share buttons, advanced pop-ups, and much, much more.
Keep smiling (lifetime deal).
Paper Plane features:
150+ sales
5-star rating
80 cool illustrations (included!)
Supports child theme
Price: $39 (may vary)
MORE INFO / DOWNLOAD
DEMO
7. Revelance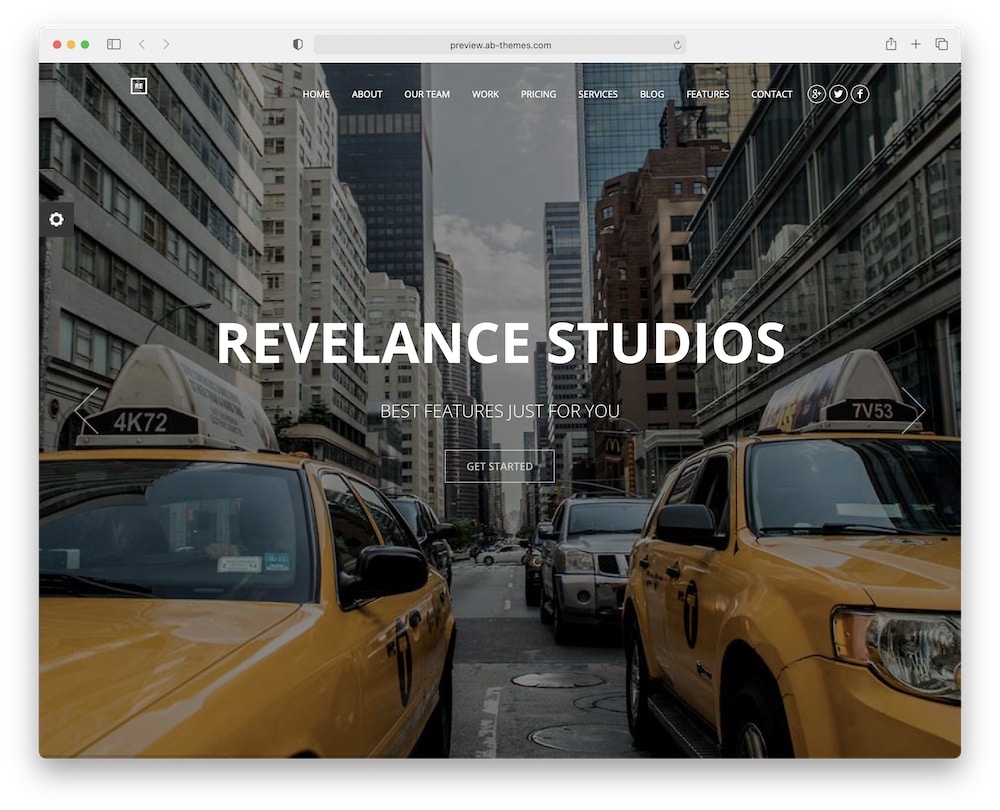 I will keep it quick so you can get to building your new site with a gorgeous Revelance parallax wordpress theme ASAP.
Aside from the obvious reasons (fully responsive, SEO optimized, translation ready, parallax scrolling, tons of shortcodes and icons), this is, well, it's EASY to create with Revelance. Like, super easy.
Actually, it doesn't get any easier than this.
You can choose between unlimited colors and typography that fits your brand! Plus. you can animate almost any part of your site (FAB effects).
Overall, Revelance is jammed with possibilities.
Revelance customer support? Unbeatable!
My advice? Grab it!
Revelance features:
1,600+ sales
4.4+ star rating
For one- & multi-page sites
Included layered PSD files
Price: $59 (may vary)
MORE INFO / DOWNLOAD
DEMO
8. Rhye

Hello and welcome, I'm happy to report that, yes (!) you CAN make the most amazing, elegant, fresh website with Rhye parallax WordPress theme.
Now is a good time to: wear a cozy sweater, get a big cup of coffee, and start creating!
Rhye is all about beautiful, smart, and functional design. You get full control over all the small details, elements, plugins, animations, and other options.
YOU ARE THE CHIEF.
OH, and Rhye comes with smooth scrolling, sophisticated sliders, and a responsive design for the best user experience (no matter the screen size).
Fabulous!
Meet your new best friend Rhye and succeed now.
Rhye features:
1,100+ sales
5-star rating
Video galleries
Elementor page builder
Price: $59 (may vary)
MORE INFO / DOWNLOAD
DEMO
9. Snapster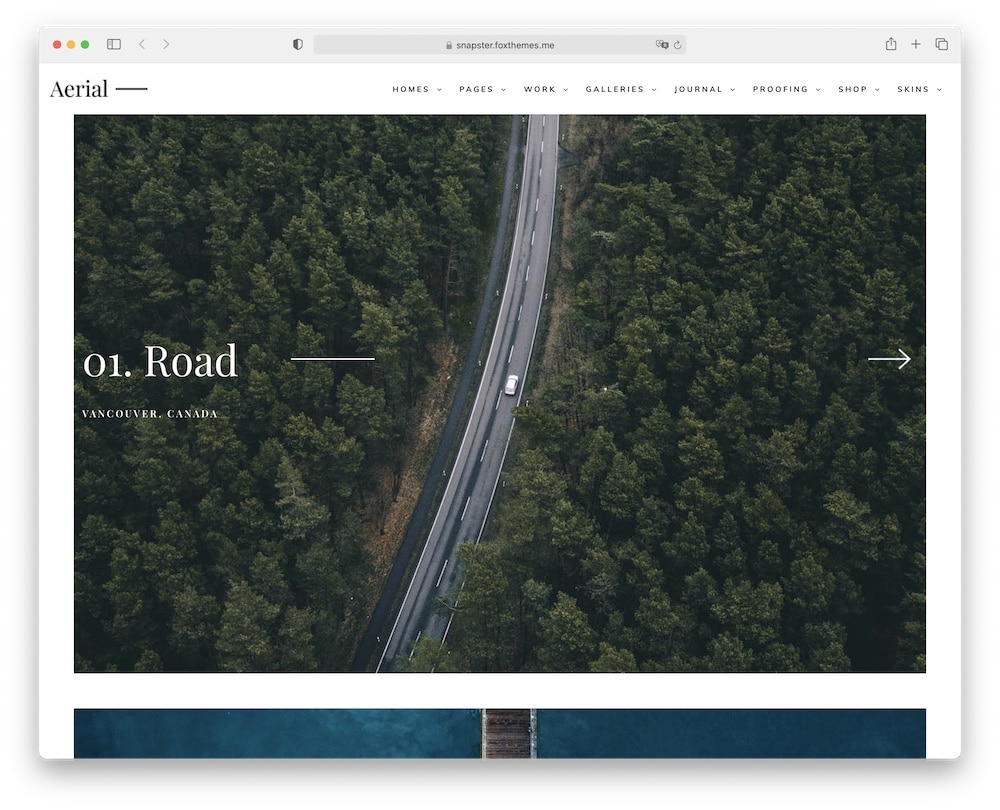 I don't mean to be super obvious here, but we have some really GREAT themes that you really need to know about. SO, say HI to Snapster parallax WordPress theme.
HELLO GORGEOUS!
Let's not overcomplicate things. But keep it simple and smart with Snapster.
You receive exclusive features such as ready-to-use homepages, various portfolio pages, creative galleries, slider elements, and tons of shortcodes. Amazing solutions!
Also, Snapster is compatible with Gutenberg editor – for flexible drag and drop block movements. FANTASTIC EXPERIENCE of the modern page creation (I love it).
Lastly, Snapster's support team will give you all the tips, tricks, and answers when needed. ACTION!
Snapster features:
910+ sales
4.2+ star rating (we enjoyed using it a lot)
Great portfolio management
Accept online bookings
Price: $29 (may vary)
MORE INFO / DOWNLOAD
DEMO
10. Remake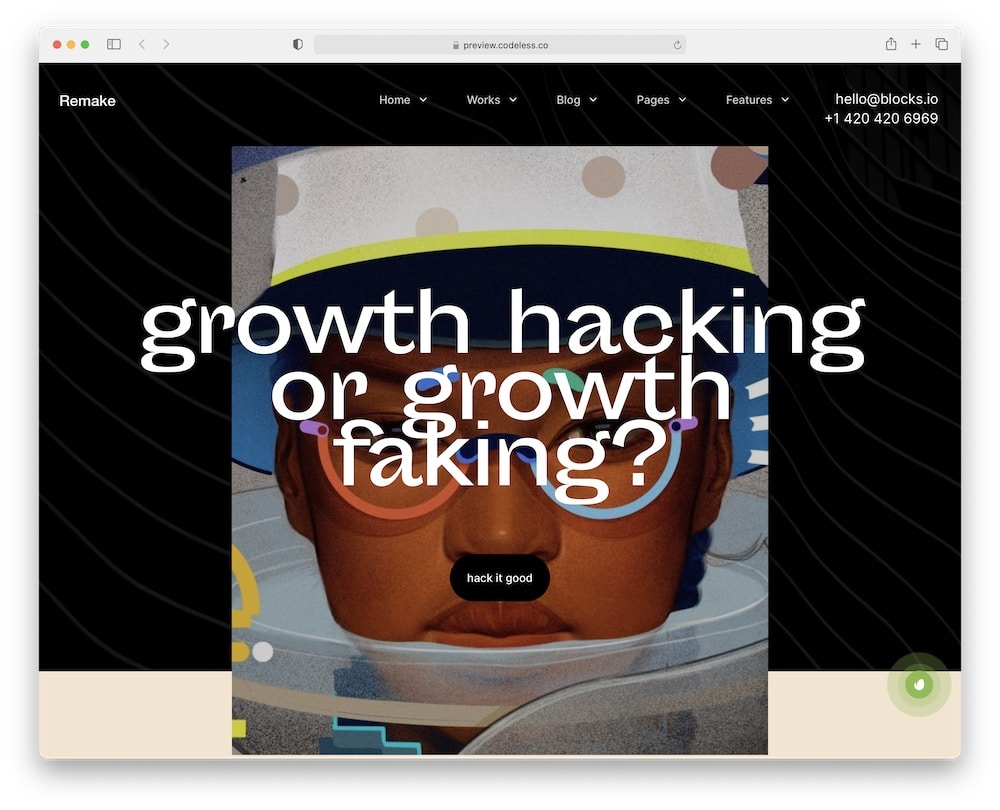 This is a time for you to build your own website masterpiece with a multi-concept Remake portfolio theme. You have an opportunity to create whatever your idea might be!
The ingredients of Remake make a SENSATIONAL BANG. Prepare yourself for $160 worth of plugins – unmatched value with NO extra cost! Predesigned templates?
Yes, yes, and yes!
Think about it?!
You can create THE best website with all the necessary accessories that your customers love. Plus, NO specialized knowledge is needed to work with Remake (minimal effort).
Piece of good fortune.
Remake also has an A-GRADE site speed performance on all devices. And supports the WooCommerce plugin to enjoy your own rules in your online shop.
BIG yes!
Grow your brand with Remake.
Remake features:
810+ sales
4.8+ star rating
Unique horizontal scrolling
Are you a minimalist? Perfect!
Price: $59 (may vary)
MORE INFO / DOWNLOAD
DEMO
11. Tastyc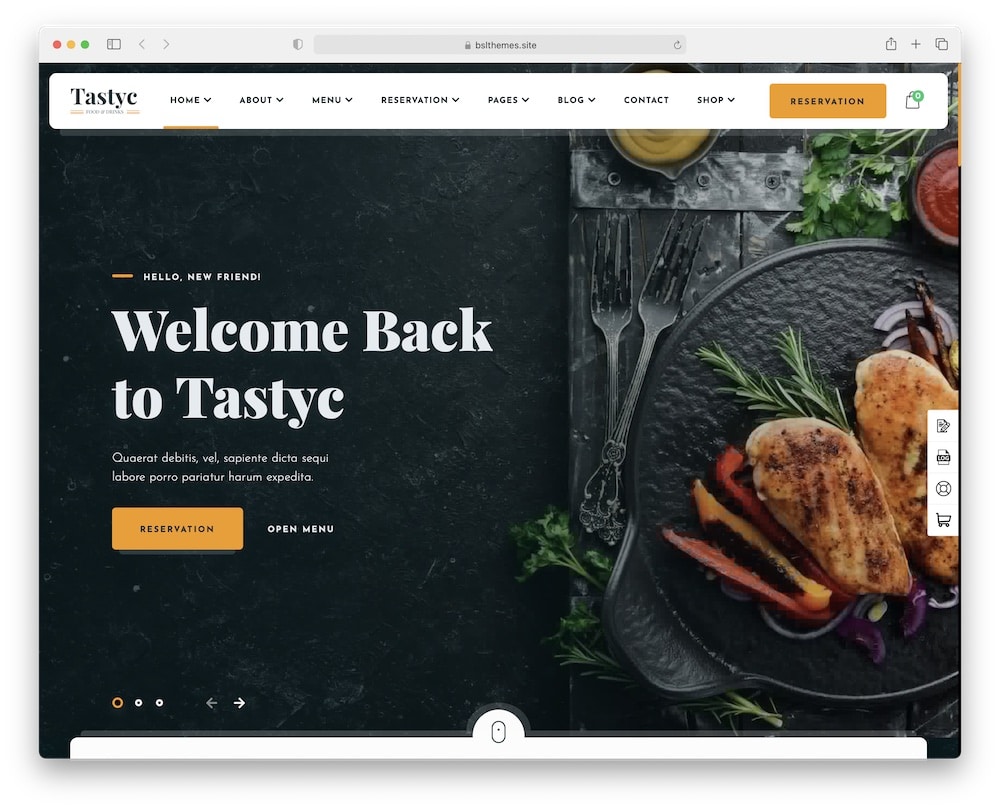 If you're in the market for a new website, this has your name all over it! Responsive and unique
Tastyc parallax WordPress theme is created for cafes, pubs, restaurants, and various food businesses.
HI5, my friend.
It performs excellent (true online champ) due to its modern technology, fast loading time, cross-browser compatibility, top-notch customer support, and regular (free) updates.
REALLY. COOL.
You also get stunning premade homepages, intelligent tools, and advanced options. Everything you need is waiting for you in this AWESOME theme.
Functional and worth of your time and money!
Make no mistakes and launch an impressive site with Tastyc. The clock is ticking.
Tastyc features:
360+ sales
5-star rating
Price: $39 (may vary)
MORE INFO / DOWNLOAD
DEMO
12. Oblo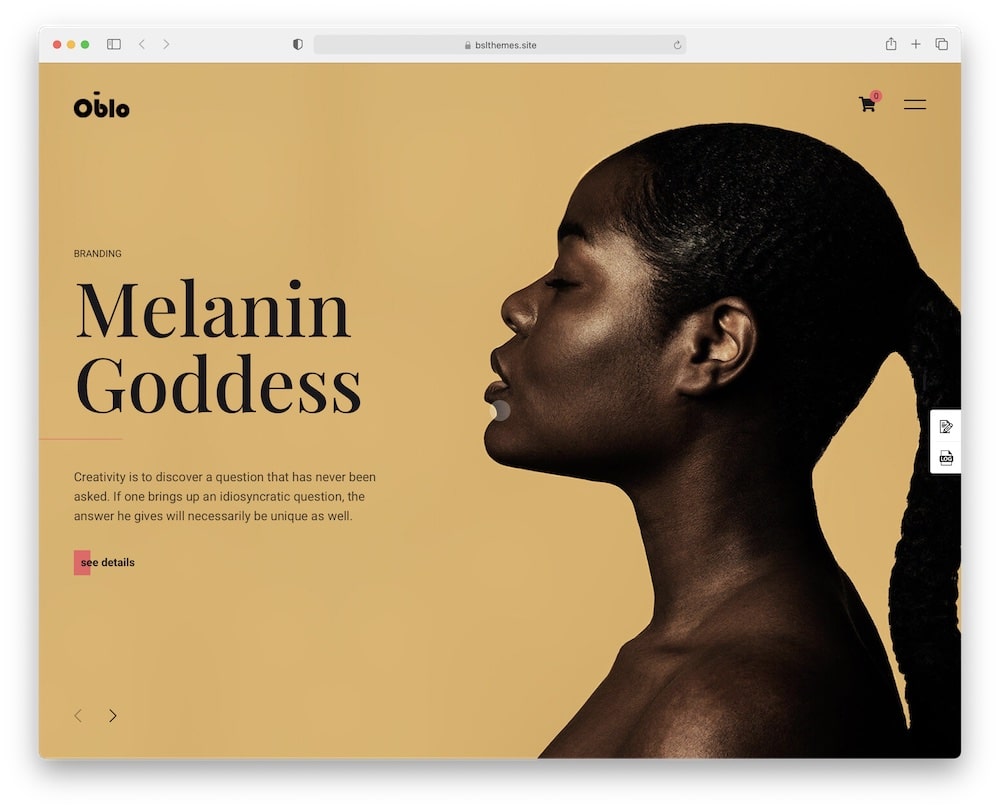 And now I give you: clean and attractive Oblo parallax WordPress theme.
First: It's a stylish, high-end theme.
Next: NO coding skills are needed.
And: It's dressed (tons of the most popular features) to impress.
Finally: accessible from any device (retina-ready).
Moreover, Oblo will empower you with complete control of your new site through Elementor page builder.
Easily change color options, fonts, layouts, full-width header images, sliders, custom widgets, blog options. YOU DO YOU!
Besides, Oblo is multi-language supported. OH YES, you can outshine your competition worldwide.
Feel the difference with the magical Oblo.
Oblo features:
120+ sales
5-star rating
Quick one-click import
Bootstrap 5 foundation
Price: $39 (may vary)
MORE INFO / DOWNLOAD
DEMO