Are you ready to learn how to install a WordPress theme quickly?
WordPress theme is the core of your website, so you should pay a lot of attention to it.
Luckily for you, we ALREADY prepared a tutorial on how to choose the best WordPress theme for you.
Now that you downloaded your great-looking WordPress theme, it's time to install it.
If it's your first time, it might seem intimidating but fear not.
It's actually effortless to install a WordPress theme, and you'll be blogging, selling products or promoting a business on your brand-new website in no time.
This post covers:
3 Methods To Install Your WordPress Theme
There are three different ways to install the theme. The method mostly depends on the choice between a free and a premium WordPress theme.
Free WordPress themes are mostly found on the WordPress repository and you can install these themes directly from your WordPress dashboard.
Note: Some theme providers offer lite versions of their premium themes that are unavailable on the WordPress.org website.
In this case, the theme is installed in the same way as most premium WordPress themes, via the upload method.
The last option that you can use is an installation with the help of an FTP client.
This is the least user-friendly way of installing a WordPress theme and is not often used today.
It has its advantages, though, especially if you have issues with the theme (critical errors that crash your website).
In an unfortunate event like that, the only way to restore your website is to delete the theme with the help of an FTP client, as most likely, you won't be able to access your WordPress dashboard.
Method 1: Install A (Free) WordPress Theme Through The WordPress Admin Theme Search
WordPress repository currently contains 5,000+ themes, so there's a good chance you will find a great theme that suits your needs.
Head to Appearance > Themes in your WP admin and click on the Add New Theme button.

Search for the theme that is the best fit for you.
If you have not yet decided which one to install, click on the Details & Preview button to see the theme's live demo.
This is a great and fast way to check different themes before installing the one you like the most.
After you pick the perfect theme, hover your mouse cursor over the theme's thumbnail and click Install.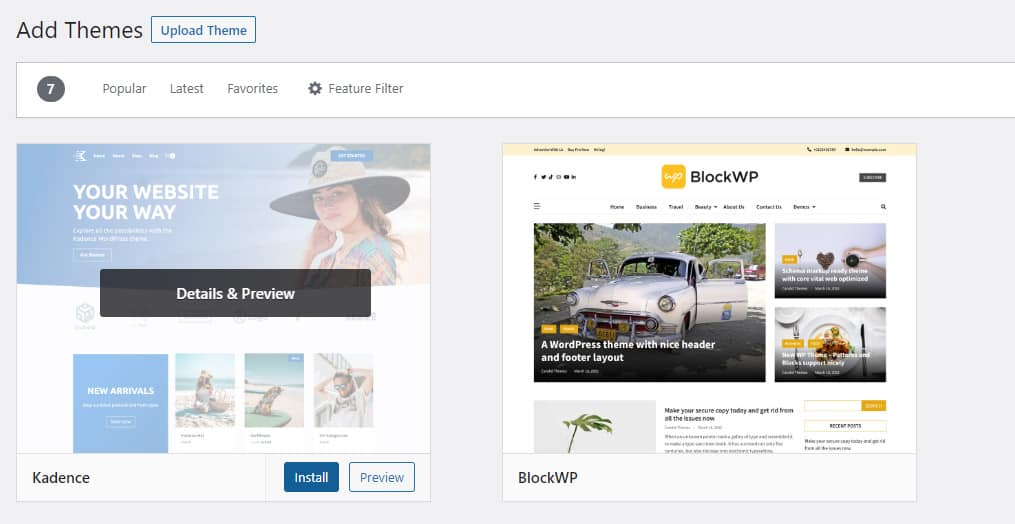 The installation will finish in a FEW seconds.
All you have to do next is to activate the theme.
You will notice that the Install button has changed to the Activate button.
Click it, and you're done.
Head over to your home page and check your new website design.
Method 2: Install A (Premium) WordPress Theme Using The Upload Method
Premium WordPress themes are not a part of the WordPress repository and thus can't be installed from the dashboard.
You can buy them on marketplaces like ThemeForest and others.
The main DIFFERENCE compared to free themes is that you have to download the theme's zip file after you purchase it.
Usually, this zip file contains documentation, demo content, WordPress child theme, and the actual theme that you have to upload to your WordPress.
No stress.
It's very easy to install a premium WP theme.
Attention: When I was working at PremiumCoding, the single most asked support question was about the missing style.css in the theme's files.
This was actually not a theme issue, but a lot of users were not aware that the main file downloaded from the markets is NOT the file that should be uploaded.
Instead, you need first to unzip it, and inside is another zip file, usually named after the theme (for example, the Anariel theme has anariel.zip, Brixton theme has brixton.zip, etc.).

The example above shows the usual structure of a premium WordPress theme and why you should (almost) always unzip the file package you downloaded from ThemeForest.
Proceed with the installation via the upload form
Now that you have the correct theme zip file, go to Appearance > Themes and click the Add New Theme button.
Instead of searching for themes from the repository, you now have to click the Upload Theme button.

A new upload option will appear.
Click on the Choose file button and select the theme's zip file.
After the installation is complete, simply activate the theme, and you're done.
Don't forget to CHECK the front page to see if everything works as it should.
As you can see, this method is also fairly easy, and with the help of our tutorial, you should be able to resolve the main issue that newbies have.
Reminder: Don't use the main file you downloads to install the theme. But the .zip file that's usually named after the theme.
Method 3: Install a WordPress Theme Using FTP
The last method that we will cover in our tutorial is the installation via FTP.
While using the client is quick, it can still be a bit intimidating to new users.
You will first need to download and install an FTP client like Filezilla.
Now follow these steps to upload the theme to your server:
Connect to your host through the FTP client. You need your FTP username and password for that. (Contact your hosting if you don't have login credentials.)
Navigate to /wp-content/themes/ folder once connected to your website through the FTP client.
Locate the theme you want to copy on the left side of the screen (where your local computer's files are).
Drag & drop the theme folder to your server.
That's it! (The theme will now be transferred to your computer.)
Activate the theme by going to Appearance > Themes and clicking on the activate button.

It's important to note that in the case of uploading via FTP you have to unzip the theme's files manually.
If you upload the theme zip file, WordPress will not detect it.
Check the image above.
You MUST upload the unzipped folder where all the theme's files are, and NOT the zip file of the theme.
Conclusion
If you are reading this tutorial, then you are considering using WordPress as the CMS for your website.
CONGRATS!
Most likely, you will spend quite some time deciding which WordPress theme is the best for you. I feel you.
And just like we helped you select the best theme for your new website, we are here for you once more when it's time to install it.
Note: I recommend you choose a fast WordPress theme because it'll help with your site's user experience.
Fortunately, ALL methods for installing WordPress themes are beginner-friendly and if you follow this tutorial closely, you will install your first theme in no time.
We recommend using the following methods in order of appearance:
Install a theme via Appearance > Themes > Add New Theme directly from the WordPress dashboard.
Install a theme via Appearance > Themes > Add New Theme and click the Upload Theme button (my preferred method for all premium WordPress themes).
Install a theme with an FTP client like Filezilla.
FAQs About Installing WordPress Themes
How many themes can I use in WordPress?
You can only use one theme that is active on your website.
However, there is no limitation on how many themes can be installed in WordPress.
For instance, you can install ten themes to try out and then switch between them by activating one and deactivating the other.
But you can't have two or more themes activated simultaneously.
Suggestion: If you install multiple themes to test them out, remove all that you won't use after picking your favorite.
Do I have to use a theme in WordPress?
Yes, a theme is mandatory in WordPress.
When you set up a brand-new installation of WordPress, it comes with a default theme preinstalled.
WordPress usually releases a new default theme every time there is a big CMS update.
The current version comes with three default themes: Twenty Nineteen, Twenty Twenty, and Twenty Twenty-One.
How do I use a WordPress Theme I bought?
If you bought the theme on a marketplace like ThemeForest you can install it easily through your WordPress admin.
But you need to pay special attention to a little detail already mentioned in the tutorial.
Do not give up and don't panic if you get the following error:
"The package could not be installed. The theme is missing the style.css stylesheet."
There is nothing wrong with your theme.
It means that you need to unzip the main file where you will find the theme-name.zip file. This is the correct theme file that you upload to your WordPress.
You only need to activate it and you're ready to start working on your brand-new website or blog.
::
Note: This article was originally published on October 15, 2022. But our team regularly reviews it and updates it with necessary improvements for accuracy.