We thoroughly reviewed and tested these 14 top free and premium WordPress map plugins to make your lives a lot simpler.
Adding a map happens quickly with a reliable plugin.
That's precisely what you can expect from the options below. (Plus a lot more!)
1st, you can add a map to any blog or website, regardless of its theme.
2nd, you get ready-to-use templates to use as-is or improve further.
3rd, you can draw shapes, add effects, etc.
4th, include cool interactions for better user engagement.
This post covers:
Yes, you get everything you need to add a mapping function to your site.
Enjoy!
THE ULTIMATE 6:
Best Premium WordPress Map Plugins
1. Advanced Google Maps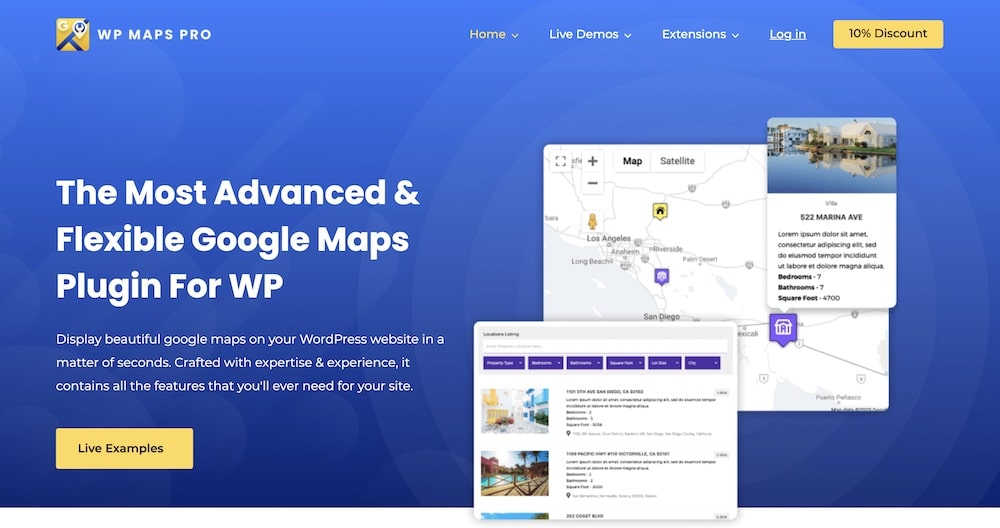 Our first choice is the latest Advanced Google Maps plugin. This is one of the most popular premium plugins with excellent reviews.
This Google Maps WordPress plugin takes all the vital information from various sources and allows you to create filters and customize numerous plugin fields.
It shows different places on the map, multiple routes and allows you to refine locations by categories.
In a few words, Advanced Google Maps is the best tool for those who need a fully responsive and powerful plugin.
We used it multiple times and will use it multiple times more.
Advanced Google Maps features:
13,900+ sales
4.6/5 ratings
Fully-customizable map WP widget
Great support
Price: $89 (may vary)
MORE INFO / DOWNLOAD
2. Google Maps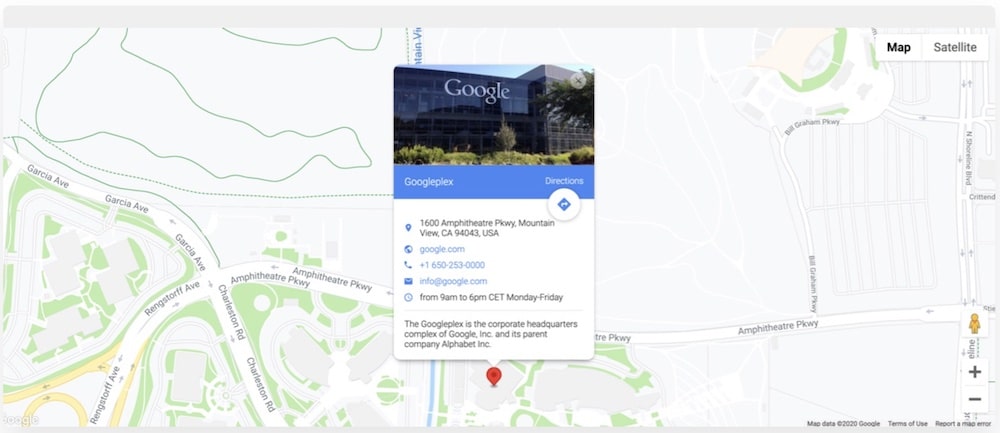 Efsight has developed one of the best premium WordPress map plugins. Google Maps helps you showcase your business's physical presence on your website's homepage. (Or elsewhere.)
This plugin includes features like multiple location markers and all relevant information about your business.
You can also add directions with the best route to your business, design your maps by choosing a color scheme, and much more.
It's no wonder that this premium WordPress map plugin has excellent reviews. This plugin proved to be a reliable and user-friendly tool during our testing.
Google Maps by Elfsight features:
2,000+ sales
4.8/5 ratings
Works with any WordPress theme
Beginner-friendly
Price: $29 (may vary)
MORE INFO / DOWNLOAD
3. Image Map Pro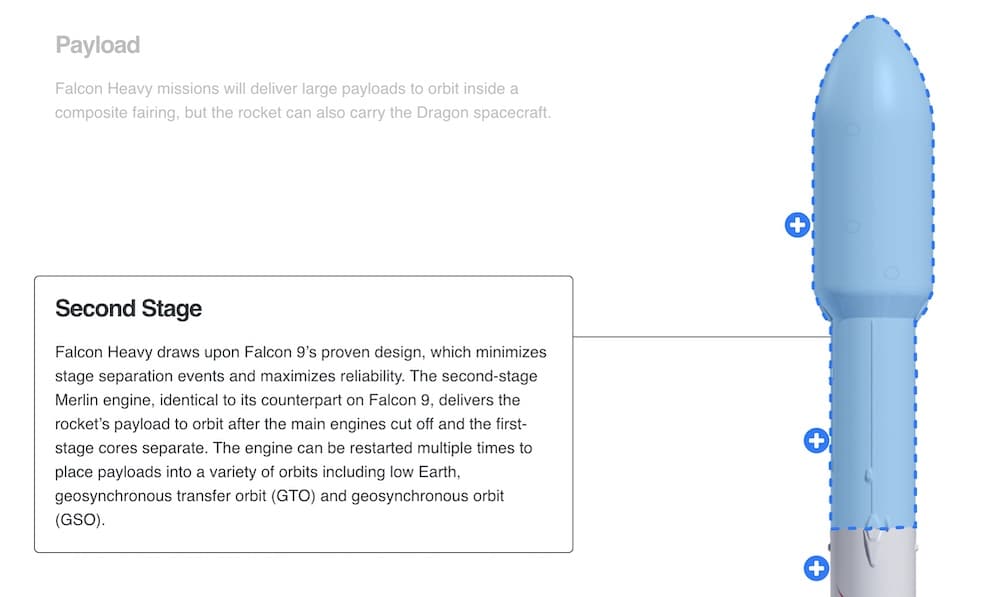 Next on our list is Image Map Pro, one of our most popular map plugins. It offers more than just the basic map features used by beginners.
Aside from creating and displaying a simple map, Image Map Pro can help you with numerous tasks: Creating polygon shapes, customizing the style of your plugin, using animations and image backgrounds, playing with multiple layers, and much more.
This premium WordPress map plugin is (highly!) recommended for advanced users who want to create detailed maps on their websites.
Image Map Pro features:
17,400+ sales
4.4/5 ratings
Supports custom shapes
Compatible with Gutenberg
Price: $39 (may vary)
MORE INFO / DOWNLOAD
4. Progress Map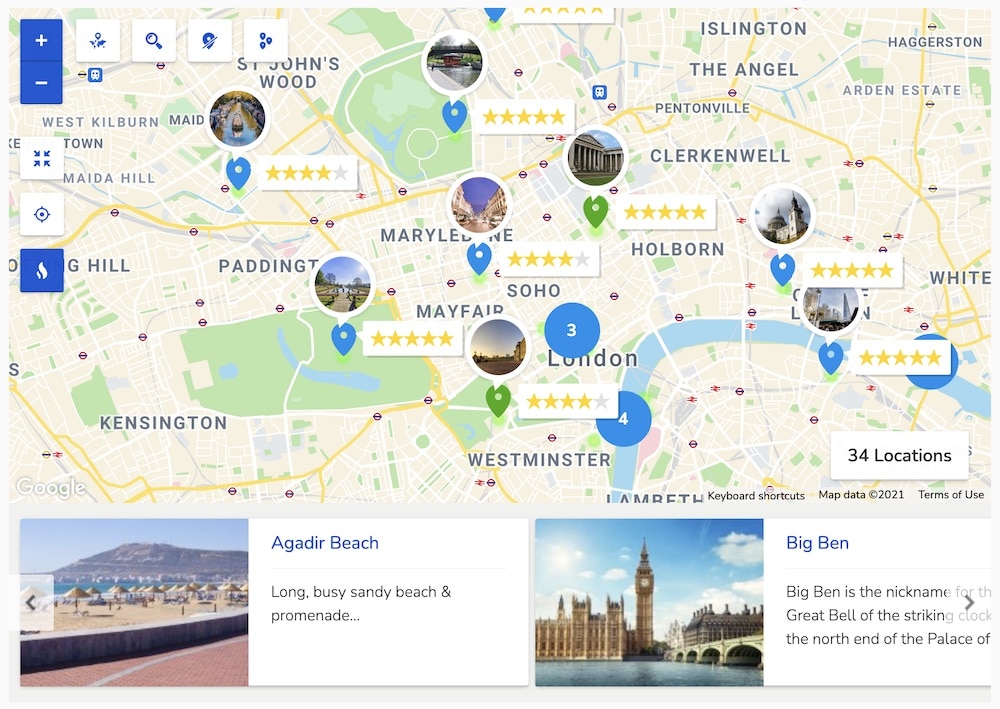 Codespacing has created a reliable and easy-to-use map plugin.
If your website contains any listings like restaurants, hotels, shops or anything else, then you definitely need it.
With Progress Map, you can easily provide your customers with essential information and navigate them to the places listed. You can display places as markers or carousels.
We could add numerous locations in just a few seconds during our testing. All we had to do was add the coordinates of the locations.
Also, it's important to note that you have no limitations regarding how many locations you add with Progress Map.
Progress Map features:
5,900+ sales
4.4/5 ratings
User-friendly
Marker & Carousel display
Price: $59 (may vary)
MORE INFO / DOWNLOAD
5. MapSVG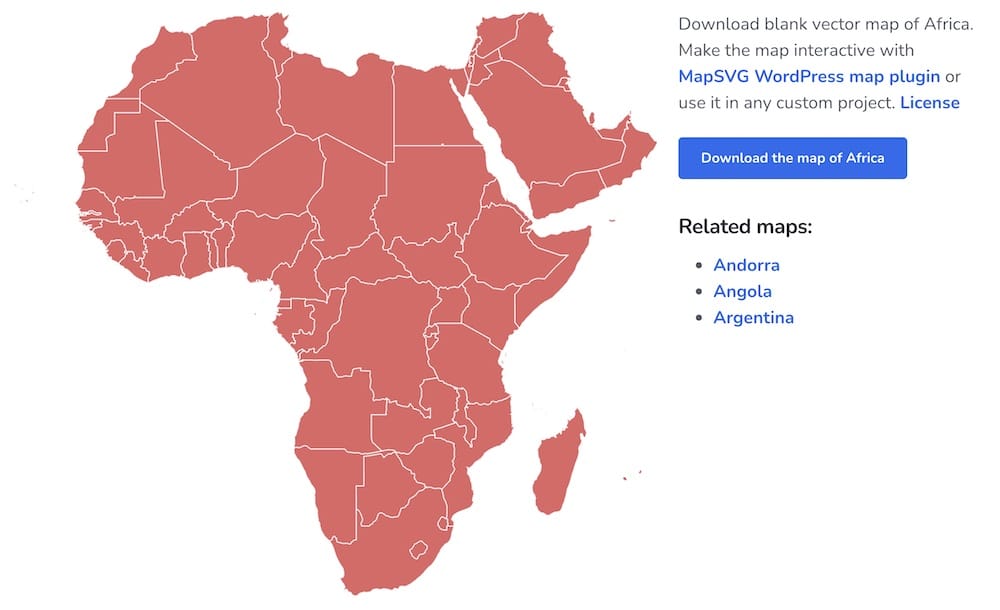 If you need ultimate control over the maps you create, MapSVG is the perfect plugin for you. MapSVG allows you to customize a map or create one from scratch fully.
More specifically, MapSVG lets you create or edit vector, Google, or image maps. With this plugin, you can draw anything, design objects, and then place them on your map.
You can also add filters like text search or location search to help users find the information they need.
It is the ultimate choice for advanced users who can create a top-notch digital map. (Note: We tested it with a beginner and he had no problem using it.)
MapSVG features:
10,900+ sales
4.5/5 ratings
You can add WP shortcodes from other plugins
Fully customizable maps
Price: $49 (may vary)
MORE INFO / DOWNLOAD
6. Mapplic

Mapplic is a powerful map plugin. You can easily turn an image or vector graphic into a fully responsive and interactive map with the details you want to share with your customers.
You can use it to build floor plans, like airports and hospitals, temporary maps, festivals and camps, and even moving vessels like catamarans.
The best part is that this WordPress map plugin is a multipurpose tool that works for anything you want.
Mapplic features:
12,000+ sales
4.6/5 ratings
6-months (free) support
Works on any device
Price: $46 (may vary)
MORE INFO / DOWNLOAD
7. Hero Maps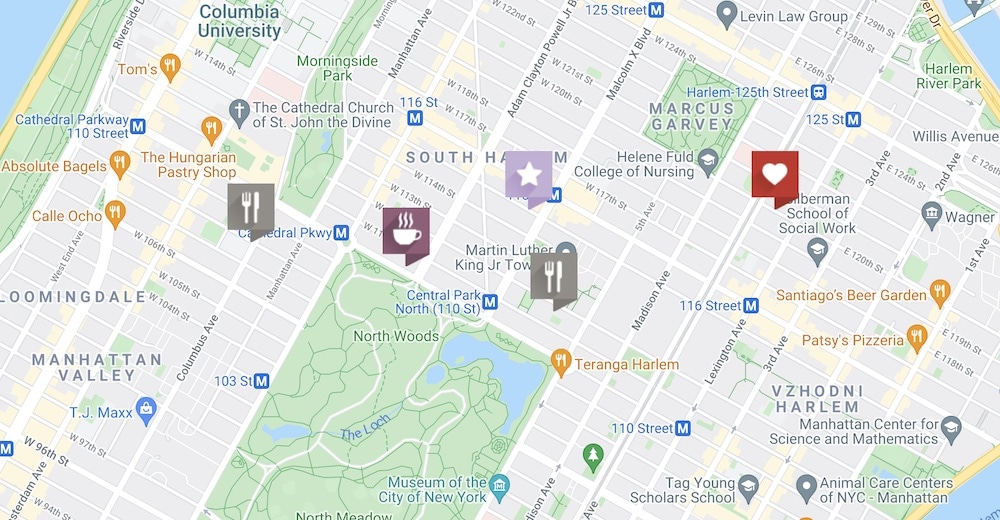 Hero Maps is a great choice for anyone looking for an easy-to-use plugin. The plugin lets you use numerous tools and fully customize your map in a few clicks with drag-and-drop builder.
Some of the features and configuration options offered are: map skins, shapes, animations, markers and fonts.
You can even categorize the markers and filters.
With this WordPress Google Maps plugin, you can create multiple maps and use them on different pages.
In short, Hero Maps is designed for beginners and advanced users who don't want to deal with code.
Hero Maps features:
3,100+ sales
4.3/5 ratings
Custom lines & shapes
Categories & filters
Price: $20 (may vary)
MORE INFO / DOWNLOAD
8. Interactive World Maps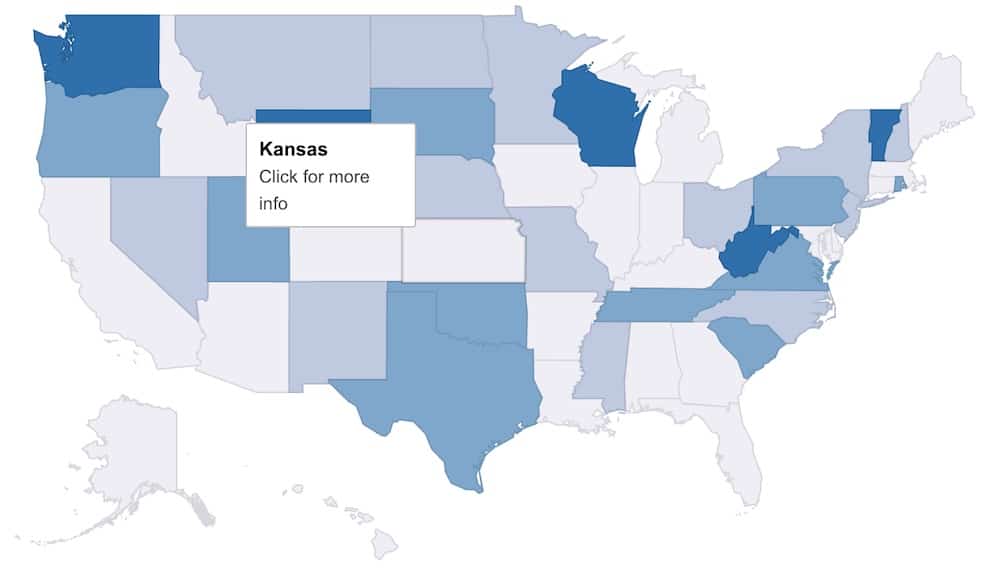 With the Interactive World Maps plugin, you can use any type of map.
Do you need a map of the world? Or maybe a map of a continent, country or state? Interactive World has it all for you.
You can use colored markers to represent a country, for example, and create interactivity with your audience by adding a URL link to a click area.
You can also modify features like background color or the size and color of the markers.
Interactive World Maps is a high-quality yet beginner-friendly map plugin. It is ideal for travel agencies and multinational companies.
Interactive World Maps features:
15,400+ sales
4.6/5 ratings
Include maps of all continents
Tooltip & hover actions
Price: $29 (may vary)
MORE INFO / DOWNLOAD
Best Free WordPress Map Plugins
9. Interactive Geo Maps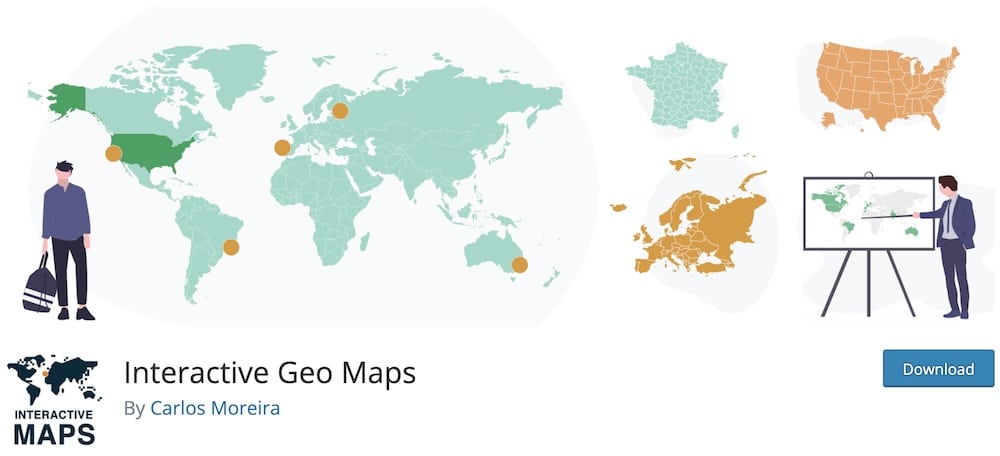 Moving on to our selection of free map plugins, we have Interactive Geo Maps.
The plugin offers a wide range of maps, including world maps divided into continents, countries, regions, states, etc.
If you have a map project and want to showcase visited countries or statistical maps, this is the best solution.
Also, you can create countless maps, exclude some regions and add colors to markers. And the best thing is that all the maps we created are responsive and fast loading.
Interactive Geo Maps features:
20,000+ active installations
4.8/5 ratings
More than 250 vector maps
Create unlimited maps
Custom click actions
MORE INFO / DOWNLOAD
10. WP Google Maps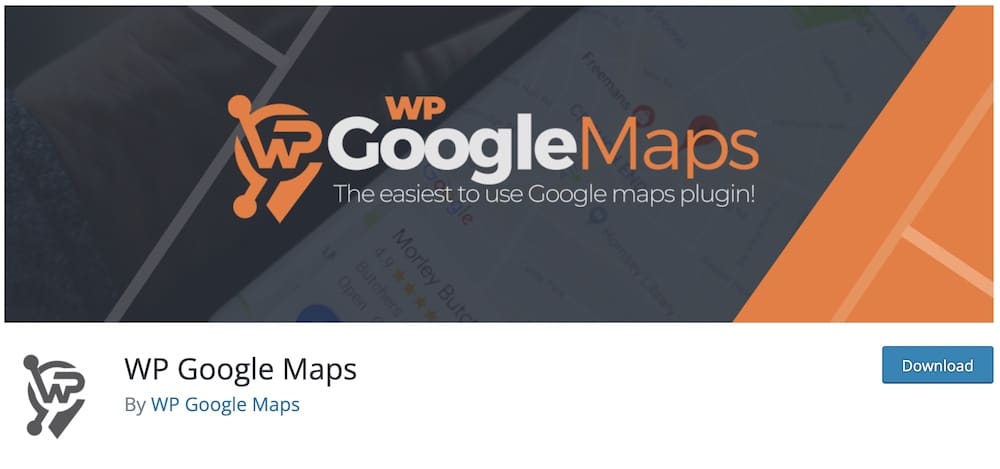 Next in our list and one of our favorite free map plugins is WP Google Maps. With excellent reviews and 400k+ active installs, the plugin needs no introduction.
With this plugin, you can create and customize maps with countless markers to show locations, routes, delivery locations, or anything else. (No programming knowledge is required.)
The free version also includes a map widget feature, different map types (terrain or satellite), themes, and more.
This WordPress map plugin is a reliable choice for those who do not have much experience creating maps.
WP Google Maps features:
400,000+ active installations
4.8/5 ratings
Helpful demos
Easy-to-use
Map widget functionality
MORE INFO / DOWNLOAD
11. MapPress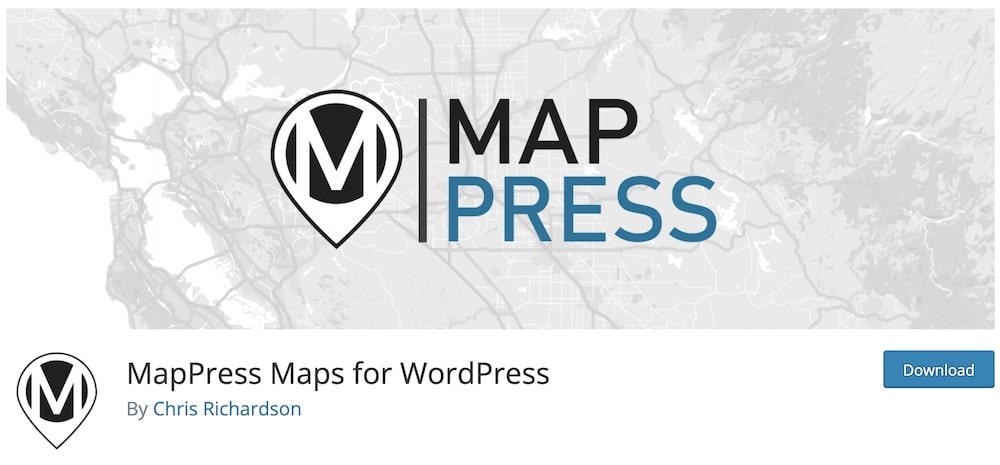 MapPress is a beginner-friendly and responsive plugin that we used on three occasions.
What's cool, you can use the plugin directly from the Gutenberg editor. You can also find instructions on installing and activating the map plugin on the developer's website.
It's EASY.
We enjoyed using the pop-up map editor during our testing. Creating a map with MapPress is a piece of cake.
MapPress is the perfect free WordPress map plugin for anyone looking for an easy-to-use map creator for blogs and websites.
MapPress features:
50,000+ active installations
4.6/5 ratings
Compatible with Multisite installs
Works with WPML plugin
Create maps with PHP
MORE INFO / DOWNLOAD
12. WP Store Locator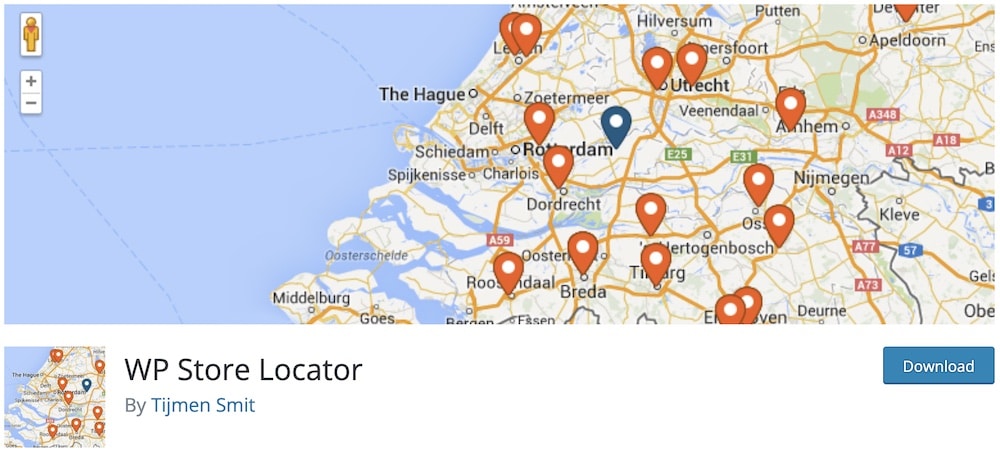 WP Store Locator is one of the most popular map plugins. It is an easy-to-use plugin that uses an advanced system to help you add more than one store location to your map.
When you use the plugin, you get directions to the store you want to visit. You can also add additional details about the store like phone, email, URL, etc.
(It supports distances in km or miles.)
This free WordPress map plugin includes almost 50 filters so that you can customize the look of the plugin accordingly. And finally, it offers multilingual support.
WP Store Locator features:
70,000+ active installations
4.8/5 ratings
Almost 50 appearance filters
Limit max. results
Practical filtering
MORE INFO / DOWNLOAD
13. WP Google Map Plugin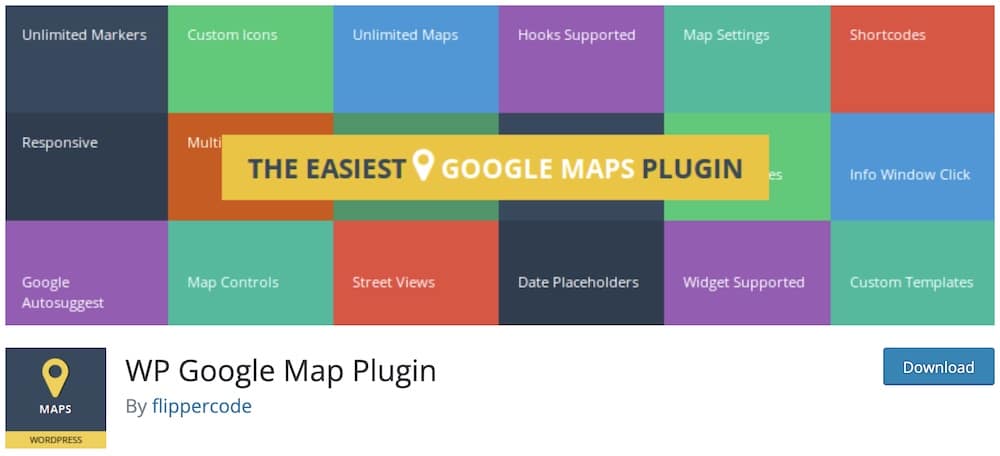 WP Google Map includes many customizable features such as a large collection of markers, map fonts, 4 map types, draggable maps, saving different paths, etc.
You can also view real-time traffic and get a street view with this free WordPress map plugin.
It is a fully responsive map plugin that we tested on major browsers to ensure its reliability. Go map building like a champ now.
WP Google Map Plugin features:
90,000+ active installations
4.2/5 ratings
Supports street view
Edit map size
Drag-and-drop builder
MORE INFO / DOWNLOAD
15. Leaflet Map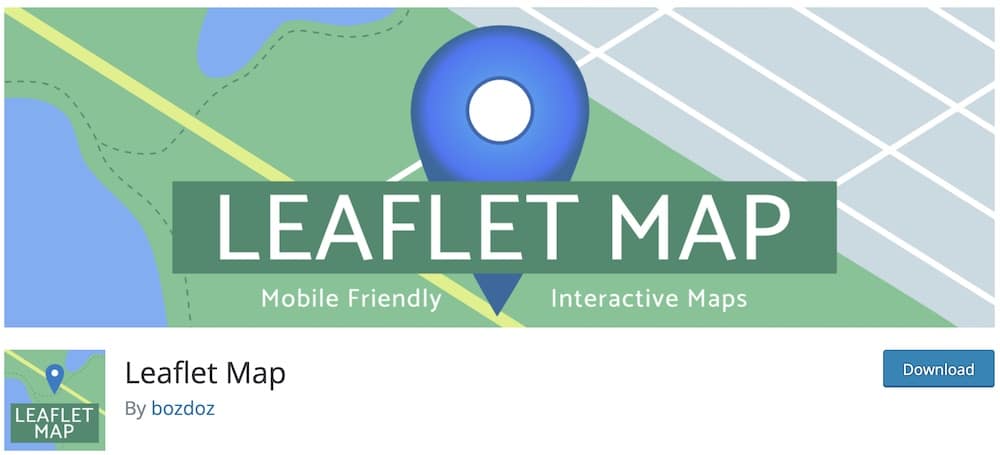 Last but not least, we have Leaflet Map by Bozdoz, a very reliable free map plugin. This plugin is ideal if you want to create a mobile-friendly interactive map.
With a few simple steps, you can create your map, add numerous markers, pop-ups, images and any shapes to showcase places.
You will get instructions on how to use this free map plugin. All users will quickly get the most out of it (guarantee!).
Leaflet Map features:
30,000+ active installations
5/5 ratings
Quick address lookup
Easy zooming
Flawless shortcode integration
MORE INFO / DOWNLOAD
6 Key Features Of The Best WordPress Map Plugin
When you search for a map plugin, you end up with endless results either on CodeCanyon or WordPress.org.
How to pick the right one?
That's why we created a list of the mandatory features that a WordPress map plugin needs.
This helps you if you plan to do further research, which probably won't happen because the plugins we included in this collection have everything you need.
Responsive layout: I just recently installed a plugin and later found that it's not responsive. Yup, that's still a thing, so you must pay close attention to responsiveness. And it's essential for a map display to be mobile-ready because it can ruin the user's experience otherwise.
Ease of use: Not everyone has experience with installing WordPress plugins and configuring them to their needs. That's why we added only those that have an intuitive and beginner-friendly interface.
Customization: While this depends on whether you get a free or premium plugin, they all still need to have at least some customization options. This allows you to blend the map display with your theme and branding for a better overall appearance.
Embedding: Instead of featuring a map only on pages, you may want to add them to posts and widget areas. For this reason, a map plugin needs to include shortcodes and widgets.
Translatable: You must have the chance to translate the map and use it in any language you want. (You can use any of the best WordPress translation plugins.)
Support: And there's no good plugin without a good support. Besides a team of experts that you can always reach out to, in-depth documentation can answer most of your questions, too.
Frequently Asked Questions About WordPress Map Plugins
What Is a Map Plugin?
A WordPress map plugin is the easiest way of adding Google Maps, floor plans or any other mapping to your website.
You don't need to know how to code to make it happen – yup; the plugin does all the hard work instead of you.
Even experts who know how to embed a map into a WordPress website with an HTML code prefer to use a plugin because it saves them time and effort.
How Do I Create an Interactive Map in WordPress?
We highly recommend you use a plugin to add an interactive map to your WordPress website.
It unlocks many features and functions you can easily customize to your business's needs.
Don't worry about the tedious process of coding or hiring someone to do it for you.
A map plugin (+ its documentation and support) allows everyone to have the freedom of designing the perfect map to boost the overall site user experience.
How Do I Add a Google Map to WordPress?
You can add a Google Map to WordPress with a plugin in just a few clicks. But we also have a complete tutorial on how to add Google Maps in WordPress if you need a step-by-step guide.