Are you searching for the best free and premium WordPress quiz plugins?
In recent years, quiz plugins have become very popular among website owners. (And that's understandable.)
What's more fun and engaging than a well-constructed quiz?
For this reason, 100s of quiz plugins are available. So, it is only natural that you might struggle to find the right one for you.
Don't worry!
Even the most complex question has an answer.
We have researched and tested 30+ quiz plugins to create a top list for you.
This post covers:
Increase your website engagement NOW!
THE ULTIMATE 2:
Best Premium WordPress Quiz Plugins
Note: You may also want first to read our tutorial on how to install a WordPress plugin.
1. eForm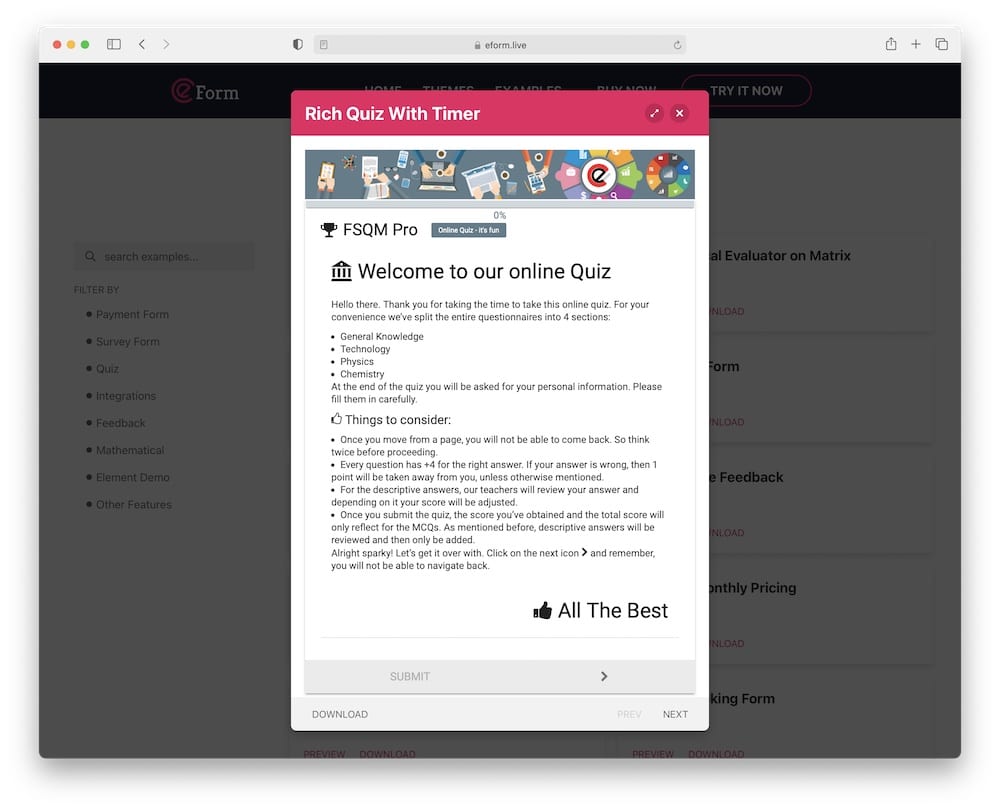 Our first selection is a WELL-KNOWN form builder, eForm. Even if the name doesn't suggest a quiz plugin, we can confirm that eForm has an amazing quiz creation feature.
You get 15+ automated quiz elements with this WordPress quiz plugin.
Another great feature is inserting a manual scoring board on your quizzes.
eForm is an excellent choice for creating engaging quizzes and other forms just by using one plugin.
eForm features:
15,000+ sales
4.5/5 ratings
WooCommerce integration
Easy WP widget integration
Price: $39 (may vary)
MORE INFO / DOWNLOAD
2. Viral Quiz Plugin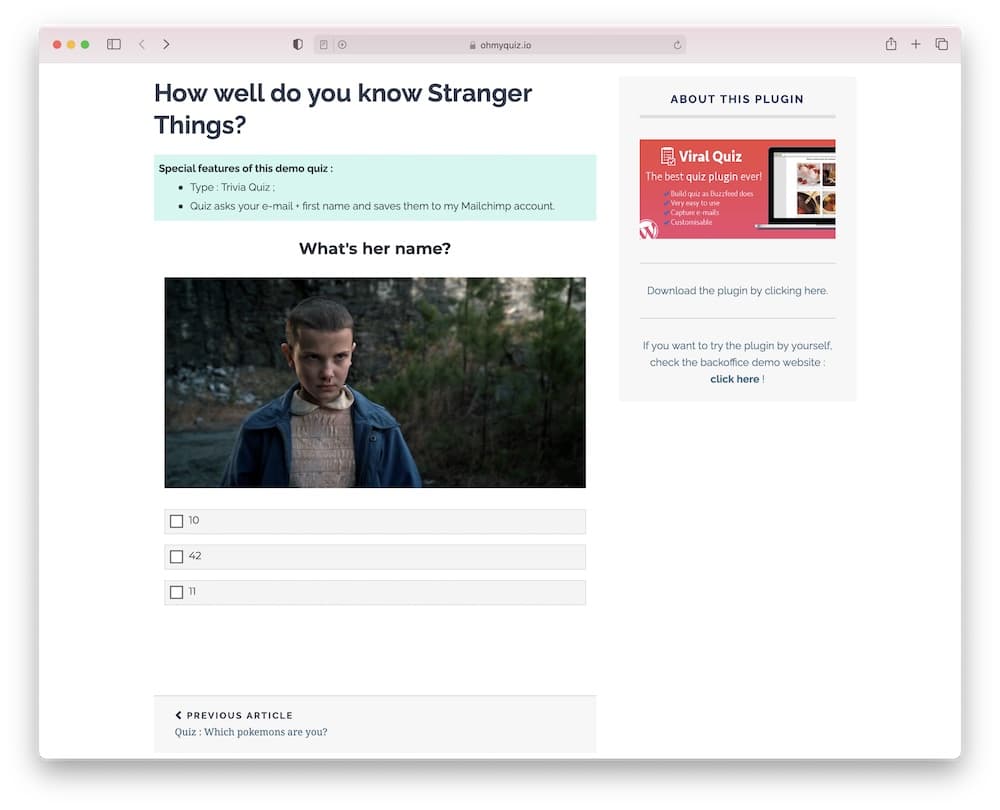 WordPress Viral Quiz Plugin provides you with two quiz styles. You have the option to choose a personality or trivia test.
This WordPress quiz plugin also has NUMEROUS marketing tools, such as social sharing buttons.
Viral Quiz is also fully responsive.
This quiz plugin is excellent for increasing page views and subscriptions with powerful quizzes and other marketing tools.
Viral Quiz Plugin features:
MORE INFO / DOWNLOAD
3. Advisor Quiz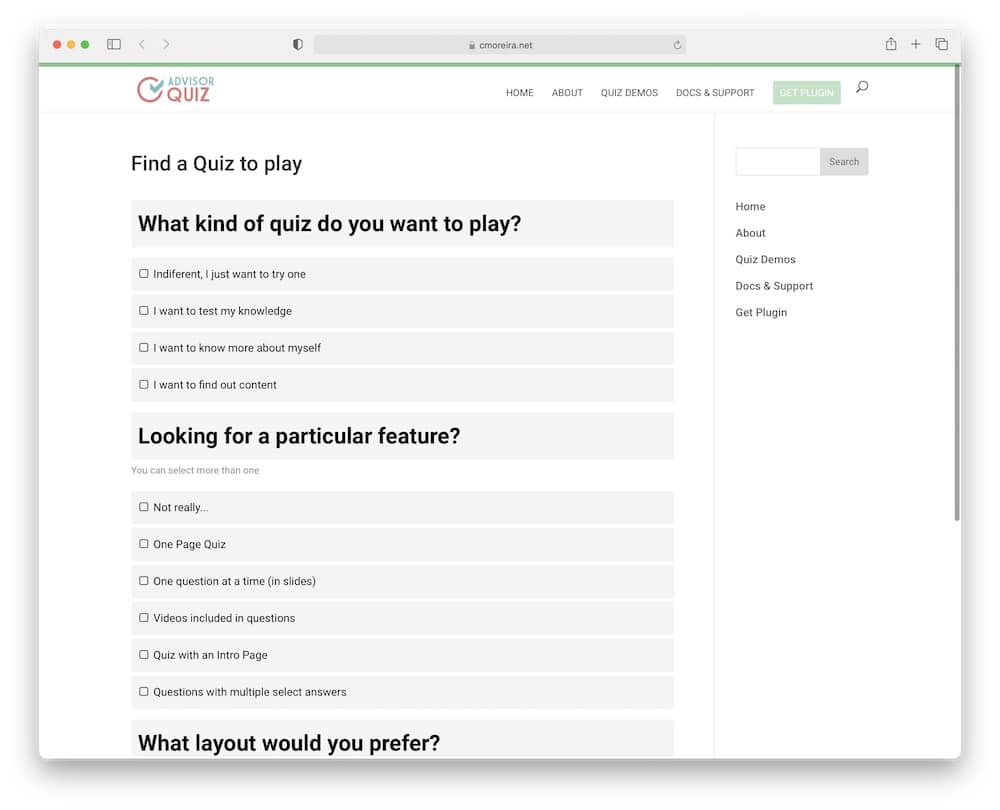 Are you looking for a great WordPress quiz plugin that will give a lot of possibilities for personalization? If so, Advisor Quiz is for you.
This plugin has four quiz styles and three customizable layouts (presentation, image grid and minimal style).
When it comes to styling, Advisor Quiz has it all. You can create trivia, personality, count and content quizzes in just a FEW minutes.
This quiz plugin is perfect if you want to get creative and design different types of quizzes every time.
Advisor Quiz features:
2,100+ sales
4.9/5 ratings
Fully customizable layouts
Powerful analytics
Price: $39 (may vary)
MORE INFO / DOWNLOAD
Best Free WordPress Quiz Plugins
4. Quiz And Survey Master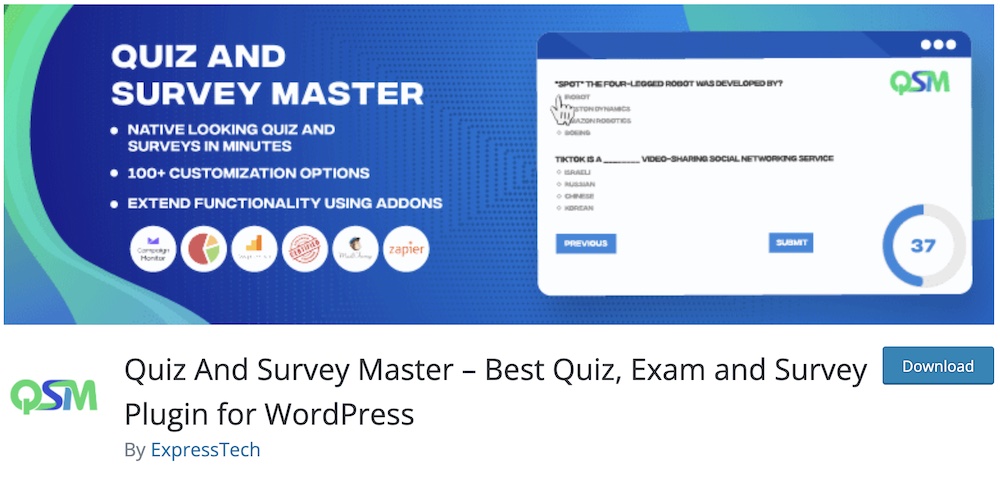 For our first free choice in this list, we come across a well-known quiz plugin, the Quiz And Survey Master.
This quiz plugin allows you to create quizzes and WordPress surveys on your website quickly and easily.
You get many features to work with like, leaderboards, score trackers and numerous question layouts.
You CAN create multiple-choice, true or false questions, fill in the blank, number, etc.
Create interactive quizzes with different types of questions like a boss!
Quiz And Survey Master features:
40,000+ active installations
4.8/5 ratings
Emails after quiz completion
Flexible points-based system
Sharing buttons for results
MORE INFO / DOWNLOAD
5. Quiz Maker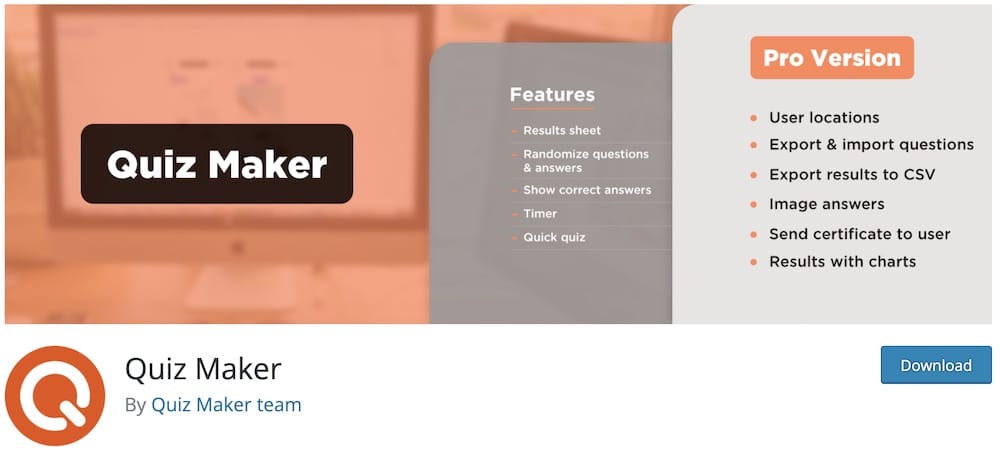 Quiz Maker is an ultimately reliable tool. It proved a great solution for those needing a beginner-friendly quiz plugin during our review.
You have 0 limits regarding the number of quizzes and questions you need to insert with Quiz Maker.
Moreover, Quiz Maker features a GREAT sheet for results.
Another cool function is making your quizzes available only to logged-in users. (Optional.)
This WP quiz plugin is a powerful free choice you won't regret downloading.
Quiz Maker features:
20,000+ active installations
4.9/5 ratings
7 question types
Supports image, audio & video questions
Easy to use
MORE INFO / DOWNLOAD
6. Opinion Stage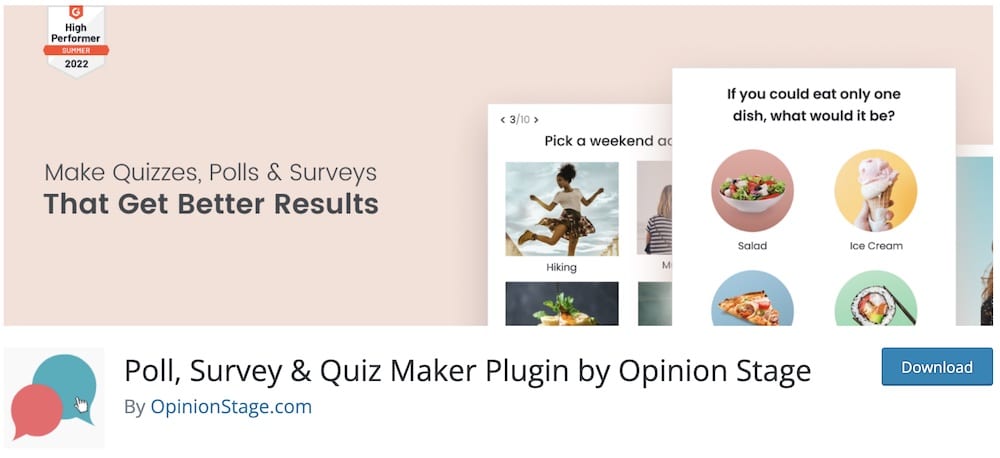 This is an all-rounder quiz plugin that will help you with different tasks.
You can create surveys, polls and forms (to gather valuable information) with Opinion Stage.
It has many features like an easy-to-learn control dashboard to manage every quiz you have ever made.
Apart from that, with this plugin, you can CUSTOMIZE many details like sizes, colors, fonts, etc.
Opinion Stage features:
10,000+ active installations
4.4/5 ratings
4 different layouts for every task
Display results in real-time
Supports 40+ languages
MORE INFO / DOWNLOAD
7. Watu Quiz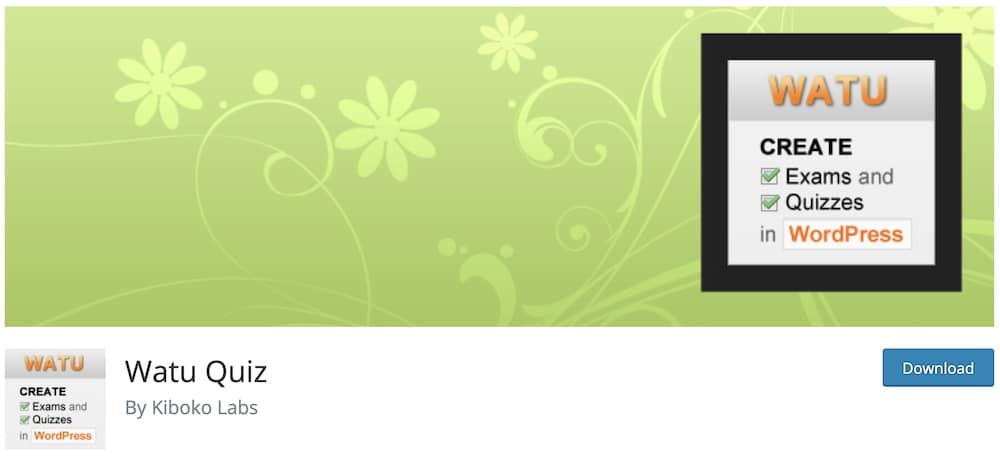 If you are looking for a touch-friendly and responsive quiz plugin that allows you to create simple quizzes and exams, Watu Quiz is for you.
You can award points in every question and grade the questions differently.
Then, the plugin will AUTOMATICALLY calculate the total points for your visitors.
Although we found the free version to be sufficient, Watu also offers a Pro version with numerous advanced quiz-related features.
Watu Quiz features:
5,000+ active installations
4.7/5 ratings
Single & multiple-choice questions
Facebook & Twitter sharing buttons
User-friendly interface
MORE INFO / DOWNLOAD
8. ARI Stream Quiz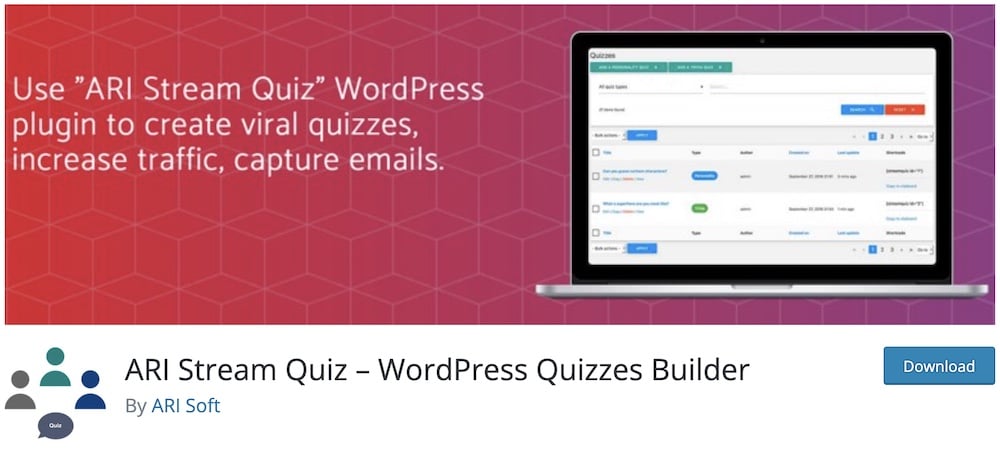 ARI Stream Quiz is a plugin for creating any trivia quiz you can think of.
You can create multiple-choice questions and embed them into posts and pages with simple shortcodes with this plugin.
Plus, it can integrate with mailing plugins like Mailer Lite and MailChimp. (You can INSTANTLY notify your visitors about upcoming quizzes.)
In conclusion, this quiz plugin is a great tool for anyone who wants to create quizzes and market them via email simultaneously.
ARI Stream Quiz features:
3,000+ active installations
5/5 ratings
Share buttons for all the popular social networks
Unlimited quizzes
Fully translatable (use your favorite WordPress translation plugin)
MORE INFO / DOWNLOAD
9. Quiz Cat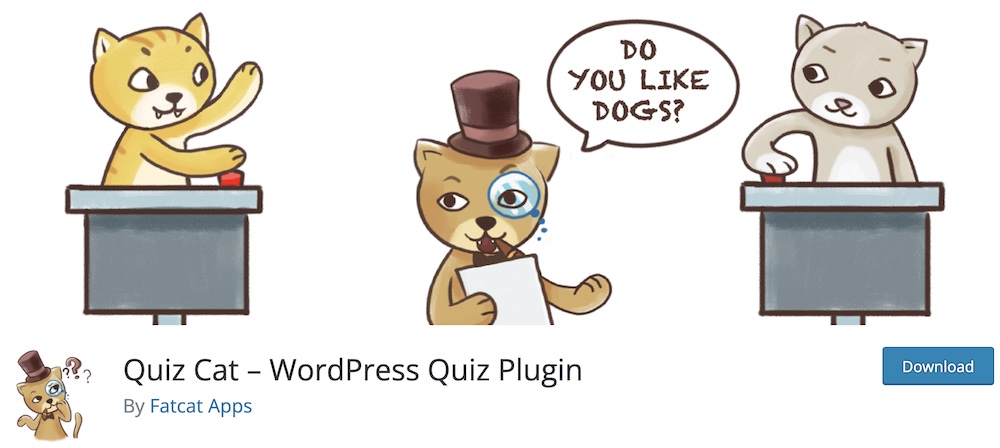 If you are looking for a quiz plugin that will lead to more social shares and more user engagement on your website, Quiz Cat is for you.
You get a variety of features to work with. First, you can select two to four possible answers for each question.
Also, you can customize the headline, image, and start quiz button.
Apart from that, this quiz plugin is an EXCELLENT choice because you also have the option to include a description based on a user's quiz score.
Quiz Cat features:
5,000+ active installations
4.6/5 ratings
Great support team
Unlimited quizzes & questions
Compatible with Gutenberg
MORE INFO / DOWNLOAD
10. HD Quiz

HD Quiz proved to be one of the market's fastest and easiest quiz plugins during our testing.
This WordPress quiz plugin really STANDS OUT with its features and customization options.
Creating quizzes with HD Quiz is VERY beginner-friendly.
It lets you manage each question, add a quiz timer, set images, and add WP animations to make your quizzes more visual.
Create unlimited quizzes in no time and boost your site experience!
HD Quiz features:
8,000+ active installations
5/5 ratings
Mobile friendly
Touch compatible
Featured image for every question
MORE INFO / DOWNLOAD
11. Product Recommendation Quiz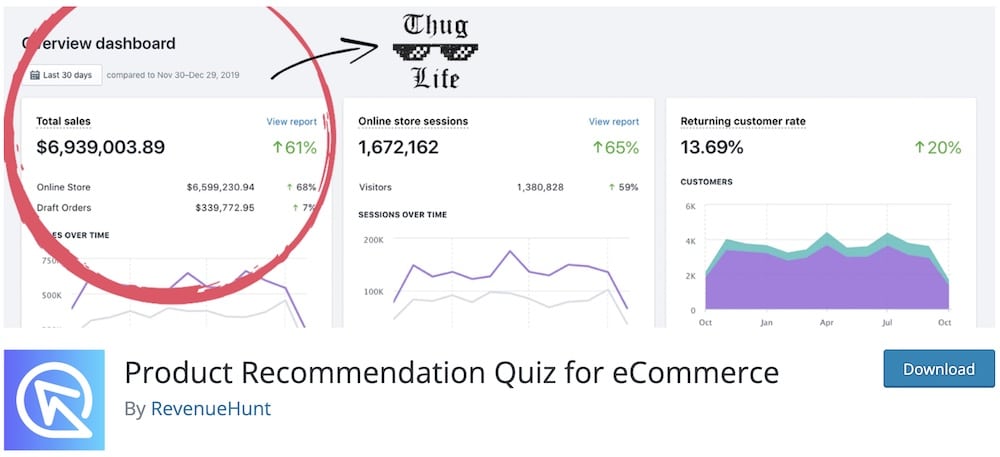 Product Recommendation Quiz is one of the coolest things I've found in a while.
It's pretty self-explanatory, helping you sell your product like every user would have a personal shopper.
Want to boost sales? This is it!
You can even use it for recovering abandoned carts, reducing support costs, and more.
The customization process takes LITTLE time, easily altering the plugin to your specific eCommerce website needs.
Go.
Product Recommendation Quiz features:
2,000+ active installations
5/5 ratings
Full WooCommerce support
Effortless editing
Lead capture
MORE INFO / DOWNLOAD
Benefits Of Adding A Quick To Your Website
You may not want to add a quiz to your website immediately after launching a website. (Hey, you may not have the traffic, so it won't be effective – just yet!)
Unless you're building a viral WordPress website – then quizzes are something you may want to consider including right away.
For all the rest, this may come later as an actual feature or if you'd like to check users' responses to how well they enjoy your website.
But the uses of quizzes are many more!
One of the key benefits of quizzes is user engagement. It's like a game, and we all like playing games. And because it's usually an anonymous quiz, many more users are interested in participating.
And because the engagement is higher, you can also expect a reduction in your website's overall bounce rate. And do you know what that means? Better SEO!
A quiz related to your business and products can drastically increase conversion rates.
You can also use quizzes as a lead magnet. User is more prone to fill out a form (with their email) when they are on your website for longer, especially if the quiz is great – so make sure you put some extra thought into it.
Quizzes are fantastic for testing users' skills, whether you do it just for fun or for onboarding (employees, students, members, etc.).
Our recommendation: Don't just throw a bunch of questions together, thinking your quiz will strongly impact your visitors.
Sadly, it doesn't work like that.
It can actually hurt the performance!
You must carefully study each question, easing the user into more serious ones.
Luckily, you can test different questions to see what works best.
But even after you find the winning combination, we still advise you to test new ones occasionally.
Now you have everything you need to win the quiz game.
::
Note: This article was originally published on February 25, 2022. But our team regularly reviews it and updates it with necessary improvements for accuracy.