The most flexible and easy-to-use viral WordPress themes to grow your audience and create social buzz.
We had a blast putting this review together in collaboration with four bloggers and two online magazine owners.
Instead of building a website from the ground up, use a theme with everything ready to go instead. (Code-free!)
You can start making some noise online quickly.
Mix and match the available and have a website ready for your viral content to spread like wildfire.
Make it POP!
THE ULTIMATE 6:
Best Viral WordPress themes
1. Ceris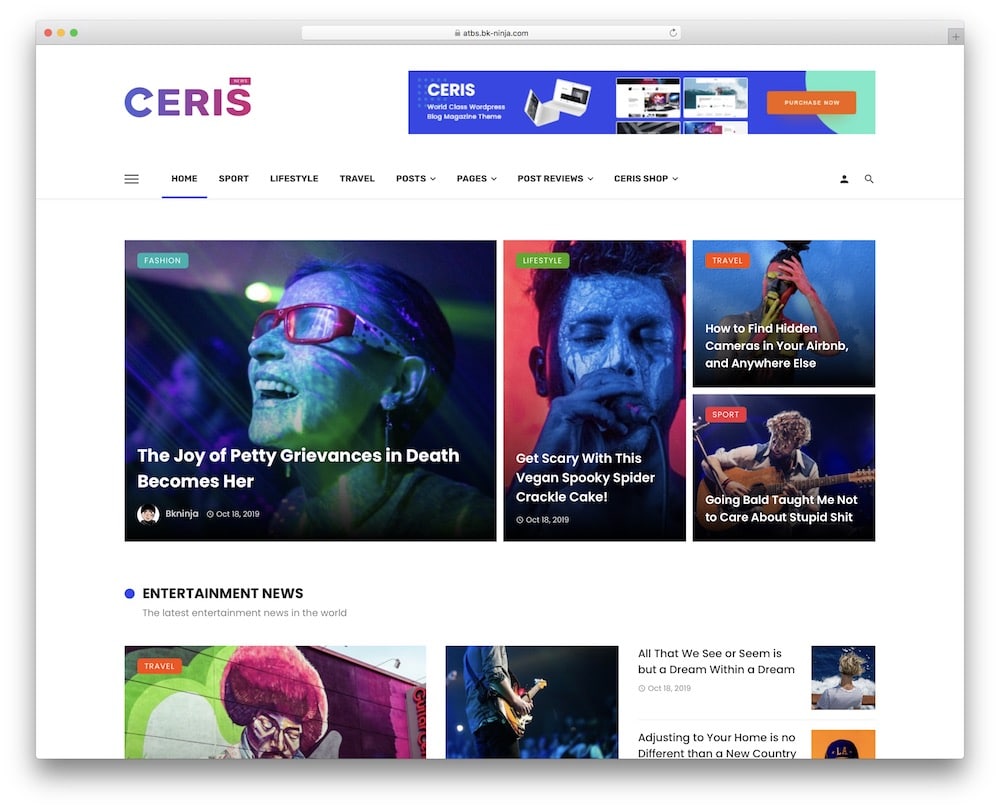 Ceris is a modern, and stylish WordPress theme made especially for news and magazine sites. It comes with viral and social buzz features and is also extremely flexible.
Furthermore, Ceris is Gutenberg-ready, includes GDPR protection and an amazing WooCommerce platform for you to create your shop.
Moreover, you can list your posts based on popularity, sharing, viewing, and visitor reviews. Of course, you can also include emoji reactions.
The are no limits to Ceris, so start building your dream news site today.
Ceris features:
1,700+ sales
4.9/5 star rating
40+ demos
Emoji reactions
Price: $59 (may vary)
MORE INFO / DOWNLOAD
DEMO
2. Newspaper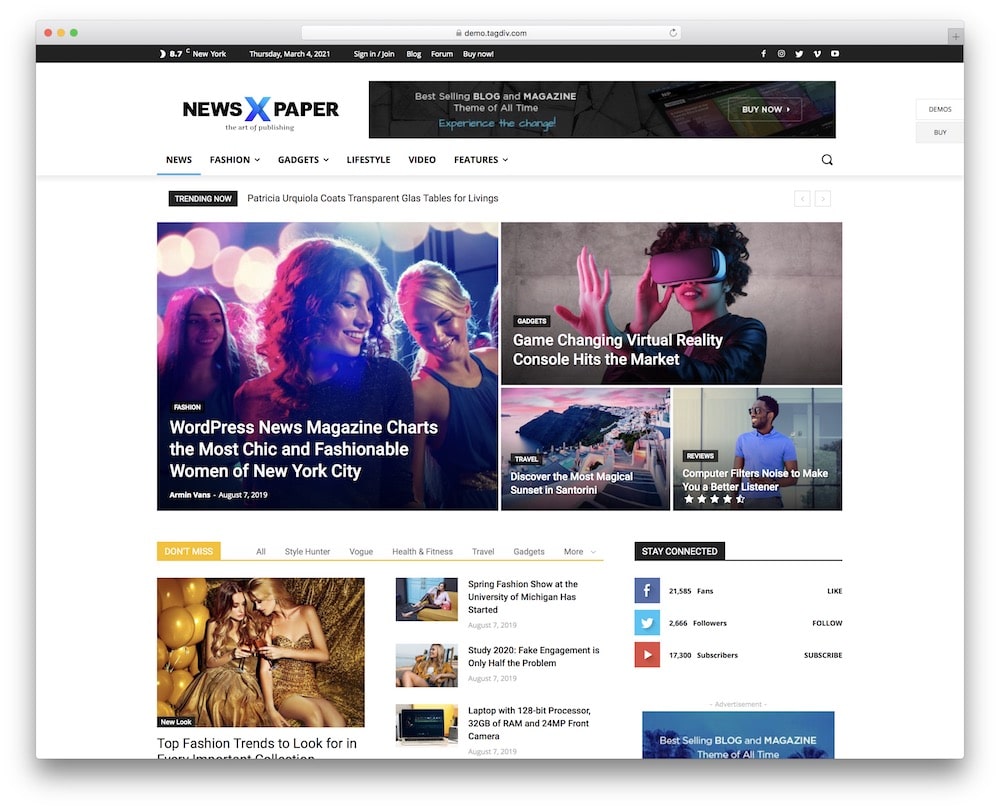 Create an awesome new site with the best-selling viral WordPress theme, Newspaper. With this theme, you can easily share your news and content about fashion, lifestyle, travel, luxury, or cryptocurrency.
Newspaper is integrated with social media, uses the best SEO practices, and is GDPR compliant.
It also offers lots of features such as pre-built templates, stunning landing page elements, Ad Box widget, Slider Revolution, WPBakery page builder, and Contact Form 7.
Over 100,000 happy customers trust and work with Newspaper every single day.
You can get to a level you never imagined going to with Newspaper.
Newspaper features:
118,000+ sales
4.8/5 star rating
High page loading speed & performance
30+ full website samples
Price: $59 (may vary)
MORE INFO / DOWNLOAD
DEMO
3. ZoxPress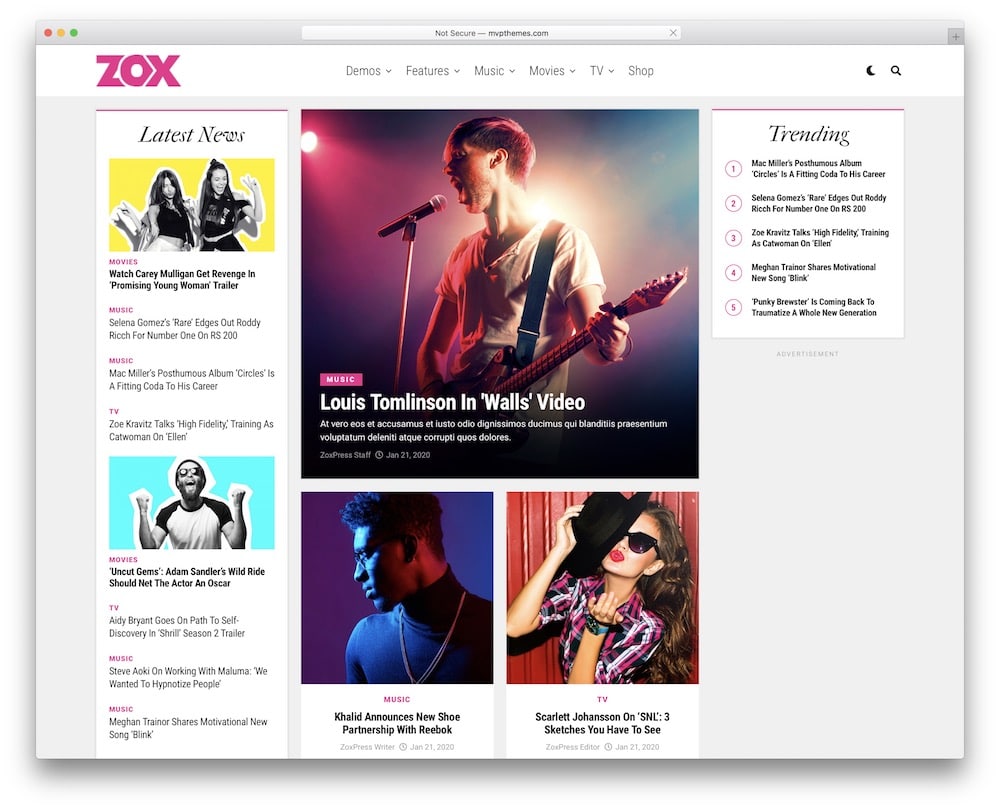 ZoxPress is a beautiful and clean viral news WordPress theme that will give you all the tools you need to create a professional site with viral content and social buzz.
It comes with fifteen awesome one-click homepages, numerous layouts, different header options, various posts, and tags. Besides, you can easily create engaging posts and "teaser" category pages with feature headlines.
ZoxPress gives amazing day or night mode, parallax ads, and auto-load posts for an even better user experience.
Furthermore, ZoxPress is fully responsive and retina-ready for a sharp look on all devices.
Deliver fantastic content and maintain a professional look with ZoxPress.
ZoxPress features:
1,500+ sales
4.7/5 star rating
Price: $55 (may vary)
MORE INFO / DOWNLOAD
DEMO
4. Soledad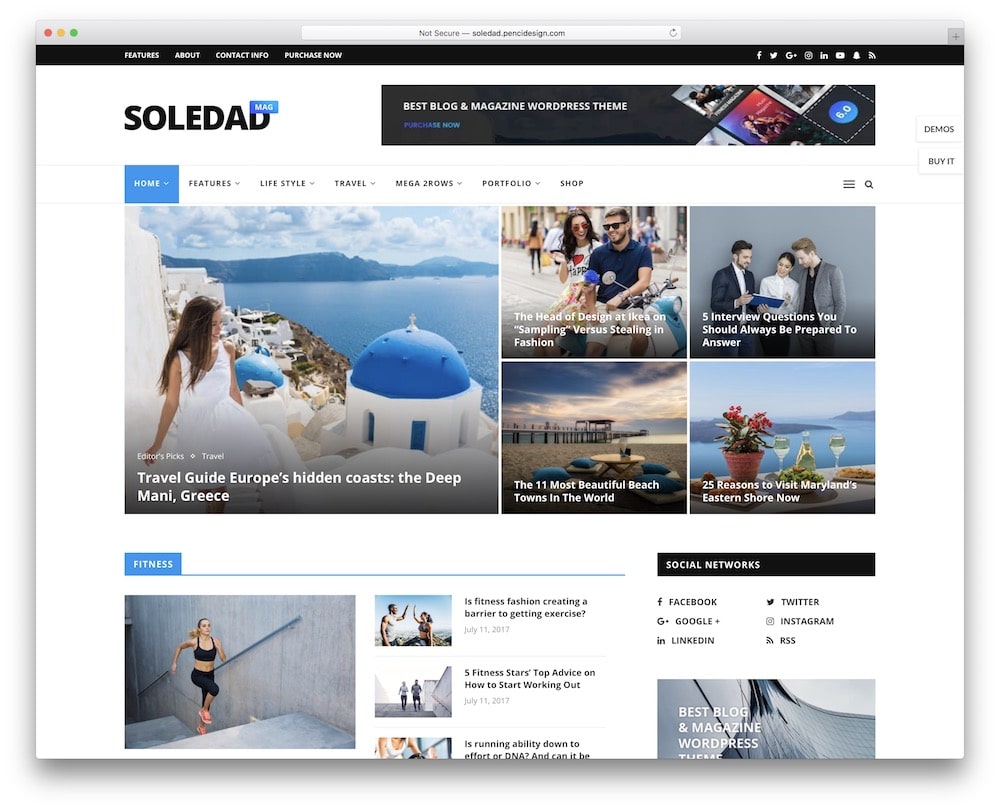 Start, run and grow viral magazine and blog with gorgeous and easy-to-use Soledad. This theme is powered by tools such as WPBakery, WooCommerce, Slider Revolution, and MailChimp.
You will also get a collection of index page demos for multipurpose use, numerous custom elements, various blog combinations, and amazing widgets.
Take advantage of all the awesome features and transition your new site into a stunning and popular content website.
Amaze your visitors with visual effects, styling, layouts, social buzz, and Soledad's overall quality.
Soledad features:
37,000+ sales
4.8/5 star rating
1,000s homepage possibilities
Dark layout option
Price: $59 (may vary)
MORE INFO / DOWNLOAD
DEMO
5. Sahifa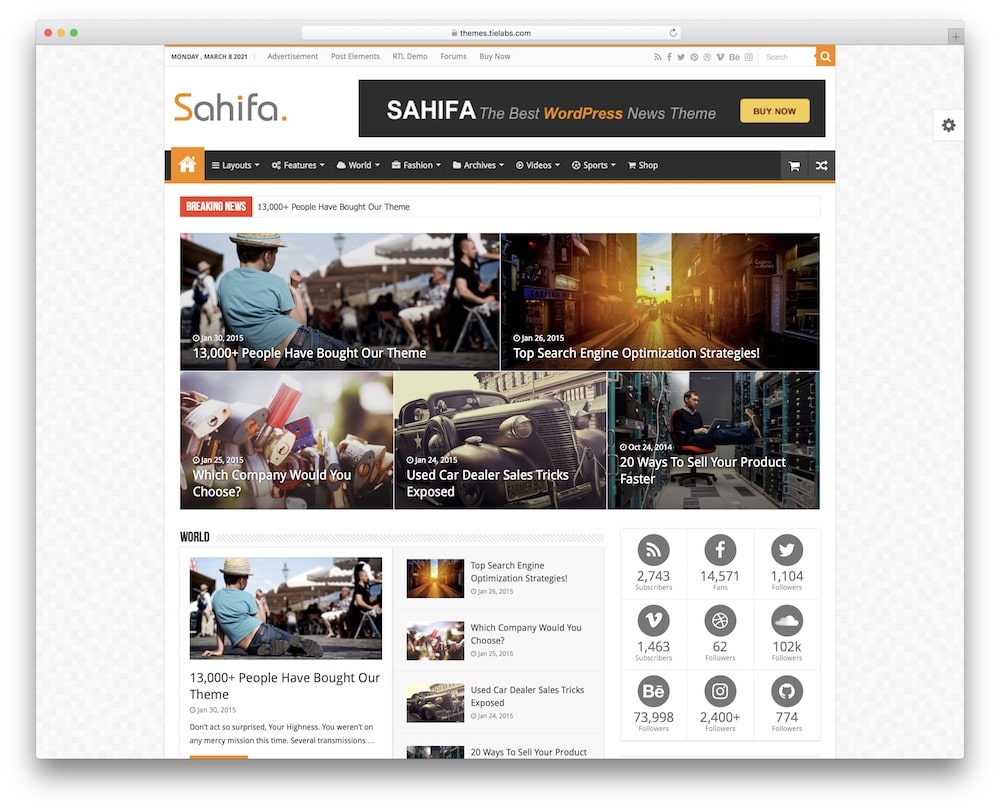 Sahifa comes with a big set of unique templates to help you create an amazing viral magazine. This modern and user-friendly WordPress theme is fully responsive and retina-ready for various screens and devices.
Sahifa offers many stunning plugins such as WooCommerce, BuddyPress, mega menu, and Ajax technology.
Besides, Sahifa includes a collection of skins, pre-defined patterns, custom widgets, various shortcodes, and more.
This inviting theme works with any operating system or browser, ensuring you and your visitors will have a smooth experience.
You have complete freedom to create and design without any coding knowledge with Sahifa.
Sahifa features:
28,000+ sales
4.7/5 star rating
Forum compatibility (bbPress, BuddyPress)
Price: $59 (may vary)
MORE INFO / DOWNLOAD
DEMO
6. Newsblock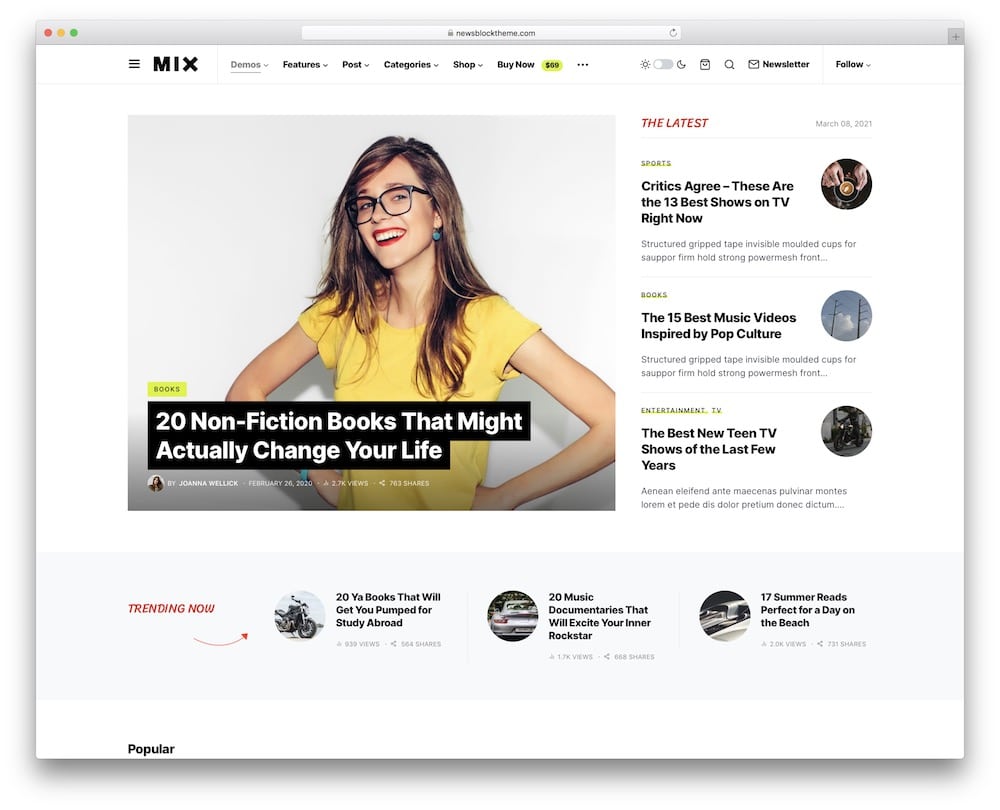 Newsblock is a beautiful and modern viral WordPress theme perfectly designed for rich-content sites.
With share buttons, social links, and social integration, your content has the possibility to go viral, and you can easily create social buzz to increase your audience.
A feature of Newsblock is the advanced popups for cookie notice, newsletter sign up, or viral content notifications.
In short, Newsblock comes with numerous pre-designed demos, a flexible layout, custom widgets, endless typography possibilities, and unlimited colors.
Furthermore, this theme is packed with remarkable technologies like video background, autoload next post, live search results, and advanced authors.
What's not to like?
Newsblock features:
1,600+ sales
4.8/5 star rating
Video background support
Special opt-in forms
Price: $69 (may vary)
MORE INFO / DOWNLOAD
DEMO
7. Newsmag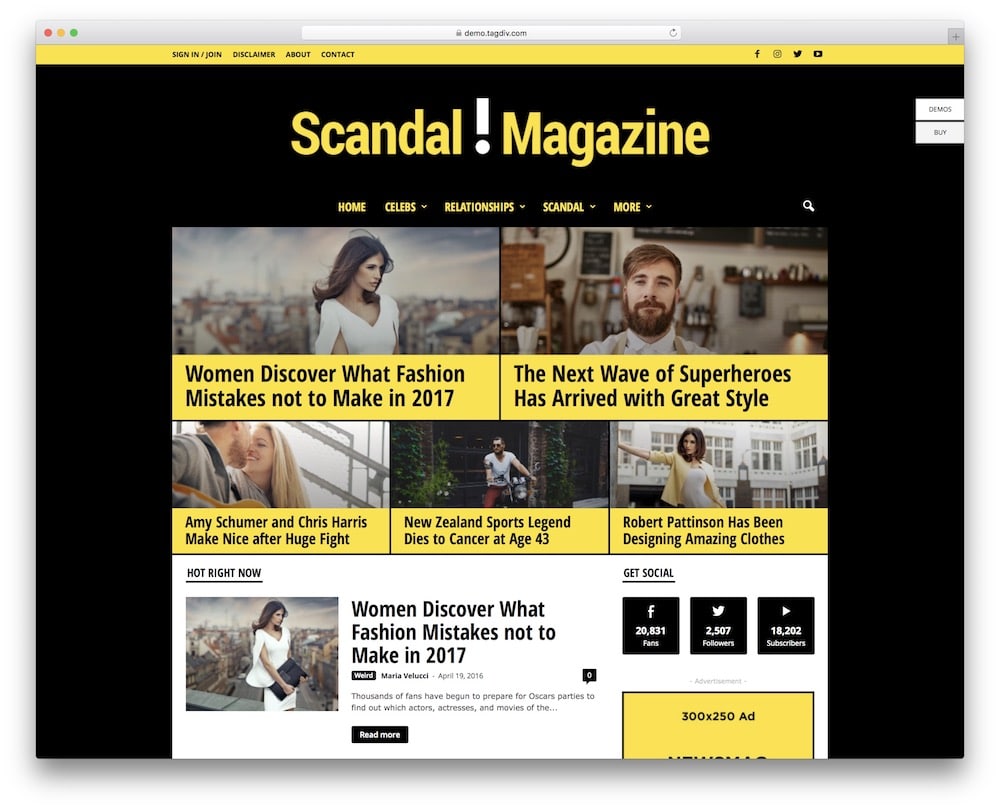 Newsmag is a pretty and professional-looking viral WordPress theme perfect for content creators.
This theme has flexible and versatile layouts so that you can design and customize your viral magazine site easily and fast.
Naturally, with Newsmag, you don't need any coding skills or professional design knowledge; you can modify everything yourself.
Furthermore, Newsmag includes a custom-made lightbox, smart sidebar, YouTube or Vimeo playlist, and custom-built drag and drop gallery.
On top of that, you will get an Ajax login system for your members to log in and register with ease to your new website.
Newsmag is an interesting and fully packed viral theme worth taking a long look at.
Newsmag features:
17,000+ sales
4.8/5 star rating
Free lifetime updates
Price: $49 (may vary)
MORE INFO / DOWNLOAD
DEMO
8. Bimber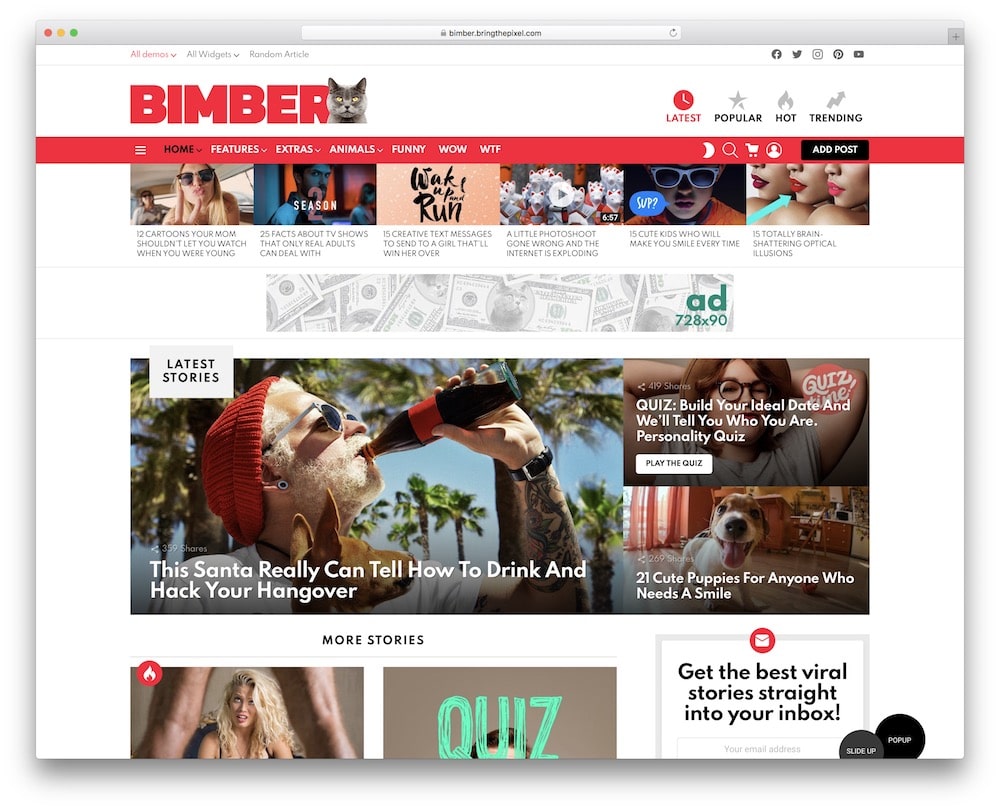 Bimber is the best-selling viral magazine WordPress theme that will help you launch a fully functional site in no time. This theme has many video-related features inspired by YouTube, Vimeo, and Dailymotion.
Bimber comes with an eye-catching switcher with which your visitors can easily switch to the dark mode and protect their eyes at night time.
Bimber is, for many years in a row, a best-selling theme, which tells a lot. Of course, you will never need to write a single line of code to work with Bimber.
By adding interactive and intriguing polls, you can engage your visitors with questions, images, and text.
Start today, go viral tomorrow.
Bimber features:
16,000+ sales
4.8/5 star rating
Black and white demos
Lightbox gallery
Price: $59 (may vary)
MORE INFO / DOWNLOAD
DEMO
9. Boombox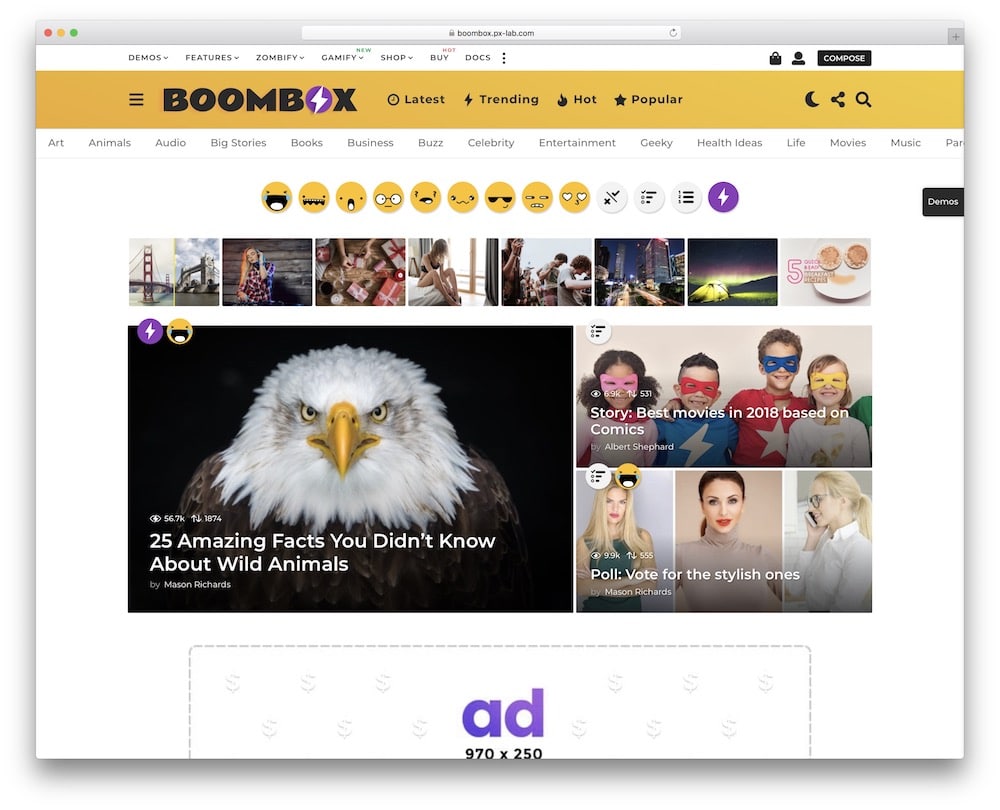 Boombox is a multipurpose viral WordPress theme for popular news, quizzes, trends, viral content, and exciting gossips.
It has sixteen amazing and unique samples, unlimited headers, fully flexible footers, and eleven custom widgets.
Boombox is responsive and retina-ready to work and appear smoothly on all devices.
Moreover, Boombox includes the most popular share buttons to easily distribute your content on social media. Of course, you can also build your online shop with a stunning WooCommerce plugin.
Start your success story with Boombox.
Boombox features:
6,200+ sales
4.8/5 star rating
3 premium plugins for free
Front-end post submissions
Price: $59 (may vary)
MORE INFO / DOWNLOAD
DEMO
10. InHype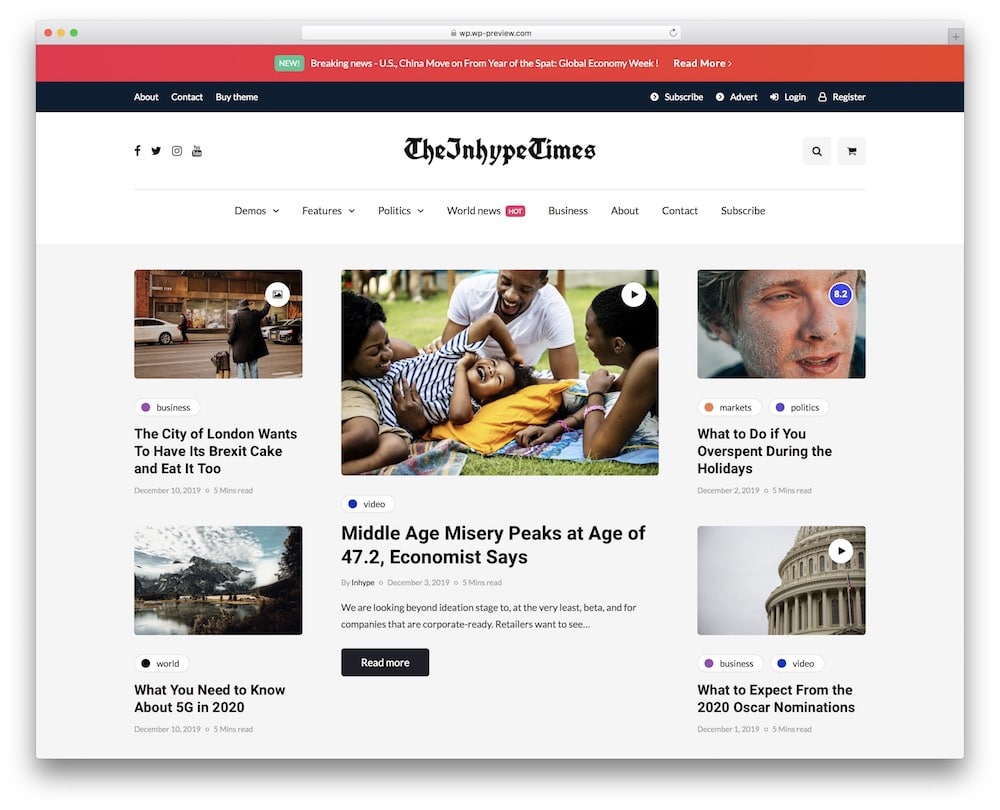 InHype is an effective and gorgeous WordPress theme developed for fast loading speed and smooth display.
It offers various index pages, eleven wonderful blog layouts, and pre-made article layouts.
InHype is optimized for SEO to help you increase organic website traffic quality.
In short, InHype will make it easy for you to create an amazing viral magazine or blog site. Also, you can create your online store with WooCommerce and offer useful products to your visitors.
The cool thing is that InHype works perfectly with Gutenberg. Besides, friendly customer support will give you a helping hand when you need it.
InHype features:
1,000+ sales
5/5 star rating
Drag & drop page builder
Step-by-step documentation
Price: $59 (may vary)
MORE INFO / DOWNLOAD
DEMO
11. Ennlil

Ennlil is a trendy and flexible viral WordPress theme powered by a lot of amazing features. This viral news theme comes with an Elementor page builder for easy drag and drop building.
Furthermore, Ennlil is translation-ready for the use of the language your audience speaks.
Moreover, you can simply use pre-made news blocks, different layout variations, and related promotional tools.
Ennlil includes a full set of social sharing links to make it easy for your visitors to share your interesting content and help you create social buzz.
The theme will help you present your site in the best possible way.
Ennlil features:
750+ sales
4.6/5 star rating
Social media counter
Multi-level drop-down menu
Price: $24 (may vary)
MORE INFO / DOWNLOAD
DEMO
12. Networker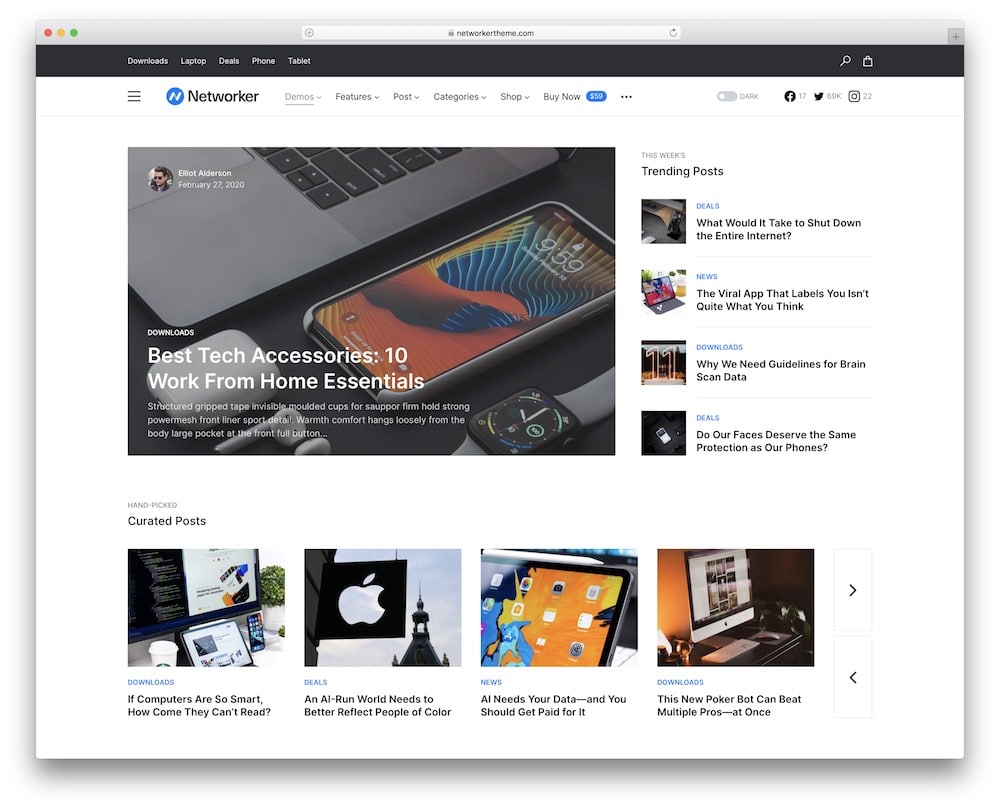 This viral WordPress theme is packed with advanced technologies and amazing specialties for your new site. Networker is very easy to use and still fully customizable exactly the way you want your website and business to look.
Networker comes with blocks, different galleries, tabs, various headings, and stylish lists.
Your content will have a possibility to go viral due to share buttons, social links, and stunning social integration of Networker.
Also, you can grow your subscribers' list with Contact Form 7 and MailChimp. Networker has everything you need for success and is one of the most feature-packed themes out there.
Networker features:
990+ sales
4.7/5 star rating
100% responsive structure
Google AdSense & Analytics support
Price: $69 (may vary)
MORE INFO / DOWNLOAD
DEMO
13. Weltgeist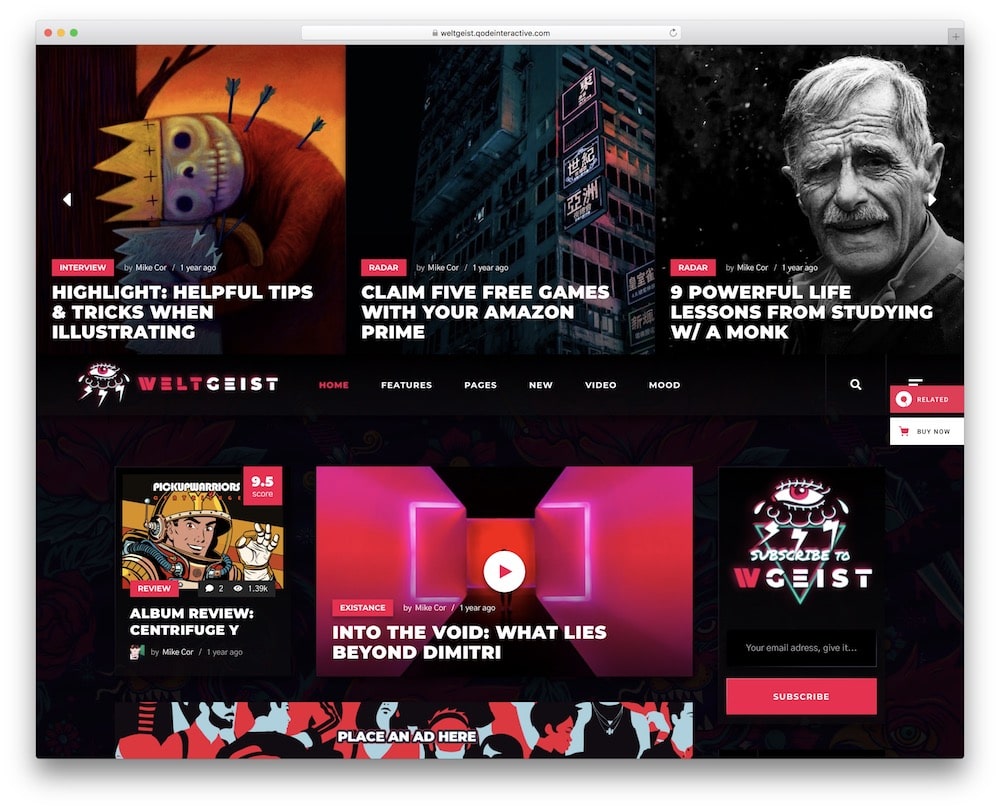 Entertain your visitors with Weltgeist, a modern viral WordPress theme, perfectly made for newspapers, online magazines, blogs, and other quality content creators.
You can easily customize your viral content with post blocks, layouts, or blog lists due to Weltgeist's display options.
To increase your income, you can also use ad banners which you can place all over your website.
Moreover, with Weltgeist you will get amazing accessories such as Slider Revolution, Elementor page builder, parallax effect, mega menu, and WooCommerce, to name a few.
Besides, it also comes with a child theme.
Weltgeist is an interesting and contemporary theme worth your attention.
Weltgeist features:
260+ sales
4.5/5 star rating
Multiple custom shortcodes
Parallax effect
Price: $79 (may vary)
MORE INFO / DOWNLOAD
DEMO
14. Snowdrop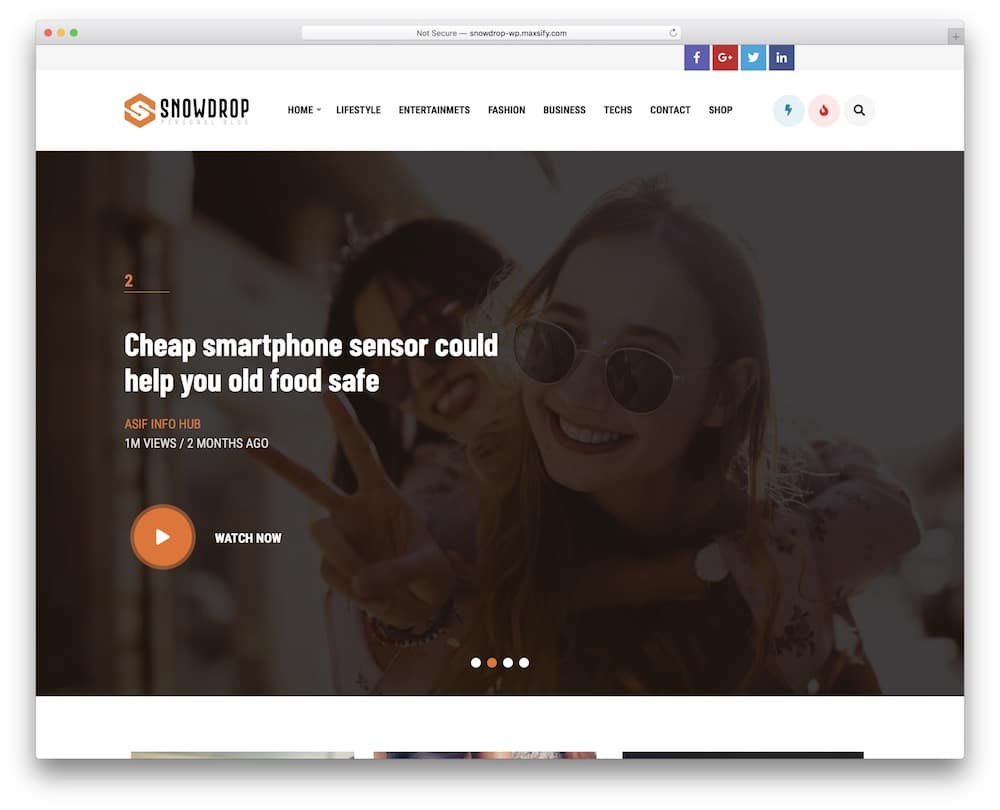 Snowdrop is a functional and user-friendly viral WordPress theme that has all the essential ingredients for your new site.
It includes six different home designs, seven category layouts, and five unique header styles.
Also, you will get powerful plugins such as Elementor page builder, WooCommerce, and MailChimp.
Furthermore, with Snowdrop, you can painlessly create your blog due to six available pre-made blog layouts to display the most popular viral content and trending posts.
It even includes child theme. And customer support is always at your disposal just in case.
Snowdrop features:
80+ sales
4.8/5 star rating
Fast loading and mobile optimization
Price: $23 (may vary)
MORE INFO / DOWNLOAD
DEMO
15. Maniel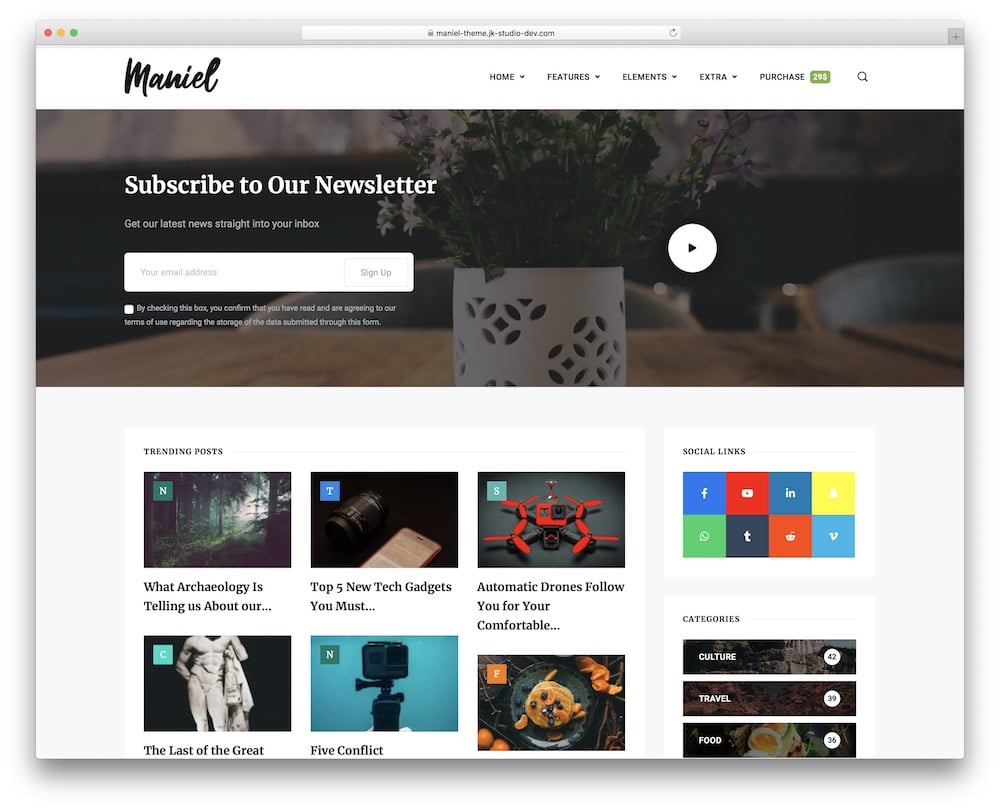 If you are looking for a successful and clean viral theme, then you are on the right page.
You can start with a simple import click of the pre-made front page and easily create a viral magazine or a simple blog.
Maniel includes irreplaceable tools like Elementor page builder, mega menu, and parallax effect.
With the drag and drop interface, you can simply change the elements' order, add widgets, customize colors and fonts. There are no limits with Maniel regarding your design ideas.
Furthermore, this theme has integrated social media for immediate social share and social follows.
You will always be first-class with Maniel.
Maniel features:
40+ sales
4.6/5 star rating
Post views & likes
10 different navigations
Price: $29 (may vary)
MORE INFO / DOWNLOAD
DEMO