Are you searching for the best free and premium social media WordPress plugins?
There are so many available since these plugins have become very popular in the last few years.
As a result, choosing the best plugin for your website today is challenging.
For this reason, we have researched and tested 35+ free and premium solutions to bring you the ULTIMATE collection of 11.
Quick setup, easy management, what else do you need?
This post covers:
Like. Share. Follow. GO!
Quick-Pick: Our Best Free & Premium Social Media WP Plugins
Note: We have a special bundle of viral WordPress themes in case you need an extra BOOST.
Best Social Media WordPress Plugins (Share, Button, etc.)
1. Easy Social Share Buttons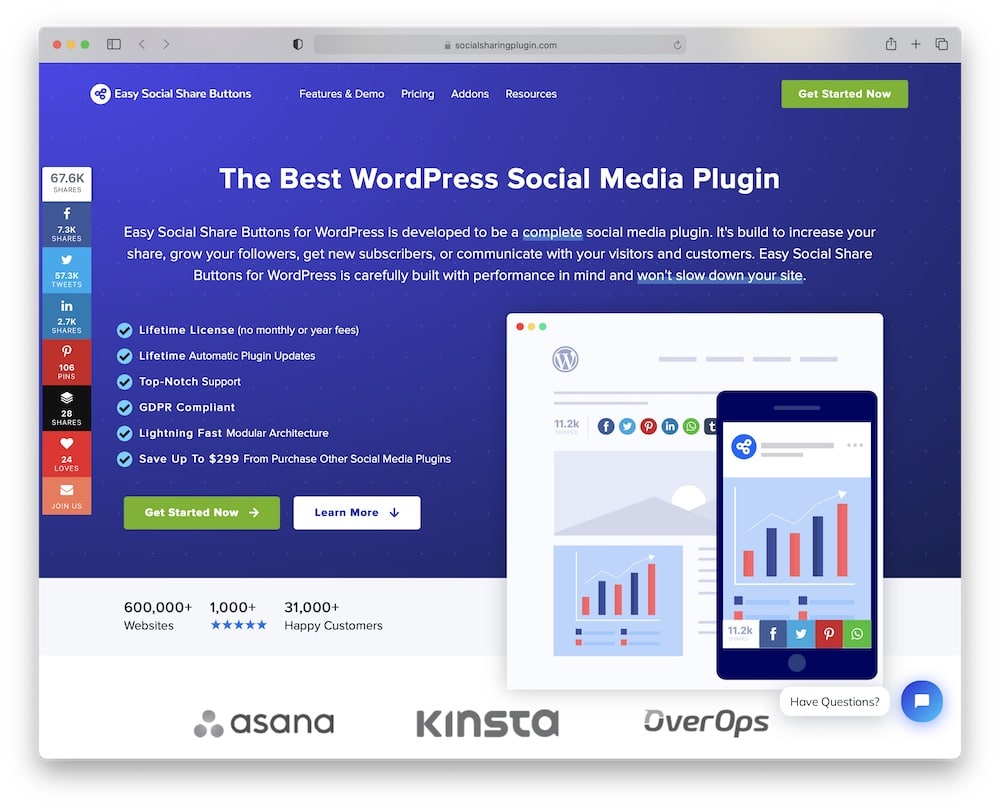 For our first selection, we have the Easy Social Share Buttons plugin. This plugin has numerous features and is one of the most powerful social media plugins on the market.
This plugin has everything you need from stunning design options, unlimited colors and styles to over 30 automatic display methods and detailed share button customization options.
Easy Social Share Buttons is an excellent choice for any website that wants to promote and enhance its content quickly and easily with share buttons.
Easy Social Share Buttons features:
31,900+ sales
4.7/5 ratings
50+ social media networks
Comprehensive analytics
Price: $22 (may vary)
MORE INFO / DOWNLOAD
2. Flow-Flow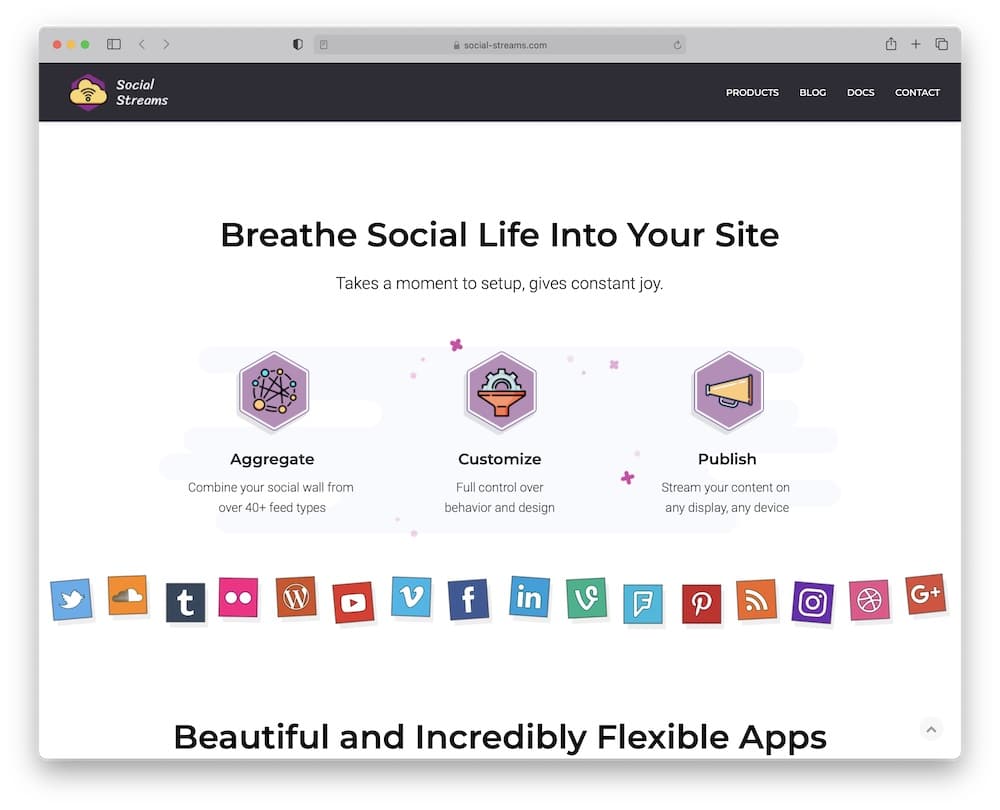 If you are looking for a plugin to display social media feeds on your website, Flow-Flow is for you. This social media WordPress plugin offers many options for creating feeds and sharing buttons.
Also, Flow-Flow allows you to display a feed with a combination of social media networks.
Another important point is that you can manage almost every detail of your feeds and buttons.
You'll offer your audience visual content like you have never done before with Flow-Flow.
Flow-Flow features:
21,400+ sales
4.7/5 ratings
WP lightbox gallery
Price: $49 (may vary)
MORE INFO / DOWNLOAD
3. FS Poster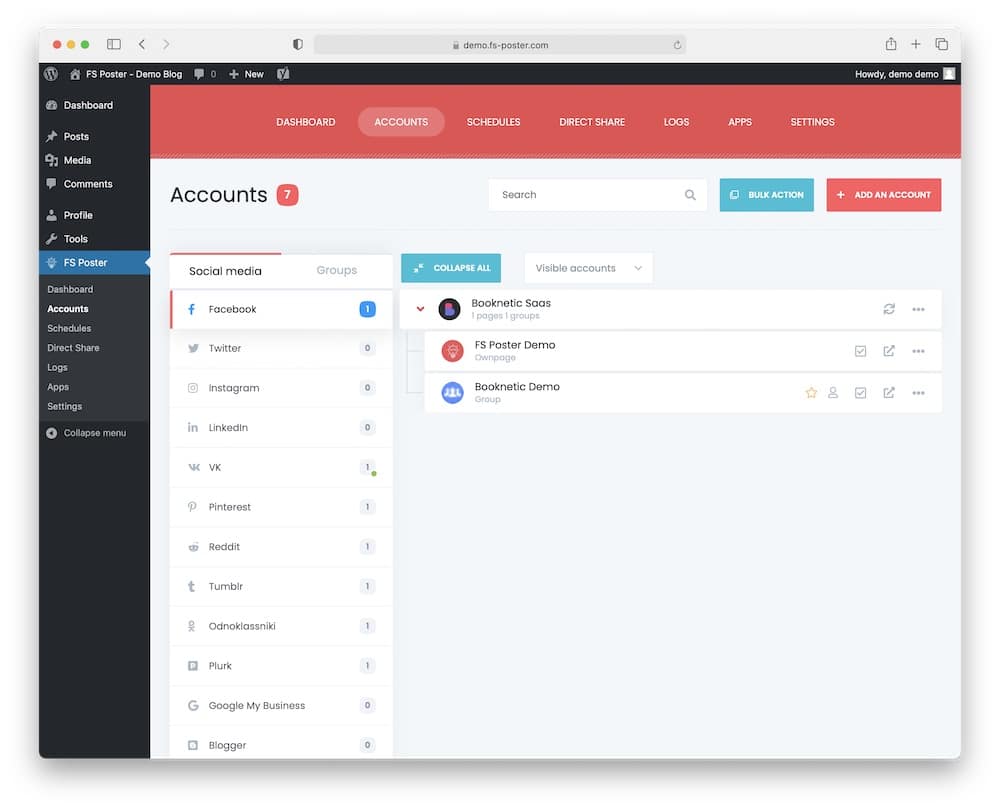 Let us say you have a website and publish many posts, but do not have time to share them on your social media accounts.
FS Poster will help you with that and save you time.
With this social media WordPress plugin, you can automatically publish your posts on social media without wasting time.
Another advantage is the "scheduled posts" feature, which allows you to specify exactly when you want to publish your posts on social media.
FS Poster is the perfect choice for anyone who wants to save time sharing their posts on social media.
FS Poster features:
10,500+ sales
4.9/5 ratings
Works as a WordPress Instagram plugin (but also supports 14 other networks)
Regular updates
Price: $45 (may vary)
MORE INFO / DOWNLOAD
4. Social Share & Locker Pro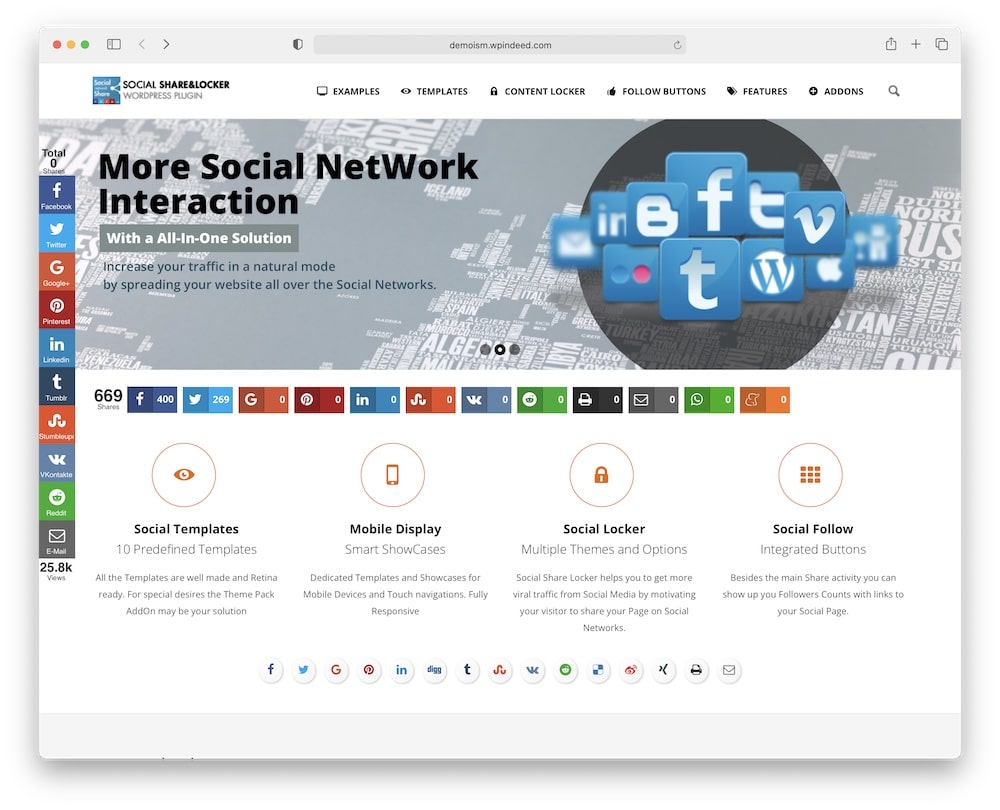 Social Share & Locker Pro is a powerful plugin with many features regarding social sharing.
You get various options and layouts for displaying your sharing buttons with this WordPress plugin.
Also, this plugin includes a social locker pack that allows you to lock certain content until your visitors share it on their social media.
Another plus point of this plugin is that you have the option to work with 60 social networks.
You can make your content more attractive for sharing on social media with Social Share & Locker Pro.
Social Share & Locker Pro features:
4,700+ sales
4.2/5 ratings
Set locker function based on WordPress user roles
Share counter
Price: $20 (may vary)
MORE INFO / DOWNLOAD
Best Free Social Media WordPress Plugins
5. Smash Balloon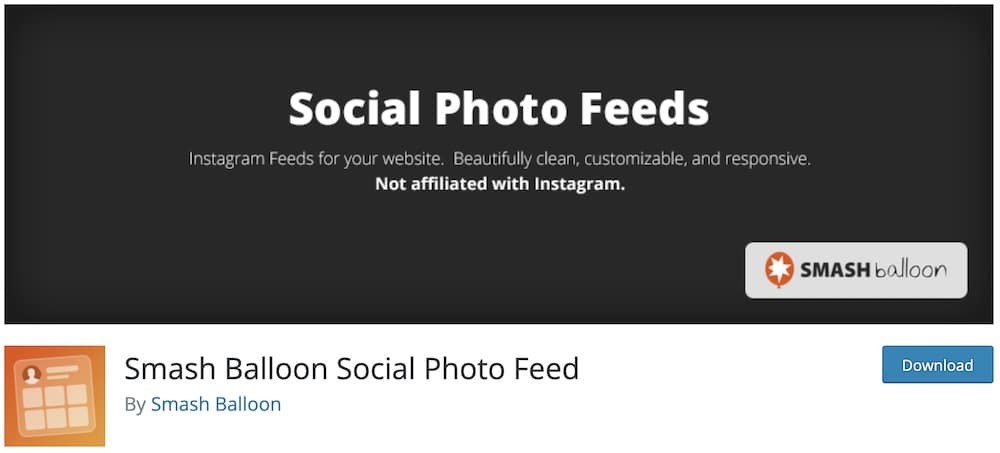 If you are looking for a free social media WordPress plugin to display your Instagram posts on your website, Smash Balloon is just what you need.
This plugin is one of the most popular free plugins for Instagram feeds.
Smash Balloon offers a variety of features. For example, you can display posts from multiple Instagram accounts and keep your page FRESH.
Another great feature is the amazing feed customization capabilities.
Smash Balloon is a fantastic free plugin that lets you display Instagram feeds on your website or block within seconds.
Smash Balloon features:
1+ million active installations
4.9/5 ratings
Fully responsive
Includes a follow on Instagram button
Easy to set up
MORE INFO / DOWNLOAD
6. Grow Social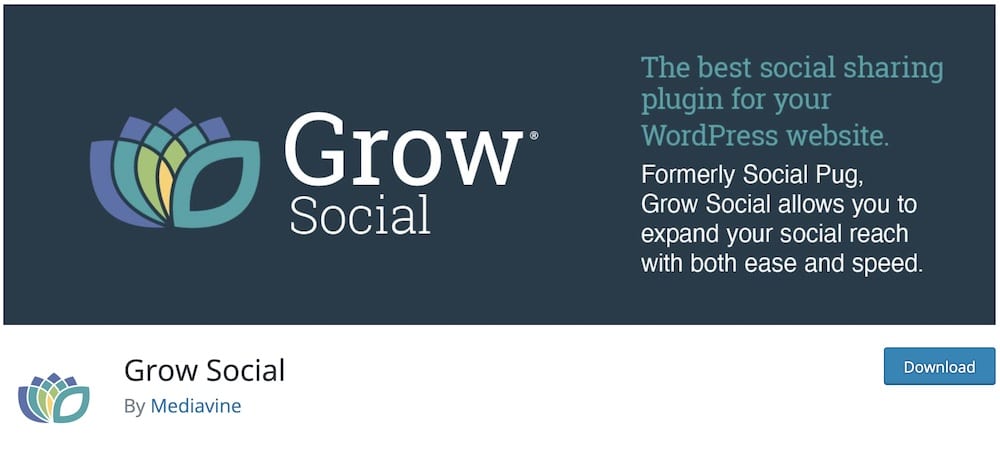 Are you searching for a free social media WordPress plugin to add social sharing buttons to your posts. Grow Social sorts things out instead of you.
With this free plugin, you also have the option to insert a social share counter that you can use to increase the credibility of your website.
Besides, Grow Social lets you decide where you want the share buttons to appear on the screen.
Add social sharing buttons to your website for free quickly and effortlessly.
Grow Social features:
MORE INFO / DOWNLOAD
7. AddToAny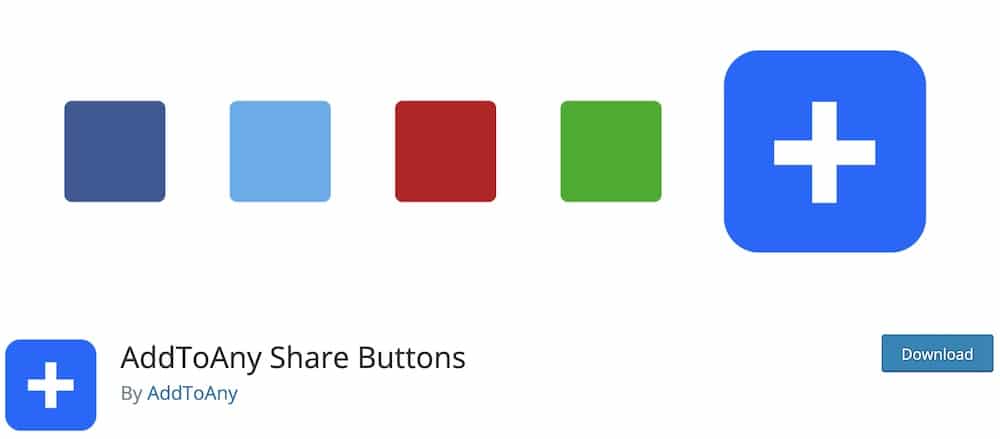 AddToAny is a powerful plugin that easily made it to our list as one of the most famous social media WordPress plugins.
This plugin has great sharing button features that take it to a new level.
With AddToAny, we quickly added share and follow buttons on our clients' websites. The plugin provides fully-customizable controls and the option to add a share counter.
Finally, this plugin integrates with Google Analytics, making it even better.
Opt for AddToAny for a reliable and instant share button solution. We DIG it.
AddToAny features:
MORE INFO / DOWNLOAD
8. Social Icons Widget & Block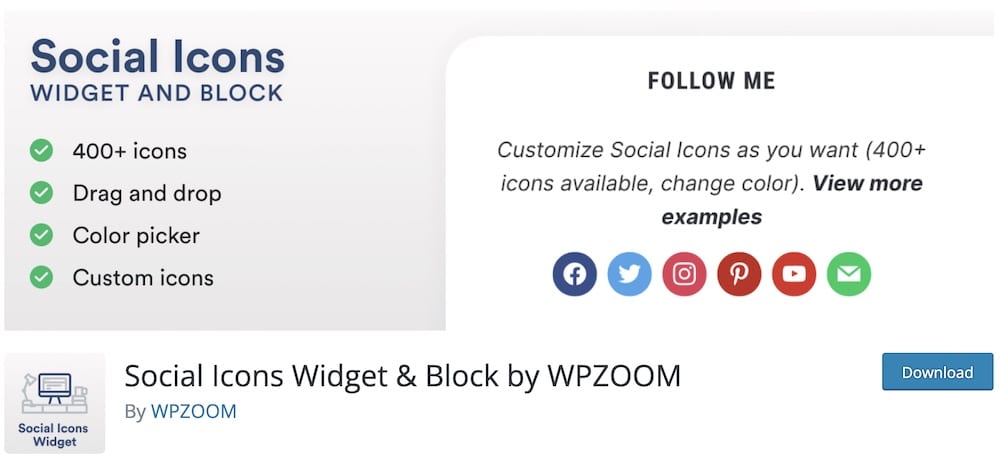 If you are looking for a plugin that lets you insert icons for your social media profiles, this is the one for you.
With Social Icons Widget & Block, you can insert as many icons as you want in almost any place you want.
This free social media WP widget has a wide range of features. For starters, you have 400+ custom icons at your disposal. And you can direct your visitors to any link you want.
The drag and drop system and the different styles and colors for each icon make it one of the most fun plugins for social media.
We easily set up social media for five completely different websites and blogs.
Social Icons Widget & Block features:
100,000+ active installations
4.9/5 ratings
Adjustable icon size & padding
Gutenberg block
Easy to use
MORE INFO / DOWNLOAD
9. Sassy Social Share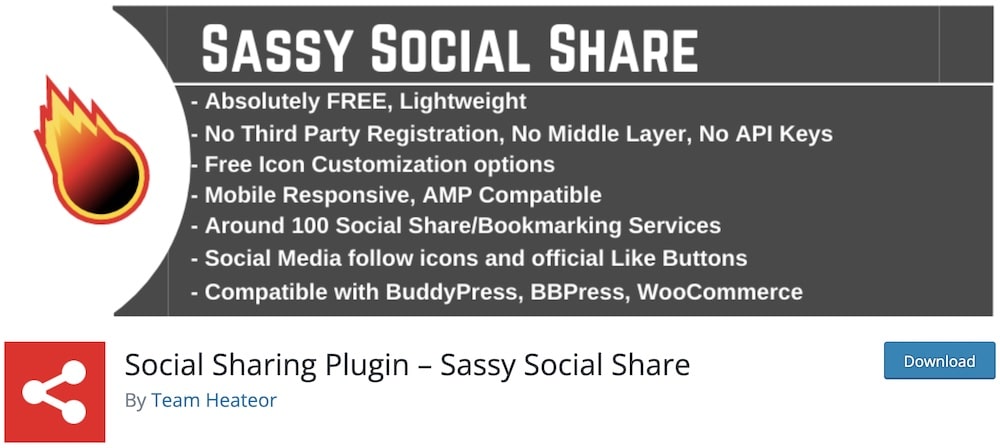 Our next choice is the Sassy Social Share plugin. This is a free social media WordPress plugin that allows you to add customizable icons that your visitors can use to share your content.
With this plugin, you can also add follow buttons and social share counters to your website.
In addition, Sassy Social Share is fully compatible with Gutenberg and supports 100 social sharing services.
If you add the ability to change the shape and size of the icons as well, this plugin becomes one of the best in its field.
Sassy Social Share features:
100,000+ active installations
4.7/5 ratings
Standard & floating layout
Lightweight structure
24/7 support team
MORE INFO / DOWNLOAD
10. WordPress to Buffer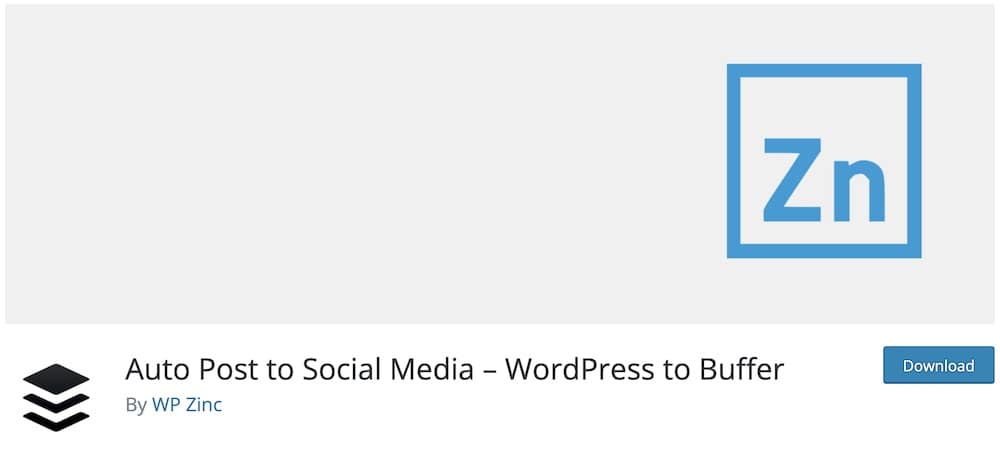 As the name suggests, WordPress to Buffer is a great plugin for anyone who wants to schedule their social media posts and connect them to their website posts.
With this free social share WordPress plugin, you can connect your WordPress to your account on the Buffer platform.
This plugin will automatically publish or schedule a post on your social media accounts.
A fan of Buffer? This is the best solution to automate social posting.
WordPress to Buffer features:
7,000+ active installations
4.5/5 ratings
Easy setup
No need for IDs & tokens
Enjoy a steady growth
MORE INFO / DOWNLOAD
11. Better Click To Tweet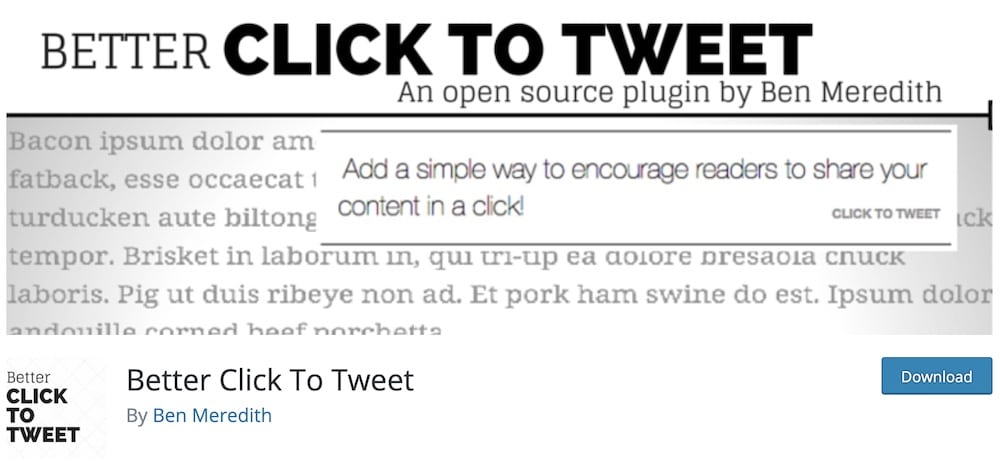 For our final pick, we have the Better Click To Tweet plugin.
As you may have guessed, this plugin inserts a link that allows your visitors to tweet something (quote) from your website instantly.
Also, it's effortless to set up a button since you'll do it with a simple shortcode in the editor. (It also works as a Gutenberg block.)
Better Click To Tweet is a great and simple plugin if you want to add a tweet button to specific post content.
Let your audience spread the word out!
Better Click To Tweet features:
MORE INFO / DOWNLOAD
How Do You Add A Social Media Plugin To WordPress?
It's very easy to add your favorite social media plugin to your WordPress website, even if you have 0 experience.
Once you're in your WP backend, hover over Plugins in the left sidebar and click on Add New.
Search for the plugin, install and activate it, and you're done.
But you can also read our complete guide on how to install a WordPress plugin properly if you need extra information.
What We Looked For In A WordPress Social Media Plugin?
There are many different social media plugins out there that do different things, so here's what we looked for in each during the testing phase.
This allowed us to eliminate the bad performers and share only the most EPIC ones with you.
Plugin Performance
Unfortunately, these are the type of plugins that can be pretty heavy on your website to the point of slowing it down.
This is why we thoroughly tested each social media plugin to guarantee it's lightweight.
Tip: It's better to pick a more basic plugin if you need only a specific feature. The more feature-packed plugin, the more load, and you don't want that.
Remember, it's also important that you choose a fast loading WordPress theme.
Social Networks
Pick a plugin that supports the social media networks you need. You don't need to install a different plugin for each network.
We have powerful ones here that support all the major platforms and then some.
Note: Don't use networks if you're not active on them. Instead, only focus on those that work for you and your business.
In other words, don't have a social profile just to have it unless you're testing. (But don't test for too long.)
Type
You can use a social media plugin for integrating social feeds, social sharing, likes, adding a commenting system, etc.
Note: We also have a specific tutorial on how to add social share buttons in WordPress.
It's up to you to decide what you need and want to achieve with the new social feature on your website.
Do you need more Instagram followers? Or would you like to display your Facebook feed to add more content to your site?
GO!
Shortcodes & Widgets
A plugin must offer shortcodes or custom widgets (or, even better, both!), so you can easily integrate the share button or the social feed into your website.
Shortcodes and widgets allow everyone to add the necessary social feature without the need to know how to code.
You have all sorts of options for the sidebar, footer, posts, pages, you name it. That's why it's important to look for what the plugin supports before picking it.
Customizations
While premium plugins offer significantly more customization options, free ones are still great if you need more basic functionality.
Free or premium, it doesn't matter; some configuration capabilities are necessary, so you can tailor the look, pick your active social networks, and more.
Support
Even if a plugin has many features, is lightweight and compatible with every known social platform, we don't recommend it if its support is poor.
Because when you need support, YOU NEED IT!
But that's not the case with social media platforms in this collection. We talked to every support team, and they are great!