Do you want to learn how to add social share buttons in WordPress?
Social presence is vital to every website, business, or personal portfolio.
Nowadays, imagining a business without at least Facebook, Instagram, and LinkedIn profiles is impossible.
Almost every person has their own Facebook and Instagram profile, so it's essential to build your social presence for any business you have.
I, for instance, have a photography business as my side hustle and I can't recommend having active social network presence MORE.
It helps with growing (I use FB and IG) my business and getting a lot of loyal customers.
This post covers:
How To Add Social Share Buttons In WordPress
The best way to add this functionality is with a WordPress plugin unless your theme already has this implemented.
Note: I still recommend getting a theme with the integrated social sharing function (if you're in the starting phase).
But plugins do the trick when you're already running a website.
Start by checking our tutorial on how to install a WordPress plugin if it's your first time.
But in this tutorial, we will review several plugins that implement social networks in aesthetically pleasing and effective ways.
5 Best Social Media Share WordPress Plugins
1. Smash Balloon Instagram Feed Plugin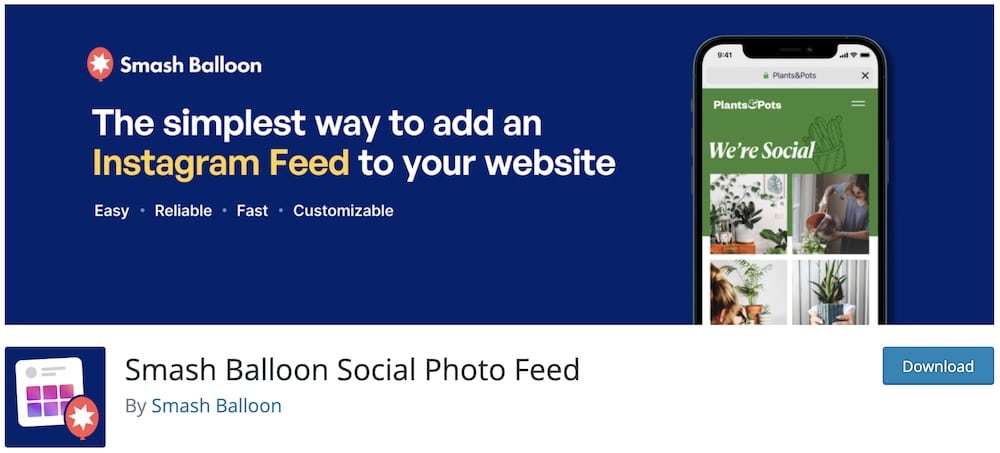 This is the best plugin to insert an Instagram feed on your website. I always used it when adding a demo Instagram feed to our WordPress themes.
You can see a beautiful example in our best-selling theme, Amory.
Instagram feed is present in both the sidebar and footer.
Smash Balloon features:
Fast & easy install & setup
Highly customizable (make your Instagram feed fit perfectly to your website)
Caching
Very reliable with frequent updates, so it's always up to date with the latest WP version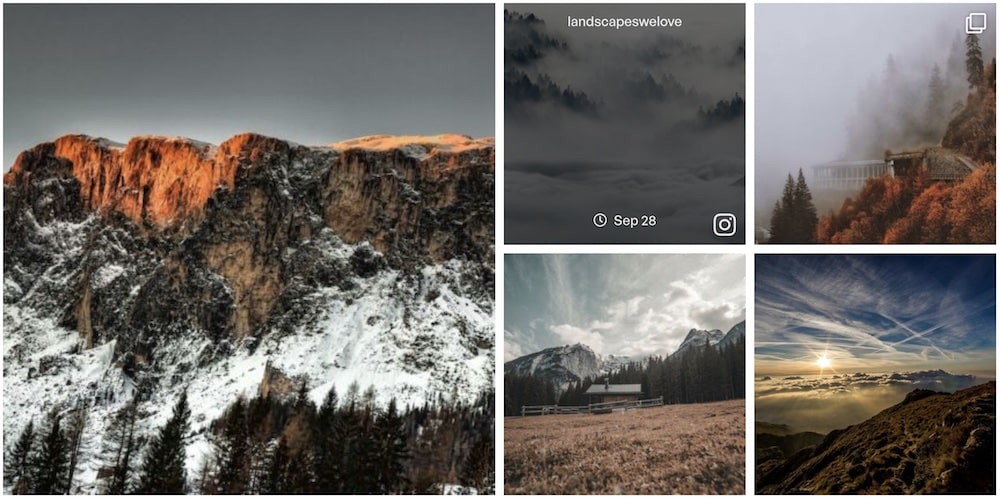 This will add a spark to your footer, making it look much better.
The plugin is highly customizable, as you can set the column number, border color and width, number of posts, and more.
You can also display posts by account name, hashtags, shoppable feeds, and Instagram stories.
I decided to include this plugin first because it integrates Instagram, which is not sharable in a standard way.
For instance, you can not directly share your content on Facebook and Twitter.
Instead, you need to create a new post on Instagram. But since it's so popular now, it's a must-have.
MORE INFO / DOWNLOAD
2. AddToAny Share Buttons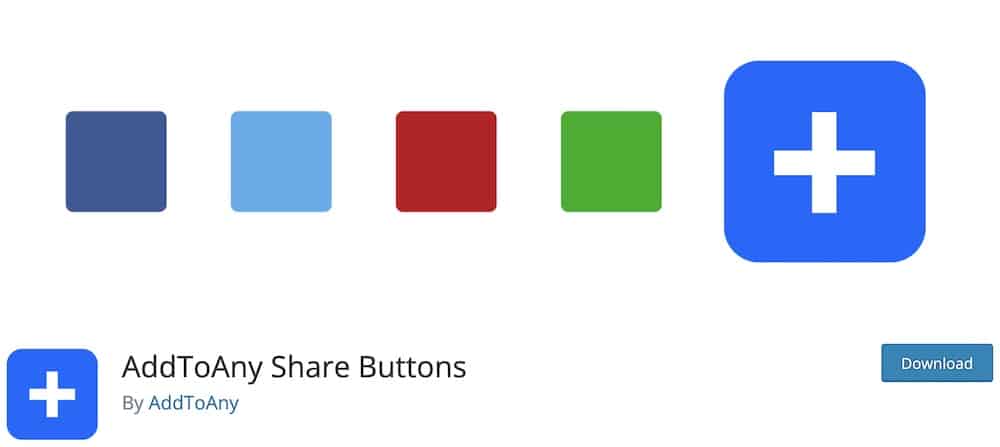 One of the most popular social share plugins is AddToAny.

It's a complete solution for any website as it has everything you need.
AddToAny features:
No registration needed
Share it on any device you can imagine
Share bars & counters
Code efficient & lightweight
AddToAny plugin supports every social network – from the most renowned like Facebook and Twitter, to less-known networks like Papaly, Ozon, and Renren.
You can check all the social networks available on their share website. Enter your URL and check the list of all the networks.
After installing and activating the plugin, the social share buttons will automatically appear in blog posts and pages.

If you are happy with the buttons' design, there is not much left to do. The plugin is already doing its thing and you can start using it.
The plugin is also translated into dozens of languages, so there is a good chance it's already translated into yours, which will save you a ton of time.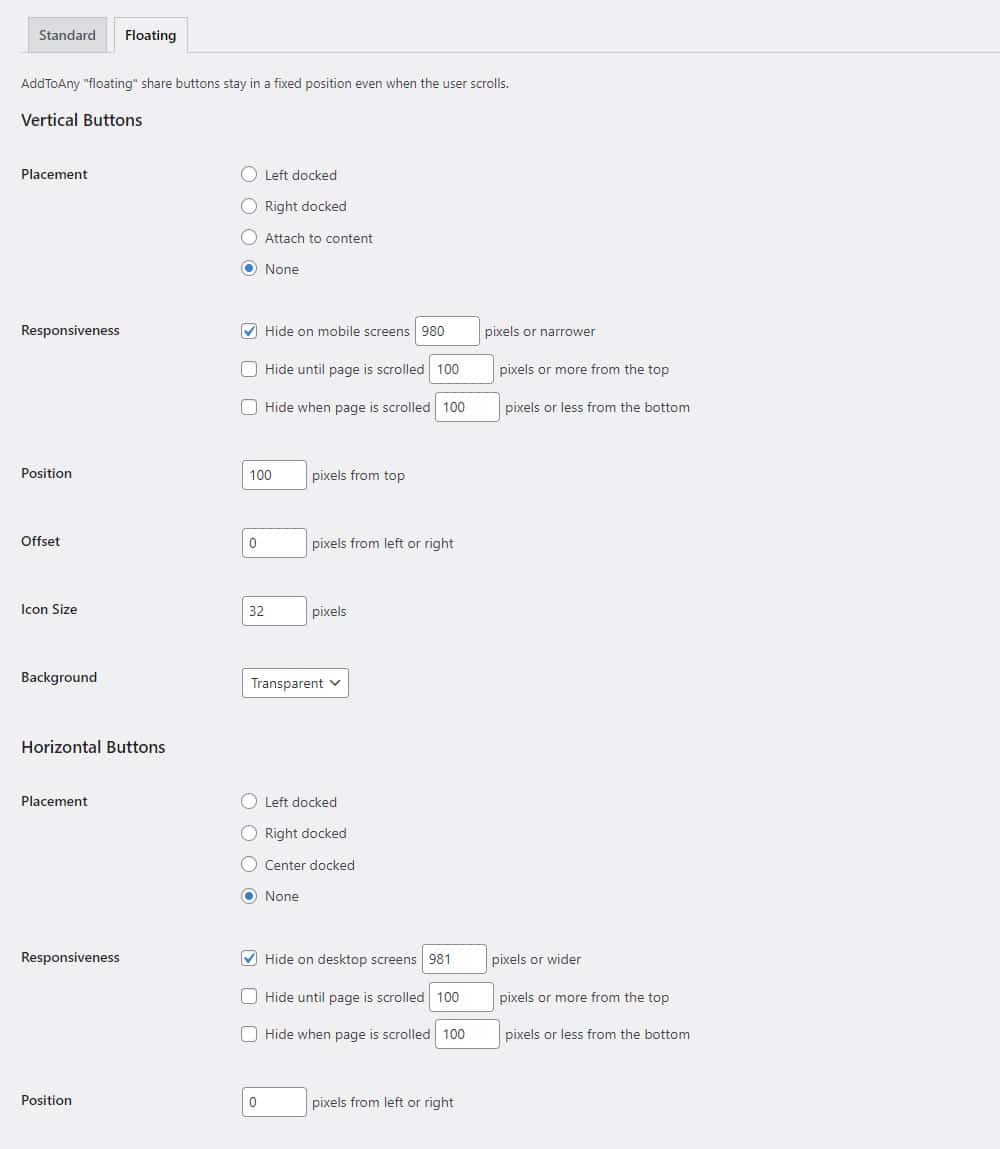 AddToAny has many great plugin settings like placement position, icon size, background, responsiveness, etc.
MORE INFO / DOWNLOAD
3. Social Media Share Buttons & Icons Plugin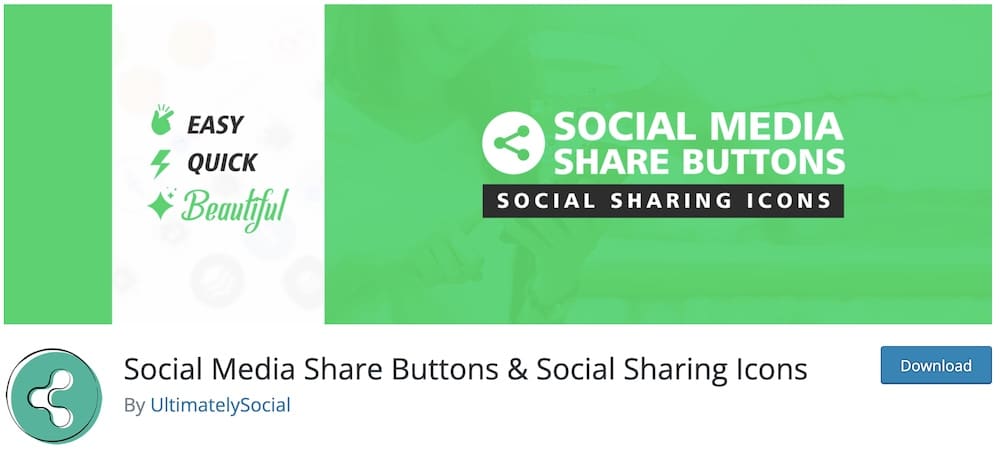 Social media share buttons is another widely popular tool that implements our desired functionality.
For my taste, it's designed with excellent taste to fit perfectly into most modern websites.
A new button will appear in the left sidebar of your WP admin after you install and activate it.
SMSB features:
GDPR compliant
Different options for each icon (share, like, lead to URL)
Animated icons with mouse-over effects
Option for a pop-up that asks your visitors for a follow or a share
Highly customizable
In the first step, choose which social networks you want to use.
The second step is more advanced compared to the previous plugin we reviewed.
You can set what each icon/button does.
This can be useful if you prefer a different functionality, not just a standard post share.
Example: You can set that button leads to your Facebook page for the user to follow you or just for the post like.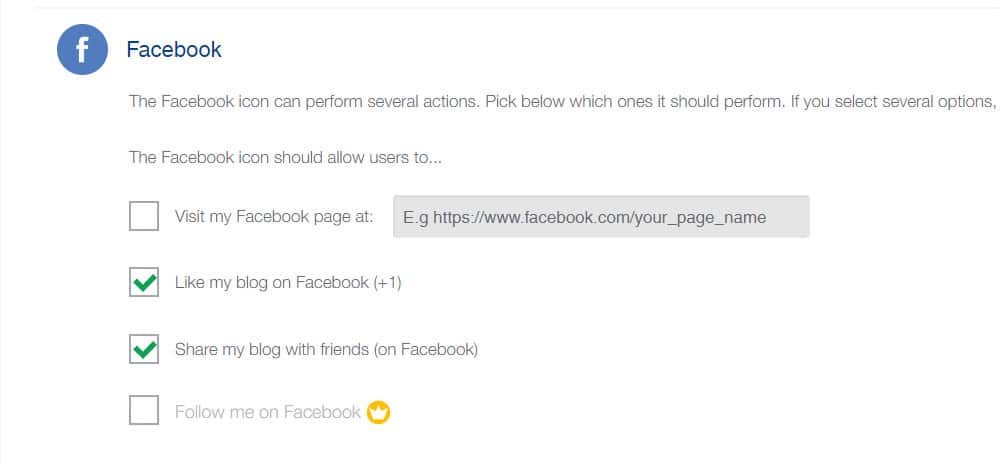 As you can see from the image above, this plugin offers many options, even in the free version.
You set all the locations where you would like the icons to appear in the last step:
Floating over your website's pages
In a widget
With a shortcode
In your theme's header
After posts
In a sticky bar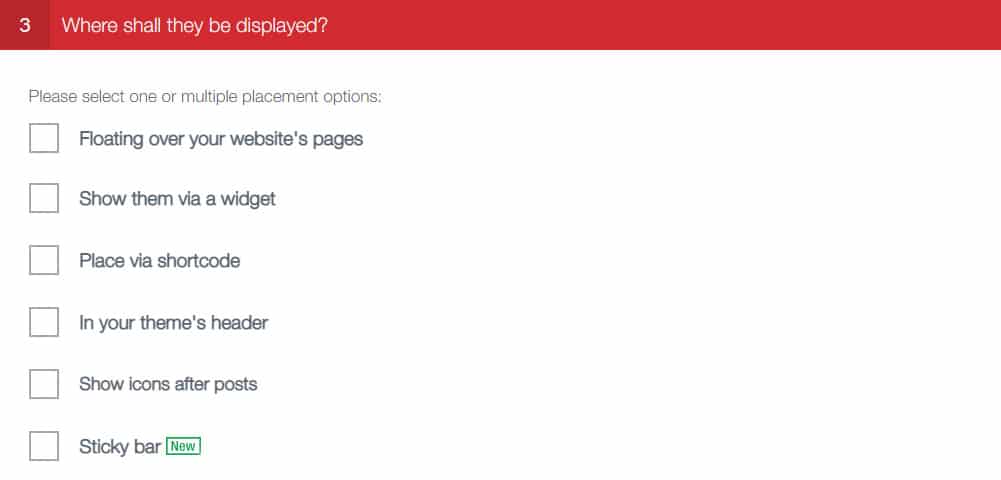 I like that plugin has the sticky bar. This is a paid function in most other plugins, so it's lovely to see it implemented for free!
Click save and the plugin is ready to use after you are happy with the settings.
MORE INFO / DOWNLOAD
4. Sassy Social Share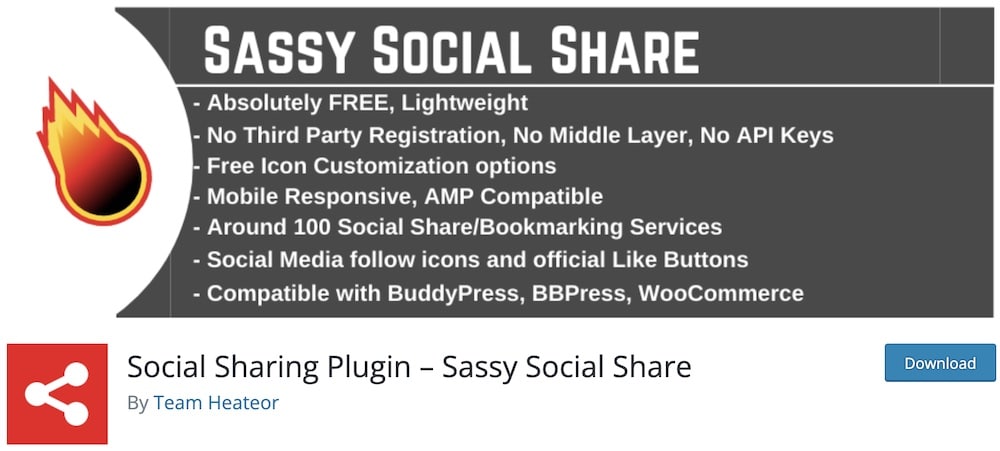 Another plugin I love to use in my WordPress themes is Sassy social share. It's easy to use and has a great design.
They even prepared a live demo that you can check, try all the settings, and see how it looks live on the page.
I like that a plugin allows you to test it before installing it on your website.
And as you can see from the preview below, it will fit perfectly into most modern websites.

Sassy features:
GDPR Compliant
Compatible with both classic & Gutenberg editors
Translated into several languages & compatible with translation plugins
Free icon customization options
URL shortener
And the best part is that the plugin is free to use with no extra hidden purchases for premium functions.
There is also no registration needed, which is another bonus.
Sassy Social is a perfect fit if you need a simple and effective plugin.
MORE INFO / DOWNLOAD
5. Shared Counts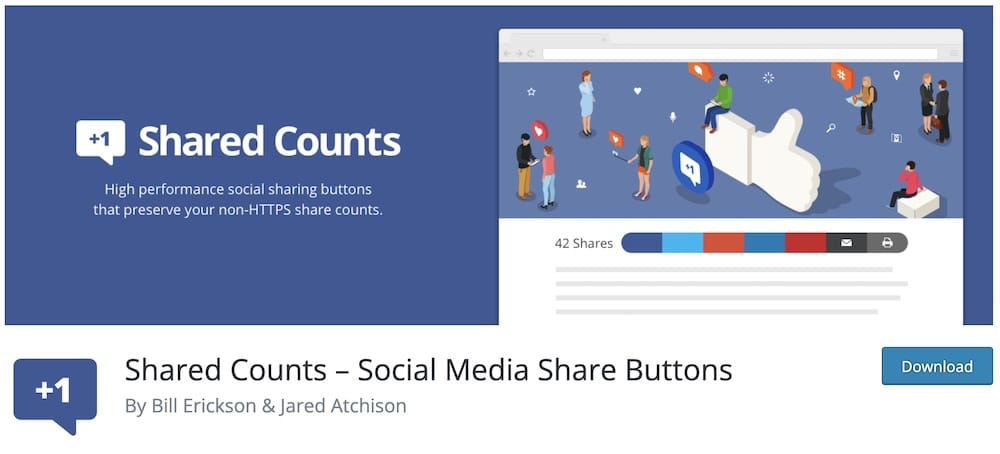 Let's end with the most simple plugin, Shared Counts.
It doesn't have all the social networks or different fancy functions, but in the end, most people only have a few of the most popular social networks.
After you install and activate the plugin, go to Settings > Shared Counts.
You will find the option to set where the share buttons will appear.
There is a box that you can check and disable the buttons for individual posts, too.
That is a nice extra touch just in case you don't want the buttons on certain posts.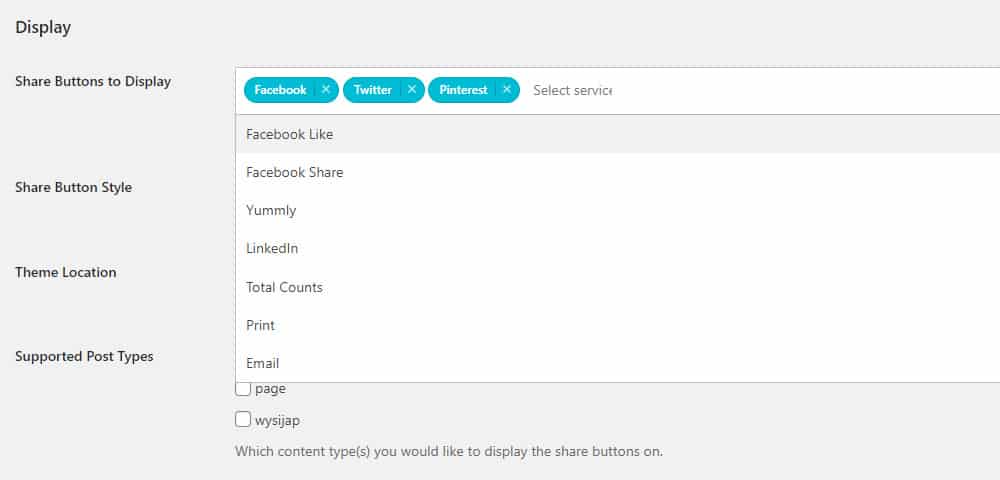 Shared Counts features:
Good caching to prevent slowing the website
Multiple sharing button styles
GDPR Compliant
Calculates the number of shares on all social networks automatically
If you want to see the actual counts of the social networks, you need to create an account and get an API key.
Sign up on SharedCount for your (free) API key.
SharedCount provides 1,000 API requests daily, or 10,000 requests daily if you connect to Facebook.
Their great caching works with sites that receive millions of page views a month and is enough even for the more demanding websites.
I also like the privacy aspect of this plugin as it has no tracking so that it won't store personal information about your website and its visitors.
MORE INFO / DOWNLOAD
Conclusion
When searching for new WordPress themes for your website, look for such that have integrated share buttons.
The theme will usually already use one of the plugins and then design the buttons to look in style with your branding.
But if you have a theme that doesn't implement the buttons, any of the plugins above will do the job.
You need to determine your needs, as that will determine which plugin is the best for you.
Note: We also have a general list of social media WP plugins covering everything you need.
Bonus: Why It's Important To Have A Strong Social Presence
The DataReportal found that there are 4.76 billion social media users on the planet in January 2023.
That's 58.7% of the global population, many of whom use social media as a primary source of information.
So, more than every other person in the world uses social networks, which will only increase with time.
Social share buttons on your website are also important because they can improve your traffic when people share your content on Twitter, Facebook, and other social networks.
Just imagine how much traffic you could get if one of your posts goes viral.
There are cases when websites crash due to high traffic from social networks (always be prepared).
And that's a problem we would all like to have occasionally.
FAQs About Adding Social Share Button In WordPress
How do I add social share buttons to my WordPress site?
You can add social share buttons by using a plugin. Go to your WordPress dashboard, select "Plugins," then "Add New," and search for a social sharing plugin. Once installed, you can configure it according to your needs.
Are there any free plugins for social share buttons in WordPress?
Yes, several free plugins are available, such as "AddToAny Share Buttons," "Social Media Share Buttons & Social Sharing Icons," and "Jetpack." Each offers a variety of features and customization options.
Can I customize the look of social share buttons?
Absolutely. Most social sharing plugins allow you to customize the buttons' appearance, including size, color, and placement on your site.
Do social share buttons slow down my website?
They can, as they add extra scripts to your site. However, many plugins are optimized for performance. It's important to choose a well-coded plugin and monitor your site's speed after installation.
How do I choose the right social networks for my share buttons?
Consider your target audience and where they are most active. Popular choices include Facebook, Twitter, LinkedIn, and Pinterest, but the selection should align with your audience's preferences.
Can I add social share buttons without a plugin?
Yes, you can manually add share buttons using HTML and JavaScript code. This is more technical and requires editing your theme files, so it's generally recommended for more experienced users.
Is it possible to track the performance of my social share buttons?
Yes, many social sharing plugins offer analytics features, or you can use external tools like Google Analytics to track how often your content is shared and which platforms are most popular.