Do you struggle to find the best free WordPress Instagram plugins for your blog or website?
Don't worry about it anymore!
We have researched and tested 30+ plugins to create the ultimate selection of free IG plugins for you!
Instagram is a visual paradise.
If you invest a lot of time and effort in your Instagram account, embed your feed to beautify your website.
It sounds like a WIN-WIN situation, right? Well, it is!
You can use it to add more content to your page, to show how sociable you are and to grow your IG account.
This post covers:
Whether you own a brand, a personal WP blog, or you are a developer who needs the best Instagram plugin for your clients, we have got you covered.
(Yes, we used some for our clients!)
You'll benefit from beginner-friendly plugins to those with numerous advanced features.
5 Ultimate WP Plugins For Instagram (Feeds)
Our absolute best for a quick pick:
#YOLO
Best Free WordPress Instagram & Social Feed Plugins
1. Social Feed Gallery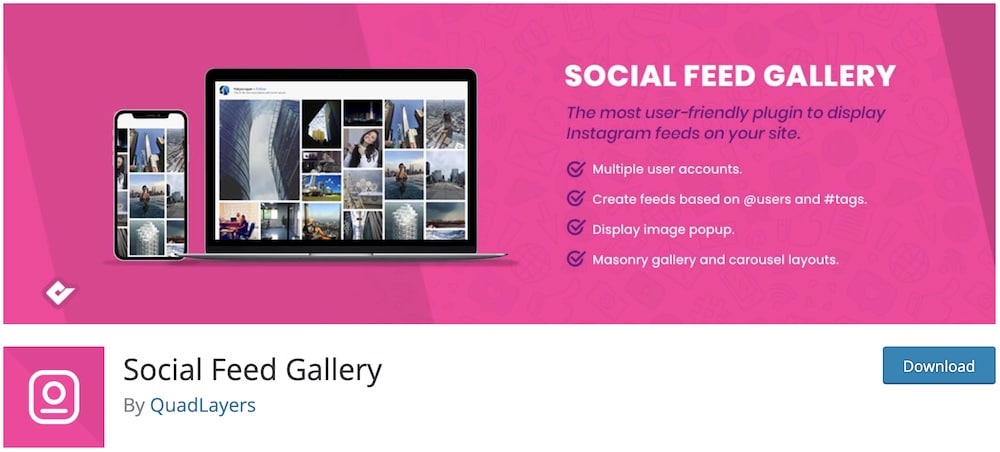 As one of the most innovative plugin developers, QuadLayers designed our first selection. This free WordPress plugin for Instagram is at the top of our list for many reasons.
Social Feed Gallery is one of the most beginner-friendly Instagram plugins. During our test, we installed and created the Instagram feed in no time.
We really liked the numerous customization options. (Plus, two of our clients enjoy managing & maintaining it like pros.)
QuadLayers has developed many editable settings, such as boxes, masks, backgrounds, etc. Both the gallery and carousel styles WORK GREAT on all devices and browsers.
Note: Don't miss checking our best WordPress gallery plugins if you need more options.
In summary, Social Feed Gallery requires no programming knowledge – the perfect choice for beginners and advanced users.
Social Feed Gallery features:
80,000+ active installations
4.5/5 ratings
Simplicity
Real-time site updates
Beautiful feed interface
MORE INFO / DOWNLOAD
2. Meks Easy Photo Feed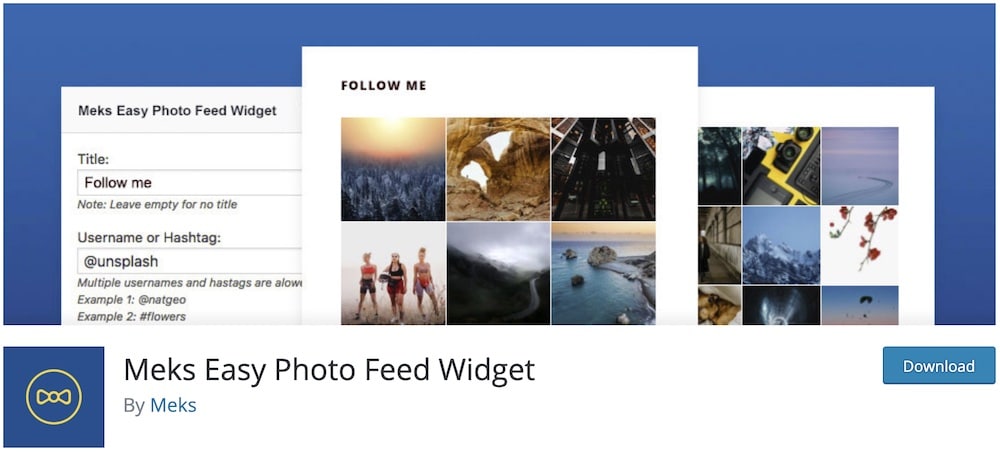 If you want to add your Instagram feed to WordPress in a minimalistic way, Meks is the plugin for you. We loved using this plugin, especially on WordPress photography websites.
The installation process is very straightforward and the software is lightweight. That does not mean that this free WordPress Instagram plugin does not offer advanced features.
On the contrary, Meks includes many smart options that allow you to manipulate the widget's appearance.
You can easily edit the number of photos and columns and manually change the spacing between posts.
In a few words, Meks is always our first choice when we need a modern and elegant feed.
Meks features:
30,000+ active installations
4.7/5 ratings
Modern feed appearance
Many customization options
Easy to use
MORE INFO / DOWNLOAD
3. 10Web Social Photo Feed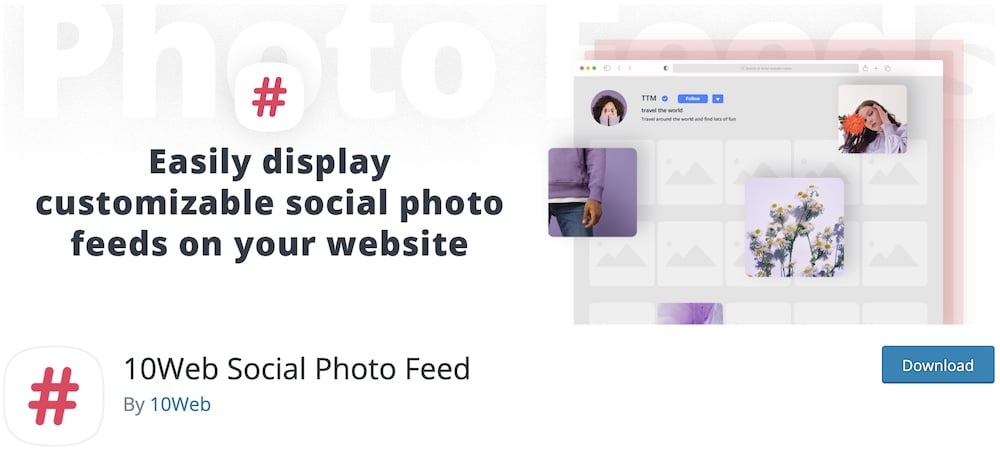 10Web is a great choice for those looking for a fully customizable plugin. So if you need total control over the appearance of your Instagram feed, 10Web is for you.
This free WordPress Instagram plugin lets you choose between many feed styles (thumbnails, image browser, blog style, masonry) and transitions.
It also lets you showcase your Instagram account's comments. This is a brilliant idea that definitely increases user engagement.
Even though 10Web is not the most beginner-friendly plugin, it does offer plenty of instructions and video tutorials. (You can EASILY overcome its learning curve.)
Note: Even though it wasn't yet officially tested with the latest three WP releases, we did the testing and it works flawlessly.
10Web features:
40,000+ active installations
4.6/5 ratings
Numerous feed styles & transitions
Supports filmstrip & comments
Top-notch support
MORE INFO / DOWNLOAD
4. Social Gallery & Widget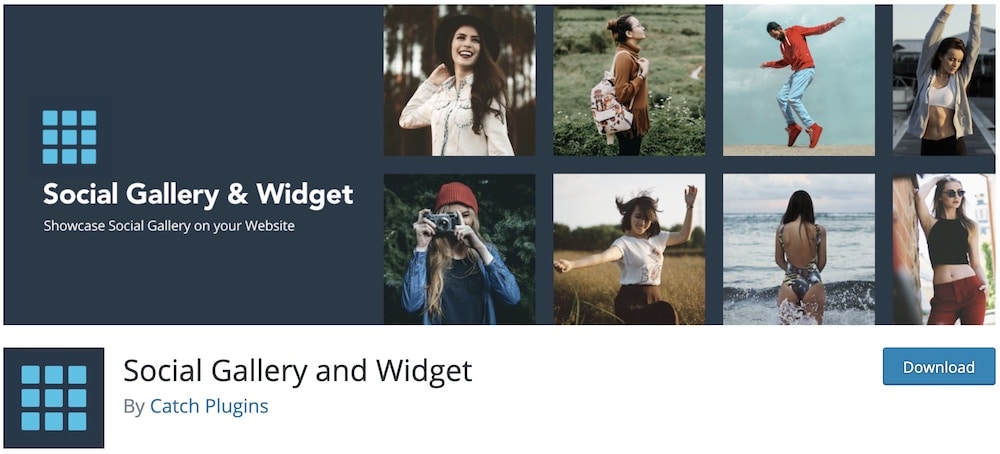 Catch Plugins is a very well-known team of top-tier plugin developers. Social Gallery and Widget easily made it to our list (it's one of their 20+ amazing plugins!).
This free WordPress Instagram plugin is an all-rounder with sophisticated yet straightforward functionality. You can use it to create editable galleries for your IG images QUICKLY.
Since this plugin lets you choose which images you want to show, you can display photos from any public account.
Social Gallery and Widget proved to be a responsive and mobile-friendly plugin during our review. For this reason, we highly recommend it to any beginner or professional.
Social Gallery & Widget features:
20,000+ active installations
4.3/5 ratings
Frequent updates
Drag-and-drop widget area
Customizable (large, small & thumbnail) images size
MORE INFO / DOWNLOAD
Fun fact: IG has more than 1.3 billion active users. You can enjoy massive exposure with a smart strategy.
5. WP Social Stream Designer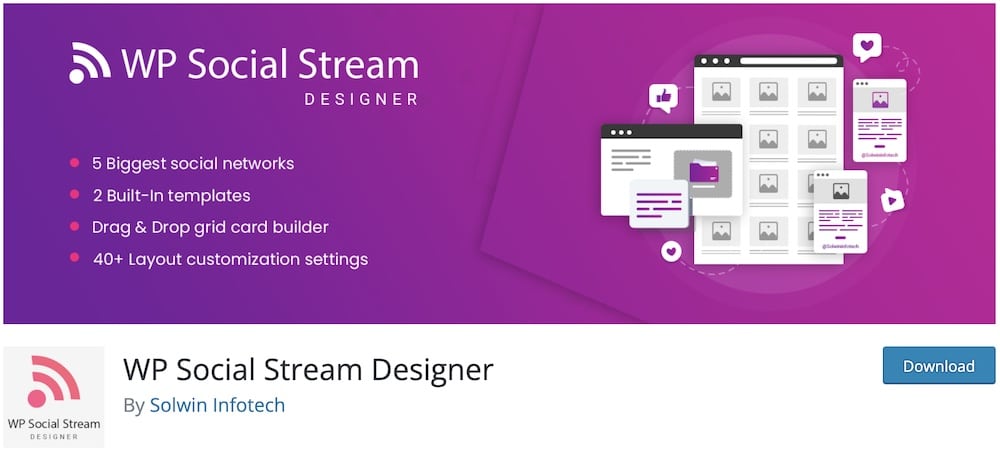 WP Social Stream Designer did the trick very well when we were looking to combine multiple social networks with Instagram. (You can use it individually, too.)
The process of activating and setting up the plugin was a little breeze.
We even let our beginner friend, Kelly, integrate three social feeds into their blog, and she succeeded. (Quickly and effortlessly!)
We also like the two ready-made templates that are both 100% responsive.
But you can also perform additional customization tweaks to tailor the social feed precisely to the website's style. Make it fit naturally.
Perfect for beginners but a workflow booster for experts.
WP Social Stream Designer features:
50+ active installations
4.5/5 ratings
Over 40+ configurations w/ animations
Auto refresh
Quick shortcode integration
MORE INFO / DOWNLOAD
6. Social Photo Feed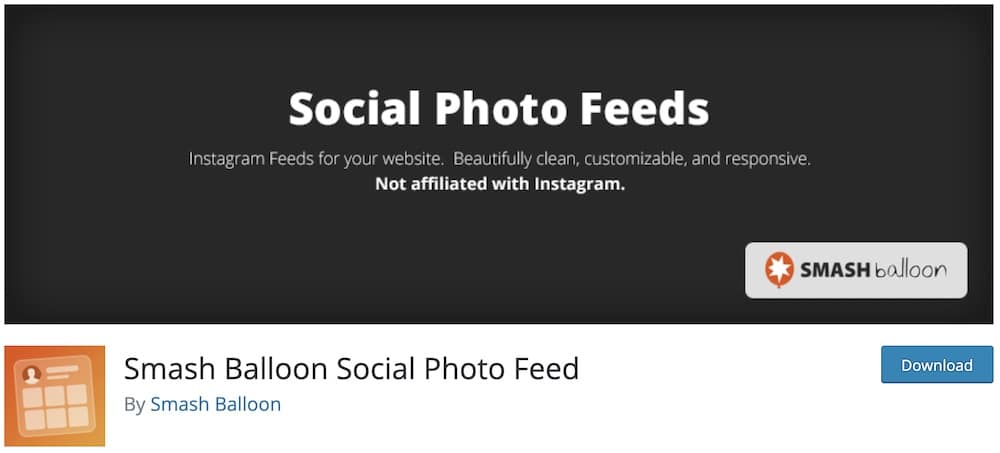 Social Photo Feed is a free WordPress Instagram plugin that offers the best way to create one or more IG feeds on your blog or website.
With more than 1 million active users, this plugin needs no introduction. It's a tool we found very easy to use, with great features and a 100% fluid structure.
You can customize the feed by changing settings such as columns and photos, background color, and more.
Another great feature of Social Photo Feed, which we found VERY useful, is viewing photos from multiple accounts in the same Instagram feed.
Social Photo Feed features:
1+ million active installations
4.9/5 ratings
Display multiple accounts on the same feed
GDPR compliance
Supports custom CSS & JavaScript
MORE INFO / DOWNLOAD
7. Social Slider Widget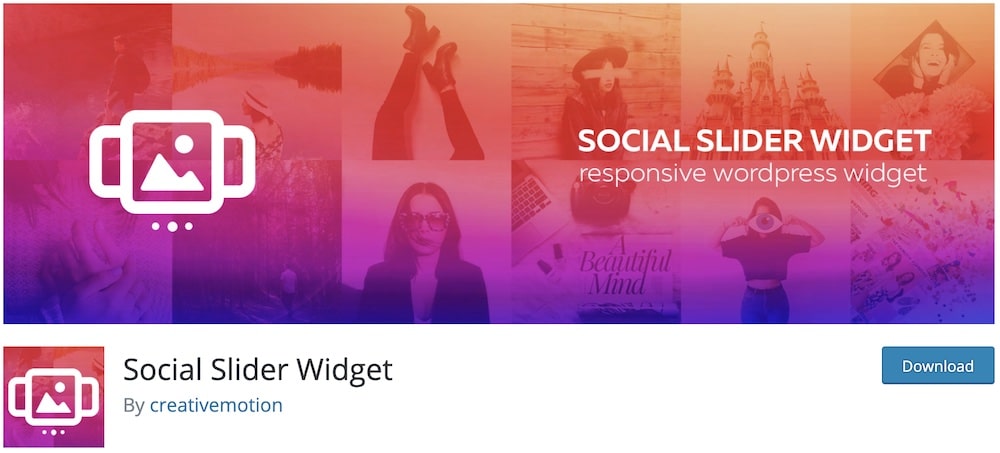 Social Slider is the perfect widget for anyone familiar with WP shortcodes.
But even if you have never used shortcodes before, it's easy to learn how to create it and add an IG feed slider with this plugin. (You can also use a WordPress slider plugin to take the presentation to the next level.)
All you need to do is install and set up the widget by following the comprehensive video tutorial.
After that, you can copy and paste the shortcode into any post or page on your website.
We quickly understood why it has 90,000+ installs and good reviews while testing Social Slider.
You'll love it.
Social Slider features:
70,000+ active installations
4.2/5 ratings
Add links to images/posts
Quick setup & easy use
Supports multiple feeds
MORE INFO / DOWNLOAD
8. Feed Them Social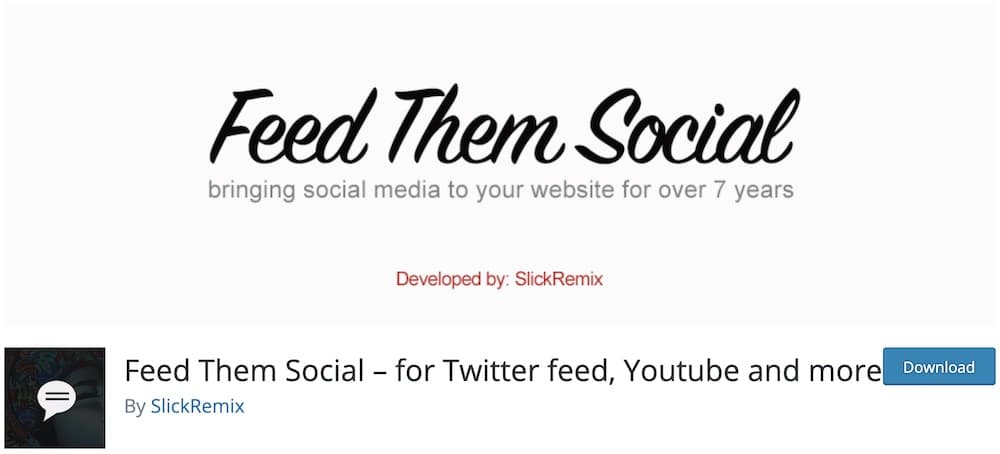 Feed Them Social is simply the best way to go if you want to add NUMEROUS social feeds to your WordPress website.
For example, you might want to include your Instagram feed on the homepage and your Twitter and YouTube feeds on other pages or posts.
If that's the case, this free WordPress social media plugin is the solution! The plugin supports Facebook pages, Instagram, Twitter and YouTube.
All the magic happens with a simple shortcode generator. All feeds are fully responsive and adjustable.
The SlickRemix team has also created numerous demos and tutorials to simplify the whole process.
Feed Them Social features:
40,000+ active installations
4.7/5 ratings
Add like & follow buttons
Include multiple social platforms
Mobile ready
MORE INFO / DOWNLOAD
9. WPZOOM Social Feed Widget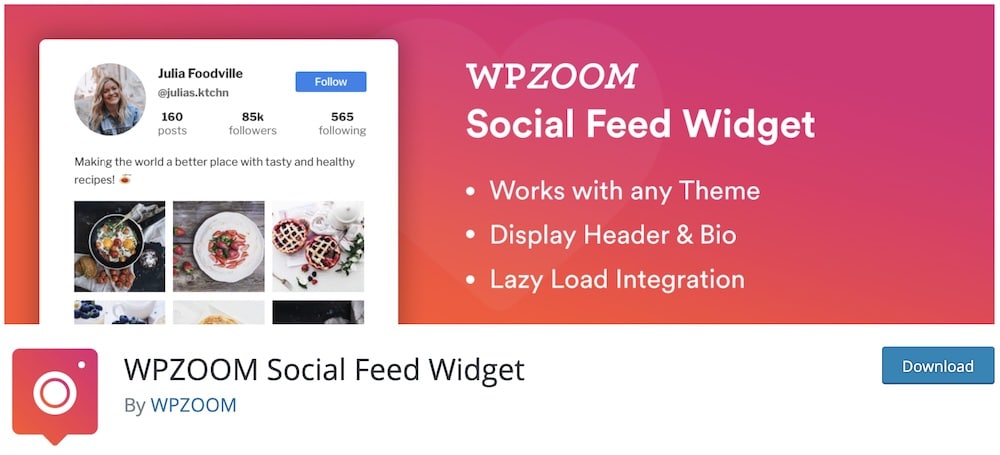 60,000+ WordPress users fully trust WPZOOM Social Feed Widget for a good reason. This free WordPress plugin for IG has been around for 6+ years.
It's one of the most SMOOTHLY operating plugins we have tested, thanks to its frequent updates.
Social Feed Widget is lightweight and very beginner-friendly, operating as a simple – hence the name – widget.
The plugin supports lazy loading and adds a custom avatar and a small bio.
As for the look and feel of the Instagram feed, we really enjoyed WPZOOM's modern layout.
In conclusion, this is a brilliant solution for anyone looking for a lightweight, easy-to-use Instagram plugin.
WPZOOM features:
80,000+ active installations
4.3/5 ratings
Supports any WP theme
Very lightweight
High-end support
MORE INFO / DOWNLOAD
10. Spotlight Social Media Feeds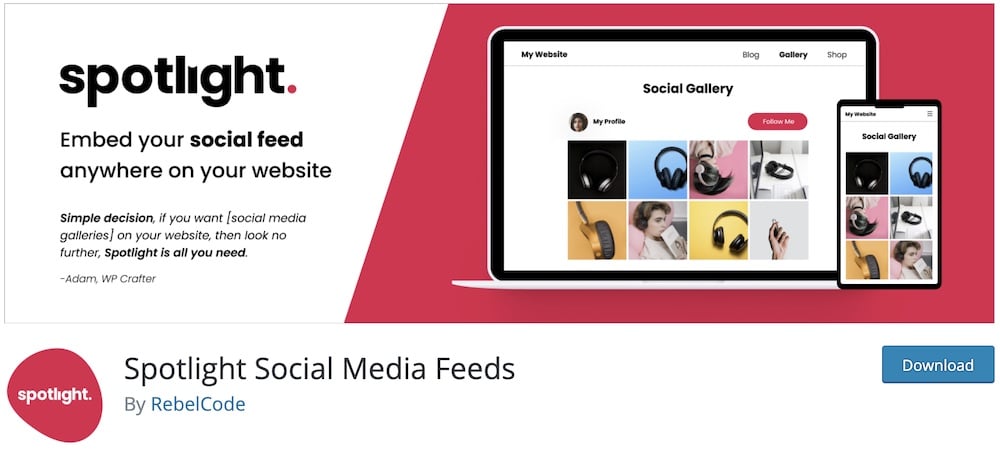 As the name suggests, this is the perfect plugin to spotlight your Instagram feed.
Spotlight is a top-notch Instagram plugin with plenty of customization options, a beautiful pop-up lightbox, and 4 free templates.
We created a unique Instagram feed in less than 2 minutes during our trial. Connecting one or more Instagram accounts is INSTANT.
This is one of the main reasons reputable publications like Hubspot, Avada, and Elementor recommend Spotlight.
And, of course, ULTIDA!
Spotlight Social Media Feeds features:
50,000+ active installations
4.8/5 ratings
Top-tier recommendations
Embed IG feed anywhere
Awesome live preview
MORE INFO / DOWNLOAD
11. Enjoy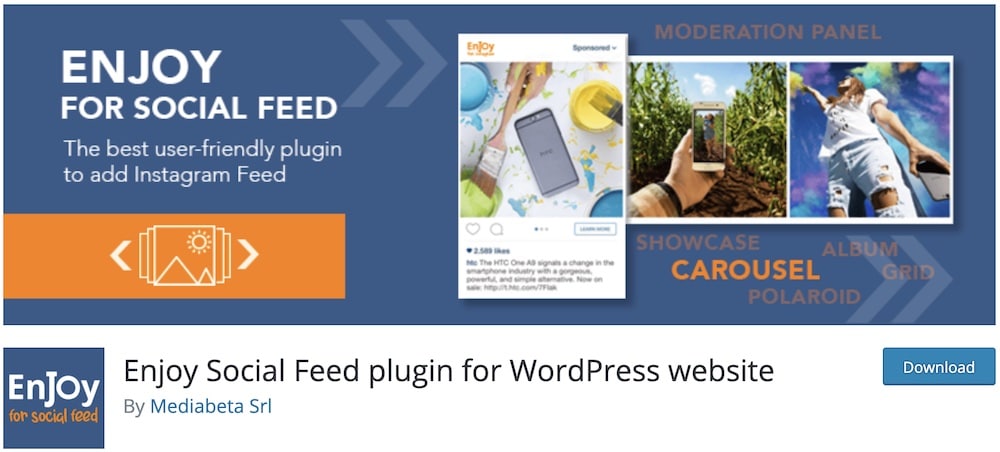 Like the WPZOOM reviewed above, Enjoy is an easy-to-use plugin.
This free WordPress Instagram plugin can create simple shortcodes and embed your Instagram feed on your website.
Enjoy offers 2 view styles (carousel and grid) for customization options.
Moreover, you can easily change the transition, columns and rows, and much more. Besides, the widget doesn't affect the loading speed of your page.
Enjoy is, in our opinion, one of the most UNDERRATED Instagram plugins on the market.
Enjoy features:
10,000+ active installations
4.2/5 ratings
One-click setup
Simple widget
Supports hashtags & public accounts
MORE INFO / DOWNLOAD
12. Photonic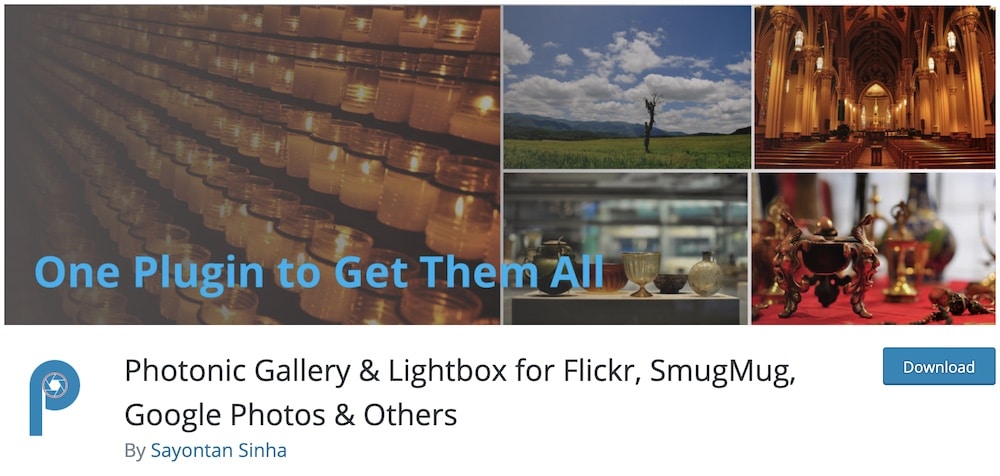 It would be a shortcoming if we did not include Photonic in our top picks for the best free WordPress Instagram plugins.
This is a pretty unique Instagram plugin based on the DEFAULT WordPress gallery. Therefore, it's a great choice for those who prefer the Gutenberg editor (classic, too!).
Namely, Photonic allows you to create unique gallery blogs by adding your Instagram feed.
Also, you can easily include Flickr photos, Google Photos, SmugMug files and more.
In conclusion, Photonic is an innovative plugin. We think it's a great choice for Gutenberg users who are not fans of shortcodes.
Photonic features:
10,000+ active installations
4.8/5 ratings
Perfect for the Gutenberg editor
More than just an IG feed plugin
MORE INFO / DOWNLOAD
What To Look For In A WordPress Instagram Plugin
These were five core features we looked at when conducting this collection of the best IG plugins.
Note: Unfortunately, not all plugins have the ability to tick all five (but their pro versions do). But all tick at least four of them!
1. Does it offer follow and like buttons?
Offering follow and like buttons on your website or blog means you can promote your IG account and gain new followers without the user needing to open the app.
Not every plugin offers this function and displays Instagram feeds on your website at the same time.
But those that do are in this collection for your convenience.
2. Does it connects with multiple IG accounts?
While this isn't necessarily a function many need, it comes very handy when many folks own or operate the website.
Or you have a business with multiple accounts but want to connect all of them with your website.
You don't need to install multiple WP plugins to sort this out, but pick the one with the multi-account connection integrated by default.
3. Does it support widget areas?
We included Instagram feeds in the widget areas for our clients in most cases. Thus, an IG plugin needs to have a widget or a shortcode that you can copy and paste to where you want your Instagram content appear.
Our recommendation is either sidebar or footer area.
4. Can it display posts and feeds anywhere on your website?
But for the complete solution, you must always seek a plugin that allows you to display Instagram feeds and galleries, even shops, anywhere on your website.
Many include it on their home pages, while others like to add IG stuff to their posts and even product pages.
You can do a lot of things with the right plugin, so choose wisely if you decide to do further research. Or just pick any from the above and avoid wasting time.
5. Is it responsive?
This one's obvious, but we still see "modern" plugins that promise responsiveness but don't do the job well.
Check twice or even thrice to ensure that the plugin you use is compatible with all devices, mobile, tablet, and desktop.
Frequently Asked Questions About WP Instagram Plugins
Is there an Instagram plugin for WordPress?
Yes, there are many Instagram plugins that you can use with WordPress to show your IG feeds, add like and follow buttons, display an IG shop, and more.
How do I add an Instagram feed to WordPress?
The easiest and quickest way of adding an IG feed to your WordPress website is with a plugin. It only requires a few clicks to set and configure it.
What is the best Instagram plugin for WordPress?
The best IG plugin for WordPress is Social Photo Feed because it ticks all the must-have features and is also compatible with other social media networks.