Are you considering adding a WordPress question and answer plugin to your website or blog?
Even if not (and you came here by accident – prolly not), this article will change your mind.
Let me explain.
I looked at multiple options when my client wanted to make her blog more user-friendly and boost user interaction.
Question and answer plugins were THE BEST solution!
I reviewed two dozens of them to find the most trustworthy ones. (Which – yes, I know, I'm a legend – I'm now sharing with you.)
Q&A plugins have the whole package: they improve communication with your customers/visitors, help you build a strong and helpful community, provide knowledge, and boost your SEO.
What else is there to ask?
This post covers:
Let's have a look at the six most reliable WordPress Q&A plugins.
Quick Pick: Best WordPress Q&A Plugins
Best Premium WordPress Q&A Plugins
1. Sabai Discuss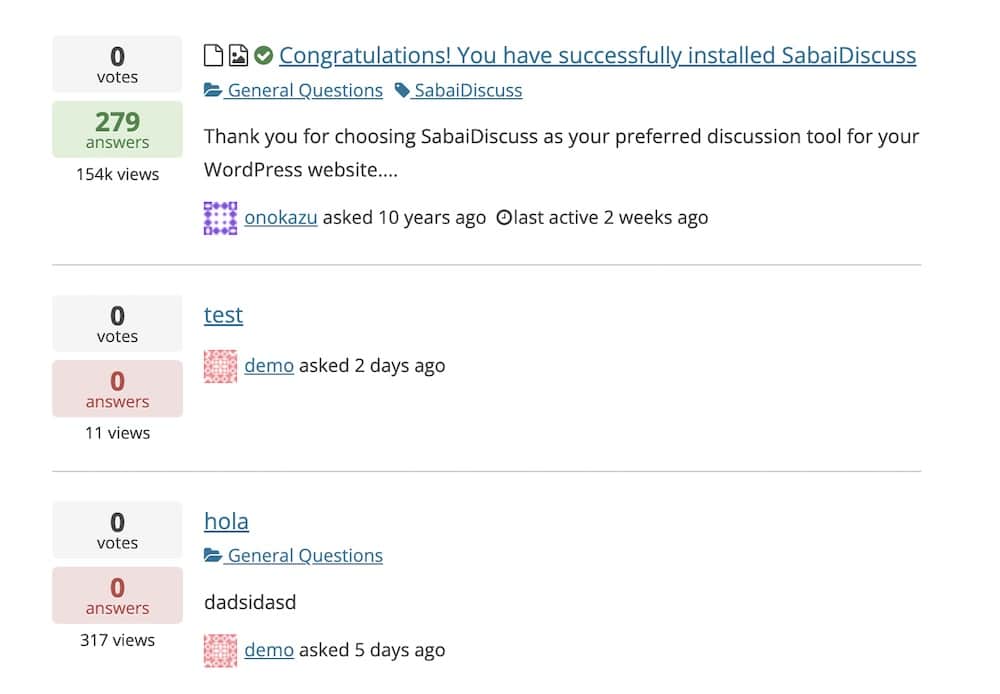 This premium Q&A plugin is actually three plugins in one. Or something like that.
This is not the first time I have come across Sabai Discuss.
Sabai Discuss is a Q&A plugin, a WordPress community plugin and a knowledge base plugin.
In other words, it is a solution for SERIOUS websites and blogs. What I like even more is how easy it is to use!
With a top-notch Q&A system and an automatic voting function, the plugin reminded me of Yahoo! Answers.
Sabai Discuss is for you if your goal is to create an interactive website. Conversely, if you just need a Q&A section on your blog, Sabai Discuss is probably… too much.
Sabai Discuss features:
3,300+ sales
4.4/5 ratings
Includes 5 WP shortcodes & 9 WP widgets
Perfect for discussion forums & analytic help desk portals
Price: $24 (may vary)
MORE INFO / DOWNLOAD
2. DW Question and Answer PRO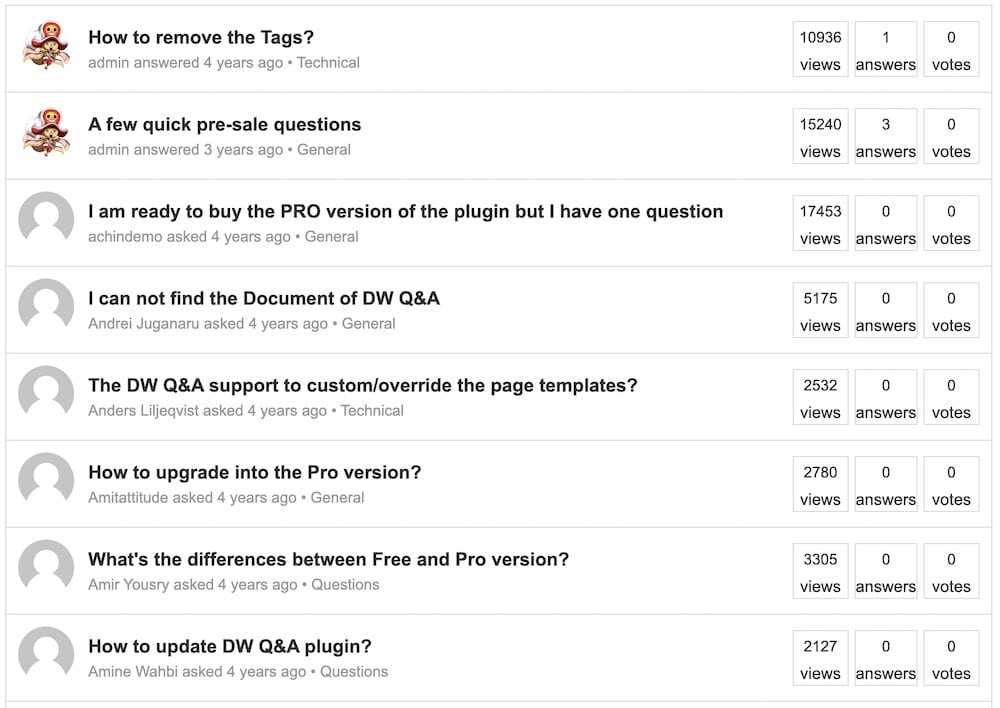 Who said you had to be a developer to manage a WordPress question and answer plugin?
It definitely wasn't me.
And how could I say such a thing after trying DW Q&A Pro?
The truth is that being an administrator in a community forum was not easy a few years ago.
Well, that's not the case anymore. Like Sabai Discuss, DW Pro allows you to build and manage your Q&A section easily and quickly.
At the same time, you can select the best answer, vote and perform an automatic ajax-based search. Nothing TOO fancy, but it works, and it works perfectly. (With MANY great features!)
You may also be interested in our best WordPress forum plugins collection.
DW Pro features:
2,400+ sales
4/5 ratings
Responsive & lightweight
Comprehensive permission settings
Price: $39 (may vary)
MORE INFO / DOWNLOAD
3. WP-Answers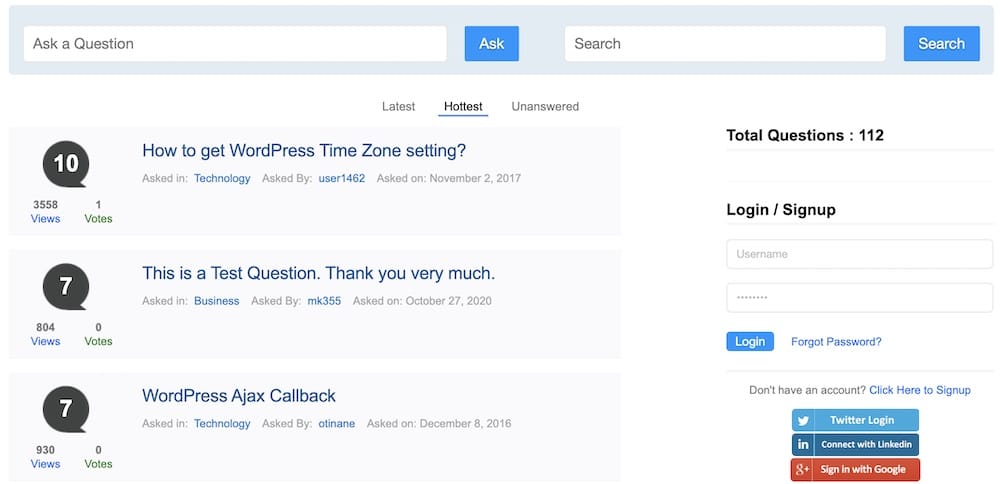 WP-Answers became popular for all the right reasons. It provides an easy way to create a FULLY responsive Q&A portal on your blog or website.
This WordPress question-and-answer plugin worked with every WP theme during my testing.
And I really appreciate the Facebook and Twitter integration.
The fact that visitors do not need to create a new account is really helpful.
They can log in to your Q&A section via their social media accounts. (Which improves user experience.)
If you are just starting with WordPress, WP-Answers also gives you a top-notch theme for community sites. Kudos to the WPeka development team!
WP-Answers features:
5,000+ sales
4.4/5 ratings
Rewards & points
Supports membership charges (via Paypal)
Price: $34 (may vary)
MORE INFO / DOWNLOAD
Best Free WordPress Q&A Plugins
4. AnsPress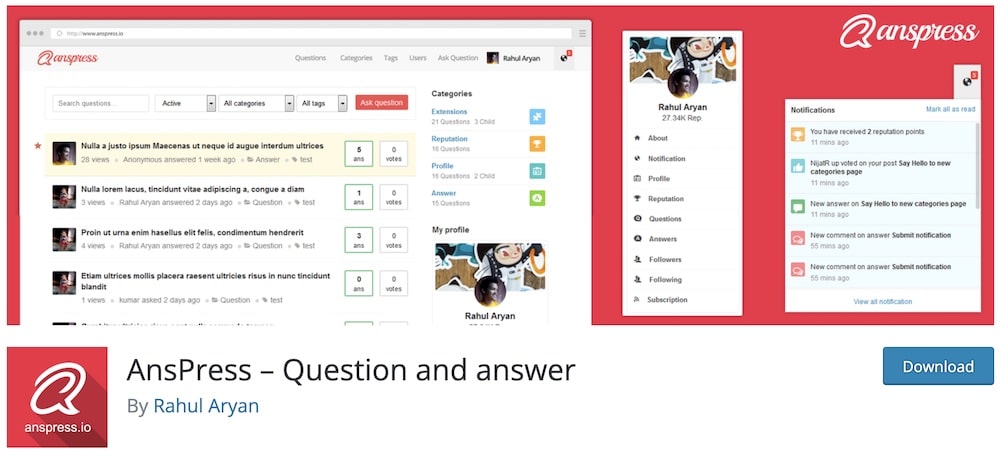 Why reach for a premium plugin when there is a free alternative? Well, it's not always easy to find a reliable free plugin.
At least when it comes to WordPress question and answer plugins.
Luckily, AnsPress and CM Answers proved me wrong.
When I started with AnsPress, I really tried to find flaws. But I could not find any.
Of course, this free Q&A plugin does not have as many advanced features as the premium plugins described above.
But if you WANT to create a Q&A board for your visitors for free quickly, AnsPress is the AnsWer.
The plugin has a voting system, an easy-to-learn admin page and advanced multilingual support.
AnsPress features:
5,000+ active installations
4.1/5 ratings
Includes shortcodes & free Add-ons
Well-crafted follow system
Great support
MORE INFO / DOWNLOAD
5. CM Answers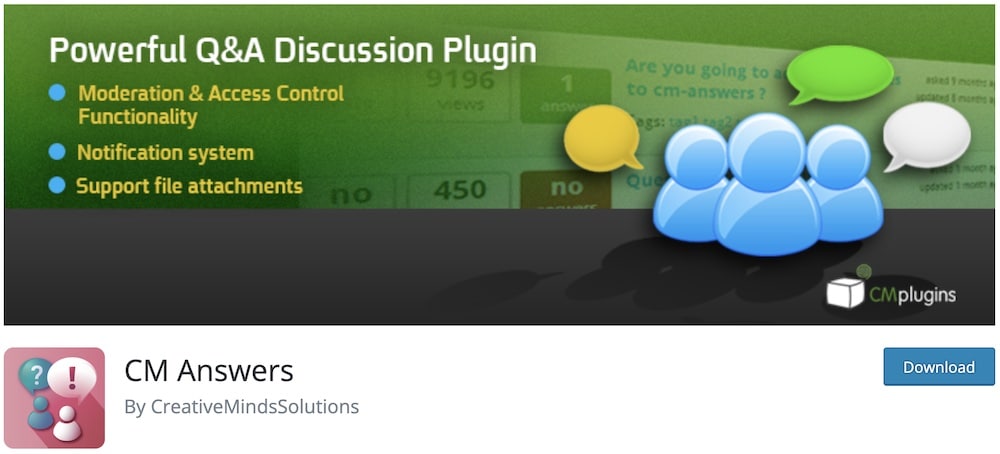 CM Answers is a small but powerful tool to create a Q&A on any website or blog you want.
I really enjoyed how SMOOTHLY it operates and how user-friendly it is.
This makes it a very reliable plugin, which I highly recommend.
Besides the lightweight templates and hassle-free user interface, CM Answers has all the essential Q&A features you need: It supports membership plans, polls, notifications and hierarchical categories.
Also, unlike other plugins, CM is frequently updated. CM Answers is a hidden gem that no one speak about!
CM Answers features:
800+ active installations
4.2/5 ratings
Zero Coding
Ajax Cart
Built-in search
MORE INFO / DOWNLOAD
6. Bonus: Quiz Maker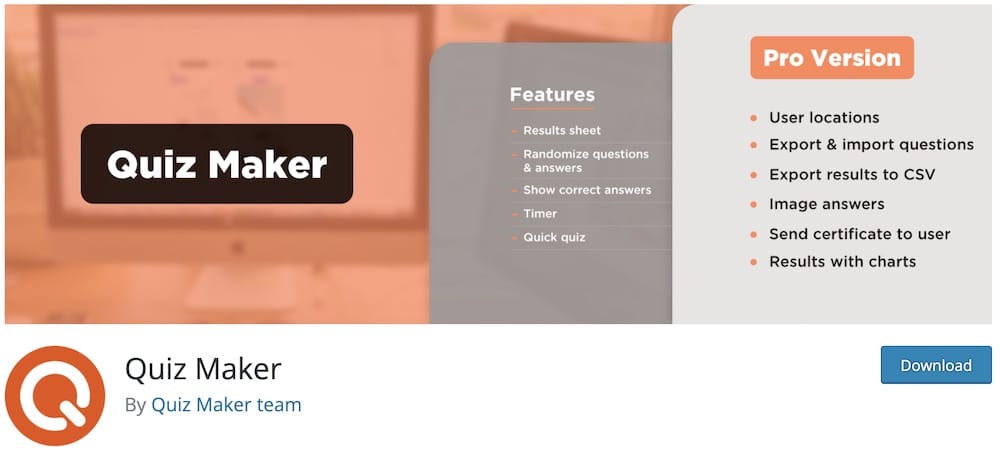 Thinking of creating more than just a forum? Maybe your niche is more playful and requires you to engage with your site visitors more.
In this case, quiz games can be your lifesaver.
While this is not a WordPress question and answer plugin in the true sense, it can definitely help you create questions.
The difference is that your visitors are called upon to answer them!
But you can also provide the RIGHT answer. It has never been so easy to help your website visitors!
Quiz Maker offers multiple mobile-friendly themes, analytical result lists and comprehensive step-by-step instructions.
Note: We also have a collection of the best WordPress quiz plugins if you need more options.
Quiz Maker Features:
20,000+ active installations
4.9/5 ratings
Many quiz formats (multiple answers, audio, text, number, etc.)
Great for surveys
Supports RTL languages
MORE INFO / DOWNLOAD
Why Add a Question and Answer Section In WordPress?
As with most types of plugins on the market, question and answer plugins in WordPress help you improve the UX of your website.
In other words, with a Q&A section, you can interact and help your visitors.
If you have a business website, this is also an opportunity to create a strong community around your products or services.
For blogs, question and answer sections can improve your page views and overall authority of your site.
Remember, by adding Q&A sections to your website, you are not just helping your readers. You are also adding new content.
And quality content is exactly what we are all fighting for!
Plus, setting up a reliable Q&A section is very easy to do by installing a WordPress plugin.
4 Benefits Of Adding A Q&A Section To Your WordPress Website
Let's further expand the reason why add a Q&A section to your website with four main benefits.
1. A boost in user engagement
Adding an element to your website that encourages users to act immediately boosts your website's user engagement.
A Q&A section is great because the users will return to either ask some more questions or answer them.
Or just to read and gain knowledge because not everyone is willing to participate. But that's OK for as long as you help users get what they're looking for.
2. Creating a handy FAQ section
Another benefit of a Q&A section is the effortless creation of a FAQ section.
I don't recommend it if you're running a personal blog, but I do advise creating it if you operate a business or an eCommerce website.
Use a plugin to add a FAQ to your site quickly.
3. User-to-user interaction (Quora-like)
This is huge if you want to build a large and loyal community of like-minded people.
A WordPress question and answer plugin isn't only for webmaster-to-user interaction.
In fact, it's even more important for user-to-user interaction.
Not at the beginning, because you'll need to build a following, but once your website gets larger, you can be the observer who only manages and maintains the Q&A section.
4. Higher conversions (Amazon-like)
This one is exclusive to eCommerce websites.
Adding a Q&A section to your online store, particularly to product pages, can boost sales.
You can think of it like live reviews, where people can discuss the product (or service) or quickly skim through the Q&A to help them decide whether to make a purchase.
Hint: They probably will because of the positive discussion. 🙂
Frequently Asked Questions About WordPress Q&A Plugins
How do I add a Q&A in WordPress?
My quickest and easiest recommendation for adding a Q&A in WordPress is with a plugin. It equips you with all the necessary features to start a question and answer discussion section.
How can I make a question & answer WordPress website?
You can choose between two options: 1) Pick a Q&A WordPress theme with a built-in function or 2) add a WordPress plugin to your existing website or blog.
Which is the best WordPress Q&A plugin?
The best premium WordPress Q&A plugin is Sabai Discuss and the best free is AnsPress.
What is a WordPress Q&A plugin?
A WordPress Q&A plugin is a tool to create a questions and answers section on your website to help users find answers and ask questions.