Do you need the best free WordPress menu plugins to improve your website's navigation?
From creating a breathtaking mega menu to adding colorful animations, there are many ways to increase interaction and engage your website visitors via your navigation.
That's why we have picked out the 11 best free menu plugins for you.
We tested more than 20+ responsive plugins to make the following selection.
Post contents:
By reading this 5-minute guide, you'll find the best plugin for your needs and preferences.
Let us navigate you to the best menu plugins out there!
Best Free WordPress Menu Plugins
1. Max Mega Menu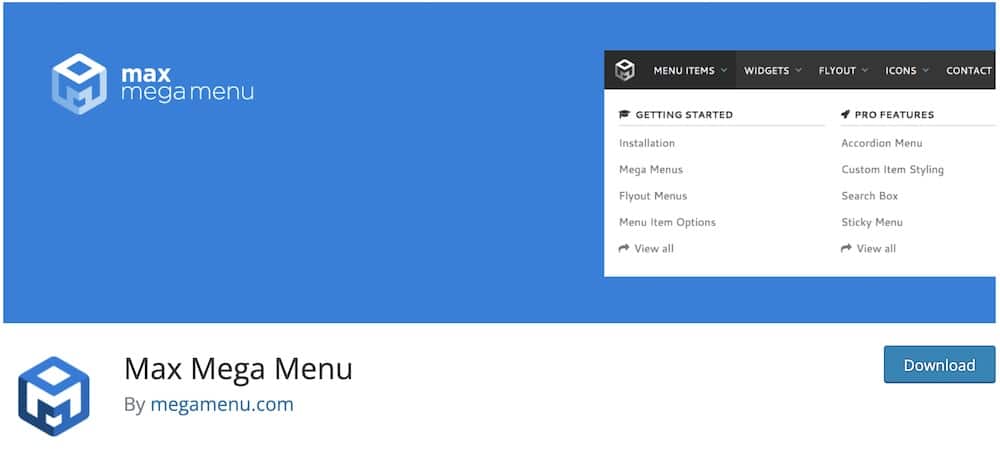 If you are looking for the best all-rounder menu plugin, Max Mega Menu is by far the best choice. The developers have designed one of the most responsive and reliable menu builders we have ever seen.
This free WordPress navigation plugin is the best tool you can find if you want to create a mega menu for your WP website.
Since Max Mega Menu integrates with the default WordPress menu system, it is effortless to use.
In terms of features, the plugin proves to be EXTREMELY flexible as you can customize the styling, size, and transitions of your website's menu.
In a few words, Max Mega Menu certainly justifies its popularity.
Max Mega Menu features:
400,000+ active installations
4.7/5 Ratings
Easy WordPress integration
Fully-customizable
Top-notch documentation
MORE INFO / DOWNLOAD
2. Groovy Menu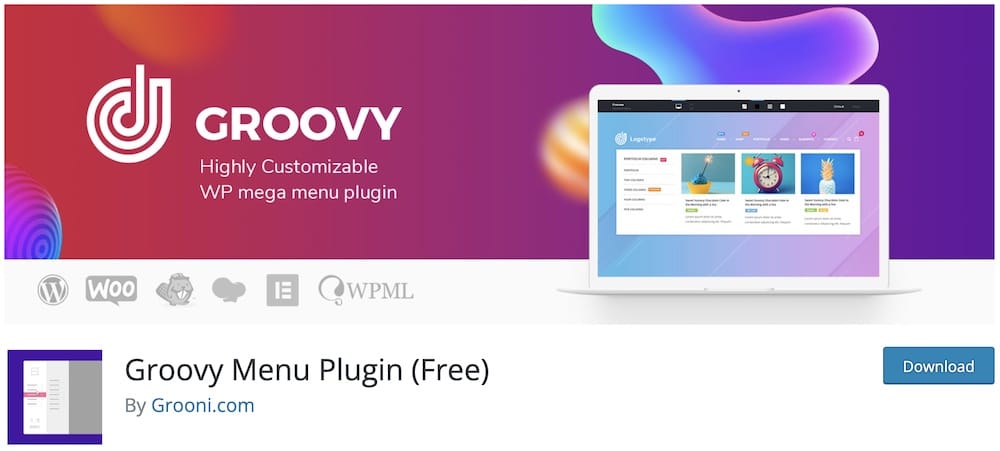 If you think that Max Mega Menu is not right for your site, Groovy may be the best choice.
During our testing, this free WordPress menu plugin proved to be one of the most powerful yet beginner-friendly plugins on the market.
Groovy is a very flexible plugin with numerous advanced features in its free version.
You can create all kinds of menus, from mega and vertical menus to toolbar and dropdown menus, it leaves out nothing.
Finally, the plugin is fully compatible with all WordPress page builders like Elementor, Beaver Builder and almost any WordPress theme.
For this reason, this plugin is a SMART alternative to Max Mega Menu.
Groovy features:
7,000+ active installations
4.1/5 Ratings
Supports all themes & builders
Great for WooCommerce mega menus
Beginner friendly
MORE INFO / DOWNLOAD
3. QuadMenu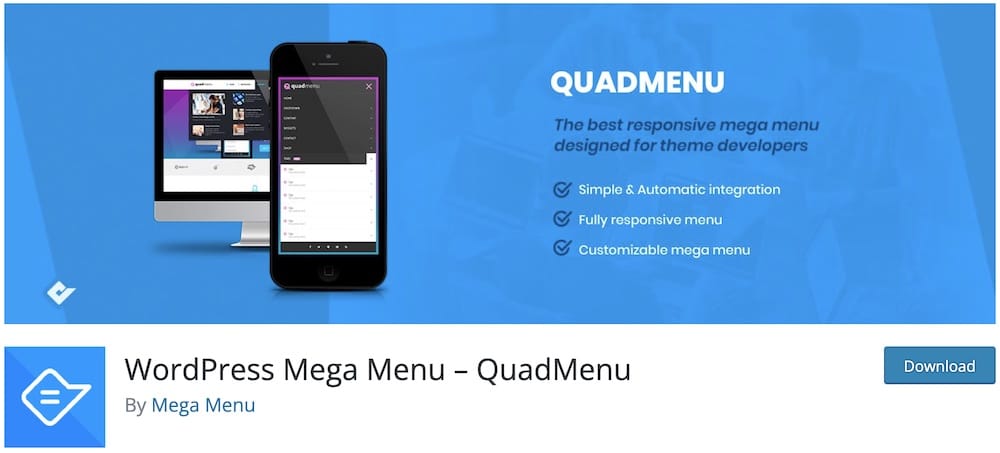 When we first tested QuadMenu, we immediately understood why it has 20,000+ active installs.
This free WordPress menu plugin was specially developed by Mega Menu, one of the most popular plugin developers.
As with our previous recommendations, QuadMenu is an innovative and responsive navigation plugin that allows you to add customizable menus to your WordPress website.
What we liked most about QuadMenu is the easy drag and drop builder.
This feature makes it a very reliable choice for beginners and an EASY-TO-USE plugin for professionals.
When you add QuadMenu's numerous layouts and customization options, it just does not get any better than that.
QuadMenu features:
20,000+ active installations
4.6/5 Ratings
Automatic & manual integration
Ready-to-use layuts
Off-canvas & sticky variations
We also have a tutorial on how to create a sticky menu in WordPress if you need assistance.
MORE INFO / DOWNLOAD
4. WP Mobile Menu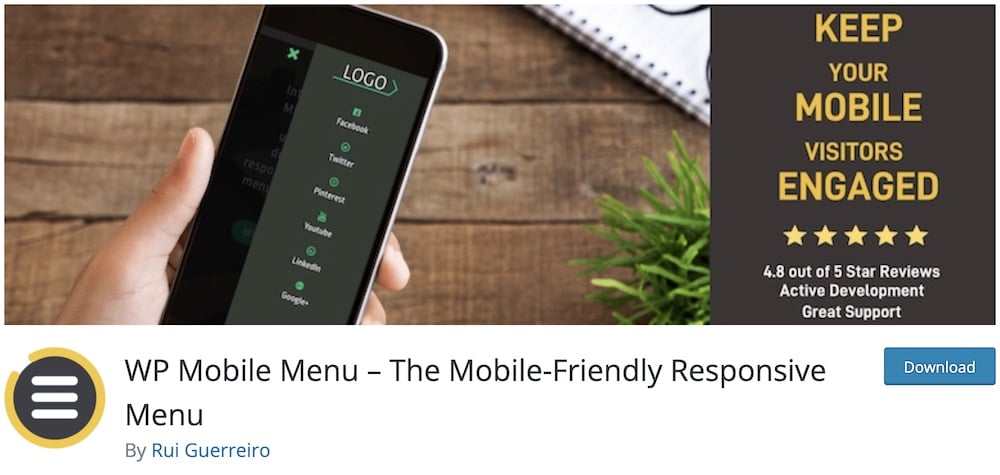 As the name suggests, WP Mobile Menu is the perfect choice for those of you who want to create a fully responsive website menu.
If mobile-friendliness is a priority for you, you should definitely check out this free WordPress menu plugin.
We did not encounter any issues installing and using the plugin while reviewing it. The developer has provided numerous demos and video tutorials to make the process even EASIER.
Finally, WP Mobile Menu requires no coding knowledge and works perfectly with any WordPress theme.
All in all, if you want your visitors to have excellent content navigability on mobile, this is the perfect plugin for you.
WP Mobile Menu features:
100,000+ active installations
4.8/5 Ratings
Ultimately mobile-friendly menus
Uses Google Fonts
0 coding needed
MORE INFO / DOWNLOAD
5. Advanced Sidebar Menu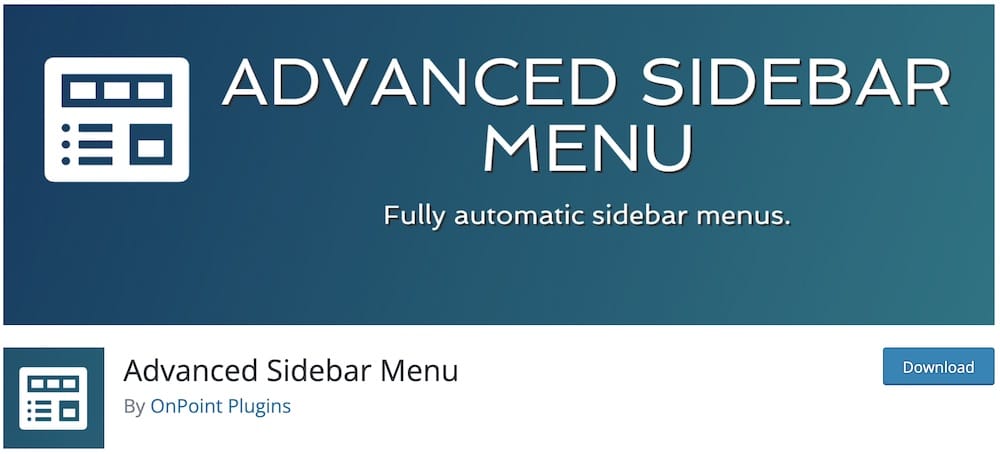 All of the above choices are powerful plugins that allow you to create multiple menus. But what if you only want to create a sidebar menu?
In that case, OnPoint plugins have the answer!
Advanced Sidebar Menu does exactly what it promises to do. You can use a simple WordPress widget and quickly create sidebar menus with this free WordPress menu plugin.
The pages and categories are CLEAN and FULLY customizable.
This plugin is the best way to go if you need an easy way to create navigation in a sidebar.
Advanced Sidebar Menu features:
20,000+ active installations
4.5/5 Ratings
Frequent updates
Perfect for sidebar menus
Numerous page & category widget options
MORE INFO / DOWNLOAD
6. Sticky Menu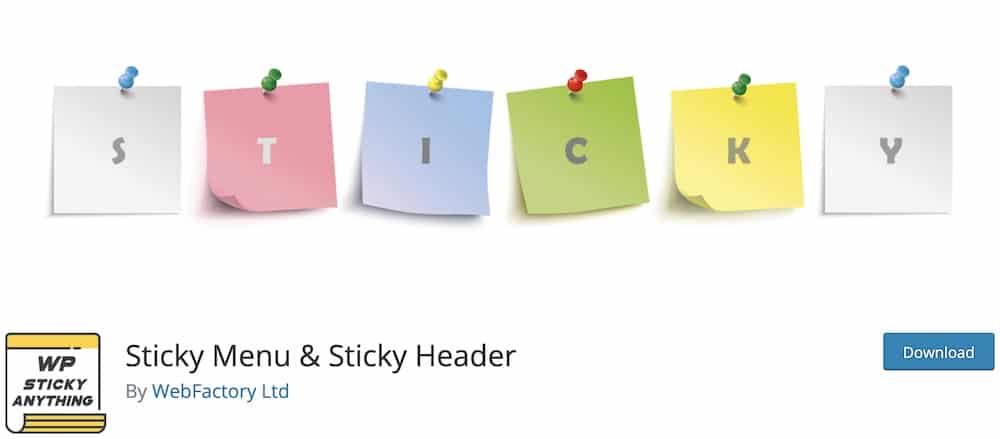 Just by reading the name of this plugin, we realised that it would be completely different from our other suggestions. That turned out to be completely true. Sticky Menu is a UNIQUE free WordPress menu plugin.
Since the plugin has numerous active installs and excellent reviews, it would be a shortcoming if we did not try it.
After using it on a few projects, we decided that this plugin had to be included in our selection. (A must!)
With Sticky Menu, you can easily turn any element of your website into a sticky one. This allows you to create sticky menus, headers, logos, widgets, etc.
While this is not the most beginner-friendly plugin on the list, it's the most playful. For this reason, Sticky Menu should be part of your plugin collection.
Sticky Menu features:
100,000+ active installations
4.8/5 Ratings
Set screen rules
You can apply it to all elements
Top-tier support
MORE INFO / DOWNLOAD
7. Responsive Menu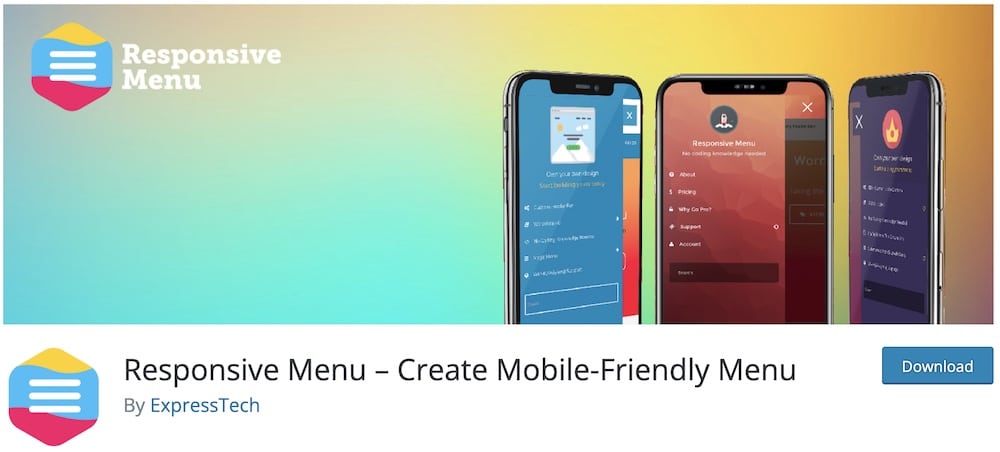 ExpressTech has developed one of the best free WordPress menu plugins available. Responsive Menu easily made it into our top picks with 150+ customization options and a beginner-friendly interface.
It is one of the most popular with more than 100,000 active users! Responsive Menu was one of the best performing menu builders during our testing phase.
The software allows you to change just about ANYTHING. From the text background to the orientation of the buttons, there's nothing you can't manipulate.
Creating site navigation with this plugin is absolutely delightful.
Responsive Menu features:
MORE INFO / DOWNLOAD
8. WP Mega Menu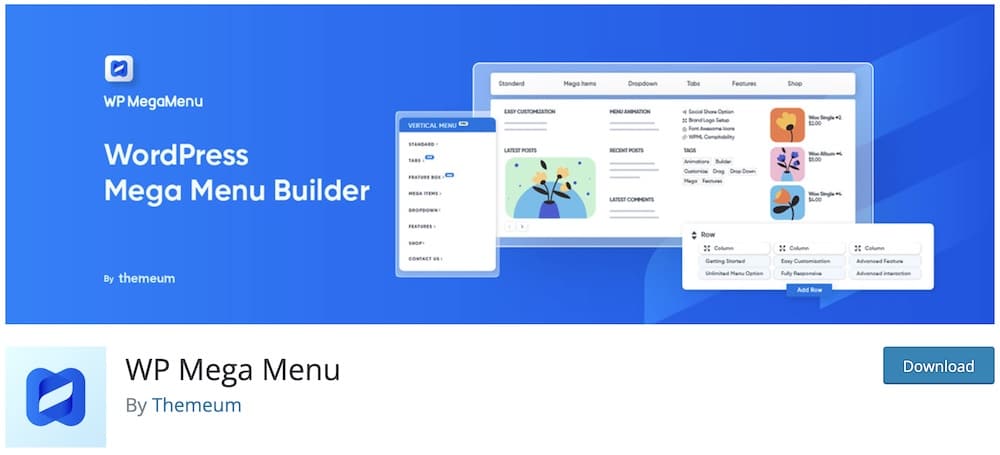 WP Mega Menu is one of the MOST balanced menu builders we have reviewed and used. It was created by Themeum, one of the most well-known plugin developers.
With a beginner-friendly drag and drop builder and carefully crafted demos, this is one of the most practical navigation plugins.
The drag & drop menu builder works perfectly and the results are totally responsive.
So, if you need a beautiful mega menu for your website but have no coding skills, this is the plugin for you.
WP Mega Menu features:
20,000+ active installations
4.4/5 Ratings
Includes search bar
Drag & drop tools
Integrates social buttons
MORE INFO / DOWNLOAD
9. ElementsKit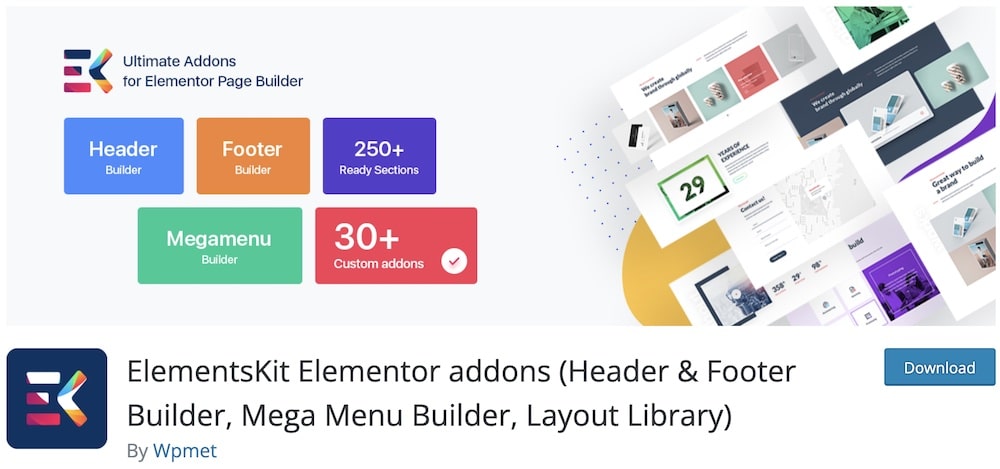 ElementsKit needs no introduction. If you need ultimate control over your website's menu, ElementsKit is for you.
Best of all, this plugin is much more than just a mega menu builder. You can also design your brand new footers and headers with ElementsKit.
This free WordPress menu plugin has everything you need regarding mega menu creation. The process is pretty SIMPLE and the result is fully functional.
In short, this is a fantastic plugin that lets you create practical elements fast.
ElementsKit features:
1+ million active installations
4.8/5 Ratings
Perfect for mega menus, footers & headers
Works with Elementor builder
40+ custom widgets
MORE INFO / DOWNLOAD
10. If Menu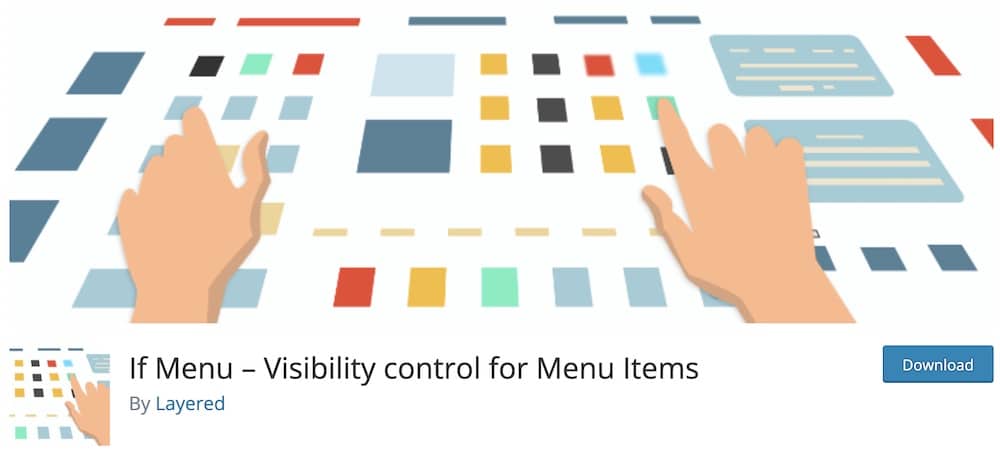 Suppose you have just designed the new menu for your website and you are very happy with the result.
Then you decide that you do not want your visitors to see all the menu items you have added.
In this case, If Menu is the answer to your problem.
There are many occasions when we need to hide some sections of our website's menu. You can control what your visitors can and cannot see with this free WordPress menu plugin.
The plugin is based on several visibility RULES.
For example, you can specify that a menu section is only displayed when the user is logged in to your website. If Menu is the way to go if you need more control over your navigation.
If Menu features:
80,000+ active installations
4.3/5 Ratings
Ultimate visibility control
100% responsive
Beginner & expert friendly
MORE INFO / DOWNLOAD
11. WP Bottom Menu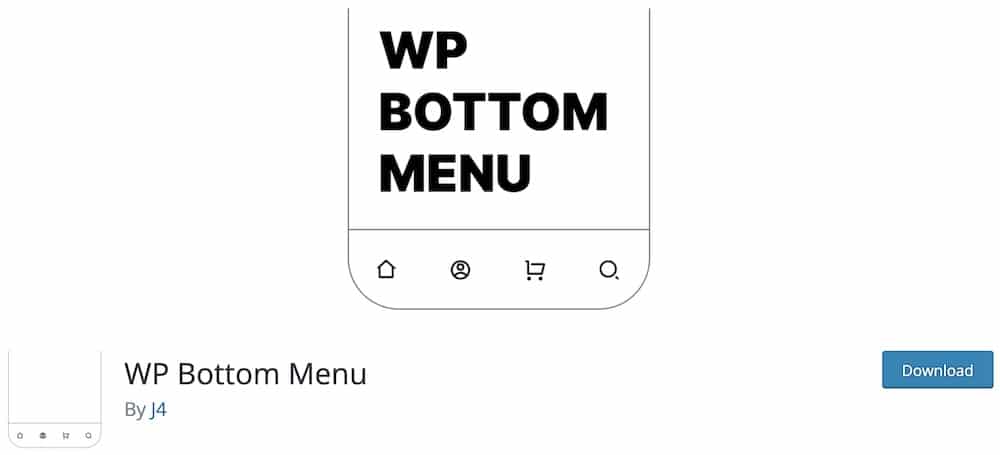 Our final suggestion is the perfect menu plugin for specific tasks. If you own a WooCommerce website and want to design a beautiful and fully editable bottom menu for your store, this is the best way to do it.
This free WordPress menu plugin is developed by J4 and has one of the most newbie-friendly interfaces.
The plugin supports MANY WooCommerce tools (cart, account, product, etc.).
Finally, WP Bottom Menu helps you customize the bottom menu of your website in just a few minutes.
WP Bottom Menu features:
10,000+ active installations
5/5 Ratings
Perfect for WooCommerce stores
Adjustable bottom menus
Comes with search
MORE INFO / DOWNLOAD
Why Do I Need A WordPress Menu Plugin If It Already Comes Default?
Okay, here's the thing, if you run a simple blog, you don't need a menu plugin because a drop-down menu for categories and pages will be more than enough.
However, as soon as you want to add more functionality to your menu, well, you're unable with WordPress's default navigation.
That's when a menu plugin comes into play with many extra features to guarantee a better display and user experience.
Remember, excellent site navigation can drastically improve your overall bounce rate.
Ensure your visitors find what they need without leaving your site early, increasing your bounce rate.
Note: Even though we only tested bounce rate on 45 websites with improved navigation, it increased by 16%, which was a pleasant surprise.
What To Look For In A Great WordPress Menu Plugin?
You need to pay close attention to many features when searching for the best menu plugin.
And these are the most common ones that we used for this review, so you don't have to:
The site navigation you create must be responsive, optimized for mobile and desktop devices.
Great customization options to tailor it to your needs.
But you can save yourself plenty of time with predefined menu templates.
Or you can use the effortless visual menu builder to create the look from scratch.
Support for every WordPress theme and easy integration with popular WordPress page builders.
Compatibility with horizontal and vertical menus, including mega menus.
Great support, in-depth documentation and regular updates (!).
Frequently Asked Questions About WordPress Menu Plugins
How do I customize a menu in WordPress?
The easiest and quickest way to customize your menu is to locate Appearance > Menus in your WordPress admin panel. This is where you can edit existing menus and create new ones.
How do I create a free menu in WordPress?
You can create a free menu in WordPress by using it's default functionality that you find under the Appearance section, clicking on Menus. But you can also expand your site navigation capability with a free plugin.
How do I use mega menu in WordPress?
The simplest way of using a mean menu in WordPress is by installing and activating a menu plugin with the necessary functionality. You can then customize and configure it however you want (without coding) and go live.
Can you create multiple menus in WordPress?
Yes, you have te ability to create various menus in WordPress that you quickly access by heading to Appearance > Menus in your WP backend.
How do I add a menu plugin in WordPress?
Click Plugins in your WordPress admin section from where you press the Add New button at the top. This is where you search for your favorite menu plugin. Install and activate it, and that's it; you just added a menu plugin to your WP site.