Welcome to our review of the best mega menu WordPress themes for business and eCommerce websites.
You ABSOLUTELY need proper site navigation when you plan to publish a ton of content or items.
Instead of doing the hard work from scratch, we bring you quick and easy solutions for an immediate start.
Choosing the wrong WordPress theme can MESS things up (significantly!), especially navigation in this case. (But you can also learn how to choose a WordPress theme the right way from scratch.)
But that's not something you need to worry about.
This post covers:
We reviewed many themes with an integrated mega menu to bring you this list of the best 13.
You'll enjoy using all of them.
So SIMPLE. So POWERFUL.
Let's get to it.
Note: If you already have a website, we also have a guide on how to create a mega menu in WordPress.
The Best WordPress Themes With Mega Menu
Quick selection if you're in a hurry:
Best Mega Menu WordPress Themes
1. Goya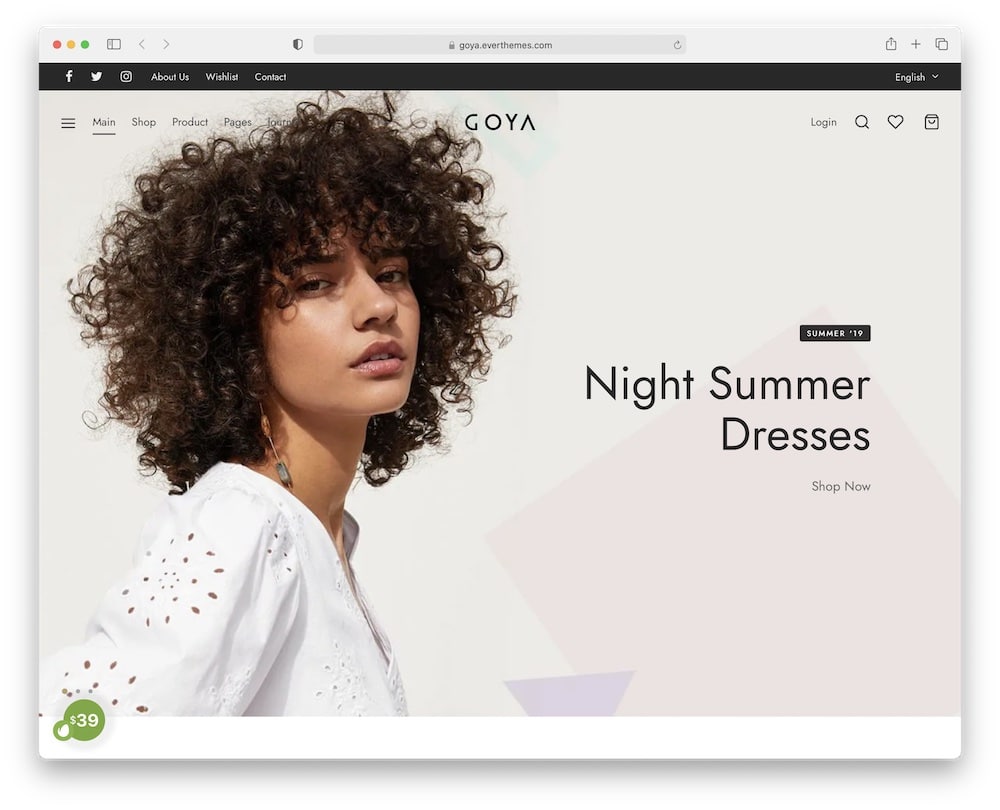 Ugh, of COURSE, with Goya WordPress theme, you can easily showcase your products, present your story and increase sales (Whaaa???).
Yup, this beautifully made tool, with a clear style, is an eye-pleaser.
It comes with everything you need for a gorgeous and functional website!
Goya packs different pre-made demos that are simple to use and fast to install. But learn how to install a WordPress theme by checking the tutorial on the link if it's your first time.
And one more thing: A fully customizable built-in mega menu (included for free) is like a dream come true!
Oh, and Goya is mobile optimized for a CONSISTENT experience on any device (bring your A-game to your customers).
The elegant blog layout is icing on the cake, offering lots of space for details, stories, promotions, and trendy products.
Sounds great!
Plus, you can take customization to the next level with a starter child theme.
You may also be interested in ready our guide on how to choose a WooCommerce theme if you're building an eCommerce website.
Goya features:
8,600+ sales
4.6+ star rating
Regular updates
Price: $29 (may vary)
MORE INFO / DOWNLOAD
DEMO
2. Essentials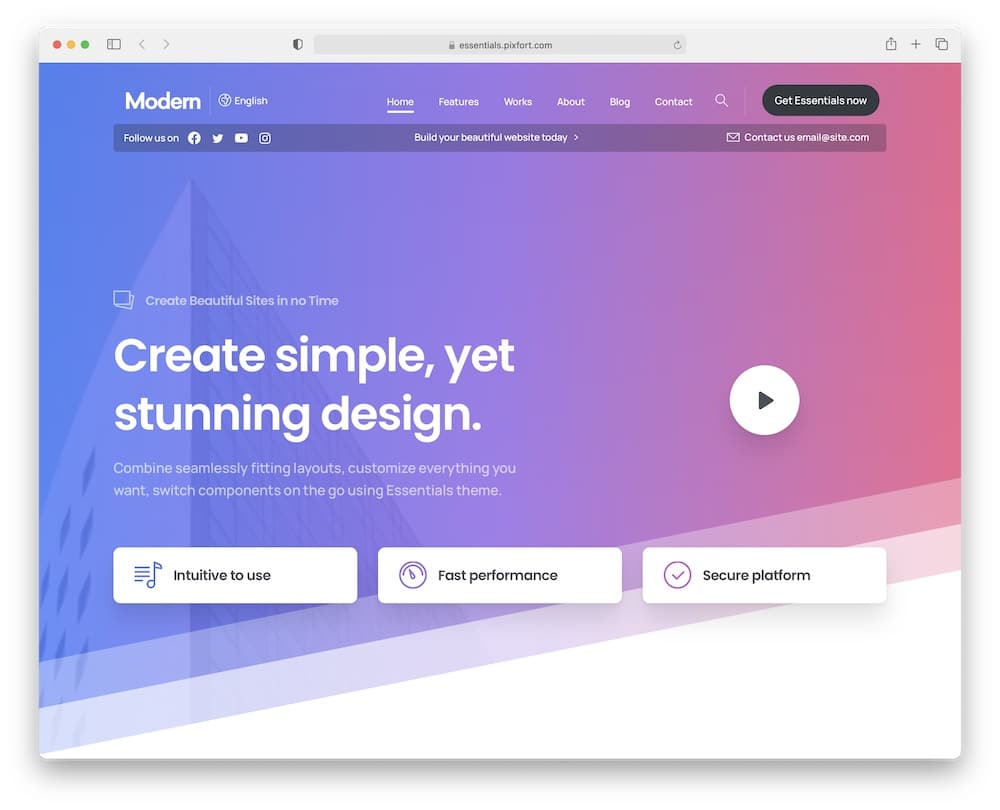 When you decide to work with Essentials mega menu WordPress theme, you can choose from 35+ full demos (crazy!).
And YES, you also get numerous ready-to-use templates, various elements, beautiful pre-made pages, and tons of amazing features. WOW.
Trust me: This one is perfect!
Moreover, Essentials includes Slider Revolution plugin, WooCommerce, WPBakery, Elementor, and more. You can also play with premium icons, Google fonts, unlimited colors, and eye-catching animations.
FABULOUS!
Say goodbye to poor, ineffective websites with Essentials. It's time for you to create a fresh, quick, and feature-rich site (that'll pop up from the crowd).
Essentials features:
14,000+ sales
4.9+ star rating
Different mega menu styles
Price: $79 (may vary)
MORE INFO / DOWNLOAD
DEMO
3. Lusion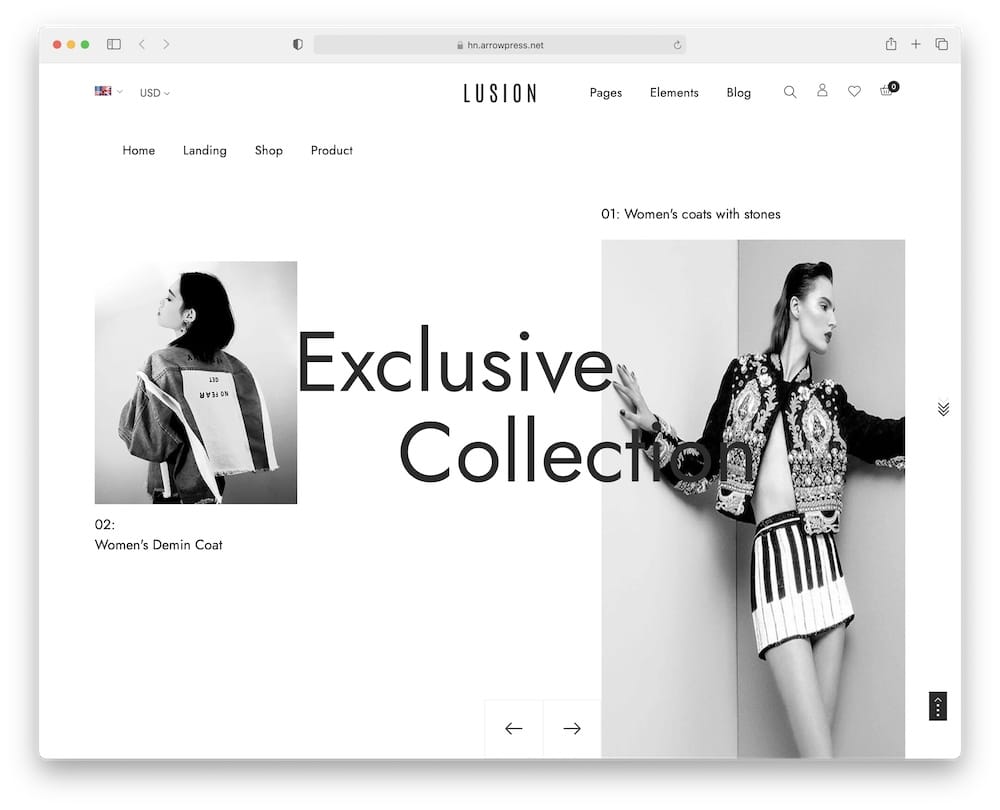 What do you get when you take Lusion mega menu WordPress theme and combine its gorgeous ready-to-use demos, Ajax technology, built-in mega menu, and unlimited layouts?
You can create an amazing online business page with minimal effort that will rock your world.
Lusion has all the elements and tools you need for a creative building. Various POWERFUL options will make you smile!
It is also cross-browser compatible, fully responsive (mobile-first design), and includes valid HTML5 and CSS3 frameworks.
Way to go!
Kickstart your business with Lusion.
Lusion features:
2,100+ sales
4.3+ star rating
Excellent mobile experience
Practical product quick view
Price: $39 (may vary)
MORE INFO / DOWNLOAD
DEMO
4. MyMedi

Believe it or not, you can find magic in MyMedi mega menu WordPress theme. MyMedi is a well-thought-out theme that looks professional, clean, and modern.
MyMedi is great for different (multilingual theme) eCommerce projects (super versatile). No need to use it just for the medical space.
MyMedi is simple to use – great for total beginners (0 coding knowledge required). Besides, it is flexible and you can change it exactly as you desire due to all the options of pre-made layouts, shortcodes (30+), pages, and designs.
ALSO – I realize that customers love organized and quick-to-scan menus. Thus, using the available and practical mega menu will be super exciting.
Easy and beautiful is how we roll.
Patient, responsive, and helpful customer support of MyMedi will help you to take off like a skyrocket (go through the roof to win)!
MyMedi features:
MORE INFO / DOWNLOAD
DEMO
5. Nifty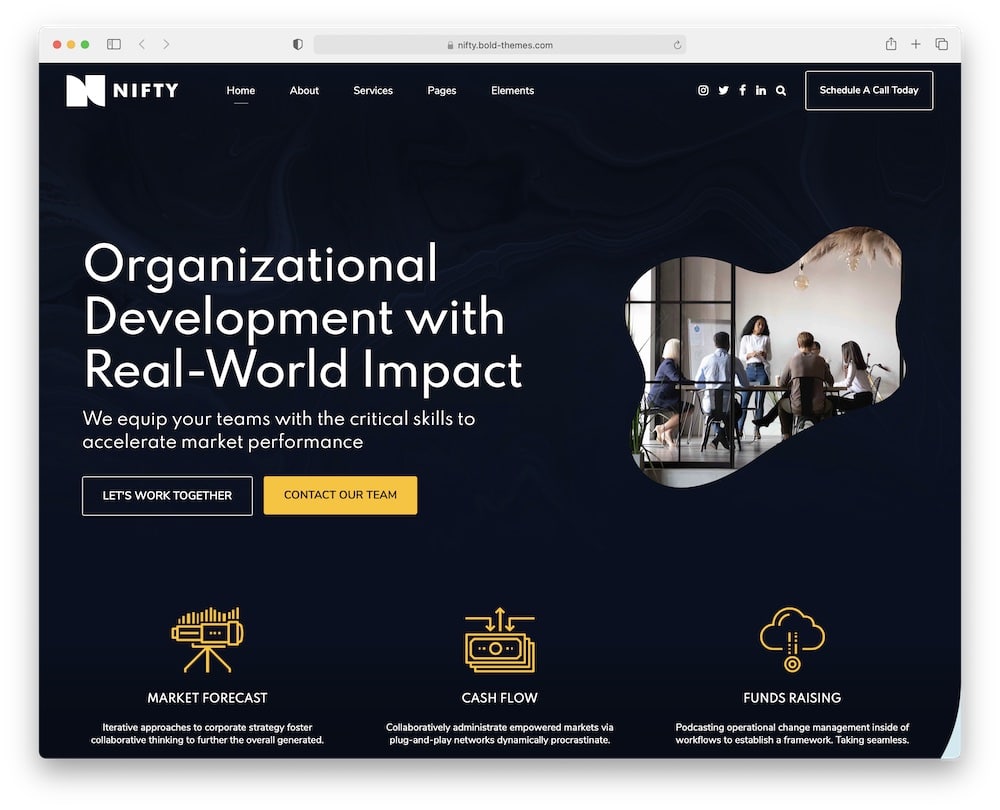 You can quickly create a website you always dreamed about with an awesome Nifty WordPress theme. You can shape, grow and promote your business (HELLO world) without limits (!).
Keep in mind, it doesn't matter whether you're an established designer or new to the online world – you can build (keep calm) your site with modern Nifty (smile and enjoy the process).
Think and choose what you want to offer and have on your site, and include all the possibilities through USEFUL plugins and widgets (bundle of goods).
Besides, Nifty is translation-ready and can be used all over the globe. It's also WordPress multisite tested! Pretty COOL.
Remember, Nifty makes it possible!
Nifty features:
2,600+ sales
4.4+ star rating
One- & multi-page layouts
Money-back guarantee (!)
Price: $69 (may vary)
MORE INFO / DOWNLOAD
DEMO
6. Qwery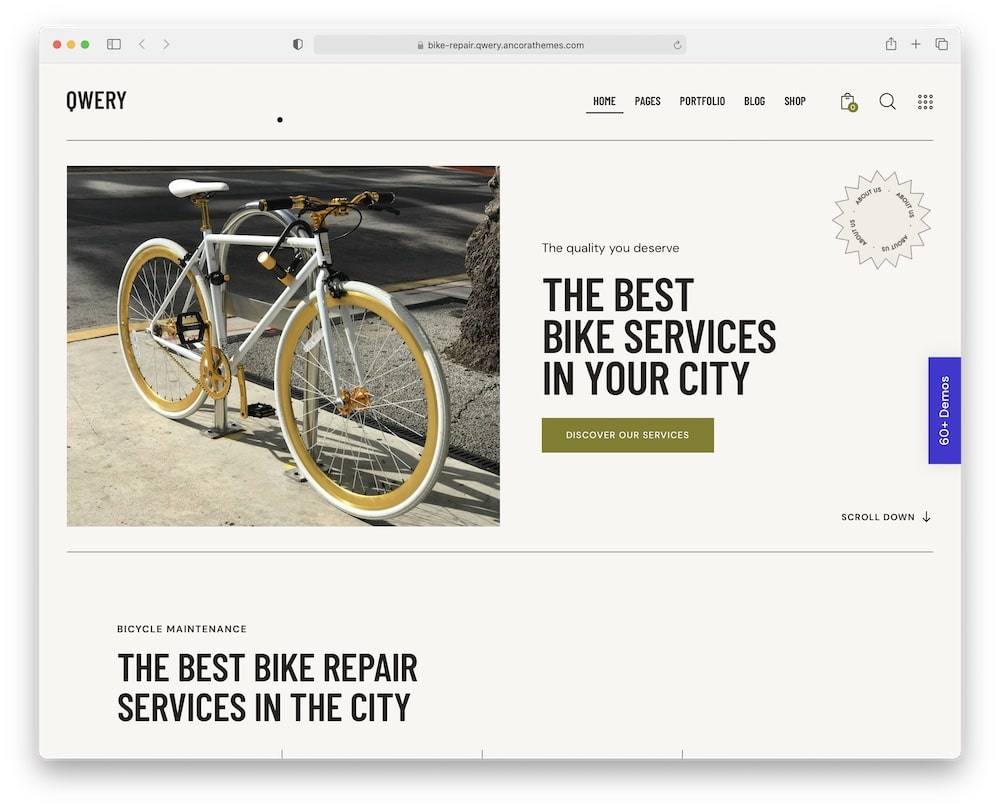 Color your life with a fresh Qwery mega menu WordPress theme. This innovative and responsive tool comes with a big set of ready-to-use demos (super quick install) and offers million little options for you to change, add, or adjust.
YUP, everything is at your fingertips with Qwery.
You can edit your content, add effects, customize fonts and combine images on your site with Elementor. You make all design changes visually and live.
ADVANCED. WORK. (That doesn't require coding.)
Note: The included mega menu makes it possible to organize and create multi-column menus for better content transparency on your site.
What's not to like?
Qwery features:
6,100+ sales
4.8+ star rating
Online booking plugin included for free
Quick portfolio creation
Price: $59 (may vary)
MORE INFO / DOWNLOAD
DEMO
7. Luchiana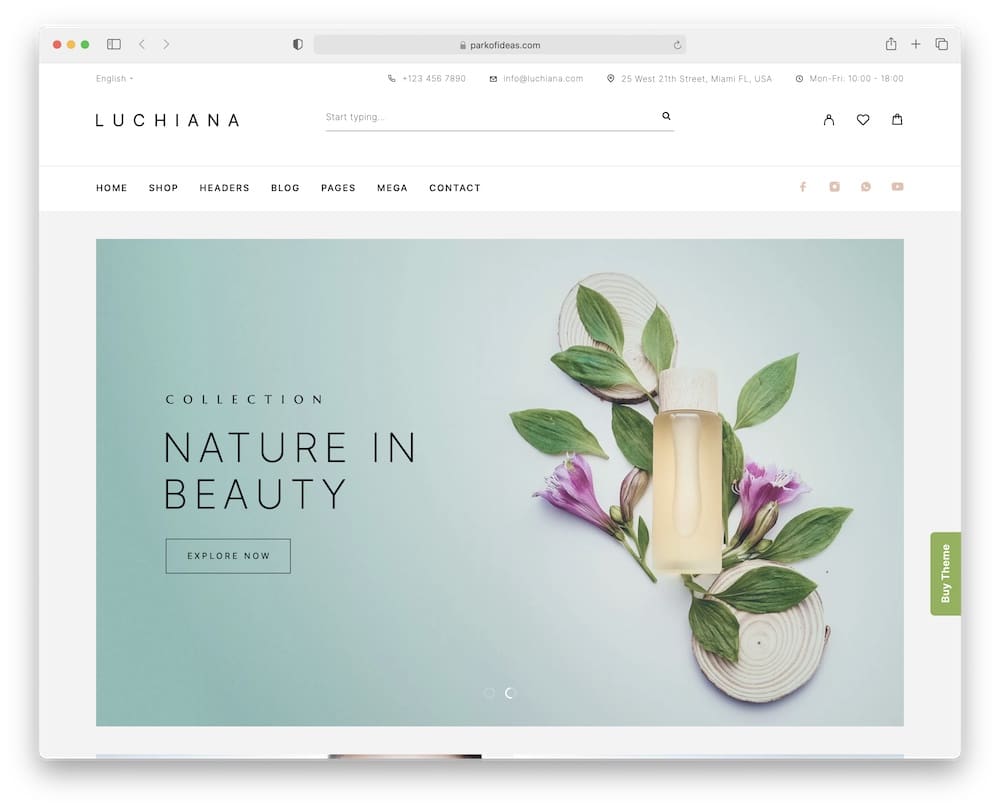 Elegant and minimal Luchiana theme is perfect for beauty shops and cosmetic boutiques. All in one place – from useful tips, skincare ideas to product reviews and selling worldwide.
That's what you can do with Luchiana.
You can empower small or medium businesses, (EASILY) create your store and offer your products directly online (no need for a physical store) with WooCommerce.
Give me five!
Besides, included Ajax technologies, options for video item presentations, friendly customer support, and top-notch site speed performance are just the best in class.
Luchiana is simple, efficient, and functional. Worth a look!
Luchiana features:
1,600+ sales
4.9+ star rating
Great 24/7 support
6 home page designs
Price: $59 (may vary)
MORE INFO / DOWNLOAD
DEMO
8. Yobazar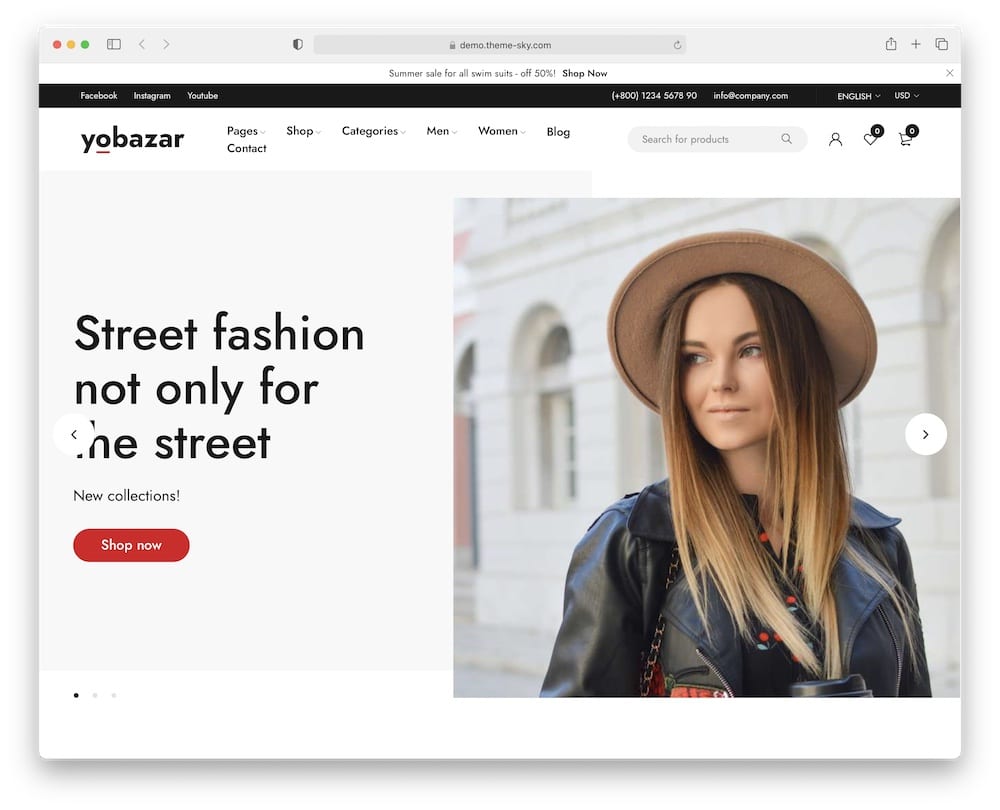 Start, run and grow your brand with Yobazar mega menu WordPress theme.
This professional and responsive design comes with the best plugins such as Slider Revolution, Elementor page builder, Ajax Cart, and "frequently bought together."
SO powerful, flexible, and friendly to use!
Besides, Yobazar is focused on excellent speed performance (A-score 99%), ensuring the best user experience for your visitors.
Not bad, right?
You also get numerous pre-made design options like unique index pages, gorgeous layouts, different product styles, and multiple widgets.
You can choose between unlimited colors, tons of Google fonts, and post formats in the same way – you name it!
Collect your ideas and start building with Yobazar.
Yobazar features:
970+ sales
4.9+ star rating
Ideal for the fashion industry
Available catalog mode
Price: $59 (may vary)
MORE INFO / DOWNLOAD
DEMO
9. Evenex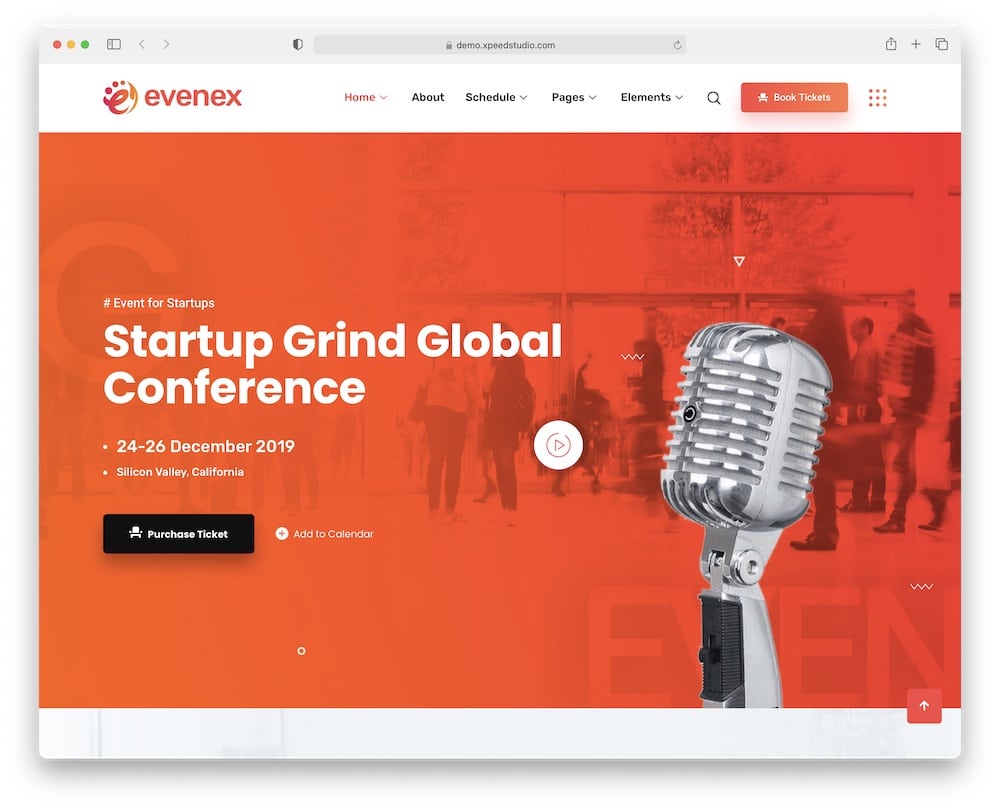 Great experience. Great Value. Stunning Evenex.
This mega menu WordPress theme includes numerous options and beautiful design possibilities that perfectly fit your business.
Evenex comes with plugins for just about everything and everyone. And it's true (!) – no requirement for coding skills is necessary to work with Evenex.
BLESS.
You can make your new site look the same as a demo – just one-click installation and you can start building (super simple & quick).
Go beyond your imagination!
Moreover, Evenex works great as a dark WooCommerce theme but its light mode also looks incredible.
You control it with one click, and the visitor's experience of scrolling through your site will be like night and day (totally different).
I'm sure you'll find many things to love in Evenex. I did!
Evenex features:
820+ sales
4.4+ star rating
For events & conferences
Advanced search function
Price: $59 (may vary)
MORE INFO / DOWNLOAD
DEMO
10. Frizty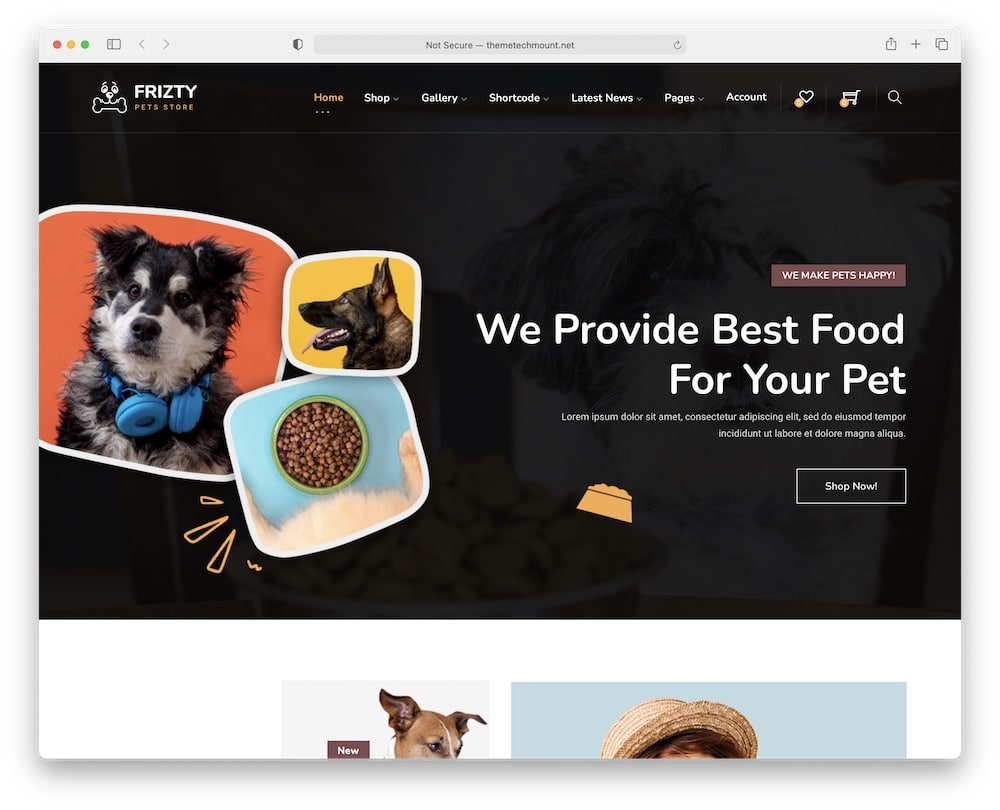 BELIEVE IT, kids. This is one of my all-time favorites – Frizty. Fully responsive, attractive, furry, fast loading, modern and so much more!
You can start by investigating any of the five ready-to-use samples. So. Pretty.
Frizty offers a smart and useful vertical mega menu, and you can even search for products by category.
YES, your website will look professional and super organized (no wasted time online).
And if you want to start writing a business blog, you get gorgeous pre-made layouts for a quick start. Keep in mind that valuable content is what brings your customers back.
Your options are extensive. LET your imagination be free and create your dream site today with Frizty!
Note: It's ideal for pet and dog store WordPress themes.
Frizty features:
290+ sales
4.4+ star rating
Testimonials/reviews widget for building trust
Integrated newsletter subscription form
Price: $59 (may vary)
MORE INFO / DOWNLOAD
DEMO
11. Alma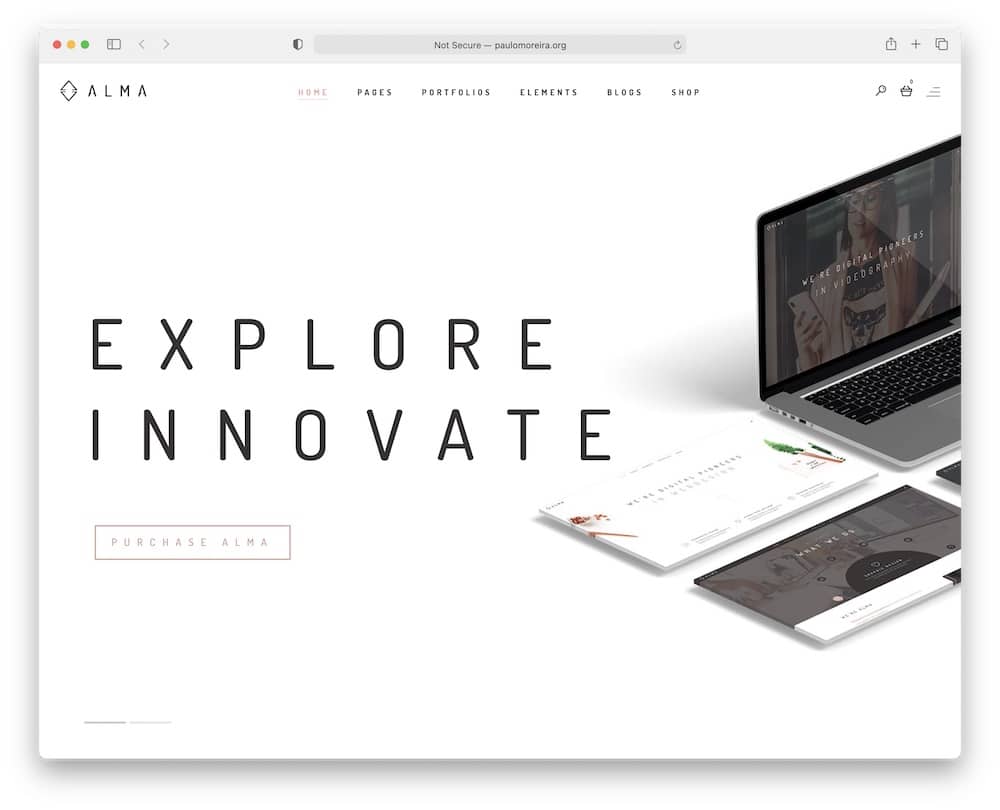 Alma is an all-in-one theme, packed with everything for your smooth and fast start. It is fully customizable, simple to use, and offers many options.
Premium plugins? YES, you will enjoy using WPBakery, Slider Revolution, WooCommerce, and mega menu (to mention just a few).
Apart from that, Alma is also cross-browser compatible, fully responsive, and SEO optimized. SWEET!
We all know social media's importance today, so Alma integrates the most popular platforms. You can share, retweet, and re-pin your content and expose your brand to more and more people.
I'm just saaaaying.
Let's GO!
Alma features:
440+ sales
4.8+ star rating
Incredibly minimal design
Constantly up-to-date
Price: $79 (may vary)
MORE INFO / DOWNLOAD
DEMO
12. Samral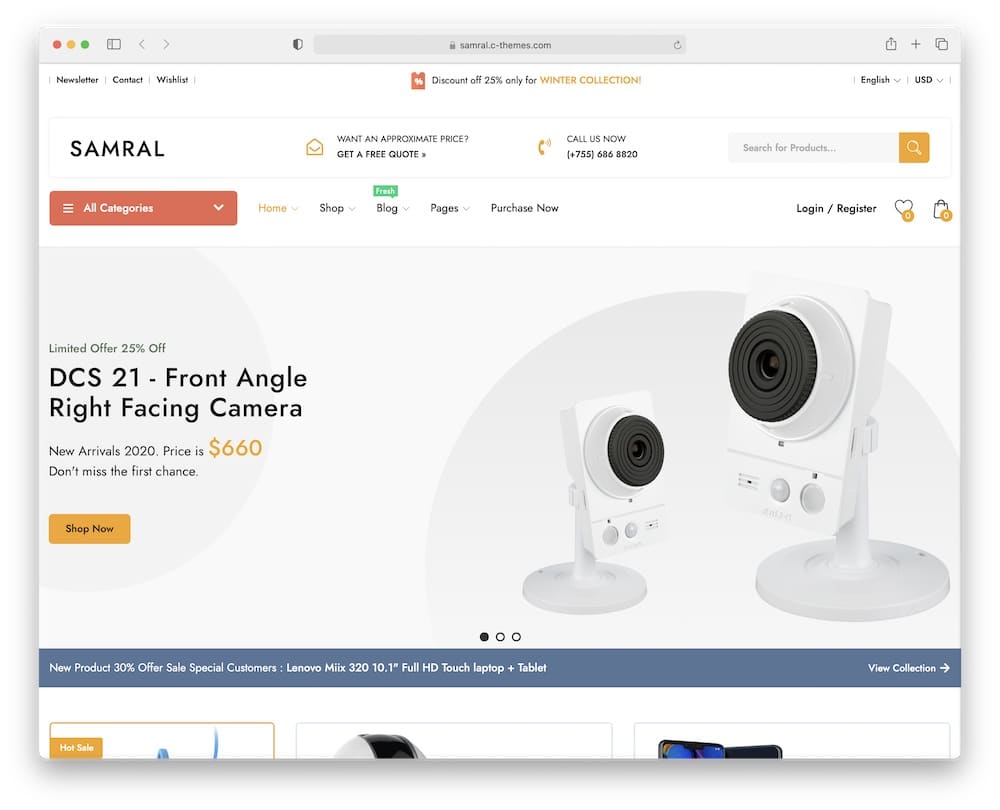 I am totally consumed with Samral. Overwhelmed. Carried Away. Which is good 🙂 Say HELLO to gorgeous, clean, and simple design.
You can use pre-build Samral demos for various online stores and ideas.
SO just check all the demos and decide which suits them best to your brand (installed with just one click) offering a quick start (super easy to use).
Siri put on Pharrell Williams Happy song.
OH, and the WordPress page builder – YES (!!!). Anyone can build like a pro with this drag and drop builder!
Besides, you get different tools for better products presentation, beautiful pre-made shop layouts, product sale countdown, and lots of small detail options.
Turn your vision into reality with Samral.
Samral features:
80+ sales
4.2+ star rating
Practical user account
Works with multi-vendor plugins
Price: $47 (may vary)
MORE INFO / DOWNLOAD
DEMO
13. Molla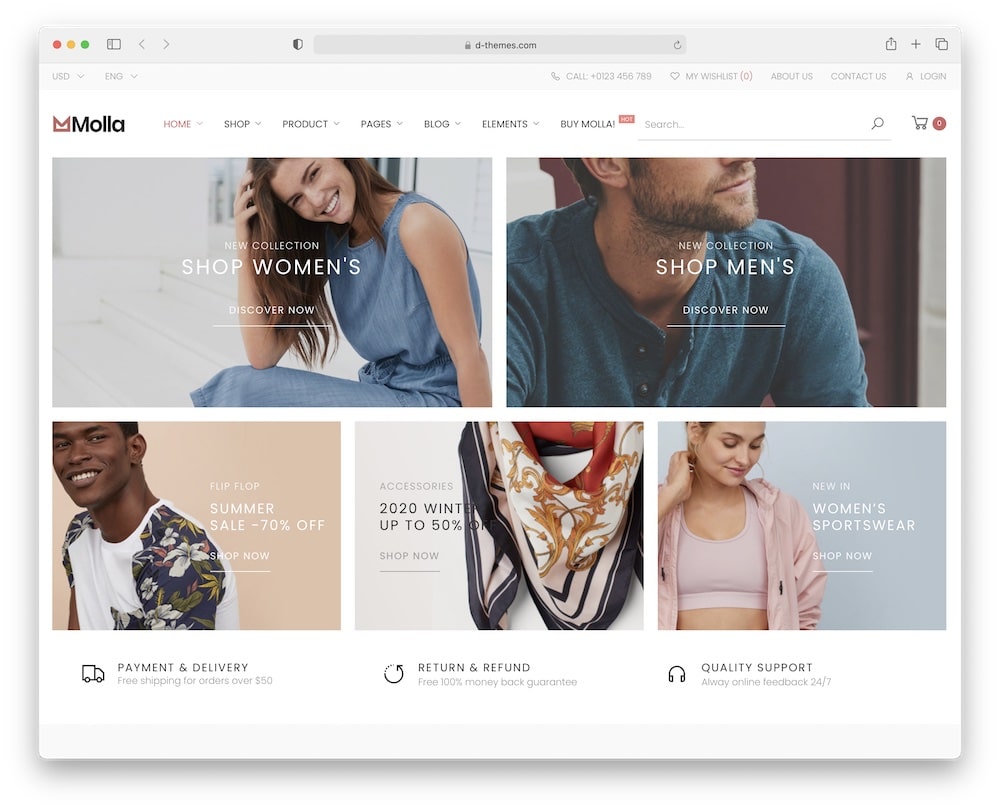 I have been WAAAITING like a patient person to share Molla theme with you. And my day has finally come. Or is it your day? Our day?
Molla is designed with 10+ years of developer experience and is fully focused on beautiful product presentation, fast performance, and multi-purpose online selling.
Molla is fully adjustable (100%), beginner-friendly, and super functional.
POWERFUL.
And now I am going to make you even happier: Molla includes 40+ ready-to-use homepages! WOW!
So, don't worry you will meet your true match (for sure!) when you check all the awesome varieties in the demo bundle.
Did I mention top-level support?
Well, Molla offers professional customer support with fast and useful replies. Relax; it covers your back.
Note: Molla is my second favorite mega menu WordPress theme!
Molla features:
1,500+ sales
4.7+ star rating
Multi-concept demos
You can also use a drop-down menu
Price: $59 (may vary)
MORE INFO / DOWNLOAD
DEMO
Frequently Asked Questions About Mega Menu & WordPress
What is a mega menu?
A mega menu is an expandable menu with many options, including links and images, for better website navigation with lots of (different) items. It comes especially handy for eCommerce websites.
How do I add a mega menu in WordPress?
You have two options to add a mega menu in WordPress: 1) See if the theme supports it by default and 2) with a WordPress plugin.
How do I make a WordPress menu beautiful?
While our advice is to keep the WordPress menu minimal to make it beautiful, a mega menu also contributes to a better look and overall navigation experience. You can enhance it with links and images (even videos) to make it stand out.
How do I activate the mega menu?
Go to Appearance > Menus if using a mega menu WordPress theme. You can then search for the mega menu option and activate it. But if you're using a plugin, the activation settings (and configurations) will be in the plugin dashboard.
::
Note: This article was originally published on September 7, 2021. But our team regularly reviews it and updates it with necessary improvements for accuracy.