Do you want to build an online shop and wonder how to choose a WooCommerce theme – the right way?
Yup, choosing a perfect WordPress theme for your site is HIGHLY important, especially if the e-store is at the center of it.
The best WooCommerce themes are designed to integrate the web store with the existing content seamlessly, like the blog, pages, and posts.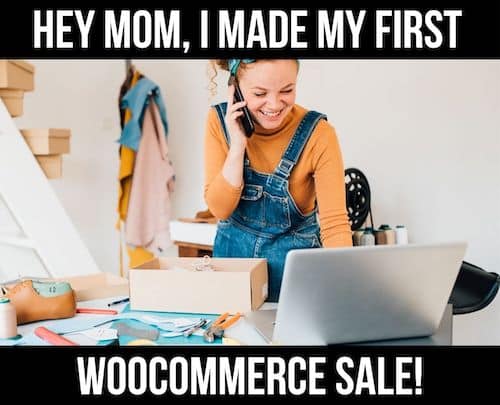 And a beautiful overall design of your website is what a perfect WooCommerce theme should provide.
Switching between WooCommerce themes is tough when you already have everything set up.
No one likes extra work!
Thus, you should follow the tips below carefully and only select the theme after ensuring it ticks all the boxes.
This post covers:
Why It's Important To Choose The Right WooCommerce Theme
As stated above, choosing the correct WooCommerce theme is even more important than selecting a standard WordPress theme for a regular website (blog, business, presentation).
It will keep your workflow a lot SIMPLER and FASTER because of the predefined and optimized material.
But feel free to customize it and make your version because coding isn't necessary.
10 Best Tips To Choose The Best WooCommerce Theme
Let's check 10 of the most important tips so you can choose the correct theme for you.
1. WooCommerce compatibility
You are probably thinking to yourself that this should go without saying, right?
What kind of a WooCommerce theme is not compatible with WooCommerce!?
In this case, the devil is in the details.
The WooCommerce plugin is constantly evolving, and a new version will occasionally be released that doesn't just fix a few bugs but redesigns the entire shopping experience.
And if the WordPress WooCommerce theme is not updated accordingly, it can cause numerous ISSUES, from design glitches to a malfunctioning shopping cart.
In the worst-case scenario updating WooCommerce to the latest version can render your website completely useless.
Nope, you don't want that to happen.
That's why you should ALWAYS CHECK if the theme is updated and ready for the latest WooCommerce version.
On ThemeForest, check the "compatible with" column in the right sidebar of the theme's description (check the image below).

It's also a good practice if the theme has a changelog where you can check all the past changes and improvements.
If the updates for the WooCommerce plugin are regular, this is a good reference for the future.
2. Mobile & speed optimization
The next step is to check how the theme looks on mobile devices and how fast it loads.
If your shop's load time is LONGER than 3 seconds, you will lose many visitors.
In other words, any website, even a complex eCommerce solution, should load almost instantly.
That can also IMPACT your Google rankings as page load time is one of the critical parameters for positioning in Google search results.
And there is no better advertising method than a high position in Google. And it's free. So you should pay a lot of attention to this.
Fortunately, you can use Pingdom tools that use advanced metrics to measure every part of your website. You can check your website's load time, page size, and performance grade.
It also provides information about possible IMPROVEMENTS.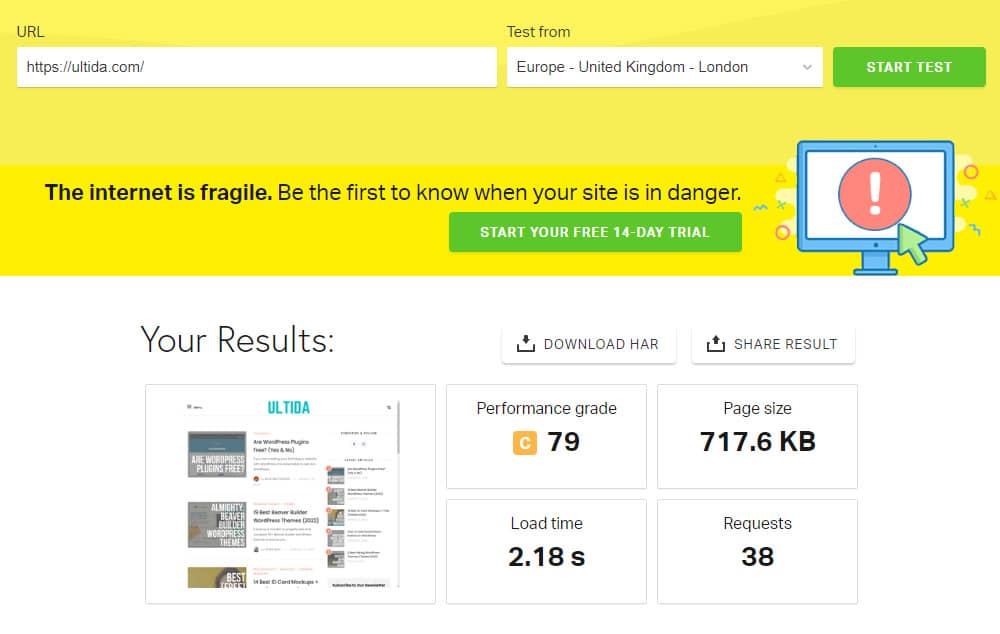 As you can see from the image below, our website Ultida has a pretty good load time, but there is still room for improvement.
Check how the WooCommerce theme looks in responsive mode
Make sure you thoroughly check how the theme looks on mobile devices.
It's NOT enough that the theme is somewhat responsive; it needs to look perfect when viewed on a desktop, mobile, or tablet.
Fortunately, there are several tools you can use to check if the responsiveness is good enough: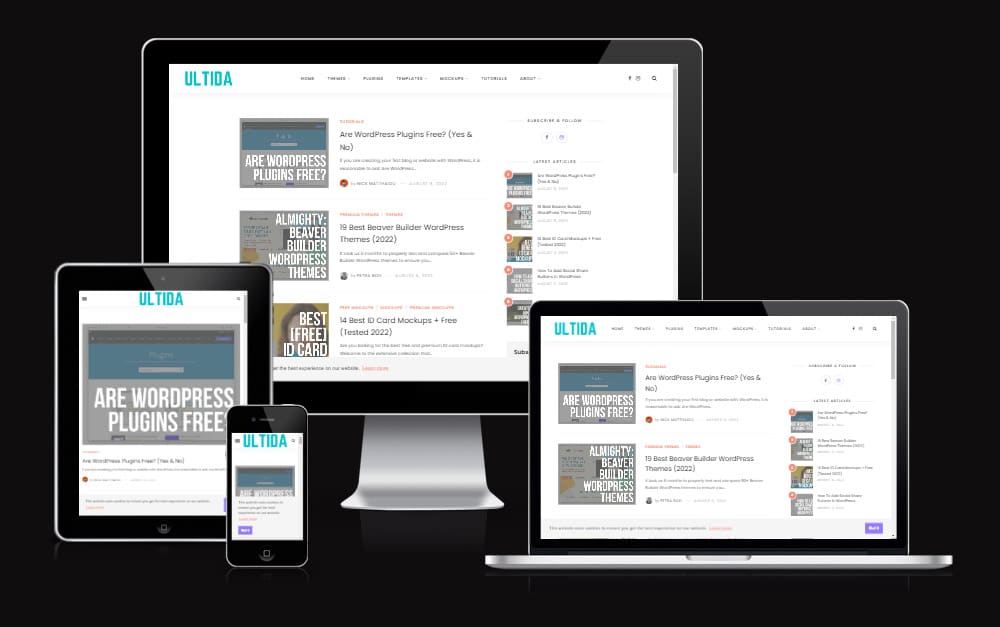 I recommend you also check the theme on your mobile phone to ensure everything works as it should.
3. Customizable shopping cart & checkout
A cart page that does not stand out from the crowd can deter your potential customers from finishing the order.
While the default WooCommerce cart page is fully functional, it looks plain.
And, more importantly, it looks the same as 1,000s of others out there.
A WELL-OPTIMIZED cart page with an attractive design will drive more sales to your store.
It's important that the cart page also has some extra features like testimonials, social interaction features (like and share the product), related products, and similar additional functionality.
These can improve the user's shopping experience.
After all, this is the page that either "makes or breaks" the purchase of your products.
I also recommend installing a WooCommerce abandoned cart plugin to get back customers.
4. Ready-to-use home & internal page layouts
Like all the other WordPress themes today, WooCommerce themes also come with many different ready-to-use layouts for pages, blogs, and products.
We will focus on the best-selling WordPress theme of all times, Avada.
This feature-packed monster of a theme comes with a WHOPPING 21 different predesigned layouts for WooCommerce.
And each of these layouts has different design options like a grid or a list view.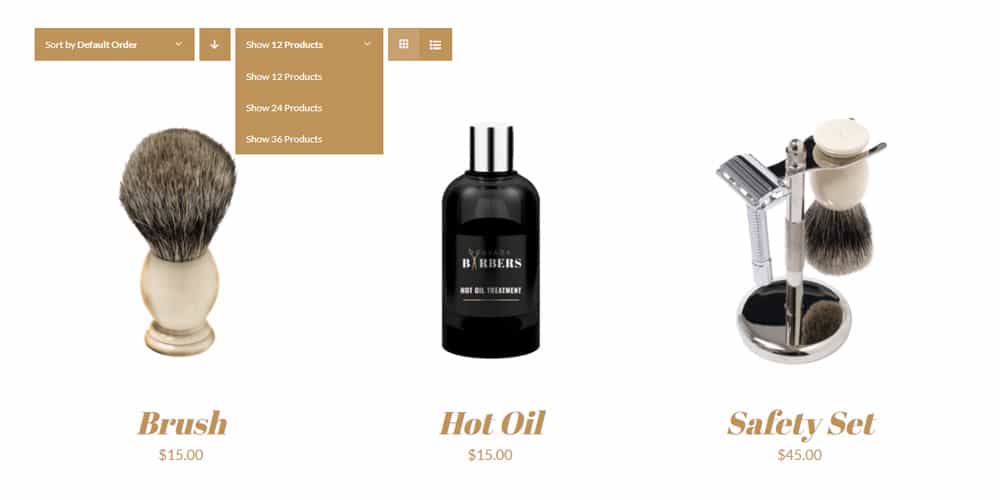 The beauty of these layouts is that you can pick a business similar to yours, and the design will almost certainly be close to what you need.
And with a few minor modifications, your web store will be up and running quickly.
5. Social media integration
Online stores and all other companies spend billions each year on social advertising.
It has quickly become one of the most important advertising branches because of its vast and fast reach.
You can instantly start sharing your products on social media, which is a big advantage.
That's why you must ensure your customers can also share the products they love with their friends on all their favorite social networks.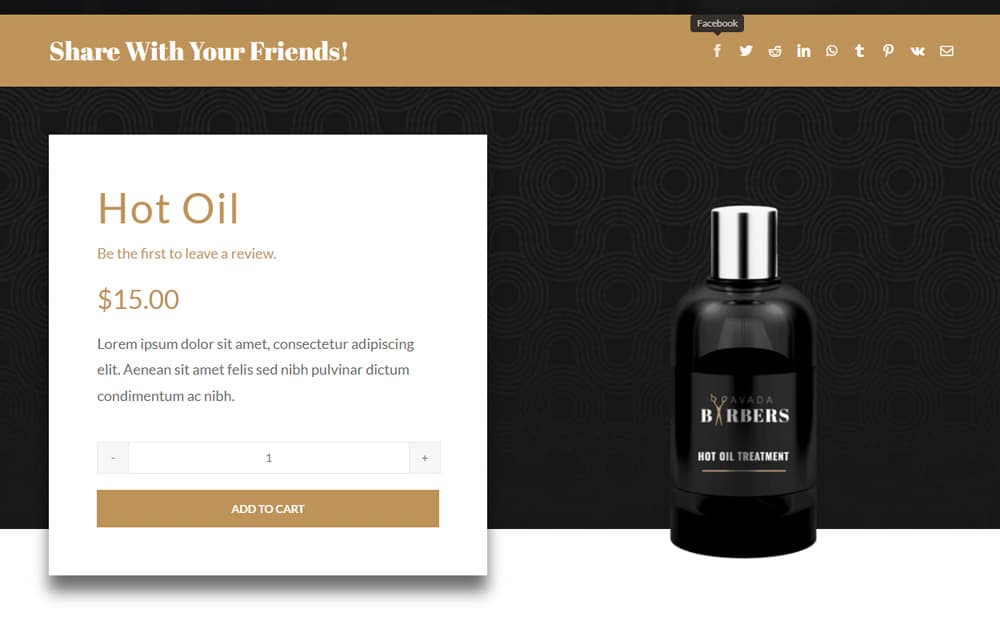 The image above PERFECTLY illustrates the seamlessly integrated social bar into the shop page layout.
A more aggressive method of social interaction with popups and similar techniques should be avoided in WordPress themes and is the job of plugins.
Note: I also have a full tutorial on how to add social share buttons in WordPress.
6. Simplicity over complexity
It helps if you always favor simplicity over complexity.
The days of over-cluttered websites where the content was all over the place are long gone.
Modern websites strive toward simplicity, and the browsing experience of your potential customers will be much better if your shop has a clean design with an intuitive shopping experience.
All steps of the purchasing process must be concise and lead the visitor clearly toward the checkout page.
7. Built-in (live) search
While you can add the dynamic live search functionality with a WordPress plugin, it's always nice if the theme already has it implemented.
This also means you don't have to spend any time redesigning the plugin to match your theme's styling.
Live search is an Ajax-based WP function that makes searching for items MUCH faster with live results.
It can be embedded in the menu, scroll bar, or even sidebar, so it's always accessible.
It's a very convenient feature that your customers will LOVE as it can save them a ton of time while browsing your store.
You can expand theme's possibilities with our best WordPress search plugins collection.
8. Product reviews (for social proof)
In my opinion, this is one of the most important features of any online shop.
This is how you gain trust from your visitors, as positive experiences of your previous customers can be a key factor when someone is skeptical about the purchase.
Just imagine booking a hotel on Booking.com that has no reviews whatsoever.
Would you trust it? Probably not.
You'll likely to check theme reviews first before making a purchase, too.
Fortunately, product reviews are an integral part of the WooCommerce plugin, so it's up to the theme designers to implement them functionally and beautifully.
So ensure you always check the single product page of the theme you intend to purchase.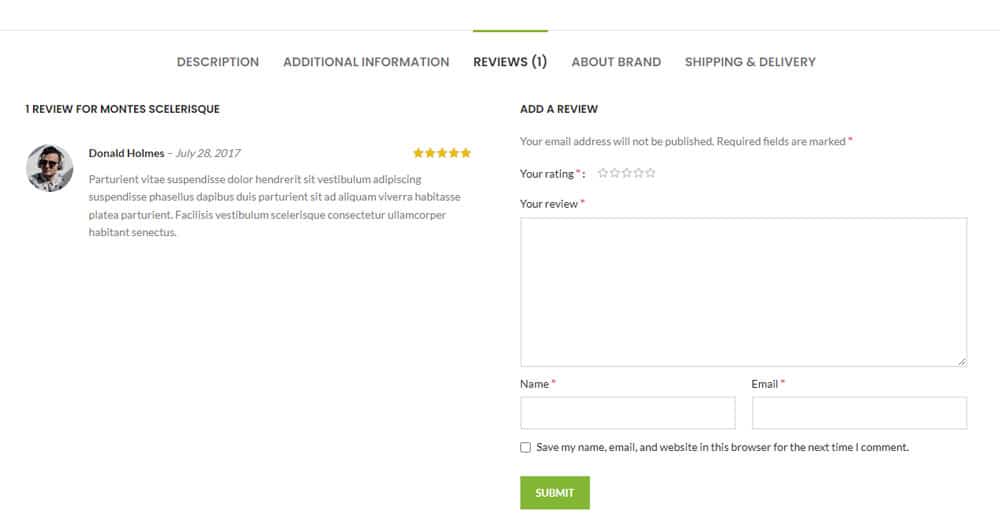 I like the design of the product reviews in the example above.
The space is well used with the actual review on the left side and the review form on the right.
Our tested WordPress review plugins list will help if you need more functionality.
9. Support
This is usually the BIGGEST difference between free and premium themes.
And since WooCommerce themes are usually more complex, premium support is even more important.
Especially if you are relatively new to WordPress and this is the first eCommerce website you intend to build.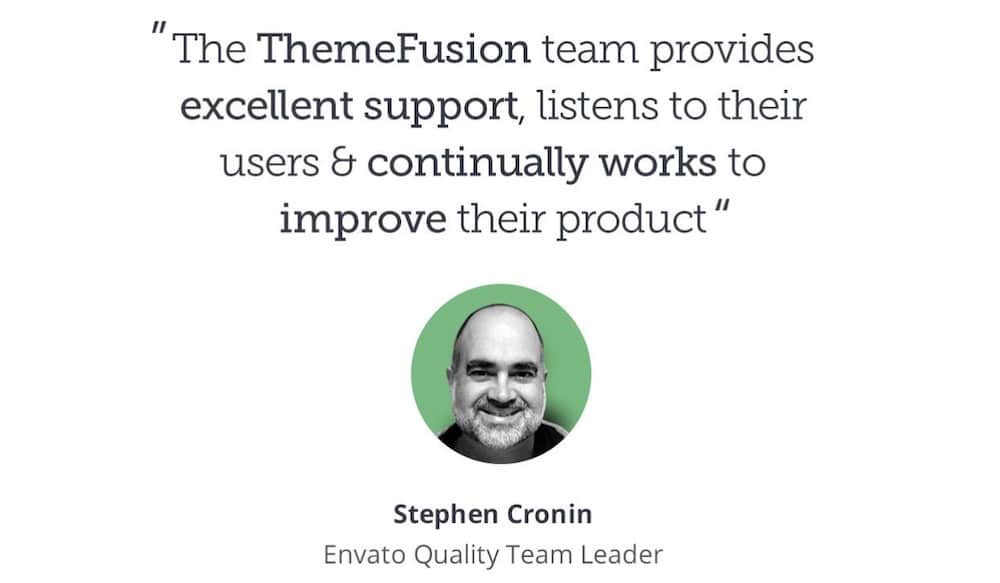 In this case, stick to the most sold themes on Themeforest with great reviews (average rating above 4.5).
These themes usually have dedicated support to answer all your queries within 24 hours.
And that can be crucial if you are on a tight schedule.
10. Bonus: Blog
Lately, I noticed many online shop owners neglect their blogs.
Which is a shame since it can really help you build a community around your products.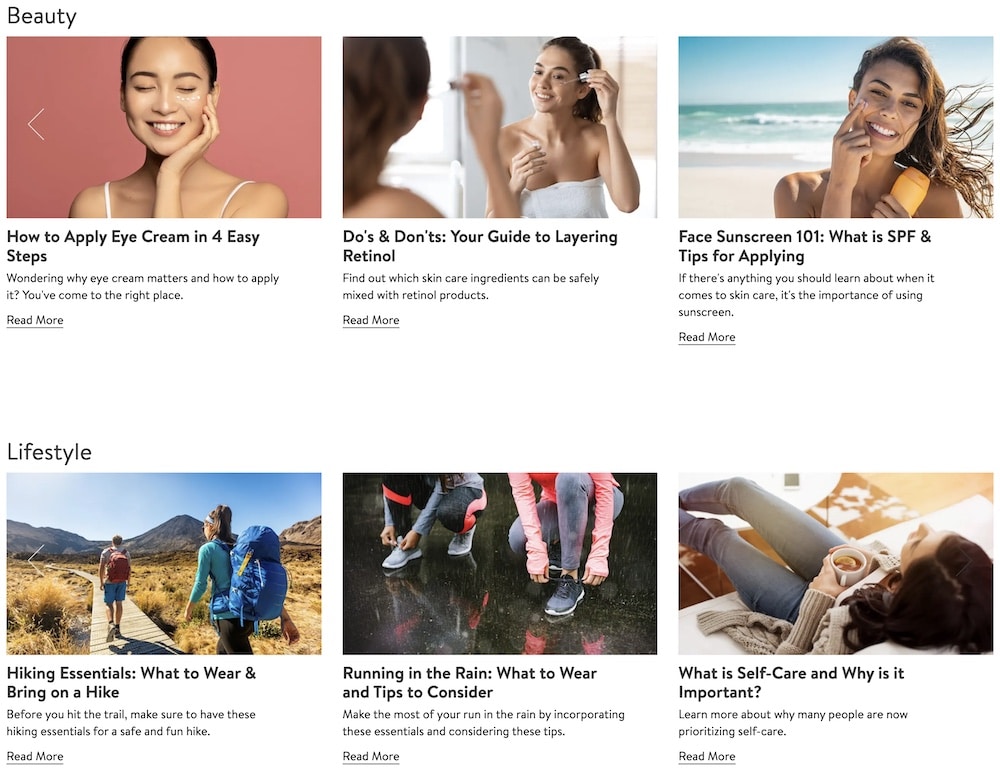 In the past few years, storytelling has become increasingly important. And in saturated markets, the presentation of a product is very important.
People are interested in the story behind a product, how it was built, its purpose, whether it is good for the environment, and so on.
And your blog is a perfect place to present that information to your potential customers.
Writing product releases can be a good thing, too, as you can link them to the product page and, which can benefit your SEO immensely.
Note: Don't miss my guide on how to rank new WordPress content faster.
Remember, many business owners are not writing as much content as they should, which can be your competitive advantage.
Where To Find The Best WooCommerce Themes
The best place to purchase premium WooCommerce themes remains Themeforest.
There are a lot of great themes with 50,000+ sales that have been around for almost a decade.
Themes like Avada, The7, Flatsome and some others are WordPress trademarks on their own and are always a good pick.
If you are not willing to pay for a theme, go to WordPress.org and check out the collection of free WooCommerce themes.
Just keep in mind that free themes usually don't have premium features and, more importantly, they don't have dedicated support.
As a bonus, here's a quick list of some other WooCommerce themes markets:
Finally, check our extensive collection of the ultimate free WooCommerce plugins if you ever need to add more features to your eCommerce website.
Hopefully, this short guide will help you pick the correct WooCommerce theme for your online shop.
Until next time!