Are you ready to learn how to rank new WordPress content faster?
When you publish your new post, page, or product, you would like to see it in the Google search results as soon as possible.
RIGHT?!
But sometimes, you can wait for days before you finally see it on the 10th page.
On the other hand, posts from big news sites, like CNN, are seen on top of the results minutes after they are published.
Why is that?
What are all the different aspects that influence this?
I will explain why this happens and how you can ensure your content is visible as SOON as possible.
This post covers:
The Importance Of Google Search Results Ranking


This is especially important if you have time-sensitive content, like daily news or new products with discounts that only last a few days.
If your content doesn't rank within a few hours, it can become obsolete and no one will ever read it.
In the case of our tutorial, it's NOT as important as the content will be viable for years to come.
But nonetheless, it's better to rank the content fast, so you don't have to worry about it anymore.
Note: Enjoying better ranking positions is also about refreshing your content, which happens later. (Don't just publish it and forget it.)
Who doesn't want to start getting organic traffic from Google instantly, right?
But don't get hyped too much.
It still takes time – ESPECIALLY if you're starting a new website.
But better do it right from the get-go, which I'll teach you how now.
These are my five best steps that you might take to ensure your content displays quicker.
You deserve it, legend!
5 Steps To Rank New WordPress Content Faster
1. Install a WordPress SEO plugin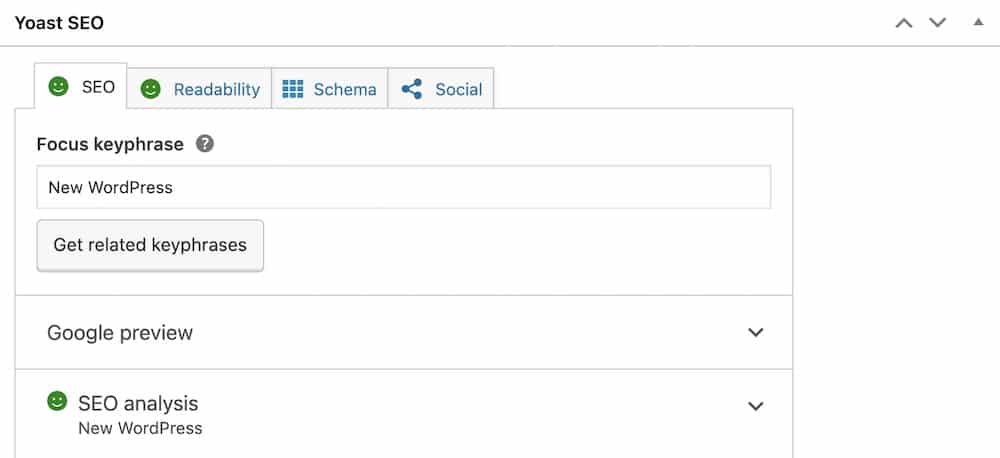 There are many great plugins out there, so it doesn't really matter which one you choose:
They are all great and easy to install. But we also have a separate guide on how to install a WordPress plugin.
You can choose any of them to improve your SEO significantly.
Not even as a beginner but also as a pro!
We are using Yoast SEO on our website, which I will use as an example.
Any good plugin will take care of the most important general aspects of SEO by default.
The Yoast SEO plugin (or any other SEO plugin) generates a sitemap of your site.
This is one of the most important features of any SEO plugin as it helps search engines crawl your pages.
Imagine the sitemap like an index that includes all your content, sorted by posts, pages, products, categories, etc.
It's DONE FOR YOU if you use a plugin (recommended!).
2. Add your website to the Google Search Console
It's a free tool by Google, and it's a MUST-HAVE for every website owner.
You will get information about your visitors' behavior and which keywords they use to visit your website.
This is an essential piece of information, which you shouldn't overlook.
It will help you identify the best keywords for your articles. (Which also adds to ranking your WordPress content faster.)
First, visit Google Search Console and then verify your domain.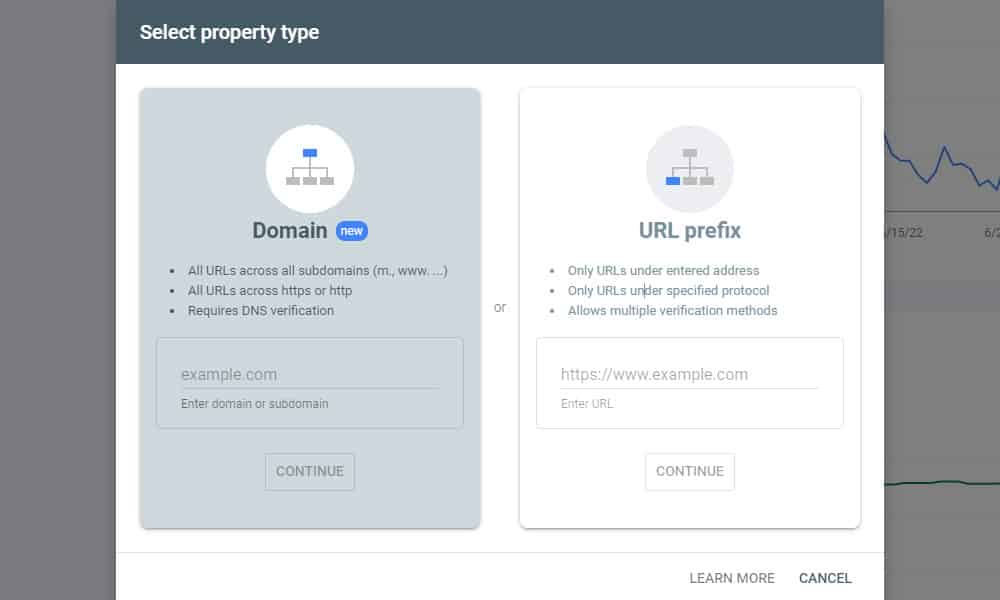 You can verify it via domain or URL prefix.
Several methods exist to verify your website, but we will focus on HTML tag verification as it's the easiest one.
Select HTML tag verification and copy the meta tag code.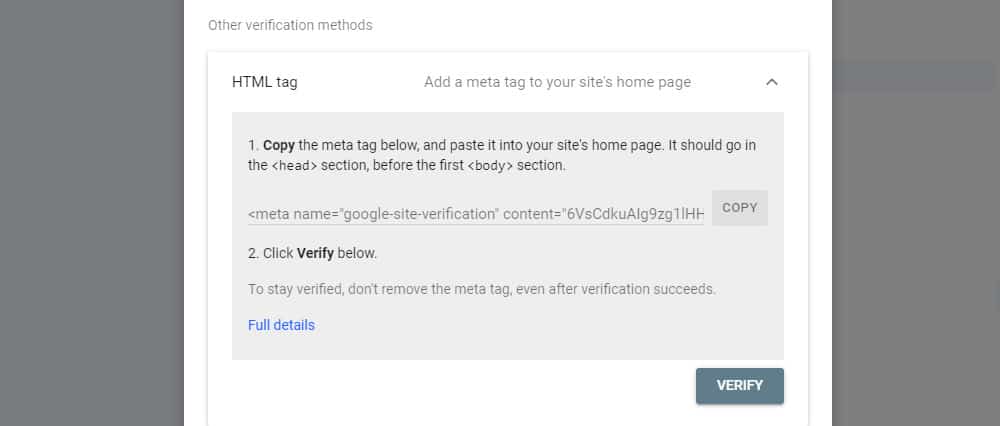 Now, install the Insert Header and Footer plugin.
After you activate it go to Settings > Insert headers and footers.
And simply paste the code into the first field ("Scripts in Header").

Now go back to the Google search console and click verify.
You should be redirected to the administration panel with all the search data from your website after a few seconds.
Add sitemap.xml to the Google search console
Click on the Sitemap button in the left column of the Console.
If you installed a WordPress SEO plugin, the sitemap should already be ready for you to use.
It's usually named sitemap.xml or sitemap_index.xml. Add it in the Add a new sitemap field and submit it.
That's it.
It should appear under Submitted sitemaps in a few moments.

Each time you create a new post or page it is added to the sitemap.
This allows your website's updated information to reach Google FASTER.
And, your content will reach search rankings sooner.
You can request manually indexing if your post is not indexed and you are unsure why.
Copy-paste your URL to the Inspect any URL field at the top of the console.
If nothing happens, sadly, Google hasn't (yey) indexed your URL.
Don't get discouraged.
In this case, click on the Request indexing button to start the crawling process.
3. Internal linking
This is also a very important aspect of your posts.
And not only for faster ranking.
In a perfect world, your content will be internally connected into one BIG WORLD with cross-references across the page.
This tells Google that you are building a database full of knowledge that makes sense and is connected.
In the end, the internet is a huge graph full of connected dots.
But it's also important for faster ranking.
Why?
Because when Google spiders crawl your website, internal links tell them where to go NEXT.
And if you add a link from your previous post to the one you just published, the spider will know that he has to visit it and add it to search rankings.
Important: Your anchors and links should make sense. Don't internal link just for the sake of it – it can do more harm than good.
4. Content Optimization


This will only affect the time the content is ranked in the long run.
The better the OVERALL structure, keywords, images, internal and external links, slugs, customer experience, and other optimizations are, the faster your content will be listed in search rankings.
But, even MORE importantly, this will greatly impact how high in Google search you are.
And we all know how rarely we look for results that aren't on the first page.
That's why it's vital to write an article with a specific keyword in mind.
And you need to connect it to the existing content on your website for the best results.
Don't neglect images
Images can also help you with ranking, especially if the article is very image-oriented (like a photography blog).
Images have a special search tab in Google, so you must name them correctly.
Note: Don't use numbers(!), so Google can rank them properly.
Even ULTIDA gets a lot of visits directly from Google image searches.
And be sure to optimize each image's title tag and alt text (description is optional) when adding them to your WordPress content.
I also recommend using an image optimization plugin to make them lighter.
5. Share your content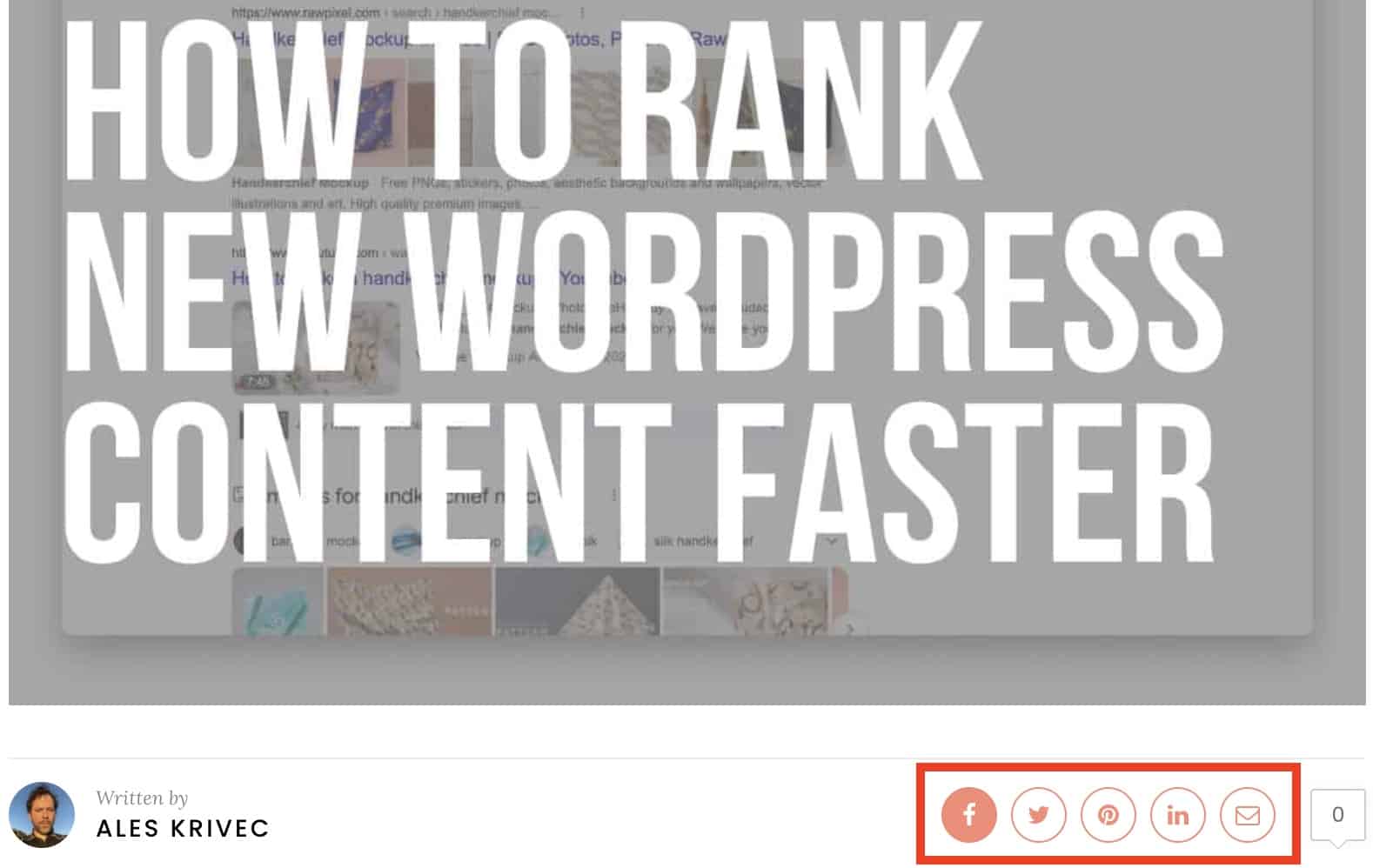 This doesn't necessarily affect how fast your content is ranked and added to the search engine, but it's still a BENEFICIAL thing to do.
You should always build your social networks alongside your website.
The importance of Instagram, Twitter, and Facebook varies from business to business, but it doesn't hurt in any case.
You can help yourself with better reachability by using any of our tested social media WordPress plugins.
Your first visitors will always come from this source if you have good social media engagement.
Everyone would like to see their brand new post or a product presented to the world the second it's published.
While Google says that social signals don't affect ranking directly, the more users visit your post, the more chances you have to get some backlinks, shares, and visits as soon as you share the post.
And that's ALWAYS a great thing.