I was asked multiple times what is a mockup generator, so I figured it'd be best to answer it here for everyone to access.
Here we go.
In short: A mockup generator is a simple web application that eases the creation of branded products.
If you're looking for a quick way to create professional and life-like product presentations – THIS IS IT!
There is no need to use photo editing software to create product showcases in this day and age.
This post covers:
There are numerous tools and shortcuts available to start working on your project immediately.
You will become a pro even if you're not even a designer with a mockup generator!
I used it multiple times before even playing with Photoshop.
What's best?
You can use it on desktop and mobile devices.
SO. FUN.
Benefits Of A Mockup Generator
Do I need design skills?
One thing is a guarantee when it comes to a (free) mockup generator; you DO NOT need to have experience.
Even if you are creating a mockup for the first time, YOU WILL succeed.
How cool does that sound?
Yes, you can create a mockup without Photoshop.
It takes you seconds to make it happen!
Fast and easy work are two of the biggest benefits of using a mockup generator.
My Advice: Have designs ready-made
However, to enjoy a smooth experience, I recommend you have the designs and the logos predefined.
Only then can you successfully use a mockup generator. (And experience QUICK WORK.)
Otherwise, what will you add to the product that you are beautifying?
However, if you are using a mockup to change the product's color, keeping it plain, you can do that, too.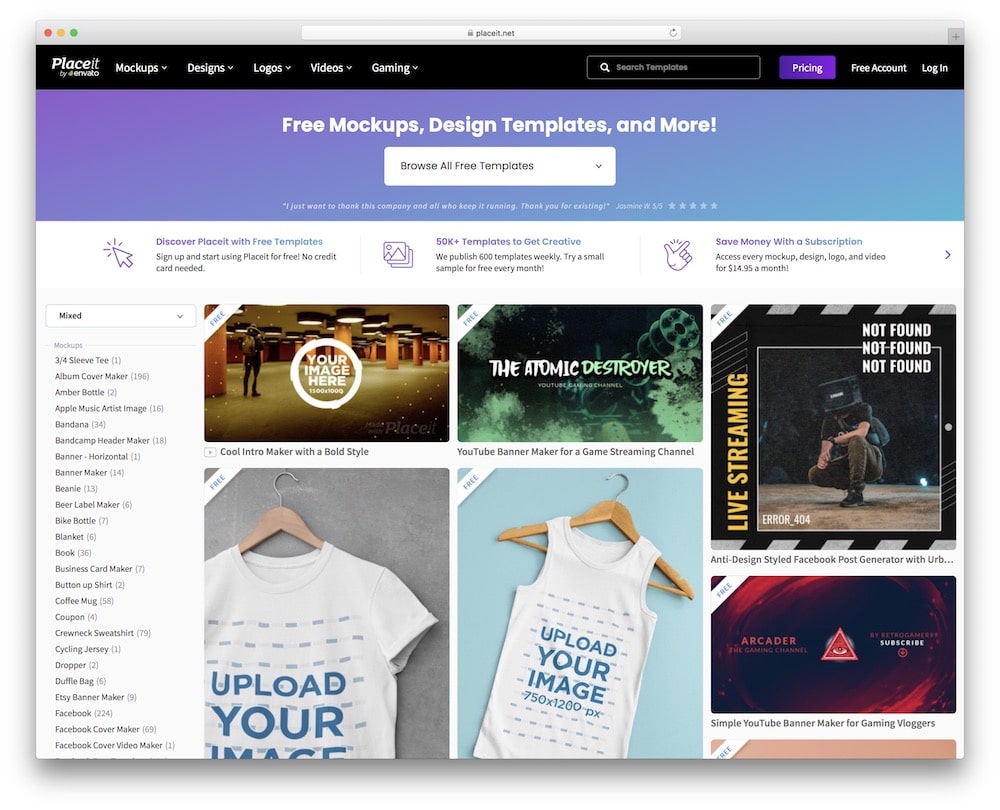 We all strive to create a stunning and striking photorealistic product presentation.
To your luck, that's when Placeit comes into play.
You can take branding and design to the next level without software and skills.
To increase the hype even further, there are MANY mockups (1,000s!) available that are entirely free of charge.
How Do You Use A Mockup Generator?
1. No experience necessary
This is one of the absolute advantages of an online (or offline) mockup generator/builder.
Even if you are unfamiliar with mockups, you can head to Placeit and test it yourself. (You don't need to create an account just yet.)
You will immediately understand the process, as it only takes a few clicks to get the gist of it.
That's. It!
Keep in mind, you do not even need to create a free account just yet.
You are welcome to browse around, check multiple mockup categories and tens of thousands of "smart templates."
You read that RIGHT!
With Placeit, you can create T-shirt mockups, blanket mockups, food packaging mockups, stamp mockups, perfume bottle mockups, hat mockups, tote bag mockups – you name it!
2. Use it online (via your favorite web browser)
You only need an internet connection and your favorite web browser to use a mockup generator.
That's it, no fancy equipment, as that's what Placeit takes care of for your convenience.
Of course, I highly ADVISE you to create a free account since it takes you little time, but you will help yourself boost your workflow.
From then on, it's all fun and games.
You can create tons of different variations and combinations.
Test things out, go against the grain, whatever, until you find the winning solution that will turn heads.
3. Effortless customization
Particularly, Placeit has many customization options to benefit from.
First, you can upload any image directly from your computer (or mobile device) or even pick it from your downloads.
Second, a mockup generator also includes options to change the colors of elements (background, as well, or make it transparent). It supports unlimited colors!
You can also add different graphics and texts in many instances, just to SPICE things up.
4. Quick edits & improvements
You can perform as many edits as you want while fine-tuning your mockup.
I always have fun, do absurd stuff, anything that comes to my mind.
There is no need to hold back; Placeit does not limit you in any way, shape or form.
With that in mind, go CRAZY, as this will help you understand the real advantage of a mockup generator.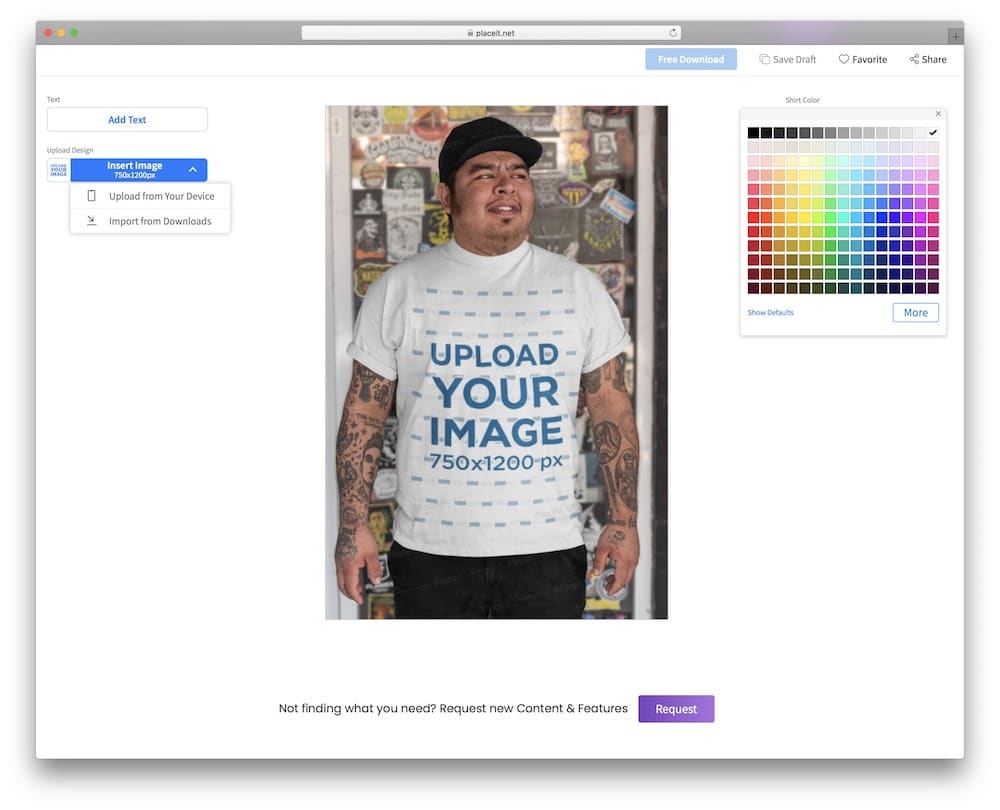 Even though it will take you little time and energy to complete, the outcome will still be THE BEST.
Not only will your workflow increase, but you will also keep your projects at the highest quality.
Note: With quick adjustments, you can create multiple variations of the same product to find the version that is simply the best much easier.
Go ahead, test it out yourself, and see just how incredible it is. I. LOVE. IT.
5. Instant downloads
This one is pretty obvious; you can instantly download your fabulous creation after completing the effortless work.
At this point, you know what a mockup generator is.
It is an effortless-to-use web app that helps you create life-like presentations and exhibitions of any product, element or other creation.
It takes barely any time to complete the work – in many instances, you will do the work WITHIN SECONDS.
Conclusion: My Tested & Proven Recommendation
I highly recommend you to go with Placeit.
I've been using it for years, created 100s of projects, and it NEVER disappoints.
Not only does it include an enormous collection of templates (premium & free), but it also guarantees quick work, whether on desktop or mobile.
Yes, you can actually create a mockup using your smartphone.
You can be on the go and still have a chance to establish mockups for your social media promotions, newsletters, blog posts, or online store.
Moreover, Placeit is also continuously improving and adding NEW mockup templates frequently.
There is always something new to this online mockup generator that unlocks more options and possibilities.
You now know where to start to make a difference.
Enjoy the goodies and profit from the fantastic mockups you will create speedily.