We are excited to bring you the ultimate collection of carefully reviewed, tested, and used tote bag mockups.
Yes, we worked with many on multiple projects for brands worldwide.
No wonder why it's the GREATEST roundup available today. (You're welcome!)
Every mockup guarantees extreme quality and little work to complete the necessary life-like tote bag presentation.
This post covers:
Yes, you deserve it!
GO.
Note: You'll love our best black tote bag mockup collection if you need something more specific.
Best Tote Bag Mockup Generators
Don't want to use the software? No biggie!
You can make a mockup without Photoshop like a champ using mockup generators.
This applies to all generators: Each template is $7.95. But you can also choose a monthly ($14.95/mo) or yearly ($89.69/yr) subscription.
1. Canvas bag mockup over a woman's shoulder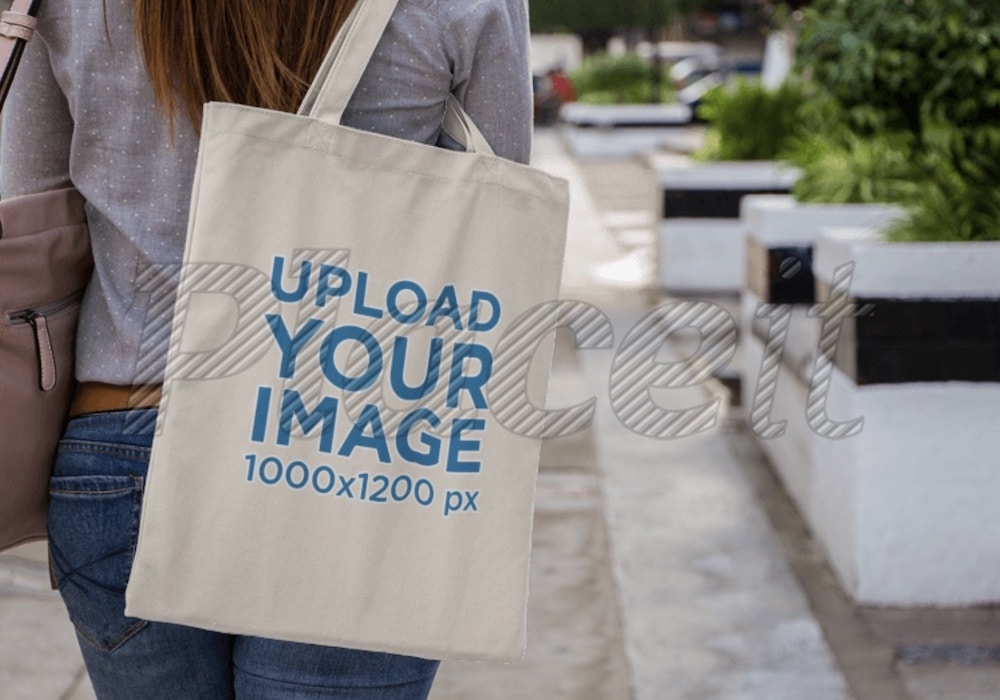 It was super fun using this particular canvas bag generator on two occasions. One was for a local library and the second for a store selling gifts.
After creating the designs, we improved the default configurations in just a few clicks. We didn't even need to change the color of the bag in both instances, just once.
Moreover, we also added the logo in the bottom right corner, which we used as a watermark.
MORE INFO / DOWNLOAD
2. Mockup of a hanging tote bag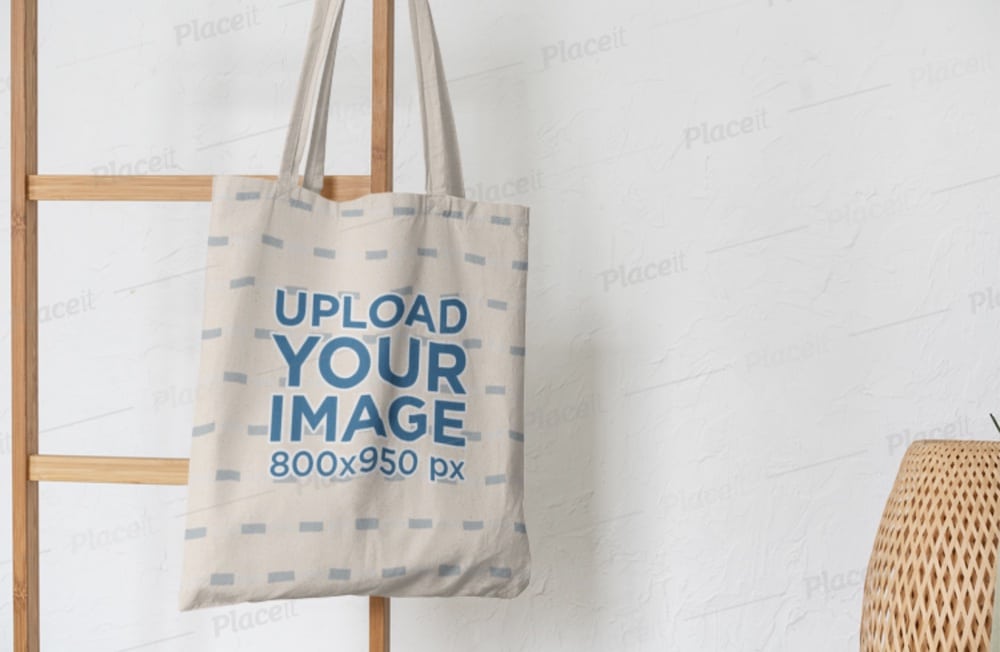 If you're looking for something simpler yet still 100% realistic, this tote bag mockup will do you well.
You can change the color, import your design, add a logo and even include some text.
The only thing we were missing was the option to change the background (I think I require a little too much, I know!).
However, it's white, so it fits perfectly when making a fantastic life-like presentation.
So. Good.
MORE INFO / DOWNLOAD
3. Summer time tote bag mockup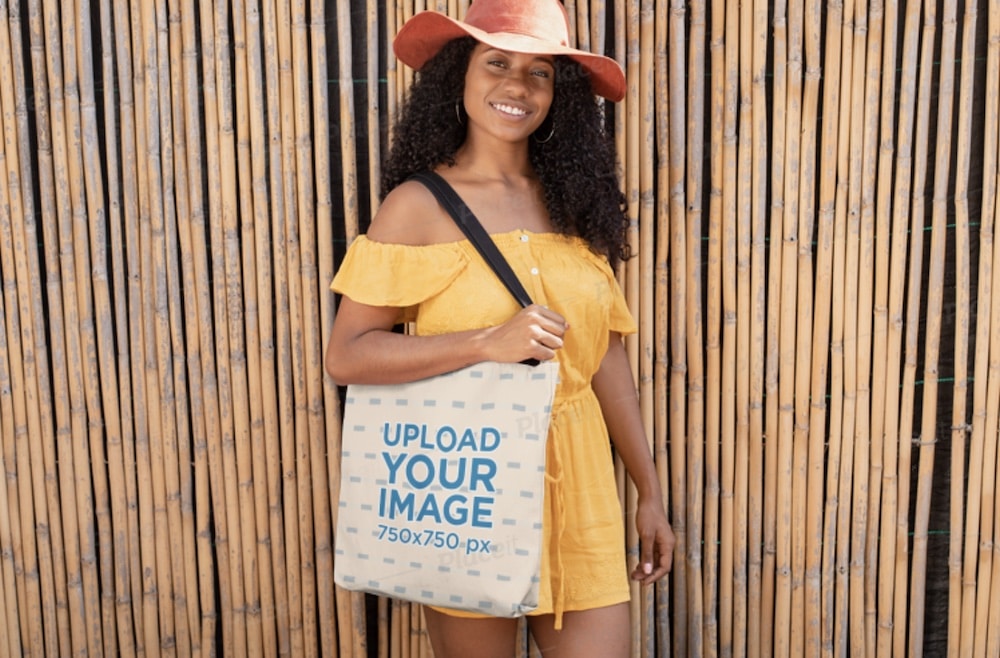 Summer vibes are really strong when it comes to this mockup generator. The options are endless whether you'd like to use it for something beach-related or purely for fashion.
You can beautify the template however you want. It only takes you a few clicks to improve and personalize the appearance of the tote bag and that's it.
Keep in mind that the handle is black and you cannot change it.
Let's go!
MORE INFO / DOWNLOAD
4. Mockup of a tote bag on a bench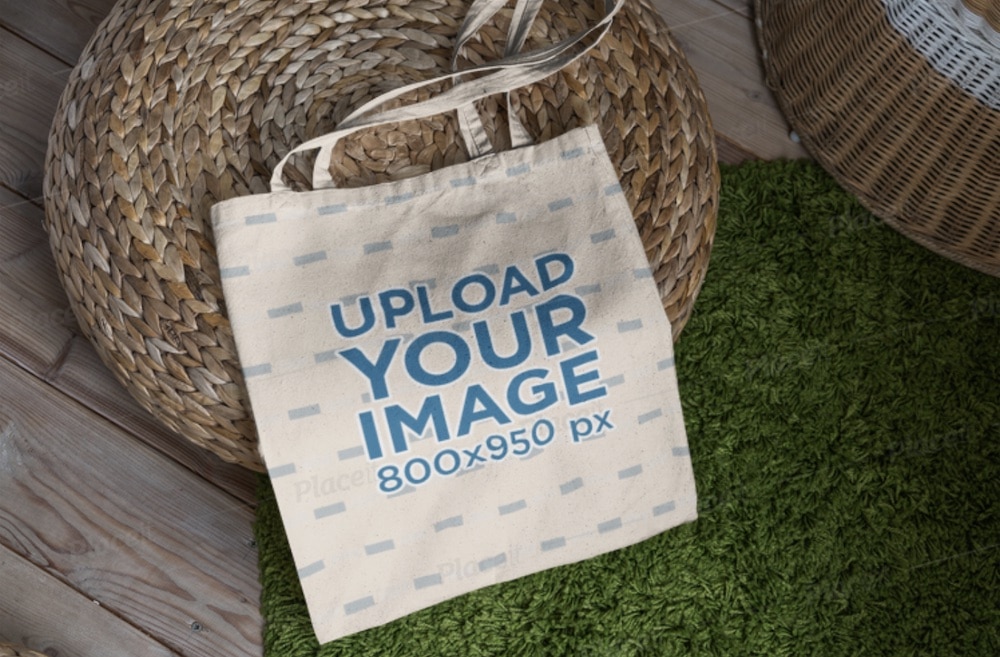 You will surely find the right design with our vast collection of tote bag mockups easily.
What's cool, when it comes to Placeit's templates, you can edit and configure them first before opening your wallet.
Yeah, they're so cool!
Feel free to test the waters, try as many variations as you want and then settle on the winner.
Note: We do recommend creating a free account because it simplifies everything.
MORE INFO / DOWNLOAD
5. Hanging tote bag mockup generator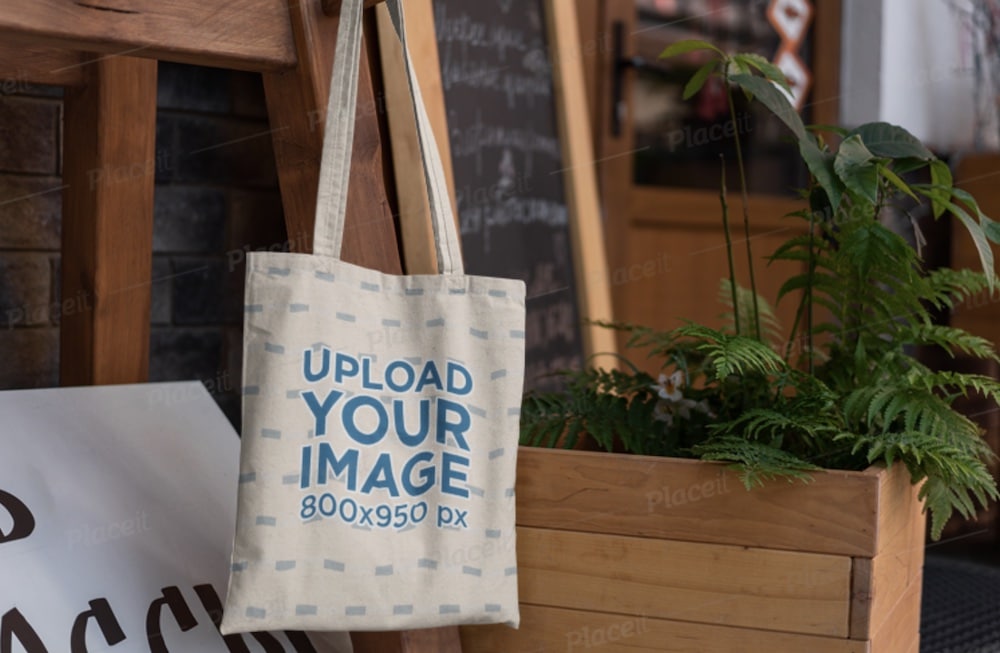 Some of the mockups (more like all!) that we have here are so realistic no one will even tell you to use a predefined template. Including this one.
Making a presentation of a custom tote bag design takes zero effort and only a few seconds.
The only thing necessary is the design; everything happens online anyway.
A few clicks later, you can already wow everyone, your audience, your client, and yourself! Have fun designing.
MORE INFO / DOWNLOAD
6. Tote bag full of magazines mockup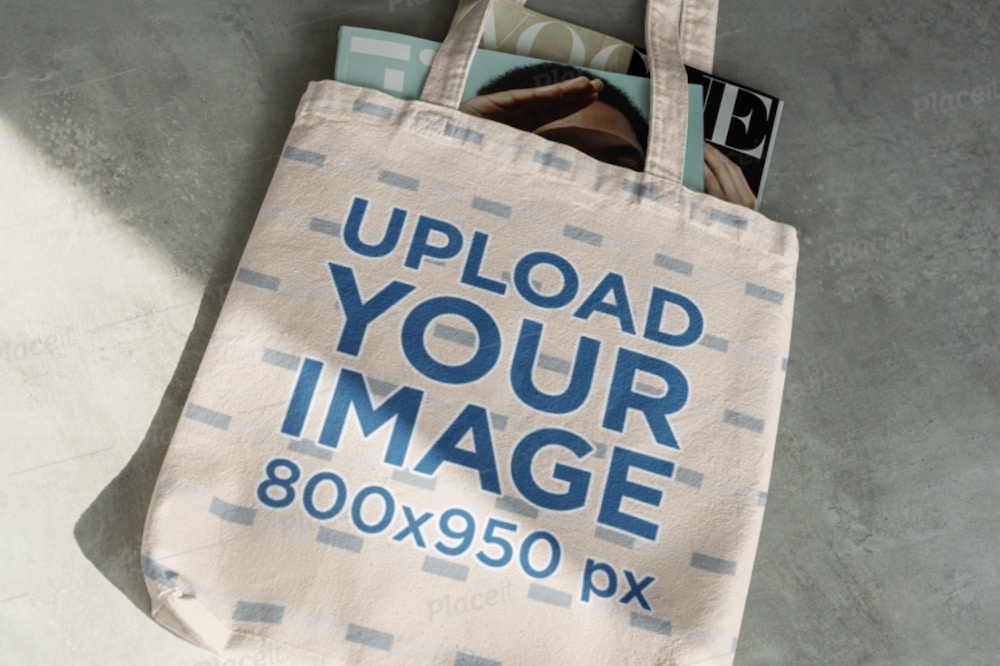 This one came perfect when working on a quick branded tote bag for a book store. The client wanted to see how it would look and we gave them exactly that.
Luckily, we found the ideal mockup generator that required quick work to create three variations.
It helped our client decide which they prefer (much) easier.
A few refining touches and we were ready to roll. Yes, that's exactly what we did, and you can, too!
MORE INFO / DOWNLOAD
7. Mockup of a tote bag hanging from a metal rack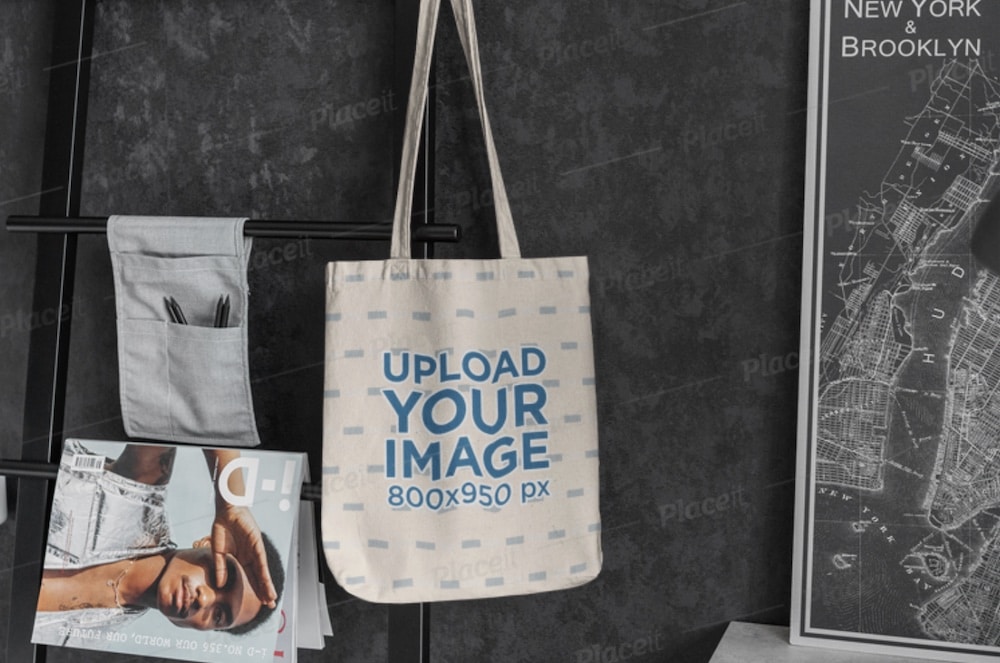 An elegant tote bag mockup hanging from a black metal (yes, I'm a fan of BM) rack with a dark wall.
With the right choice of color and design, or just a logo, you can make the final showcase pop more.
Here's where the real fun of mockup generators comes into play. You only need to do some clicking to make the mockup that your heart desires. (Without using the software!)
Since the bag is the main focus, it's the bag that you can edit exclusively. BOOM.
MORE INFO / DOWNLOAD
8. Tote bag mockup of a woman looking at the ocean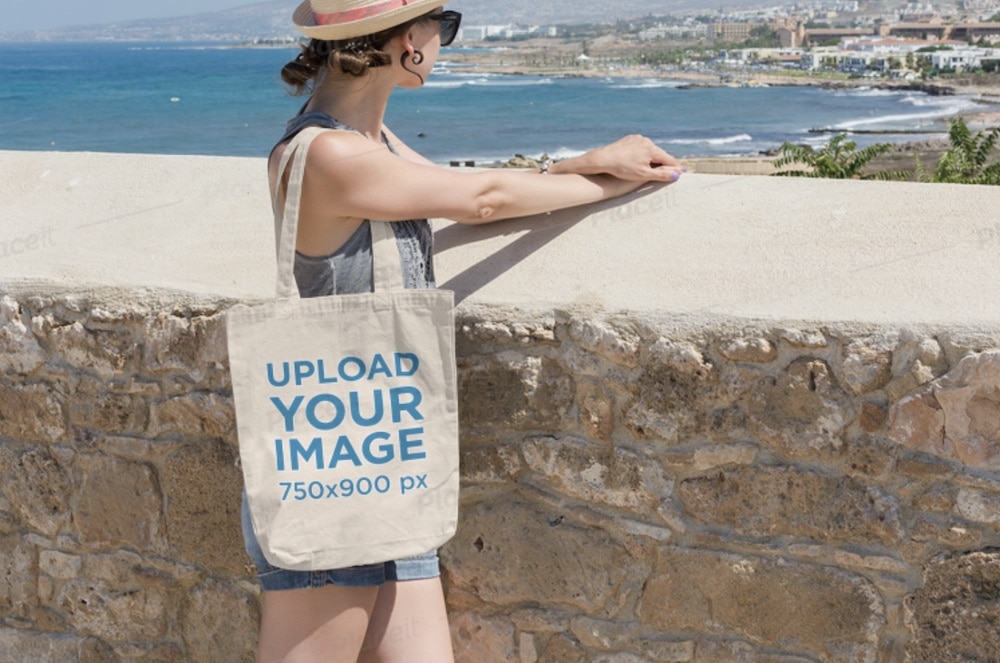 Ah, more summer vibes. Yes, a tote bag is perfect for storing towels and swimwear when heading to the beach.
This mockup is waiting to present your fun and cool design for the rest of the world to enjoy.
Upload it straight from your device, make any additional corrections and you're done doing the work.
It cannot get any easier than that. Go ahead, try it for yourself. We had a lot of fun making the bag yellow, green and purple, and it looked great!
MORE INFO / DOWNLOAD
9. Mockup of an angled tote bag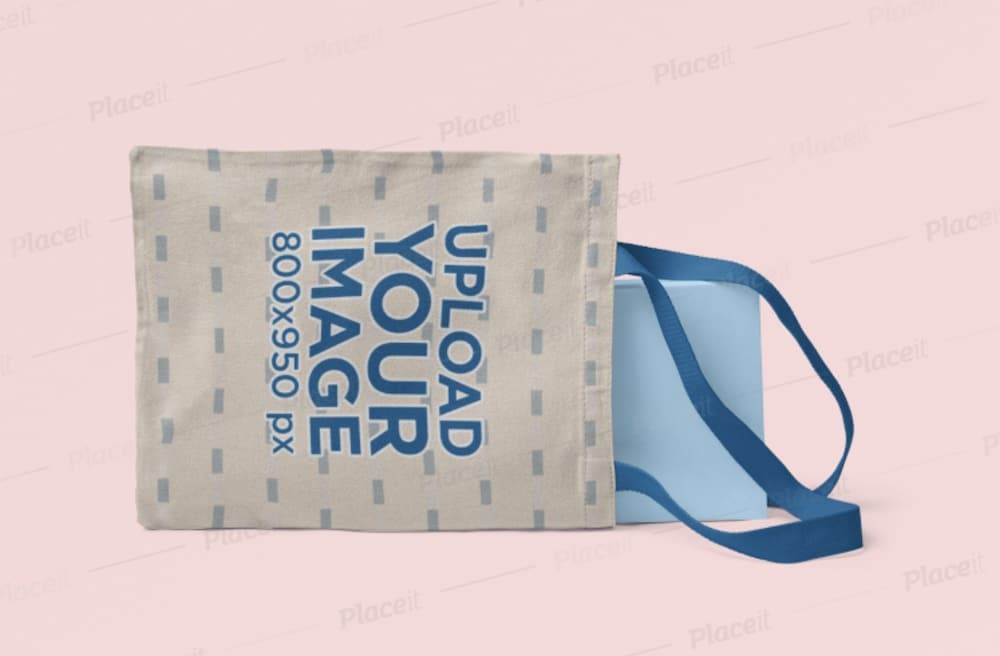 There's always a way to do things differently, and this tote bag mockup is a great example. Go against the grain with a 100% editable template that you can make to your liking precisely.
You can change the color of the bag, strap, box and background – yes, everything. Plus, you can add text, image or logo.
It's a simple task that fits beginners and pros extremely well.
No experience is necessary to create a pro-level presentation that will impress.
MORE INFO / DOWNLOAD
10. Canvas bag mockup on a 3-colored surface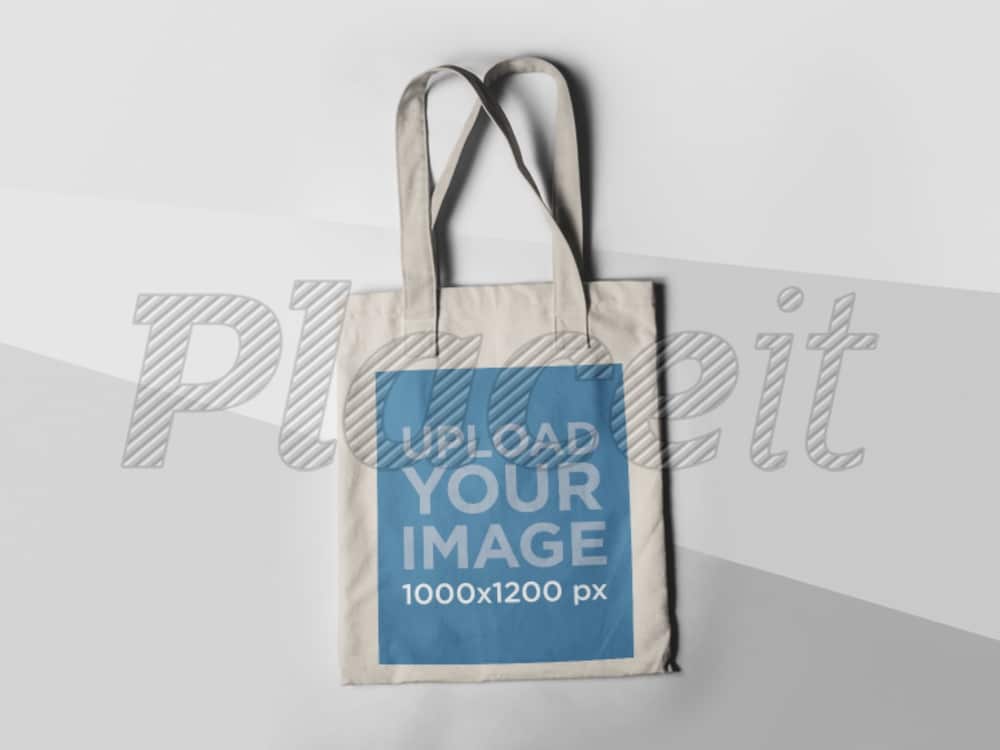 A minimal but creative tote bag generator that calls for a very vibrant outcome. But if you'd like to go with a more elegant and luxurious feel – go for it!
As you see, the tote bag is on a three-colored background that is fully editable. And you can also change the color of the bag with any shade you want.
The working area for the design insertion is 1000 x 1200px, but you can use other dimensions, too. The crop tool allows you to cut and reposition the image accordingly.
MORE INFO / DOWNLOAD
11. Blank bag mockup featuring a patterned background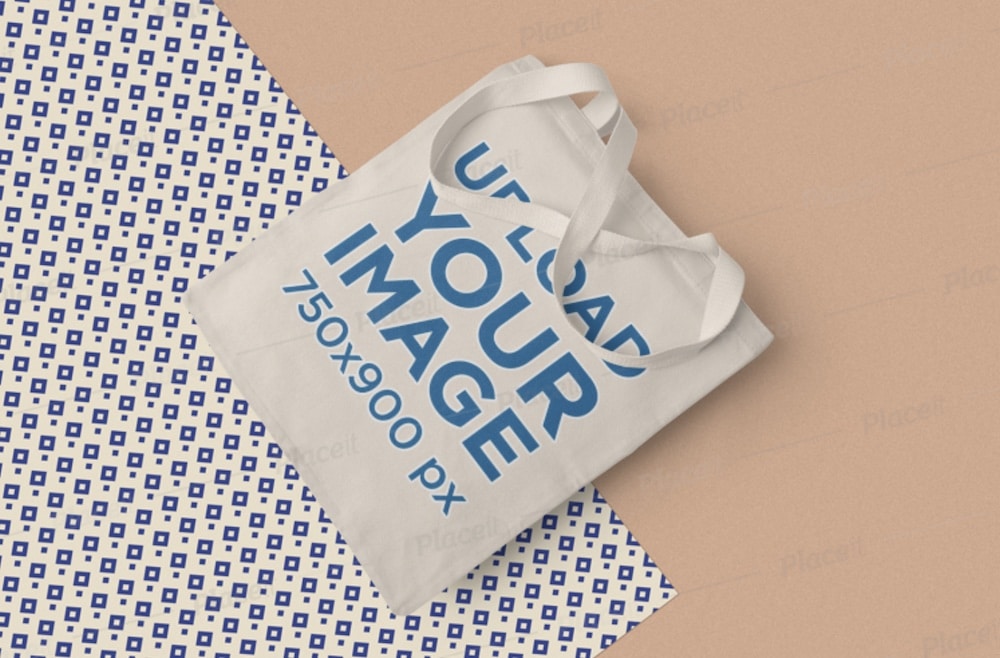 At first, it may be a blank tote bag mockup, but you can quickly enhance it like a champ. Why complicate things with the actual product and actual photos if you don't have to?
Take a smart shortcut with a mockup (like we did) and create an equally amazing ender much faster and much cheaper.
Note: We enjoyed the patterned background that worked great for an eco-friendly grocery store.
MORE INFO / DOWNLOAD
Best Tote Bag PSD Mockups
12. Minimalistic canvas tote bag PSD mockup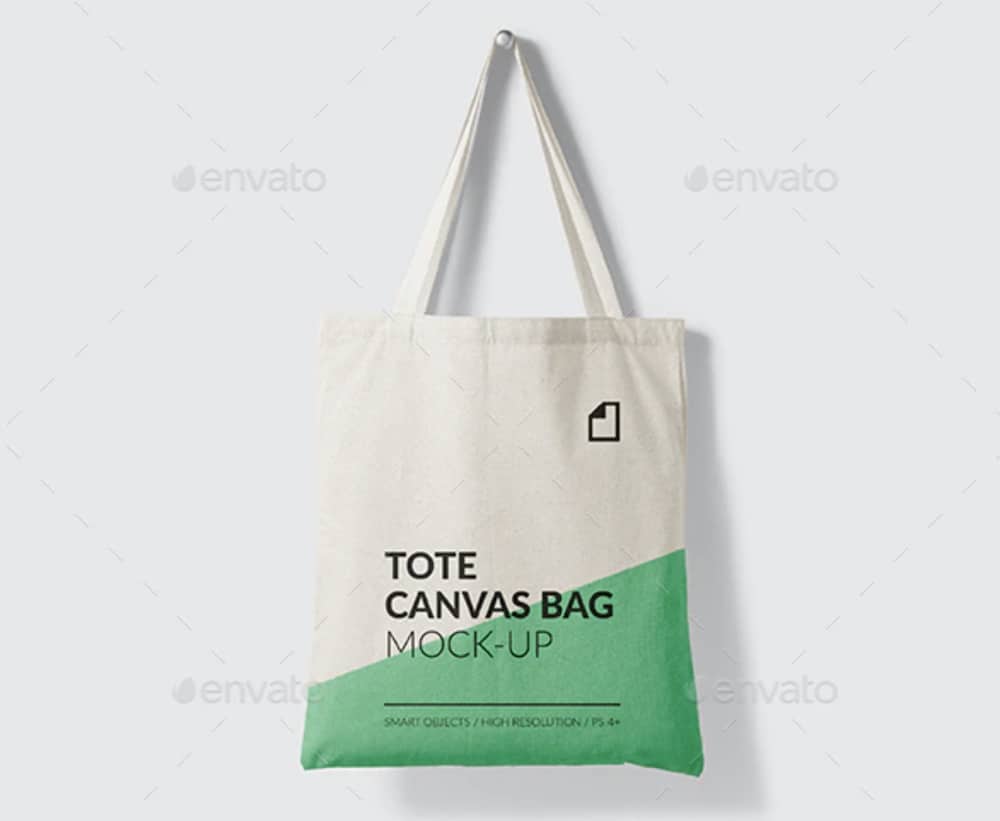 Okay, so it's layered PSD mockups time. You can create a high-quality tote bag design display with this collection of eight different views.
Even though Photoshop is necessary, you'll still have tons of fun working on your project.
You can slide in a design of choice by drag and drop, thanks to the convenient Photoshop smart object functionality.
You can also choose between three background textures and three filters.
So much stuff, so little work and such a dope outcome. Yew!
Price: $12
MORE INFO / DOWNLOAD
13. Canvas bag PSD mockup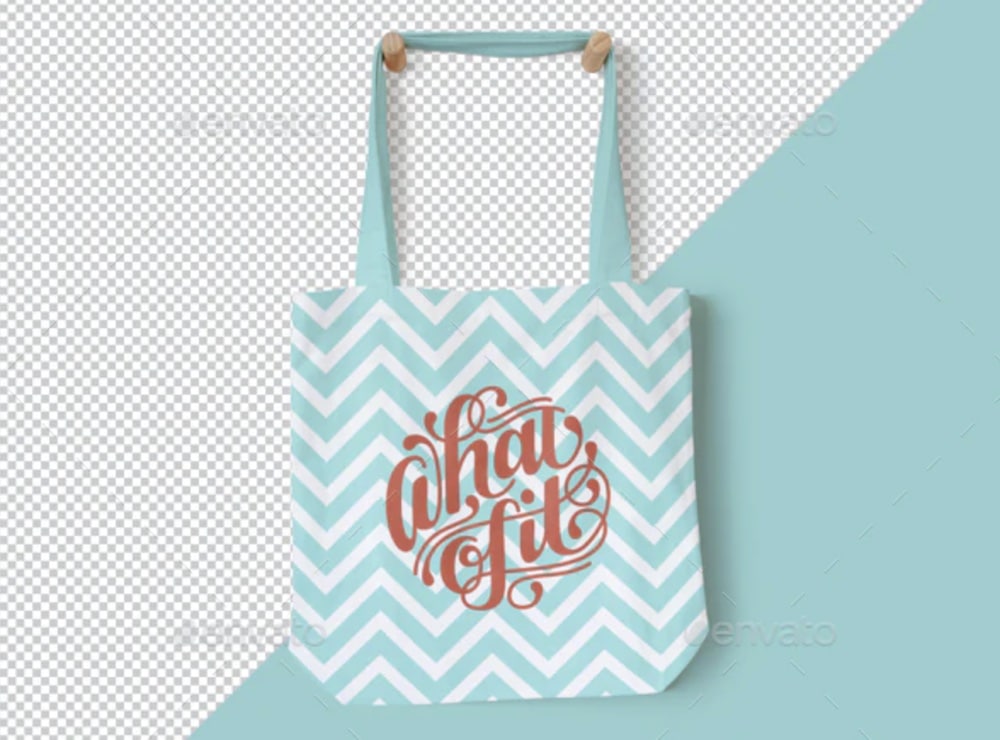 Even though you get only one PSD file, you can still use it for multiple projects. The template is fully customizable, including shadows.
You can individually change the color of the main compartment, handles and background.
You can even make the background transparent if you'd like to use a special pattern or anything else.
Import it into Photoshop, slide in your design or logo, edit colors and your work is done. Easy peasy!
Price: $6
MORE INFO / DOWNLOAD
14. Lifestyle canvas bag mockup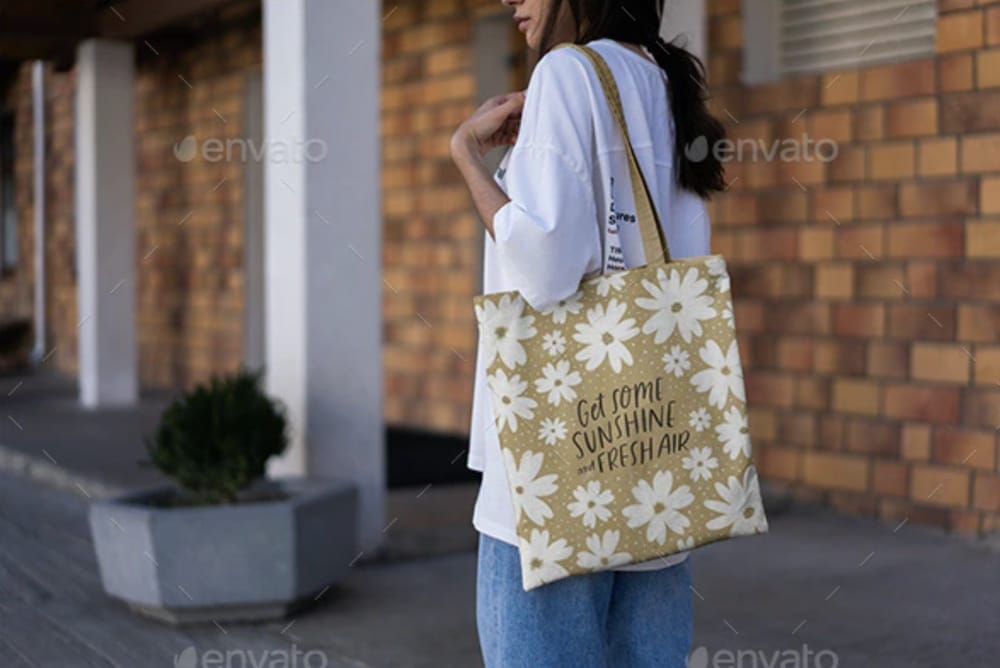 This is one of the biggest packages of tote bag mockups that we managed to come across – you get 23! The cost is $18, but that's a real bargain for how much goodness you get.
Moreover, every template is a high-quality file that comes at 5000 x 3335px. Plus, the realistic vibe is very high, making your designs and color choice appear very life-like.
It's also a little breeze using the package, making it even more attractive.
Price: $18
MORE INFO / DOWNLOAD
Best Free Tote Bag Mockups
15. Mockup of a tote bag over a foil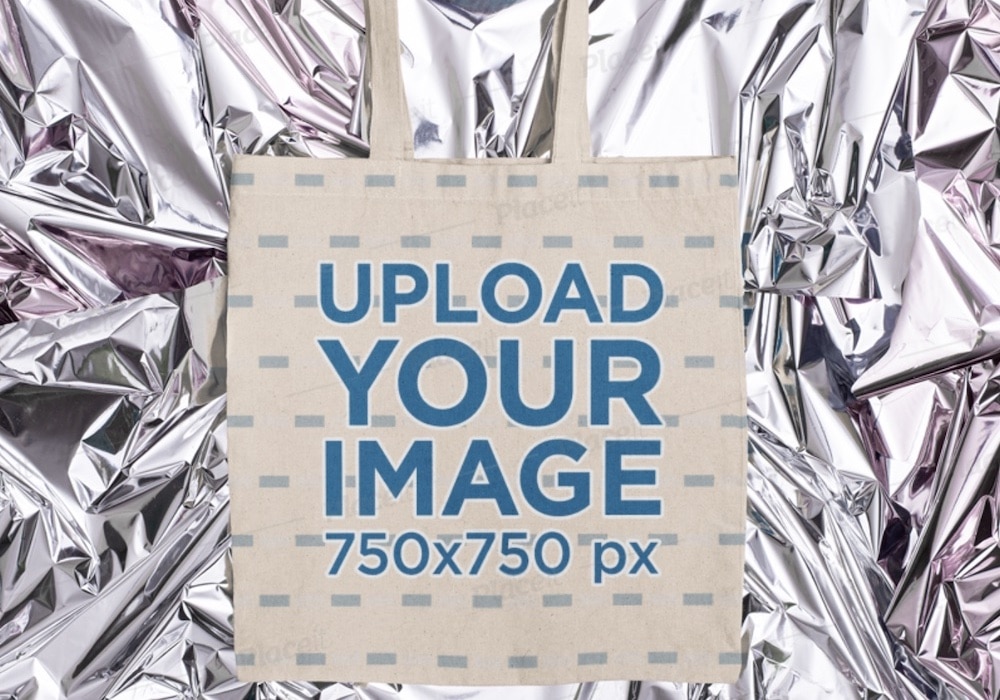 Here's a very interesting one! We weren't really sure if it'd work, so we decided to give it a shop for social promotion.
This Placeit mockup is effortless to use, just like any other that you find on the platform. You change the color, add the design, a logo if you want and you're good to go.
Our findings? It failed twice, but it did well on three other instances.
MORE INFO / DOWNLOAD
16. Tote bag mockup featuring a girly spring outfit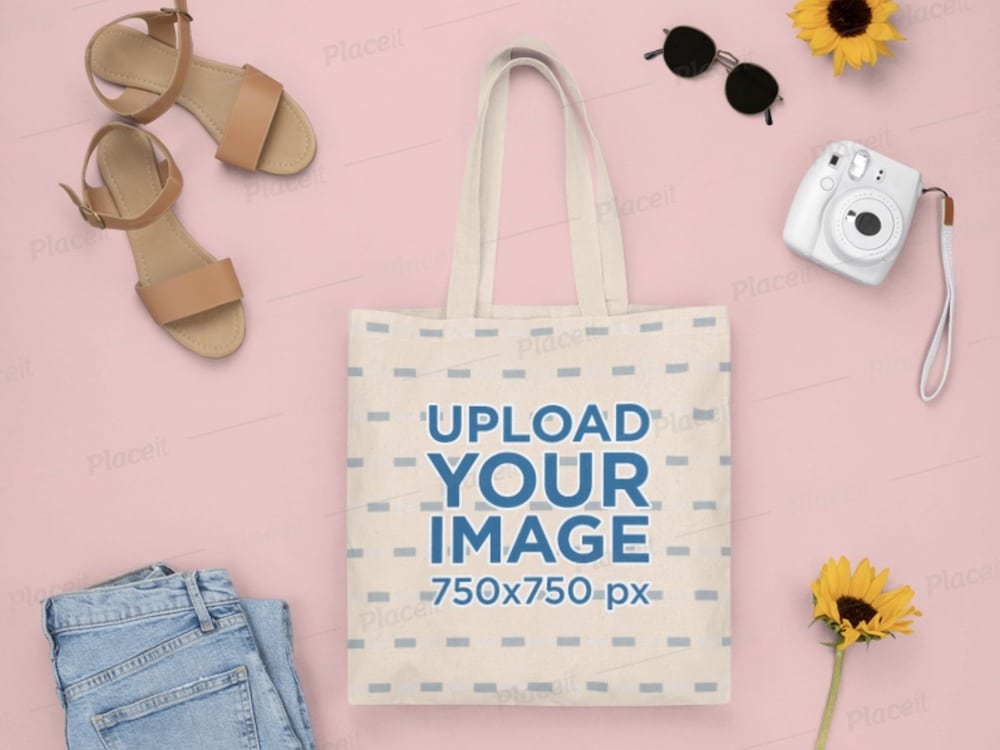 If you have something to do with the ladies' part of the world, I'm sure you'll enjoy using this particular free tote bag mockup generator.
It has a girly atmosphere where the background and the bag are configurable but nothing else.
You can make as many versions or variations as you want, even download them, and compare them against each other.
Ah, the fun and flexibility of free mockups!
MORE INFO / DOWNLOAD
17. Tote bag PSD mockup freebie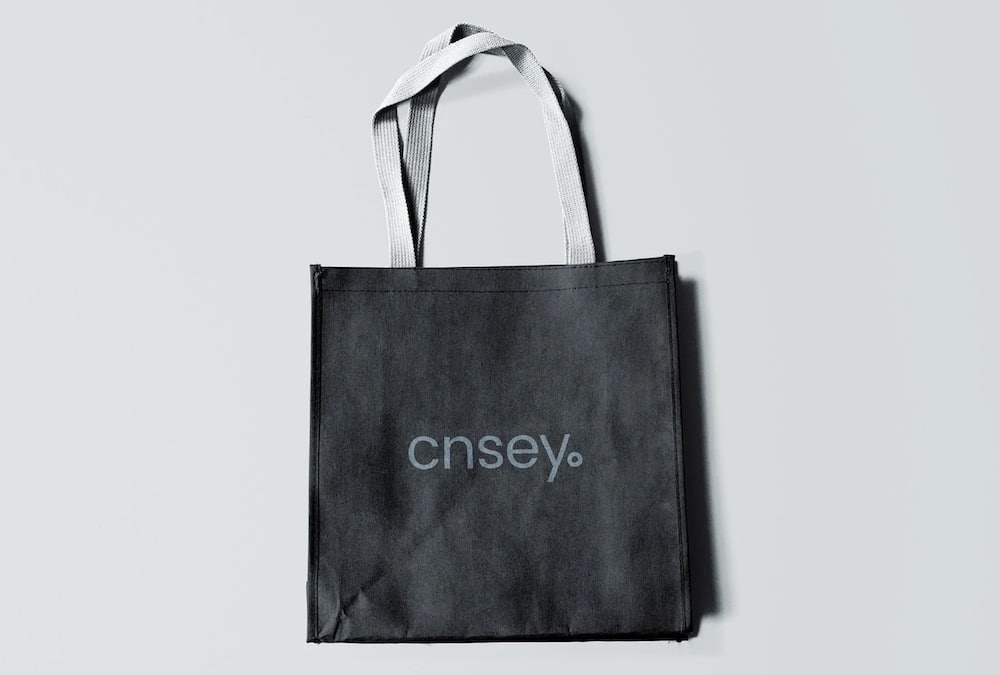 Simplicity is a fine thing, and that's exactly what you get with this free PSD mockup. What's especially important is the insane, premium-like dimension that it sports: 5600 x 4500px.
You don't see that every day!
Also, you only need basic Photoshop skills to work with it. And even if it's your first time using a mockup, you'll learn on the fly. It is as easy as it sounds.
MORE INFO / DOWNLOAD
18. Realistic canvas bag PSD mockup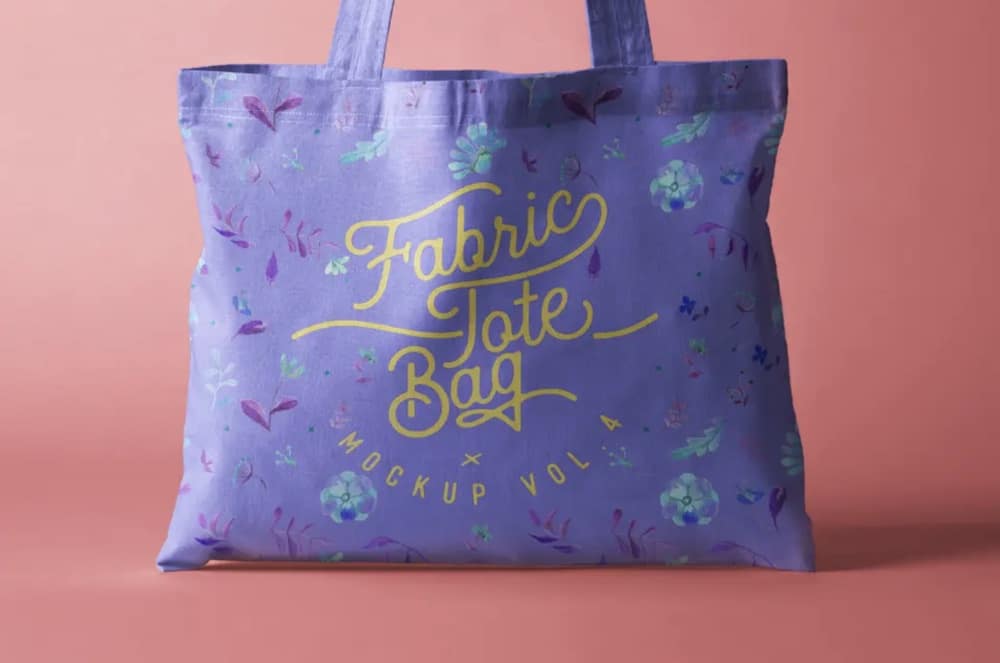 Test your tote bag design the right way, with a mockup. You can use it to A-test if the design fits the bag as it should before you order 100s of them at the print shop.
Configuring the entire template happens with smart objects.
Attach your design, alter the colors and you're ready to take the hype to the extremes.
We were really stoked about this one since it's an excellent solution for a more close-up view.
MORE INFO / DOWNLOAD
19. Fashionable free tote bag PSD mockup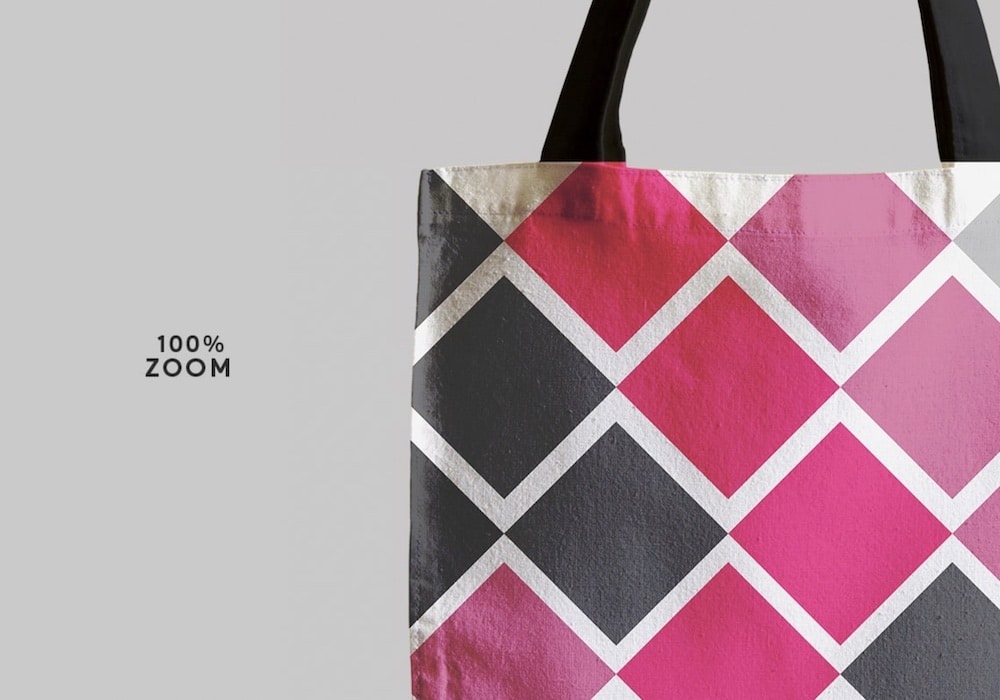 Speaking of close-up, this particular free tote bag PSD template has a HD effect with great zoom functionality. It presents everything with crystal clarity no matter how detailed your design.
You are in complete control, ready and set for a quick result that will ensure top-notch quality. Keep it blank with a logo, add a pattern, an image, whatever – the mockup works with anything successfully.
MORE INFO / DOWNLOAD
20. Realistic tote bag featuring a woman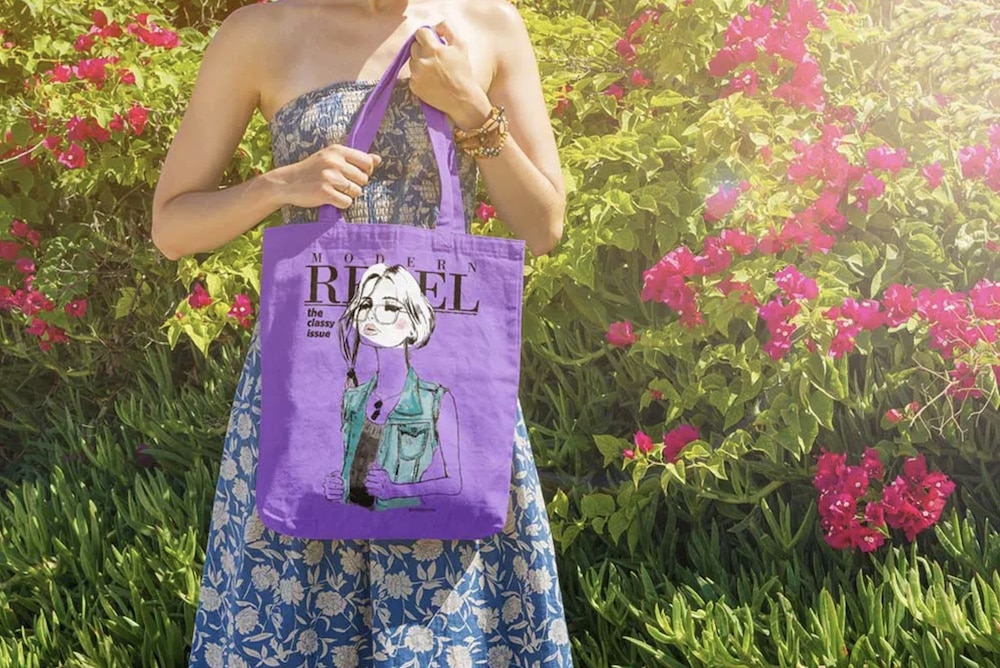 Yes, we are big fans of tote bag mockups with actual models. We made sure to include free solutions because they work oh so well.
You get one template, but you can use it to work on multiple projects. The bag that the lady's holding is entirely adjustable.
But really, you only need to change the color, import your design and that's pretty much it. How awesome is that for creating a realistic presentation?
MORE INFO / DOWNLOAD
21. Shoulder bag free PSD mockup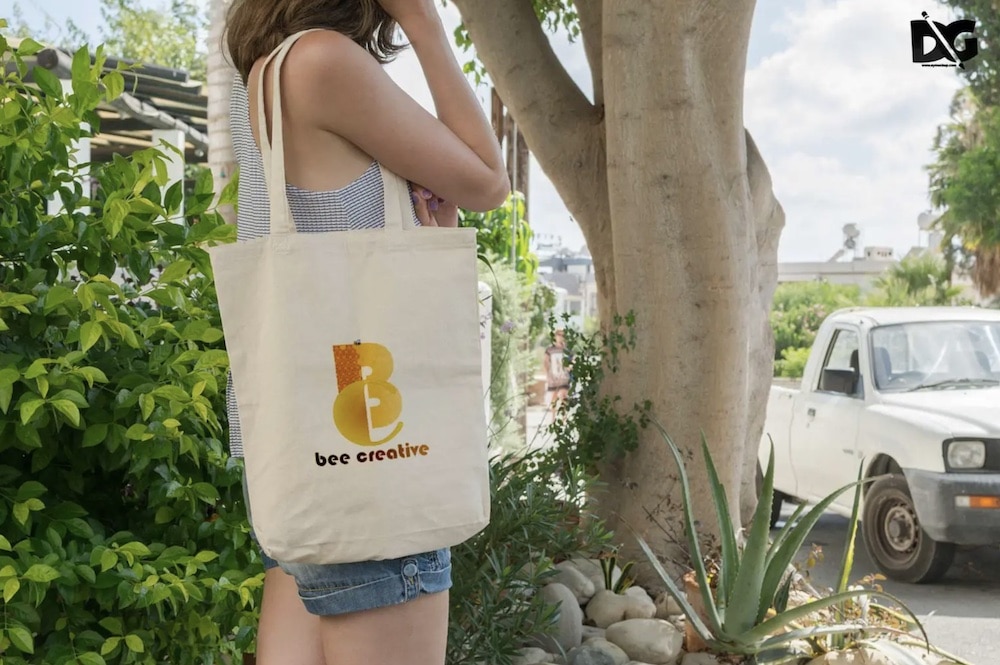 A great canvas bag mockup in PSD that we picked for a surf shop in the Canary Islands. They wanted a custom design and we delivered it back with a mockup display.
This way, they better understand what they can expect from the physical product.
Note: You can only use this one for personal projects.
It was a success, and we encourage you to use it as well!
MORE INFO / DOWNLOAD
How To Create A Tote Bag Mockup In 4 Steps
Here's the quickest and most beginner-friendly way of creating a tote bag mockup – using an online generator.
Placeit is our favorite platform because it offers 1,000s of templates you can edit within seconds.
And it only requires four steps to make it happen:
1. Visit Placeit
This one's obvious, so we won't go to into detail.
However, here's a little tip: You can access all tote bags on Placeit by visiting this category. But you can also type what you need in the search bar and see what it recommends for you.
2. Add your design or logo
After you pick the template that suits your needs, add your design or logo by clicking on the Insert Image button.
You can upload your content straight from your computer or even access your Placeit uploads.
What we really like about Placeit is that you can create a tote bag mockup using only your smartphone.
How awesome is that?
3. Configure your tote bag mockup
At this stage, you only need to perform refining customizations and you're done.
Change colors, edit the background and add text, patterns and graphics – and that's basically it.
Note: The fastest it took me to create a custom tote bag presentation was 27 seconds with Placeit.
4. Download
You're done!
Feel free to Download your mockup and use it anywhere you want.