Do you want to learn how to make a book mockup?
I'm excited to share two simple methods: With a mockup generator or Photoshop.
Which do I like best?
The mockup generator technique. Because it's SO FAST.
So, you've done the hard work, and your book is finally ready to see the light of day.
There's only one problem — you need a book mockup to showcase the book on your website and social media proudly.
A great mockup can help you generate interest in your book and increase sales (in advance).
Luckily, you can EASILY and QUICKLY make a realistic book presentation with tools like Placeit. (Without downloading and learning how to use Photoshop.)
YUP!
This post covers:
I'll show you how to use Placeit to create your (first) book mockup and share some of the best Placeit mockup generators you can use for your book design.
Note: No experience necessary.
How To Make A Book Mockup Without Photoshop
Here are the exact steps you need to follow to use Placeit to create a mockup without Photoshop (even for an eBook).
Step 1: Visit Placeit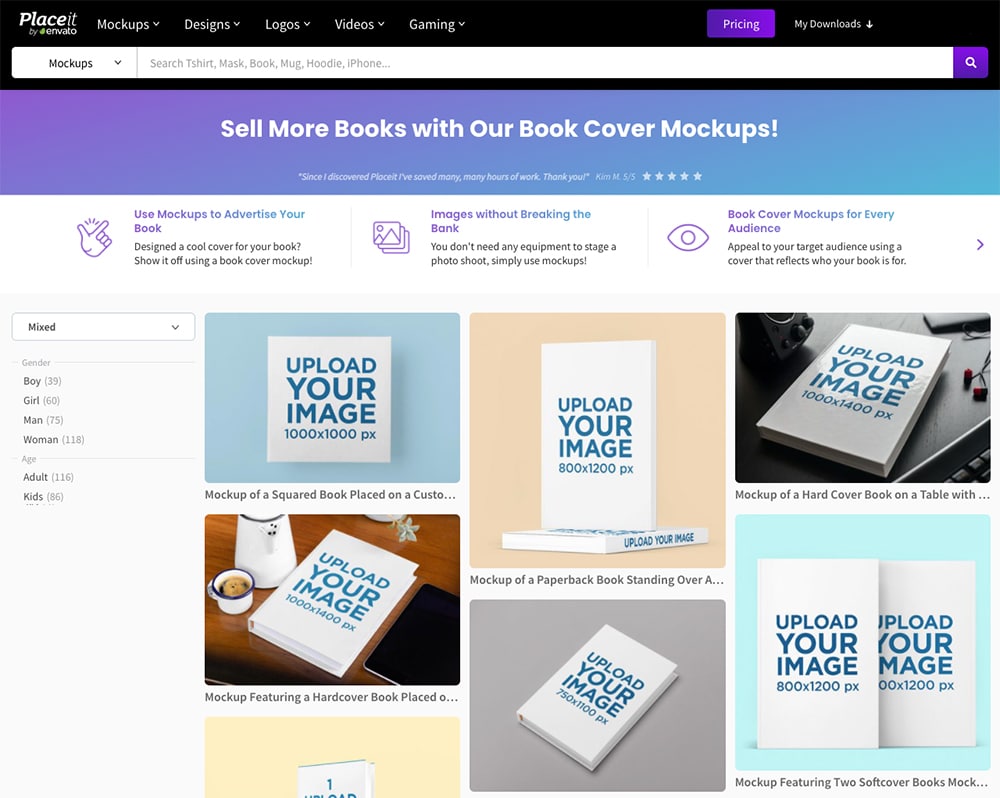 The first step is to go to Placeit. Hover over Mockups > Print > Books or use the search bar to enter a more specific search term.
The results (100s!) for all book mockups will load, and you can then use the filters on the side to narrow the search results.
Once you've found a mockup you like, you're ready for the next step.
Step 2: Upload Your Design
Click your desired template to open the editor.
You can upload your book cover by clicking the button that says Insert Image.
Select your book cover image from the computer (or mobile device) and click Upload. Some mockups also have the option to add a spine design.
Step 3: Crop The Image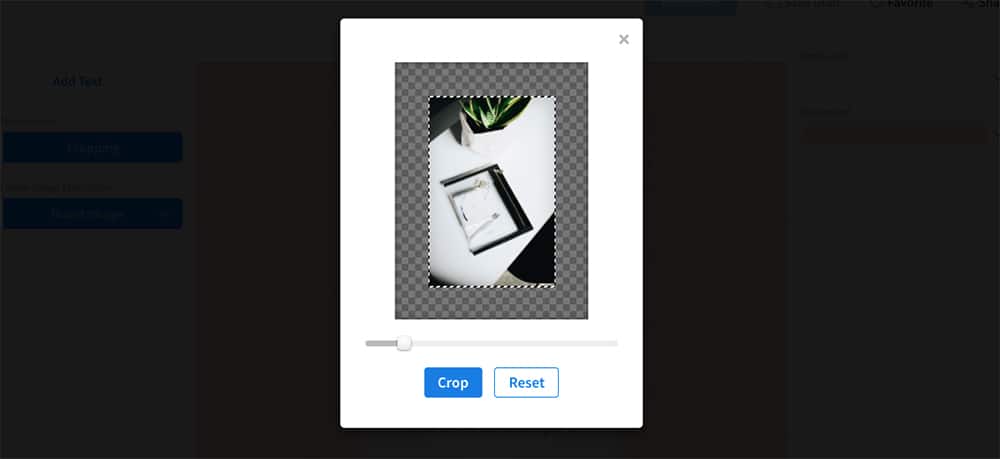 After uploading your cover image, you can crop and adjust the size.
Drag the slider left or right to change the image size until you're happy with its appearance.
When you're done adjusting the design, click Crop.
Step 4: Customize The Design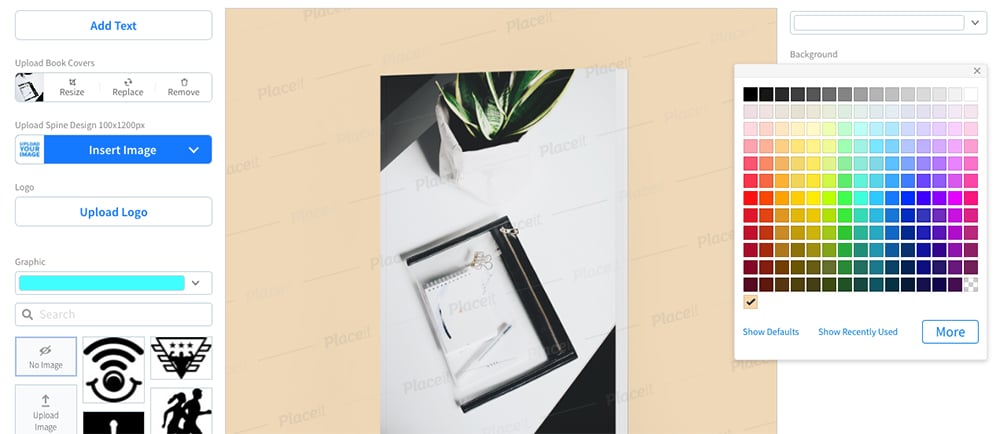 You can now upload your logo and add any premade graphics that Placeit offers. Plus, enter your name and change the color of the book.
You're the boss.
Step 5: Download The Finished Book Mockup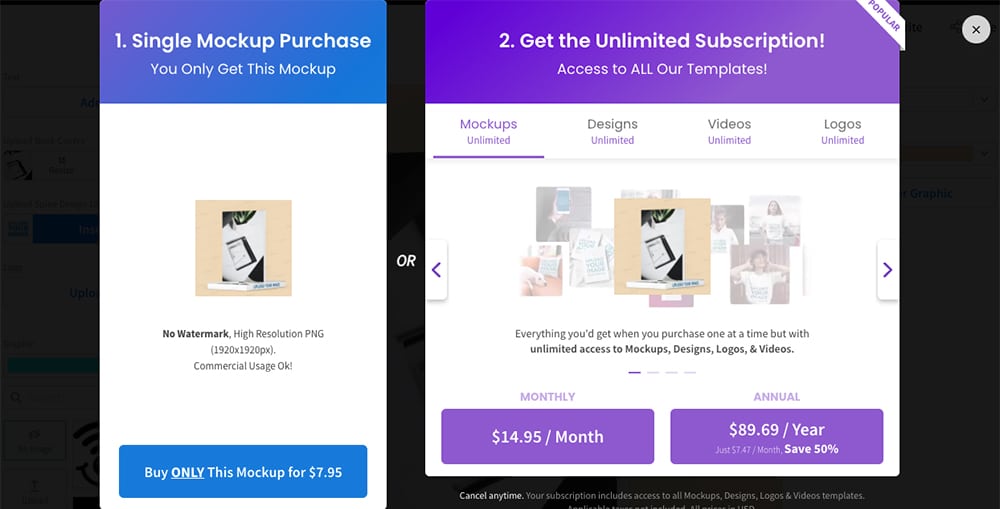 When you're done customizing the mockup, hit the Download button so you can share your mockup everywhere.
Placeit offers two buying options.
1. You can download the mockup you've just created for $7.95 or choose the monthly subscription.
2. The subscription gives you access to unlimited mockups and other designs from Placeit. The subscription costs $14.95/month or $89.69/year.
Top 5 Placeit Book Mockups
To make your life even simpler, I'd like to share with you five of my favorite book mockups on Placeit.
1. Hardcover book mockup in a stylish setup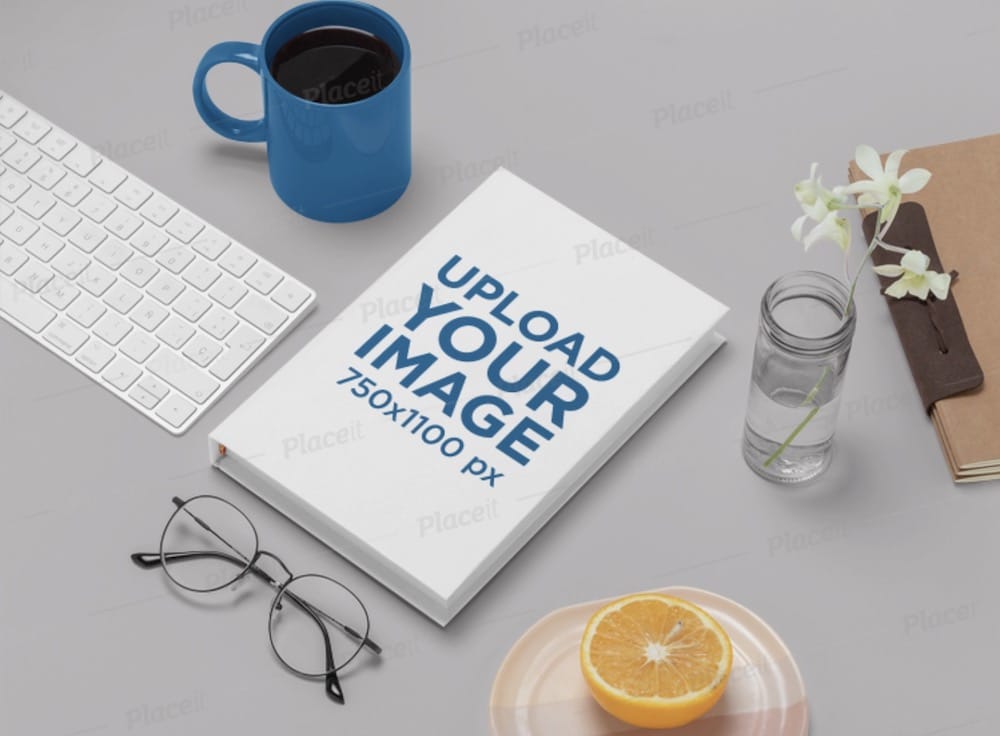 This mockup scene features a book on a table with a coffee mug and various items that make the scene look very realistic.
Aside from the book itself, you can customize the color of the mug and the color of the background.
MORE INFO / DOWNLOAD
2. Book mockup featuring a couple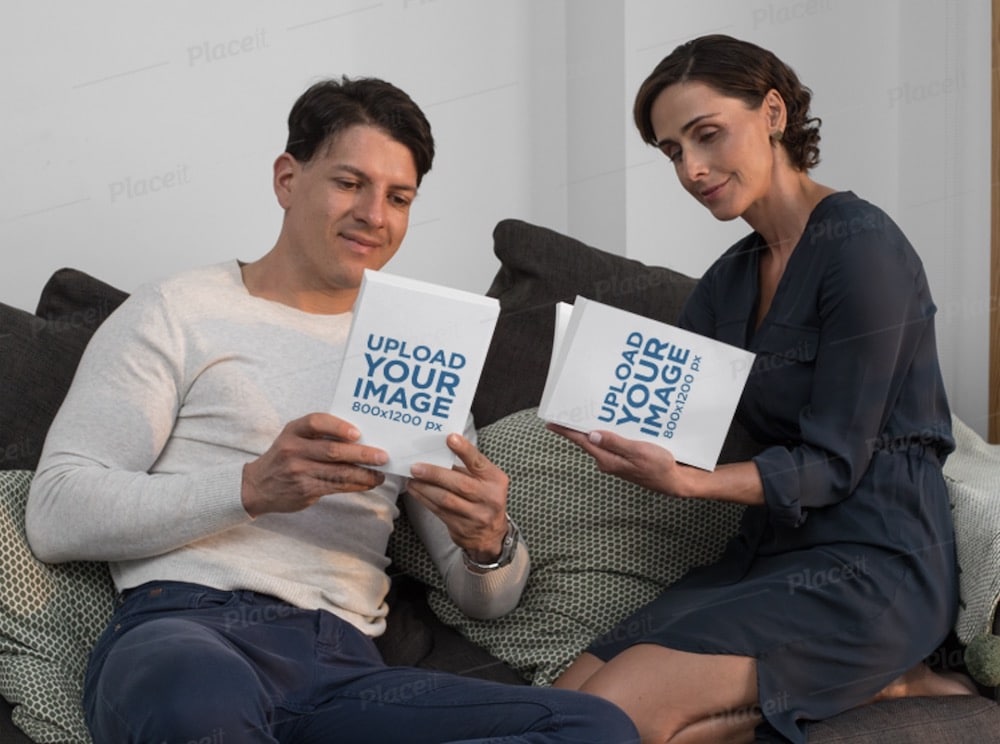 With this mockup, you can show your readers what the book looks like when it's being held. Perfect for making the book look more realistic.
You can share the finished design on social media to promote the book and generate interest.
MORE INFO / DOWNLOAD
3. Transparent (e)Book mockup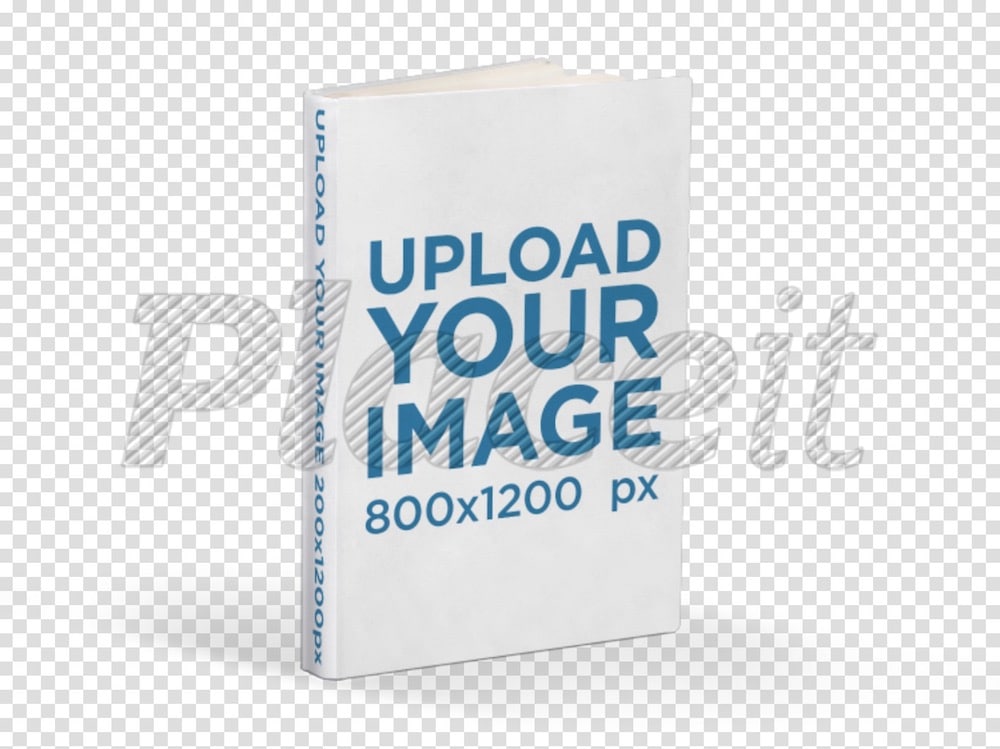 With the help of this transparent eBook mockup, you'll be able to drop the image onto any colored background.
This mockup is great for showcasing your book on your website and book sales pages.
MORE INFO / DOWNLOAD
4. Mockup featuring multiple books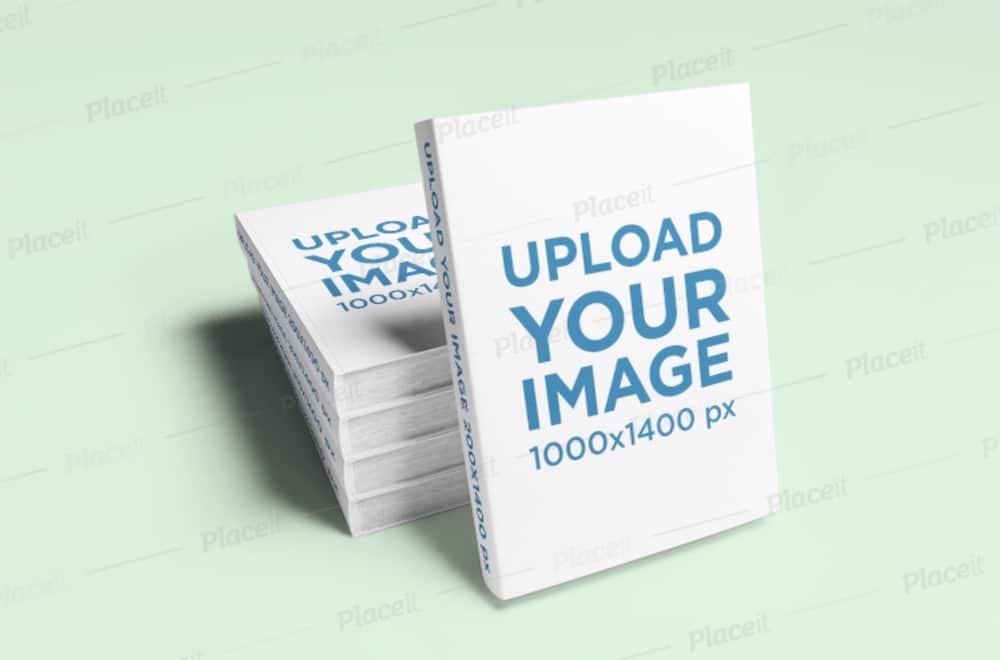 This mockup features a book leaning against other books. This is a great mockup to showcase that multiple copies are available.
MORE INFO / DOWNLOAD
5. Book mockup on a table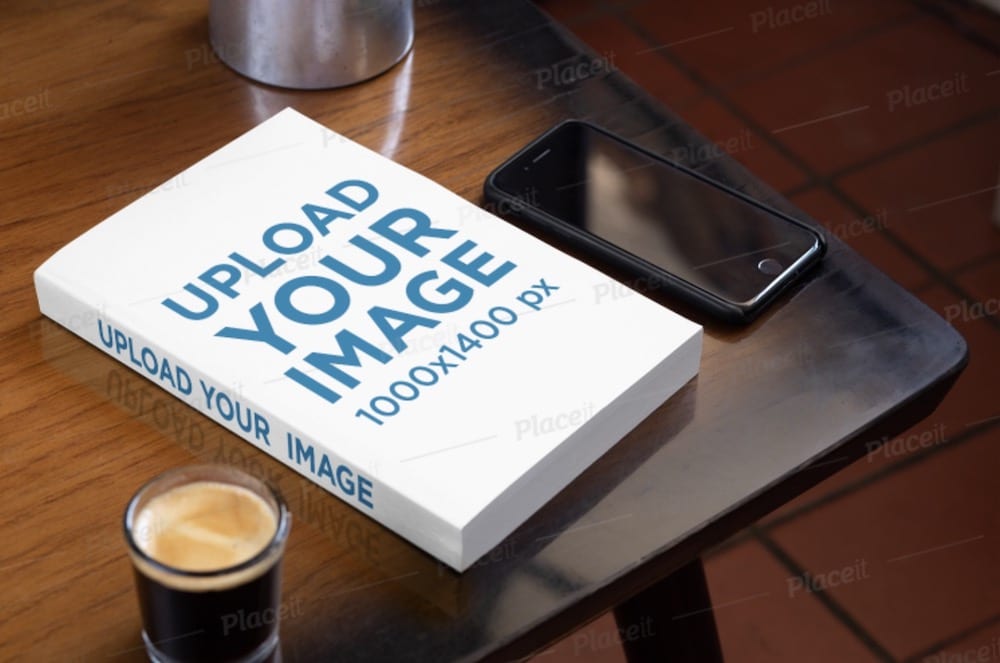 Lastly, I have a template of a book on a coffee table next to a phone and a cup of coffee.
If you have an informative book that makes a design statement, this mockup is a great choice.
MORE INFO / DOWNLOAD
How To Make A Book Mockup In Photoshop
Placeit is a great way (my FAV) to quickly create mockups for almost anything imaginable.
However, if you want more control over your mockups, Photoshop might be a better choice.
Still, the good news is that even with Photoshop, you don't have to start from scratch.
You can customize a premade book mockup template with your information – effortlessly.
It's simple: Download a book mockup (layered PSD file) from the internet and open it up in Photoshop.
Then, all you have to do is insert your book cover with the help of a smart object and enter your name and book title.
Final Thoughts
With Placeit, you can create realistic book mockups without hiring an expensive designer or spending hours learning Photoshop.
Takes seconds!
Visit Placeit today and create your outstandingly life-like book mockup quickly and easily.