Can you guess how many beers I drank during testing and reviewing these best beer can mockups?
None.
Joke aside; I worked with multiple clients on their can branding, which made me test over 30 mockups.
But these 16 are the ultimate!
This post covers:
I added both online mockup generators and PSD files.
You can create a mockup without Adobe Photoshop when using the former.
However, although you need photo editing software for PSD mockups, they are still effortless to use.
Note: Even though beer is on our to-do list today, you can also use these cans and tins for other drinks.
CHEERS!
Best Beer Can Mockup Generators
You can get Placeit mockups for $7.95 (single purchase) or apply for a monthly ($14.95/month) or annual ($89.69/year) subscription.
1. Mockup of a floating beer can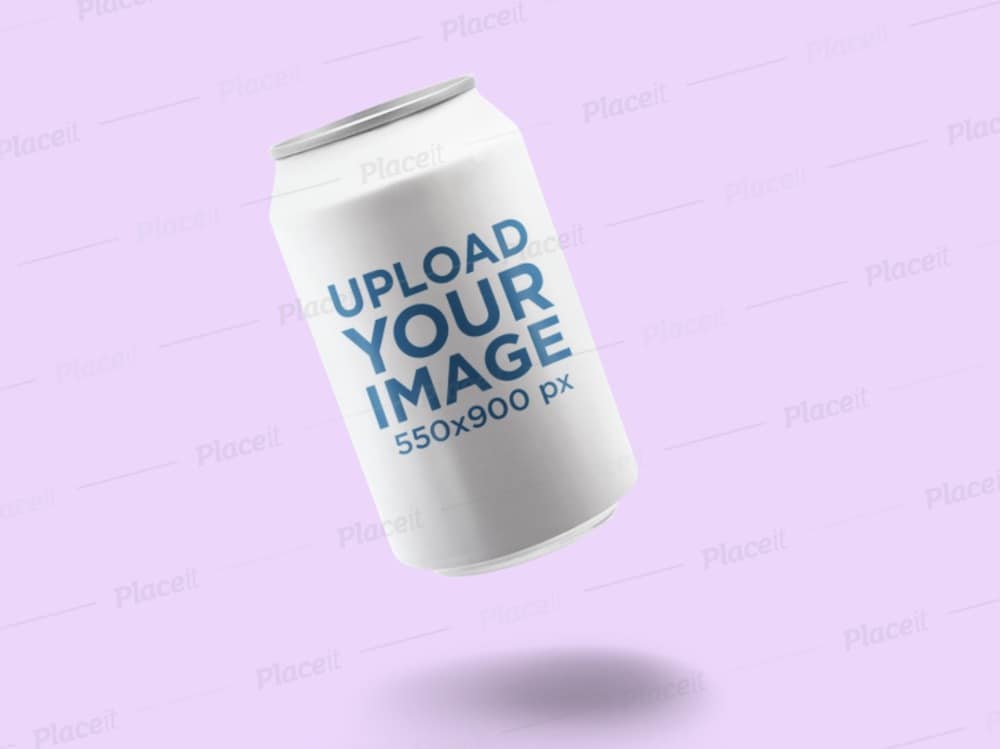 An attention-grabbing, simple and easy-to-work-with template of a floating beer can. Everything you see is entirely editable except for the can rim.
With that in mind, you can alter the colors of both the can and the background with a convenient color picker.
Moreover, with a simple insertion of your image, design, or logo, you can improve the default configuration with something extraordinary.
Quick work will produce a spectacular and photorealistic outcome to wow everyone seeing it. Go ahead, try it now; you can test the waters free of charge.
MORE INFO / DOWNLOAD
2. Minimal mockup featuring a beer can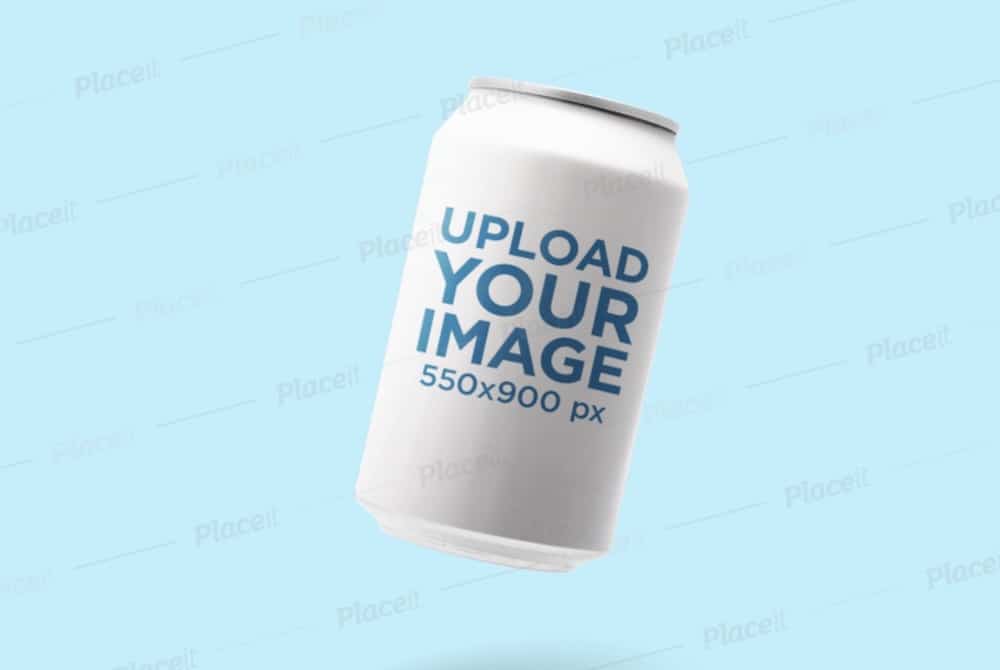 Another super minimalistic beer can mockup that you can style and beautify according to your liking.
Over on Placeit, you can change the colors, upload your design and even add text in a few clicks.
With that in mind, you can create as many variations as you want before settling on the winner.
I may mention it again, but you need to know that when working with a Placeit mockup, you do all the work online, using your favorite web browser.
You don't even need to have any design skills and Photoshop knowledge.
MORE INFO / DOWNLOAD
3. Simple beer can mockup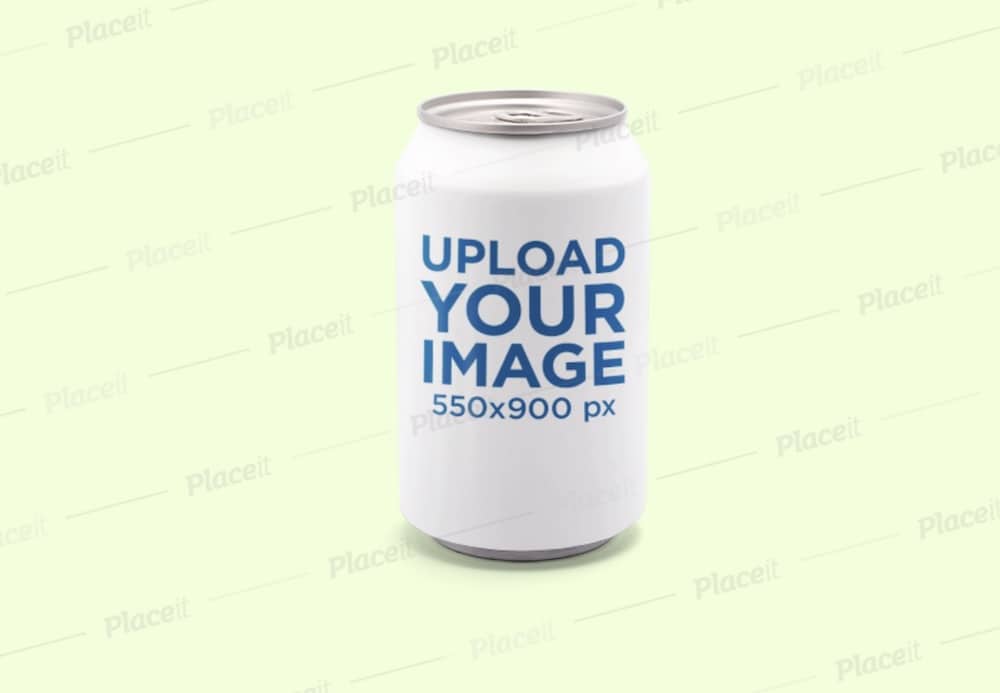 Create a brandable can presentation with this minimal can mockup on a plain background.
With a touch of shadows at the bottom, the overall presentation appears even more life-like than it already is.
To do the customizations, mouse skills is all that's necessary. You can alter the background, even make it transparent, and change the color of the can, too.
With a working area of 550 x 900px, you can add any design within those dimensions. Once you import your art, a pop-up opens with an option to reposition and crop it.
MORE INFO / DOWNLOAD
4. Beer can mockup with a solid color background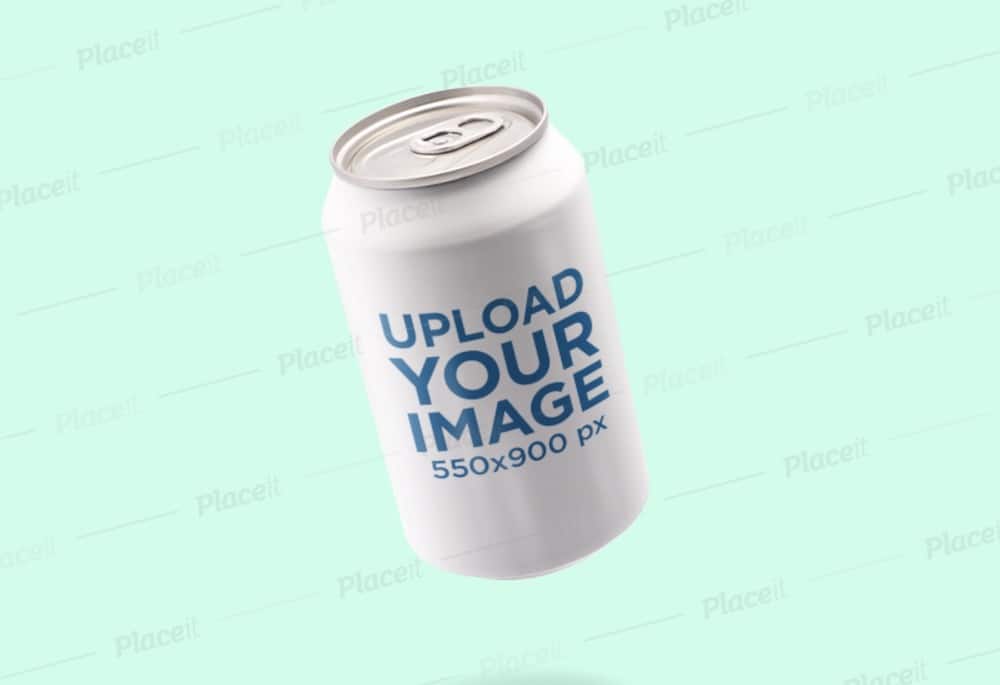 A catchy mockup of a floating ber can that you can now take to your total advantage.
Instead of working on the life-like presentation of a brandable can from the ground up, save time and energy with a ready-to-use template.
Why complicate if you don't have to?
You can use it for all sorts of promotions, even to share it with your client for further investigations and possible improvements.
Luckily, you can try it out without creating an account just yet, which is extremely handy.
MORE INFO / DOWNLOAD
5. Beer can mockup with transparent background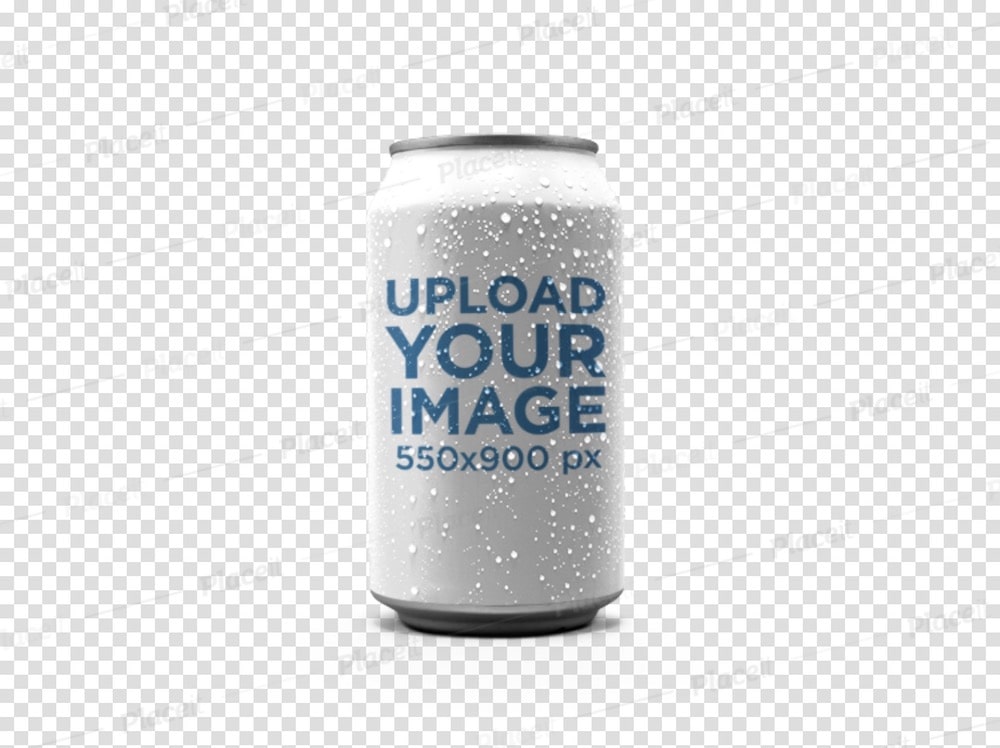 If you want to go one step further with your beer can exhibition, you must not miss this beautiful template. It features a can with droplets and a transparent mockup. How tasty does that look?
You can now change the tint of the can, import any image or design you want and add some text, too.
You will only need to undergo some clicking, and you will be done doing the work already.
Yes, working with an online mockup generator is just as simple as it sounds.
MORE INFO / DOWNLOAD
6. Beer can template with droplets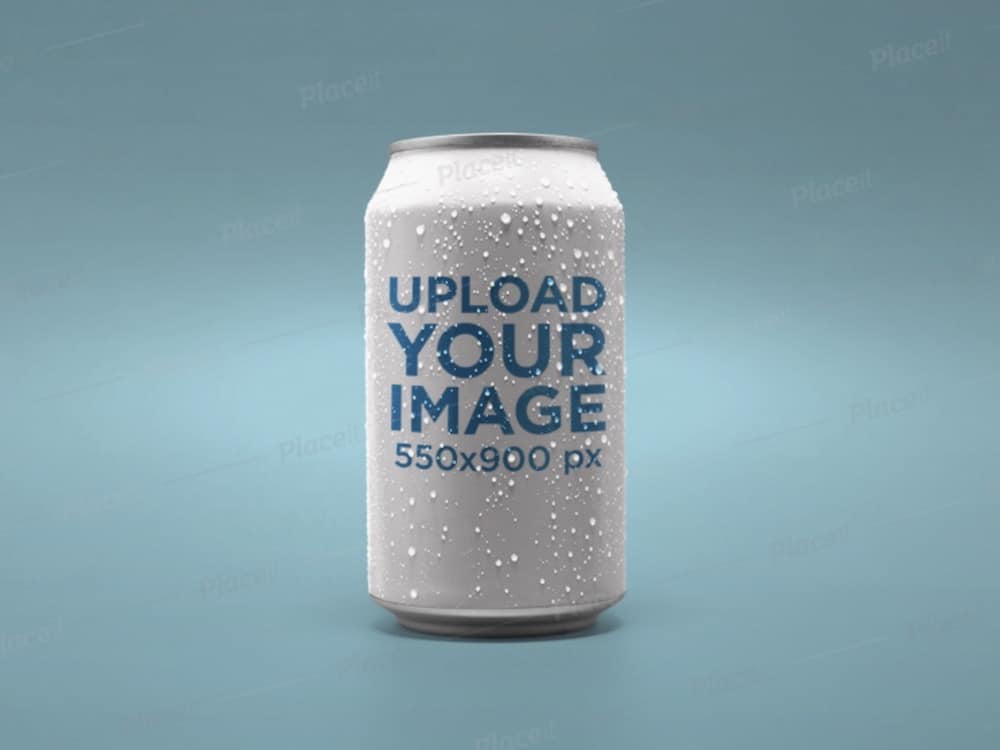 Okay, this is a pretty much identical beer can mockup compared to the one above, just that this one comes with a fully editable background.
Note: You can make the backdrop entirely transparent.
You can quickly enhance the existing mockup with your creative touch and have a life-like exhibition all set and ready to rock and roll sooner than later.
If you would like everyone's mouth to water, then opt for this template, as it is truly appealing to the eye. Enjoy the quick process and make an immediate difference.
MORE INFO / DOWNLOAD
7. Beer koozie mockup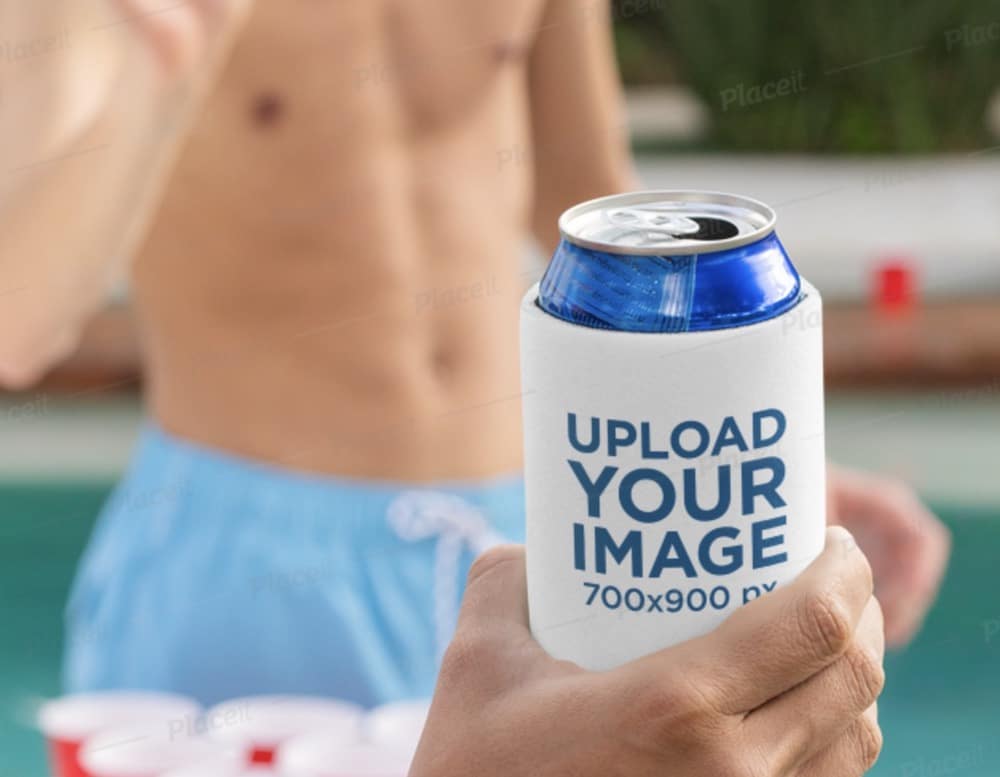 I only wanted to add this one because, let's face it, no one wants to have a hot beer during the warm summer days. This is a koozie mockup featuring a man who plays beer pong.
In short, it could not get any more relevant, not to mention realistic.
You can now make this mockup yours by heading to the Placeit platform and working on enhancements.
Keep in mind, I do advise you to create a free account first and go from there for a smooth workflow.
You can even use and reuse your designs with their other mockups easily.
MORE INFO / DOWNLOAD
Best Beer Can PSD Mockups
8. Realistic can mockups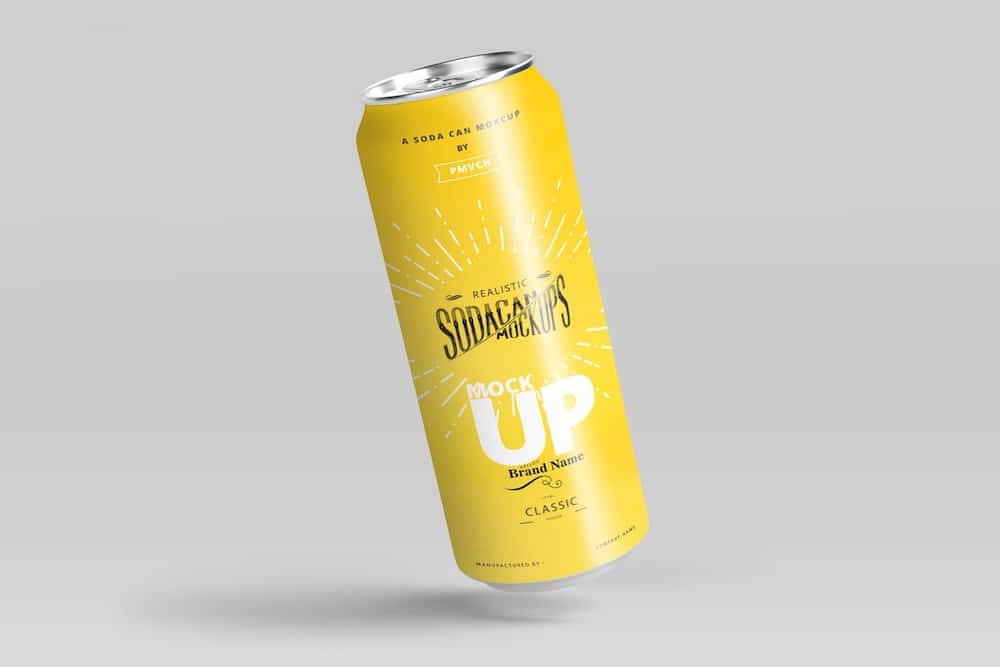 This outstanding bundle of PSD mockups of cans will help you create a presentation that will impress everyone.
There are multiple views you can play with, even a close-up so that you can create highly-detailed design showcases, too.
In fact, with the 5K resolution, you know all the files are of outstanding quality.
Separate shadows, cans, glossiness and backgrounds are just some of the features of this mockup kit.
You can pretty much tailor the end product to your heart's content, as you can precisely modify the mockup to your liking.
Price: $9
MORE INFO / DOWNLOAD
9. 330ml beer can mockup set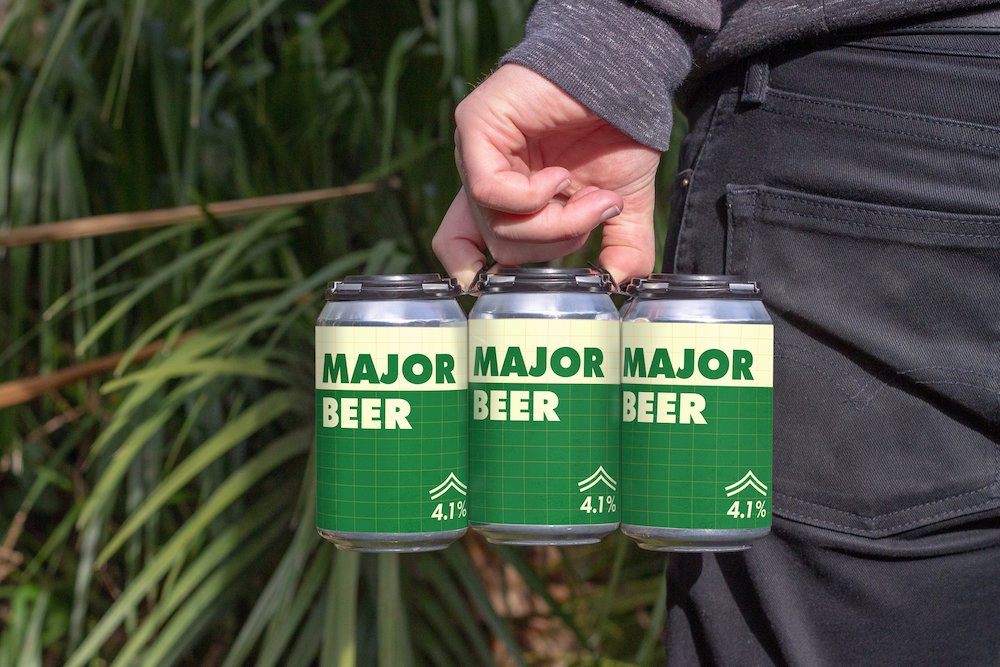 If you are particularly designing 330ml beer cans and a 6 pack, this is the mockup package that will do you well. Instead of focusing just on the can, these three mockups do oh so much more.
A human element also makes the overall presentation even more realistic.
What's cool, there's also the pouring mockup, which takes things to the next level. Love it!
You can use these mockups on social media, in marketing campaigns, on the official brewery website, you name it – the options are endless.
For your information, there's also a help file in PDF, easing the whole process even further.
Price: $12
MORE INFO / DOWNLOAD
10. Matte beer can mockup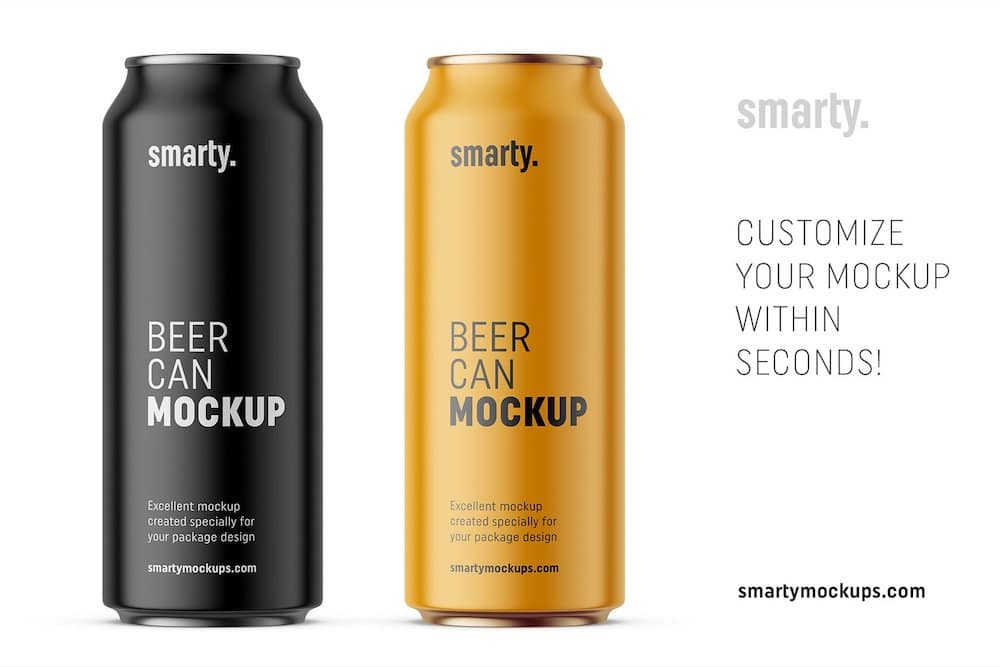 Create your project without breaking a single drop of sweat (but you may get thirsty) by utilizing this minimal and impactful beer can PSD mockup.
What makes it unique compared to the rest is the matte effect, which is becoming quite popular nowadays.
Moreover, the PSD file is fully layered to navigate different sections you would like to modify quickly.
Also, with Photoshop's smart object layer, you just drag and drop your design and see it appear on the can.
How easy and quick was that?
Price: $9
MORE INFO / DOWNLOAD
11. 16oz clean beer can PSD mockup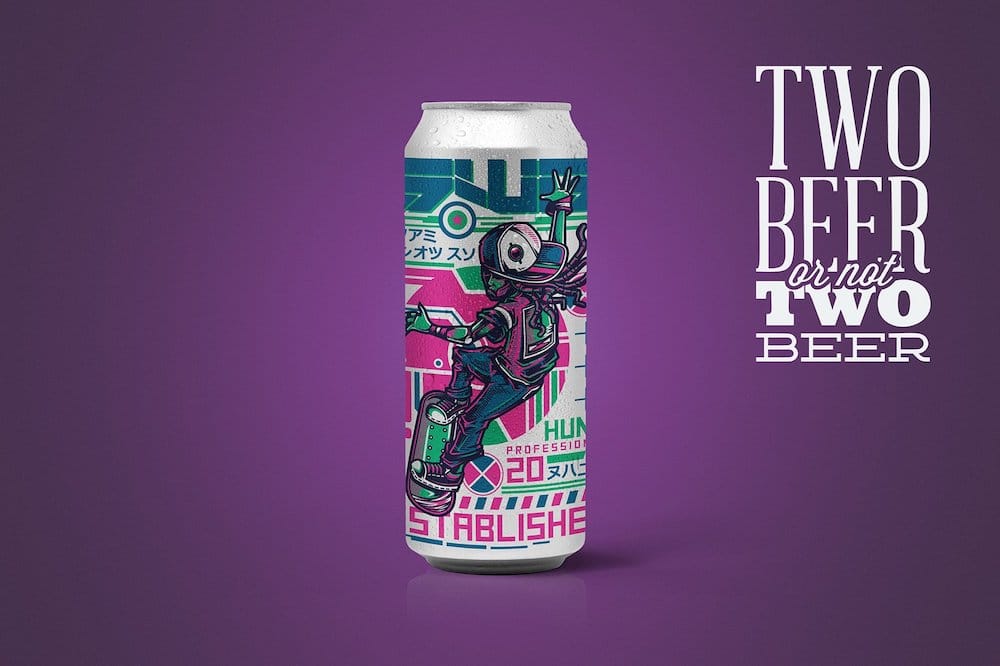 An exclusive 16oz (473ml) beer can mockup that you can now style and edit according to your or your client's branding regulations.
With the amazing quality (6000 x 400px), you know the outcome will be truly something.
There are also eight final effects and a 100% adjustable background for you to make it your way precisely.
Moreover, the mockup also features a droplet effect, PDF tutorial and fully organized layers that simplify the work procedure.
If you want to keep it minimal yet engaging, this beer can mockup is probably it.
Price: $9
MORE INFO / DOWNLOAD
12. 500ml can mockup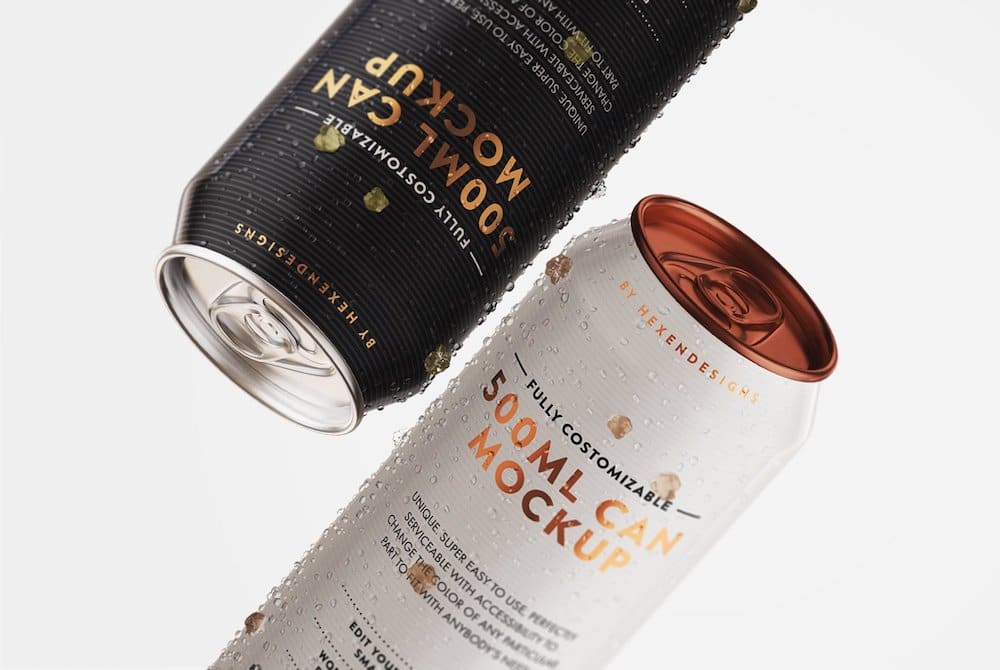 Three gorgeous scenes of a 500ml beer can with a highly photorealistic effect. All the files come at a great quality, so you can create amazing results in little to no time.
Even if these require Adobe Photoshop, you don't need to be an expert designer to make them work in your advantage.
Everything is pretty self-explanatory and you even get a help file, which will guide you through the process.
Metallic-effect, editable background, lid, droplets and background, smart objects, you name it, this is the PSD kit that covers it.
But first, see the previews and go from there.
Price: $15
MORE INFO / DOWNLOAD
13. Drink can mockups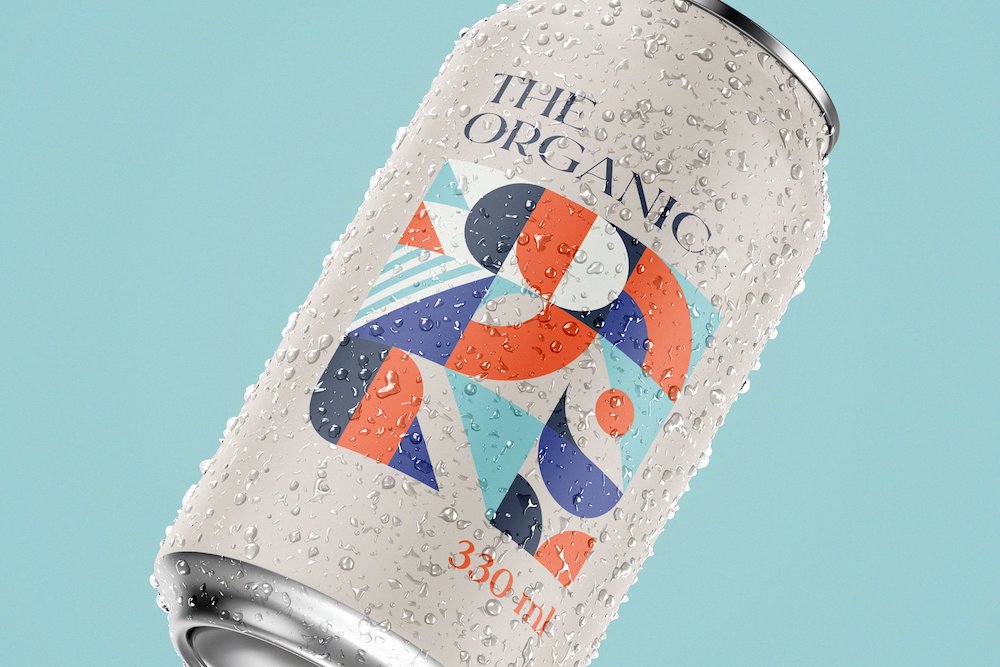 This versatile and easy-to-use can mockup can work for numerous objectives aka beverages. Of course, in today's case, we will focus on the tasty beer.
Whether a micro or a massive brewery, anyone and everyone can utilize this set of three PSD mockups.
Three angles, three can surfaces, smart objects, high quality, you name it, you can now start working on designing a brandable can comfortably.
Even if you focus on prototyping, this bundle of goodies will also do you well. Create a presentation that will impress.
Price: $14
MORE INFO / DOWNLOAD
14. Soda can/beer can mockup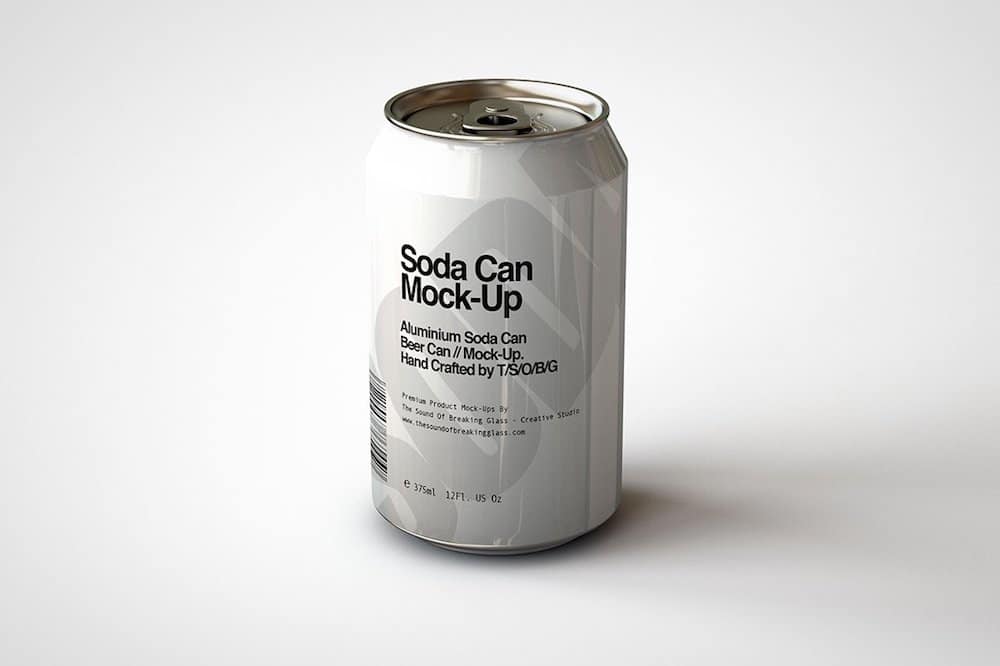 Soda or beer can mockup; you can use these six high-resolution PSD files easily for both. What's cool is you are welcome to preview them all before you fully commit.
You can pretty much configure everything, making the outcome exactly how you want it to be.
Note: The can fits 12oz (375ml or 355ml).
You can adjust shadows, edit rim, style ring pull and modify the background. What's more, you can create a full label wrap or even create a print on metal look, both options are very attainable without any serious work.
Price: $19
MORE INFO / DOWNLOAD
15. Crowler beer can PSD template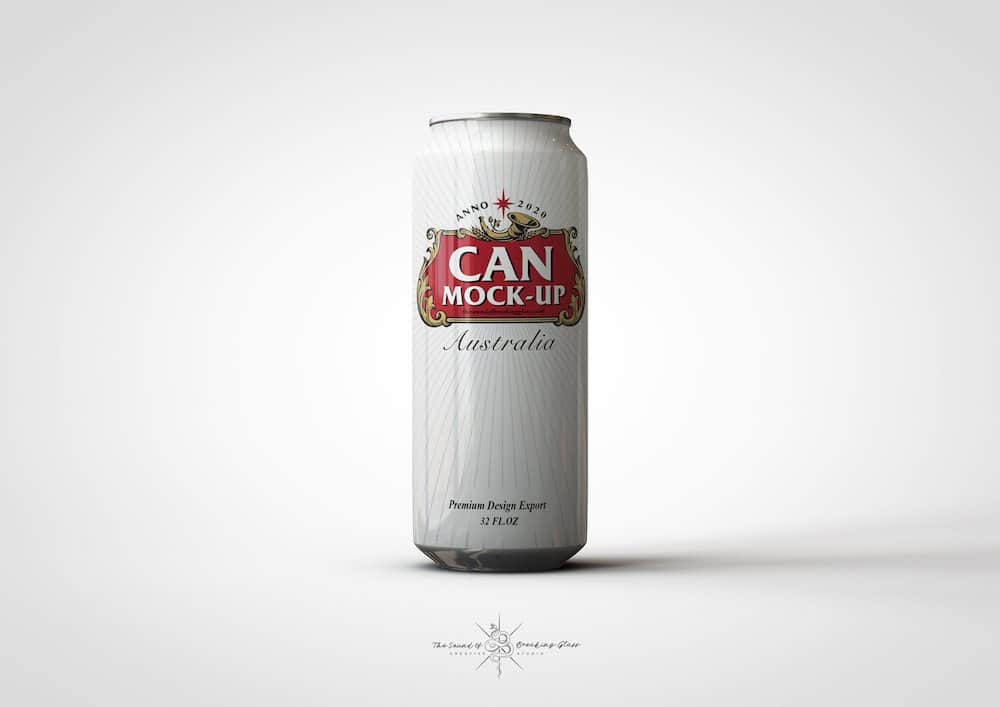 A special crawler beer can mockup that fits 16oz (450ml) or 32oz (950ml) cans.
If this is the type of a can you are branding, grab this collection of six outstandingly realistic mockups and quickly prepare a presentation.
All the PSD files are completely editable and customizable for your convenience.
With that in mind, you can keep things clean and minimal or go as creative as you want – the choice is yours.
It shows that the mockups you get will handle all your ideas without a hitch.
Price: $19
MORE INFO / DOWNLOAD
16. Beer can in hand mockup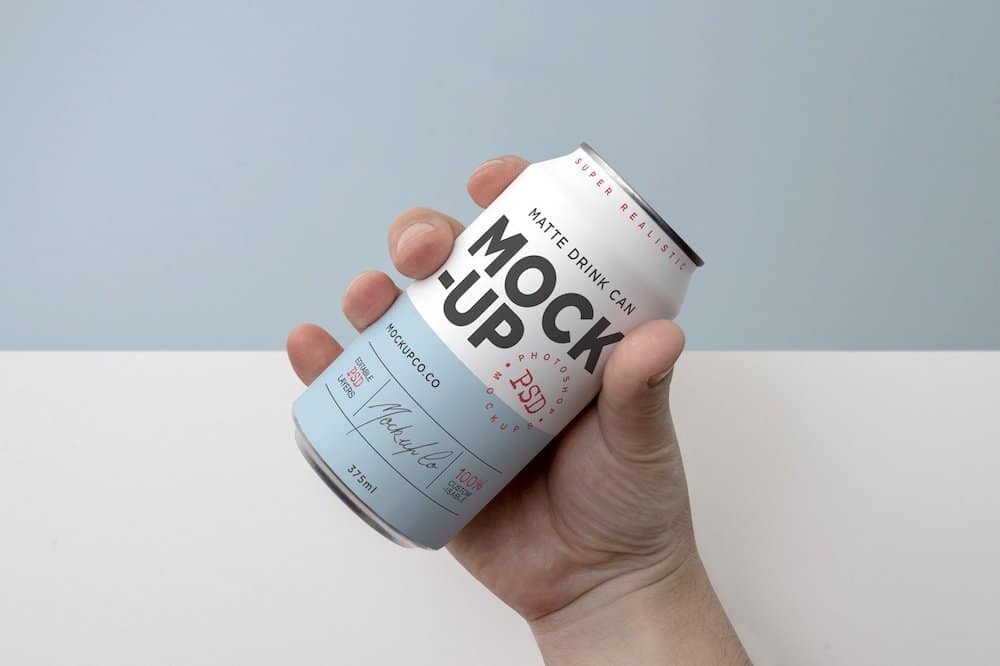 With a massive collection of eleven beer can mockups, this set truly delivers an extraordinary experience.
What's also important to note is that each PSD file is of 6000 x 4000px dimension and comes with well-organized layers.
To achieve a realistic and professional can presentation with custom branding – this is the kit of PSD templates that will do the trick.
With the one particular file that features a beer can in hand, you can make things look like an actual product, even if it is not.
Also, the finish on the can has a matte effect, which makes it appear even more exclusive.
Price: $18
MORE INFO / DOWNLOAD
How To Create A Beer Can Mockup In 4 Steps
Here's my quickest tutorial on quickly creating the best beer can presentation without Photoshop or experience.
How?
Yup, with an online mockup generator!
You don't need software, just an internet connection and access to the all-around creative platform, Placeit.
Step 1: Visit Placeit
Even though Placeit has a lot of tags that let you pick the ideal type of mockup you want easily, there's nothing for a beer can.
BUT!
Type "beer can" in the search bar, and you'll get a bunch of high-quality hits to create the life-like presentation you're after.
Or you can also search for "can mockups" to get even more results.
Step 2: Insert your design/logo
After you find the suitable template, you're ready to upload the design or logo you'd like to add to the beer can.
It's effortless, and you can even use your mobile device to make it happen – which is my favorite thing about Placeit!
And if you already worked with Placeit and have designs in your profile, you can access those, too.
Step 3: Customize the beer can mockup template
Now, when you already see your design on the can, it's time to customize it.
You can alter the coloring and the background, even include extra text and graphics.
All it takes is a few clicks to have the finished version ready to impress everyone.
Step 4: Download
That's it; all you need to do next is download your creation, and voila, your custom beer can mockup is available.
How simple and quick was that, right?
::
Note: This article was originally published on February 17, 2021. But our team regularly reviews it and updates it with necessary improvements for accuracy.