I worked with multiple clients using free and premium fleece blanket mockups, but something finally hit me: I need to share my best-of with you!
Since these are all thoroughly tested, you know they work. (I'll return to using them some more in the future.)
I included something for everyone with a collection of 16.
Here's a catch:
You can opt for either an online mockup generator or a PSD file!
You don't need Photoshop to make a mockup for the former.
This post covers:
But you do need (ONLY!) the basics to quickly improve layered PSD files. (Smart objects FTW.)
Designer or not, it doesn't matter – you WIN with a mockup, and that's what matters.
Best Fleece Blanket Mockup Generators
These are $7.95 per mockup but you can also go with Placeit's monthly ($14.95/month) or yearly ($89.69/year) subscription.
1. Mockup of a fleece blanket on a bed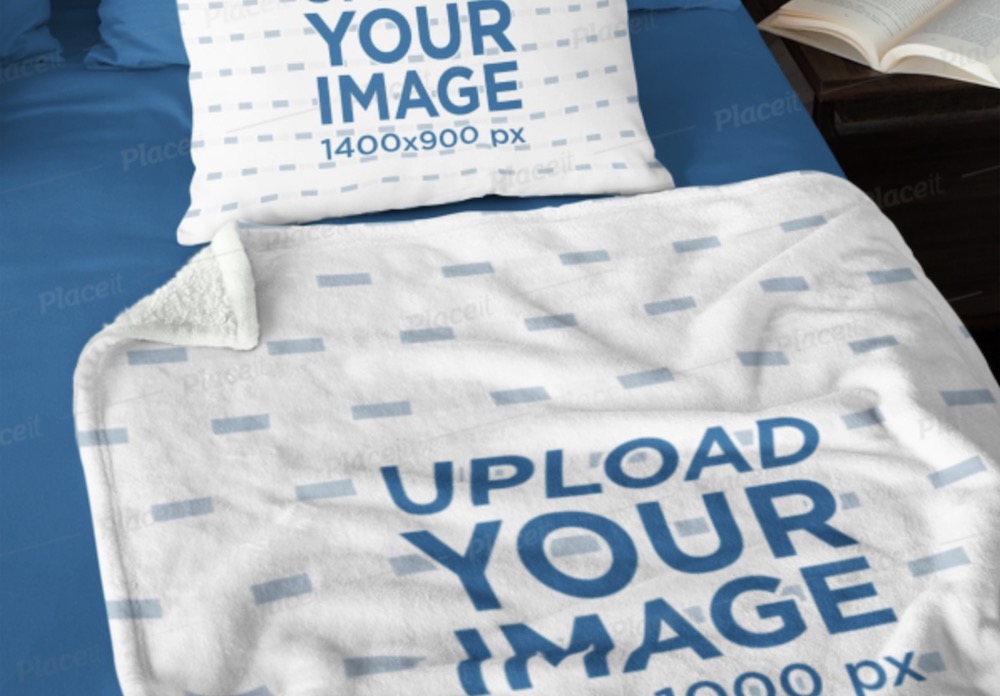 A highly realistic mockup of a blanket on a bed with amazing customization functions.
First and foremost, you can alter the color of the duvet, pillow (do you also need the best pillow mockups?) and blanket. Moreover, you can import any design you want to the fleece blanket and decorate it accordingly with a click.
All the work happens in a few clicks, so you can quickly create multiple variations before picking the winner.
You can add some additional text if you want, but that's optional. Make a presentation that will wow and amaze everyone now.
MORE INFO / DOWNLOAD
2. Mockup of a soft throw blanket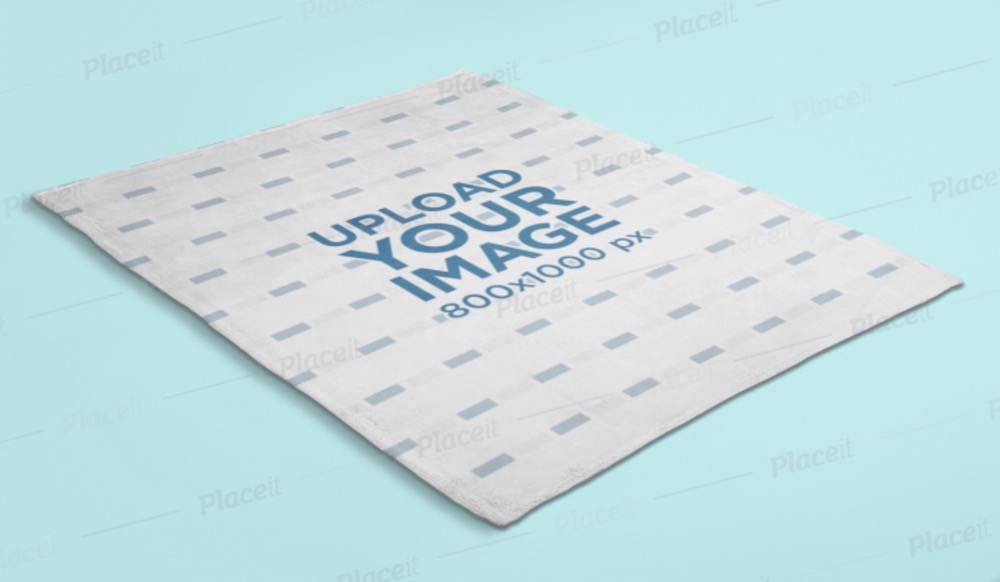 A simple and minimal throw blanket mockup that will create an impactful design showcase.
You can utilize this template for various intentions, even include it in your online store.
You can play around with the color picker, changing the background and the blanket in the snap of a finger.
Moreover, once on Placeit, you can upload any design or logo directly from your computer (or mobile device) and see it appear on the item.
Keep in mind, an additional crop and reposition window opens for you to configure the design to appear as it should.
MORE INFO / DOWNLOAD
3. Female model getting cozy with a fleece blanket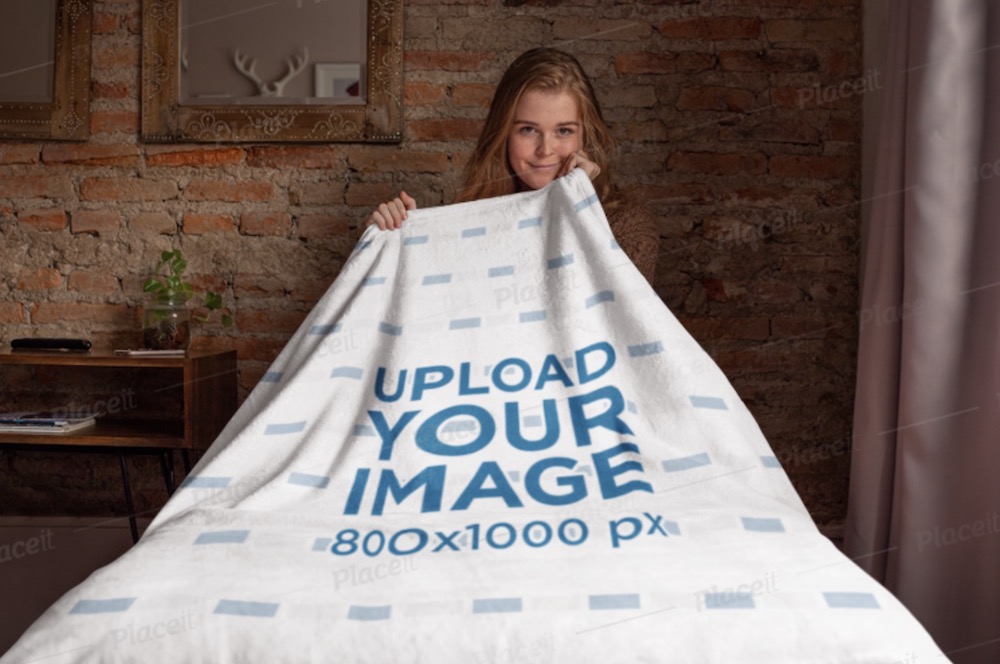 It is hard to go any more life-like with a fleece blanket mockup presentation than this. It features a woman enjoying herself under her favorite blanket, getting cozy.
With few quick tweaks, you can now make the blanket appear with your color option and design. The design's working area is 800 x 1000px, but you can also use a different dimension.
Whether you are a beginner or a professional designer, working with a Placeit mockup and configuring the settings is a piece of cake.
You'll see how effortless it is shortly.
MORE INFO / DOWNLOAD
4. Home decor mockup with a pillow and a blanket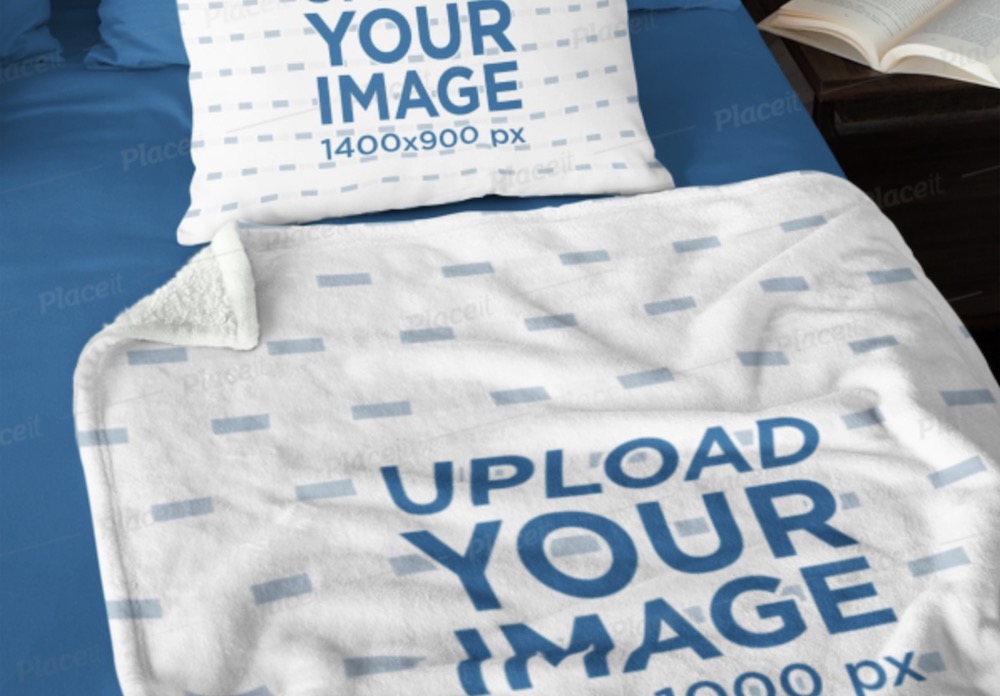 This particular mockup features a full-blown bed showcase for you to improve and beautify to your heart's content.
You can also style the pillow with just about any design you want and adjust the blanket. You can make them matching or go entirely against the grain; that's completely up to you.
Moreover, you can alter the duvet's color, (front and back) pillow and blanket. And to make it all even more amazing, you perform all the enhancements online, using your favorite web browser.
Get creative and make your version quickly.
MORE INFO / DOWNLOAD
5. Mockup of a happy little girl under a fleece blanket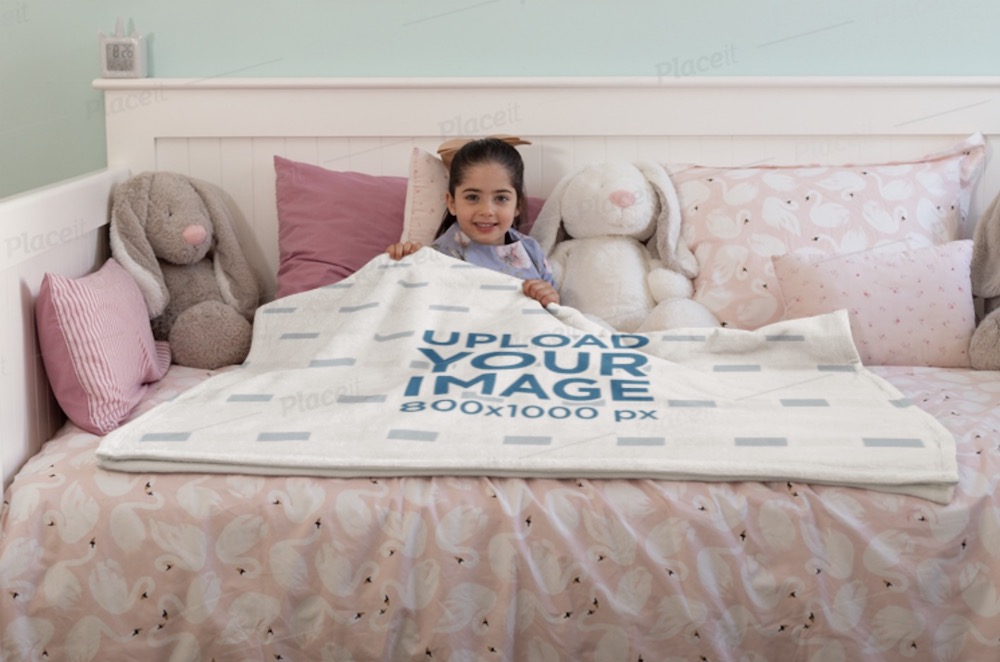 A cute, lovely and engaging fleece blanket mockup of a little girl, getting comfortable on her bed. You can also use this particular template as a baby blanket mockup and capture every parent's attention easily.
When it comes to modifications, you can alter the blanket only. You can change the color and slide in your design.
You know already that the final, highly photorealistic result is just around the corner.
Don't hold back and append some extra text (you have multiple font options), too.
MORE INFO / DOWNLOAD
6. Blanket mockup featuring three women at a picnic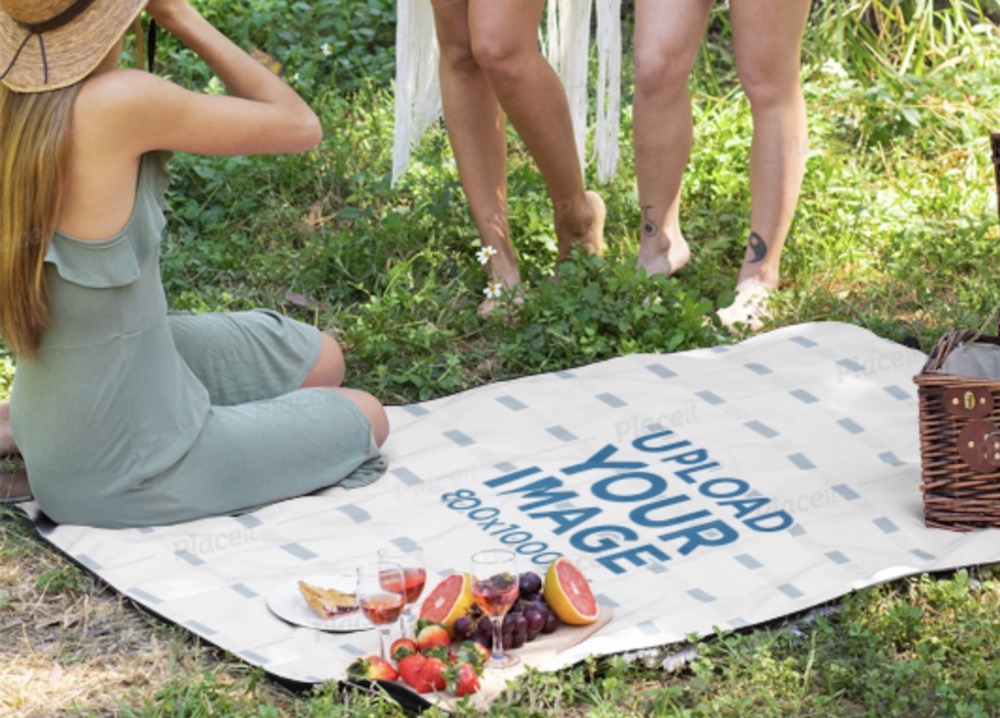 You can utilize this particular blanket mockup to grab the attention of everyone who enjoys spending time in nature.
Whether it's for a social post, in a newsletter, or blog, you can benefit greatly from the template.
Of course, feel free to send it to your client and impress them with your life-like presentation of your blanket design idea.
The mockup features three women enjoying a picnic on a warm and sunny day.
Everyone will think that you actually went out with your blanket and took actual photos – that's how realistic it is.
MORE INFO / DOWNLOAD
7. Duvet cover and fleece blanket mockup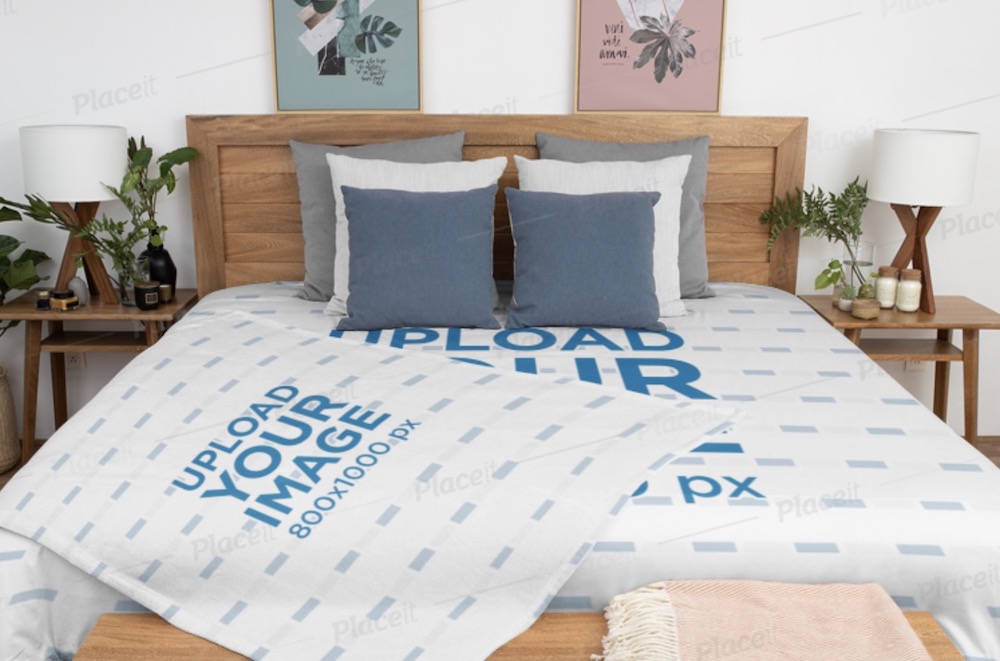 This mockup will do the trick if you want to create a photorealistic presentation of a duvet and a fleece blanket.
It is a little breeze to use, ensuring you quickly improve it with your design ideas.
You can change the shade of both the duvet and the blanket with the handy color picker. Moreover, you can individually insert artwork to both items, perform any last corrections, and you are ready to roll.
Whenever working with a mockup generator, you will realize there's no need to be a designer to make it happen.
MORE INFO / DOWNLOAD
8. Mockup of a rolled fleece blanket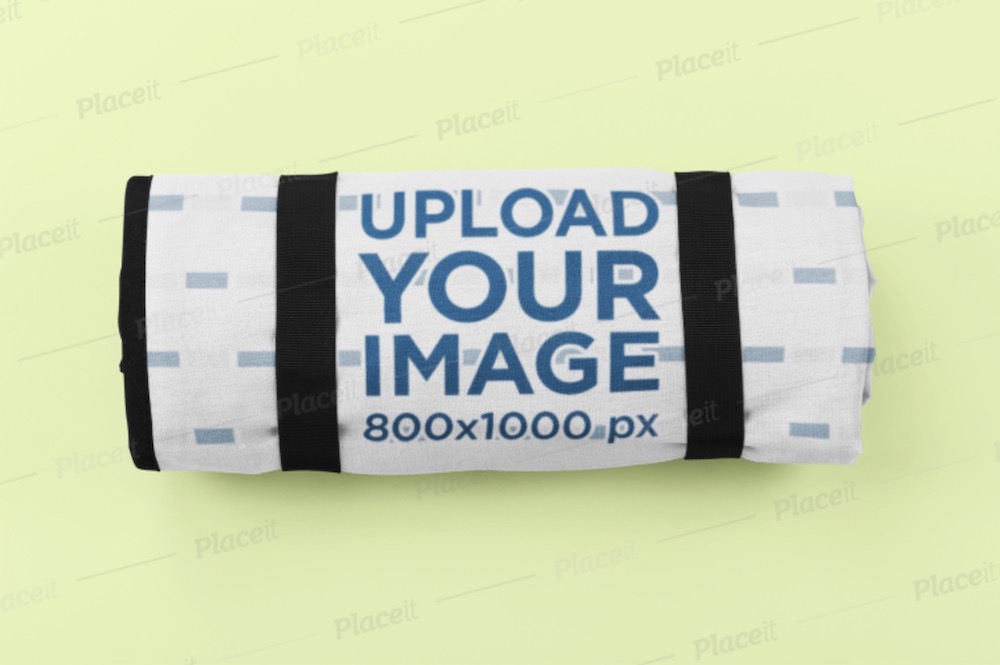 For all the adventurers out there, here is a rolled woven blanket mockup with a customizable background.
But really, this comes in handy for everyone, whether you go to the beach or have a picnic at the local park. It's you who will define the main objective.
As for the editing process, you don't really need much except the design.
What's cool is that you can get creative using your desktop or mobile device, as Placeit is highly compatible with both.
And to make it even better, you don't need to create a free account right away to test the waters.
MORE INFO / DOWNLOAD
9. Mockup of a soft fleece blanket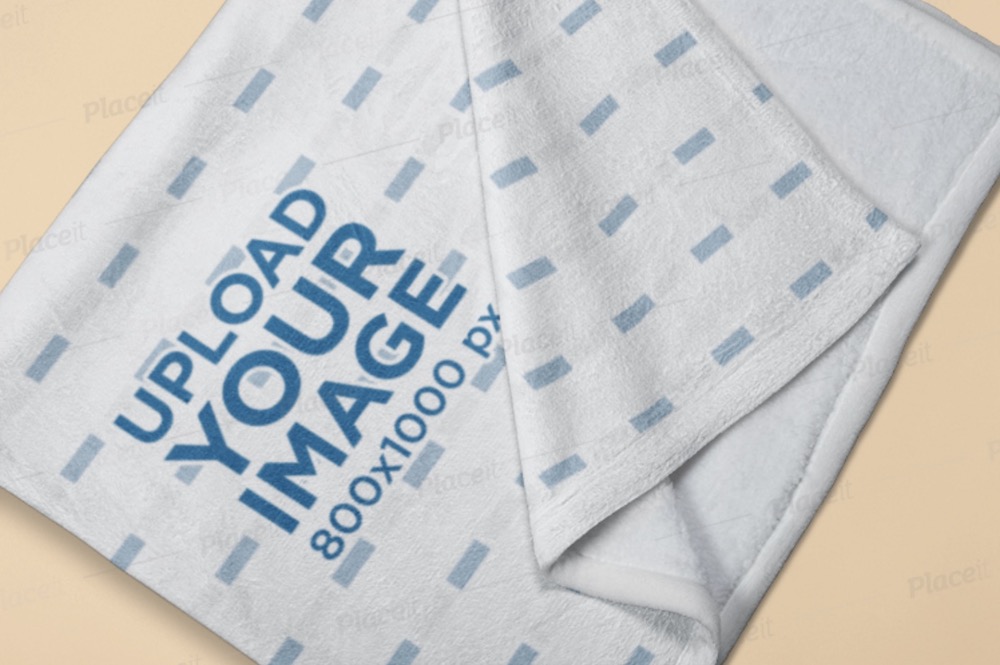 A bold, impactful yet minimalist fleece blanket mockup that creates a beautiful close-up showcase.
Put all the emphasis on the design and the color of the blanket.
You can also make it pop by customizing the background and improving it with the appropriate color.
The mockup allows you to generate as many versions of the final product as possible.
Study the design, improve it if necessary and go from there. A mockup is here to help you take things to the next level.
MORE INFO / DOWNLOAD
10. Mockup of a fleece blanket in a living room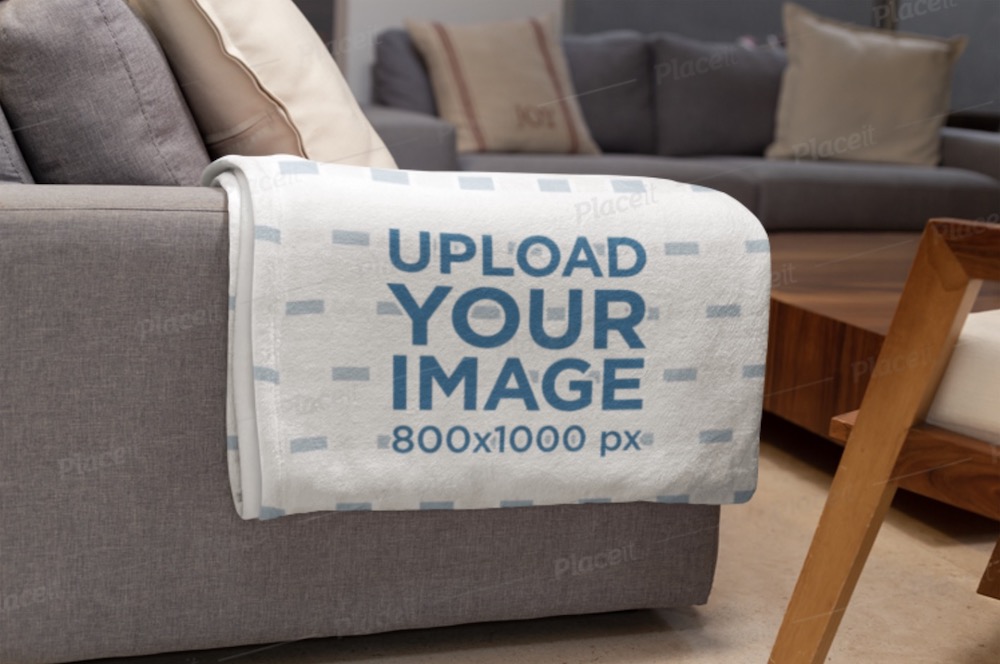 A cozy room, a comfortable sofa, a warm fleece blanket and a good movie – what else you need in life? Create a striking presentation of a blanket design with this neat living room template.
Since the blanket is the only editable object on the template, you know you will do the work swiftly.
Pick any color you want, insert your image, crop and reposition it and that's it.
Even if you decide to add some text, the whole process of creating an enviable mockup won't take you much longer.
MORE INFO / DOWNLOAD
11. Fleece blanket mockup of a girl with her plushie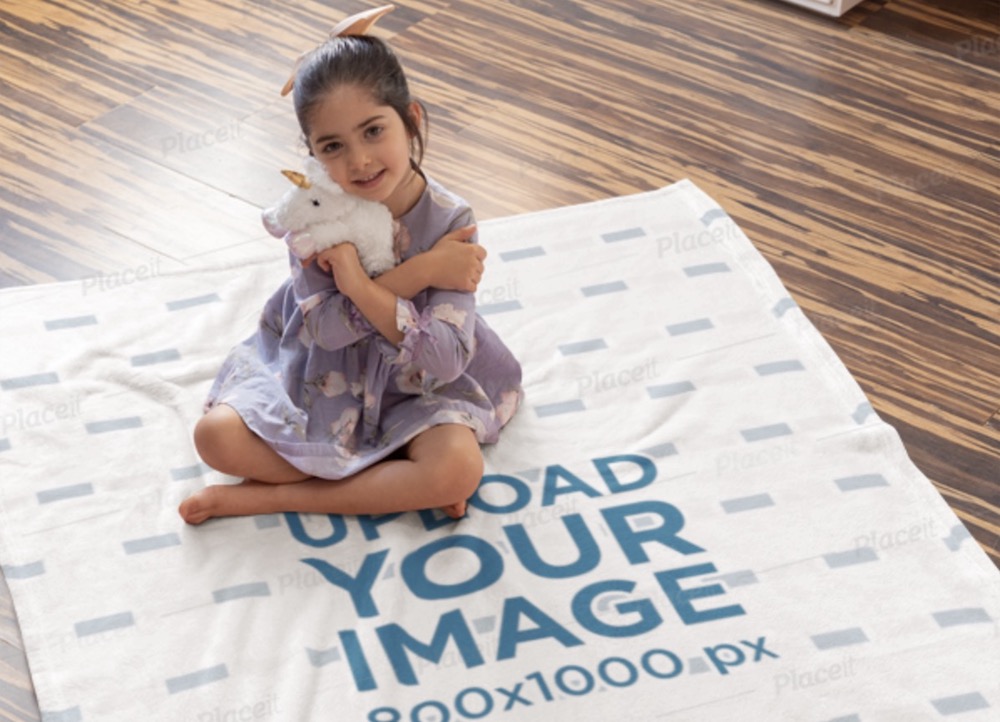 You remember this cute little model from the mockup above. Here is another excellent fleece blanket mockup with her, hugging her favorite plushie.
The realistic exhibition you will create will capture everyone's curiosity without a shadow of a doubt. You can make it your way with a custom blanket design speedily.
Head over to Placeit, inset your image, change the color, and you are ready to astonish everyone.
However, I advise you to create a free account first, as it will help smoothen your workflow even further.
MORE INFO / DOWNLOAD
Best Free Fleece Blanket Mockups
12. Mockup of a folded fleece blanket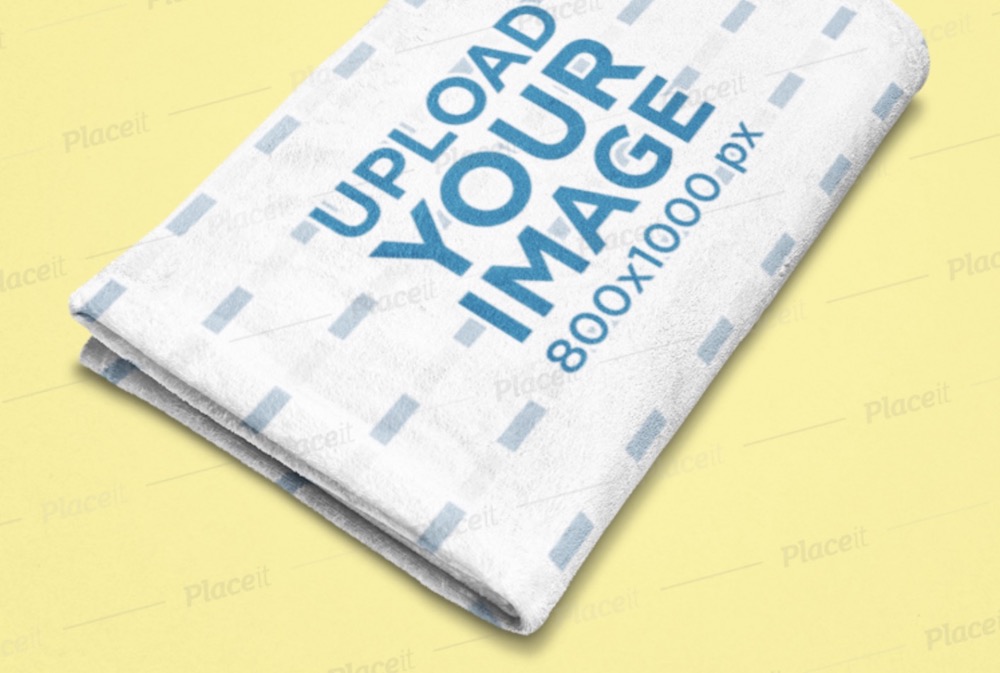 If you like a super quick solution, these free alternatives will surely do the trick.
This one keeps things on the minimal side, offering you to create a folded fleece blanket presentation without paying a fee.
You still get the editing functions to tailor the template to your branding regulations.
The background and the blanket are editable with custom color options. For your information, you can even make the former transparent.
Import your design or logo and that's pretty much all the necessary work.
MORE INFO / DOWNLOAD
13. Mockup of a folded blanket on an editable background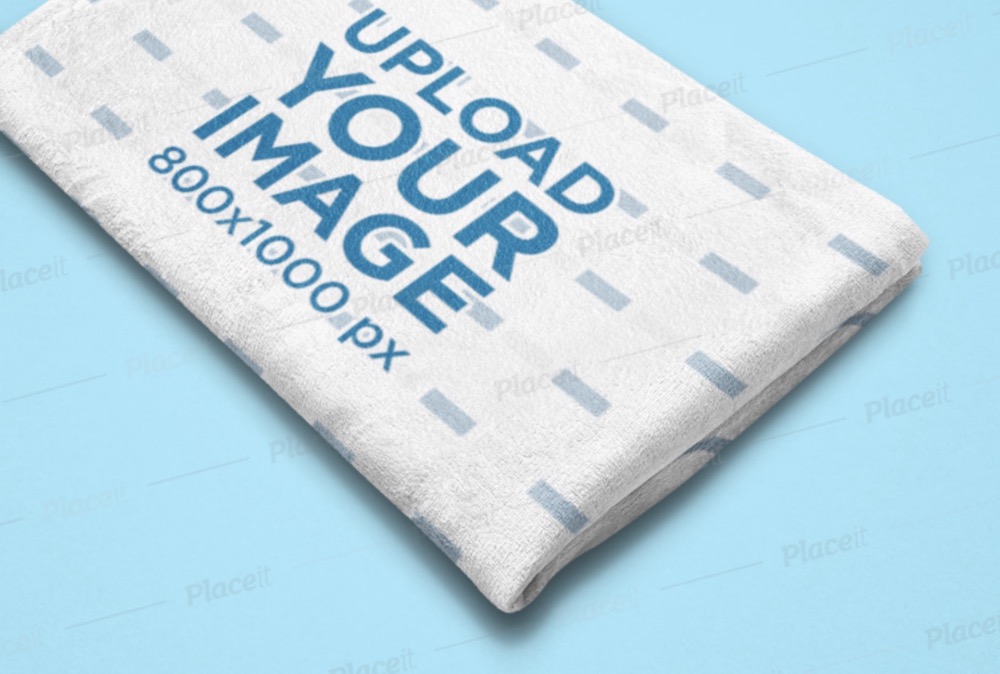 A similar free fleece blanket mockup to the one above, just that this one comes at a different angle.
The customizations are identical for you to make improvements swiftly and have the final format ready to go shortly.
There's no need for any design skills and photo editing software – this is a Placeit mockup, so you know it will be easy work.
You can proceed immediately and have it all set and ready to impress in no time at all.
MORE INFO / DOWNLOAD
Best Fleece Blanket PSD Mockups
Here are a few excellent alternatives to use for everyone who prefers working with PSD mockups and Photoshop.
14. Realistic fleece blanket mockup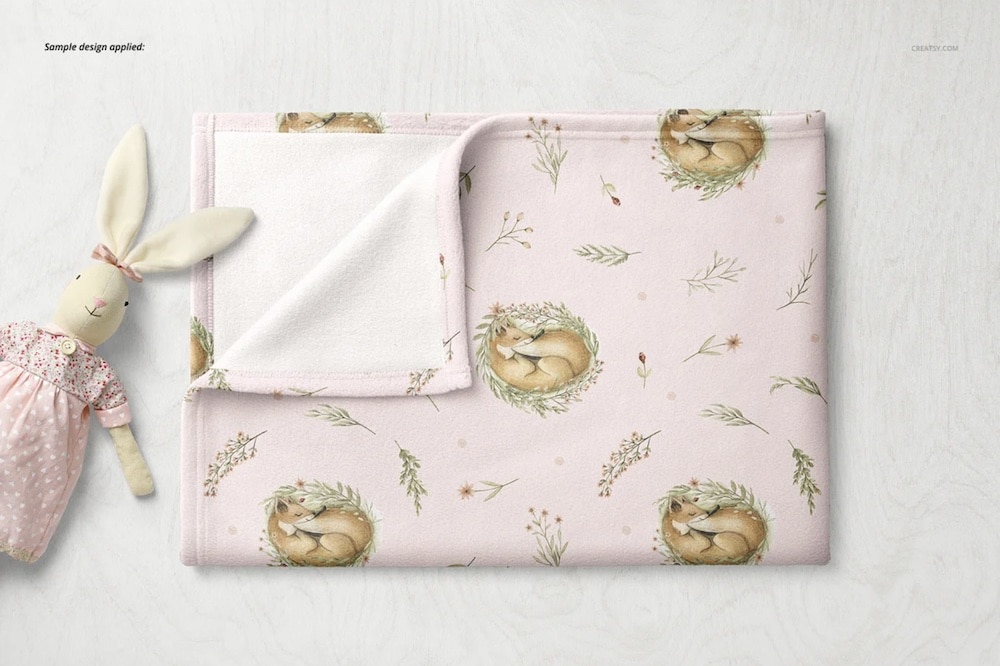 In this collection, you get eleven views, all entirely editable and adjustable for your convenience.
You can configure the color, choose a gradient, add your design via smart objects and you can already call it a day.
Moreover, the blanket is 100cm x 72cm in dimension and each template has an epic 6000 x 4000px resolution.
Price: $22
MORE INFO / DOWNLOAD
15. Sherpa blanket mockup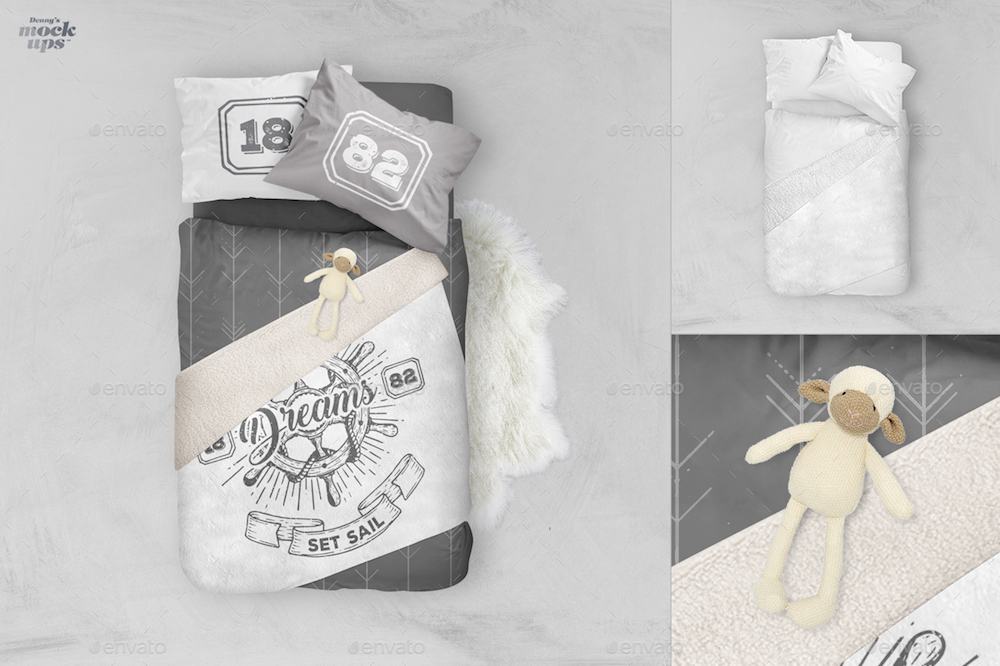 In this bundle of fantastic sherpa blanket mockups, you get three different PSD files. They feature a blanket on the floor, on the need and on the armchair.
You can immediately create a stunning presentation that will help promote your design ideas over and beyond.
With great customization options, you are welcome to style and improve the default configurations to your liking.
Even if you have only basic Photoshop knowledge, you can still create a real masterpiece easily.
Price: $15
MORE INFO / DOWNLOAD
16. Blanket and pillow mockup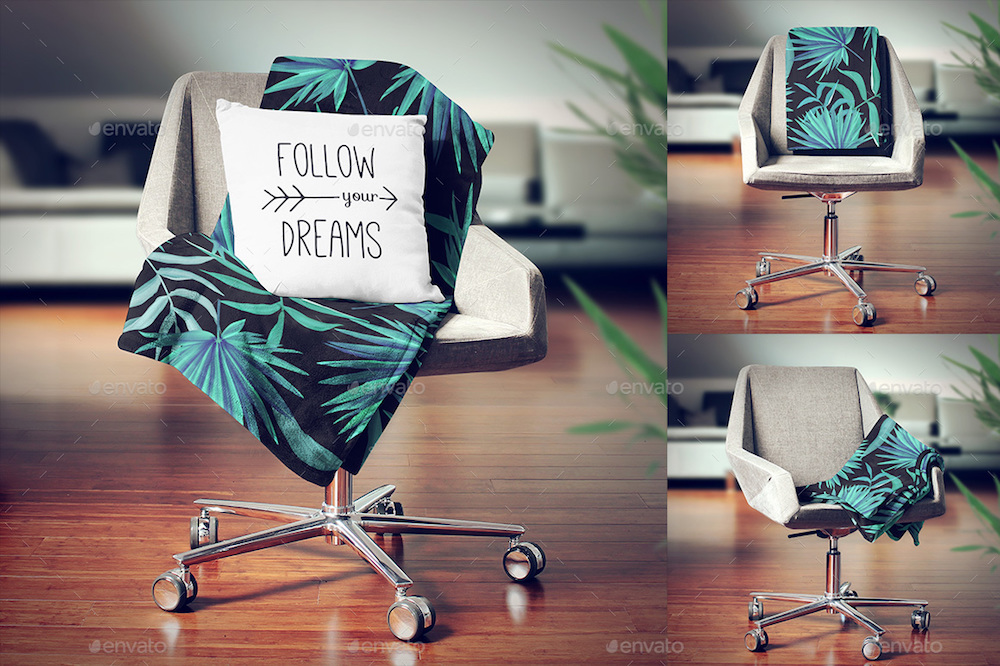 If you are down for something exclusive, then this blanket and pillow mockup set on an armchair will do you well. You get a collection of eleven different PSD files, coming at 2500 x 2500px (72dpi).
You can preview them all first and go from there. All your designs will appear crystal clear due to the amazing quality, no matter how detailed they may be.
Thanks to the fantastic organization and smart object layers, working with these PSD mockups will be straightforward.
However, you also get a user manual, which simplifies things further.
Price: $15
MORE INFO / DOWNLOAD
How To Easily Create A Fleece Blanket Mockup
Okay, because keeping it simple is my motto, I wanted to share with you the quickest and simplest tutorial on creating a realistic fleece blanket presentation with a mockup.
All it takes are four easy steps:
(Actually, three and no Photoshop!)
Go To Placeit: Visit Placeit and type in the search bar "blanket mockup" (or you can click the link to save time). You'll get a lot of great templates for your projects. I particularly like the ones with a model.
Import Your Design: Once you pick the mockup you like, click the "insert image" to import your design or logo. You can then crop and reposition it and see it appear on the template with a click of a button.
Customize It: Now is your chance to get creative and customize the mockup with your unique twist. Add texts and graphics, change colors, whatever.
Download It: And that's pretty much it. Hit "download," and you're ready to rock and roll.
We can't really call that work, right? Enjoy and get as creative as you want with your mockups.
::
Note: This article was originally published on March 11, 2021. But our team regularly reviews it and updates it with necessary improvements for accuracy.