Are you looking for the best free and premium pillow mockups?
Then my review of the ULTIMATE solutions for creating realistic presentations will come in perfect!
These are the fifteen best cushion mockups I tested on clients' projects and received feedback from real audiences.
You're in for quick work whether you go with a premium mockup generator or a free layered PSD template.
This post covers:
What's important: BOTH guarantee an excellent outcome (especially the ones that feature models).
A cozy pillow is waiting for your custom designs.
Let's go!
Best Pillow Mockup Generators
Get a pillow generator for only $7.95.
However, I highly recommend either Placeit's monthly ($14.95/month) or yearly ($89.69/year) subscription (save money & time).
It's so easy to make a mockup without Photoshop these days!
1. Girl waking up with a pillow mockup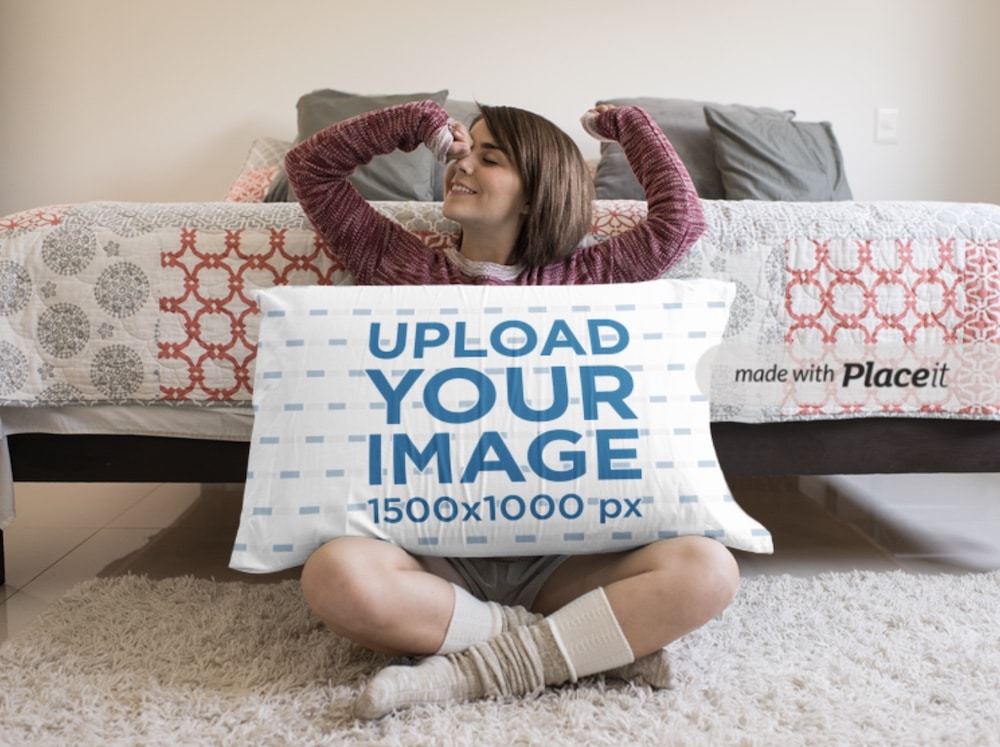 I've tried endless mockups to create the FINEST pillow design presentation but none came close to this one.
It's. Just. Cool.
And the editing process is effortless. I even used the "add graphic" function and it worked so well for one of my clients.
You can additionally change the pillow's color and add text. (But I wouldn't recommend adding text because the mockup works so well without it.)
MORE INFO / DOWNLOAD
2. Woman covering her face with a pillow mockup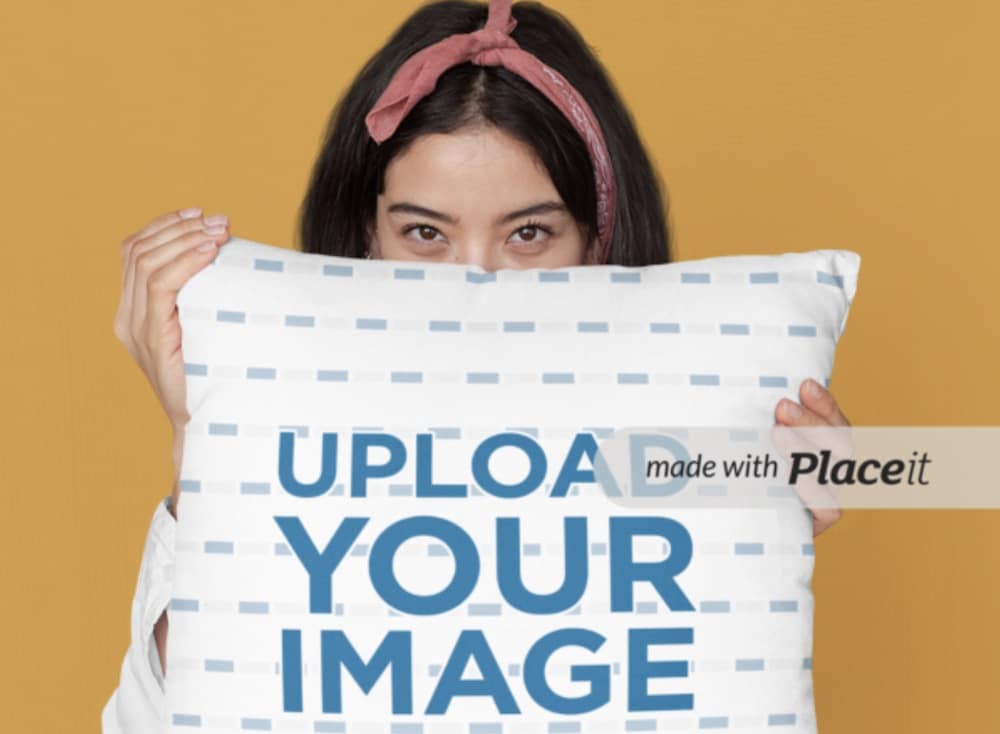 This is the second pillow mockup that I used the most and I knew beforehand why it'll work.
The eyes always work so well, especially on social media. And this generator is a perfect example of that.
It creates a somewhat mysterious feel, which triggers the attention nicely.
I really like that it gives the option to change the color of the background because my design just didn't work with the default color.
GET creative!
MORE INFO / DOWNLOAD
3. Sublimated pillow mockup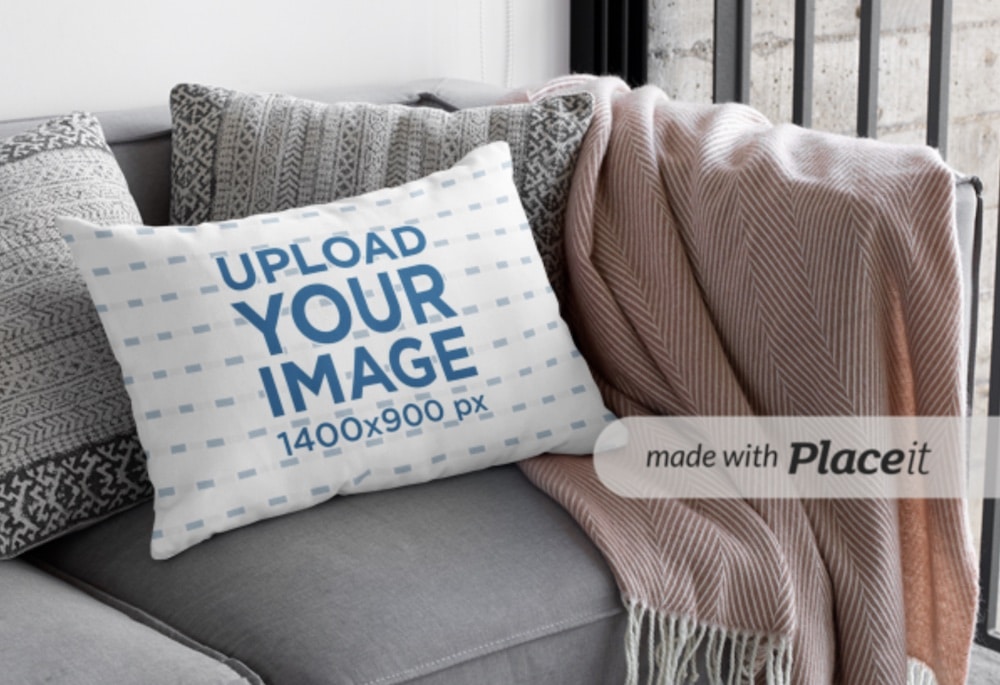 But if you don't feel like using a human element for the presentation of your custom sublimated cushion design, I can't recommend this template more.
It takes you seconds to create a realistic presentation, even multiple variations if you plan on testing different color-design combos.
For this one, I had a design that fit the 1400 x 900px working area, so I didn't do ANYTHING else. But you can, thanks to the easy and quick configuration functions.
MORE INFO / DOWNLOAD
4. Two pillows on a couch mockup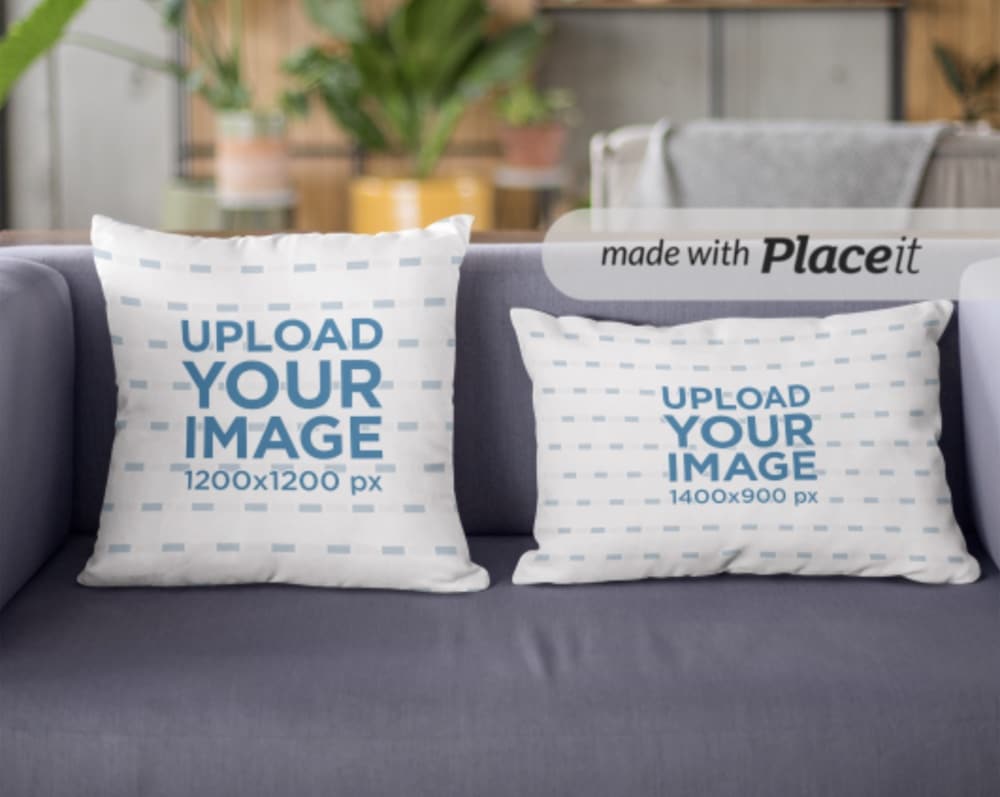 Spice things up with this cool two-in-one pillow mockup, featuring a square and rectangular cushion.
You edit each pillow with custom artwork and color choice, which gives you enough options to make the precise life-like demonstration you're after.
This one is great because you can compare them side by side if you cannot decide which shape to go with. Or you need both.
WHATEVER!
Just make it happen – in a few clicks. BOOM.
MORE INFO / DOWNLOAD
5. Pillow mockup of a couple in the bedroom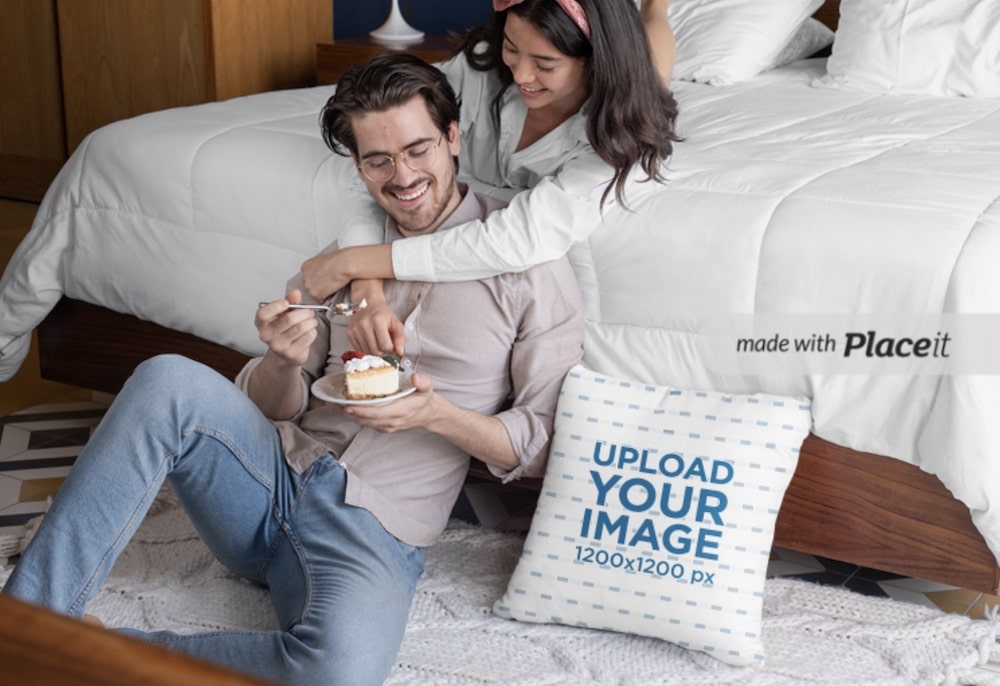 This one is cute. The cutest, if you will.
If you plan on creating a more romantic atmosphere or designing a pillow for Valentine's Day, boy did you come to the right place.
You're in total control of the square pillow, so design it however you want. You can also add texts and graphics, but that's optional.
However this is another mockup that I wouldn't recommend adding both, even better – don't use them at all.
The picture and your design are ENOUGH to turn heads!
MORE INFO / DOWNLOAD
6. Square pillow mockup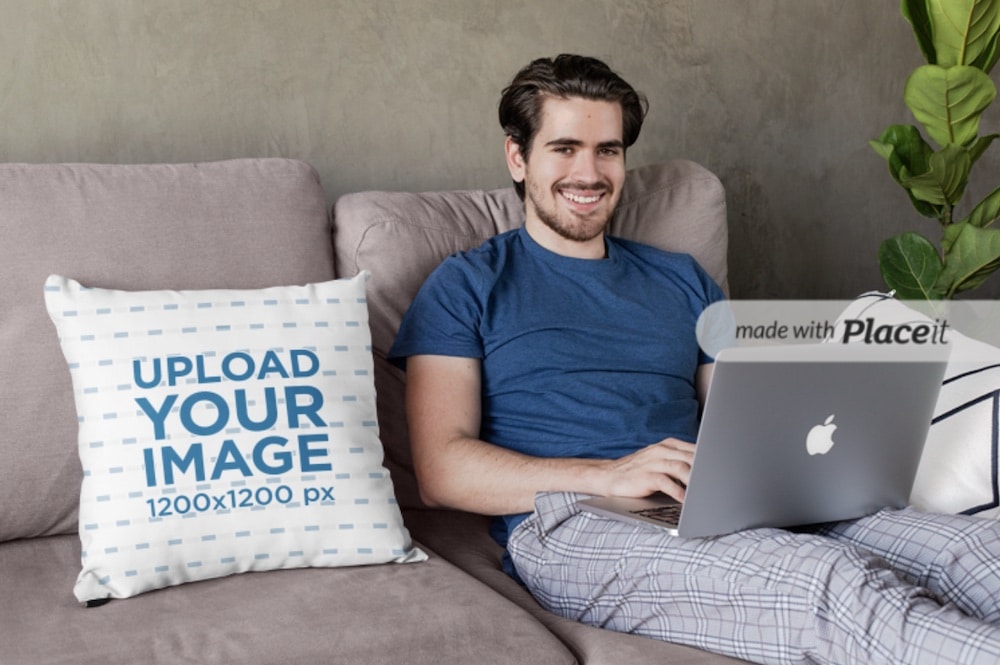 This is one of the coolest pillow mockups I could find, test and use for two of my clients. Work from home is getting more and more popular and this picture represents it nicely.
PLUS!
It's another one of the mockups that features a person "staring at you," which is statistically proven that works almost 40% better.
I highly suggest you test it (and you can even try adding your design before creating a free Placeit account).
MORE INFO / DOWNLOAD
7. Pillow template lying on a wooden chair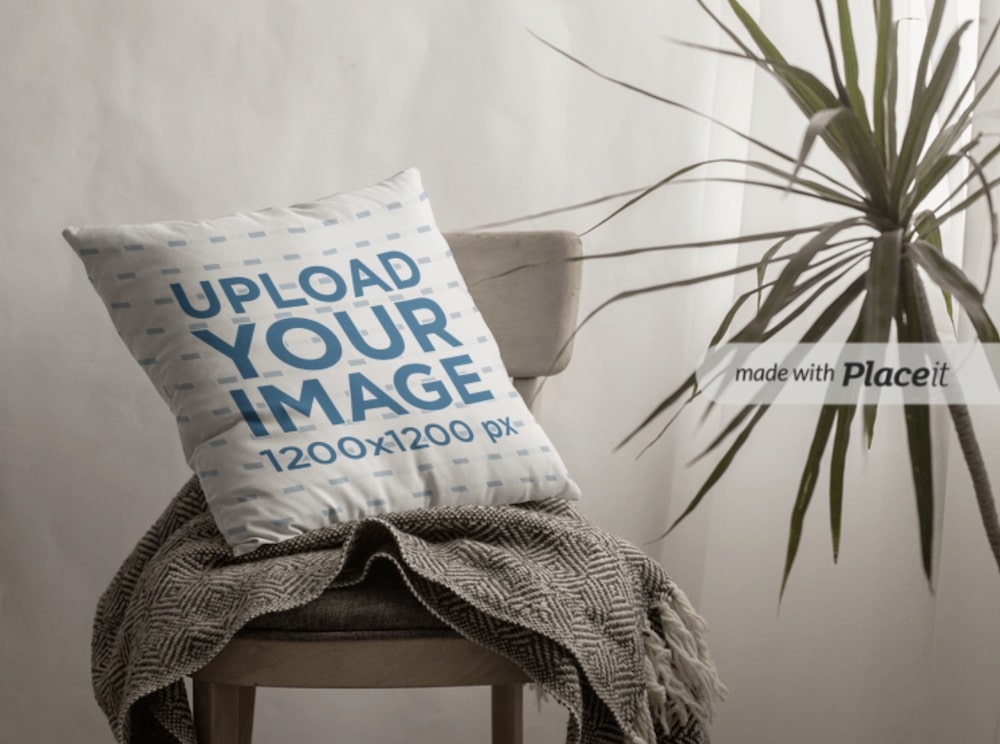 Simplicity and creativity mixed into one cushion mockup that you can now decorate however you want.
Use a generator instead of doing the hard work from scratch. It'll take you no time to create a pro-level outcome.
And you know the final product will be 100% realistic because this is a real photo with an editable pillow.
Test it. Try it. Improve it. Make it yours with EASE.
MORE INFO / DOWNLOAD
8. Two square pillows floating mockup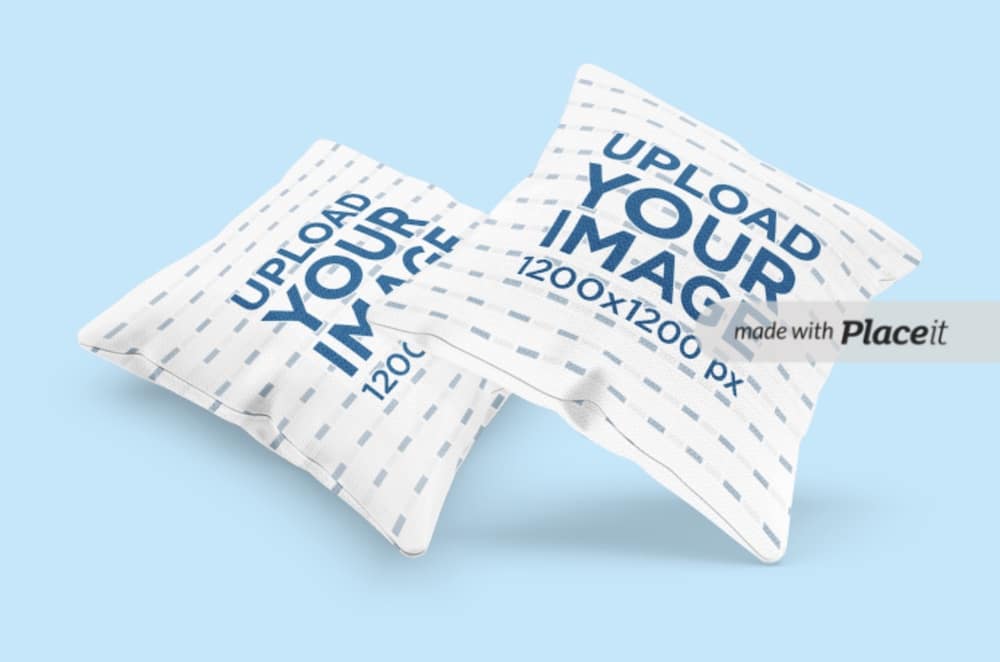 I used this one exclusively because I needed to create a pillow with different front and back designs. Plus, I always receive the best results with minimalist mockups of floating items.
Another cool feature is the ENDLESS collection of backgrounds that you can choose from on Placeit (or upload a custom one!).
Practice your creativity online, using your favorite browser. No software is necessary, which is way better than you think!
MORE INFO / DOWNLOAD
9. Pillow mockup of a woman chilling on a sofa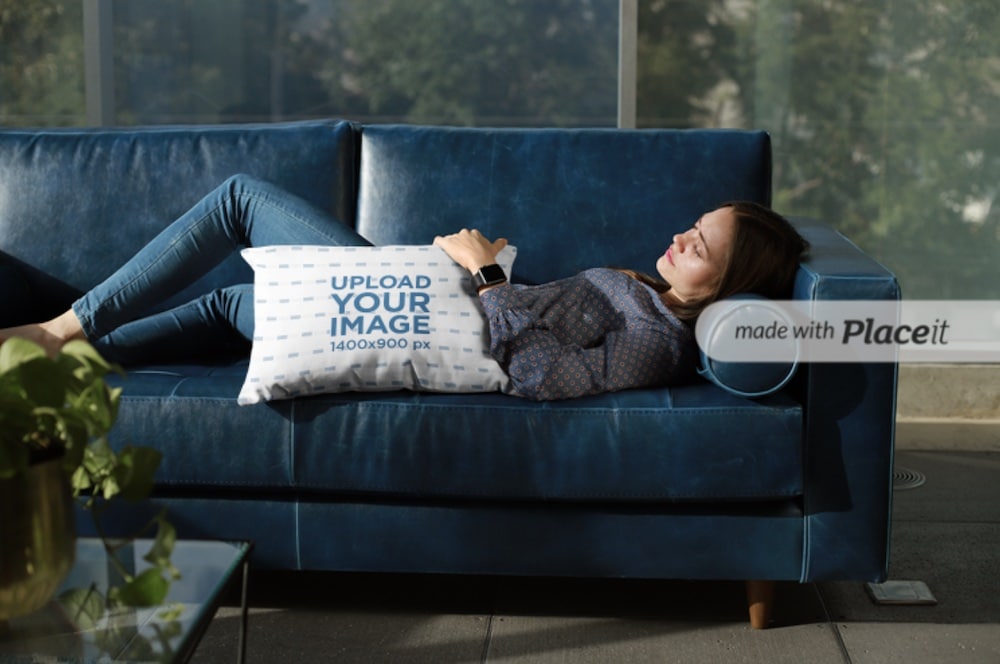 The coziness of this next pillow generator is 11/10. A perfect solution to add it to your social media campaigns, in newsletters, blog posts, heck, even online stores.
Easy working generates the ultimate outcome, ensuring the best quality.
The easy "add text" option really WORKED for me in this case, placed it in the bottom right corner.
You can also add graphics that you find in Placeit's gallery or upload your own.
MORE INFO / DOWNLOAD
Best Free Pillow PSD Mockups
10. Dakimakura body pillow mockup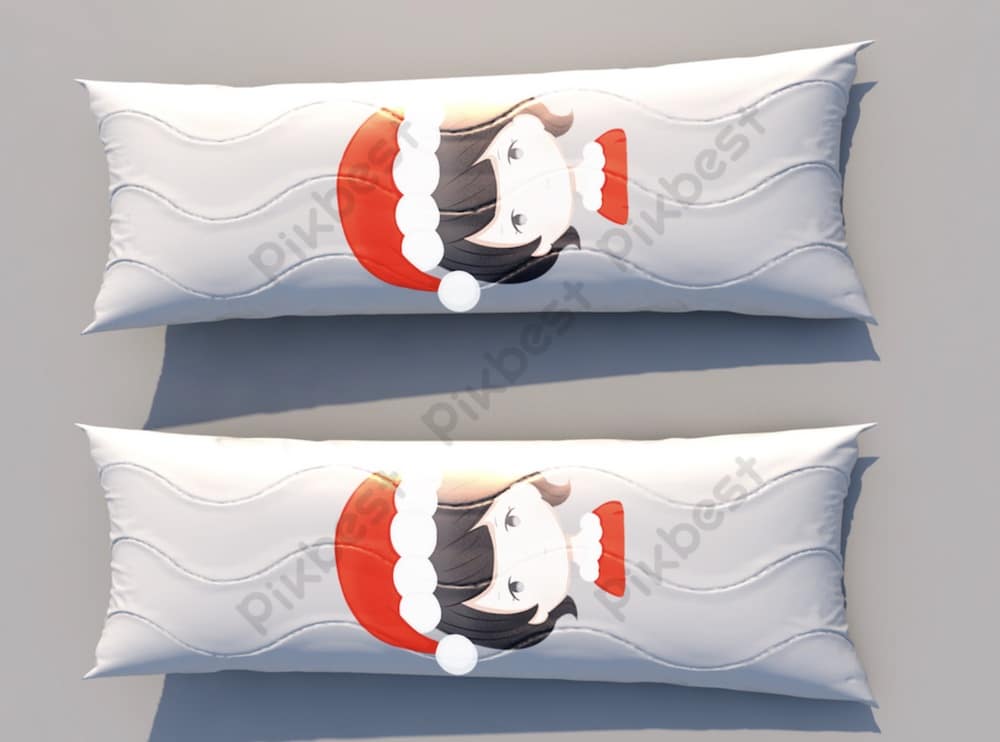 Let me tell you a secret: I wasn't aware of the existence of dakimakura until recently when a client asked me to create a design.
Body pillow mockup anyone? I used this one, and it costs nothing, plus, it's available for commercial and personal projects.
THE. BEST.
Easy work allows you to add two designs, back and front design or just emphasize one design twice – the choice is yours.
Make a dakimakura that no one has ever seen before!
MORE INFO / DOWNLOAD
11. Throw pillow mockup

I normally always check with Anthony Boyd's graphics to see if there's an appropriate mockup to use.
Luckily, there's one for the throw pillow that's extremely high quality (5000 x 3750px).
It's a layered PSD file that keeps you moving fast with the convenient smart object.
Slide in your design and that's it.
You can also perform any final improvements that take ONLY a few clicks to complete.
MORE INFO / DOWNLOAD
12. Free pillow cushion cover PSD mockup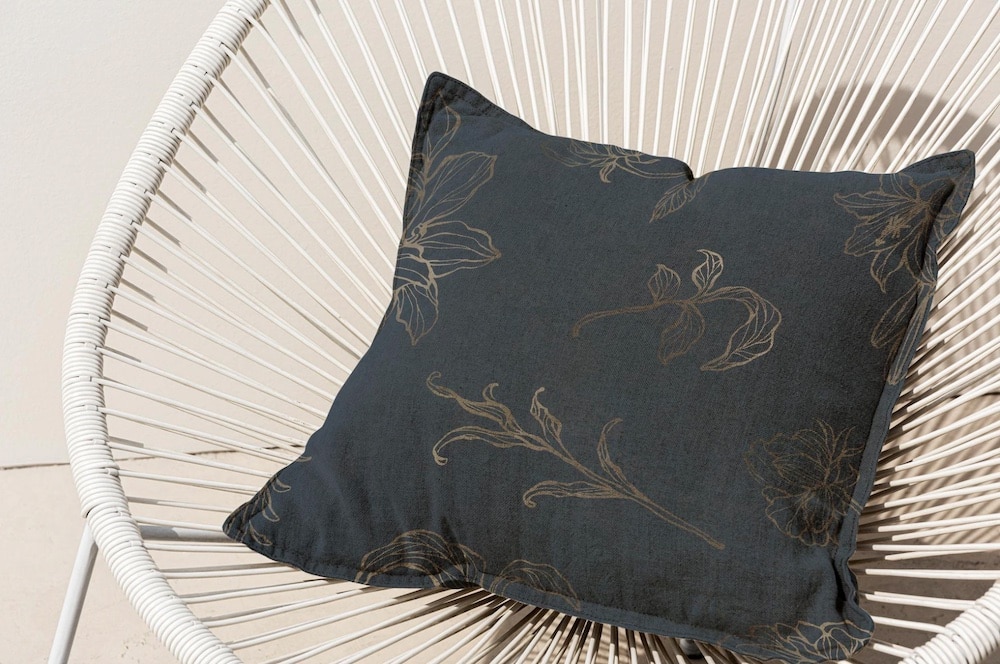 A beautiful close-up shot of a pillow turned into a mockup that you can now decorate with any custom design you want.
You'll save yourself a ton of time creating the final version because the major part of the work is already done for you.
And because it's free, that doesn't mean the outcome will be any lesser quality.
Not with these free pillow mockups! GO.
MORE INFO / DOWNLOAD
13. Square pillow mockup PSD free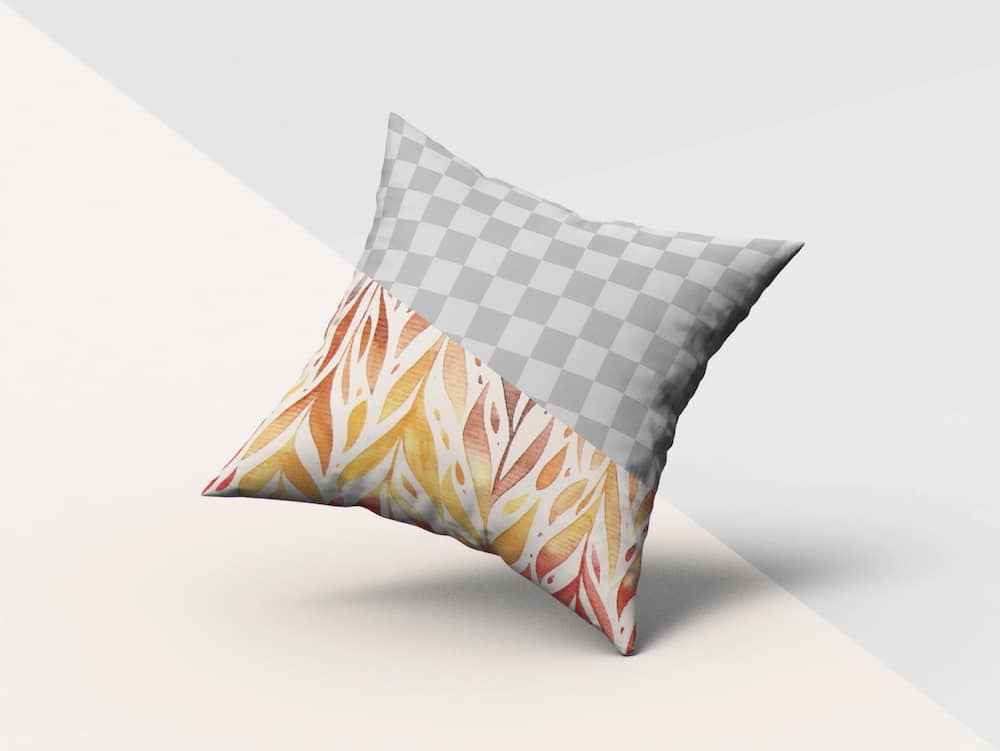 The endless options and solutions that the simplicity of this free cushion mockup brings are unbeatable.
You can make a split design like on the preview or you can make any version you want.
You're in TOTAL control, making the mockup that follows the branding directions or you'd just like to test some ideas you have.
My suggestion: Don't hold back and go as creative as your imagination allows you!
MORE INFO / DOWNLOAD
14. Cushion fabric design mockup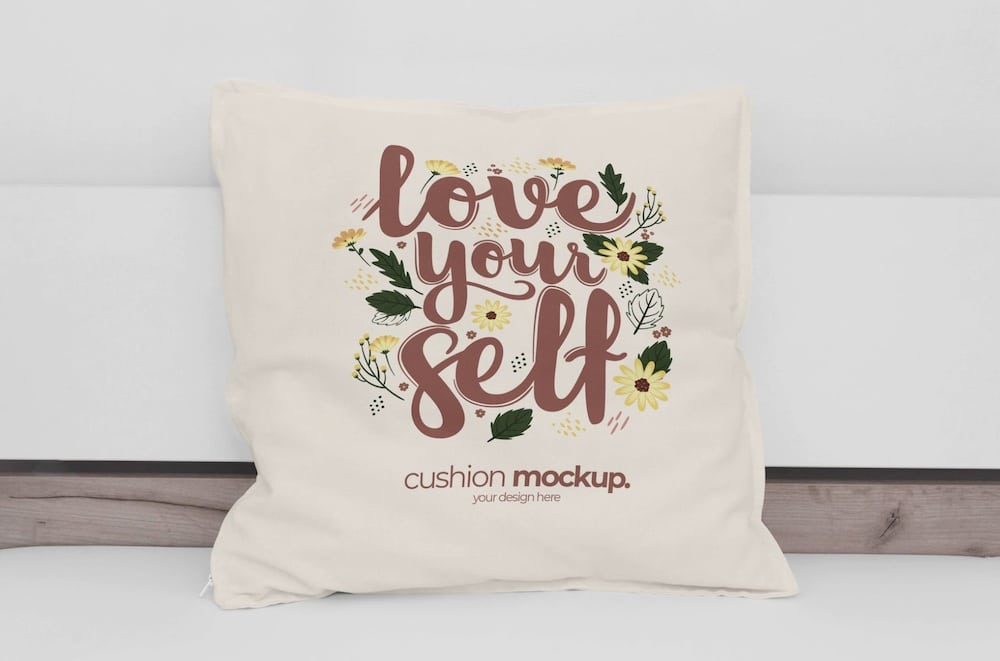 Another cool way of displaying a cushion design that appears in a more zoomed way.
I like the PSD template's high-res because it allowed me to beautifully display a pretty detailed design.
But I also tested it with a simple logo and both worked so ridiculously well.
Create a CUSTOM cushion fabric that's unique and stands out because that's exactly what you deserve.
MORE INFO / DOWNLOAD
15. Rectangular pillows set mockup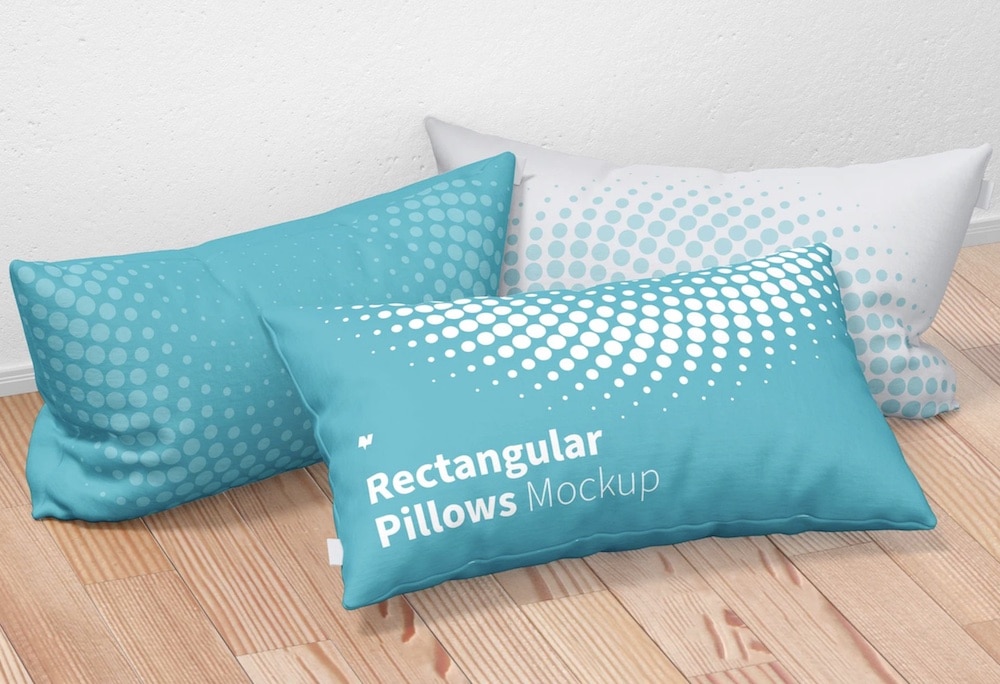 If you're in need of a smaller rectangular pillow mockup that features multiple cushions, here's the one that'll BOOST your workflow.
Three mockups, three designs, a wooden floor and a white wall – the end product will be highly life-like.
I let my father play with Photoshop and use this mockup and he quickly figured things out. Yes, you'll create great things even if you're a complete beginner.
MORE INFO / DOWNLOAD
How To Make A Pillow Mockup?
You can create a realistic presentation of a custom pillow design in a matter of a few clicks.
While you can do it easily with a PSD template, a mockup generator guarantees an even faster result.
And this is what this short, step-by-step tutorial will focus on.
Also, I'll show you how to do it with Placeit, my favorite online mockup generator platform.
5 Simple Steps To Create A Pillow Mockup:
Go to Placeit by hitting this link. You'll see 300+ templates you can sort by best-selling, newest, template type, and more. You can also choose from various tags for a more refined search. However, you can always access the convenient search bar with recommendations.
Once you're on the template page, I recommend "inserting the image" first by pressing the blue button on the left.
After your design uploads, you can change its size and position for the perfect fit and then click "crop."
Finally, you can change the pillow's colors, adjust the background where possible, modify other elements (if there are any editable ones) and attach some text and a graphic. My advice: Don't overdo it with the latter two.
When everything appears as it should, click "download" and save your pillow mockup.
I told you there would be only some clicking.
But a similar process applies when working with a PSD mockup.
Import it to Photoshop and drag-n-drop your design via the practical smart object layer.
Other layers are also easy to access because of the organized structure, so you can quickly perform additional customization tweaks if necessary.
You can create a pro-level presentation even if you are a complete beginner.
Note: You may also be interested in my collections of the:
::
Note: This article was originally published on June 22, 2022. But our team regularly reviews it and updates it with necessary improvements for accuracy.