We spent a lot of time testing and trying coffee cup mockups to create this list of 16 unbeatable templates.
By working on different coffee branding and websites locally and globally, we became real EXPERTS.
Not just in drinking coffee.
But in helping brands succeed with their online and offline promotion.
You can now COMFORTABLY PICK the right coffee cup mockup for your or your client's project.
We included something for everyone:
TABLE OF CONTENTS:
You have everything you need to make your coffee cup design SHINE.
Enjoy!
Note: You may also be interested in my collection of the best cup holder mockups.
Best Coffee Cup Mockup Generators
You can quickly and comfortably create a mockup without Photoshop nowadays.
Each mockup generator costs $7.95. But you can also go with a monthly ($14.95/mo) or yearly ($89.69/yr) subscription to save money.
1. College student T-Shirt & cup mockup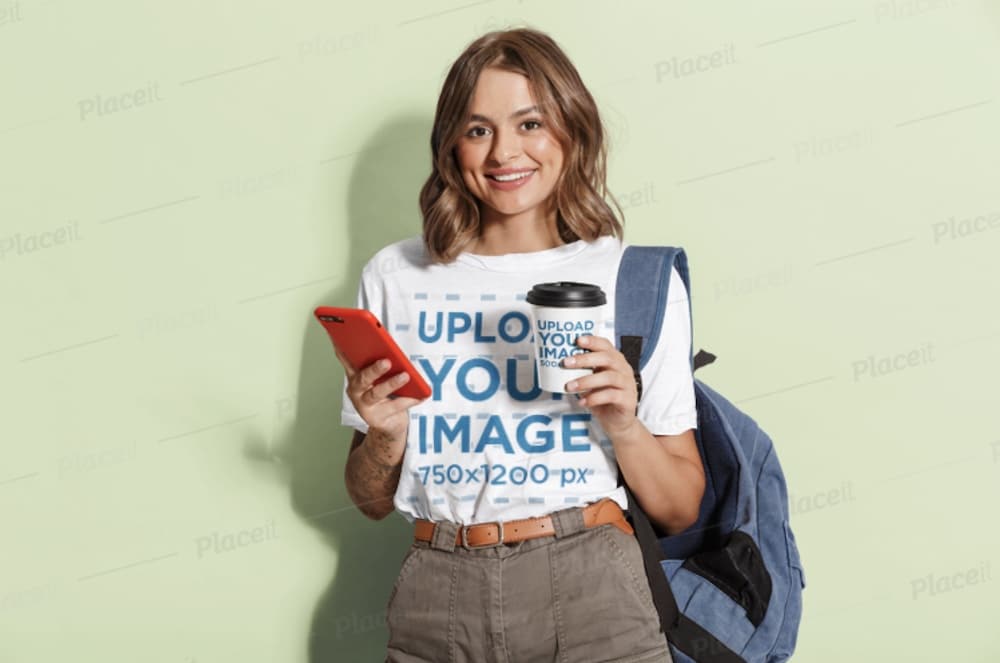 Would you like to trigger everyone's attention with a cool mockup of a jolly student?
That's what we want to start with.
An EASY to use and QUICK to customize mockup to showcase your branded coffee cups.
Keep in mind, this one also allows you to create a T-shirt mockup.
You will still make a photorealistic solution that turns heads even though design experience is unnecessary .
Insert images, upload a logo, change colors and you are all set to shine!
MORE INFO / DOWNLOAD
2. Espresso machine coffee mockup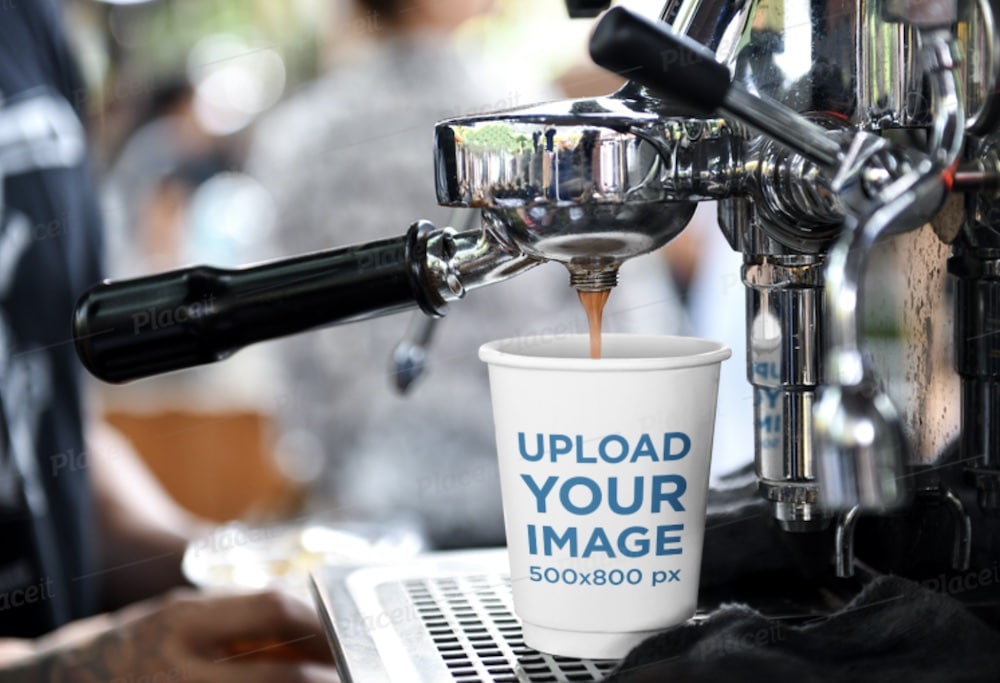 From of reviewing tons of available coffee cup mockups, I need to mention that this is by far my favorite.
It came extra handy when recently working on a coffee shop branding.
The announcement of the new paper cup was accepted REALLY WELL when sharing the mockup on social media.
But you can use it for all sorts of other intentions. It will work great on your website, in a blog post, heck, a newsletter, too!
You're all set with little work.
MORE INFO / DOWNLOAD
3. Barista doing latte art mockup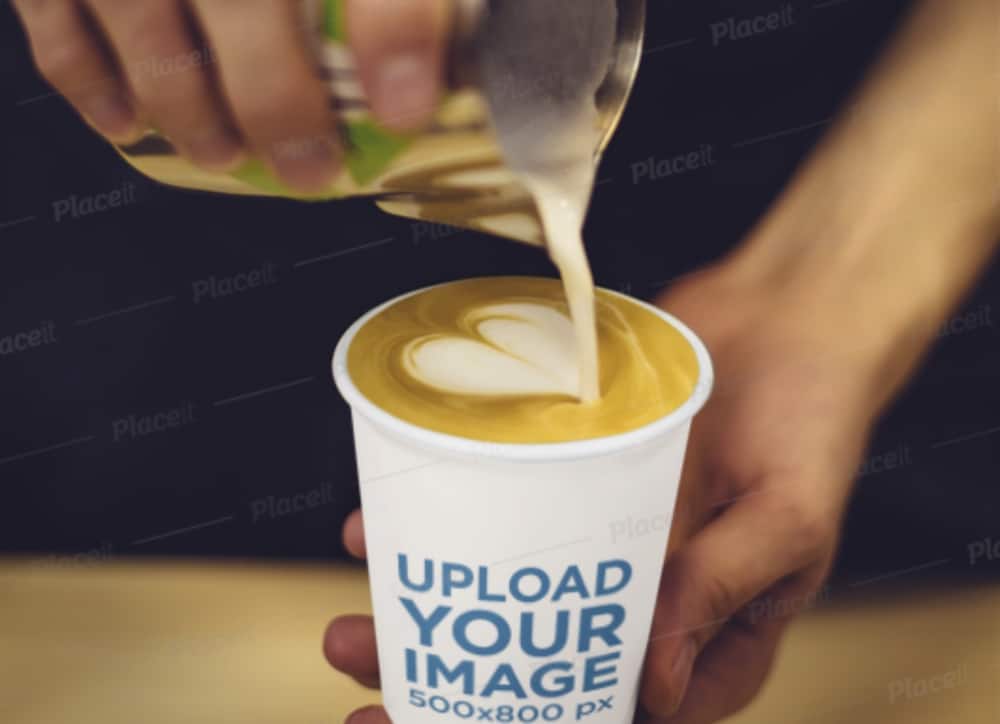 If this does not look the most delicious eco cup mockup from the list, maybe the version with the donuts below is.
You can quickly achieve a 100% life-like solution when presenting a new design idea to your client.
Even if you are working on your promotion.
And you'll master mockup creation LIKE A CHAMP even if you are a coffee shop/brand owner with no design experience.
I'm sure the person who worked on your designs sent you the files – just upload them to Placeit, and that's pretty much it.
MORE INFO / DOWNLOAD
4. Three coffee cups mockup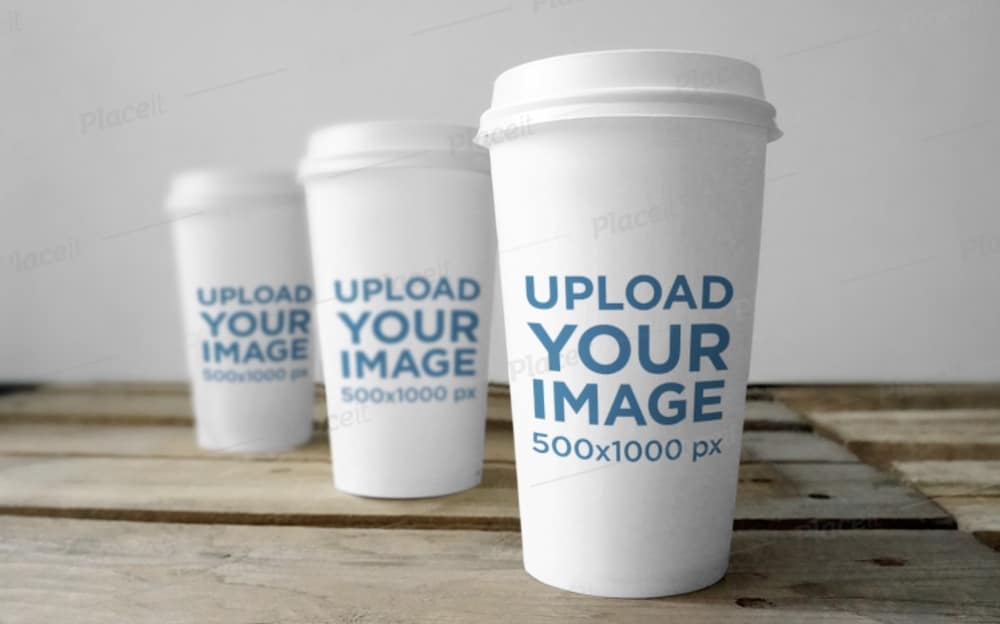 Make the presentation of a new coffee paper cup as bold as it can be. This three-in-one solution gives you a chance to make your design STAND OUT.
You can decorate all three cups with a single image/design/logo upload. You can also change the color of the cups with a single click.
Additionally, you can add some text, a quote, a CTA (call-to-action), you name it!
Con: The only thing that would make this mockup even better is the option to add designs individually to each cup.
MORE INFO / DOWNLOAD
5. Mockup of a woman holding a coffee cup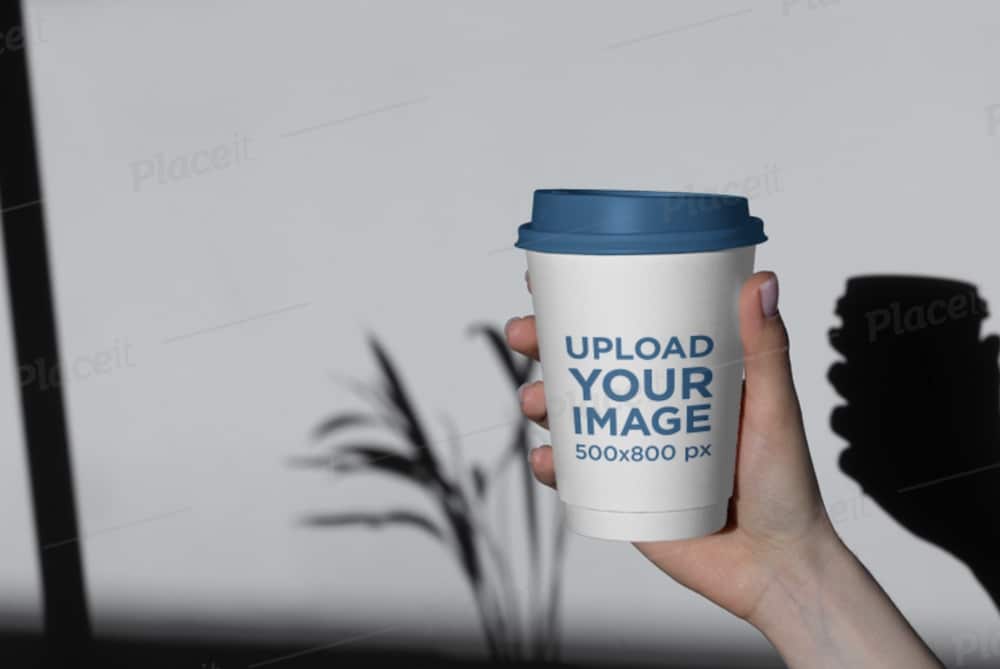 We always try to use a mockup with the product in hand when working on product presentations. At least one!
The same goes for coffee cups.
We really TESTED HEAVILY this particular example, which turned out very successful. Maybe it's the shadows that make it extra special. Who knows?!
The best part is that it works, and that's what matters.
The process of editing is similar to all other Placeit alternatives. This one also offers you to change the color of the lid.
MORE INFO / DOWNLOAD
6. Mockup of a paper cup and donuts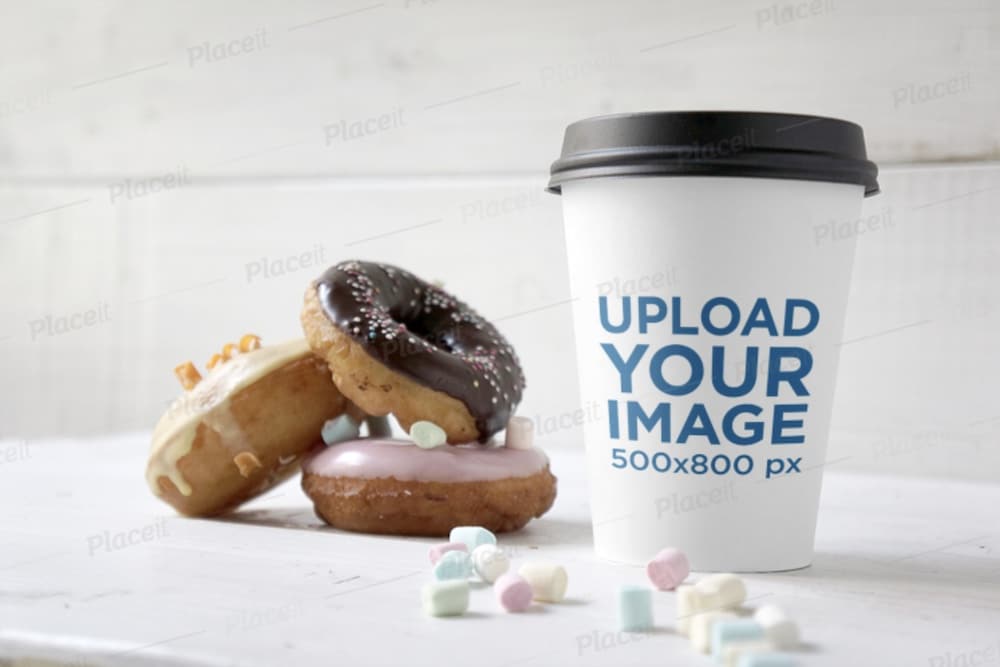 Yes, this is the coffee cup mockup I was telling you about. Coffee and donuts?
Isn't that the best combination available in the world to kick off a new day?
I love it, but I'm forcing myself not to indulge in it every day. You know, staying healthy and whatnot.
BUT. You can use it for your promotions. Every. Day. 0 calories.
(If only those donuts were edible… I mean, editable.)
MORE INFO / DOWNLOAD
7. Coffee packaging mockups (for branding)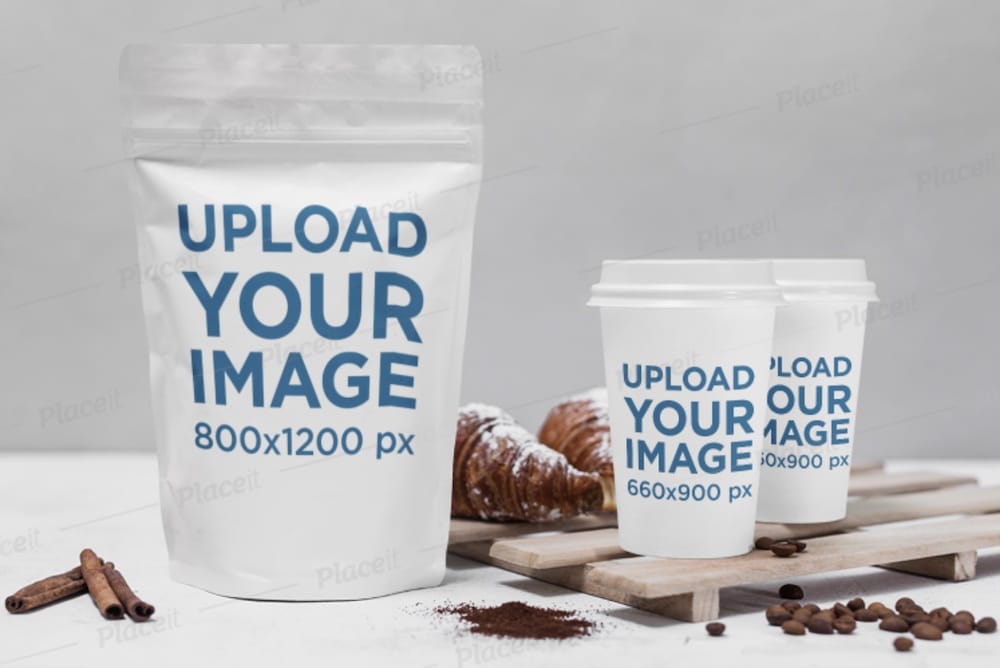 The moment we found this particular branding mockup featuring a coffee bag and two cups, I knew the IMPACT will be great. I couldn't be more right.
The quick and effortless editing process takes you no time to make it yours.
The only downside is similar to the three-in-one version above: You cannot edit coffee cups individually.
But you will definitely achieve an extremely realistic outcome. No one will even tell it's a packaging mockup and not an actual photo.
MORE INFO / DOWNLOAD
8. Coffee cup in a woodworking workshop mockup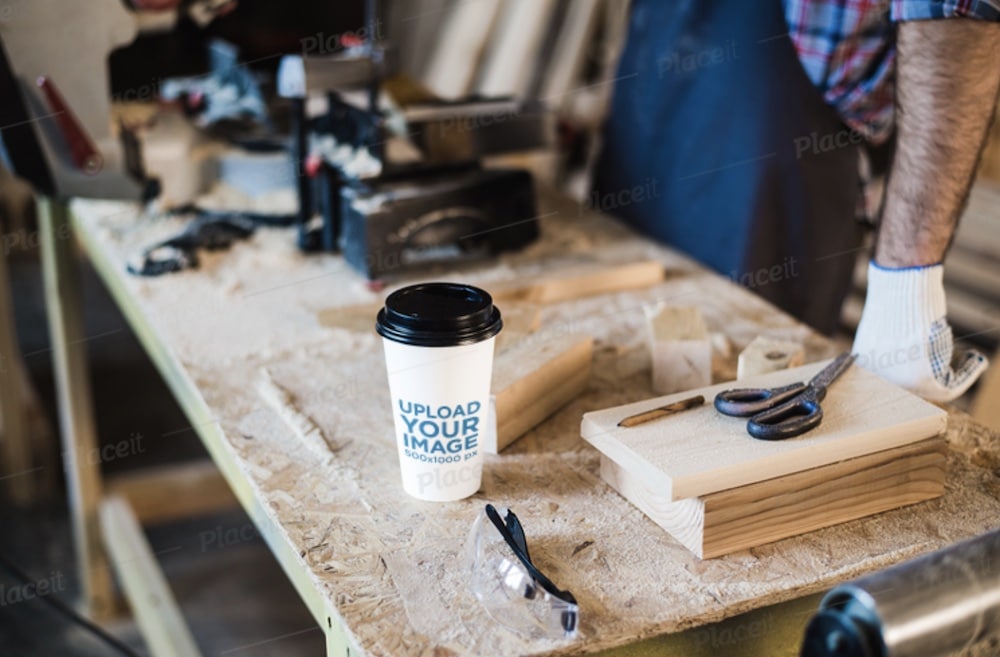 Out of all the mockups from this list, this is another one of my favorites. But that's probably because I enjoy woodwork, too!
The core focus is on the (Starbucks cup?) mockup since you cannot change and configure anything else.
The lid is also black by default, and there's no option to change the color.
But you can modify the color of the paper cup, import an image, add a logo and even text.
It can work GREAT for social media marketing campaigns or as a random post.
MORE INFO / DOWNLOAD
9. Coffee cup sleeve mockup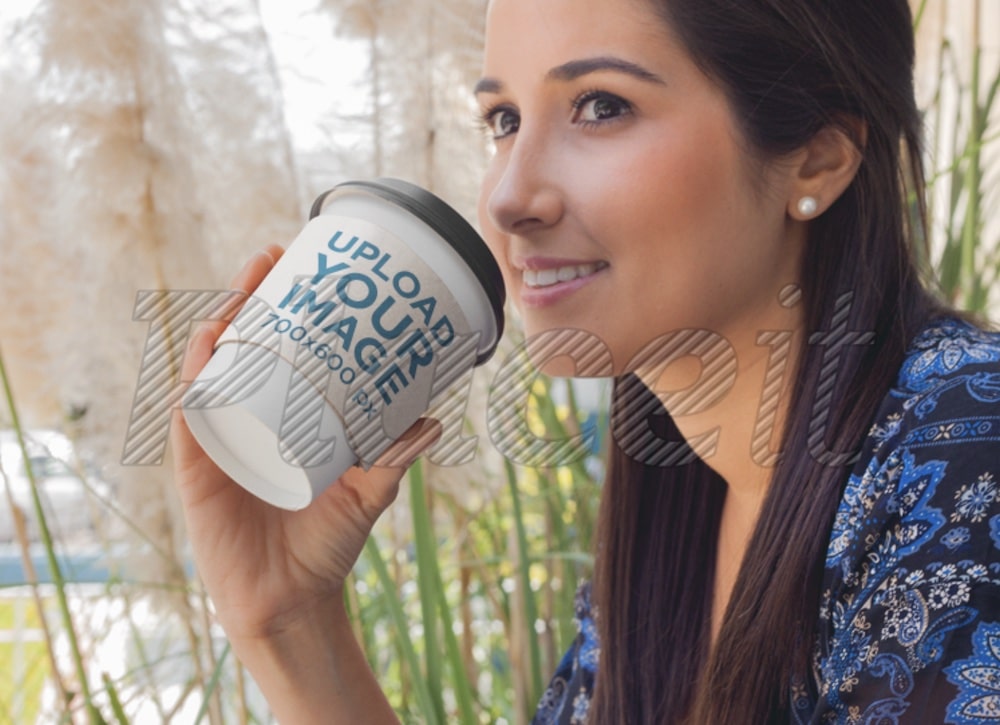 No one wants to burn their hands when grabbing a freshly brewed cup of coffee.
A sleeve is necessary, and that's what you can showcase with this particular template.
The cup sleeve mockup EMPHASIZES the sleeve exclusively. In other words, you cannot change the paper cup or the lid.
This is something that may limit the user, but if your cups are of the same style, you're in luck.
Just as we were!
As for the sleeve, you can improve it with any design and color combo you want.
MORE INFO / DOWNLOAD
10. Coffee mug in hand mockup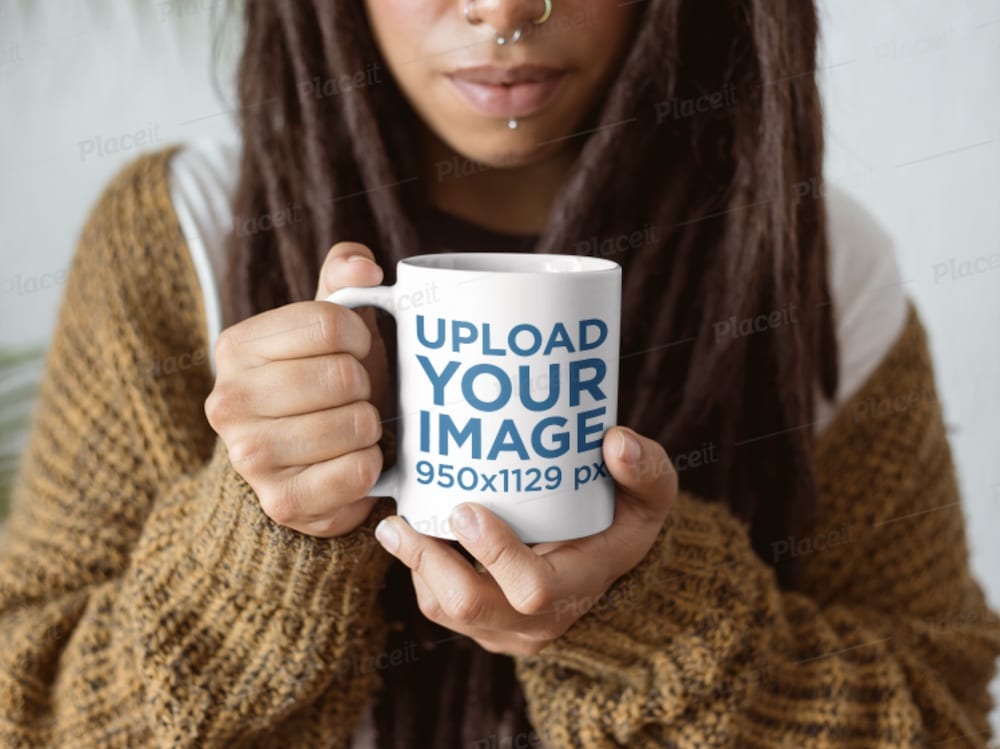 So it's not all paper cups, here's a trendy coffee mug mockup that makes an IMMEDIATE difference.
It features a pierced alternative model getting cozy with a warm mug of her favorite concoction.
Since Photoshop is not necessary, the button below takes you to the online mockup generator that realizes your ideas conveniently.
Instead of going straight to the production of mugs, test things out first with a mockup and go from there. 0 inconvenience.
MORE INFO / DOWNLOAD
Best Coffee Cup PSD Mockups
11. Coffee branding mockup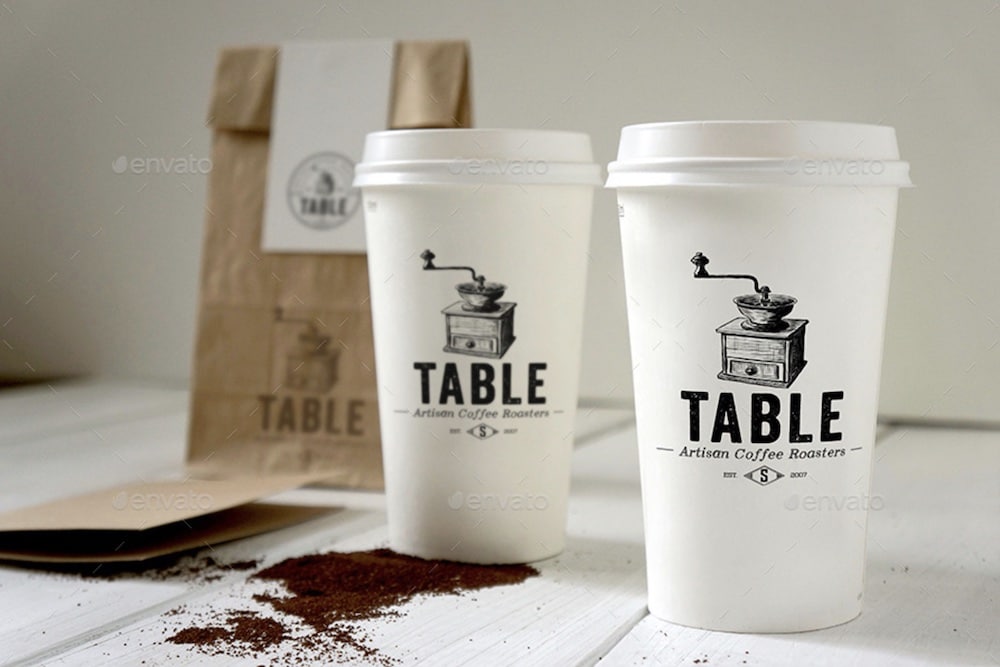 If you would like more freedom when creating coffee cups, these PSD alternatives will do the trick.
This example offers you a collection of fifteen (15!) scenes at a high resolution of 4000 x 6000px.
With 800+ downloads and a HIGH RATING, you know users are satisfied with the results. We happily used the bundle multiple times, too.
Each mockup comes as a layered PSD file that ensures effortless customizations.
The mockup includes multiple items for complete coffee brand branding, like cups, business cards, apron, napkin and more.
Price: $12
MORE INFO / DOWNLOAD
12. Realistic coffee cup PSD mockup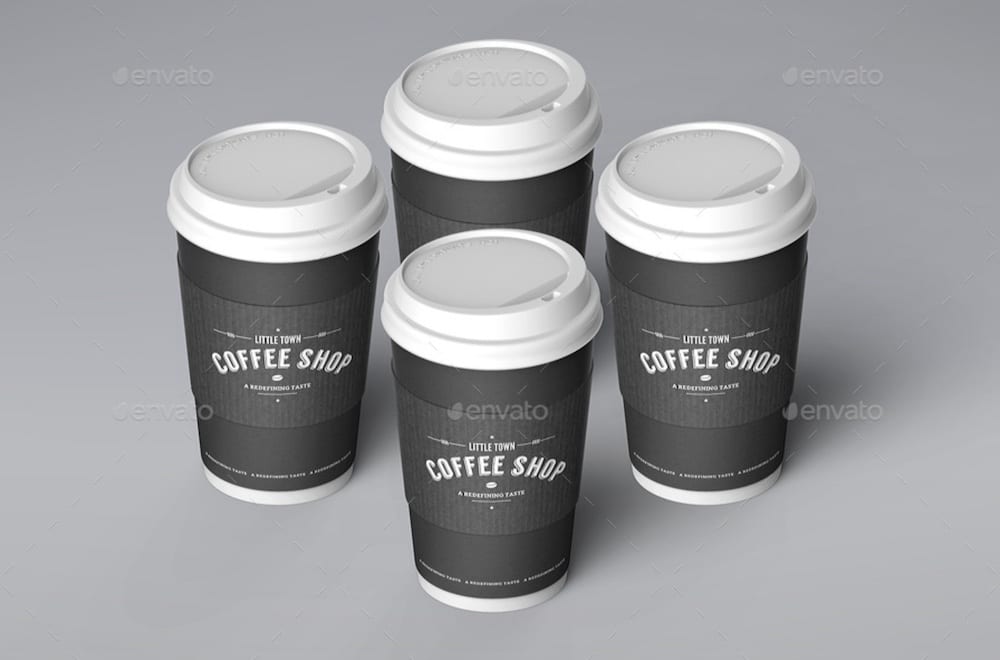 Okay, the splash effect of this coffee cup PSD mockup is clearly the biggest attention-grabber.
Couple it with your creative design and you'll easily have A LOT OF eyeballs on your coffee cups.
There are five different scenes in total, which you can preview first before taking action.
Every element and every detail is editable. You can even change the background and turn shadows on or off.
The paper sleeve is also optional so that you can make the presentation with or without it.
Price: $7
MORE INFO / DOWNLOAD
13. Coffee cup branding mockup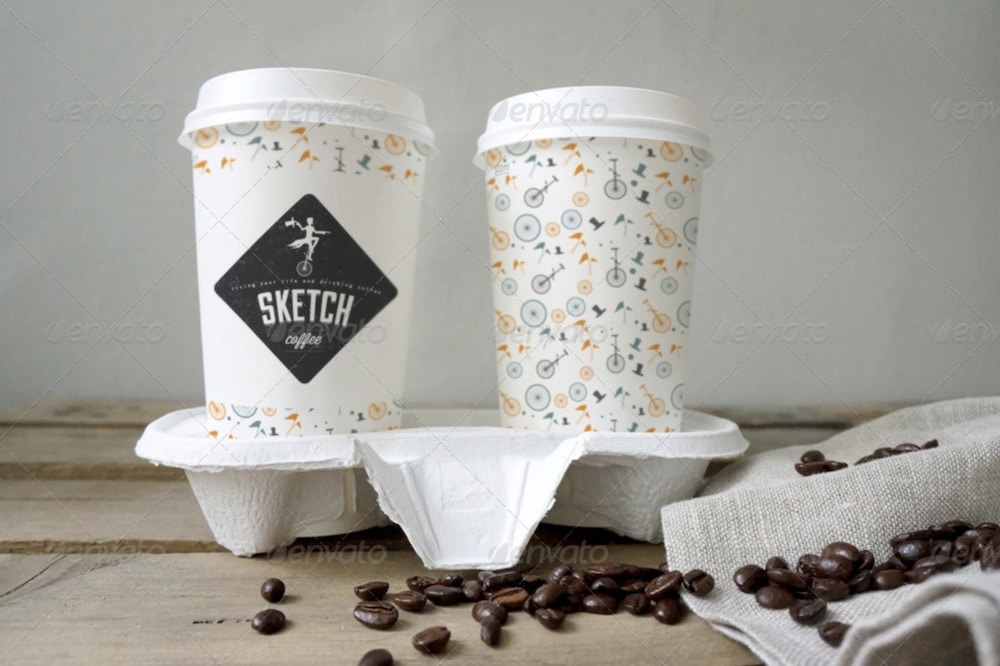 This batch of eight coffee cup PSD templates has a great life-like feel to it with a touch of vintage.
You can design your dream paper cup easily with the use of practical smart objects.
DRAG-N-DROP.
All the different views and high quality ensure a great presentation of the most detailed designs (in a close-up).
But you can opt for a more minimal approach, too.
Note: You also have a chance to include coffee brand's business card design, front and back.
Price: $12
MORE INFO / DOWNLOAD
Best Free Coffee Cup Mockups
14. Free coffee cup PSD mockup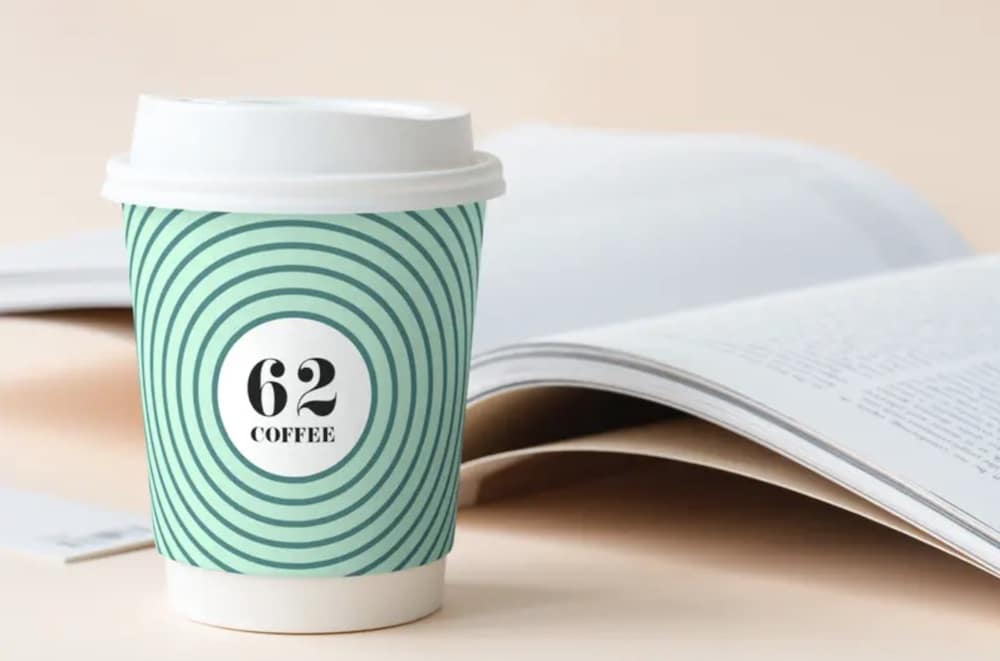 You don't always need to pay a fee to use a paper cup mockup for your projects.
We often use free alternatives for quick prototypes before considering any serious action.
This one still has a very realistic effect and has 3000 x 2000px dimension even though a free solution. The quality is on point!
The process is just as easy as with any of the premium PSD mockups.
Get yourself involved and enjoy the fantastic result.
MORE INFO / DOWNLOAD
15. Paper coffee cup mockup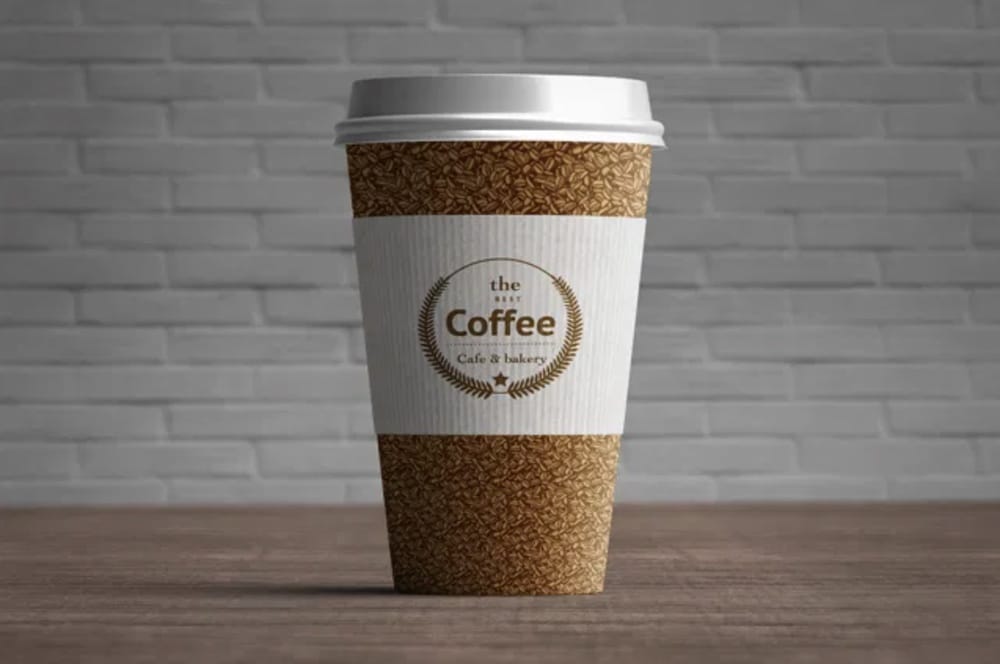 You can now put your paper cup and sleeve designs on display for FREE.
This neat alternative is editable in its entirety, as you can also change the background and the lid.
You can make it as engaging and colorful or as plain and simple as you want.
You have complete creative FREEDOM to realize your idea once and for all.
Only basic Photoshop knowledge is necessary to enjoy the successful mockup creation. Make it like a pro (even if you aren't).
MORE INFO / DOWNLOAD
16. Free coffee cup in a cafe mockup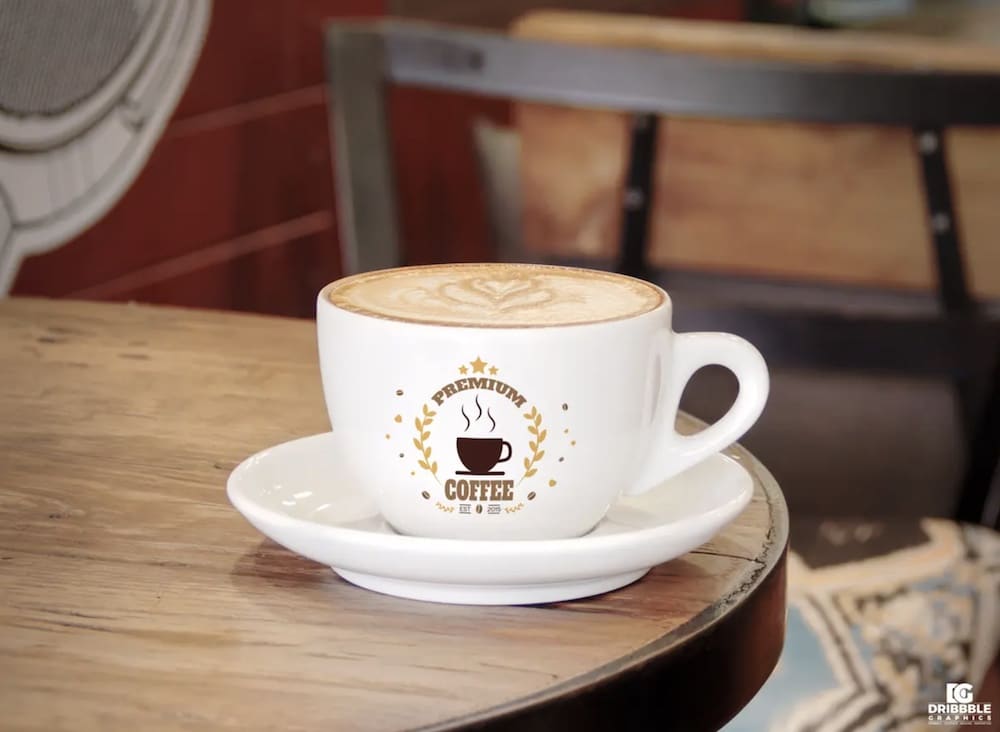 To be honest, I wished we would found more reliable porcelain coffee cup mockups to include in this list. At least we found one!
And this one is great for any restaurant or cafe, SAVING you heaps of time and effort. The template comes at 3000 x 2200px, which is great for a free mockup.
Instant editing ensures you slide in any design or coffee logo you want with a simple click. What's best, you have nothing to lose yet all to gain, so don't miss the opportunity!
MORE INFO / DOWNLOAD
How To Make A Coffee Cup Mockup?
Do you have your custom coffee cup design ready and want to test it out to see its realistic version? Yes, without actually printing it.
No biggie!
This is the easiest guide you need to follow to create a mockup for your project.
We'll activate an online mockup generator platform, Placeit, which makes the creator's life SO much easier.
Design A Coffee Cup Mockup In 4 Steps:
Step 1: You can follow this link to see all of Placeit's 150+ coffee cup templates. You can sort the list by newest, best-sellers, type, and more. Also, the tags on the left side are very handy!
Step 2: Click and open the temple you like and then hit the "insert image" button. This allows you to import any design you want. Plus, you can change its position and size while viewing your edits via the live preview window in the bottom left corner. Practical. You're then only a "crop" away from attaching your design to the coffee cup.
Step 3: Lastly, unlock your creativity and start configuring other settings to create the outcome that follows your project's needs. This could be changing the cup's color, adjusting the background, adding graphics, etc. It's playtime!
Step 4: Then download the mockup when done and start using it anywhere you want.
Okay, we also listed a few PSD mockups – what to do with those?
Open Photoshop and import them. Then search for the smart object layer, which allows you to slide in your design. As simple as that – drag and drop!
Finally, you can completely modify the template by navigating other layers. We made sure to include only highly organized PSDs to make it a little breeze for every user.
Changing colors, adding a different background, altering shadows – well, you can do it all and then some.
::
Note: This article was originally published on July 3, 2021. But our team regularly reviews it and updates it with necessary improvements for accuracy.