I'll show you the quickest way on how to create a packaging mockup, so you don't need to start from scratch.
WITH and WITHOUT Photoshop!
Perfect for beginners and excellent for pros.
If you're working on packaging design for a client, you're in the right place.
This tutorial will demonstrate how to quickly and easily create packaging mockups with Placeit.
(Note: I also added a quick Photoshop guide at the bottom.)
How to Create Packaging Mockup With Placeit
Placeit offers dozens of online mockup generators for packaging designs.
Here's how to use them to create your realistic mockup.
Yes, this is the way that allows you to create a mockup without PS.
1. Choose Your Favorite Mockup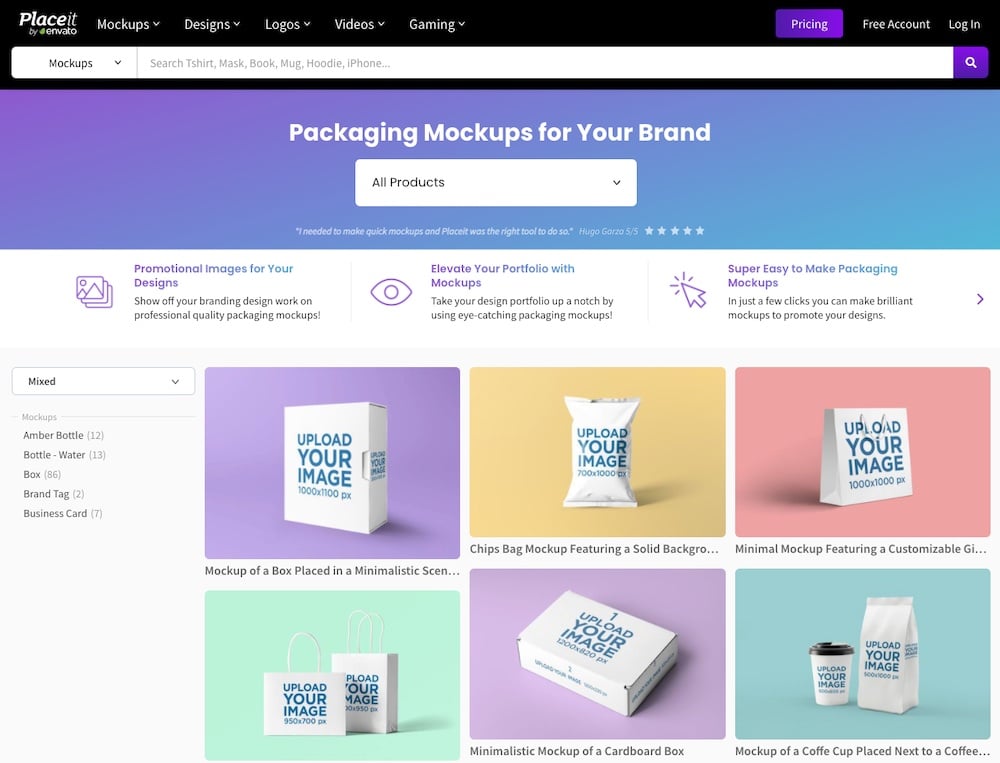 The first step is to visit Placeit and find a packaging mockup you like.
Click on Mockups > Packaging and you see all the available designs. (Or you can just click the top link.)
You can further NARROW the search results by using the filters on the side.
Alternatively, you can use the search bar at the top to find the exact mockup you need.
When you have found a design you like, click on it to open the mockup editor.
2. Upload The Design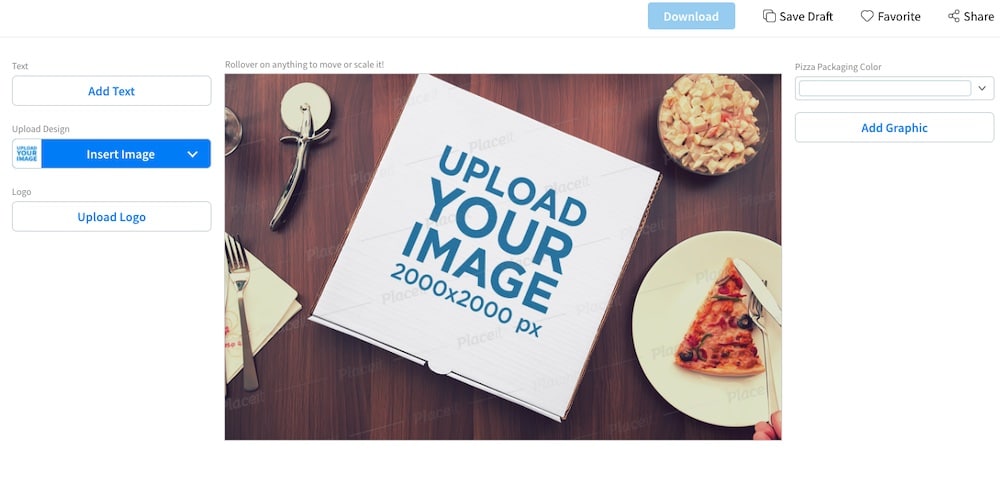 The next step is to add your design to the mockup.
Click the Upload Image button to upload your design.
Then, locate the image on your computer and press the Upload button.
(Fun fact: You can do it on your mobile device, too.)
3. Position The Design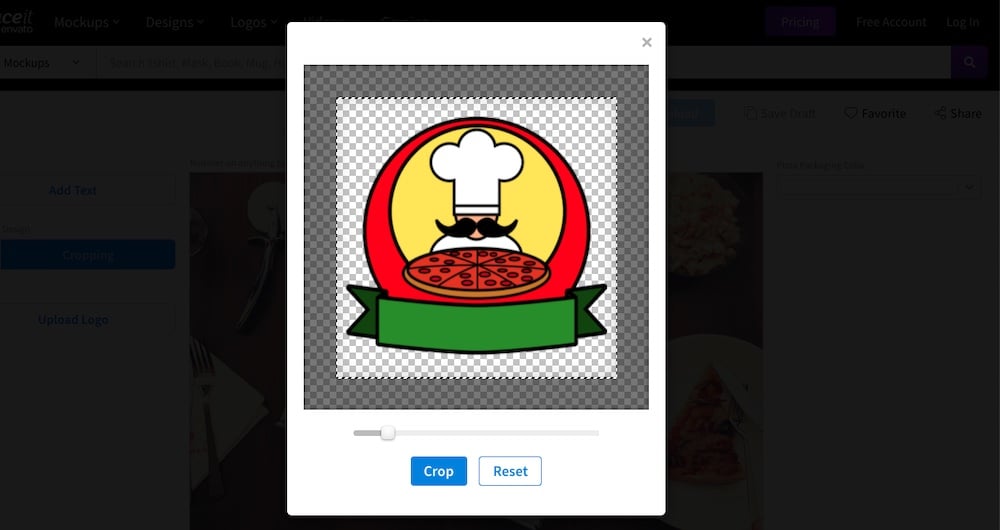 Once it uploads the design, you have the option to position and crop the design.
Simply move the slider to adjust how the design displays on the mockup to ensure the perfect fit.
EASY.
4. Customize The Mockup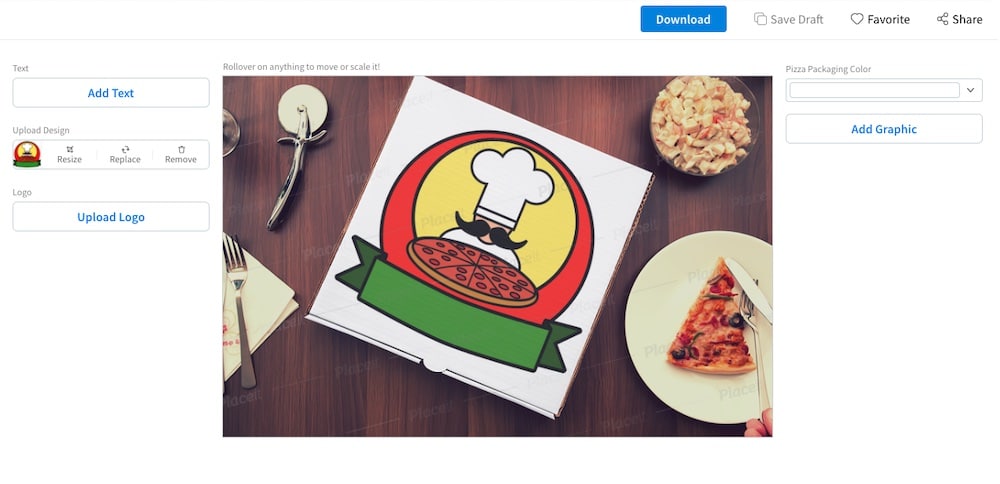 With the design in place, you can now customize the mockup.
The options will depend on which mockup you choose but in most cases, you can adjust colors and even add your text.
5. Download Finished Mockup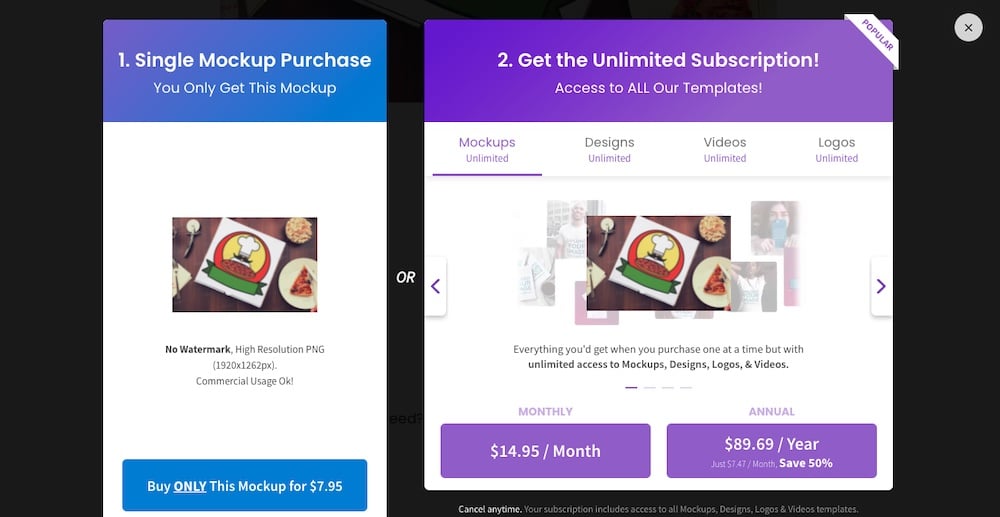 Once you're happy with your packaging mockup, you can download it by pressing the Download button.
You can choose between two options:
1. One-time fee
2. Subscription
Single product download
The one-time fee costs $7.95/mo and it applies to the single design.
It's a great choice if you don't have to create mockups regularly.
Simply pay for the single design, download it, and use it however you'd like.
Monthly/yearly subscriptions
But if you're a designer who needs packaging and other mockups regularly, you'll benefit from a monthly or yearly subscription to Placeit.
A monthly subscription costs $14.95/mo, while a yearly subscription costs $89.69.
You get access to UNLIMITED mockups and mockup downloads regardless of which option you choose.
Note: In many cases, you can also benefit from Placeit's free mockups. Unfortunately, there aren't any available for packaging.
Still, you can fully see your design in action before the download.
5 Amazing Packaging Mockup Designs From Placeit
Wondering which mockup to choose for your design? Here are five amazing packaging mockup designs from Placeit to use as your starting point.
1. Mockup of a slim perfume bottle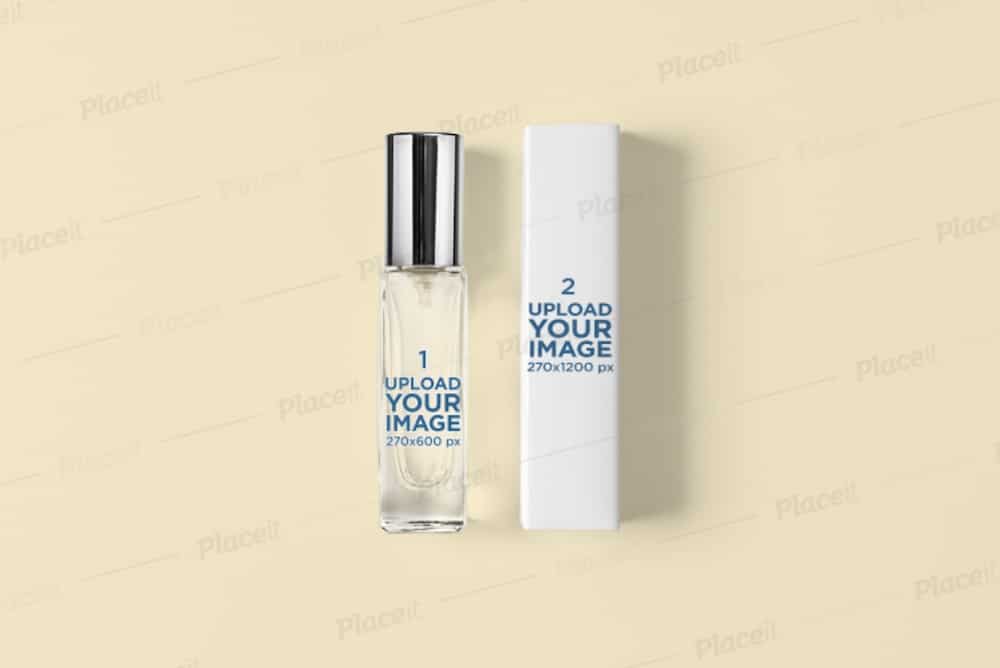 First up is a mockup featuring a slim perfume bottle.
With this mockup, you can upload separate designs for both the perfume bottle and the box it comes in. Plus, you can also customize the background.
MORE INFO / DOWNLOAD
2. Food delivery mockup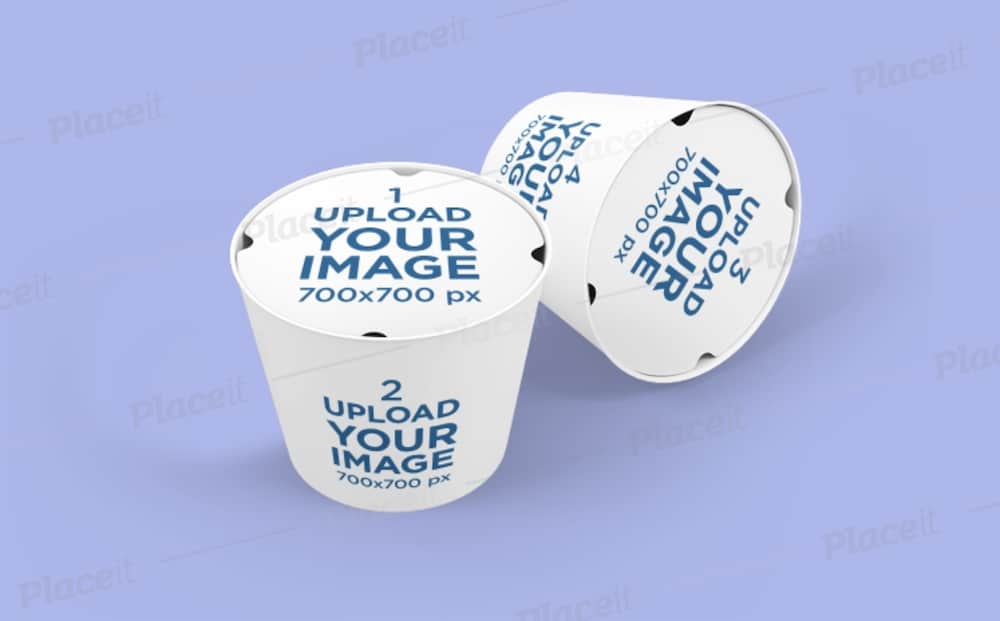 Tasty food is the key to choosing your favorite restaurant. Since first impressions are everything, make sure that the delivery packaging is top-notch too.
This mockup features two delivery packages and includes a customizable background.
Attention: We also have an extensive collection of carefully reviewed food packaging mockups.
MORE INFO / DOWNLOAD
3. Mockup of a coffee cup and coffee packaging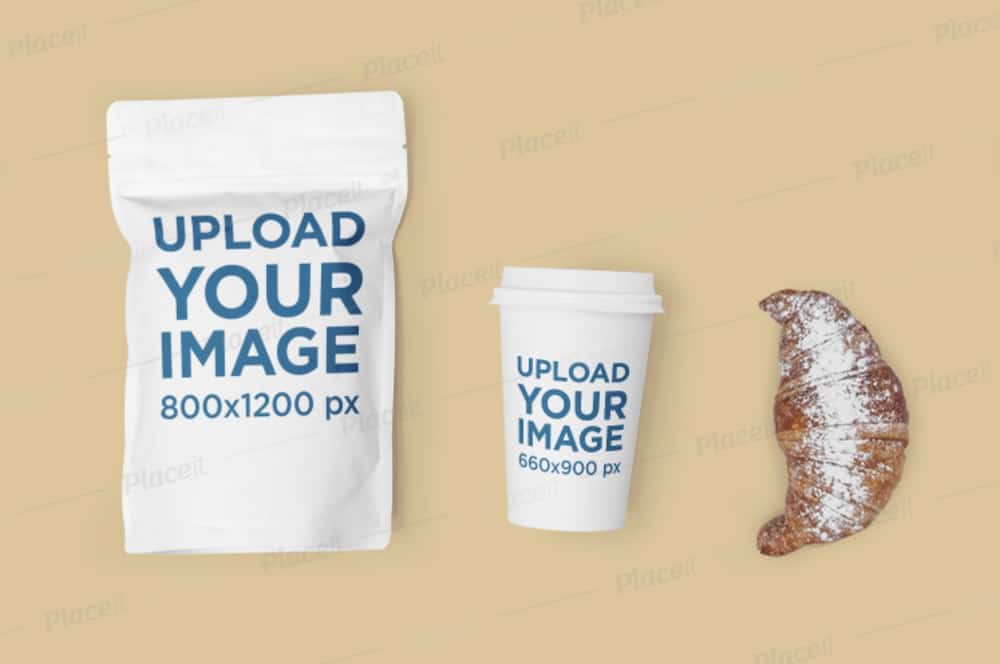 Coffee goes great with croissants and this mockup will make your client's coffee EVEN MORE delicious.
The mockup features a coffee bag as well as a paper cup.
You can upload your client's logo, add text, and change the colors of the background as well as the packaging itself.
MORE INFO / DOWNLOAD
4. Jewelry pouch mockup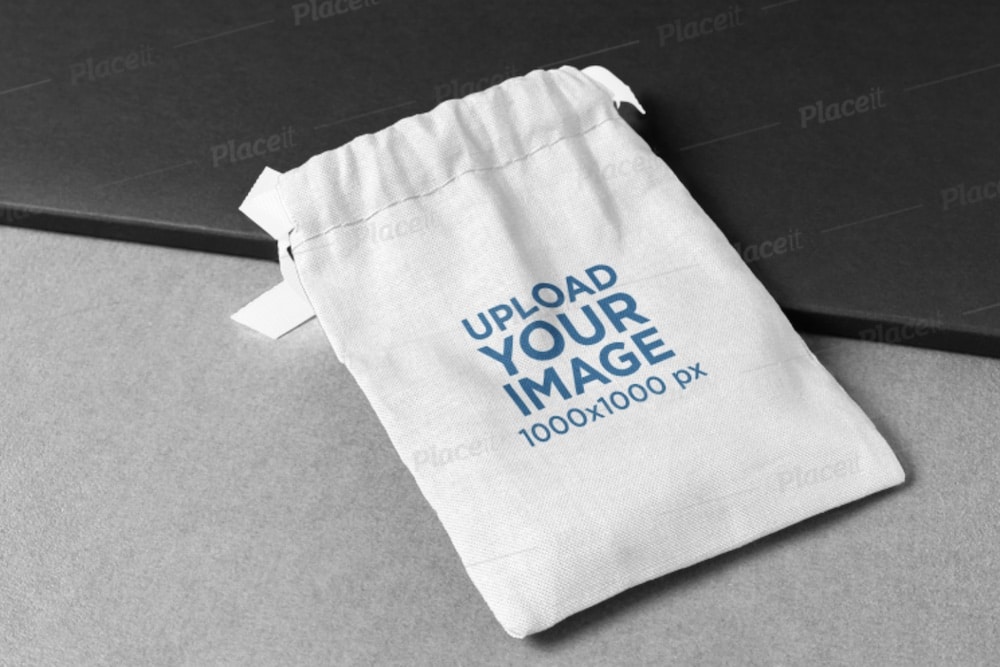 With this mockup, you can easily present a jewelry pouch design for your clients. The mockup features a pouch set against a gray background.
You can add your design, text, and change the color of the pouch.
MORE INFO / DOWNLOAD
5. Mockup of a customizable pizza box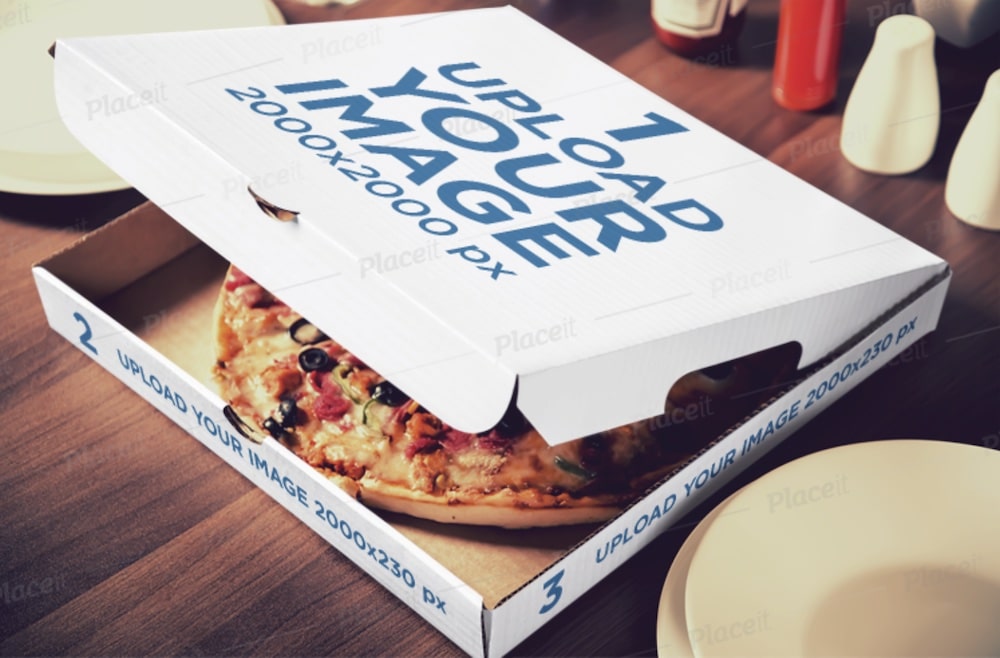 Use this mockup if you're working on branding for a pizza place.
The mockup features a pizza box you can customize with the client's logo and colors.
As you see, highly realistic effect (that waters your mouth).
MORE INFO / DOWNLOAD
How to Create Packaging Mockup With Photoshop
Placeit is a great choice for creating mockups quickly and easily. But sometimes, you need more control over the final design.
If that's the case, you might want to create your mockup with Photoshop.
Start from scratch
One option is to create the entire mockup from scratch. This gives you complete control over how the packaging looks, how it's laid out, and more.
Use a PSD mockup
Alternatively, you can search for packaging mockups online and use them as a starting point.
In this case, you use smart objects to place your design which can speed up the design process.
The layered PSD files are very easy to use (beginner-friendly!).
Final Thoughts
Packaging is an important part of a brand identity.
It's the first thing a client or a customer interacts with, so the packaging must leave a great first impression.
As such, it's IMPORTANT to get the packaging right and for that, you're going to need packaging mockups.
(The link guides you to a great resource of packaging design trends this year. A great way to boost your creativity.)
A packaging mockup allows you to present to your clients how their products will look on the store shelves. I.e., what their customers will see when they buy the product in question.
A packaging mockup also makes it easy to create several design iterations to ensure your client is happy with the finished design.
Placeit makes it effortless to create packaging mockups of all kinds.
You can create dozens of packaging mockups for your clients with the steps laid out in this tutorial.
Visit Placeit today, choose your favorite mockup design, and create a brilliant packaging mockup.
I know I will for my next project.