Picking the best WordPress dog themes was one of the most pleasurable tasks we ever went through.
And we are absolutely EXCITED to share our picks with you.
We knew what to look for in WP themes after our short experience with different dog business owners. (We used the first 4 on live projects.)
This allowed us to bring you the ultimate collection of tools for different dog websites, such as:
Breeders
Trainers
Online stores
Hotels & dog shelters
You have it all and then some to create an impactful website for four-legged furry friends.
Don't sit on the good design – USE IT and benefit from it GREATLY.
Let the fun begin.
How We Chose The Best WordPress Dog Themes
Besides picking themes, you can use for various businesses within the industry; we also made sure each ticks all the technical and customization boxes for your convenience.
We read reviews, checked ratings and skipped all the themes without regular updates.
Then, we flipped through documentation, went through the support forums and even contacted support teams to see how quality their assistance is.
After installing each theme on our test site, we carefully examined its features and compared them with those in the official description. Surprisingly, some add quite some bloat, so we didn't include them on this list.
We also put each theme through a set of responsive and speed tests because we didn't want to add poor performers.
Finally, we wanted to see how user-friendly the interface is and whether or not a complete newbie can use the theme to build a dog-related website.
Quick-Pick: Best WordPress Dog Themes
Best WordPress Pet & Dog Themes
1. Dawg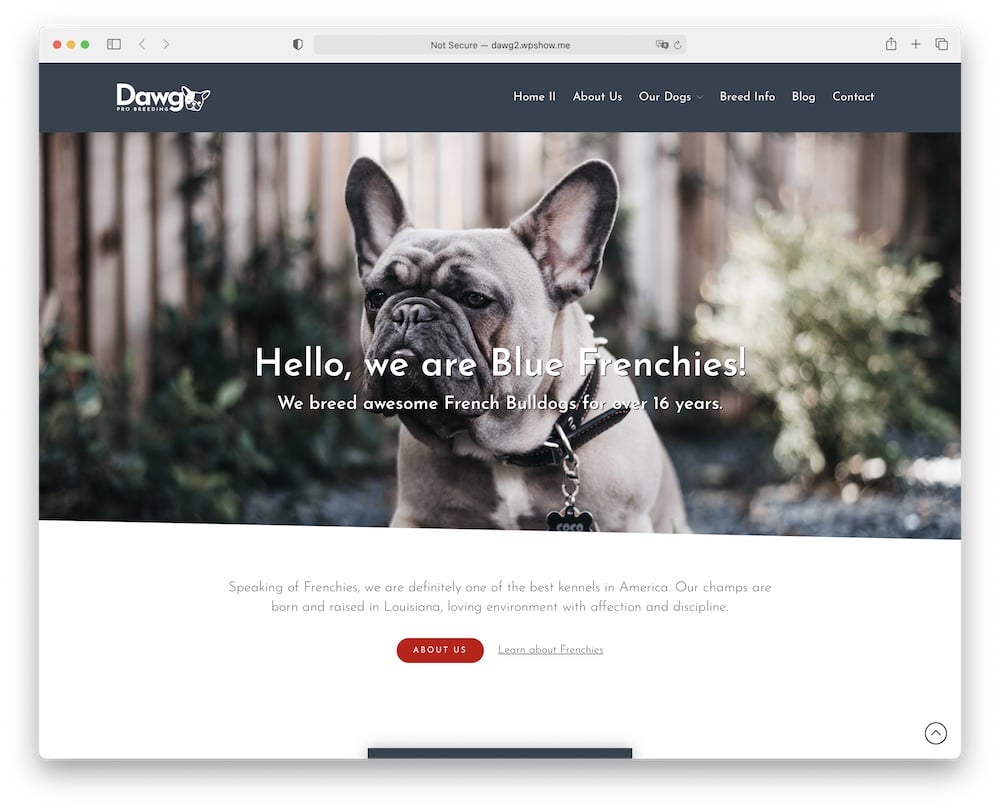 Sit back, relax and prepare yourself for an adorable and cute Dawg WordPress theme. You can PROUDLY showcase all your charming dogs in amazing galleries with Dawg.
I love it!
You can install Dawgs's demo with just one click – easy to set up and use. But you may also be interested in our tutorial on installing a WP theme easily.
Besides, Dawg is fully responsive (looks great on all devices) and you can fully redesign it due to the popular Elementor page builder.
Bring forth your potential and don't worry about coding knowledge.
Waste no time, tell your story, present your breed and succeed with appealing Dawg.
WUF. WUF.
Dawg features:
940+ sales
4.1+ star ratings
Perfect for breeders
Free support (for 6 months)
Price: $37 (may vary)
Note: Dawg performed really well for use despite the somewhat low overall rating.
MORE INFO / DOWNLOAD
DEMO
2. Pet World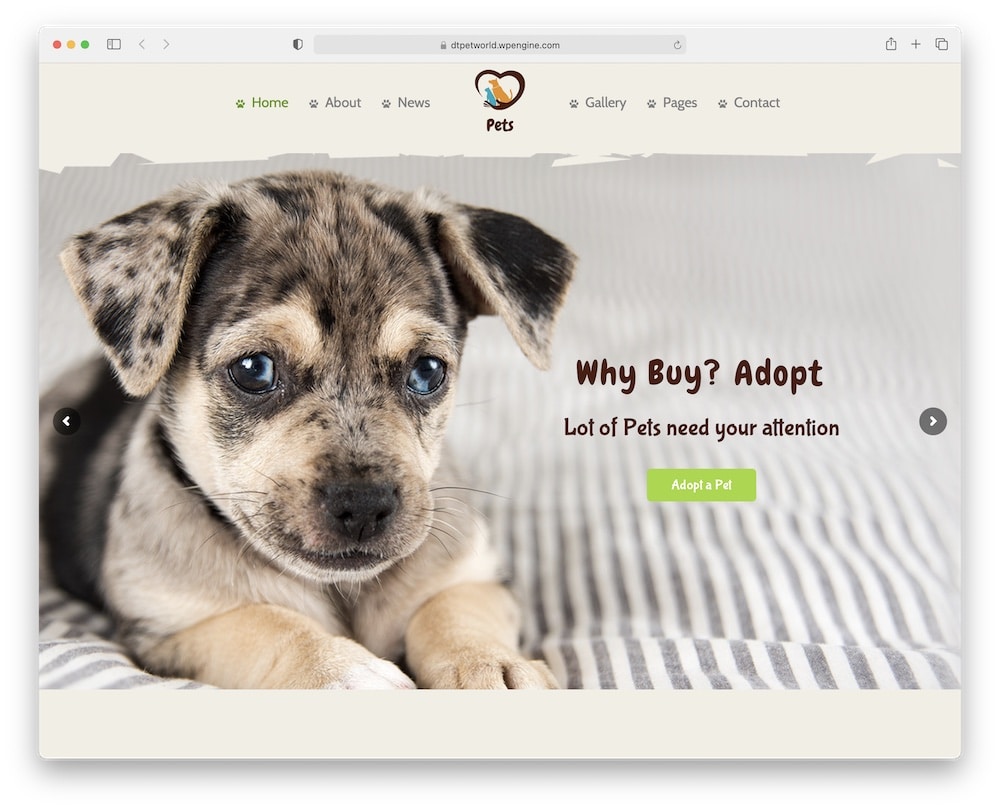 Grooming, training, breeding, daily dog walks, pet shop, or pet sitter website – you can do anything you want with the stunning Pet World WordPress dog theme.
Who doesn't love to watch a pet's eyes lighting up over yummy treats and amazing toys?
Yup, we all do!
You can now easily create your own pet store with the WooCommerce plugin that comes with Pet World.
TREATS OF THE WORLD UNITE!
Connect with your visitors through your lovely pet story (about us), showcase your pets, provide valuable blog content tips or ideas, and turn them into paying customers.
My advice? Pick a demo – rearrange it – use the best tools – and grow your business with Pet World.
Pet World features:
640+ sales
4.9+ star ratings
Useful mega menu navigation
Documentation & video tutorials
Price: $59 (may vary)
MORE INFO / DOWNLOAD
DEMO
3. OnLeash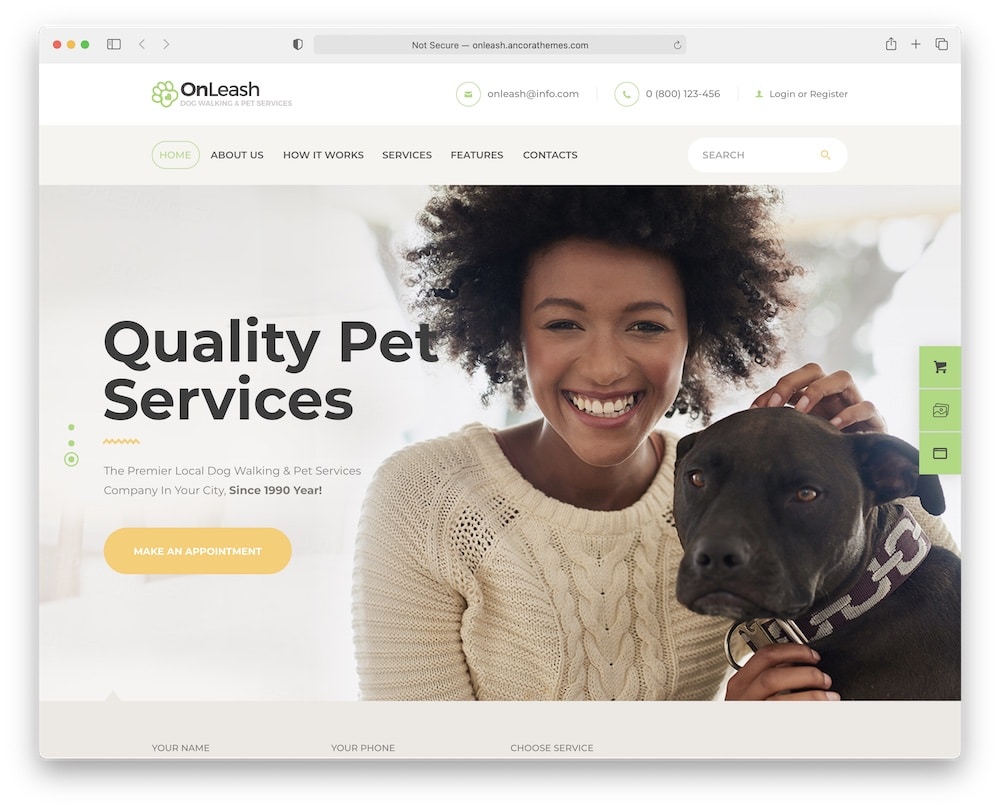 OnLeash WordPress dog theme was created not only to make building a website effortless but also to make it affordable.
Think about it, no more obstacles – just make your furry dreams come true.
Modern OnLeash is fully responsive and looks great on all devices, even on mobiles (swipe effect, mobile-friendly sliders, scrollable sections).
Pretty COOL.
You get several amazing plugins for your strong online presence and your business.
Take advantage of all the possibilities and have fun.
By the way, OnLeash is fully customizable – from changing layouts, colors, fonts, WP widgets to adding WP shortcodes. ALL FOR FREE.
Don't hesitate; buy OnLeash with confidence!
OnLeash features:
510+ sales
5-star ratings
Plenty custom-made shortcodes
Catchy parallax theme effect
Price: $69 (may vary)
MORE INFO / DOWNLOAD
DEMO
4. Welsh Corgi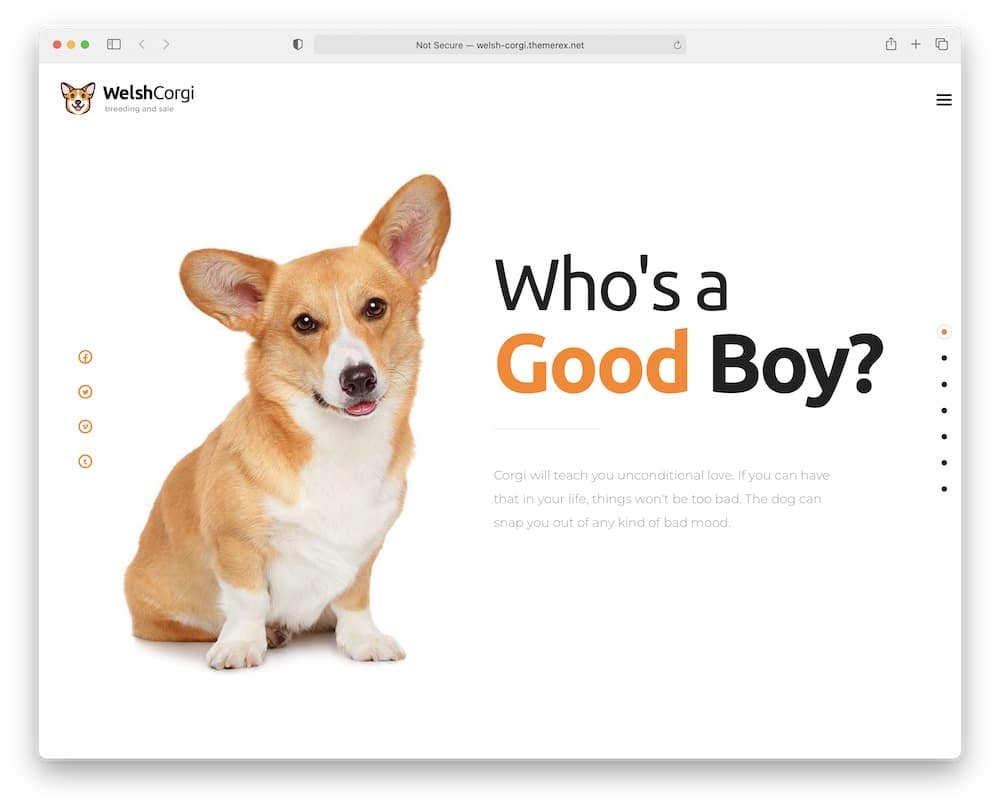 You understand why so many people TRUST this theme from the moment you activate Welsh Corgi WordPress dog theme.
Welsh Corgi's motto is to make and keep dogs and their owners happy.
Each Welsh Corgi feature has plenty of options and opportunities for you to customize it and make it suitable for your business idea.
It is also perfect for your new shops or smart blogs about pets.
As a bonus, Welsh Corgi is also SEO optimized and cross-browser compatible. Heads up for trouble-free surfing!
Who's a good boy? Welsh Corgi!
Welsh Corgi features:
430+ sales
4.8+ star ratings
Regular updates
Takes 3 clicks to install (quick launch)
Price: $69 (may vary)
MORE INFO / DOWNLOAD
DEMO
5. Petio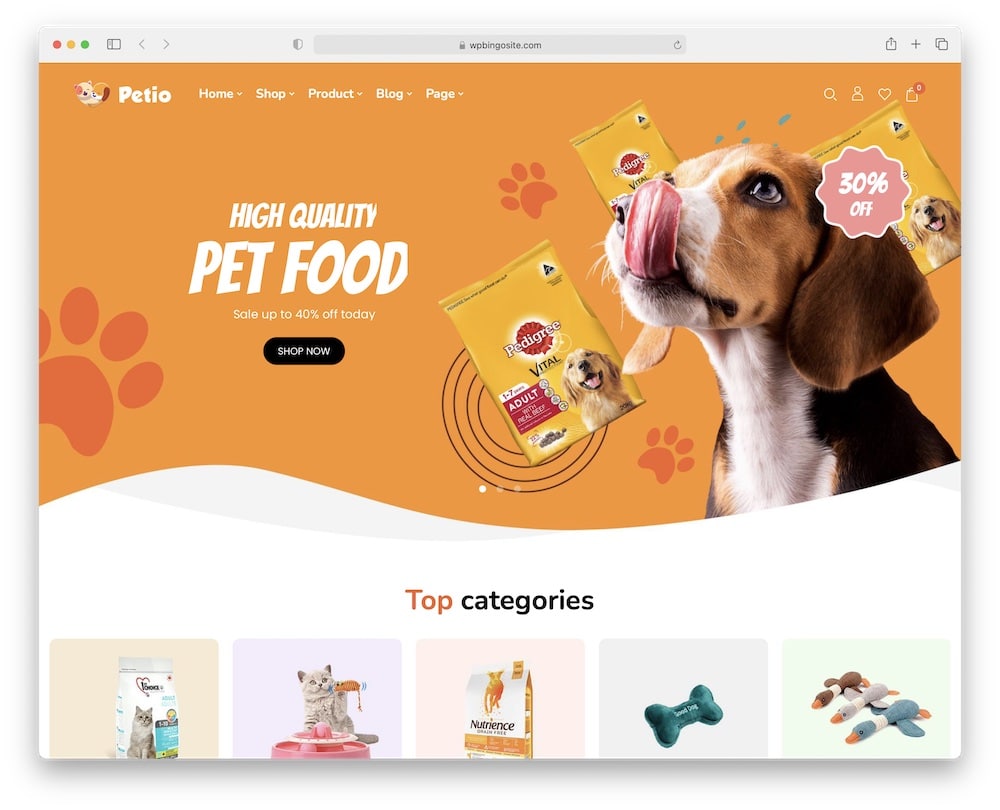 Catch your creative moment with a lovely and colorful Petio WordPress dog theme.
Petio comes with eight pre-made homepages – for a beautiful presentation – so I guarantee you will have a lot of fun with it.
It's like a new episode of your favorite show you look forward to every week! EXCITING.
Petio adds an extra focus on helping you to create the best possible store for your customers. It comes with Ajax technology for sidebar cart, instant search, quick view, unlimited filters, booster sales, and more.
Of course, Petio adores social sharing for easy sharing.
Good one, Petio!
Petio features:
660+ sales
4.9+ star ratings
Great mobile shopping experience
Top-notch support
Price: $59 (may vary)
MORE INFO / DOWNLOAD
DEMO
6. Peto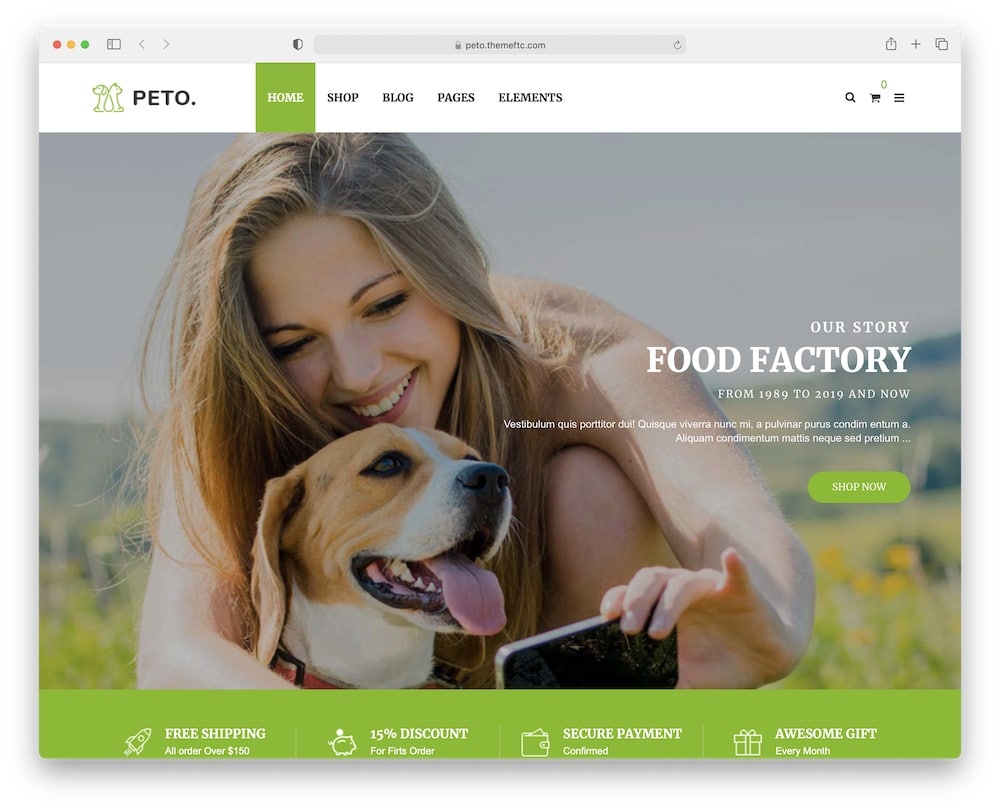 Welcome to check Peto WordPress dog theme, my friends! It is inspired by cute pets and offers LOTS of building options for your new website.
Your personal story is more than design, so don't forget about what a powerful and unique tool you have.
But, don't worry, though – Peto comes with fourteen (!!!) amazing and cute pre-made demos that are super simple to import and use.
Yes, effortless mouse clicks are enough to create your site. NO coding experience is required.
Oh, how I love this!
WooCommerce and numerous other product options will make you smile, because your store will be absolutely fabulous.
Fetch yourself a perfect site with Peto!
Peto features:
540+ sales
4.8+ star ratings
Multi-vendor marketplace support
Includes Instagram gallery
Price: $59 (may vary)
MORE INFO / DOWNLOAD
DEMO
7. United Pets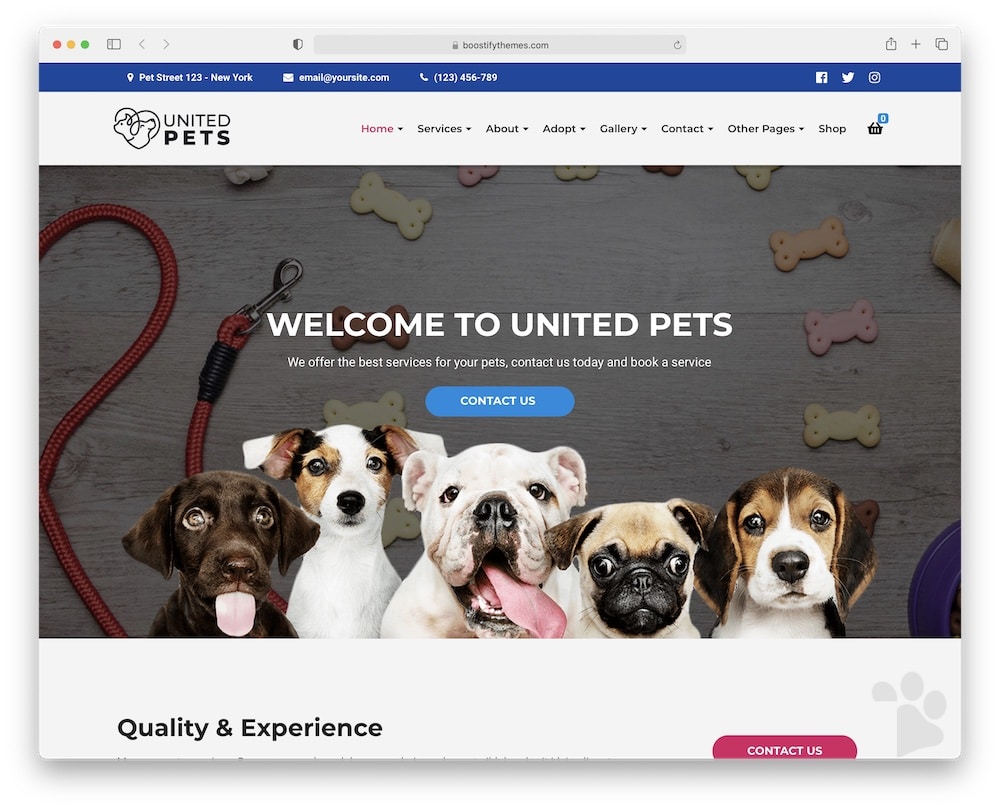 Love, treat, care, and cute paws … all of this is hidden in United Pets WordPress dog theme.
If you are searching for a theme for your new pet store, dog care, training, or walking services, you are in the right place.
The good news is that United Pets offers easy to install (one simple click), run, and update samples.
Also, you can fully customize, build and change layouts, design, and set up shortcodes (thanks, Elementor!).
If you ask me, Slider Revolution wins the WOW factor and LEAVES your visitors EXCITED due to its stunning visuals, animations, and impressive designs.
JAW. DROPPING.
Besides, your competition won't have such dedicated customer support to work with.
United Pets wags its tail working with you.
United Pets features:
450+ sales
4.7+ star ratings
Quick customer support
Easy improvements with shortcodes
Price: $59 (may vary)
MORE INFO / DOWNLOAD
DEMO
8. Petz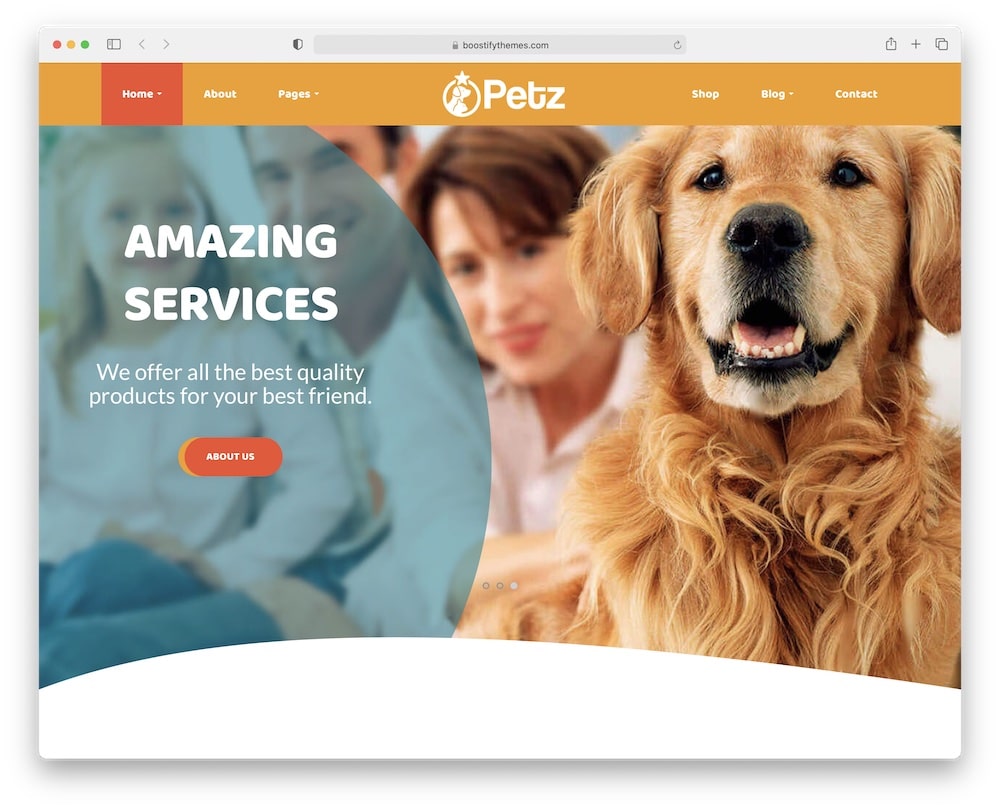 You can contribute to HEALTHY and HAPPY doggos with the colorful and modern Petz theme.
Petz's responsive design, speed optimization, and SEO practices ensure your site is one of the best out there.
Petz is so simple but amazingly useful and easy to employ. You can start with a single click on the mouse and enjoy real-time editing. (Save time & money).
Suggestion: You can take the blog module to your advantage – as a guide, personal dog diary, collaboration tool, or communication channel.
Engage with your customers and grow your business with Petz.
Petz features:
550+ sales
4.3+ star ratings
Multi-concept dog business demos
Great animations & effects
Price: $59 (may vary)
MORE INFO / DOWNLOAD
DEMO
9. Valkuta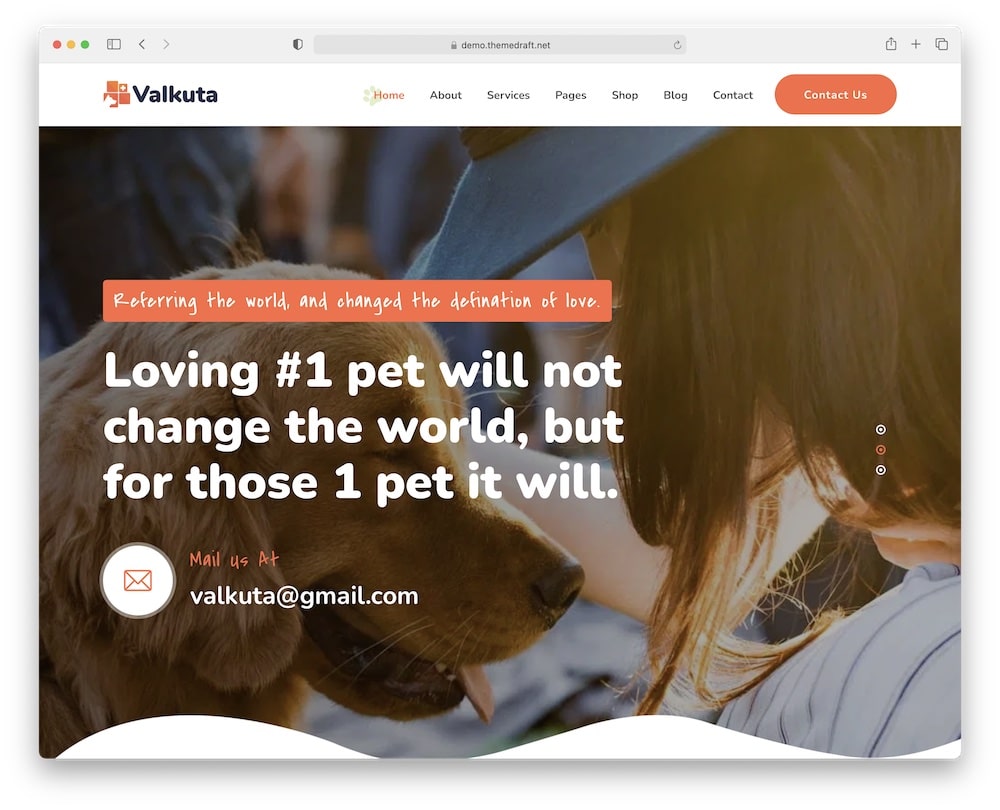 Adorable Valkuta WordPress dog theme is focused on all pets' needs (because our furry friends come first). Yep, I'm one of those.
Whether you're looking for a basic website or an advanced one, no matter your size or goals, Valkuta, offers tons of possibilities and options.
It comes with three pre-made index and fifteen inner pages.
YES, PLEASE.
In fact, Valkuta is easily operated (amateurs welcome) and includes best-performing plugins (all-in-one functionality).
If you want to modify the theme's code or files to the next level, you can because of the added WordPress child theme.
Yup, all your desires, and online dreams are at your fingertips.
Valkuta has online fur and a tail.
Valkuta features:
250+ sales
4.9+ star ratings
Free updates for life
Price: $59 (may vary)
MORE INFO / DOWNLOAD
DEMO
10. LovePet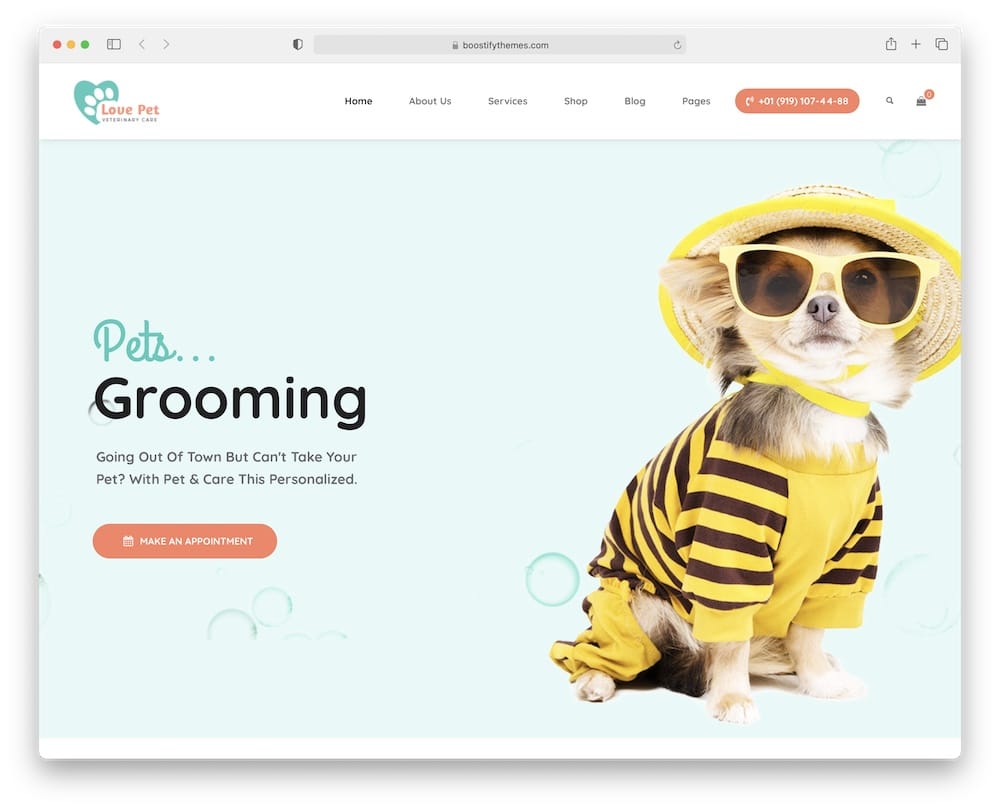 LovePet WordPress veterinary theme is calling your name! Such a modern, flexible, and playful design – focused on animals and dogs.
LOOKS. SO. PRETTY.
Now you can easily spread your love for pets (worldwide).
LovePet comes with eight pre-built index pages that are 100% flexible, simple to import and set up.
You can customize dozens of elements, contact forms, use numerous fonts and colors, pattern backgrounds, images and create your own skins.
Can I make my own pet store with LovePet? It's effortless, comfortable, and inspiring all at once!
You get to work with the WooCommerce plugin and powerful Ajax technology – a lifetime deal!
LovePet features:
290+ sales
4.1+ star ratings
Schedule & appointment forms
Custom widgets
Price: $59 (may vary)
MORE INFO / DOWNLOAD
DEMO
11. Pawsitive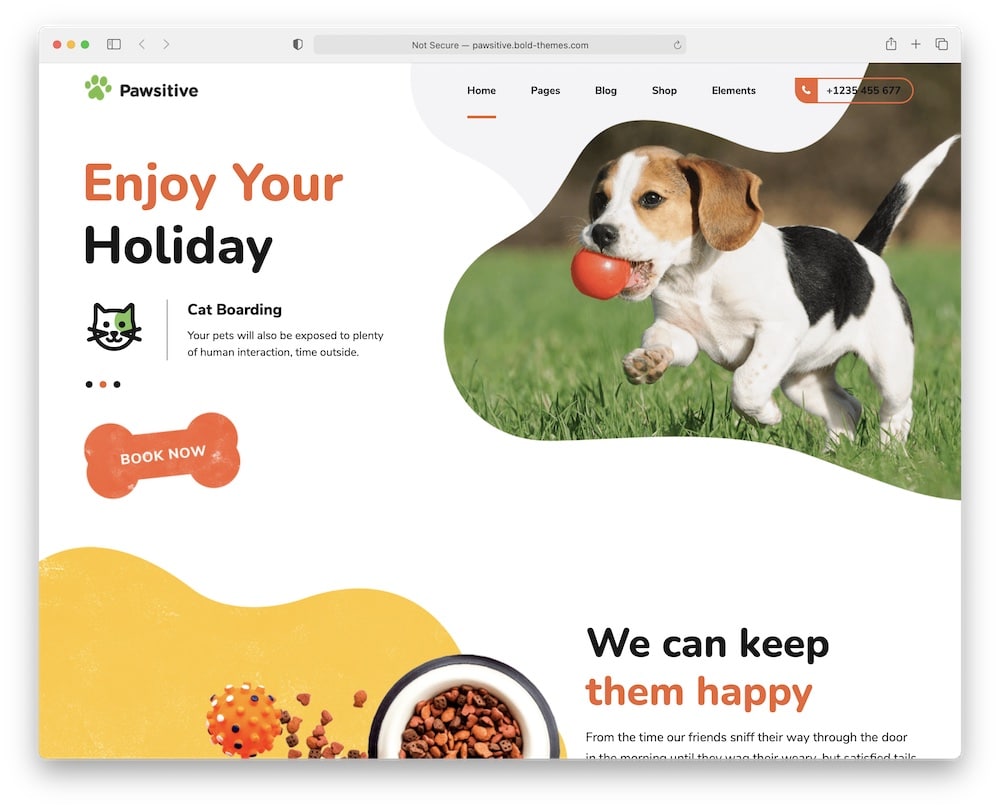 Responsive Pawsitive WordPress dog care and store theme covers you whether you're searching for a classic or trendy website design.
You can import the demo content with one click and personalize your new website through the theme options control panel.
So simple, but OMG – What site you can create! AMAZING.
Besides, Pawsitive offers special features such as floating image and organic animations, multi-colored icons, parallax effect, single WooCommerce product, before/after images, and more.
Trust me: It's gonna be neat!
Also, you gain access to numerous stunning plugins, extensive online documentation, and user-friendly customer support.
I am hooked!
Pawsitive features:
1,200+ sales
4.5+ star ratings
Cool & catchy design
Works for one-page websites
Price: $69 (may vary)
MORE INFO / DOWNLOAD
DEMO
12. PetHund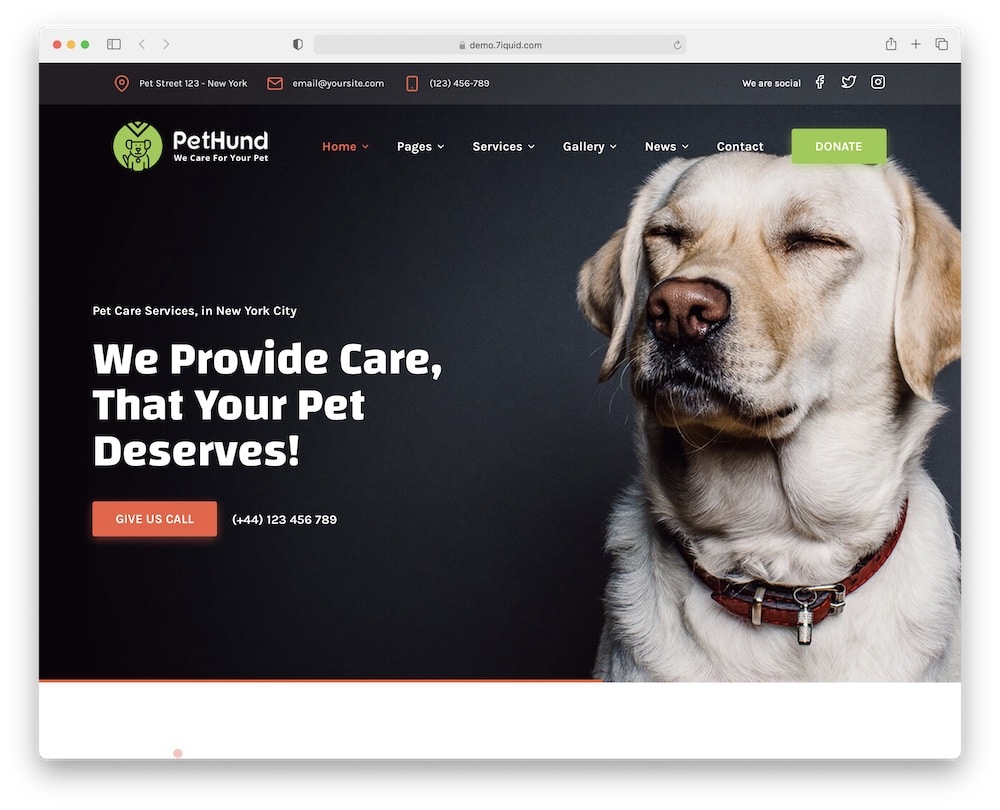 Refresh your ideas and website plans with PetHund WordPress dog theme.
This modern and flexible tool includes pre-designed home and inner pages, popular plugins, visual editing and multiple header styles.
PetHund's whole bucket of useful features is yours.
PetHund is one of my ALL-TIME favorites on this list due to its quick and effortless customization.
You can easily watch your progress (step-by-step) while working with the live drag and drop Elementor page builder – added for free!
High-speed performance and cross-browser compatible options take your website to a whole new level.
Yup, PetHund always woofs you with great possibilities.
PetHund features:
330+ sales
5-star ratings
Frequent updates
90+ UI elements
Price: $59 (may vary)
MORE INFO / DOWNLOAD
DEMO
::
Note: This article was originally published on July 31, 2021. But our team regularly reviews it and updates it with necessary improvements for accuracy.