Are you searching for the best personal trainer WordPress themes?
I've been on my fitness journey for a while but still haven't succeeded.
But I DID succeed at testing and reviewing the best themes for personal trainers!
Proud.
You'll have everything you need to expand your business by the end of this list.
Every theme has unique features optimized for the best performance to ensure an epic user experience.
This post covers:
Better body, better life!
Quick-Pick: My Favorite WordPress Themes For Personal Trainers
Best Personal Trainer WordPress Themes
Read our guide on installing a WordPress theme if it's your first time.
1. Kallyas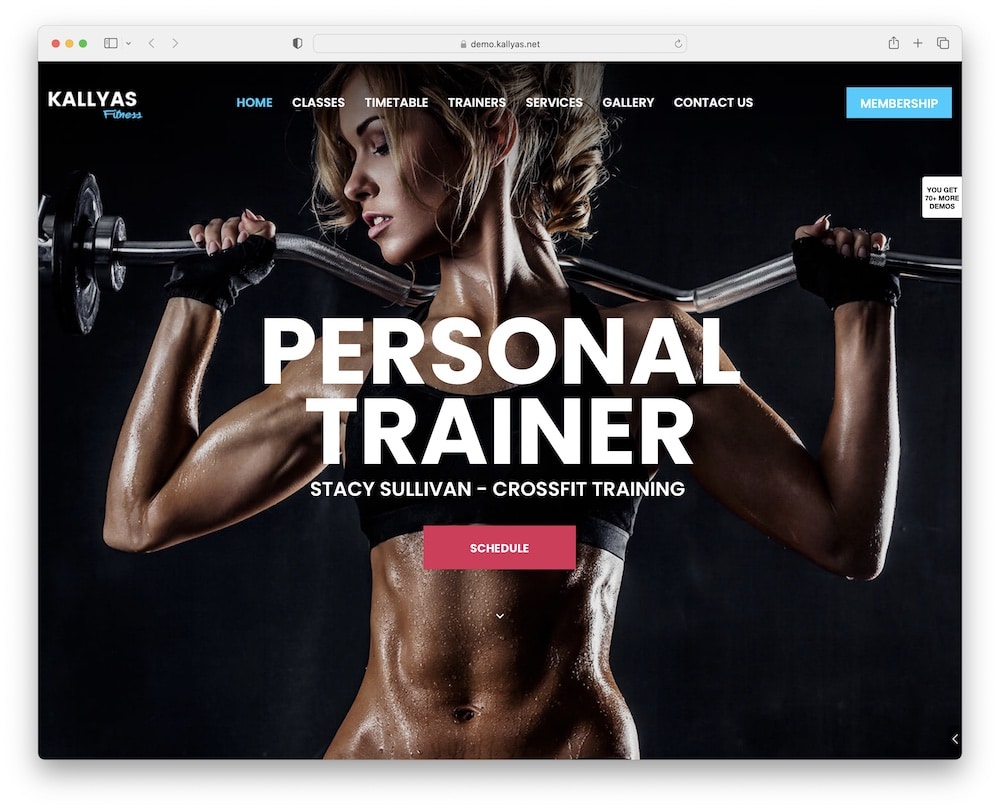 Say HI to a real game changer – the modern Kallyas WordPress theme is tailored for your personal trainer business (trust me!).
You can easily present your professional story, various classes, membership packages, and contact details.
Plus, I think the pre-made Kallyas gallery looks beautiful (tip: choose eye-grabbing images).
Moreover, amazing Slider Revolution, parallax effect, and mega menu are included for FREE.
Big advantage.
Also, Kallyas is translation and RTL ready (our tutorial on how to enable RTL in WP), giving you a chance to spread your knowledge & help people wherever you want. (Use any popular WordPress translation plugin you want!)
Oh, and hey, you can expect a good jump-start with its responsive and SEO-friendly performance.
Ready for more? Let's go.
Kallyas features:
50,900+ sales
4.7+ star ratings
Great video tutorials & documentation
Free lifetime updates
Price: $69 (may vary)
MORE INFO / DOWNLOAD
DEMO
2. Zyth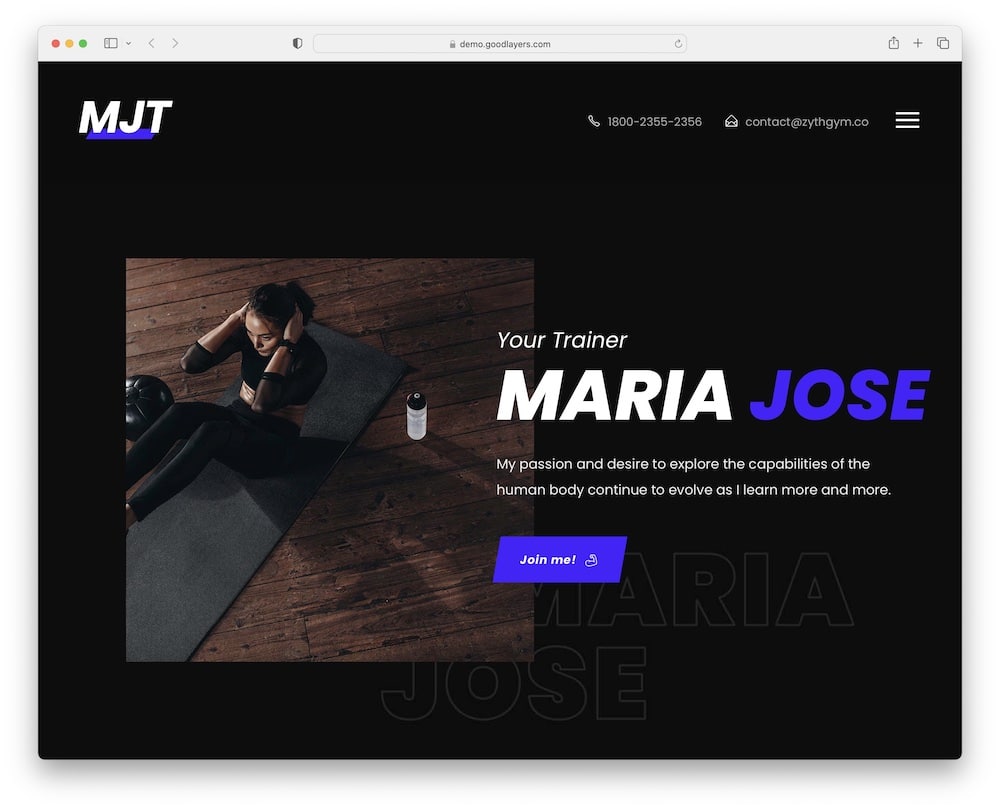 Focus on your journey and feel PROUD with Zyth personal trainer WordPress theme.
Yup, Zyth looks gorgeous, performs smoothly, and gives you unlimited possibilities to work with.
Just import a ready-to-use demo and customize big or small details to your desires.
The best part: NO demand for coding or design knowledge.
Choose WordPress sidebar structure, header & footer style, skin color, background, and much more.
Besides, you get a pretty blog, portfolio, and gallery layouts to kick off with!
And you can even make a video background WP theme via YouTube.
WHY? Because visuals are more memorable, and people love to see and hear stories.
Join Zyth today!
Zyth features:
190+ sales
4.5+ star ratings
70+ page elements, 100+ theme options
Price: $64 (may vary)
MORE INFO / DOWNLOAD
DEMO
3. Wanium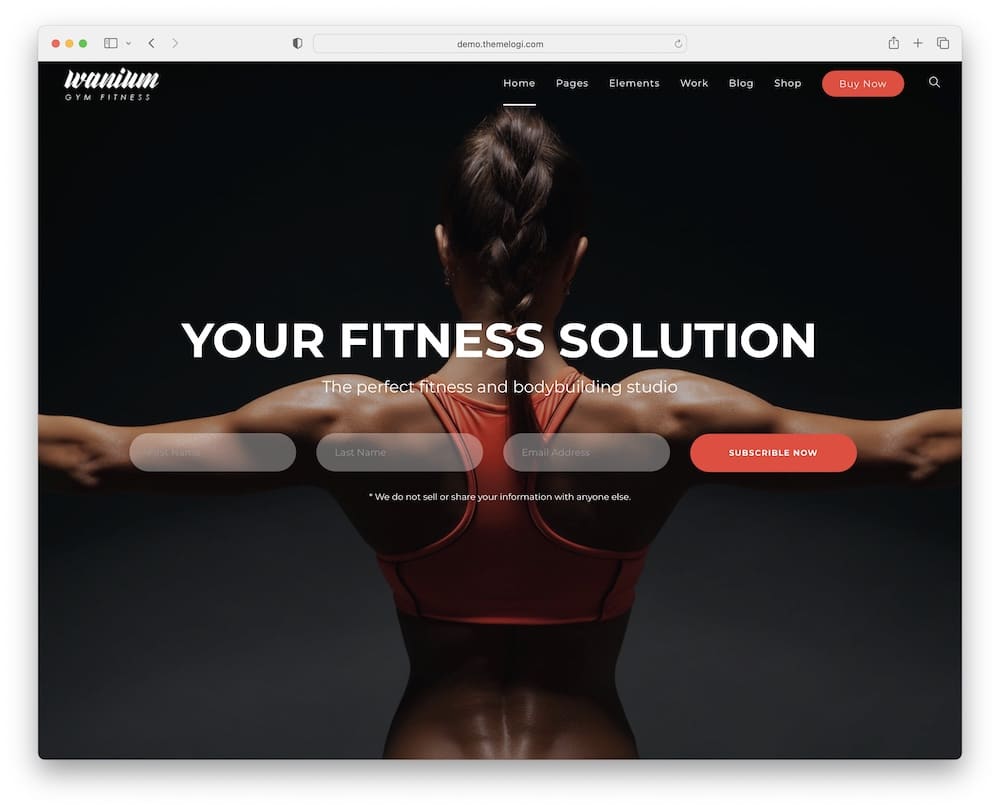 Help millions of people to transform their bodies with your AMAZING fitness and health mindset!
You can show off workouts, display programs, and teach new eating methods via the affordable (just 16 bucks!) Wanium personal trainer theme.
You can even grow your voice and authority with a consistent blog.
Plus, social media features are an excellent starting point to connect your site with your existing fans!
OMG: You can even create your online store with fitness products, equipment, and workout plans.
Testimonials? Yes, please! It's a must to put them on your site (prompt trust and proof).
Let Wanium make THE NOISE!
Wanium features:
MORE INFO / DOWNLOAD
DEMO
4. Gym Edge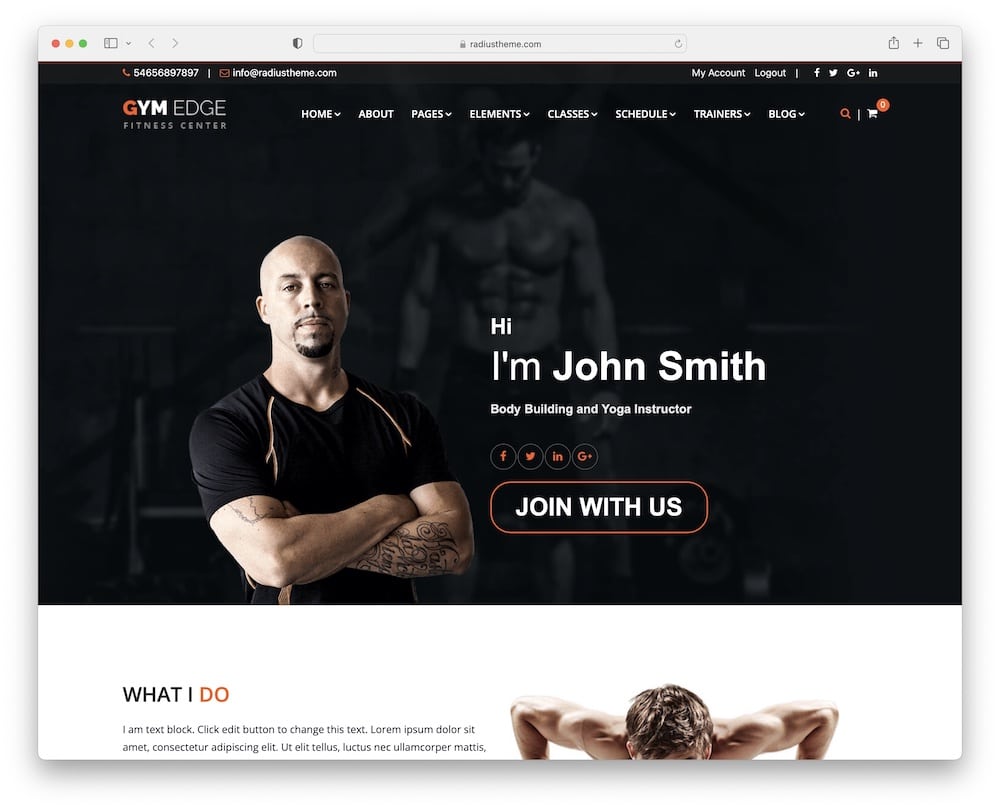 Inspire people to be fitter, happier and healthier through the brilliantly designed Gym Edge personal trainer WordPress theme.
You get to choose from various fully functional homepages for an instant start. Pretty COOL!
Besides, Gym Edge comes with THE BEST WPBakery page builder for entirely visual customization.
The benefits of working with the drag & drop function will blow your mind!
Plus, you can set up the BMI calculator, class schedules, pricing plan, and valuable testimonials. Of course, you can also create your online store (BIG deal, I know!).
And we all like FREE stuff, don't we?!
Well, with Gym Edge, you get free LIFETIME updates (woowiieee).
Gym Edge features:
2,300+ sales
4.9+ star ratings
One- & multi-page layouts
Price: $59 (may vary)
MORE INFO / DOWNLOAD
DEMO
5. Bridge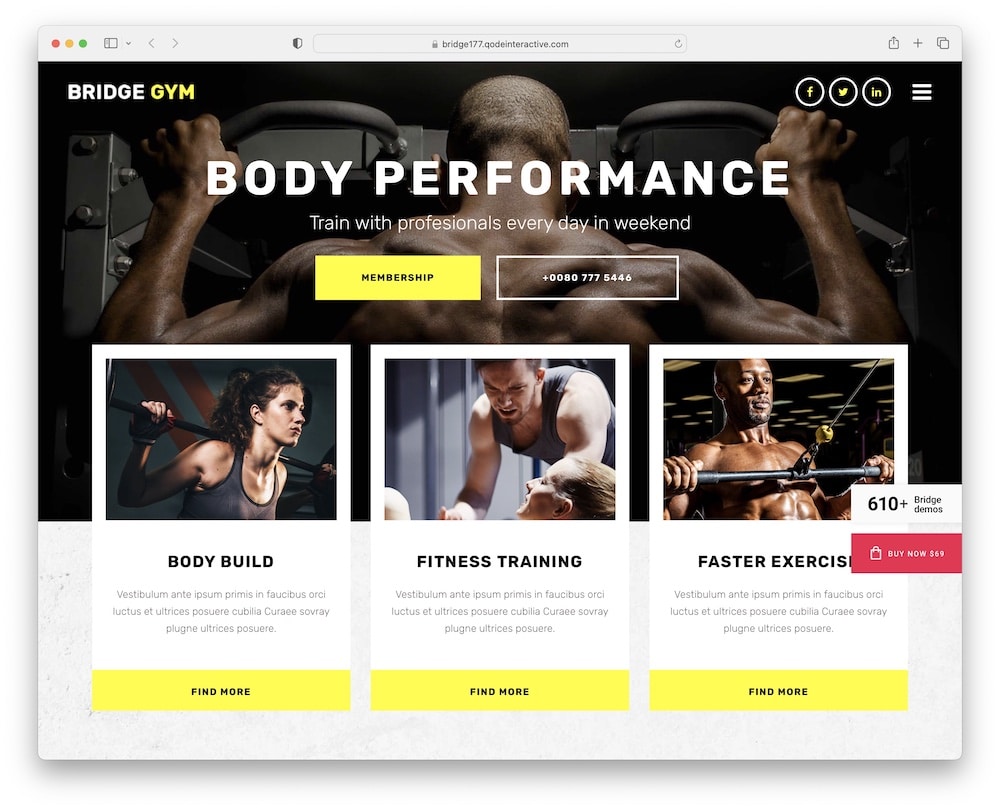 Introduce your coaching & share your energy with the aid of the Bridge personal trainer WordPress theme.
This flexible theme is elegant and clean, offering quick demo import (single click) with numerous stunning features.
Yes, you get pretty pre-made design solutions and the most popular plugins.
WIN. WIN.
Moreover, you can make your entire website engaging and vibrant with smooth CSS3 animations.
TIP: check out all the options, such as hover, background, transition, loading … animations. You can thank me later!
BUT the mega menu is my favorite Bridge element! Great guide for your visitors and a spectacular way to show everything at a glance.
Bridge is super convenient.
Bridge features:
197,000+ sales
4.7+ star ratings
Automatic updates (for life)
Lots of bonus pages for quick integration
Price: $69 (may vary)
MORE INFO / DOWNLOAD
DEMO
6. Coaching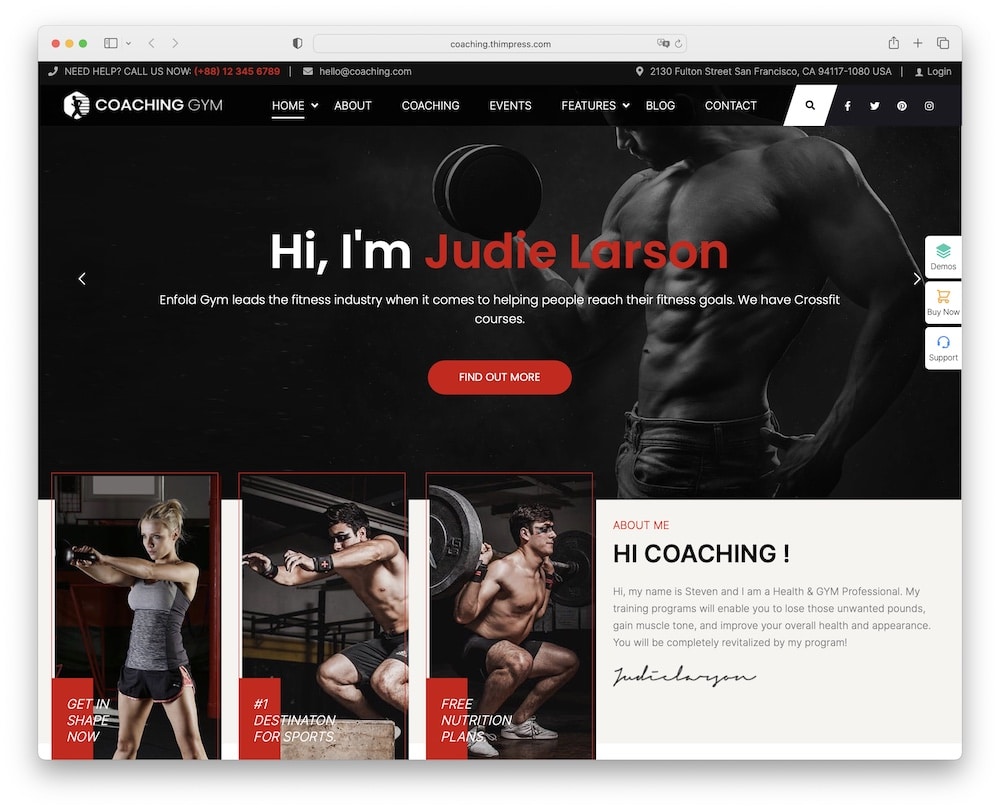 I am happy to present you the Coaching personal trainer WordPress theme.
Coaching comes functional out of the box, BUT you can always change colors, fonts (do you want to learn how to change fonts in WP?), layouts, or add extra functionality via plugins, widgets, or WP shortcodes.
When you are happy with all the changes – go LIVE!
Its responsive & retina-ready design will look great on any screen size or device.
Plus, you can display your images and offers beautifully (luv it) with included Slider Revolution.
Also, try out amazing parallax effect, customizable transitions, and unique animations.
Oh, and Contact Form 7 is a COOL way to add a form to your site. Your visitors can get in touch with you easily.
You got this!
Coaching features:
MORE INFO / DOWNLOAD
DEMO
7. GymBase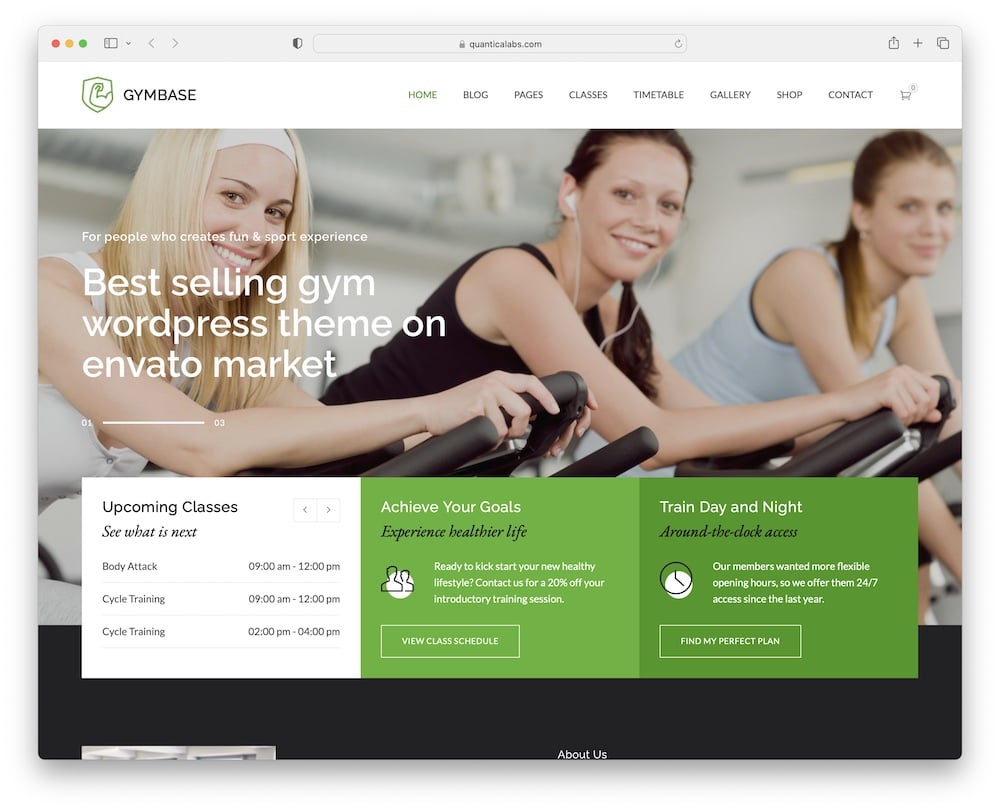 It pays off to move with the GymBase theme!
GymBase is a professional and stylish theme (the design is amazing!) that allows you to use WPBakery page builder or Gutenberg editor to work on configurations totally by yourself.
YES, you heard me!
No need for expensive developers or designers; GymBase comes with EVERYTHING you need.
So, let's begin, huh?
GymBase gives you access to the responsive ready-to-use demo, top-notch customer support, and free lifetime updates. (WAHOO!)
Of course, you can also build your online store (Hello, Mr. WooCommerce). And with included social media icons, connect your platforms with your stunning new site.
Take control with GymBase.
GymBase features:
4,800+ sales
4.3+ star ratings
Create a membership area
Regular updates
Price: $69 (may vary)
MORE INFO / DOWNLOAD
DEMO
8. Athlete Fitness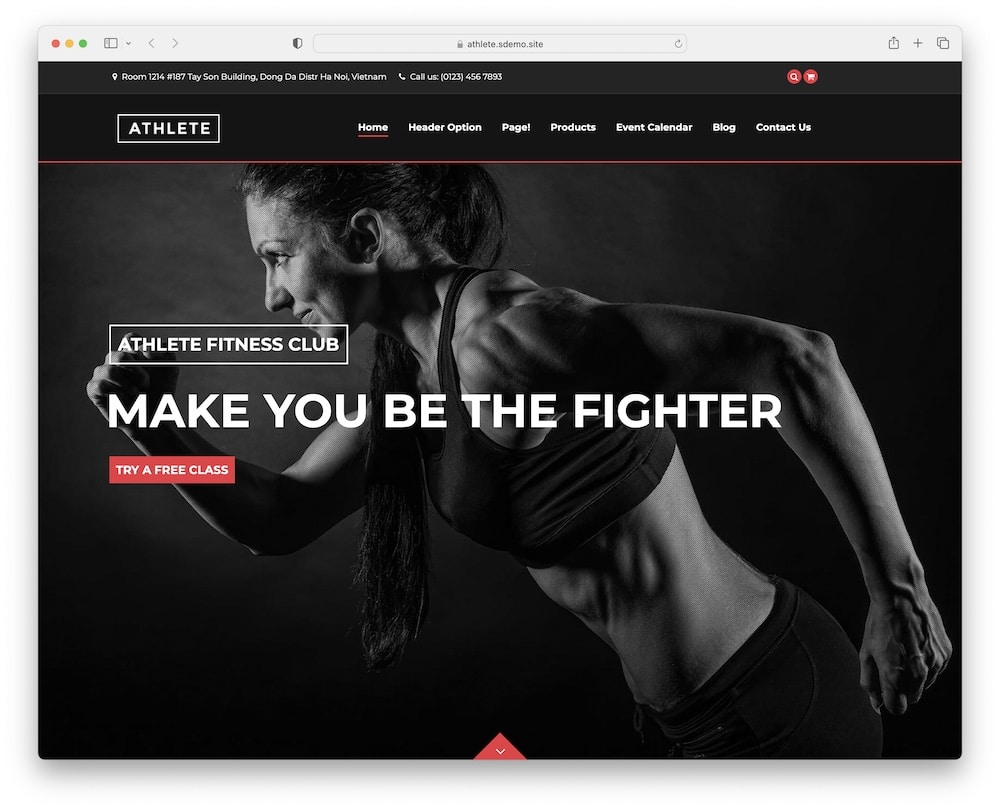 Reach your full potential with the creative Athlete Fitness personal trainer WordPress theme.
Check out seven pre-designed homepages and choose the one you like the most. I really like the intensive black and red combination! But you can change that.
Athlete Fitness offers multiple header & footer layouts, smart post options, and the most popular plugins.
Plus, you can set up a parallax video background.
Moreover, a convenient calendar/event manager comes in super handy! Set out a red carpet and invite your customers to your fitness classes.
Also, inspire your audience and improve their lives with a regular blog. SHOW us your spark.
You are ready to take on the world with Athlete Fitness!
Athlete Fitness features:
MORE INFO / DOWNLOAD
DEMO
9. Vive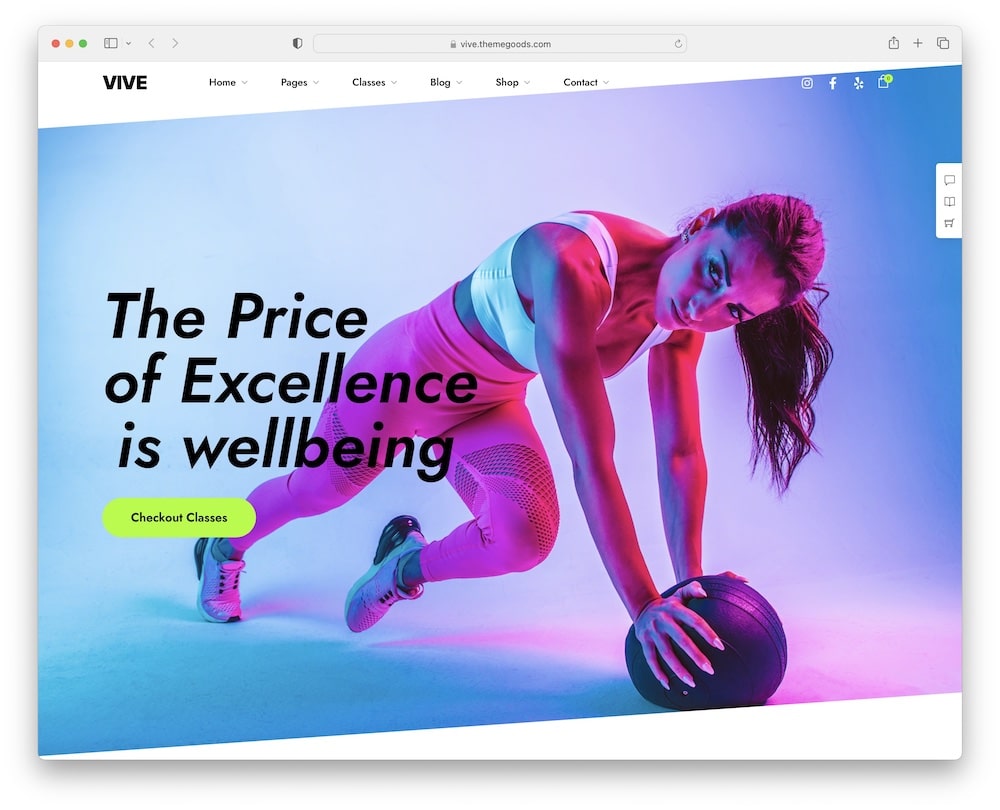 Vive is a youthful and playful personal trainer WordPress theme for professionals like YOU!
Top performance is guaranteed via responsive layout (mobile phone's best friend), fast loading and SEO optimization.
Moreover, you can add a top bar, a WordPress sidebar menu, an awesome gallery, and unique icons.
And you can create beautiful customized slides for the best promotions. BIG. DEAL.
Want to have a blog or online store? NO problem.
OH, and Vive is also translation ready, allowing you to translate it into any language! Yup, it's so simple.
Complete with marketing masters: Contact Form 7 and Mailchimp – an offer you can't resist!
Make your business stronger with Vive.
Vive features:
210+ sales
5-star ratings
Beautiful design
Live configurations
Price: $59 (may vary)
MORE INFO / DOWNLOAD
DEMO
10. Gymat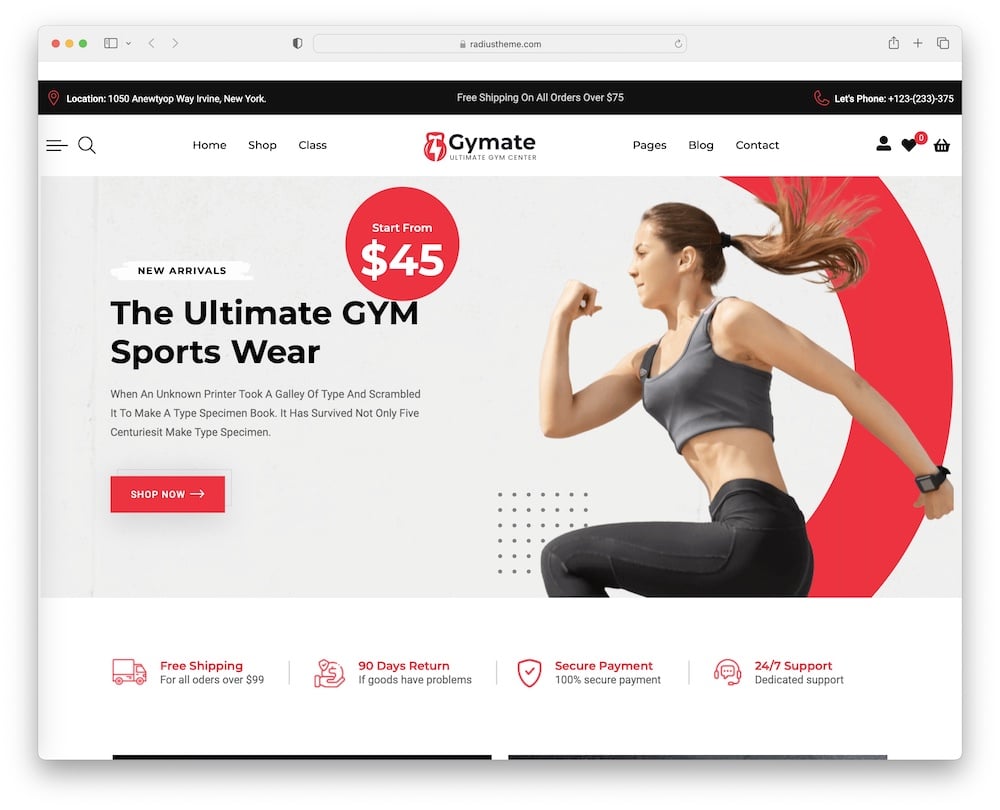 You can build something positive with the outstanding Gymat WordPress theme.
Keep in mind, you will save money and time due to included pre-made designs, powerful plugins, well-written documentation, and professional customer support with Gymat. Good stuff!
Tip?
First, check out provided styles, decide on the right one, and start customizing it with the brilliant drag & drop editor.
From unlimited color combinations and tons of Google fonts to dynamic header & footer options … Do-it-all!
I really like the clean and modern class showcase with displayed prices, hints, video content, and an organized timetable. The perfect display… in my mind, anyway.
Okay. Your turn!
Gymat features:
MORE INFO / DOWNLOAD
DEMO
11. Zium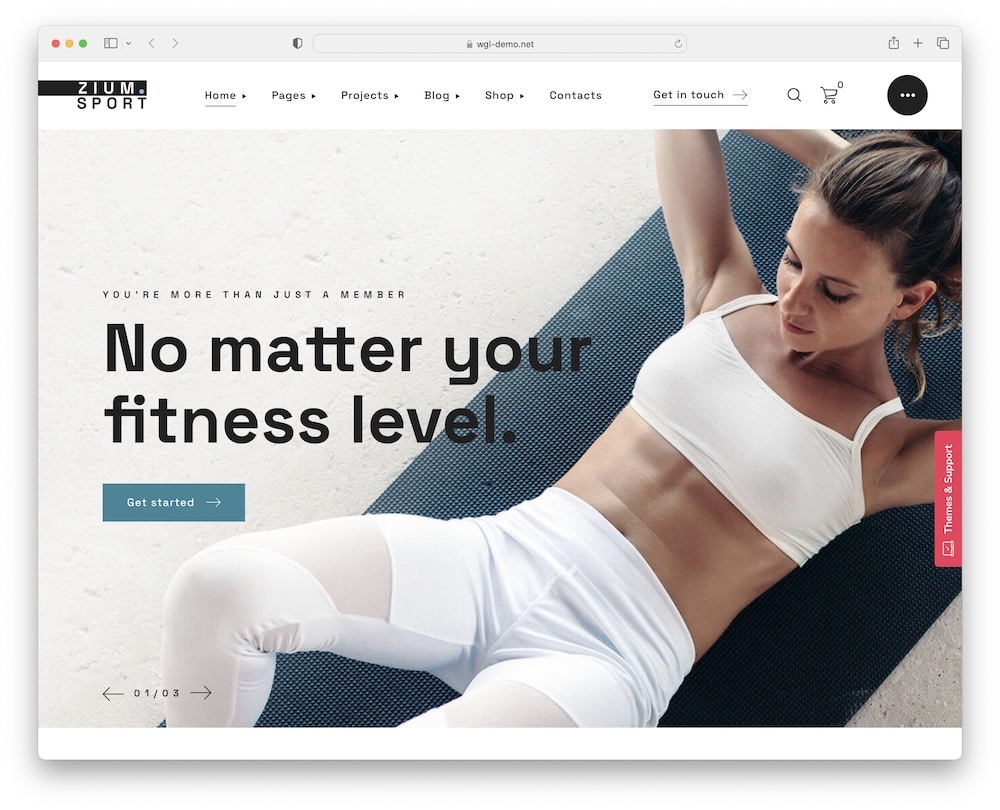 Memorably engage with your audience, show off your talent, offer services and share your fitness vision.
ALL. IN. ONE.
Fresh Zium personal trainer WordPress theme is jam-packed with GREAT features!
I love pre-made inner pages (so pretty!), and trust me: Elementor page builder is an amazing tool to work with! 0 coding, my friends.
Moreover, you can present healthy weight loss, a positive lifestyle, talk about fitness tips, and answer FAQs with the informative blog. I highly recommend you start it.
You can change people's lives!
Also, launch an online store with fantastic products, equipment, and home workout programs with Zium.
You found yourself FAV workout buddy!
Zium features:
180+ sales
4.6+ star ratings
Strong first impression
30+ predefined modules
Price: $69 (may vary)
MORE INFO / DOWNLOAD
DEMO
8 Key Features Of A Great Personal Trainer Website
1. Simple design
Instead of overthinking your design, please keep it simple. That's it!
I highly recommend sticking to the minimalist and clean look that will put your trainer services, testimonials and other content first.
This is also a great way to increase your potential of scoring more clients on your side.
Conversions are proven to improve with a simple design.
2. Mobile & speed optimized
Another key feature of a great personal trainer website is its excellent performance across all devices.
The layout must be 100% responsive and lightweight to guarantee an excellent loading speed.
Note: I tested each WordPress theme with Google's Mobile-Friendly Test and Pingdom Tools.
We also have an in-depth tutorial on how to choose a fast WordPress theme.
3. Testimonials & before-and-after photos
Make sure your website is all about people and not so much about yourself. Hey, we all know you're in shape and shredded.
But what about everyone else?
That's when testimonials come into play. Not just that, but also add before-and-after photos of your clients, which will build trust in what you have to offer even more.
People need to see to believe, and you can use your website as a resource for your successful cases.
4. About page + bio
Not everyone may be familiar with you, so that's why you need to have a compelling about page and bio on your website.
This is your place to shine.
Share with everyone what got you into health and fitness, your purpose, etc.
You can also add a few photos and links to your services and contact page.
5. Services
I recommend you briefly explain your services on your front page.
But also create a separate page where you explain how you can help your clients more in detail.
Let people know what they can expect when they book you.
6. Pricing
Also, don't forget about pricing. Every service, class or other personal training solution you offer should come with pricing.
Offer everyone to know first-hand how much something costs.
And this is also a great place to add call-to-actions so that everyone can make a move immediately.
7. Bookings
Online bookings will save you heaps of time and keep your business more organized.
They can also book your classes. Yes, all this is directly on your website.
Feel free to use a WordPress booking plugin to make it happen.
8. Blog
Running an active blog can help you in so many ways. You can use it as an outlet to share tips and tricks on staying fit and nutrition, which will make you look like a real pro in everyone's eyes.
Also, when you do your blog strategically (read, make it SEO optimized), you can expect even more traffic, which means more business.
::
Note: This article was originally published on October 31, 2022. But our team regularly reviews it and updates it with necessary improvements for accuracy.