I knew what I needed to look for when picking the best WordPress freelancer themes as a (yup!) freelancer myself.
It's not that easy when you have 100s available designs, but sadly, not all are 100% reliable.
That's why I spent months testing and reviewing themes to bring you the ULTIMATE.
It takes you very little time to build your freelancer website once you pick the tool you dig.
You can go minimal or with special effects; here's a theme for you.
Make your freelancing business STAND OUT. (Because you deserve it!)
I'm stoked, are you?
THE ULTIMATE 7:
Best WordPress Themes For Freelancers
1. The Ark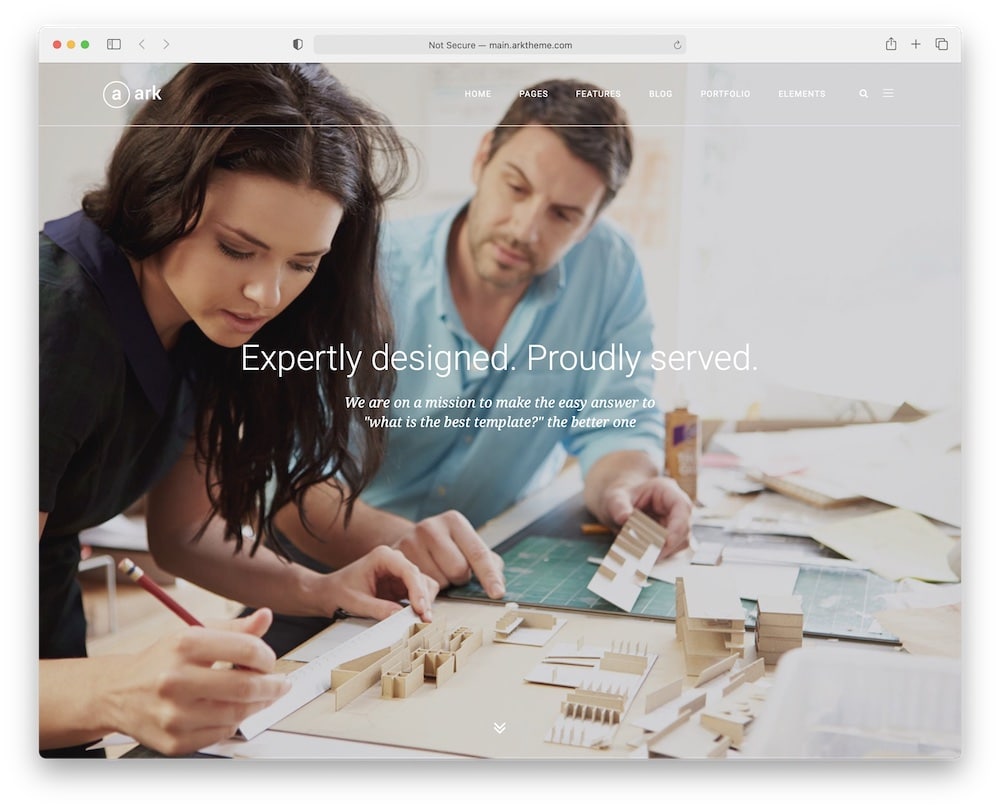 The easiest way to give your brand a beautiful online image without spending a fortune = The Ark. The Ark is the best-rated, top-selling theme, made 100% for freelancers (WOW).
It includes tons of pre-made demos, blocks, pages, layouts, and elements. This "never before seen beast" has everything you will ever need for a successful website.
BIG. YES.
Parallax effect, vertical centering, background layers, unlimited colors, and much more.
All of the featured possibilities are just SO GOOD.
Plus, you can customize every single part of your design (0 codings required)! Seriously, I have never been this excited.
Of course, customer support is fantastic (fast and friendly). Get The Ark NOW at this great price!
The Ark features:
17,000+ sales
4.8/5 star rating
Easily translatable
Price: $25 (may vary)
MORE INFO / DOWNLOAD
DEMO
2. Lobo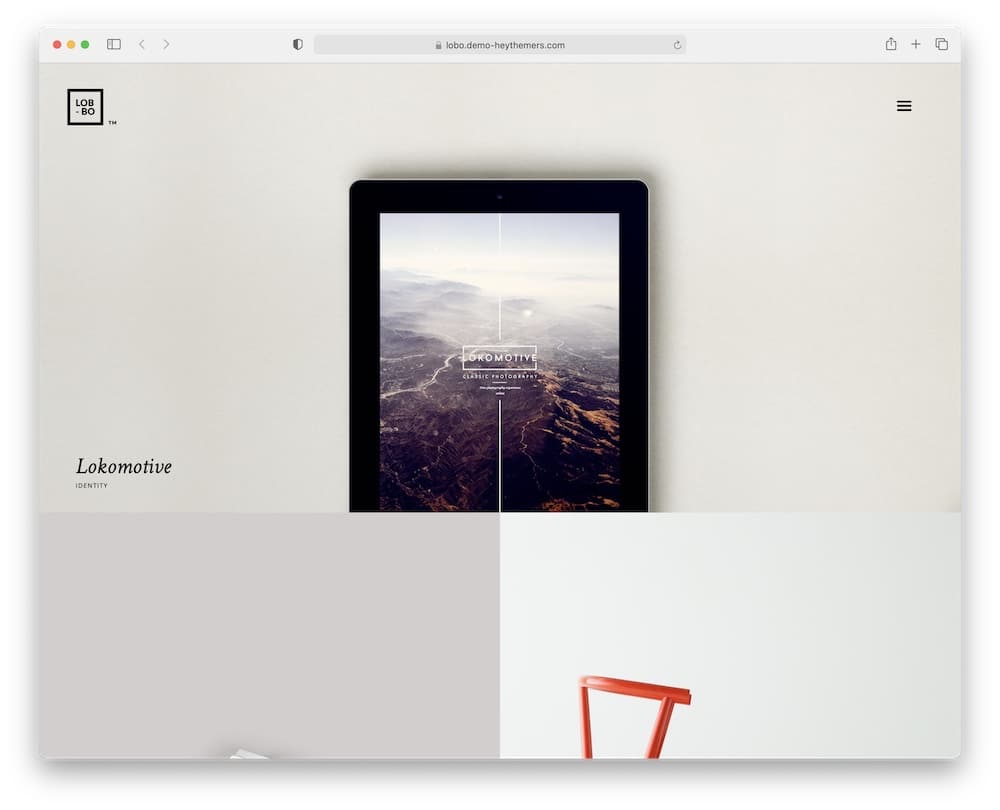 Oh hey, you guys – just me – with another gorgeous theme! Lobo WordPress freelancer theme is great for creative agencies, photographers, illustrators, or developers.
Let's face it: You can have a stylish and modern portfolio website ready in minutes. YAY!
With Lobo you can blog like a champ, just write and publish valuable content every day. Yup, you can easily reach billions of people on the internet and grow your influence.
Besides, Lobo is responsive, retina-ready, and fully adjustable (text, fonts, colors, icons, videos).
The best part? If you have your eyes on owning your online shop, now you can (!) due to the fantastic WooCommerce plugin!
SUCCESS.
Step up your game with Lobo.
Lobo features:
MORE INFO / DOWNLOAD
DEMO
3. Pitch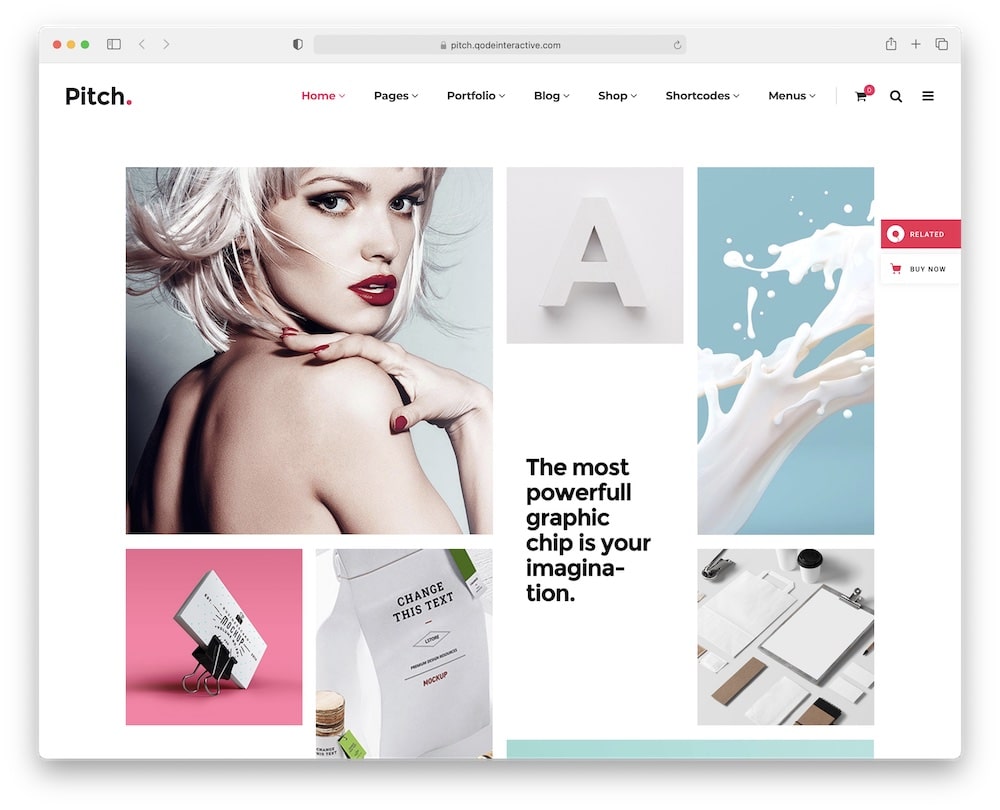 Pitch WordPress freelancer theme is the perfect choice for those of you wanting unlimited possibilities for your creative mind.
Stunning, modern, and responsive – THAT'S WHAT'S UP!
It comes with twelve ready-to-use homepages (one-click import), a powerful admin interface, and a high level of customization. Present your work in the best way (make some noise!).
Bless you, amazing features (!) – mmm yes, with Pitch you get WooCommerce, Ajax technology, WPBakery builder, and Contact Form 7. (They are included for FREE.)
I needed a beverage.
Pitch is also SEO-ready – meaning you can get more traffic by ranking higher in search engines due to smart use of keywords, optimized content, speed – HIGH VALUE.
This one is the one!
Pitch features:
MORE INFO / DOWNLOAD
DEMO
4. Flamingo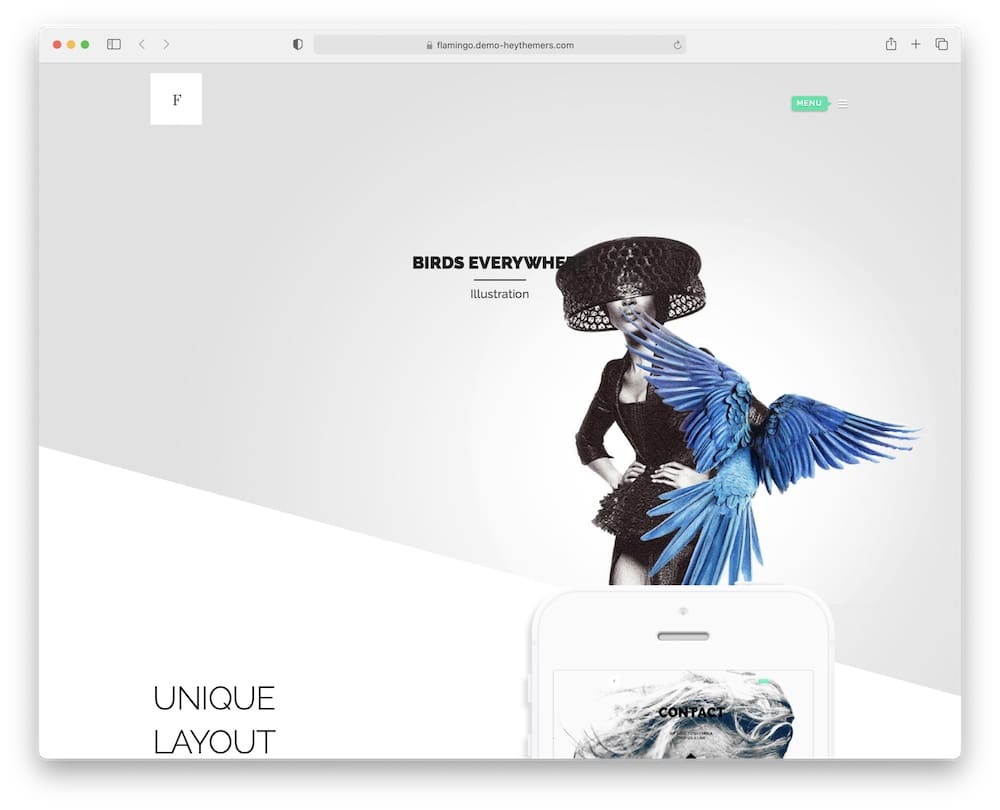 Flamingo theme is a story about a simple design idea that can showcase your work with a WOW effect. Smart & quick.
You can mix and match different layouts, block elements, colors, fonts, or change thumbs size, icons, and backgrounds.
Take control and do whatever you desire! (Combinations are unlimited.)
Besides, Flamingo comes with custom animations, infinite scroll, various galleries, and five different navigations. Yes, I know this stuff is GOLD.
You guys know (by now) that I love professional portfolios and Flamingo makes it happen easily. Look like an expert right from the start!
Flamingo features:
2,200+ sales
4.6/5 star rating
100% customizable
Price: $69 (may vary)
MORE INFO / DOWNLOAD
DEMO
5. Exertio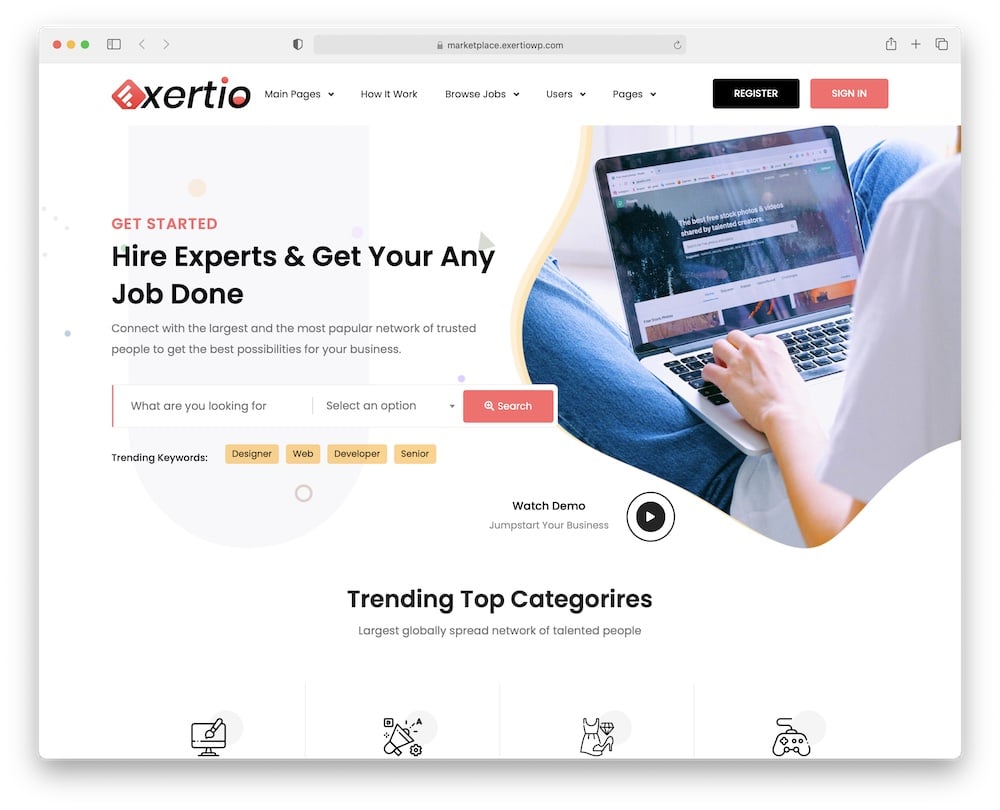 An idea born from the freelance world to help you earn like never before.
Exertio WordPress freelancer marketplace theme is compatible with WhizzChat, has a built-in monetization system, and offers multiple payment methods for your customers.
STAND. OUT.
Best of all: It comes with the amazing Elementor page builder (code-free). YUP, you can do everything yourself, no more design limitations. And 8M+ websites are built with it globally. DOPE.
Obviously, Exertio is SEO optimized to keep search engines happy and jolly fellows.
Oh, and if you would like to translate it into different languages (keep calm), you can! Exertio can speak all the languages of the world (hero!).
All good in the 'hood of Exertio.
Exertio features:
680+ sales
4.7/5 star rating
Price: $79 (may vary)
MORE INFO / DOWNLOAD
DEMO
6. Otivar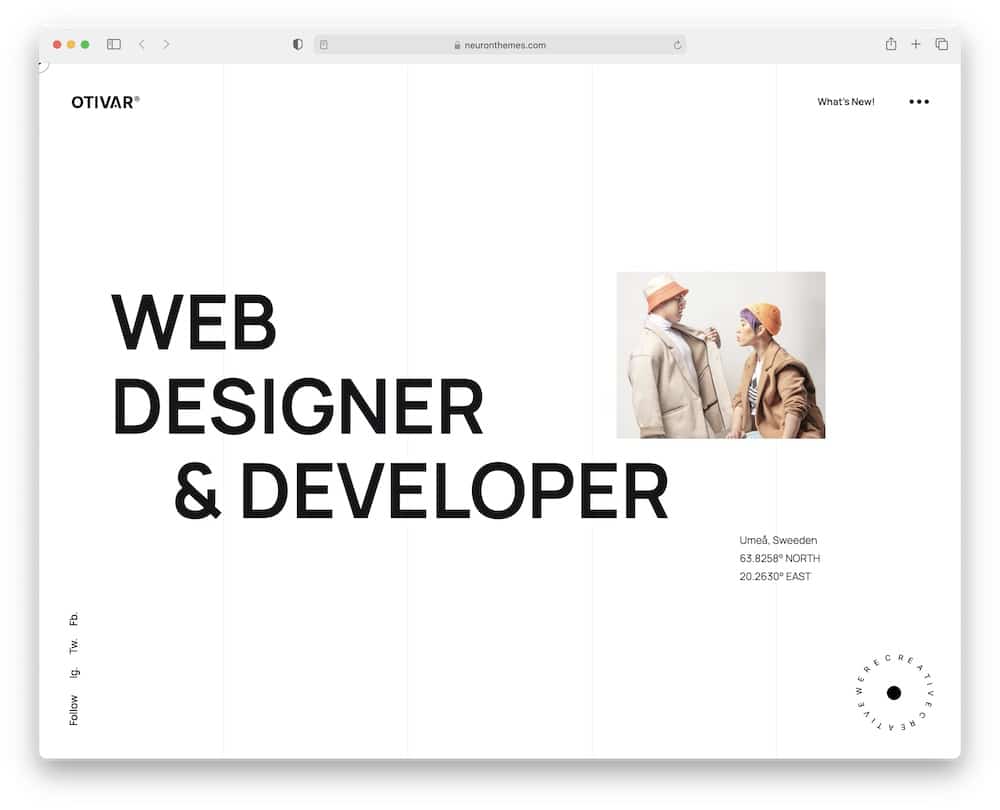 Otivar WordPress freelancer theme is soooo modern and professional! Not that I am surprised, but it's great to check out a clean, smartly designed theme.
You can also experience the power of drag-n-drop page builder with Otivar. YES, you can feel comfortable (even if you don't have any coding knowledge) building and designing your website.
Pre-made homepages, numerous elements, motion effects, and the best plugins (I know) – you will create a masterpiece. Now is the time to swim in glitter if you want to.
And let's not forget about the advanced framework, browser compatibility, SEO optimization, and responsive design.
What more can I say?
Treat your business with amazing Otivar and never look back!
Otivar features:
150+ sales
5/5 star rating
Blog
Online shop
Price: $59 (may vary)
MORE INFO / DOWNLOAD
DEMO
7. Nù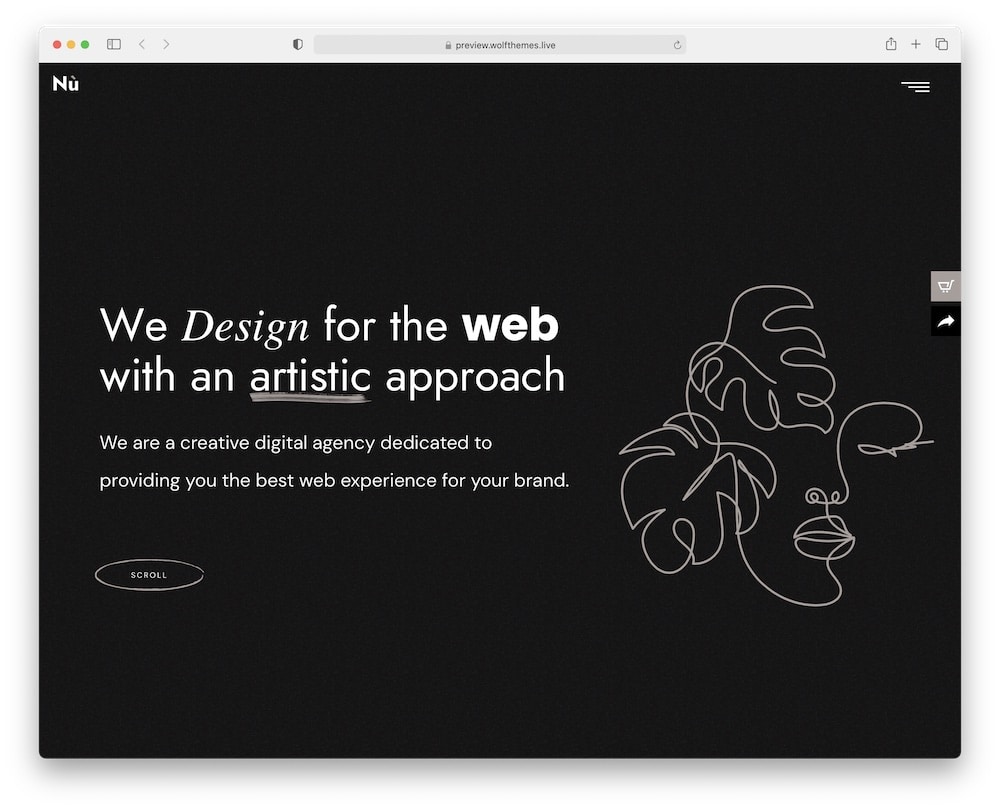 I absolutely DO when it comes to Nù WordPress freelancer theme. This theme is dedicated to designing studios, personal portfolios, and modern agencies.
You can create your own valuable portfolio with minimal effort.
Release your site to the public and spread the news via word of mouth. Plus, you can top it all up with social sharing options!
BLISS.
On the flip side, Nù comes with the best plugins such as Slider Revolution, WooCommerce, mega menu, MailChimp, and Contact Form 7. YUP, all you need is here!
Moreover, first-class customer service, detailed documentation, and regular updates will turn your site into the path to success.
POWER. OF. GOOD. FOUNDATION.
Remake Nù as you dream it.
Nù features:
50+ sales
4.5/5 star rating
Price: $69 (may vary)
MORE INFO / DOWNLOAD
DEMO
8. Charm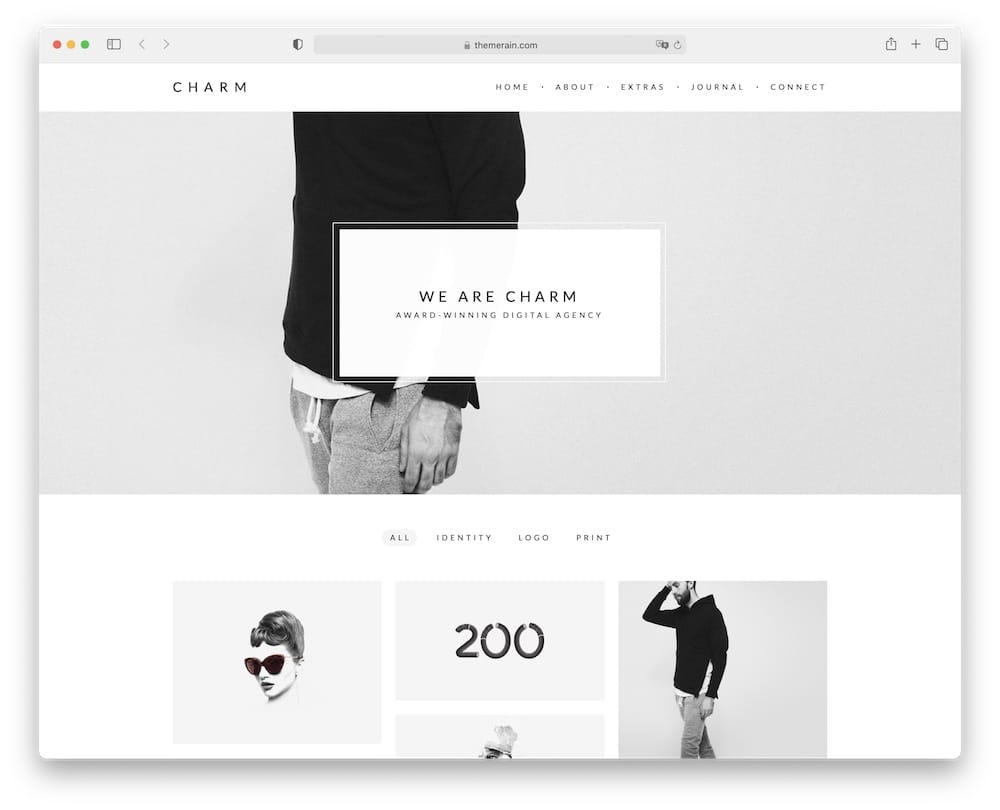 Think of a Charm WordPress freelancer theme ​as the condiment part of your sandwich: YES, you can make a sandwich using just bread, ham, and cheese BUT how much better does that sandwich taste with mayo?
Elegant Charm will bind it all together and genuinely help you grow your brand!
You can easily change the site title, set colors, upload a logo, mix typography, and create interesting blog posts.
Plus, you can have unlimited portfolios to showcase your stunning projects.
And mate, never worry about speed again. Charm is blazing fast and fully responsive. Hurray!
Make the world a better place with Charm (really worth looking at).
Charm features:
2,300+ sales
4.5/5 star rating
Free updates 4 life
Filterable grid
Price: $44 (may vary)
MORE INFO / DOWNLOAD
DEMO
9. Kvell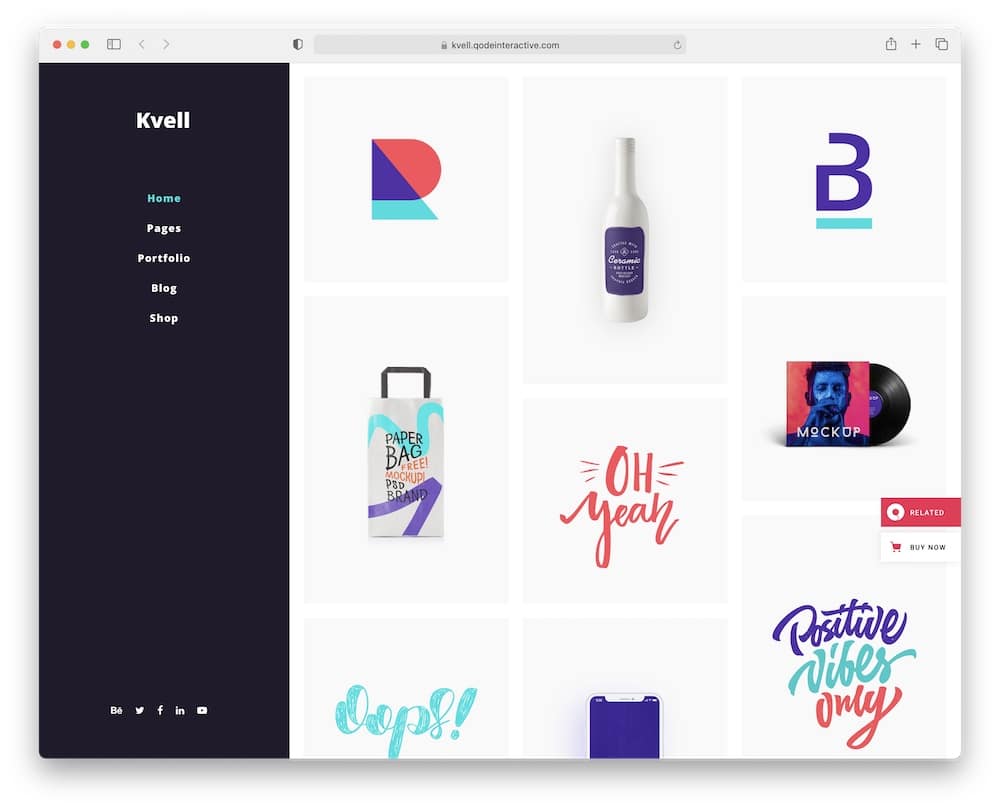 You need Kvell if you want a fantastic, creative and flexible freelancer website (congratulations!).
One-size-fits-all = YUP, Kvell is suitable for multiple businesses and comes with a lovely set of portfolio layouts to showcase your magnetic work.
Look and feel irresistible!
In fact, Kvell is equipped with one-click import demos, different home and inner pages, numerous shortcodes, useful widgets, and dynamic icons.
Endless possibilities are waiting for you – to do you.
Dude, you can also enable animations, parallax images, and add video backgrounds. HOT.
My advice? Instead of a one language website, create a multi-language site due to Kvell translation-ready option.
Dare to be everywhere in the world and achieve your goals with Kvell.
Kvell features:
250+ sales
4.4/5 star rating
Price: $69 (may vary)
MORE INFO / DOWNLOAD
DEMO
10. Vangard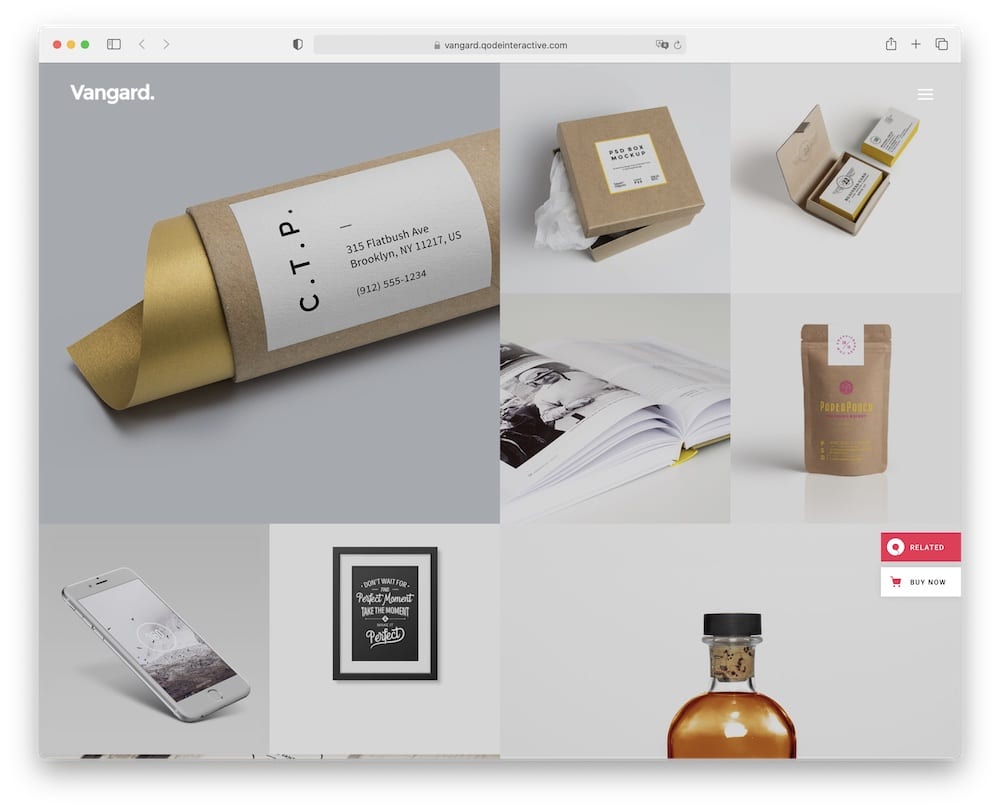 This dynamic WordPress freelancer theme is everything you need for your perfect website. Vangard is easy to work with, packed with amazing tools, and requires NO coding skills, DUH!
Who's it for?
Creative agencies, design studios, and professionals are the best match for convenient Vangard.
With little work and time, you can start ASAP due to ready-to-use homepages, layouts, pages, and portfolio lists.
It also handles many popular plugins such as WPBakery page builder, WooCommerce, and Contact Form 7. *SING CHOIRS OF ANGELS*
One of the options you should consider is adding a client's carousel and testimonials slider on your site. Don't forget, customer feedbacks are often the best marketing you can have.
Get Vangard today!
Vangard features:
1,200+ sales
4.6/5 star rating
One-page website
Regular updates
Price: $75 (may vary)
MORE INFO / DOWNLOAD
DEMO
11. Büro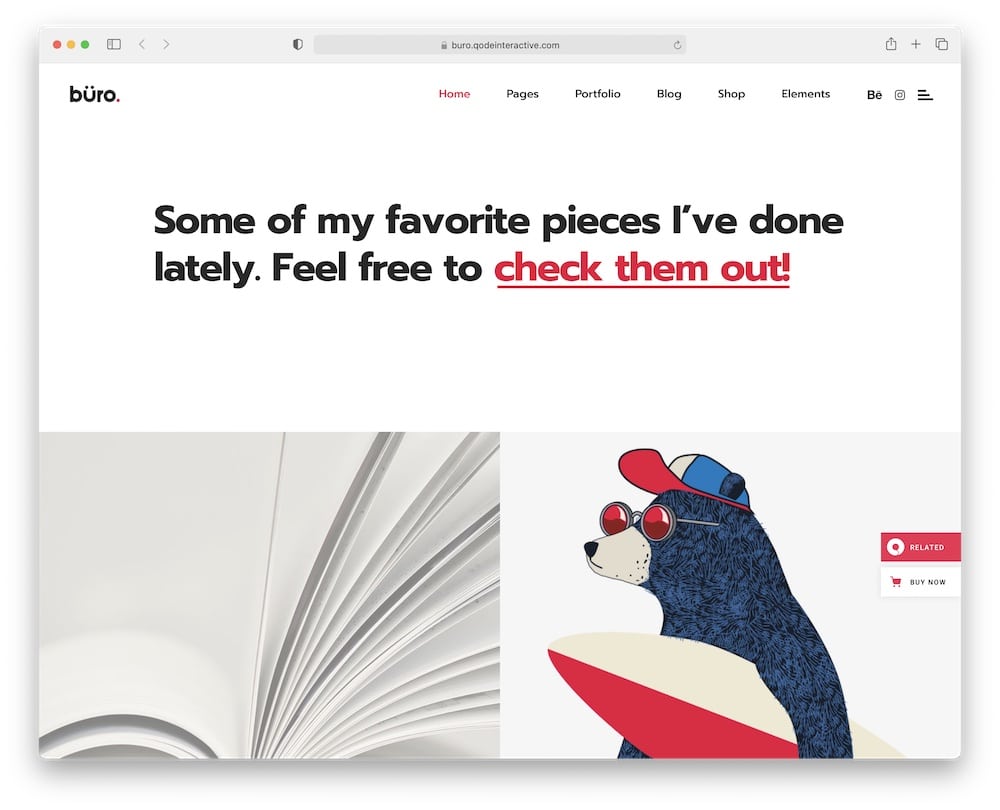 Get yourself to check/swipe/test – do whatever you need to do to get Büro WordPress freelancer theme in your hands. (But I tested it for you, which counts, too!)
This amazing toolkit includes a wide array of features, pre-made designs, useful elements, and layouts. Even a child theme is available.
You will find no faff here.
Büro is totally customizable, responsive, and retina-ready for all devices. Its performance is great (flawless) and smooth (bloody love it).
Like that would not be enough, Büro comes with a stunning mega menu SO that you can create a horizontal or vertical menu in a few simple steps.
And you can use social media icons to connect with your audience quickly. Bring all your channels together and increase your brand recognition with Büro.
Büro features:
800+ sales
4.1/5 star rating
Extensive documentation
Fast support
Price: $75 (may vary)
MORE INFO / DOWNLOAD
DEMO
12. Overton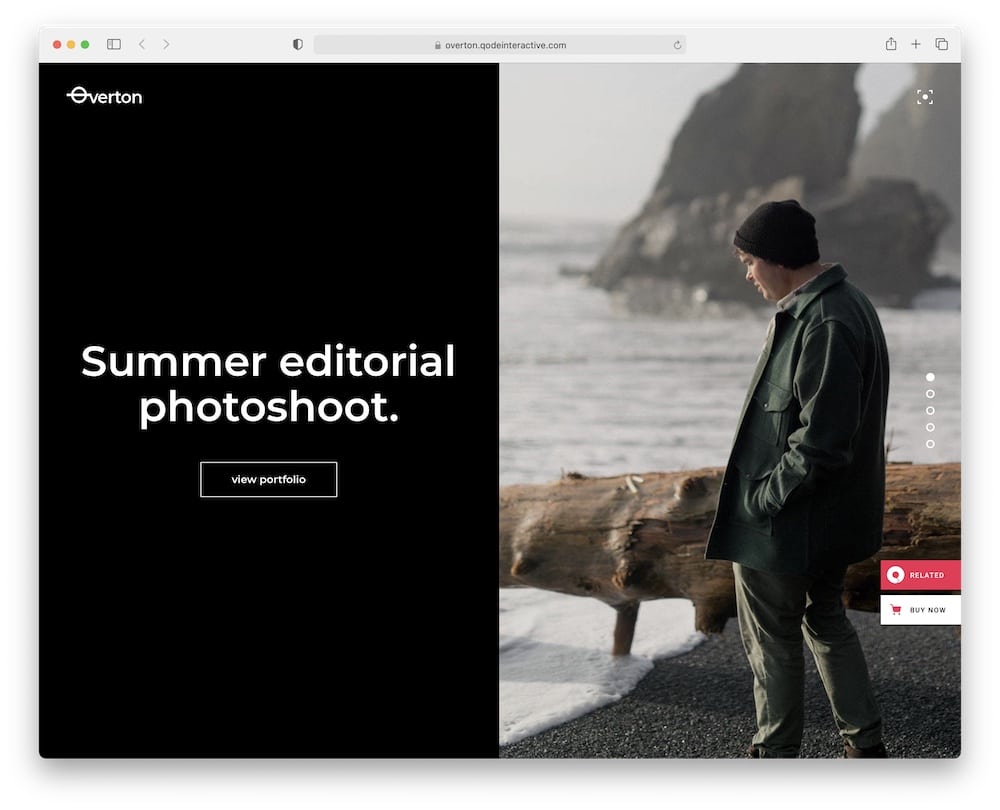 What makes Overton WordPress freelancer theme great?
Well, this multi-concept theme comes with creative homepages (fourteen of them), impressive portfolio lists, different inner pages, and effortless editing.
Bear in mind, like tasty coffee, Overton's ready-to-use designs are REALLY good.
In fact, this dark theme allows you to add video background, set parallax effect, or split-screen layout. Plus, it's responsive and retina ready for all kinds of screens.
Create a professional-looking site from the start (+have fun!).
Oh, and if you are going to use Overton, remember, it's highly customizable (!). YUP, typography, color, style, plugins, and widgets – you can mix and match it all.
ACTION.
Overton features:
780+ sales
4.4/5 star rating
Integrated maps
Easy & quick to use
Price: $75 (may vary)
MORE INFO / DOWNLOAD
DEMO
13. Bjorn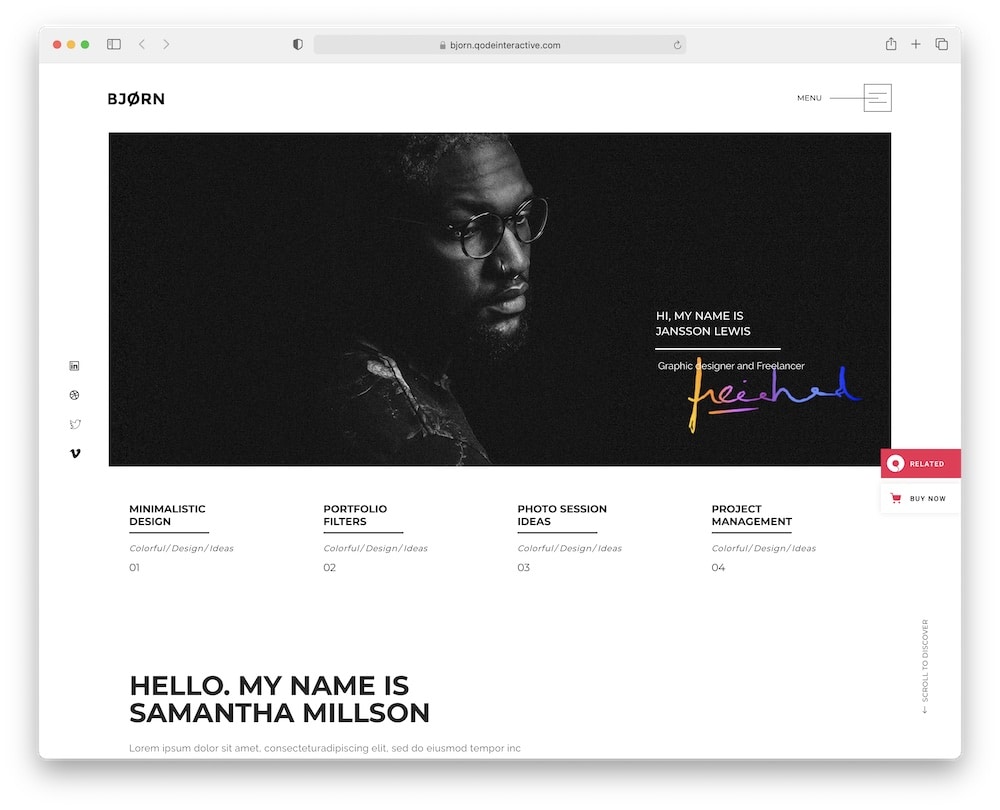 This is one of the top WordPress freelancer themes, as it provides a modern and clean style intertwined with phenomenal features. This is key and your new best friend – Bjorn (hi, dude).
Besides, Bjorn offers an extensive collection of stunning templates that you can import with one mouse click (magic).
Of course, you also get simple to follow user manual (be a nerd, stick your nose into added documentation).
It also handles WPML, meaning you can create a multilingual website. (EPIC, be a polyglot!)
On top of that, you can even create your online shop (what a bargain!). Easy to use WooCommerce is just a guaranteed success.
HI5.
Bjorn is a classic (but powerful)!
Bjorn features:
360+ sales
4.9/5 star rating
I love the minimal look
Price: $75 (may vary)
MORE INFO / DOWNLOAD
DEMO
14. Elston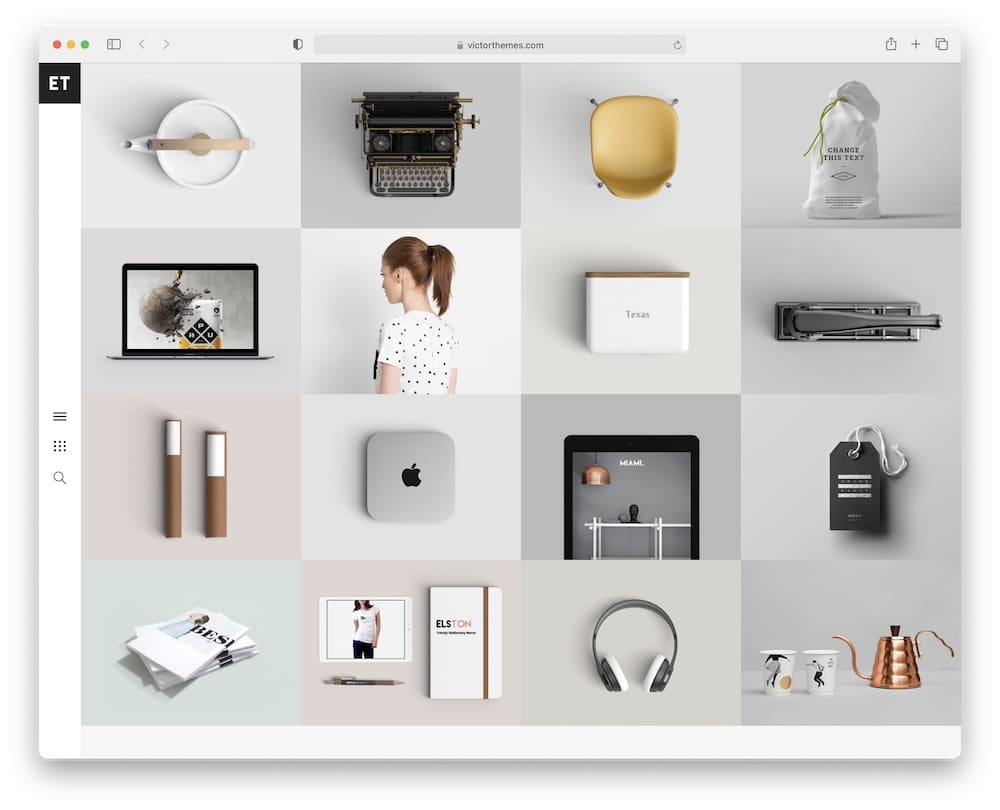 This super-smart WordPress freelancer theme is fully compatible with the most popular plugins (great head start).
It also comes mobile-friendly and SEO-optimized.
HURRAY!
Amazing demo variations, portfolio grid, column options, and stunning hover effects will make your site even more attractive and unique.
Karate kick your competition!
Of course, you can start your blog (blazing fast) due to Elston's (nailed down) ready-made layouts. You have tons of options and breathtaking possibilities, SO buckle up for an adventure!
Lifetime updates? YES, please! Fast& friendly support? These guys. They win the world.
Overall, Elston is likely to be a top pick (and only) for you!
Elston features:
380+ sales
4.6/5 star rating
Lifetime updates
Handy video tutorials
Price: $48 (may vary)
MORE INFO / DOWNLOAD
DEMO
15. Anchor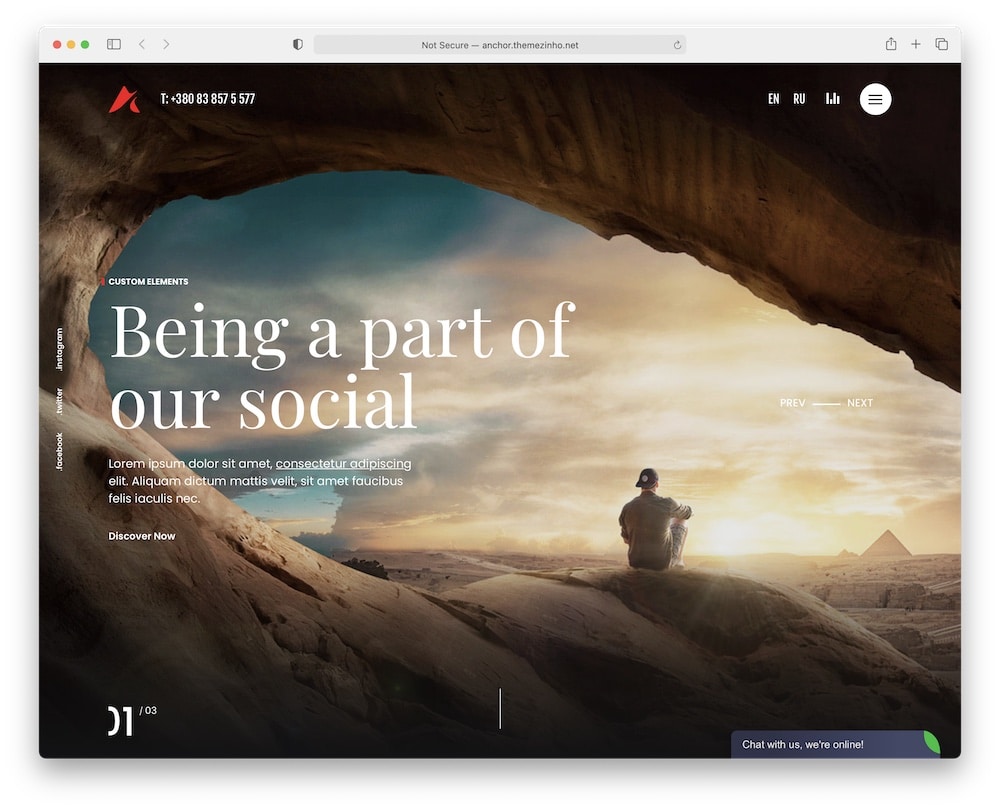 Boost your business with a gorgeous and responsive Anchor WordPress theme for freelancers.
The awesome masonry grid system, animated pre-loader, video background hero section, fullscreen hamburger navigation are just a few reasons to choose Anchor!
Repeat after me: My portfolio will make an incredible legacy with creative Anchor. YUP, instant results.
Plus, no confusing designs – just a bucket full of fun. Enjoy dozens of Google fonts, background music, amazing animations, soft page transitions, and unique icons.
BADASS.
Anchor also supports all versions of web surfing to guarantee a SUPERB performance. It is your time (now) to shine with Anchor.
Anchor features:
390+ sales
4.4/5 star rating
Sound effects
Fast support
Price: $49 (may vary)
MORE INFO / DOWNLOAD
DEMO
16. Delia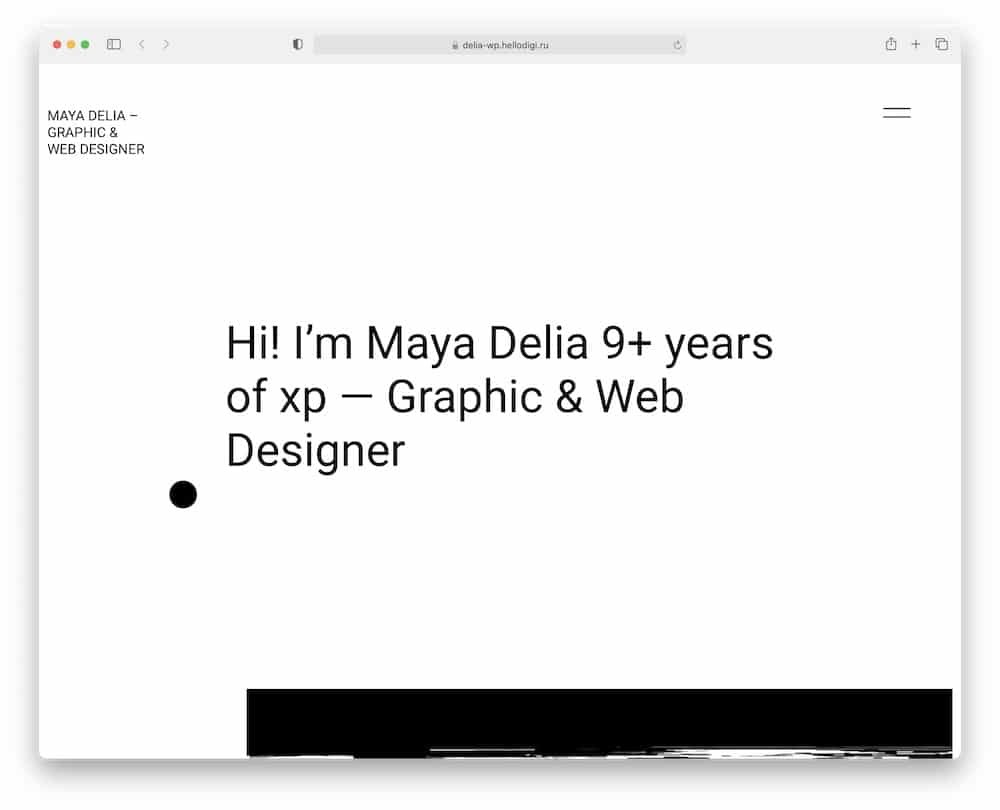 The best freelancers enjoy and love what they do. Delia theme enables you to build, manage and design your website with confidence.
Remember, Delia is your buddy, mentor, and your marketing tool.
Anything is possible once you tap into your authentic and powerful creative work!
Delia appreciates minimalism, creative projects, and si fully adaptive. Also, it offers a night/day mode to give your visitor's eyes a break (a simple "on and off "setting).
Fantastic!
Moreover, Delia is compatible with all major browsers and is blasting fast! Its performance made me smile the whole time using it.
Maximum performance really adds a BIG sparkle to your site. (It did for me!)
Reach the stars with stunning Delia.
Delia features:
40+ sales
4.5/5 star rating
Catchy effects & animations
Awesome about page
Price: $39 (may vary)
MORE INFO / DOWNLOAD
DEMO