We've received many requests from photographers and other creatives to review the best WordPress grid plugins.
It finally happened!
And we went one step further, combining the best free (quick work) and premium (complete freedom) plugins.
Aren't we the coolest?
This post covers:
Creating grids for your latest posts or galleries has never been this easy.
Images, videos and audio, it's all possible to put in different types of grids, like JUSTIFIED, MASONRY and more.
Increase user activity and make content presentation professional and organized quickly and effortlessly.
Showcase your content like never before!
How We Tested WordPress Grid Plugins
Before performing actual plugin tests, we first reviewed user feedback and overall ratings. We then checked how regularly the plugin is updated, which, combined with the former, gave us a more general feeling of reliability.
We then installed all the plugins on ULTIDA's demo website and tested them for speed to ensure they didn't bloat and slow down the website.
From here, we A-tested each plugin's responsive layout by creating a live grid on the front end.
We also examined the configurations and settings to ensure everyone would get the most out of each plugin. Remember that a premium tool offers many more goodies than a free one.
Lastly, we asked ourselves two more questions: 1) HOW good is the support, and 2) HOW quality and helpful is the documentation?
THE ULTIMATE 3:
Hey, you may also read through our guide on how to install a WordPress plugin first.
Best Premium WordPress Grid Plugins & Builders
1. Essential Grid Gallery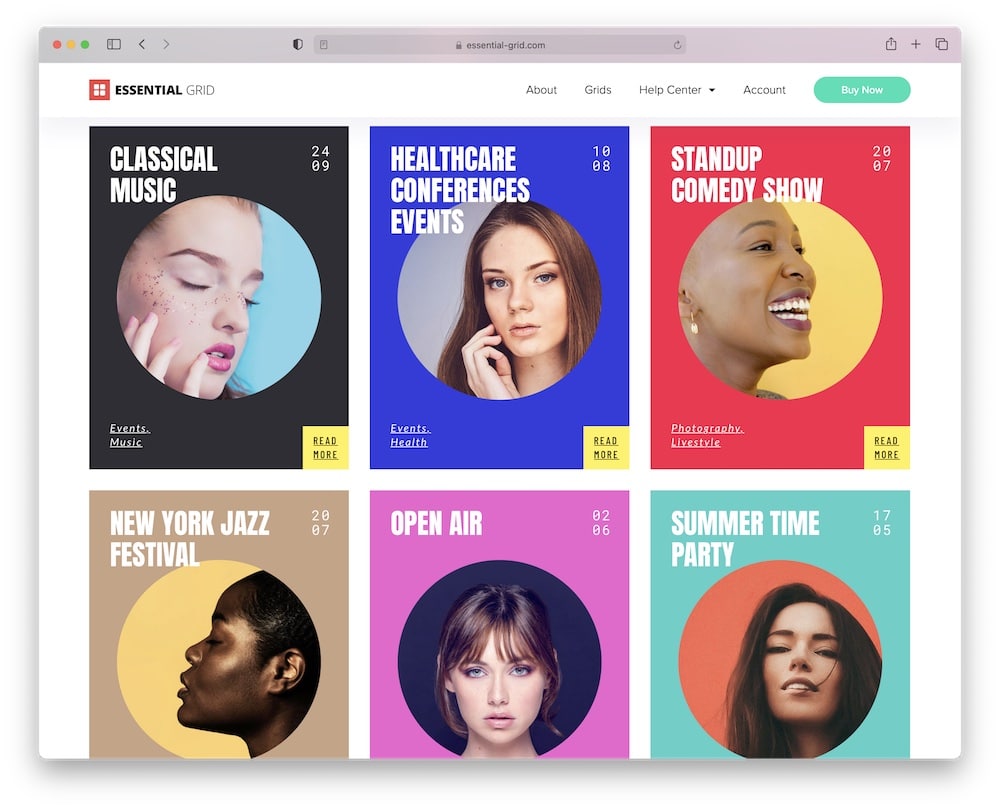 Our first choice is Essential Grid Gallery. This WordPress grid plugin needs no introduction as it is a very well known grid plugin with 47,000+ sales.
With this plugin, you get a variety of features to work with. One of the most important is having 50+ starting grids to choose.
Also, you can select as sources some of the biggest social media brands like Twitter, Instagram, YouTube, Vimeo, etc.
In a few words, Essential Grid Gallery is the best way to go if you need a powerful grid plugin for your work.
We opt for it time and time again for blogs and websites.
Essential Grid Gallery features:
47,600+ sales
4.7/5 ratings
Mobile optimized
Price: $69 (may vary)
MORE INFO / DOWNLOAD
2. Justified Image Grid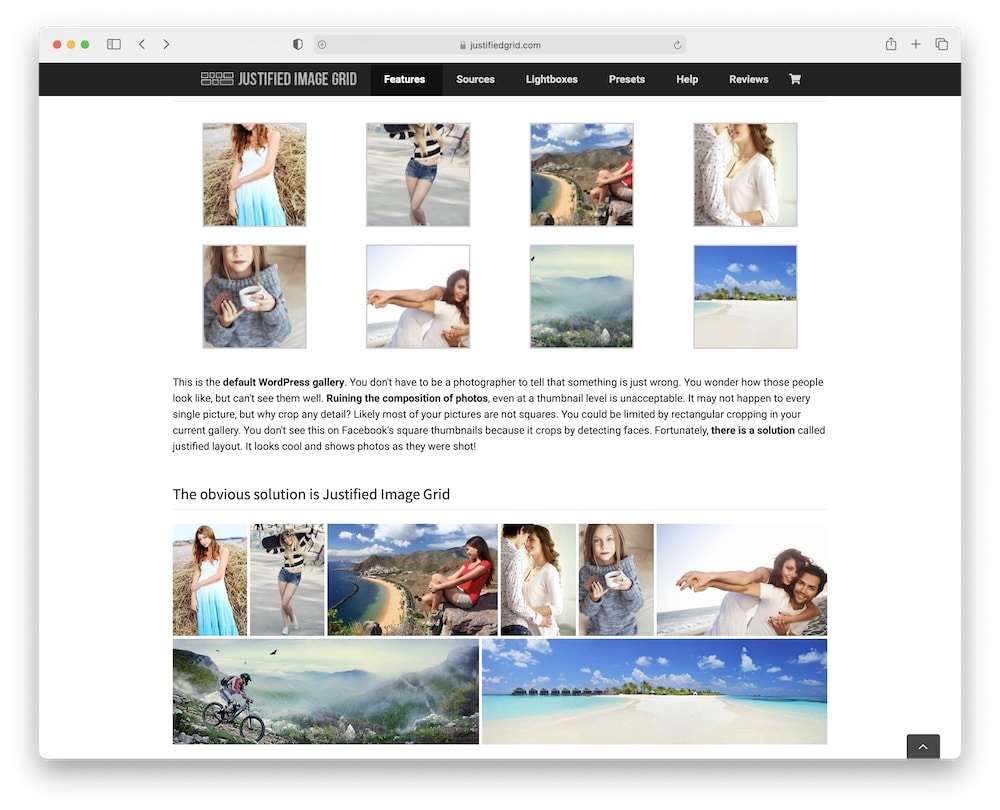 As the name suggests, Justified Image Grid is a powerful plugin for displaying your images in a modern and beautiful way. It will amaze you with a variety of special effects.
As for the other features, this plugin is something to behold.
This plugin has everything from the responsive gallery that adapts to any device and screen size to custom links when you click on the thumbnails.
Justified Image Grid has proven to be one of the most influential and user-friendly grid plugins out there.
Justified Image Grid features:
22,400+ sales
4.7/5 ratings
Infinite scroll option
Fully-customizable
Price: $29 (may vary)
MORE INFO / DOWNLOAD
3. Media Grid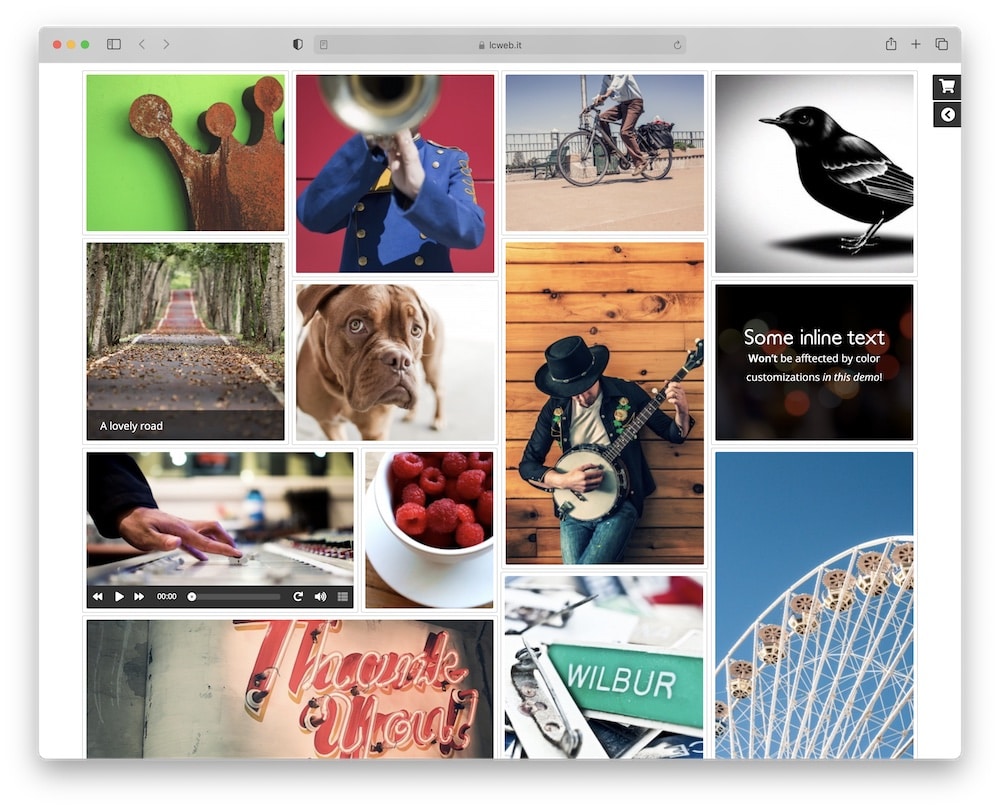 If you are looking for a WordPress grid plugin that allows you to create your unique layouts, then Media Grid is the right choice for you.
With this plugin, you can create unlimited filterable and responsive grids.
Of course, there is a lot to say when it comes to features. We definitely have to mention the full media support, which allows you to insert any image, video and audio you want.
Another great feature is the SEO deep-linking system for keeping your site optimized.
Media Grid helps you create unique portfolios and gives you a lot of great features to work with.
Media Grid features:
MORE INFO / DOWNLOAD
4. The Grid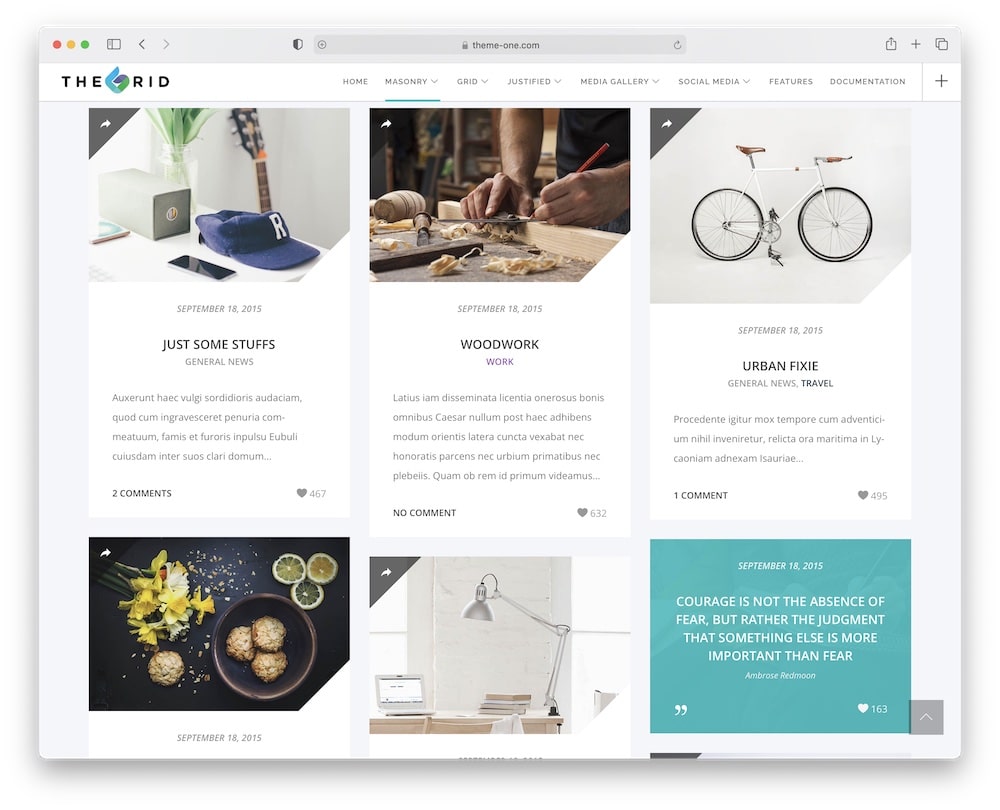 The Grid easily made it into our list as it is one of the most popular grid plugins on the market.
But we still tested it to make sure everything works as it should.
With The Grid, you have countless features at your disposal to create stunning grids for your website.
From drag and drop skin builder to endless layout options, there's nothing this plugin lacks.
The Grid quickly becomes your favorite with its numerous features and user-friendly interface.
The Grid features:
MORE INFO / DOWNLOAD
5. Media Grid Bundle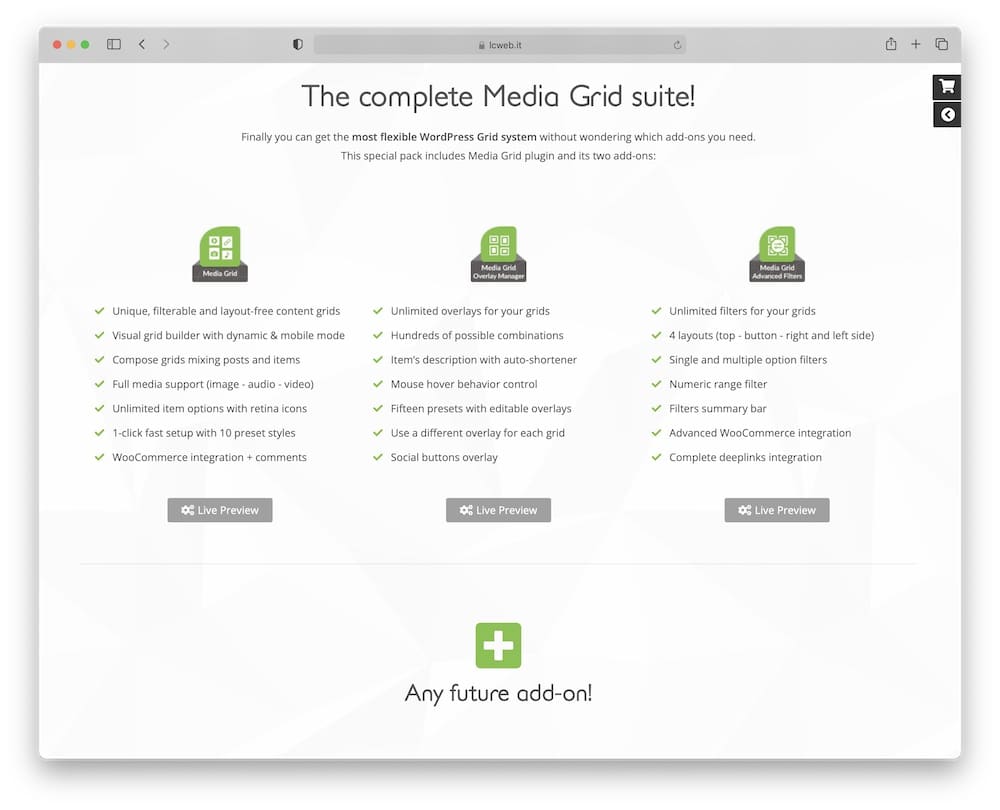 As you may have guessed, this bundle includes the Media Grid plugin we described above.
You get 2 powerful add-ons that will give you more advanced grid creation features.
With Overlay Manager, you will get countless overlays for the grids you create. Moreover, this add-on includes overlays for WP social buttons, item descriptions with automatic shortening, and much more.
The second add-on is Advanced Filters. As the name suggests, this is a must-have app for those who need unlimited filters for their grids.
This WordPress grid plugin package is worth it if you are a professional developer with ultimate flexibility in creating grids.
Media Grid Bundle features:
770+ sales
4.9/5 ratings
Regular updates
One-click setup
Price: $59 (may vary)
MORE INFO / DOWNLOAD
6. Media Boxes Portfolio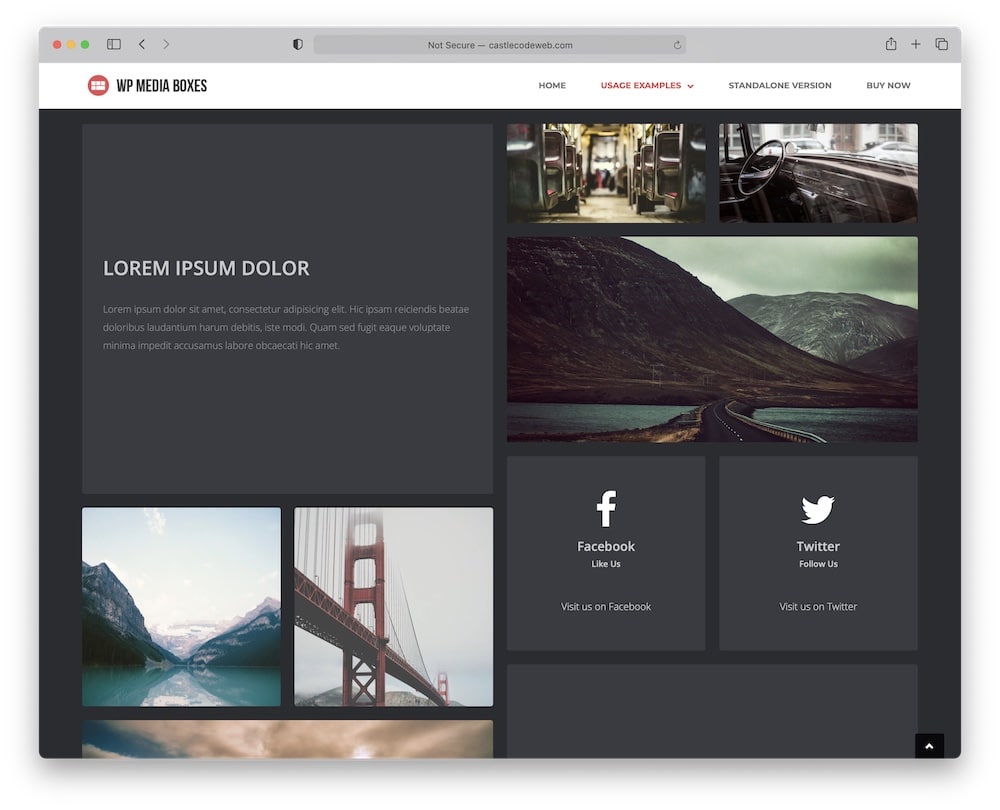 Media Boxes Portfolio is one of our favorite WordPress grid plugins for many reasons. Specifically, the app was extremely fast during our testing and the grids we created were ultimately responsive.
When it comes to features, Media Boxes has a lot to offer.
Use this plugin to create beautiful images and media galleries or organize your online portfolio.
We know Media Boxes Portfolio is ideal for creatives like photographers or designers. Go!
Media Boxes Portfolio features:
900+ sales
4.8/5 ratings
Filterable grids
Great for video grids
Price: $23 (may vary)
MORE INFO / DOWNLOAD
Best Free WordPress Grid Plugins
7. Content Views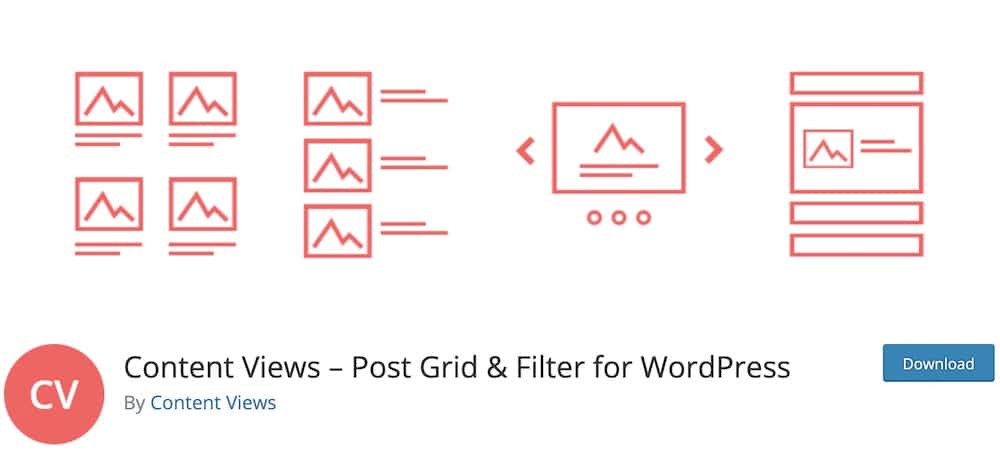 Content Views is the definition of a premium free plugin. In our testing, this post grid plugin even outperformed some paid plugins.
With an easy-to-use grid creator and fully customizable blogs, it's no wonder why Content Views is so popular.
What we really liked when testing this app is that the post grids we created looked great on any device, and we had no problems inserting shortcodes.
Also, the app is optimized for speed and comes with detailed documentation.
Content Views is a great choice if you do not want to pay for a grid plugin.
Content Views features:
100,000+ active installations
4.8/5 ratings
Numerous layouts
SEO-friendly
0 coding needed
MORE INFO / DOWNLOAD
8. Post Grid Combo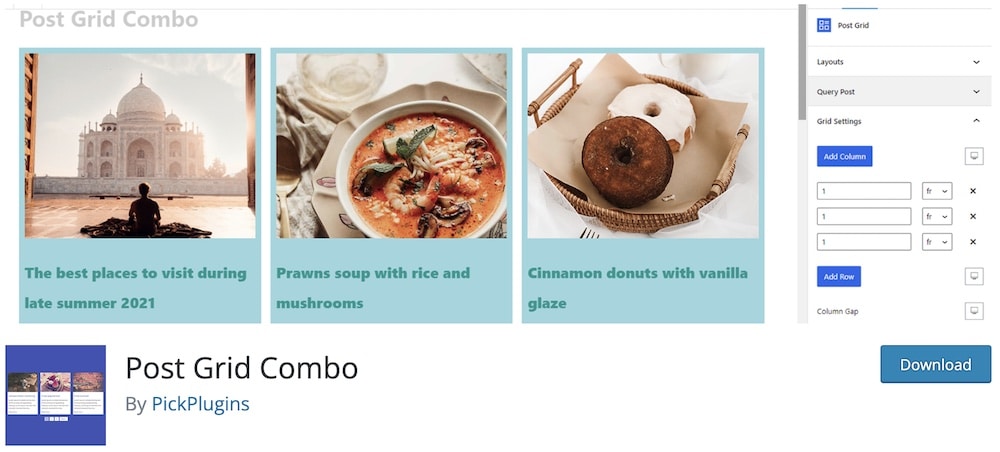 Post Grid is a reliable WordPress grid plugin that allows you to create professional-looking post grids for any page or post.
Moreover, it supports WooCommerce (and has a custom Gutenberg block), so you can freely use it on eCommerce websites.
What we really liked about this plugin is how fast and effortless building grids is. And the 25+ amazing and responsive blocks contribute to this greatly.
But if you have the skills, you can also design a custom layout through CSS. However, we're sure you'll also enjoy the complex grid layout builder! In short, the layout is fully customizable.
Post Grid fully justifies why it has 60,000+ active users. And we're one of them!
Post Grid features:
MORE INFO / DOWNLOAD
9. The Post Grid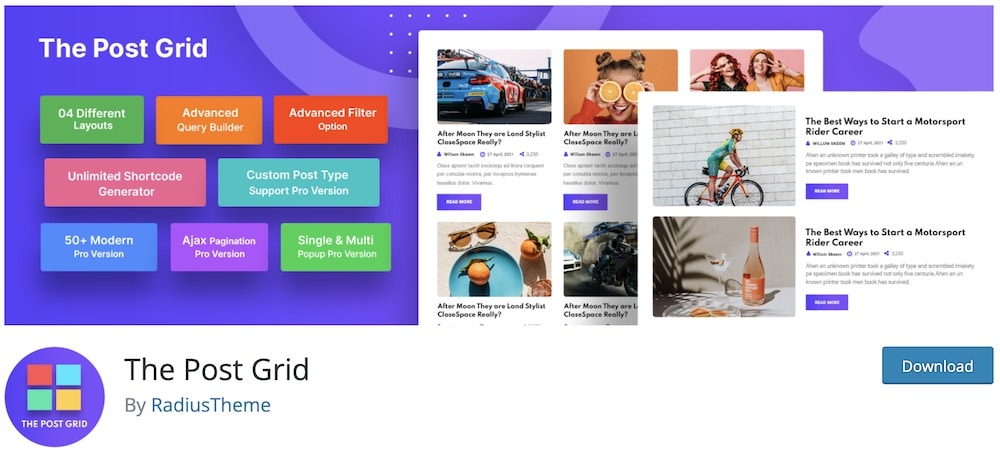 If you are looking for a quick way to create post grids for your website, this is the plugin for you.
The Post Grid has been around since 2016 and proves to be reliable for beginners and professionals.
You can choose between 4 layouts and showcase your posts by category, keyword, tag, and more.
Although it isn't the most powerful plugin on the market, The Post Grid has all the features most users will ever need. We definitely recommend it.
The Post Grid features:
50,000+ active installations
4.5/5 ratings
Supports pagination
Easy-to-use
Flawless shortcode generator
MORE INFO / DOWNLOAD
10. PostX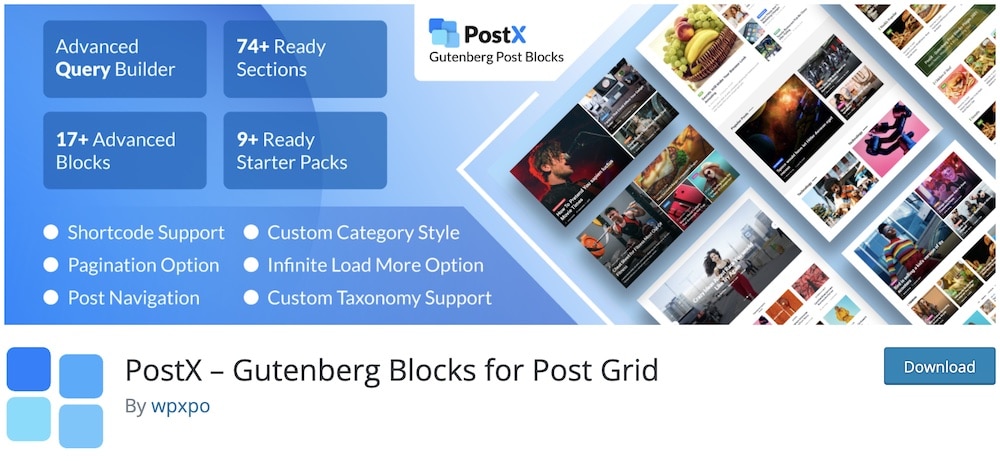 Creating a post grid in Gutenberg is not easy. And that's exactly what PostX is all about. This free WordPress grid plugin is specifically designed to help you create post grids in a few clicks.
The plugin is fully customizable, making it perfect for personal WP blogs, news websites and magazines.
The great thing about PostX is that it does not require any design or coding knowledge.
With 19 Gutenberg post blogs and 10+ starter packs, what more could we ask for?
PostX features:
30,000+ active installations
4.6/5 ratings
Fully-editable post grids
Works with Ajax WP technology
Great support
MORE INFO / DOWNLOAD
11. Final Tiles Grid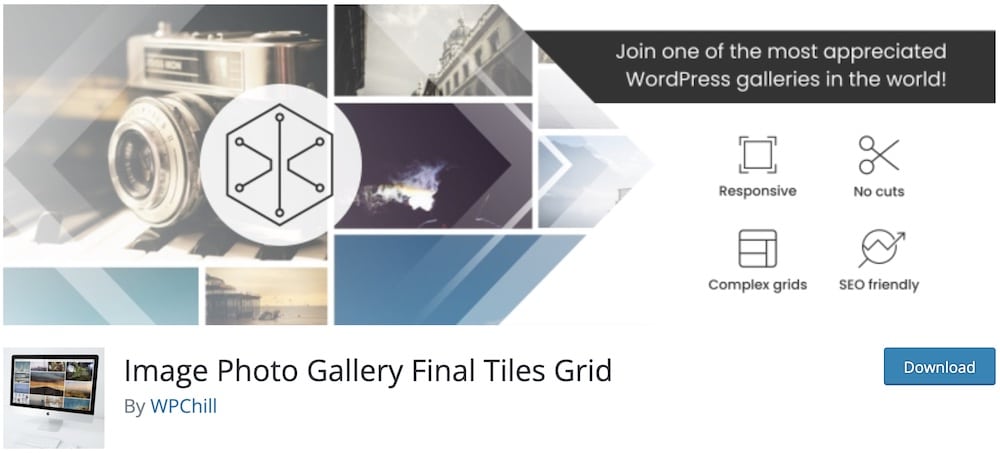 Let us say you are a photographer and you want to create a stunning portfolio gallery for your website.
Or maybe you own a graphics agency and want to create beautiful tile galleries for your website.
This plugin is an ideal solution for any creative website, no matter what the case is. One unique feature that this tool integrates are lightbox and hover effects.
That's just one reason why this WordPress grid plugin stands out.
Final Tiles Grid comes with 2 premade layouts that you can easily customize, as well as one of our favorite video galleries. (Hint: It's a great tool for video portfolio WordPress themes.)
Final Tiles Grid features:
30,000+ active installations
4.7/5 ratings
Integrates social sharing
Also supports post grids
Beginner-friendly
MORE INFO / DOWNLOAD
12. Visual Portfolio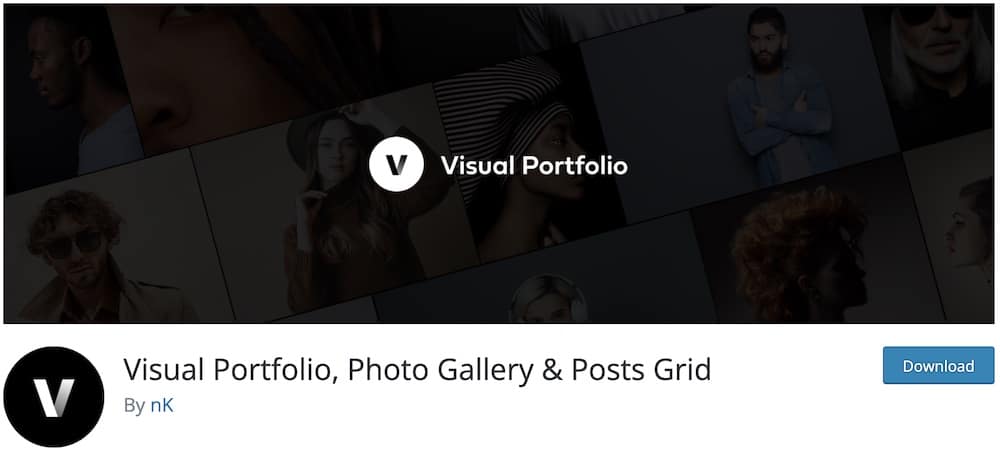 Visual Portfolio has 60,000+ active users and great user feedback for a good reason.
With 5+ visual effects and numerous layouts to choose from, this plugin offers a lot.
During our testing, the app proved to be very lightweight. Plus, Visual Portfolio had a beginner-friendly user interface.
We also liked the fact that this plugin comes as a Gutenberg block.
You can create photo galleries and post grids without coding or custom CSS. Of course, you can use the built-in CSS module and PHP filters for custom designs (for advanced users).
Visual Portfolio features:
70,000+ active installations
4.9/5 ratings
Works with 3rd-party media platforms
Offers wonderful WP lightbox effect
Cool visual effects
MORE INFO / DOWNLOAD
13. Smart Post Show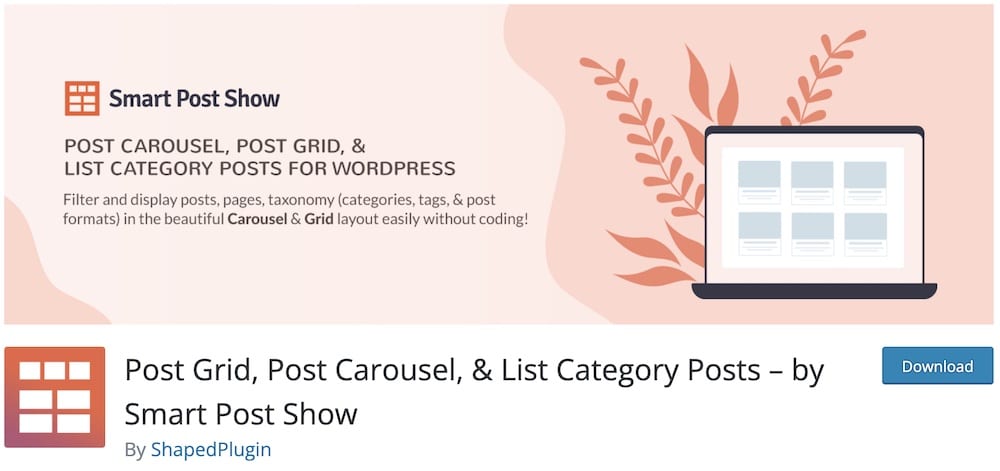 Our final suggestion is Smart Post Show, a useful free WordPress grid and WP slider plugin that easily made it on our list.
As with most of our top recommendations, Smart Post Show does not require any programming knowledge.
The plugin works perfectly with any WordPress theme and runs smoothly on any device.
The process is pretty simple.
Just select the layout from the top menu and then customize features like filters, typography, and taxonomy in the menus below.
In a few words, Smart Post Show is a very powerful yet easy-to-use plugin.
Smart Post features:
20,000+ active installations
4.7/5 ratings
Everything is editable
Lightweight app
Great support
MORE INFO / DOWNLOAD
Why Are WordPress Grid Plugins Important?
A grid plugin is your best companion when you need to sort out epic content presentations or create advanced layouts.
You can use a grid plugin for posts, images, galleries, anything really.
Adding grid functionality to your website can boost your overall website experience – and that's what we all strive for.
It doesn't matter if it's in the post, the home page, well, you can activate the grid look anywhere you want.
I highly recommend using a grid plugin if you have (or plan to have) a lot of content, posts and others going on on your website.
Keep. It. More. Organized.
Key Features Of A Great WordPress Grid Plugin
It's important that you choose a plugin that ticks the necessary boxes to enjoy building grids on your website confidently.
For this reason, we decided to list the five key features of a great grid plugin we also used while conducting this review.
What to look for in a top-notch grid plugin?
It's 100% a MUST that the plugin you pick creates responsive grids. Luckily, that's nothing to worry about because the free and premium ones here are mobile-optimized.
You don't want to bloat your website with some heavy plugin that will slow your loading speed. Thus, it's essential to pick a lightweight plugin that won't feel it's there.
Another key feature of an excellent plugin is user- and beginner-friendliness. Its interface must be simple and easy to navigate, so everyone can quickly perform the necessary configurations.
It's always a good thing if you can start with the free version of a plugin or at least a free trial. (Unfortunately, that's not always the case, but for the premium ones that we have here – you'll love them!)
A solid customer support is something every great plugin needs to have, so you know you can rely on someone – just in case.
If you're new to using plugin, you will enjoy reading our tutorial on how to install a WordPress plugin (easily).
::
Note: This article was originally published on November 16, 2021. But our team regularly reviews it and updates it with necessary improvements for accuracy.