Are you ready to take your content showcase to the next level with our review of the best free WordPress lightbox plugins?
We picked the 11 top-performing solutions to add a lightbox function to your website or blog after testing 30+.
We've used them over and over again.
And we even let two of our photographer friends use them (NextGEN & Simple Lightbox Gallery) – who, by the way, don't know how to code.
Your content matters.
So make sure you put all the extra shine on it with a lightbox. (Quickly & easily.)
That's exactly what it deserves.
Best Free WordPress Lightbox Plugins
1. NextGEN Gallery (Best overall!)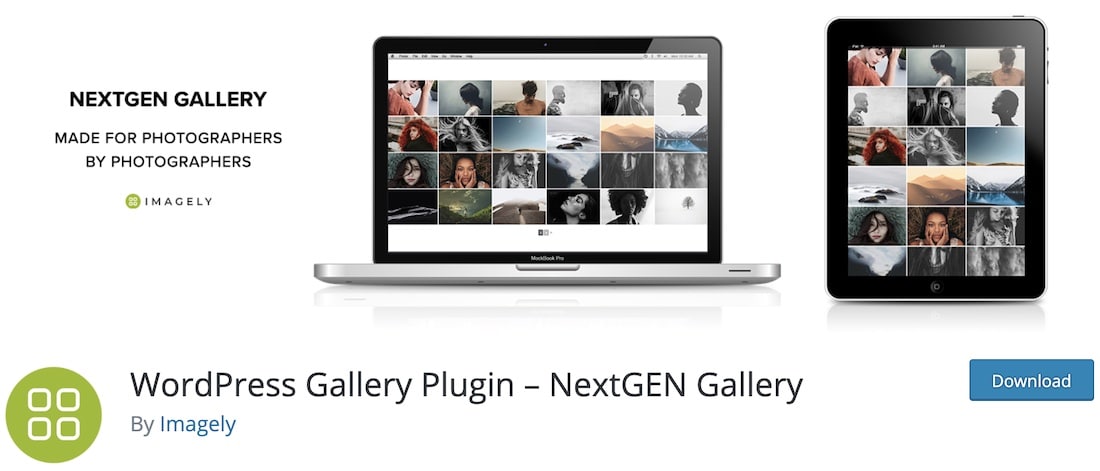 This is not the first time we have suggested NextGen as a brilliant plugin solution, and there are many reasons why.
This lightbox plugin (developed by Imagely) has more than 700,000 active installs. WOW.
During our testing, NextGen proved to be a comprehensive gallery plugin. But since this is a top pick of the best lightbox plugins, let us take a closer look at this feature.
With beautiful lightbox effects, this plugin has everything you need to showcase images and videos.
The lightbox function is also fully customizable. You can easily choose between numerous CSS styles and then change the one you choose.
NextGen Pro lightbox offers some advanced customization options. Still, you do not need to upgrade the plugin to add an amazing lightbox to your blog right away.
NextGen features:
700,000+ active installations
4.3/5 ratings
Fully customizable lightbox
Top-tier support (DEMOS & Video guides)
Also great for gallery creation
MORE INFO / DOWNLOAD
2. Meow Lightbox (Best name!)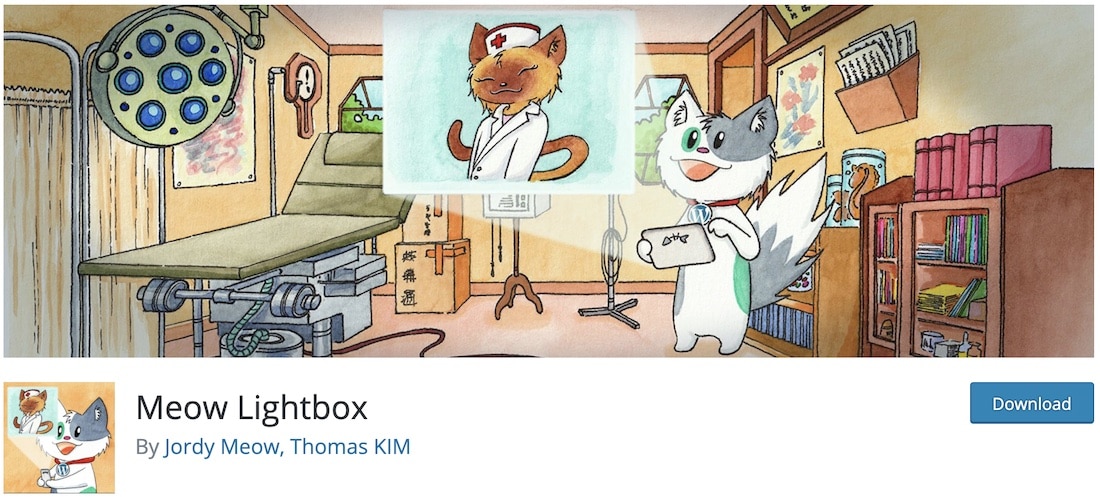 If you already have a fully mobile-ready plugin for galleries and only need a lightbox plugin, Meow Lightbox is simply the best solution.
Meow was the lightest and most beginner-friendly of all the free WordPress lightbox plugins we reviewed for this list. The plugin has a beautiful layout that looks fantastic on any device.
Although the developers have also created a responsive gallery plugin to add the lightbox effect, Meow Lightbox is compatible with most gallery plugins.
Meow displays all EXIF information (camera, shutter speed, aperture, lens) at the bottom of the lightbox.
This gives the effect a more professional look.
Meow features:
5,000+ active installations
4.9/5 ratings
Beginner-friendly
Compatible with many gallery plugins
Displays EXIF information
MORE INFO / DOWNLOAD
3. Simple Lightbox Gallery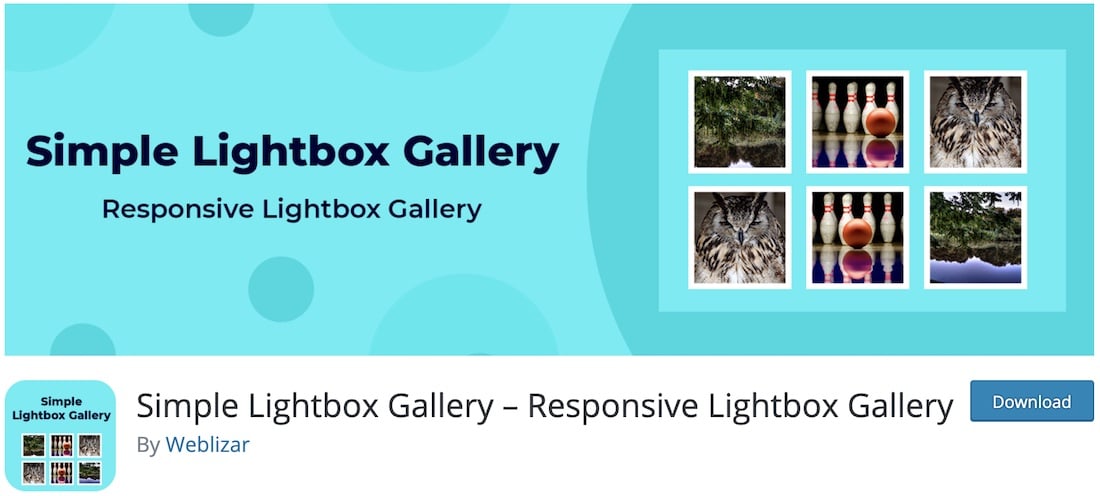 Simple Lightbox is a sleek, fully customizable lightbox plugin. Installation is very simple, and setting up a new lightbox only takes a few minutes. More like a few clicks!
We really liked the numerous customization options.
You can resize the lightbox, add effects, etc., with this free plugin. You can add your pre-made lightbox to any page, post, menu, etc, thanks to the simple shortcode.
During our testing, we also enjoyed the fact that Simple Lightbox is 100% multilingual. Finally, Weblizar regularly updates the plugin and fixes (any) issues.
What more to ask from a completely free plugin?
Simple Lightbox features:
9,000+ active installations
4.7/5 ratings
Simple shortcode integration
Lightbox image preview
Neat animation effect
MORE INFO / DOWNLOAD
4. Gallery Block Lightbox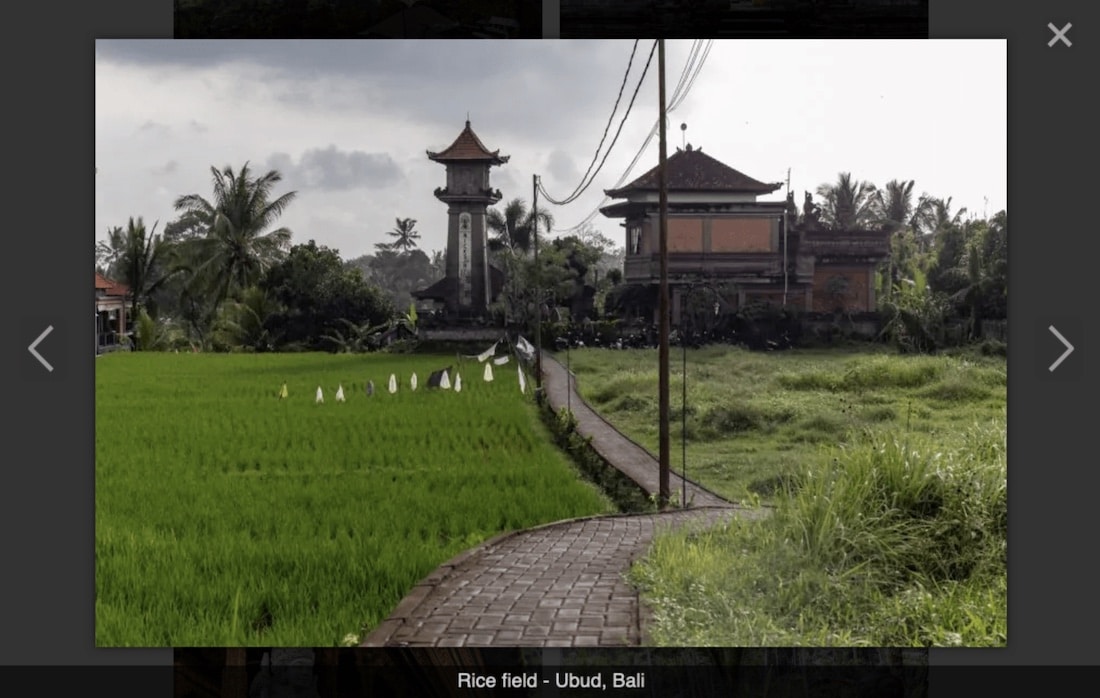 Johannes Kinast has developed one of our most popular free WordPress lightbox plugins on the market.
Gallery Block Lightbox does exactly what its name suggests. It's a simple way to add a lightbox to the standard WordPress gallery or Gutenberg block.
Since it's JavaScript-based, the gallery block has an ultimately responsive design.
Adding the lightbox effect is as EASY as can be.
All you need to do is add the image (or gallery) block to your page or post. In the block's menu, go to Link to and select Media File.
That's it; your lightbox is ready!
Gallery Block features:
6,000+ active installations
5/5 ratings
For default gallery/block
Swipe-support
For galleries & still images
MORE INFO / DOWNLOAD
Fun fact: A traditional lightbox is a white, semi-transparent box where a photographer places a product to take a photo.
5. Responsive Lightbox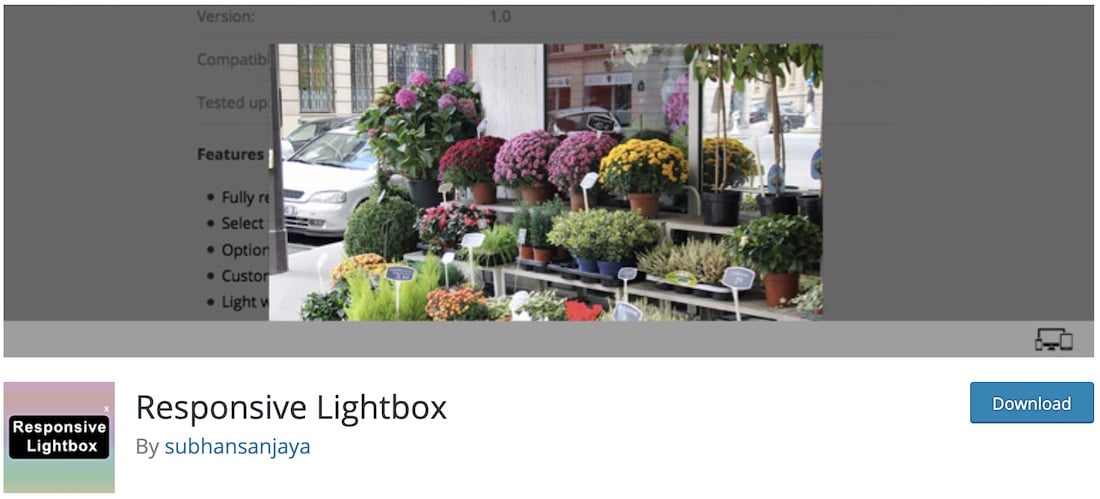 With more than 20,000 active installations, Responsive Lightbox Lite is a tool that you should definitely try.
As with our previous recommendation, it is a very responsive and lightweight plugin.
We really enjoyed the combination of the plugin's 7 CSS effects during our testing. This free WordPress lightbox plugin is also compatible with all themes and supports all browsers.
You can add the lightbox effect to almost any type of visual, from still images to Youtube and Vimeo videos.
In a few words, Responsive Lightbox Lite offers a quick (yet advanced) way to create and apply a lightbox to your website or blog.
Responsive Lightbox features:
20,000+ active installations
4.7/5 ratings
Supports all themes & browsers
Fully-customizable
MORE INFO / DOWNLOAD
6. Lightbox with PhotoSwipe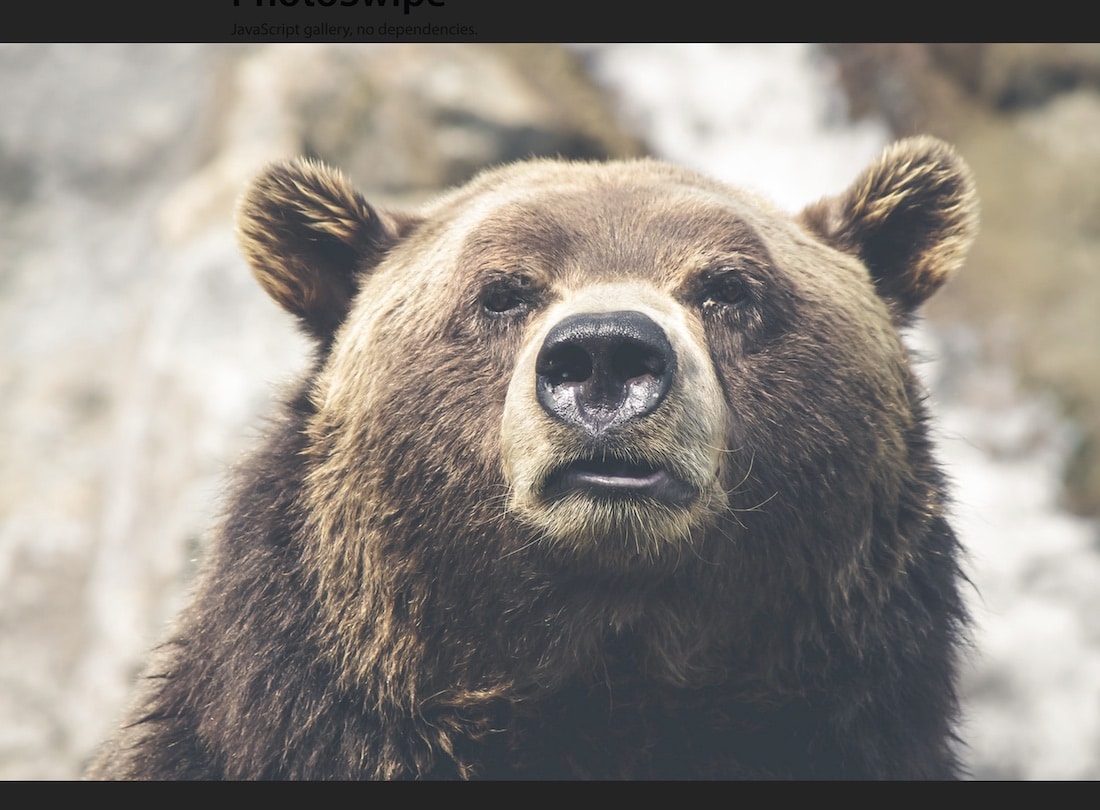 PhotoSwipe is a well-known gallery plugin developed by Arno Welzel.
In our testing, this free WordPress lightbox plugin worked like a charm.
We like that the creator provides plenty of instructions and screenshots to simplify the whole process.
All you need to do is link the image or gallery to the media. (With 0 experience!)
Photoswipe offers numerous customization options and allows you to edit the lightbox in the backend.
Nevertheless, this plugin is SIMPLE to master. For this reason, it is a good choice for both beginners and professionals.
Lightbox with PhotoSwipe features:
10,000+ active installations
5/5 ratings
Beautiful JavaScript gallery design
Many customization options
Great support
MORE INFO / DOWNLOAD
7. WP Video Lightbox

If you are looking for the best way to embed a video into your WordPress website, WP Video Lightbox is a great choice.
With this free WordPress lightbox plugin, you can easily insert videos while using a lightbox overlay display.
We used YouTube, Flash, and Vimeo videos when reviewing the plugin and had no problems adding them.
So. Simple.
The plugin is fully responsive, so the embedded videos work on mobile devices as well.
All you need to do to insert a video lightbox to your website is use a shortcode.
You don't have to worry if you don't have experience. The plugin includes video tutorials and documentation for you.
WP Video Lightbox features:
60,000+ active installations
4.3/5 ratings
Comprehensive video guides
Works with numerous video types
Simple embedding process
MORE INFO / DOWNLOAD
8. Responsive Lightbox & Gallery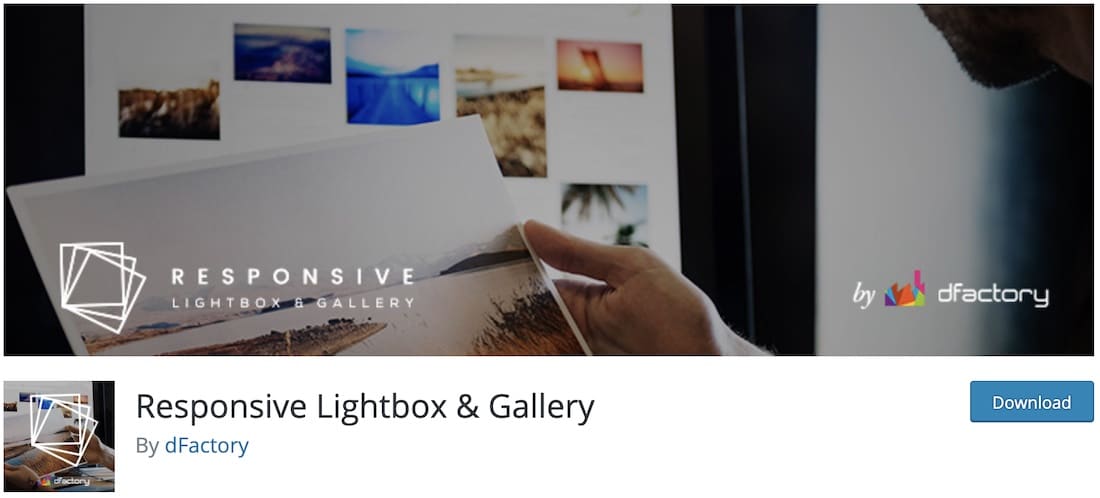 If you need an all-rounder gallery and lightbox plugin for your WordPress website, dFactory has the perfect answer.
This free WordPress lightbox plugin is an excellent alternative to NextGen.
Like NextGen, Responsive Lightbox & Gallery is a powerful plugin that you do not need any programming knowledge to use.
We really enjoyed using the simple (yet powerful) drag-and-drop gallery builder. The lightbox effect is easy to add to your galleries.
In summary, this is a versatile plugin that lets you do more than just create a lightbox.
Responsive Lightbox & Gallery features:
200,000+ active installations
4.9/5 ratings
SEO-Friendly
Vast customization options
Great NextGen alternative
MORE INFO / DOWNLOAD
9. Easy FancyBox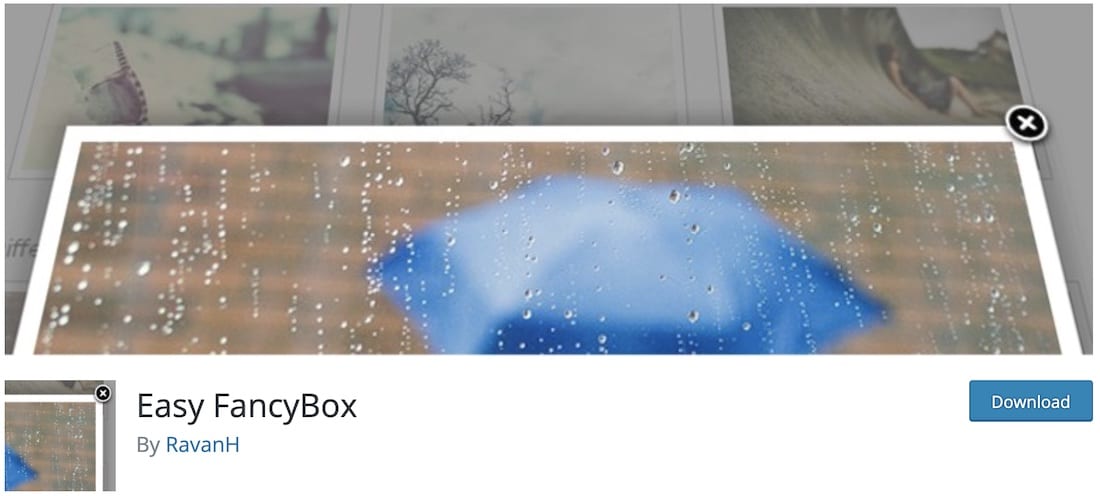 Like the Gallery Block Lightbox reviewed above, Easy FancyBox is a brilliant lightbox plugin for the default WordPress editor. For this reason, FancyBox easily made it to our list.
Easy FancyBox has a minimalist design and is suitable for images (WebP, JPG, PNG, etc.) and videos (YouTube, Dailymotion, Flash, etc.).
Of all the free WordPress lightbox plugins we tested to create this top pick, Easy FancyBox was the most beginner-friendly.
Since it's also one of the fastest and lightest plugins, this is a solution you should definitely try to create a beautiful content showcase.
Easy FancyBox features:
300,000+ active installations
4.6/5 ratings
Different pop-up effects
Great modification options
Perfect for images & videos
MORE INFO / DOWNLOAD
10. WP Featherlight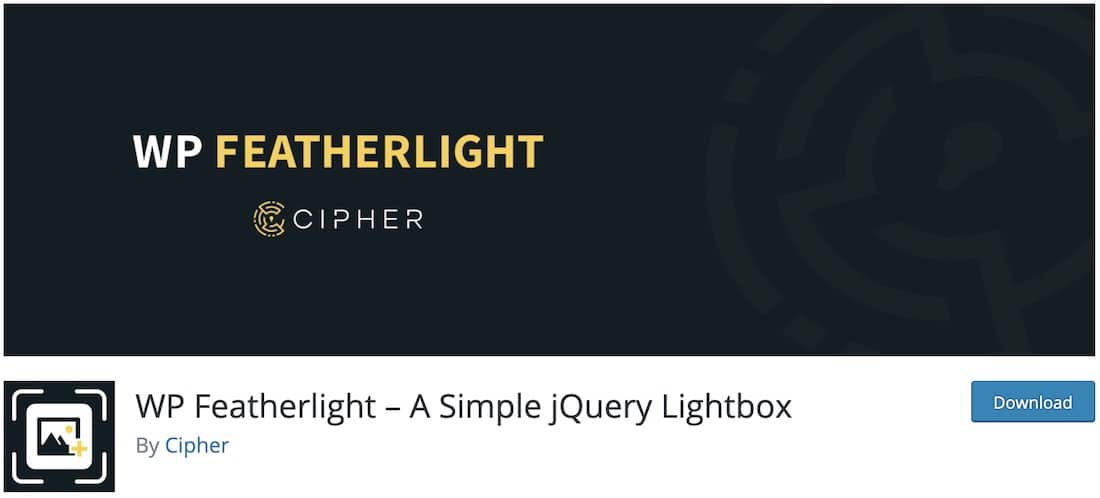 If you need a simple, responsive lightbox plugin for your website, Featherlight is a great solution for you. As the name suggests, this is one of the lightest plugins we have tested.
Featherlight has been around for more than 6 years and has built a following for a good reason.
With this free WordPress lightbox plugin, you can automatically display the default WordPress blogs as lightbox popups.
It does not matter if you have experience in programming because the plugin does not require any development skills.
With excellent reviews and a great community supporting it, Featherlight is one we really enjoyed using and highly recommend.
Featherlight features:
70,000+ active installations
4.9/5 ratings
Minimalist lightbox look
Works with 3rd-party image URLs
Con: Not too frequent updates
MORE INFO / DOWNLOAD
11. WP Lightbox 2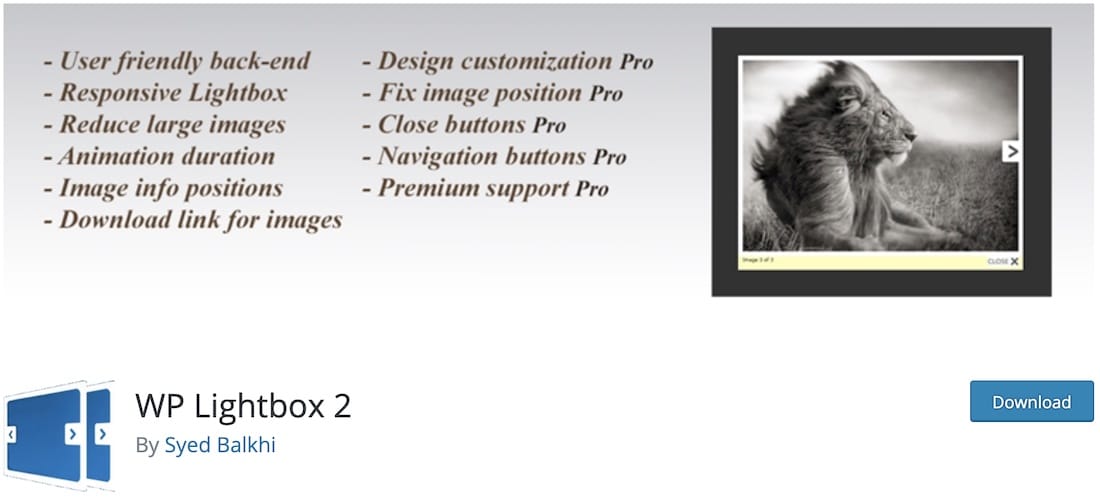 Our final pick is Lightbox 2, one of the most responsive plugins on the market. This free lightbox plugin is very easy to install.
(That's pretty much all you need to do!)
After that, the plugin automatically activates a beautiful overlay lightbox effect for all your images.
Therefore, this is a great solution if you already have numerous galleries on your WordPress website. Lightbox 2 works perfectly on all browsers and boosts the experience.
With more than 10 languages supported, Lightbox 2 has everything a website owner or developer needs.
Lightbox 2 features:
60,000+ active installations
4.4/5 ratings
Great congiuration options
Fully-automated process
Top-notch support
MORE INFO / DOWNLOAD