Are you looking for the best free WordPress gallery plugins to create stunning media presentations?
This selection will transform your website! (It did our clients'.)
Our list includes all types of gallery plugins:
For creating responsive photo gallery grids
And powerful video galleries
Reliability was a priority in our review. Unfortunately, not all free gallery plugins serve the user well.
This list promises to save you from time, money and struggle.
Hurray for QUICK & SAFE WORK!
Post structure:
You can easily add the plugins to the traditional WordPress editor or page builders, like Elementor and Beaver Builder.
By the end of this read, you WILL HAVE the plugin(s) you need to turn your blog or website into a visual gallery paradise.
Note: You may also be interested in our best WordPress image optimization plugins collection.
Remember to see our tutorial on how to install a WordPress plugin if it's your first time.
Best Free Gallery Plugins For WordPress
1. NextGEN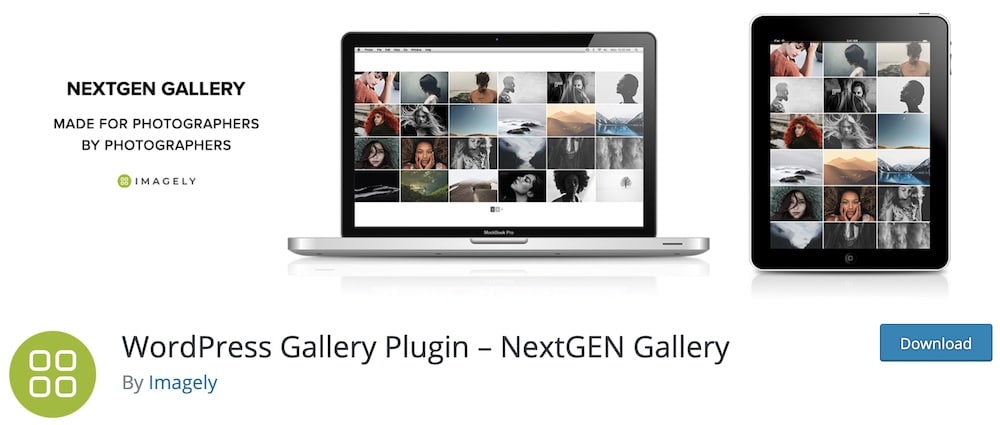 When it comes to free gallery plugins, there's simply nothing better than NextGEN. NextGen has become a powerful tool as one of the most popular plugins since 2007.
NextGen gallery proved to be very reliable during our review – we had no issues using it.
The package is endless and allows you to easily add photo galleries to your WordPress website. The free version of NextGEN includes 3 gallery styles and 2 album styles for you to choose from.
However, all styles are fully customizable, meaning you can control the transitions, effect, size, etc.
Another important factor is that NextGen allows you to import metadata for your images. This also makes it a powerful SEO tool.
In a few words, reviewing NextGEN was a pleasure and you should definitely try this plugin.
NextGEN features:
500,000+ active installations
4.3/5 ratings
Gutenberg support
Amazing support (DEMOS for every style)
Fully customizable galleries
MORE INFO / DOWNLOAD
2. FooGallery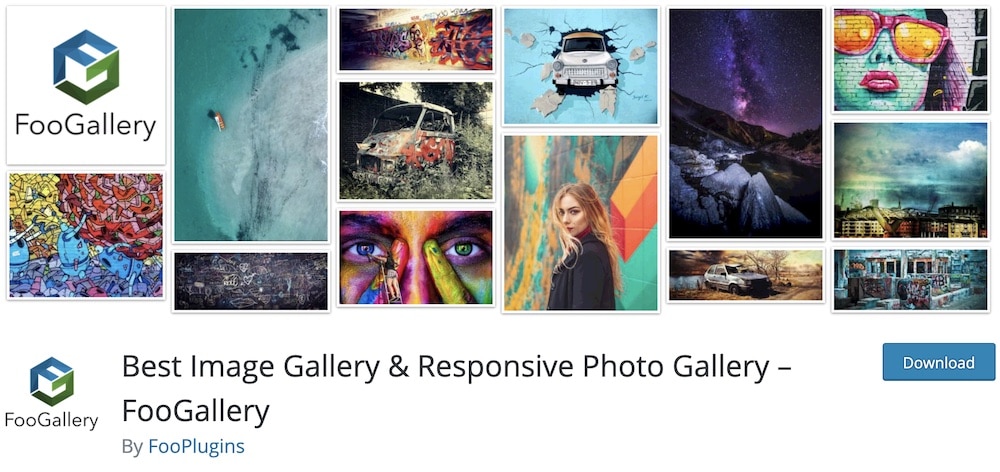 If you have already tried NextGEN and are looking for something different, FooGallery is the best choice.
With more than 200,000 installs and excellent reviews, FooGallery is already one of the most popular free WordPress gallery plugins.
Using FooGallery is very easy and the tool does exactly what it is supposed to do.
The bundle includes 6 gallery templates that can be easily customized and tailored to your needs.
Another important feature of FooGallery is seeing a live gallery preview in the editor.
You can also enable album expansion and create responsive album layouts for your photos. In conclusion, FooGallery is a fantastic alternative to NextGEN.
FooGallery features:
100,000+ active installations
4.8/5 ratings
0 coding necessary
Supports WP Multisite
Easy to use
MORE INFO / DOWNLOAD
3. Photo Gallery by 10Web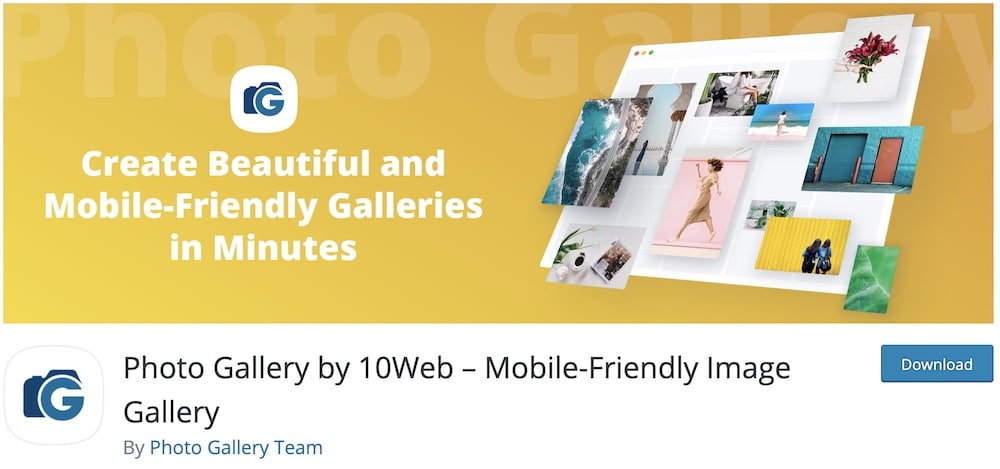 As with our previous two suggestions, 10Web has created one of the most well-liked free WordPress gallery plugins on the market.
As its creator mentioned, Photo Gallery is a brilliant solution for photography blogs and websites.
The free plugin includes mobile-friendly galleries and albums that you can easily add to your website.
Although the templates are pretty simple, the plugin allows you to use widgets, album views, and other customization options.
Therefore, you can FULLY modify the look of your photo galleries.
We dig simplicity a lot.
Finally, 10Web includes a function that will let you quickly add metadata and tags to the images and improve your pages' SEO.
Photo Gallery features:
200,000+ active installations
4.6/5 ratings
Mobile friendly
Easy to use
Innovative widgets
MORE INFO / DOWNLOAD
4. Envira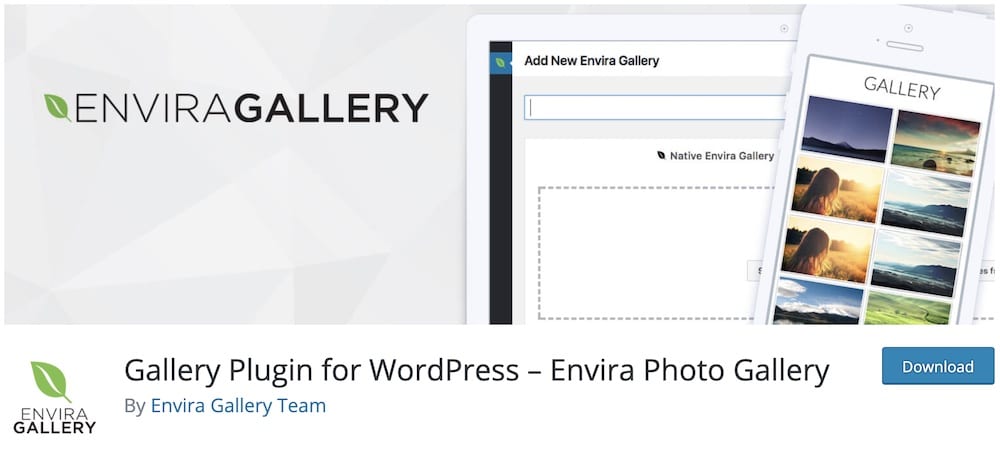 Envira Gallery easily made it to our list of the best free WordPress gallery plugins for good reasons.
It is one of the most reliable plugins we have ever used, even in its free version.
This plugin is both flexible and fast with an easy-to-learn drag and drop builder.
Envira is one of the most lightweight and mobile-friendly plugins on the market regarding speed.
The builder allows you to quickly create image galleries and use them with any WordPress builder/theme.
Another UNIQUE feature of Envira Gallery is that you can also create video portfolios by adding videos from Youtube, Wistia, etc.
Therefore, we can call Envira the perfect all-rounder plugin.
Envira Gallery features:
100,000+ active installations
4.7/5 ratings
Photo & video galleries
Watermark your content
Works with all builders (Gutenberg, Elementor, Divi, etc.)
MORE INFO / DOWNLOAD
5. Robo Gallery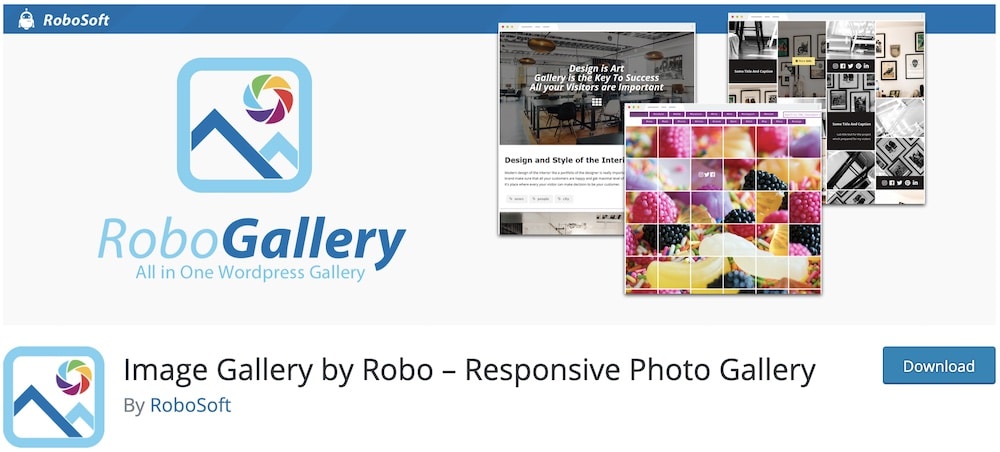 Robo Gallery is one of our favorite discoveries when it comes to gallery plugins. We strongly believe that this gallery creator will become even more popular in the future.
(It already has 50k+ installs!)
Robo Gallery offers many advanced features even though you don't have to pay for it.
For example, you can easily customize 15 hover effects by changing the style and colors of the animations.
Robo Gallery is straightforward to learn and includes a Gutenberg gallery block for QUICK customization.
It is a brilliant solution for its reliability and many advanced features.
Robo Gallery features:
50,000+ active installations
4.3/5 ratings
Auto resizing (thumbnails & images)
Optional lazy loading
Supports lightbox
MORE INFO / DOWNLOAD
6. Modula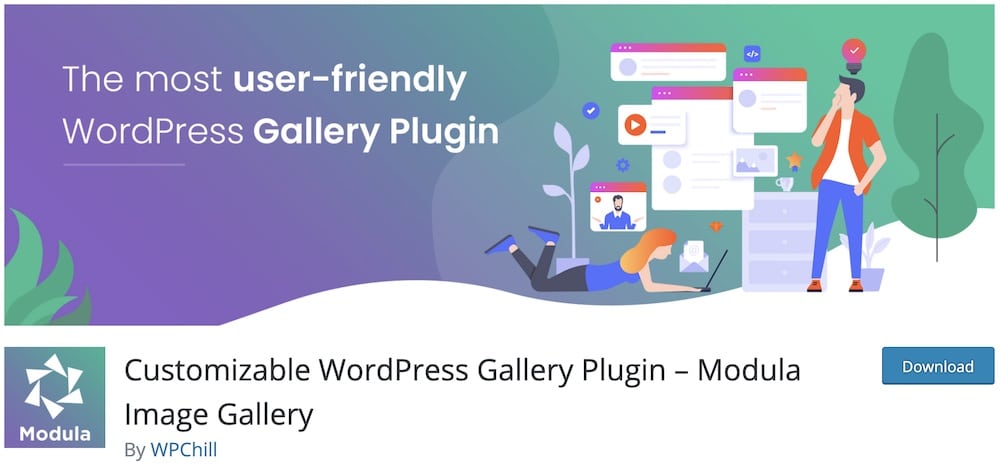 WPChill has developed one of the market's most flexible free WordPress gallery plugins. That's why Modula is one of our FAVORITE gallery plugins for demanding clients.
The package includes some practical features that you will not find in other solutions. For example, Modula lets you combine images and videos in your galleries.
Also, you can easily password protect your galleries.
This is a great addition to making WordPress accessible to multiple users.
Finally, Modula has an extensive collection of hover animations and numerous customization options for unique results.
Therefore, this is a superb solution for more experienced WordPress users. (But it also works for newbies.)
Modula features:
100,000+ active installations
4.8/5 ratings
Infinite customization options
Password protected galleries
Quick gallery creation
MORE INFO / DOWNLOAD
Best Free WordPress Video Gallery Plugins
7. Vimeo & YouTube Gallery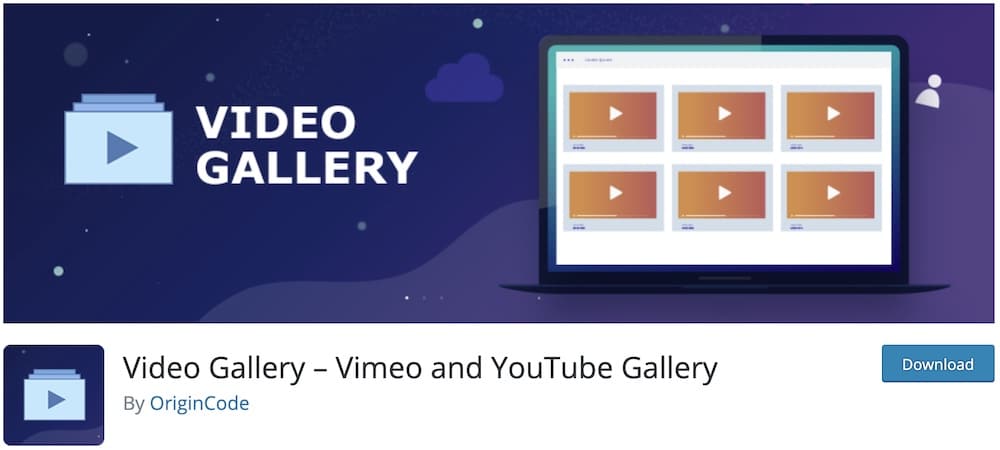 Now that we have explored the best solutions for image galleries, let us find out which are the best plugins for video galleries.
Our first pick is a video gallery plugin developed by OriginCode.
It's an incredible free WordPress gallery plugin but focuses only on YouTube and Vimeo.
Video Gallery helps you create galleries in several ways. You can choose one of the 3 pre-built galleries (YouTube, Vimeo and Mix) and 7 viewing modes.
The process is effortless.
You just need to copy and paste the video URL and add the title, description and (additional) link.
For this reason, we recommend Video Gallery for both beginners and professional website developers.
Video Gallery features:
10,000+ active installations
4.3/5 ratings
Works with a shortcode
YouTube & Vimeo only
Amazing support
MORE INFO / DOWNLOAD
8. Video Gallery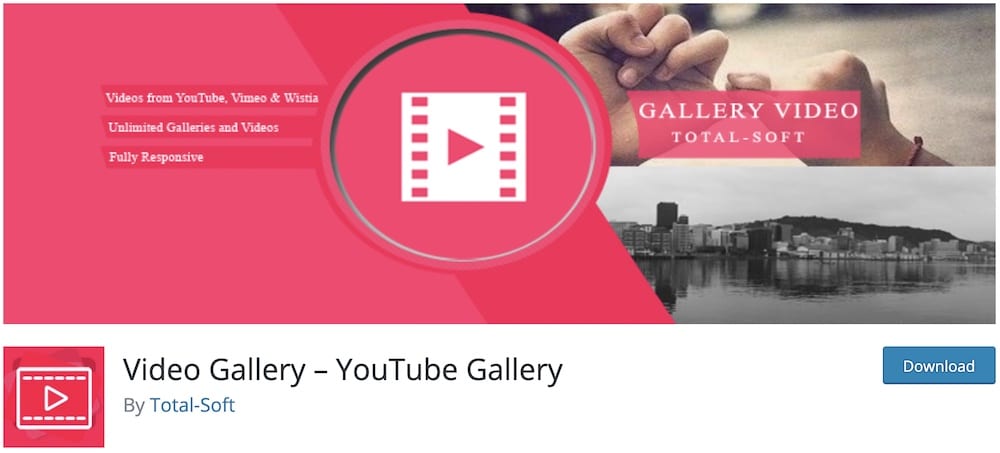 Total-Soft has recently developed one of the best free WordPress gallery plugins. As the name suggests, this is a COOL TOOL that lets you organize videos and create a gallery/portfolio.
During our testing, this plugin proved to be very responsive and mobile-friendly.
The editor is very easy to learn and the bundle includes 16 free video gallery themes and 9 layouts.
Even if you do not upgrade to the premium version, this plugin offers countless customization options and allows you to upload videos from YouTube, Vimeo and Wistia.
You can start immediately and even use it for free forever.
Total-Soft Plugin features:
10,000+ active installations
4.8/5 ratings
Unlimited videos
Supports custom links
24/7 support
MORE INFO / DOWNLOAD
9. All-in-One Video Gallery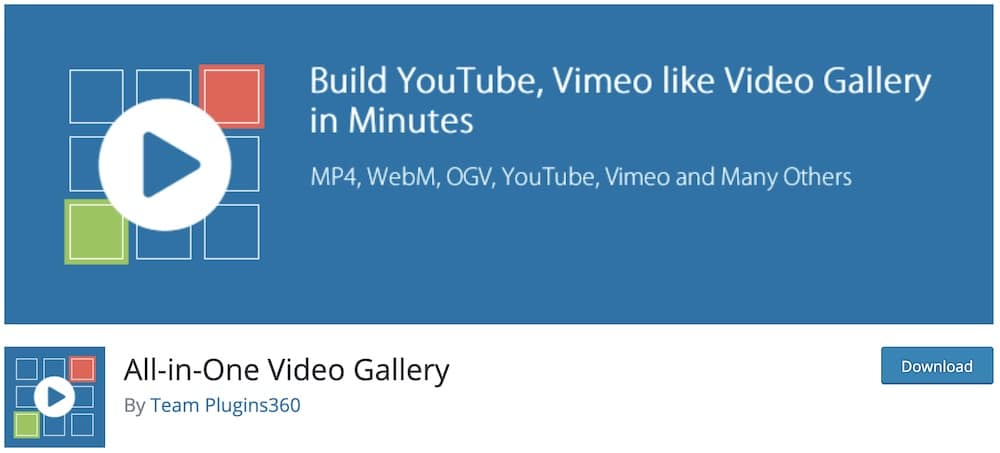 All-in-One Video Gallery is a free WordPress video gallery plugin that we enjoyed using a lot. (Highly recommended!) The plugin is developed by a well-known team of plugin developers called Plugins360.
All-in-One Video Gallery allows you to quickly create some of the most beautiful galleries.
We were able to create SEO-optimized, EXPANDABLE galleries during our testing in just a few minutes.
You have a lot of options, although no coding is required. Plus, it's great for single video players or big content-sharing websites.
All-in-One Plugin features:
20,000+ active installations
4.8/5 ratings
Numerous backend & frontend features
Supports subtitles
MORE INFO / DOWNLOAD
10. Vimeography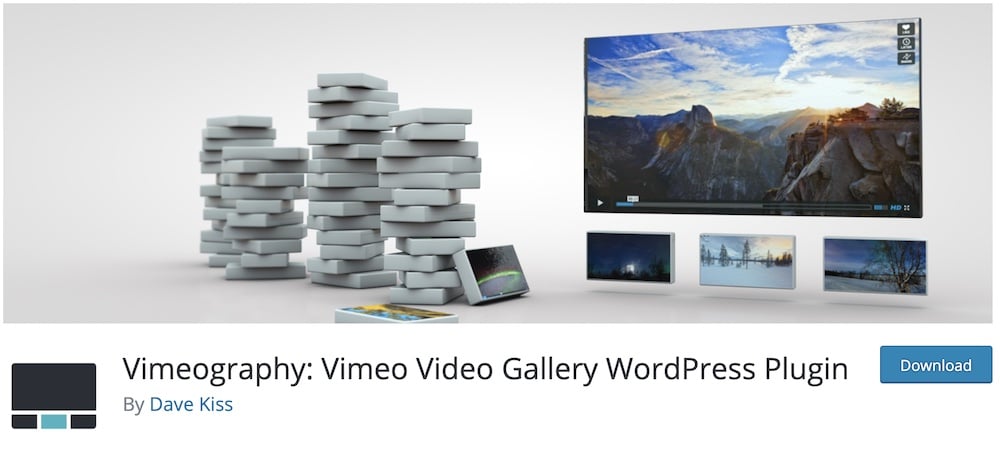 If you want to showcase your Vimeo videos on your website, Vimeography is simply the best way to do it.
If we worked only with Vimeo videos, this would surely be our pick.
The ease of use is great as the plugin takes seconds to set things up. Also, the process is automated once connected to Vimeo.
Everything happens with just a few clicks.
Plus, Viemography includes advanced features to take things to the NEXT LEVEL. You can easily change the look of a video gallery with different themes and templates.
In a few words, this is a brilliant solution if your focus is on Vimeo exclusively.
Vimeography features:
9,000 active installations
4.7/5 ratings
Fast creation process
Full control over the width
Built-in caching
MORE INFO / DOWNLOAD
Frequently Asked Questions About WP Gallery Plugins
What is the best free photo gallery plugin for WordPress?
NextGEN is the best free photo gallery plugin for WordPress after testing it on 20+ live websites. It offers endless possibilities, making it easily compete with the premium ones.
How to add a gallery shortcode in WordPress?
Adding a gallery shortcode in WordPress is a simple copy and paste process. You can add it to posts, pages, sidebars, and footers; wherever you want a gallery to appear.
Does WordPress have a built-in gallery function?
Yes, it has, but with very limited functionality, so we recommend installing a plugin to enjoy the freedom of designing a media gallery like you want.
What is a WordPress gallery plugin?
A WordPress gallery plugin is a simple tool for creating custom galleries for your website. While you can use WordPress' default gallery function, unfortunately, it doesn't provide enough configurations to create a beautiful one. Thus we suggest using a plugin.
::
Note: This article was originally published on August 24, 2021. But our team regularly reviews it and updates it with necessary improvements for accuracy.